I still find it strange how much I rely on my friends around the world to let me know when images I've shot have made it out into the wild. Although the use of images is obviously something we negotiate all the time, exactly when and where they will turn up is quite often a mystery, and the past month or two has been no exception. Take my shot of the Hollywood sign, for example. A friend of mine, Mark Hayden, was flying with British Airways in September and snapped a picture with his iPhone of my image being used for a Los Angeles feature by Hugh Laurie: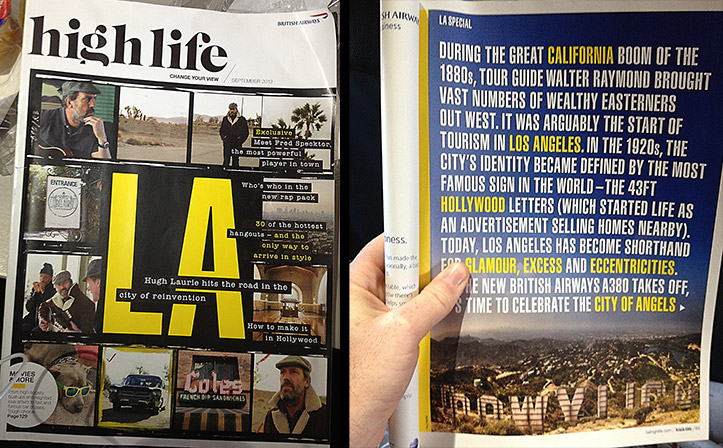 Then there was the "run" on my image of Shanghai's illuminated freeways that I took earlier in the year.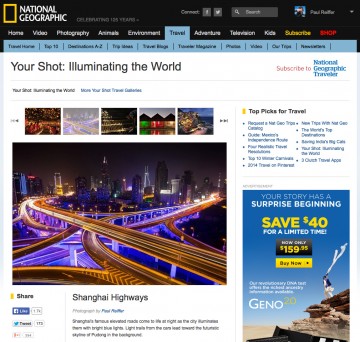 It's one of a collection of images I keep on National Geographic's "Your Shot" community – a pool of images they can pull on for stories from time to time.
The usage rights for National Geographic are a little bit too "open" in my opinion, however, it's a good way of getting landscape shots out there for people to appreciate and potentially buy.
What's rather strange in this case, however, is that the image in question wasn't specifically uploaded into their "assignment" section by me.
Nevertheless, it seems someone there liked it enough to feature in November and publish along with a small collection of other nighttime images around the world. However, I wasn't quite expecting the subsequent pick-up by other media outlets.
Being out here in Shanghai right now means I'm often the last to know but luckily, my friends are also the first to tell me! First, I got the message from Tina Sams that the Daily Mail (in England) had published it as part of a feature during November:
Then, somehow, it managed to get used by The Times newspaper for their special "Christmas Edition" too, which was alerted to me by Andy Bundle on Christmas Day afternoon out here:
Moving to more current images, Yahoo!'s weather app for iOS continues to publish my shots as backgrounds to the cities people are viewing each day.
Their speed to publish has increased a lot for my images recently, with some shots now going live on their app the very same day I submit to them. The one to the right of Shanghai was highlighted to me by a friend out here, as it was one of the first long-exposure shots I tried with my Phase One iQ280 and apparently "easy to recognise". 😉

Beyond this shot, however, I noticed the other day they've also picked up images from Lake Tahoe, Dorset's Durdle Door and even some of my brand new San Francisco collection.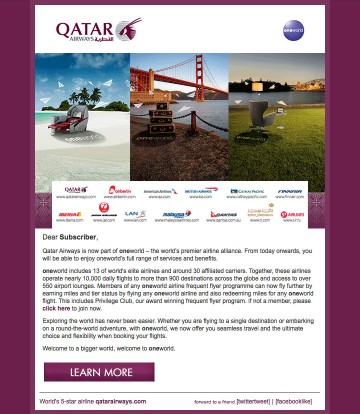 Then we're back to the airlines. Just hours after I stepped foot off the plane from San Francisco in October, I got a request for a specific image from Qatar Airways' advertising agency. Luck was in, as the brief they had (a shot of the bridge that they could overlay an image of cases onto as part of a series) exactly matched a set of images I knew I had already captured.
Quite a bit of into-the-night working then ensued to get it ready for a really tight deadline – a deadline I then learned was due to the official inclusion of Qatar Airways into the OneWorld Alliance.
It turned out, the image wasn't just for a press announcement – they were using the city shots to wrap entire buildings around the world as part of the launch. Very cool!
So, if anyone around the world (especially in the Middle East) has seen the Golden Gate covering a large building, please be sure to get in touch and show us how it looks!
Still to come? Apart from all the commissioned and commercial work I'm already doing, I know there's at least two other airlines about to publish my images worldwide, as well as 2 British magazines and 1 US publication over the next 6 weeks. Here's hoping more of my friends can let me know where they eventually appear too!
Now, back to planning my Hong Kong skyline trip and the big Australia & New Zealand road-trip for next month… 🙂