Well that was a nice surprise – I went to check the forecast and my images popped up in Yahoo!'s new Weather App for the iPhone (and yes, it's also available for Android…) 🙂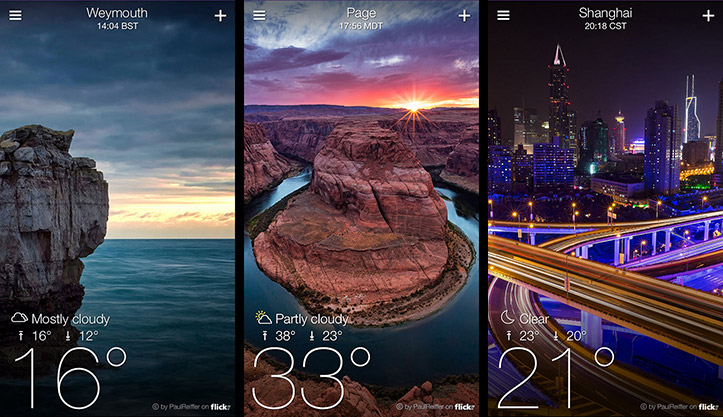 Granted, it wasn't a complete surprise as I knew they had been "tagged" by the Yahoo! team on my Flickr account with words such as "clear", "night", "cloudy" etc. but I had no idea of when they might appear.
The app itself caught my eye last month as (despite many of their previous failed attempts to launch creative apps) this really was a beautiful and clever way of showing the weather. It trawls pre-selected Flickr images in real-time looking for geotags, tagged weather states and times of day to bring fresh images for each city you are looking at.
It even caught Apple's attention at this year's WWDC in San Francisco, naming it one 11 top apps to win their "2013 Design Award".
Drag the temperature up the screen, and it blurs out the background to give detailed weather information including sunrise/sunset (animated), wind speed/direction (animated), humidity, precipitation, live radar map, plus the forecast for the week.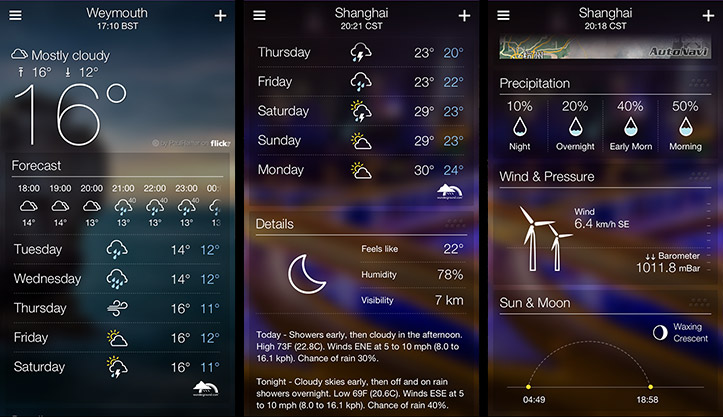 It really is a nicely built little tool, and easily replaces my (current – iOS6) Apple weather app despite using the same source data.
Of course, the fact that Yahoo! own Flickr is a big advantage to them in this space, but let's not forget, this is the company who were accused of "ruining a great tool" when they took it down a rather dubious development path. Something has changed with the Flickr/Yahoo! relationship of late, and they've started making beautiful things again.
Not forgetting that most landscape photos are indeed of landscape orientation, there is one final trick up their sleeve. Turn the phone on its side and you're given a slideshow of all the places you have stored as your favourite cities as they look at that time…

So those are the images which I've seen so far – I know there are others of mine for New York, Koh Samui, Los Angeles, San Francisco & others which I've not yet seen. I guess I'll just have to wait for the right time of day and weather combination for them to show up 😉