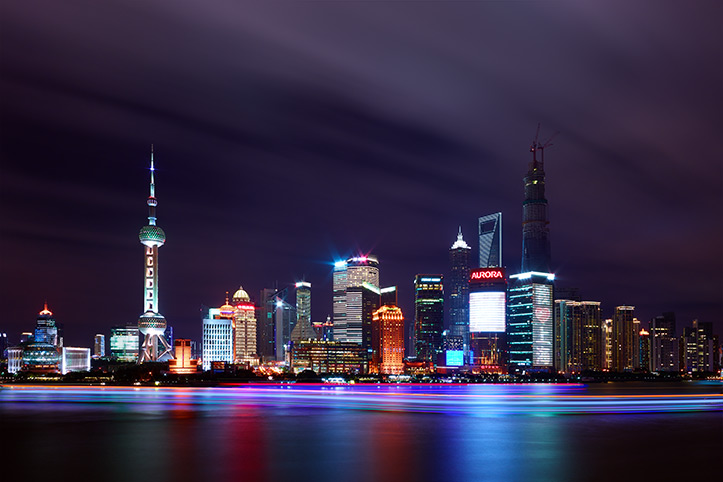 Shanghai's Pudong skyline – once the home to two of the tallest skyscrapers in the world is soon to be the home of 3. The neon lights of the boats running up and down the river all night circle the peninsular in electric blue while the city behind entertains passers by with its iconic light show.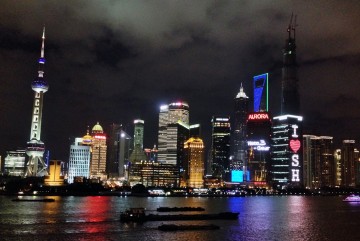 To give Shanghai its true credit, this is a view that really doesn't need an expensive camera to be impressive – as the image on the right from my iPhone demonstrates.
Sitting at one of the rooftop bars along the Bund is one of my favourite places to watch the world go by – thousands of tourists below, photographing millions of lightbulbs across the river (and a good glass of wine helps, too 😉 ).
For this shot, I swapped the purchase of a few glasses of wine for the chance to set up my tripod and camera right on the balcony, hoping for just enough of a break in the wind to allow me to expose for a full 2 minutes. Long exposures are great fun on the Phase One iQ280 – it can't quite handle anything over 1 minute, but it tries – and this 2 minute exposure is a good example of that!
At first, I had focused on "finding a gap" between all the neon-covered boats which race up and down the river all night, and then it struck me : don't try to avoid them, they're part of Shanghai! So, with a bit of luck in timing I somehow managed to hit a sweet-spot where three boats travelled the full field of view in the 2 minutes my shutter was open – generating a "freeway" of light trails on the water.
Of course, this isn't the first time I've played with long exposures on the Phase One iQ280 – this shot from San Francisco of the Bay Lights project (where LEDs are now able to put on a light show across the Bay Bridge) shows just how well this digital back can perform. So far, so good, I'm impressed 🙂