"Hey Paul, OK, got it – I'll bring two goats." – That was the email I received two nights before my shot with Shangri-La Sydney's new Head Chef, Bo Sorensen.
While not necessarily appealing to all the vegetarians out there, the resulting image is something I'm very proud of, all captured in a single frame with no "tricks" added later on!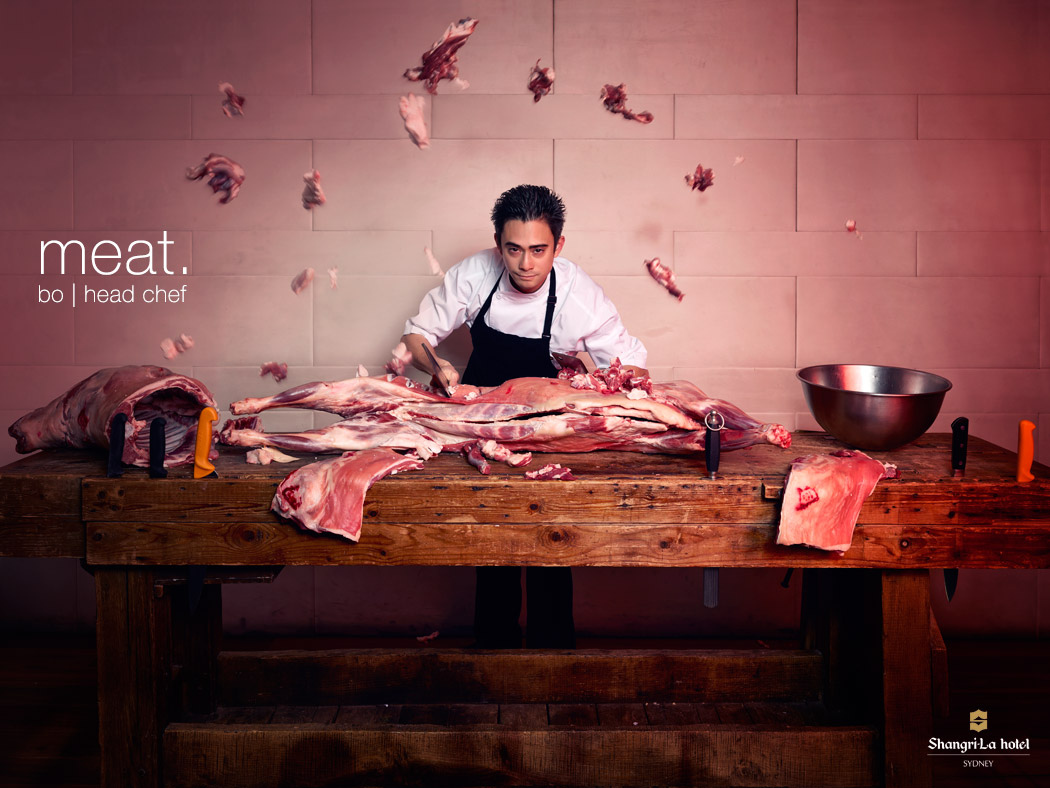 So, an image that includes two goats, flying bits of meat (don't worry, they weren't served to guests!) and our superstar street-food-specialist Bo, all in one shot. I figured a few of you might like to know "how it was  done"… 🙂
First off, the location for this shot is actually one of the most amazing places in Sydney – the top floor restaurant "Altitude" that looks out right across the harbour. With views of the Opera House, Harbour Bridge and the entire bay, you'd think we'd want to set up the shoot with that as a background! But no, The point of this image was to introduce Bo as a meat specialist – with experience across Asia, Europe and Australia, this guy really is an expert when it comes to serving up amazing dishes with influences from all around the region.
Rather handily, Altitude also has a very large vintage butcher's table – and a small little white-walled enclave that we could locate it in. Our first challenge? Altitude is so bright during the day with those vast windows looking out over the harbour, so, 3 flashes set up and we had a plan: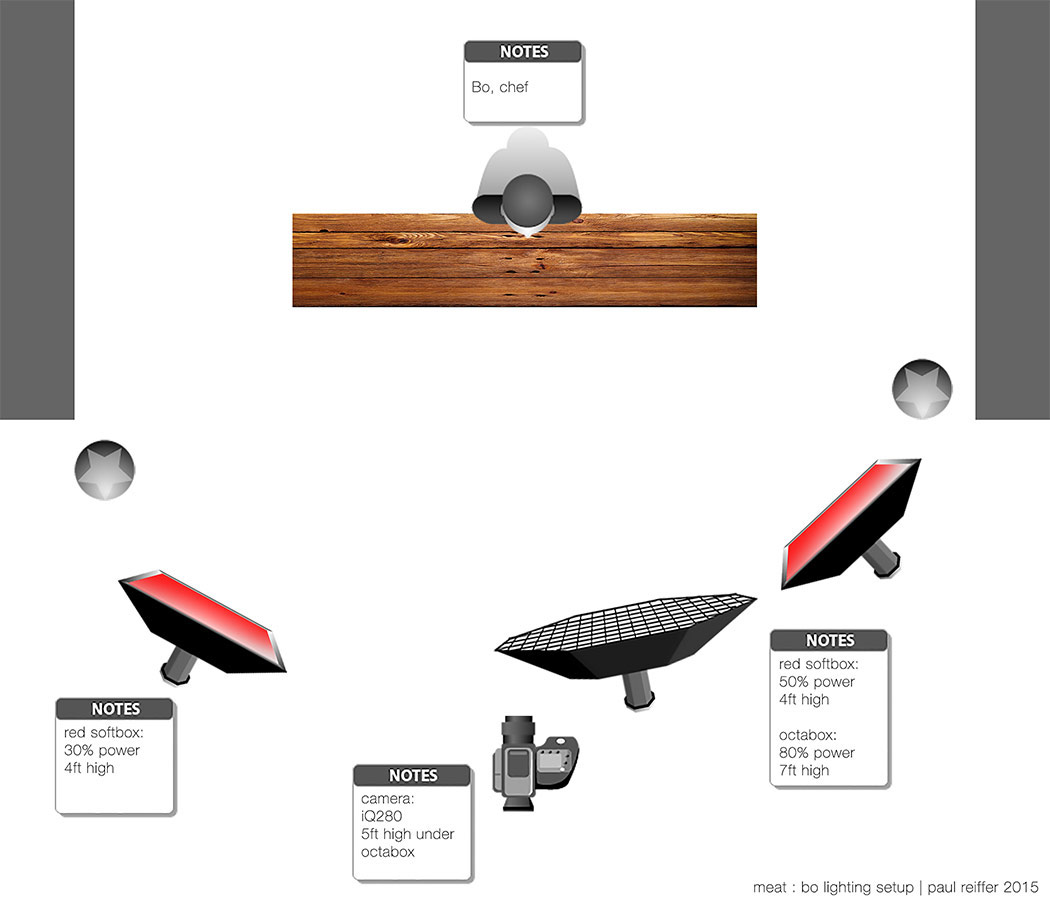 First things first, the clinical look of the room needed to change – red ambient light was needed, but not too strong. Placing one red-gelled softbox nearer to the table, slightly above the height of it at half power did the trick, but the left hand side would be uneven. While I didn't want the entire scene to be red, I did want to pick up the same colour on the left foreground as well as the back wall, so a second softbox with a red gel was placed further away and at a lower power than the first, to keep the "glow" going just enough on both sides.
Next up was the focus – I didn't want Bo himself to be bathed in only red light, but also wanted a soft spread across him so he didn't look too "cut out" from the background. A large octabox with a wide grid gave me just enough control of the lighting direction to cast a soft flash over him, but only him.
Time to get the guys in to help set up, including Executive F&B Manager Steve Krasicki (who we shot the next day as well… 😉 ).

"Does he get covered in meat?" they both asked. "Of course!", I said.
"We're in", they replied 😉
Although I wanted it to appear that the meat was flying from the table, there simply wasn't enough force as Bo slammed the knife down to make it jump up. A few tweaks later (with some help from the guys), and we had it rigged and set up to get the perfect look 🙂
But there was something photographically wrong: Although I can shoot crazy-fast flash syncs with my Phase One LS setup, when I did, anything "flying" was so frozen in mid-air that it looked "stuck on" to the image. Note: There are NO "tricks" in Photoshop or similar in this final image – that's the frame as taken by the camera – but I needed more movement than I got on the first shots. Normally, we try to use as fast flash as possible, but in this case I was going to have to revert to something more traditional and slower – around 1/125s seemed to hit the magic spot.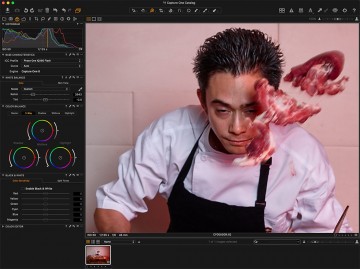 Now there's a little trick to getting things appearing in mid-air, such as chunks of goat(!), but once you get the hang of timing it can be easily done. 
Trying to synchronise an explosion of meat around him, along with Bo's action slamming the knife down, and keeping his face right was an interesting challenge, but in fairness – the guys all helped to made it work perfectly.
Of course, it's not possible to do this kind of shot without several attempts and whether the face-smacks of flying goat happened purely by accident, nobody will ever really know – but it's fair to say not every frame went without a glitch… 😉
So there we have it… "Meat Bo" (get it?!). Honestly, one of the most interesting and challenging setups I've shot for a while, and a great laugh in the process of creating the scene.
The final shot was made using my Phase One 645DF+, iQ280 medium format digital back and 45mm lens – set to capture at f/9 for 1/125s on ISO50.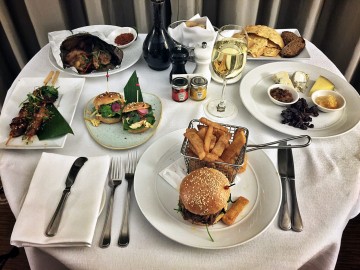 Just one thing to remember with chefs (well, two, really).  While it's important to not upset the chef (everyone knows that, right?!) – it's equally important not to make them too happy.
On my return a week later, I ordered "just a burger" for room service. What came was an exhibition of some of the finest meat dishes I've ever eaten – with flavours that exploded, and a stomach to match afterwards. The Shangri-La just added a whole new realm of amazing food to their menu with this guy.
"Just a burger!", I said – "Yeah, but we can't have you going hungry!" was Bo's reply… 
10/10 guys – in every single way!