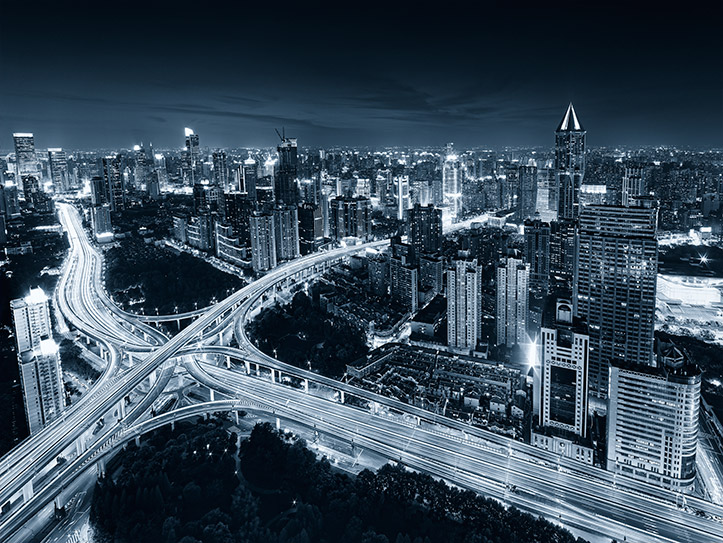 Shanghai really is a city that needs to be seen from above to be appreciated. The problem is that getting up there in the more traditional way (in a helicopter) simply isn't possible – so there is a growing movement of photographers who (ahem) "access" rooftops with key vantage points across the city. It's not a risk-free process by any means, but when you get up there and can look down at the pace of things in the world down below, it's one of the most peaceful situations I find myself in these days.
From this building, you can actually see the rooftop I was on for "Shanghai Calling" – an image I captured not long after moving to Shanghai at the Nine Dragons interchange. It's also a good reminder, looking down on that building, that we're 60 floors up on the roof with quite a bit of wind(!)
So what about the other views? Well, here's a bit of a tour…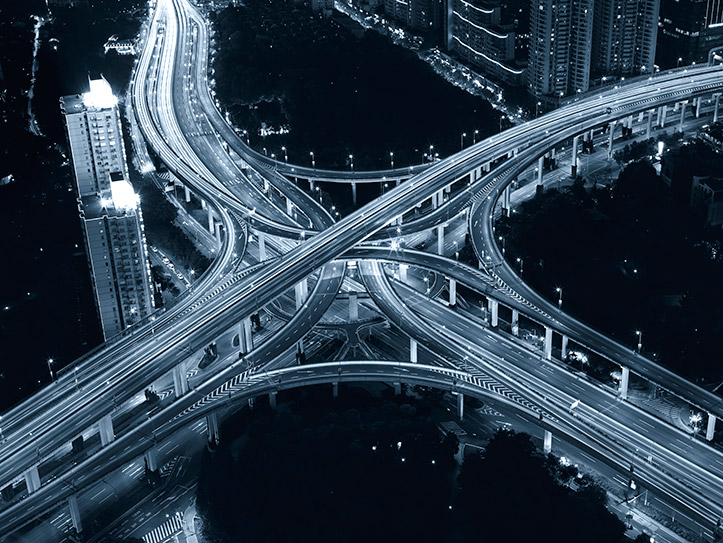 First we have that crazy intersection itself – the Nine Dragons Pillar interchange. This is where Shanghai's elevated freeways meet in the heart of the city and at up to 18 stories high in certain sections. Not only does it look like, but it actually is, the central nervous system of the city's road transportation network.
Looking more to the north, I could focus on Tomorrow Square and People's Square Park with places like the Urban Planning Center still prominent in the scene. In the foreground, that elevated freeway as it heads from East to West and just above, residential compounds which have (so far) managed to keep the skyscraper-building-onslaught of developers at bay.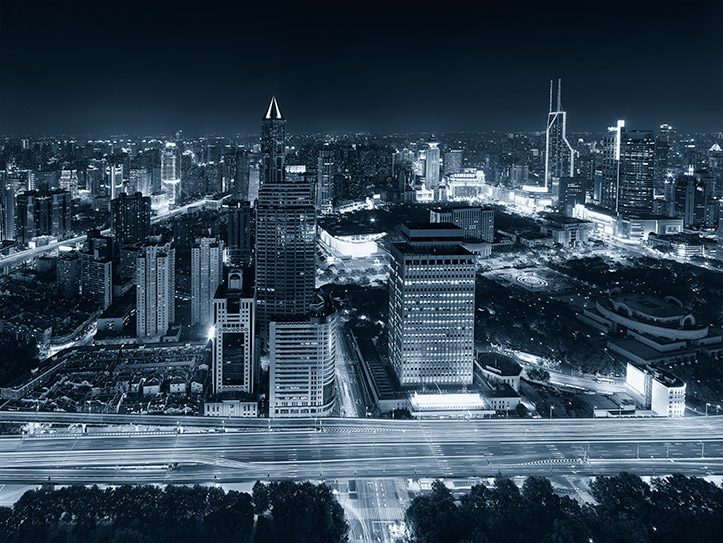 Heading around to the other side of the rooftop, we got a fantastic view out to the East of the city and Pudong across the river. From here you can see the Oriental Pearl Tower, Jin Mao tower, SWFC and the Shanghai Tower in the shadows as it begins to look down over all other buildings – now the tallest structure on the skyline.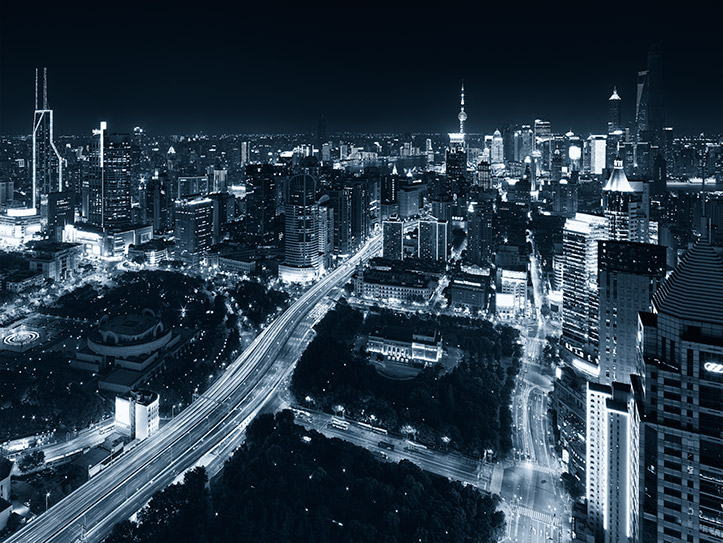 You'll notice from above, I've been experimenting with a new look for a select number of my new city shots. The originals of these images were obviously captured as normal with my iQ280, in colour.
The difference? I've added a Polapan blue filter to this photo which emulates the effect that you used to be able to cature using Polaroid's instant slide film in the early 80's. It's monochromatic, rather than pure black and white, but the feel it gives to a city shot at night is really special.

The shots above (left – "network" and right – "heartbeat") show just how amazing the transport architecture is from up here in colour, but there's something more "technical" about looking at the architecture in only one hue that I want to experiment more with in future. Granted, I absolutely love the colour versions of all of these images, and my focus will always be on producing colour photographs – but every now and then it's good to see how different a night scene can look when you take away all the distraction of neon coloured signs and lighting hues.
To test the theory out, I took a shot "crown jewels" that was captured at night from the SWFC looking down over the Jin Mao and Oriental Pearl Towers, and applied the same feeling to it. While everything is about personal taste, I love how it's come out 🙂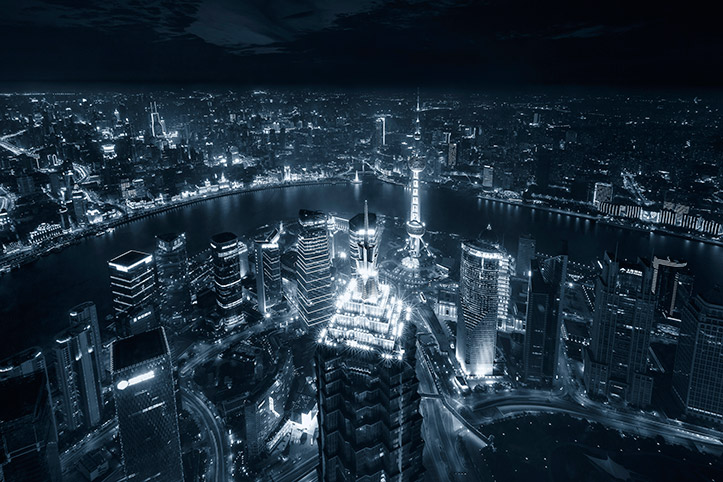 So, as the emails every week asking for specific location advice keep telling me, I guess I need to cover off the "rooftop" aspect in this post.
First thing's first: Taking pictures from rooftops is not safe. Wind, water, trip hazards, getting locked up there (yes!) and efficient security guards all play a part in making the whole experience of finding a spot particularly difficult.
Second: There are very few "official" ways of getting to the top of some of the highest buildings in a city and so most photographs are taken with "unofficial access".  That access may be in the form of "not getting caught", "making a deal with a security guard" or "knowing someone who can help", but at no time will any insurance ever cover you or your equipment if you choose to go down that route.
Third: Given the nature of that access, you'll very rarely find a photographer who will publish an exact location online – so don't be offended when they don't offer it up! It's not about preventing others from getting there, it's about protecting the location from being locked-down. As a perfect example, the location of my "Over The Rainbow" shot looking out over the Nanpu Bridge has since had high fences and double-locks installed all around the upper levels of the building because of the number of people who later tried to get access without permission. This is what photographers are trying to avoid at all times – losing a location.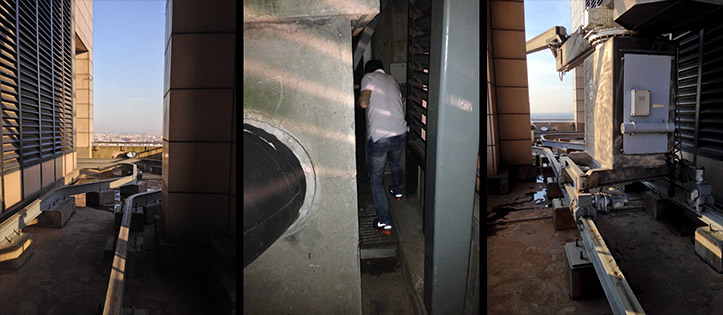 So if you do manage to work out where an image is shot from, the best thing is to find a way to get there yourself and don't shout too much about the specifics. And remember, when you're up there, you're on someone's building with a responsibility not to break or damage anything to both the building owners as well as the poor people below should anything go wrong. Don't interfere with lights (however frustrating they can be!) – they're there to warn aircraft that may be flying too low and exist for a reason – and don't, whatever you do, plan on taking a massive group up there!

The location for the shots in this post was perfect and quiet until somebody decided to bring their entire extended family (with 3 small kids!) to come and see the view (and to the kids: play with the machinery).  Don't get me wrong, I'm not taking a moral high ground on this one – but please, please, please people be sensible about the risks you take – for yourself and others.
One final thought: You've seen the results of the night shots – but we actually got up there for sunset. I still need to take a look at my memory card from earlier that evening before I choose the final shot, but let's just say from my iPhone image below, it looked pretty spectacular from up there 🙂