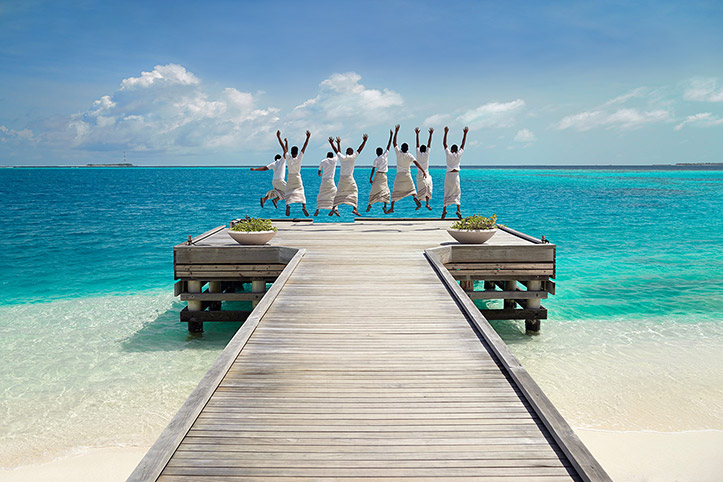 "Never work with children or animals", they say.
Luckily, the discussion I had with Per Aquum about photographing a 10th birthday didn't relate to either. Instead, we were shooting memories of the staff at their stunning Maldives resort – "Huvafen Fushi" ten years on from its original opening.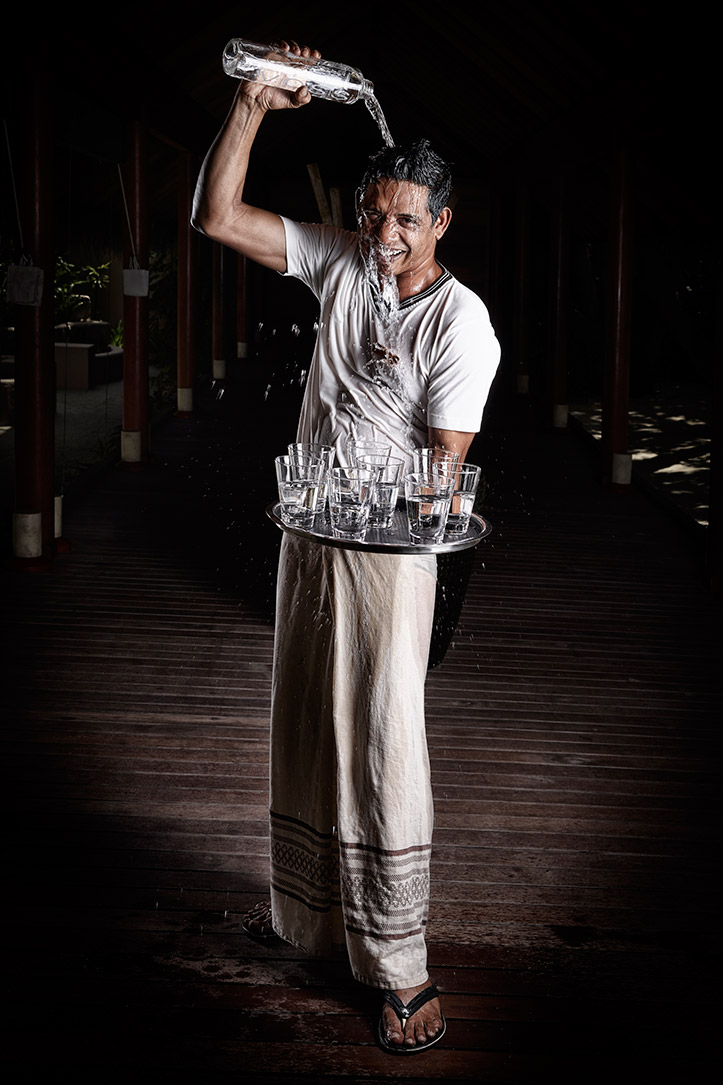 They have a lot to celebrate – 10 years ago when they opened, it was one of the most innovative resorts to be launched in the (now aspired to) Maldivian islands. Many of those concepts have been copied, but Huvafen Fushi still remains unique: In an traditionally high-turnover industry, I was photographing some of the original staff such as Jaleel, above, who have been there since before the doors even opened to the public.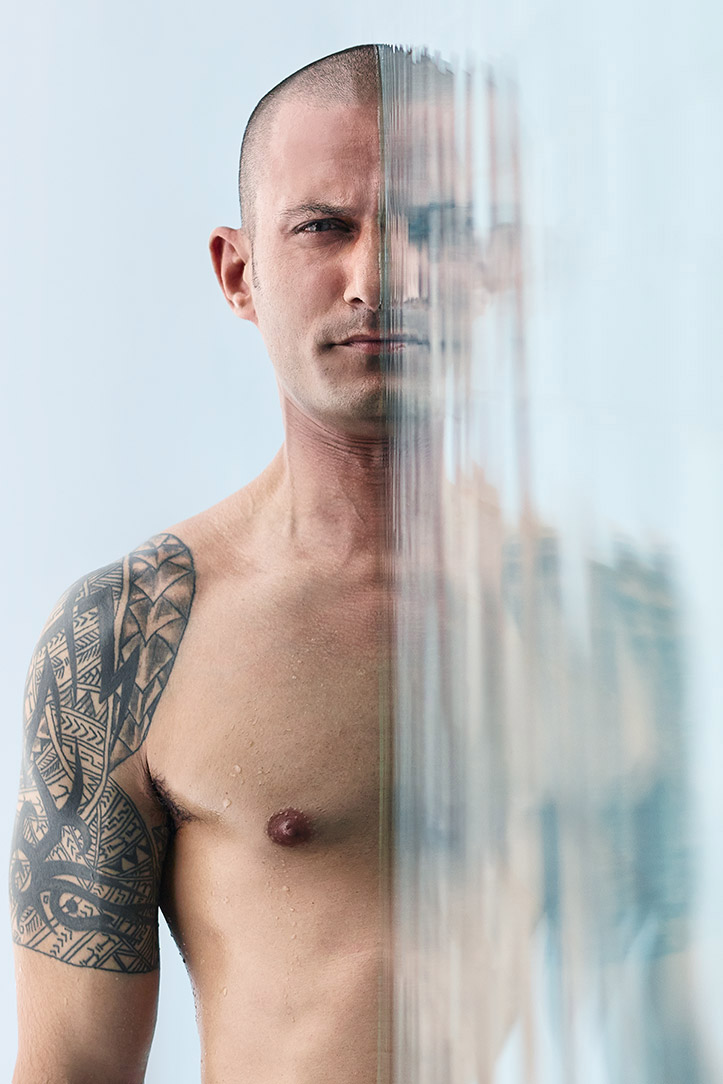 Returning after a few years apart is also Marc Gussing – their new General Manager (above), who is overseeing the revamp of the island to make it even more special.
Now, thinking about hotel GMs, there are few that I know so willing to not only involve an entire team in a photographic memory of their resort 10 years on, but also to get directly involved themselves in a very public way. The problem with shooting in the island's central infinity pool is, of course, that you attract a bit of an audience. Concentrating on keeping the water still, not breathing, not laughing and raising your head up onto the water line (while still maintaining a relaxed face) is no easy task – let alone when you're performing for your guests who are watching all around! 😉
So what else did we shoot? Well, pretty much every team on the island. Not all are shown here (there's not enough room to put every one of the 40 shots up) but it's safe to say they were all stars. From playing with pizza, to an army of angry chefs, to maintenance team wars to covering half the team in ice cold water – we did the lot.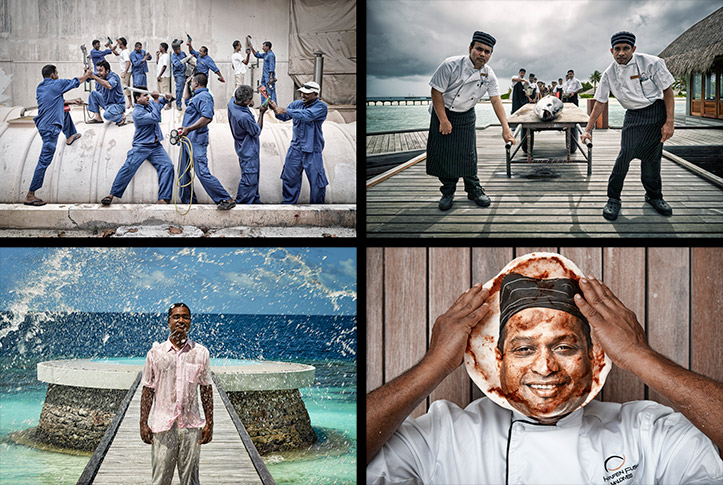 Shoots like this really do make me happy. Remembering that not one of these guys has any modelling experience, to work with such a fantastic group of people who really wanted to get into it (and 10/10 to Yoosuf for managing to organise the guys so well!) was really an honour and we managed to produce something unique for every team.
Of course, shooting on a paradise island is another factor on the enjoyment level scale, but I can assure you that lugging my gear around all day plus lighting rigs, tripods, etc in 35 degrees and crazy humidity can be a challenge! That's why it's the people themselves that really do make "work" like this fun 🙂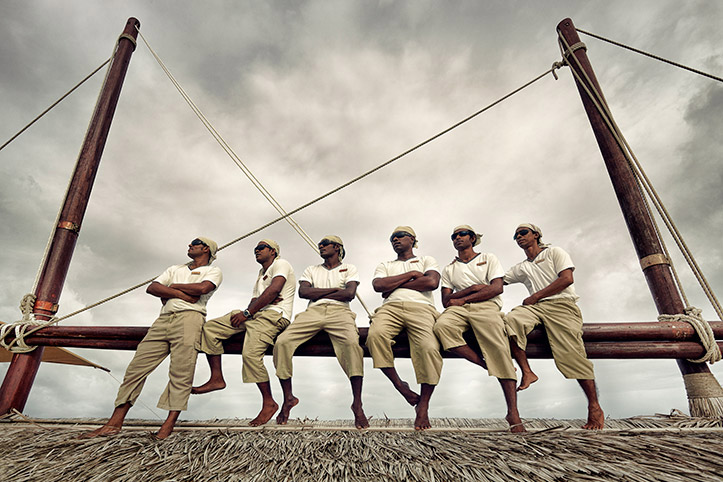 What to do on a day when the weather isn't so great? Storm clouds aren't a good look for the Maldives – but weather, of course, happens – and we got some thrown into the mix on one of the days. I say "storm", but in reality they tend to last an hour or two in the Maldives before clearing back to blue sky – so don't worry! That said, we took the opportunity to take a shot of the transport team (which, in Huvafen Fushi, means boat crew) on top of one of the Dhoni cruise boats with a bit of atmosphere instead 😉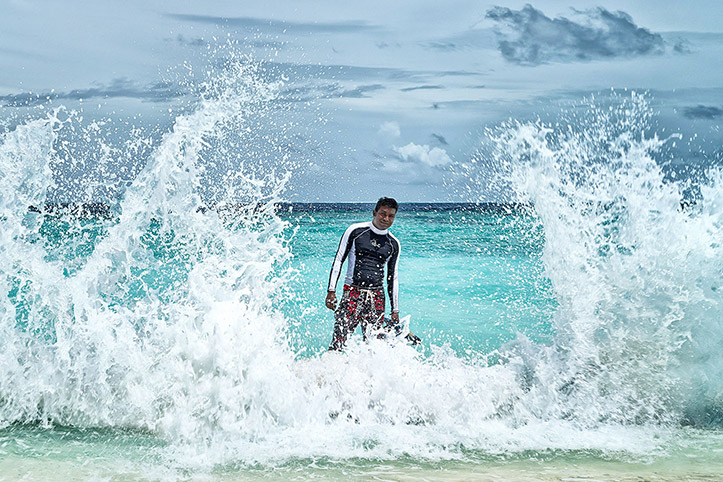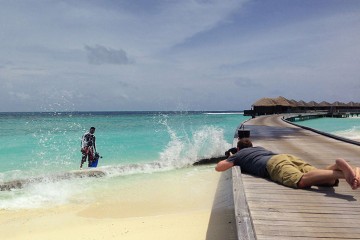 Another advantage of a weather system is that it brings waves – and Hamid, one of the divers and coral experts on the island, wanted a photograph with something different…
There is no editing "trick" to the photo above – he's stood on a small retaining wall, with 2 large sand bags behind him. As the waves crashed in, the sand bags force them to the left and right and the wall then creates the massive splash on either side of him. Cool, eh? 😉
I have to say, as the third time I've stepped foot on the island, managed by Per Aquum Resorts – each and every time I've been in awe at not just the way the team look after every single tiny thing you could imagine but also how genuinely beautiful Huvafen Fushi really is.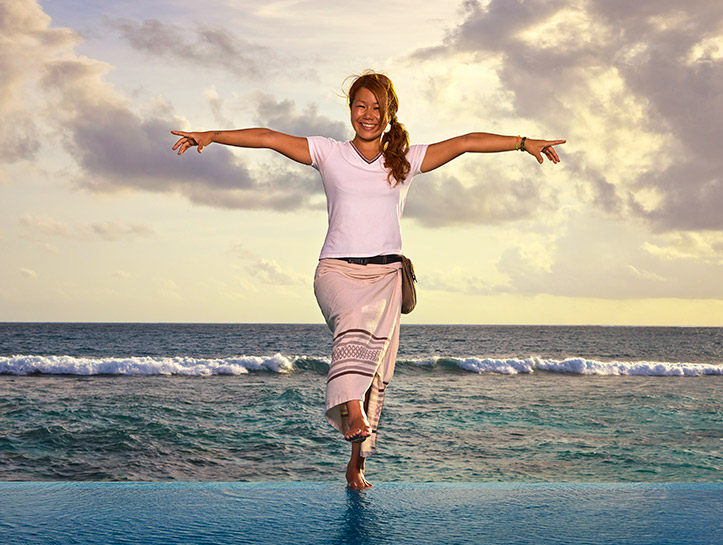 It's weird being somewhere so perfect but not "on vacation" (something I'm going to fix this summer!) but there's no way in the world I could ever call a shoot like this "work", it really was a pleasure capturing these guys as they celebrate the last 10 years and look forward to the next. 🙂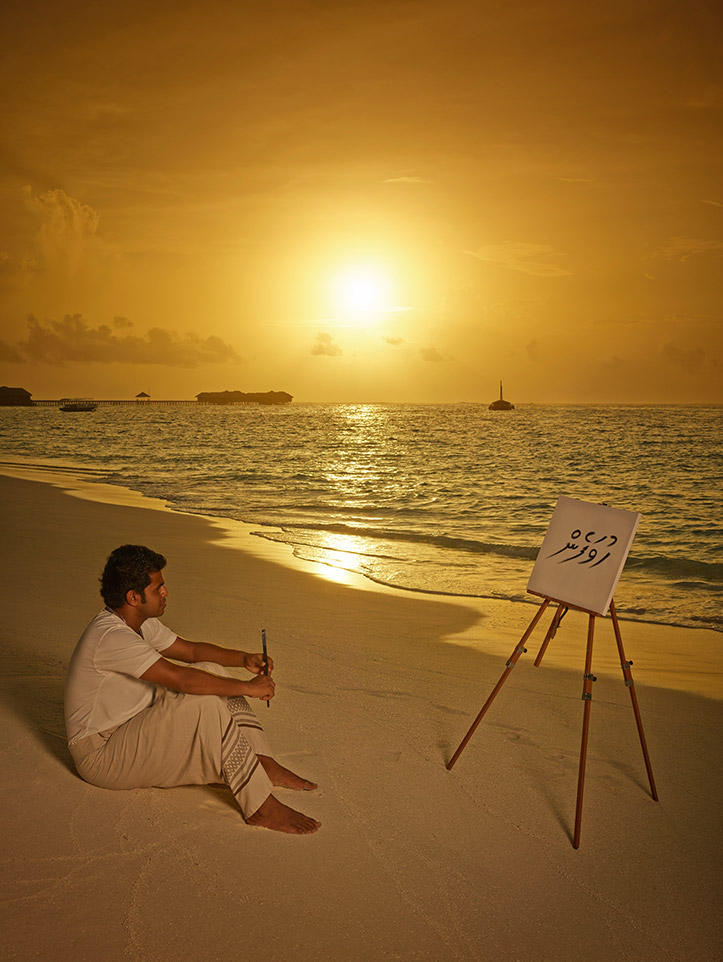 Oh, and one final thing: Of course, there's a golden rule in the Maldives – you should always try to end every day with a beautiful sunset 😉