Stood on a rooftop, watching the world go by beneath my feet into the distant city skyline – it's always been one of my favourite ways to experience any location. To be here taking photographs, as London came out of its longest spell of pandemic hibernation this spring, just made it all the more special.
There was a feeling of genuine optimism in the air.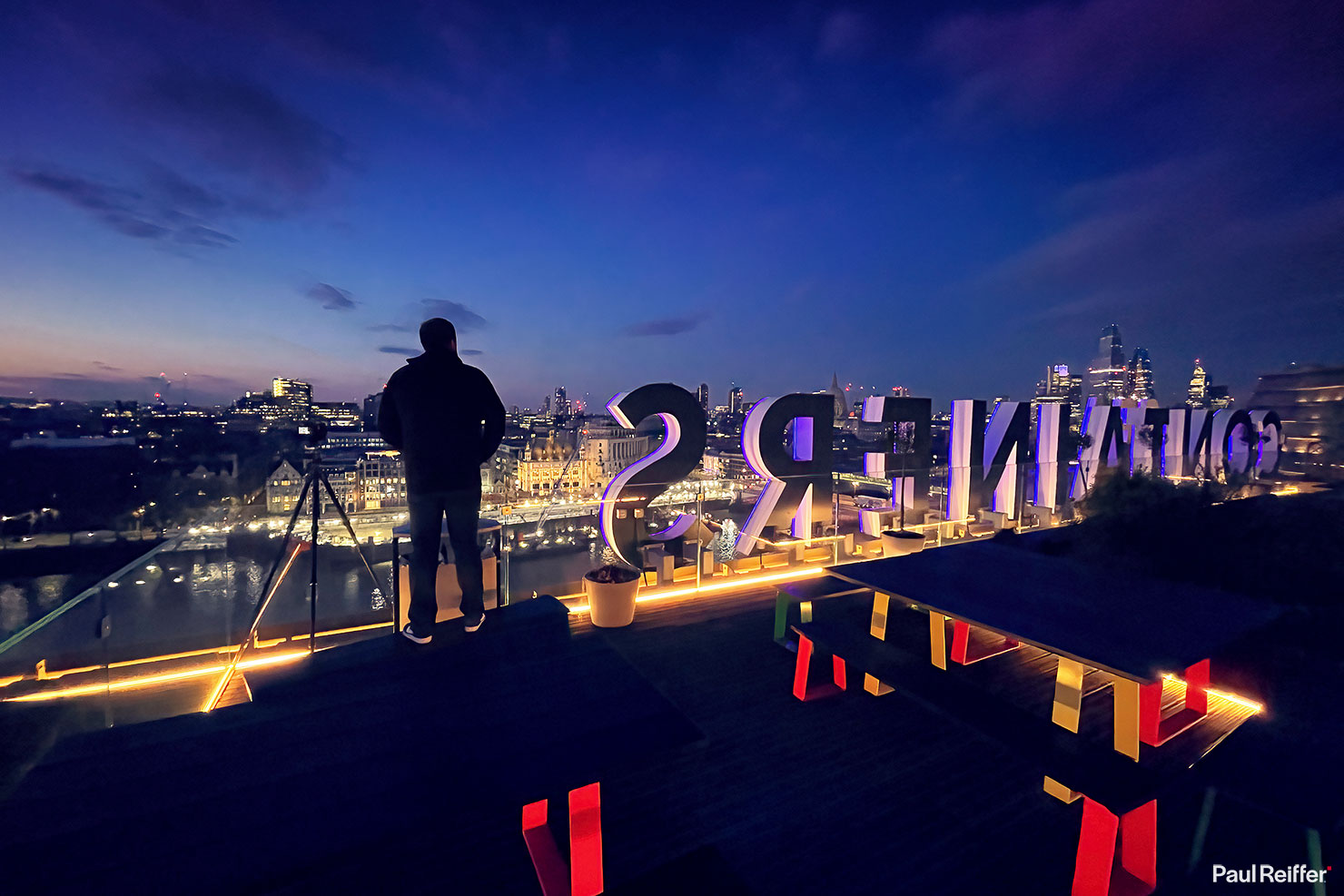 For me, I had a mission in mind for the next few days. While capturing the city during lockdown was interesting in itself, with the empty streets in all directions – it lacked that energy, motion and movement that tell us a story about how it feels to be there, and something I'd desperately missed.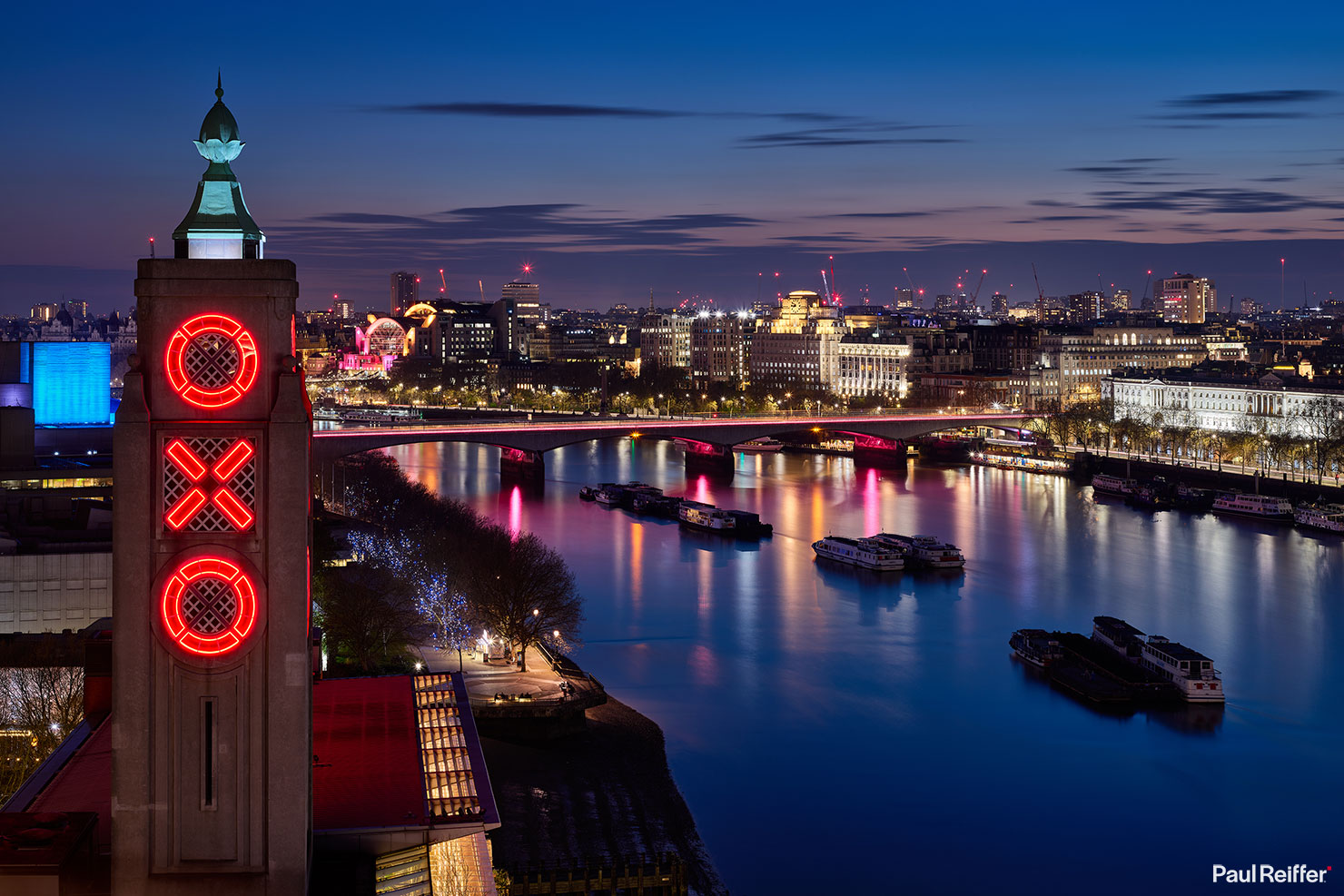 This would be my first chance in 2021 to capture some of those things – the very essence of the city, while watching London emerge from hibernation yet again. From the hotels that were now accepting more guests for business, to retailers opening their doors, to people starting to meet with friends outdoors in bars and restaurants, it was time to take a breath and enjoy those new beginnings.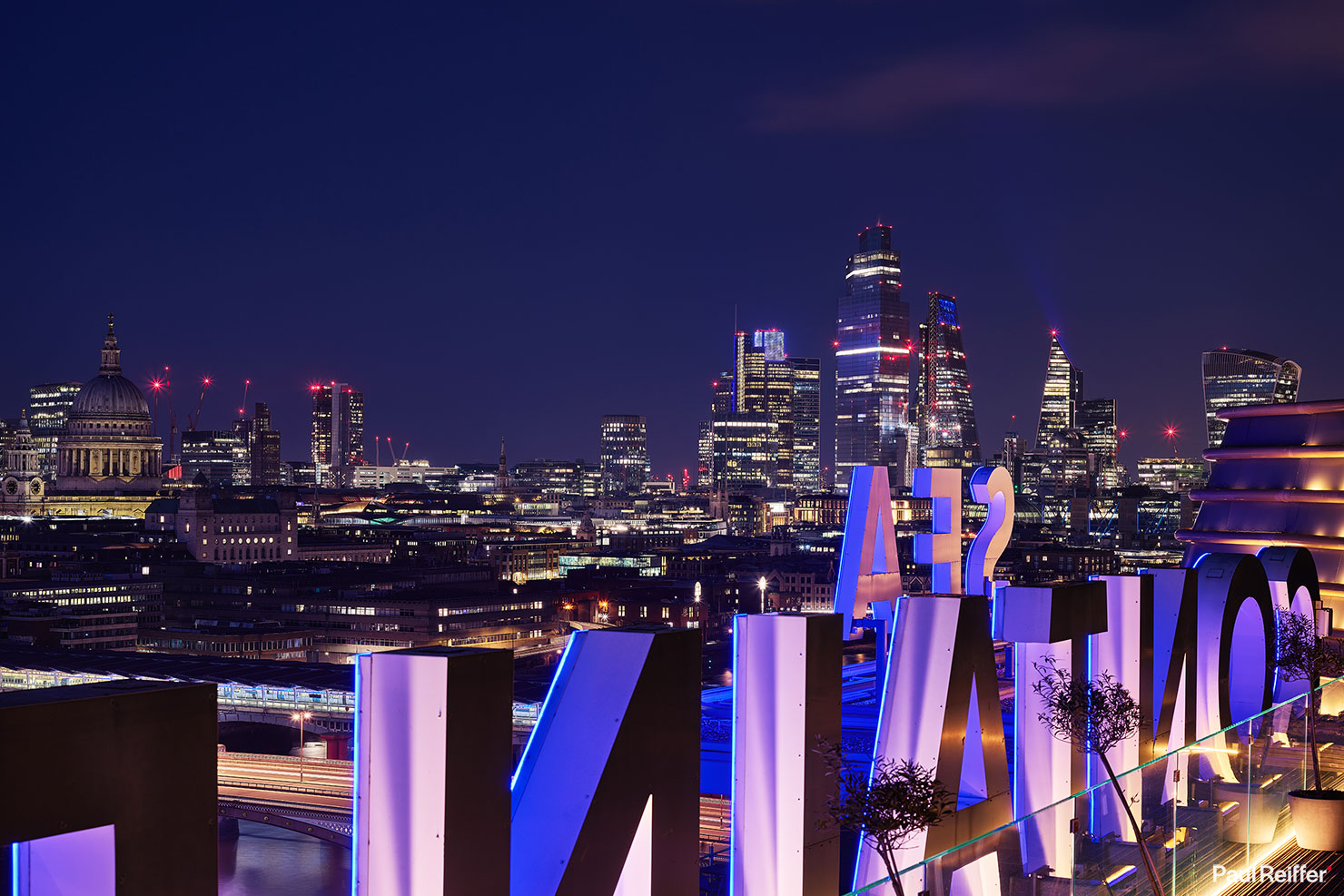 I also wanted to revisit the Phase One Frame Averaging approach – especially with a cityscape scenario in mind. Launched in 2018, the team in Copenhagen and I have worked closely over the years in terms of the challenges, new ways of shooting and opportunities that in-camera averaging is bringing to photography.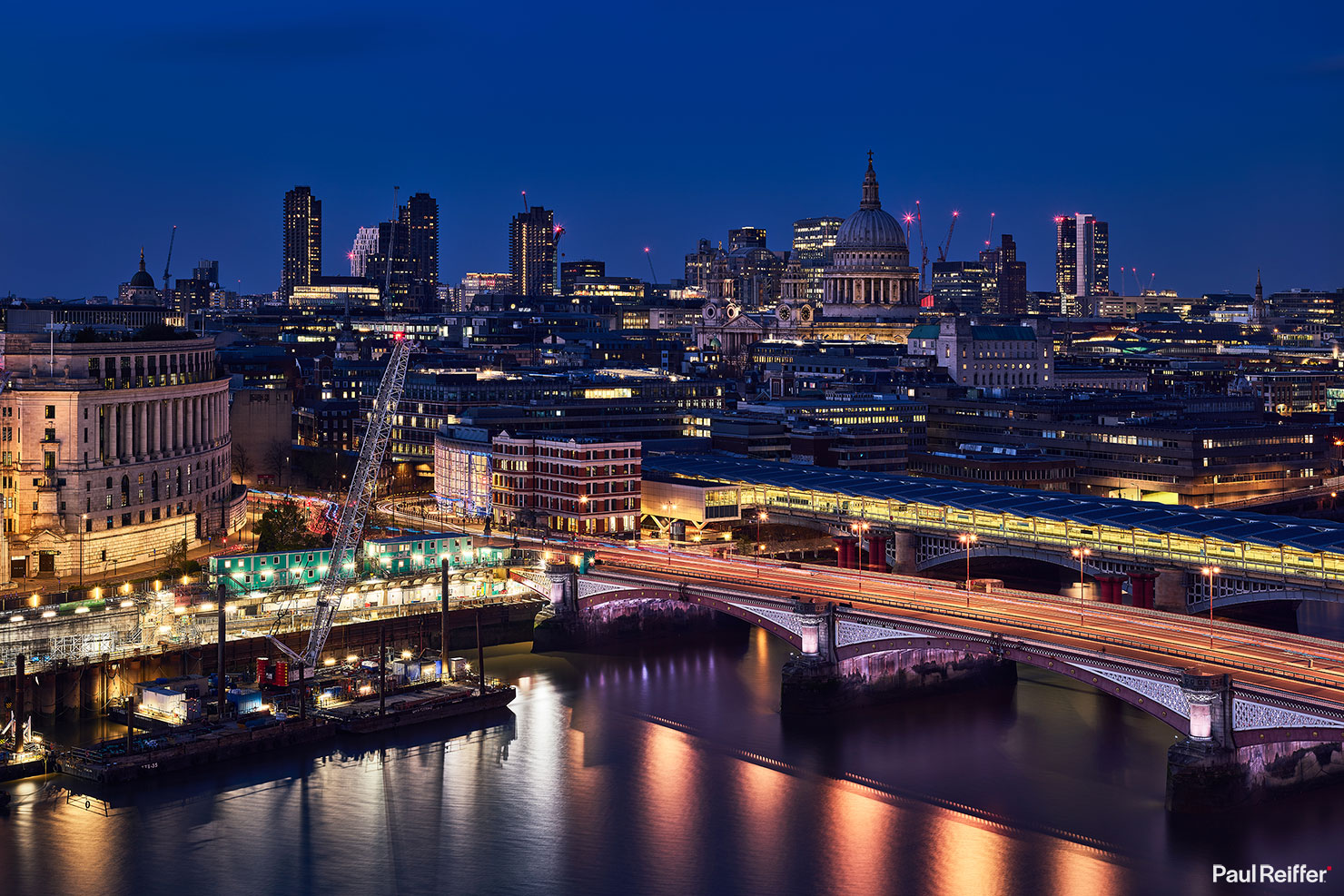 Up here, looking down on the red and blue emergency vehicle lights running across the River Thames, it felt like a good time to get back to playing with technology again and those traffic trails were calling…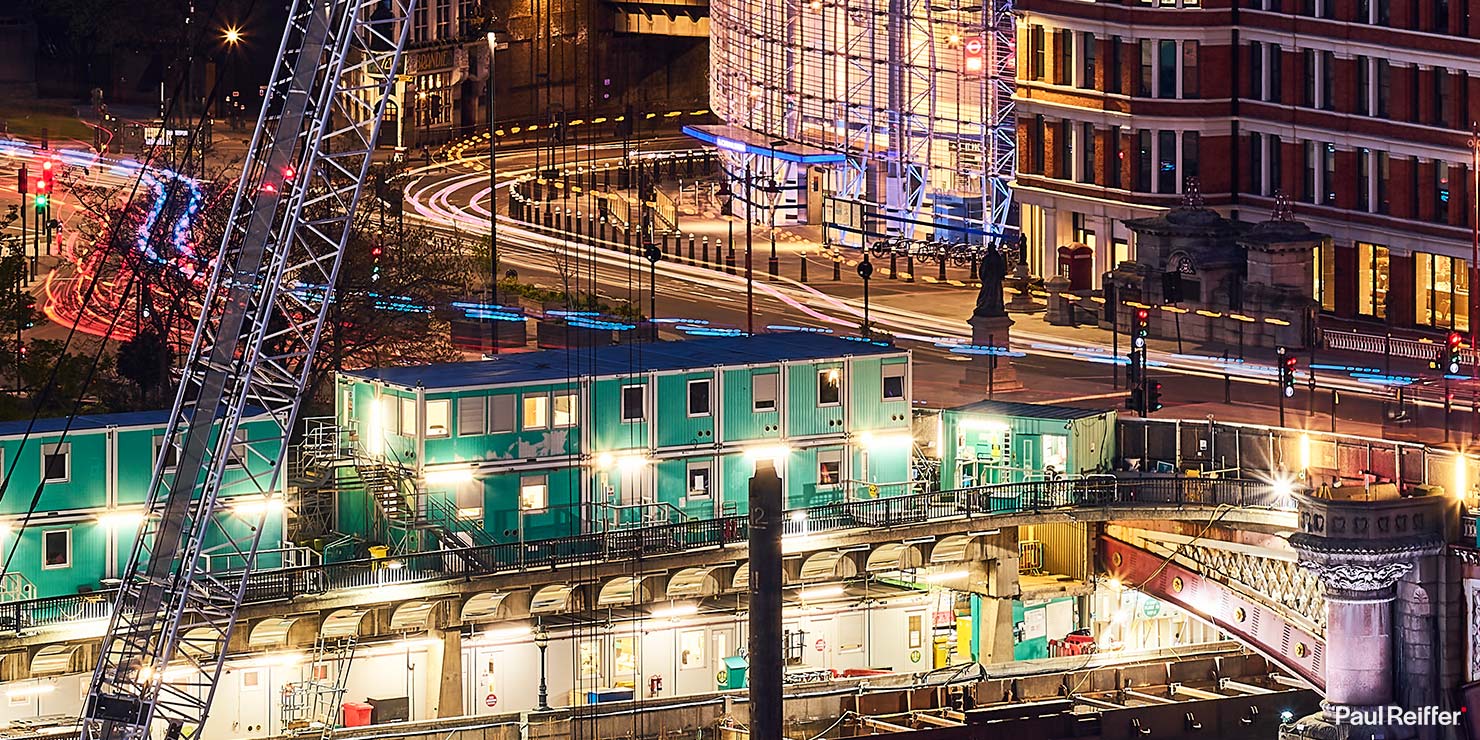 Since starting to use the Frame Averaging function (where we separate "time" from "exposure" in terms of the traditional triangles we're taught), the way I've shot has changed in order to get the best out of the opportunities it now presents. With expanded dynamic range, virtually noise-free shadows and a flexible capture time, it means I can now set my camera to just "record" and decide when to stop at any point, knowing the exposure will always be how I wanted it to be.
With that in mind, it was time to head out to one of my favourite spots in the city – London's Millennium Bridge, as it crosses the River Thames across to St. Paul's Cathedral.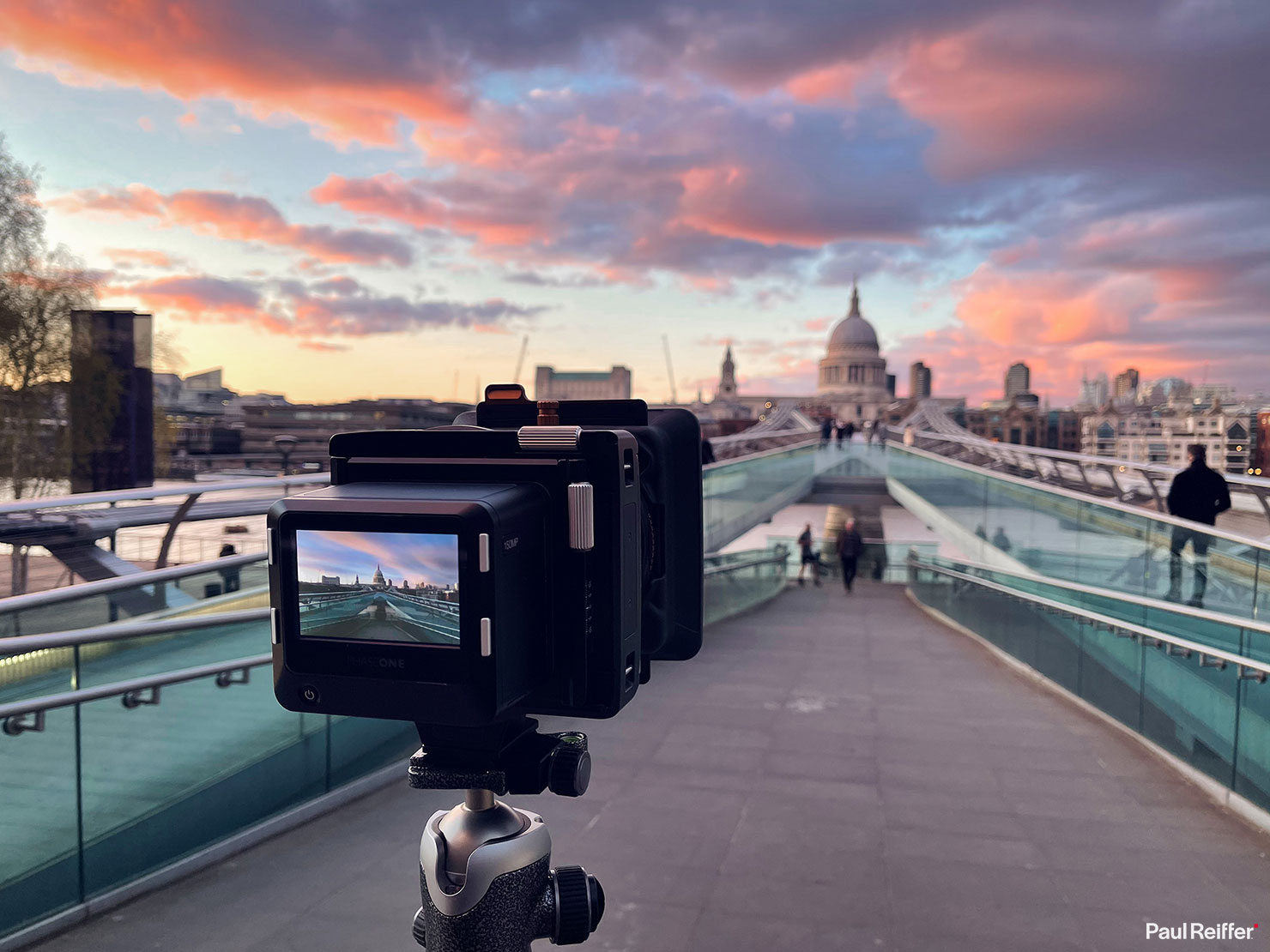 "What's that on your lens?" – Some may ask – given that Automated Frame Averaging "means no filters"?
Well, not quite – I've come to use both Graduated ND filters and Circular Polarisers in combination with AFA more and more these days, in order to balance the light across the scene or control its impact from different directions.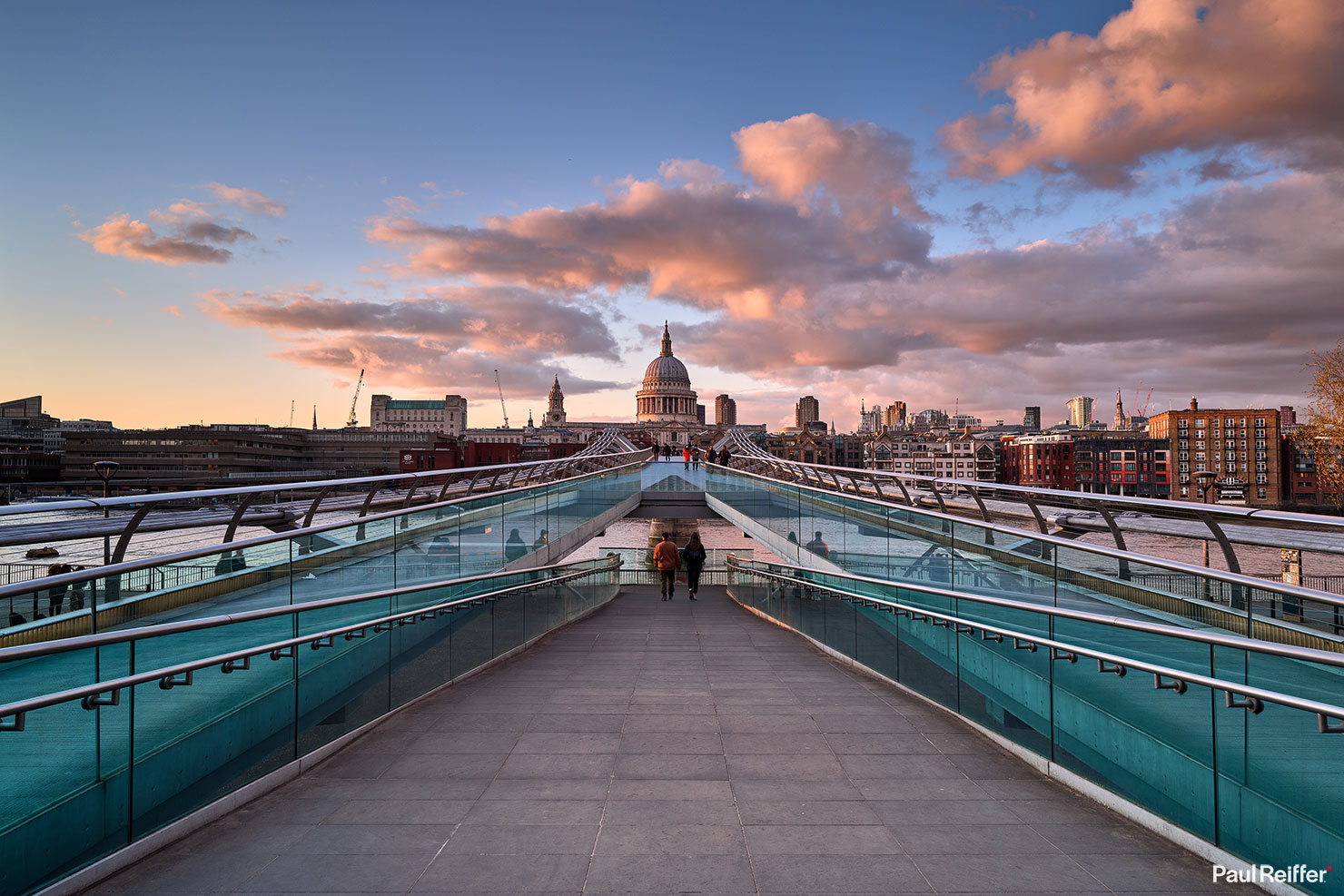 As a sign that London was getting back on its feet – the notorious bouncing bridge (in photographic terms) was back in full swing:
Bikers were racing across there, creating rumbles and vibrations.
Tourists were stopping for selfies for extended periods right in the middle of the frame.
Scooters zoomed by from all angles, bouncing and jumping on the suspended metal platform.
Plus, a ton of people had seemingly emerged from their homebound sentences to just stand and watch the world go by.
For anyone who's shot this bridge before (as I have, for many years!) these are all "par for the course" in this location – but I hadn't captured this structure since Frame Averaging was launched, and it was time to put it to the test.
With no solid Neutral Density filter and a timer set to 5 minutes, I clicked and hoped that we'd have enough movement to deliver something cool.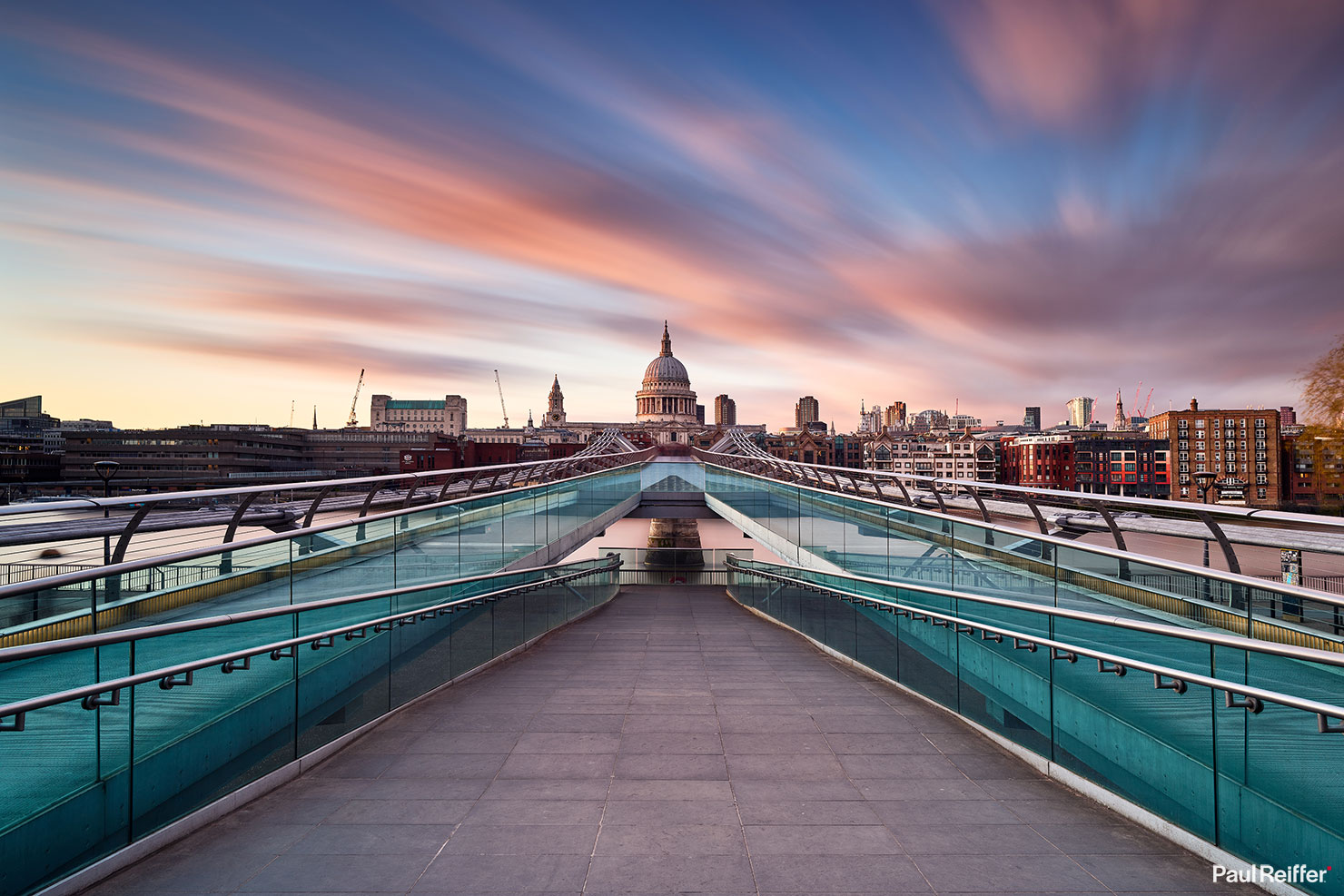 Turns out we did.
Coupled with some of the most calming sunset colours to hit the clouds in the sky above, this was a shot that I knew we'd be keeping. Plus, thanks to Frame Averaging, I could stop and save the second a boat started heading into frame from the right with no impact to my end result.
But I also wanted to see if it had "fixed" the one issue that exists in almost all shots of this bridge when taken over an extended period of time: Unwanted movement.
While we want the people to blur, and we want the clouds to stream across the sky, we also want the bridge to stay tack-sharp and still throughout the period that the camera is recording. Not an easy ask when the entire platform is constantly moving with wind, weight and people bouncing up and down.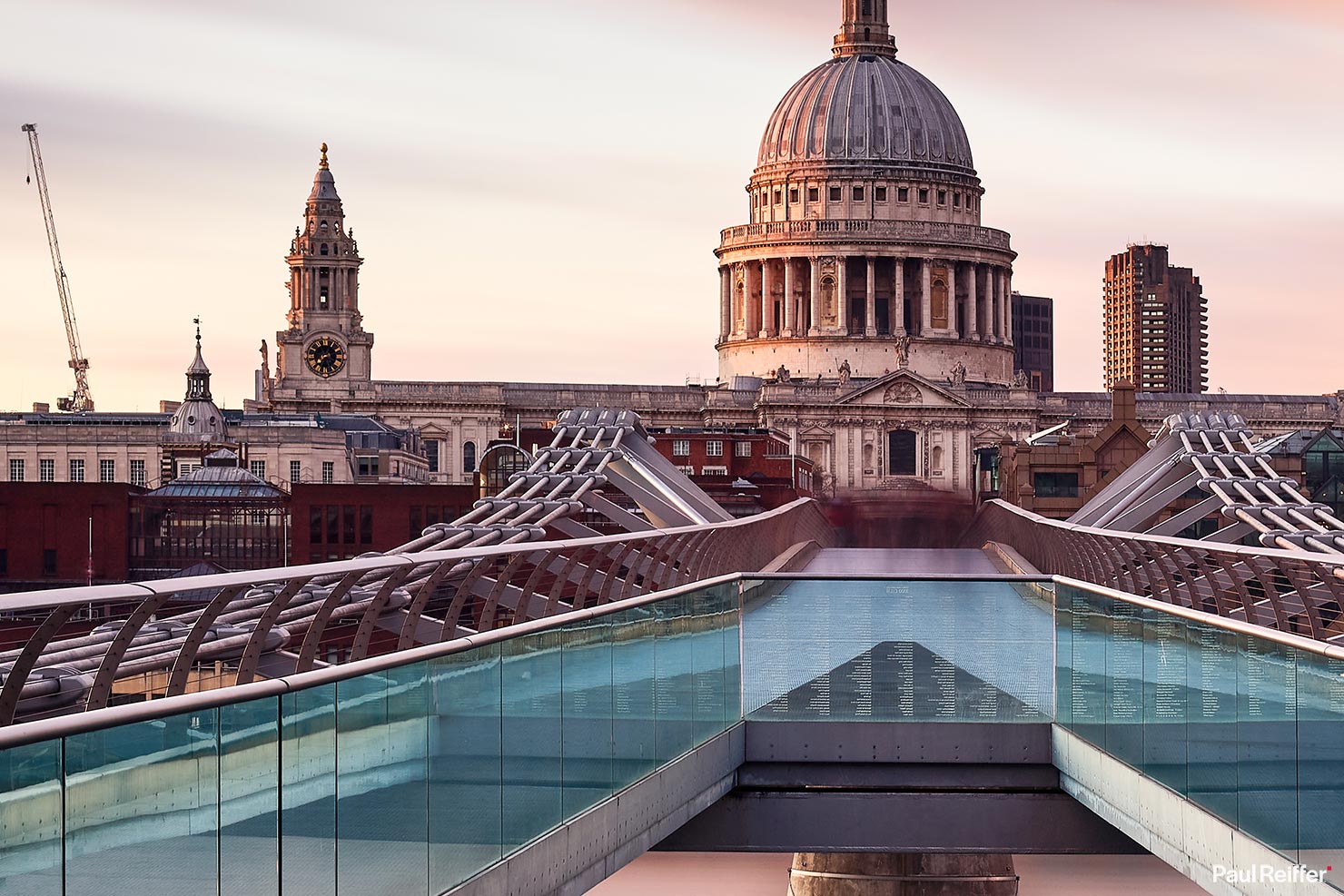 But this is where Phase One's Frame Averaging on my IQ4 digital back comes into its' own.
Rather than seeing that 5 minute exposure as one long recording (and therefore losing sharpness on the edges of the bridge), in AFA terms, this image is actually made up of thousands of individual exposures, all sharp, with a bias towards the "mid point" that is then combined into one raw file.
Pretty cool, especially for situations like this – and it delivered one of the sharpest "long exposure" images I've ever recorded here. So how far could I continue to push my luck?
Well, I couldn't resist. The light reflecting back from the City of London's "Square Mile" was starting to look amazing, so here was capture number 2 for the evening…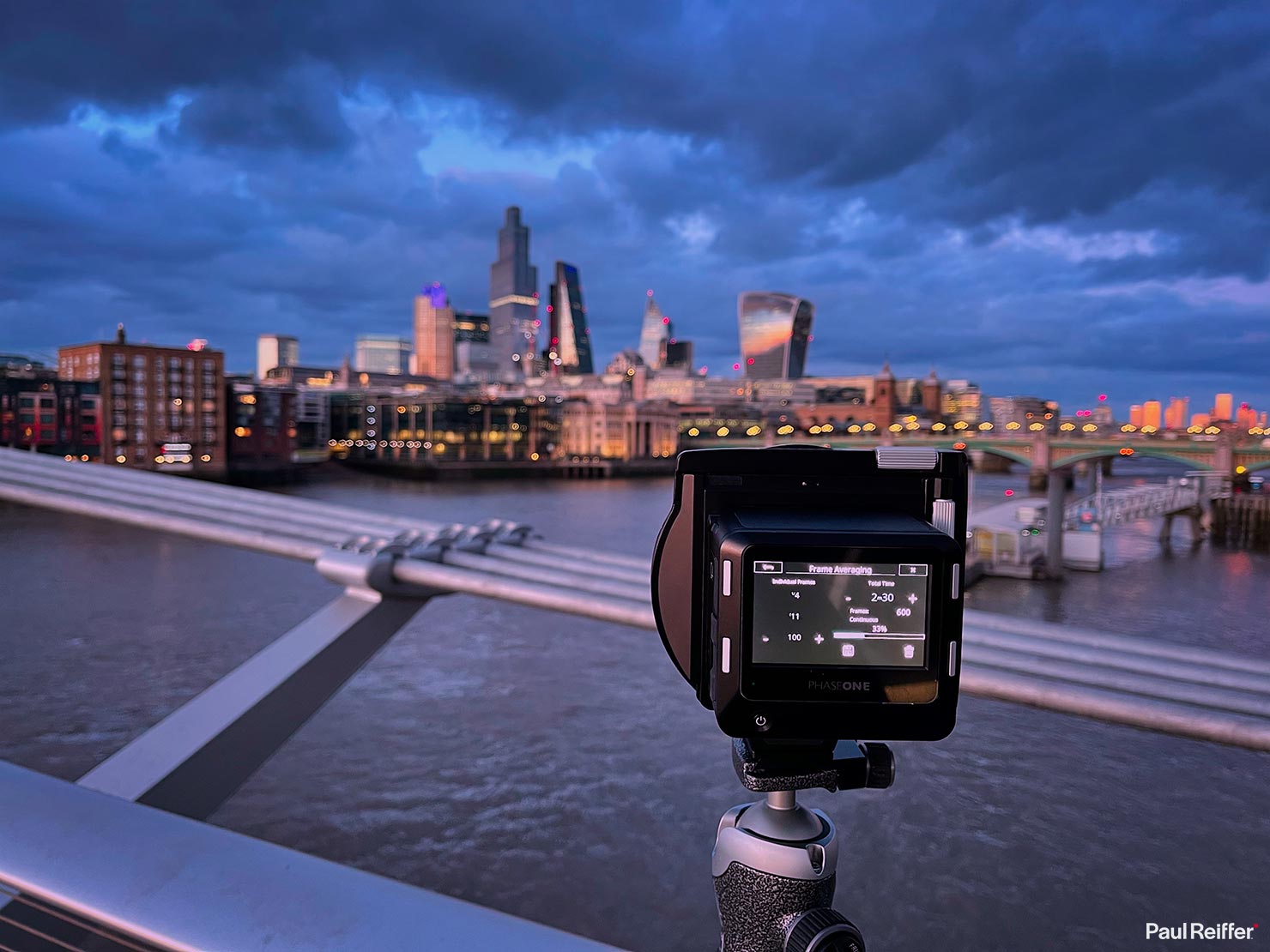 And the "challenge"?
Simple – this, as you can see, is actually taken from an unsupported part of that very same, moving, bouncing, swaying Millennium Bridge.
And how did we do, on a 2.5 minute long Frame Averaged shot?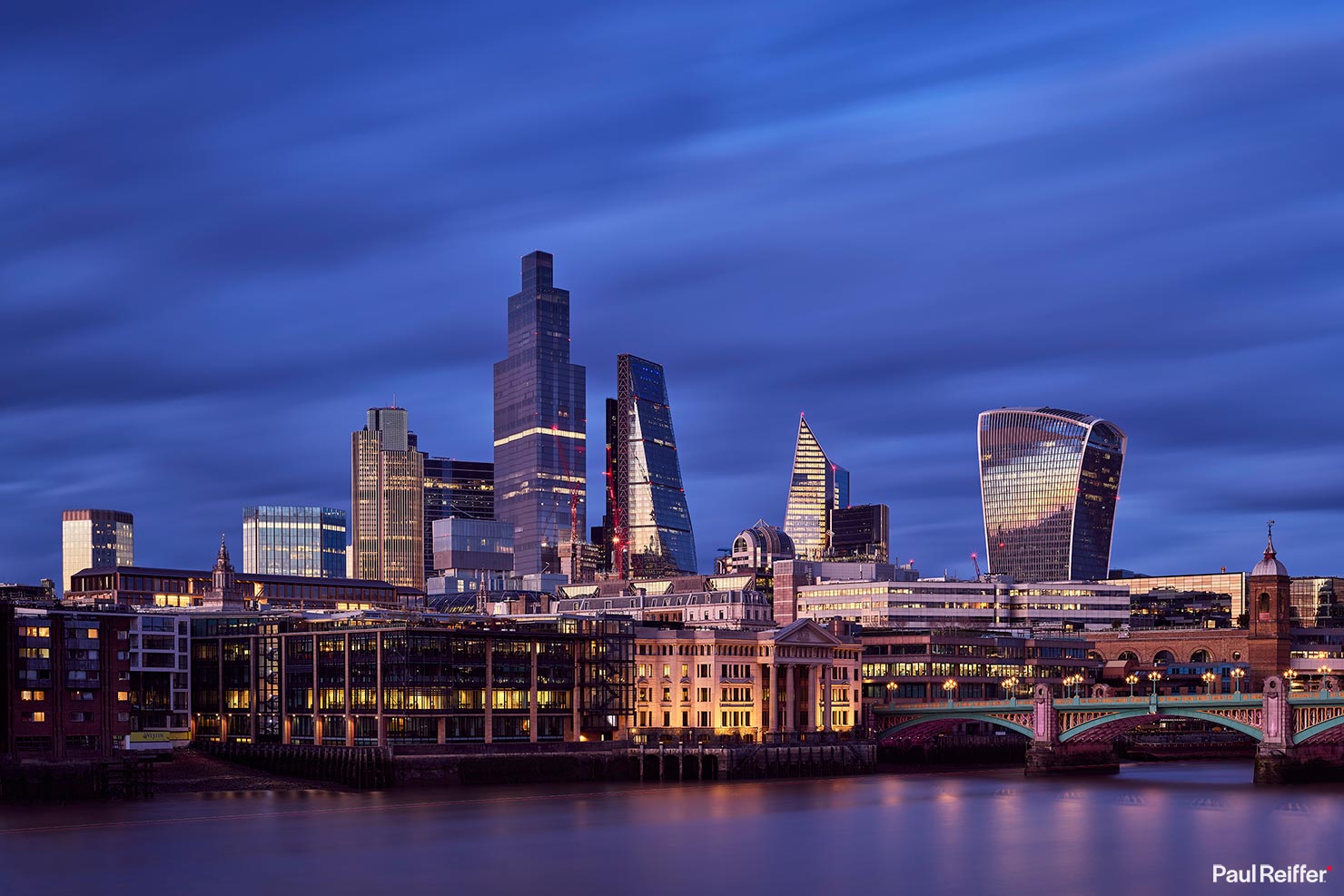 Well for a start, that's a very cool skyline – but what about up-close?
I thought back to the runners, skateboarders, dog walkers and others who'd made the tripod bounce while trying to capture the scene with a 70mm lens as I zoomed in…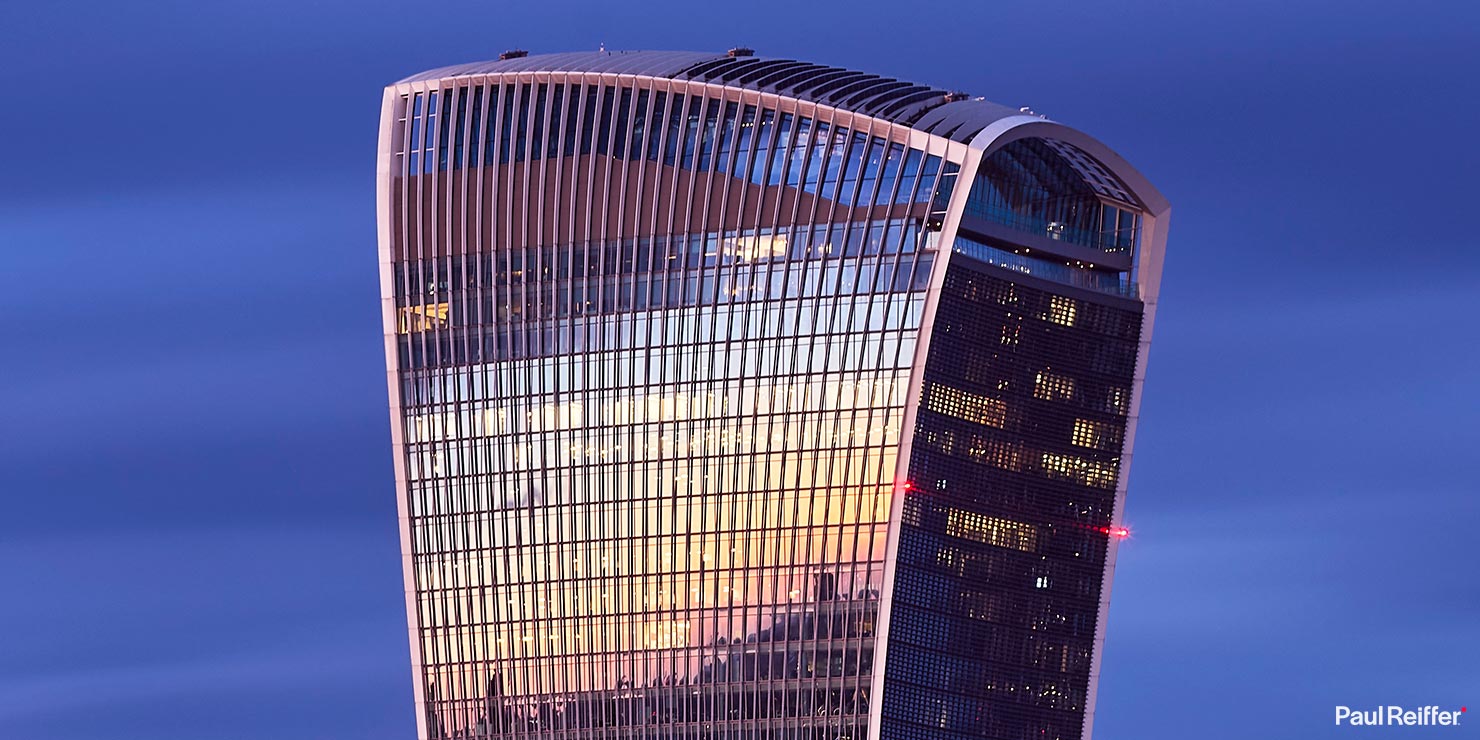 …to all those wonderful details.
That entire frame was full of crisp, sharp, defined areas such as the Sky Garden on top of the "Walkie Talkie" building – those are the details that continue to blow me away, every time I click the button on my IQ4 system. The fact it managed to deliver that while bouncing around over several minutes – simply incredible.
With the end of blue hour approaching, it was time to move on.
Strangely, while most of the city seemed to be slowly to returning to normal, there was one area that stood out – the lack of people, in relative terms, on the South Bank.
As darkness fell, the challenges of the previous curfews and lack of distancing that many showed at the time still seemed to loom heavy in peoples' minds, despite some elements no longer being in place for this latest re-opening. Whether people had it too fresh in their memories, or whether it was the challenge of only being allowed to operate outside for a while, there was a definite reduction in activity around the otherwise busy riverside hotspots.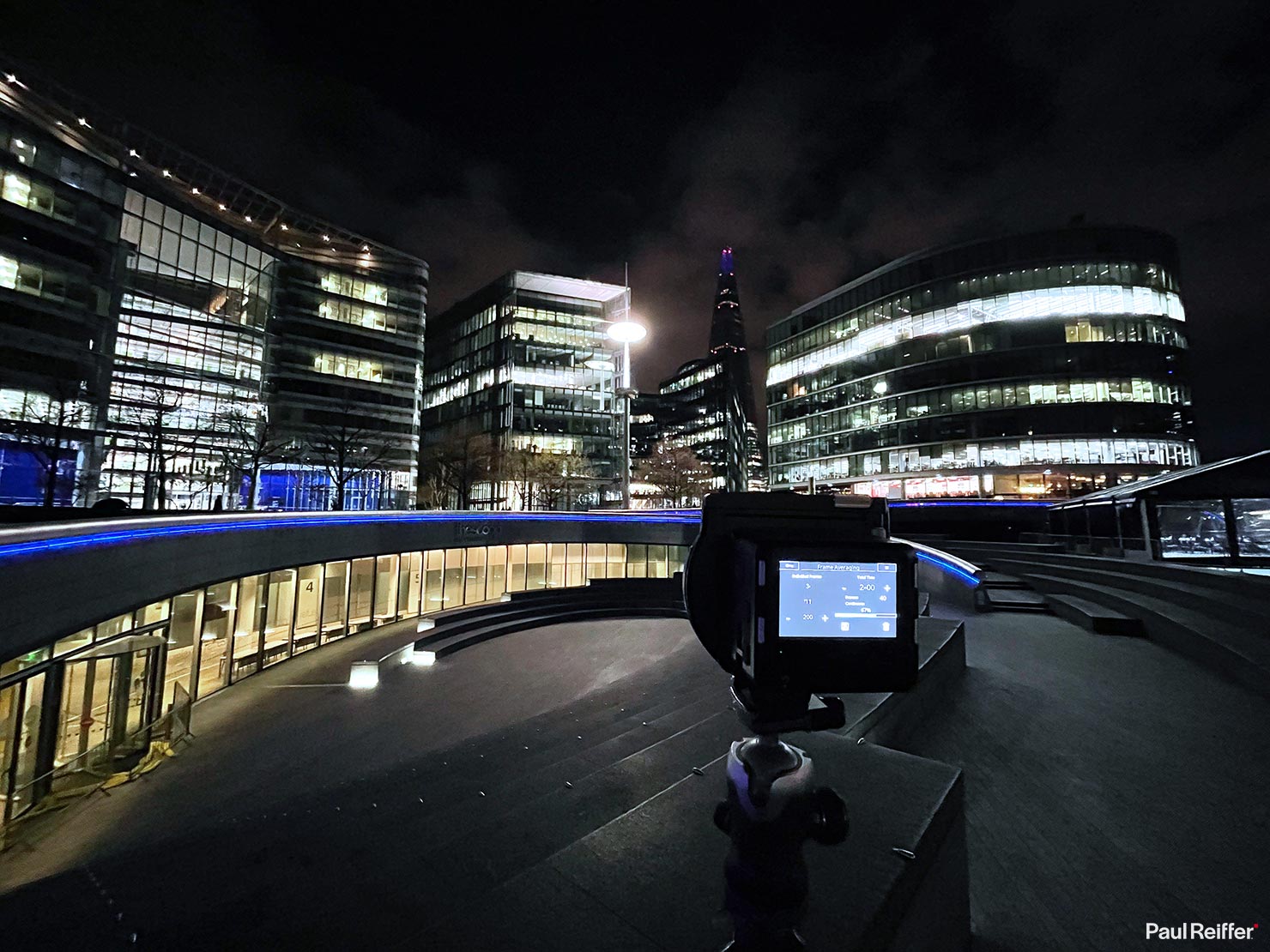 Still, photographically speaking – a great opportunity to not worry so much about ultra-long exposures/captures in order to make the people disappear in settings like The Scoop, with London's iconic Shard skyscraper looking down over this well-known meeting place.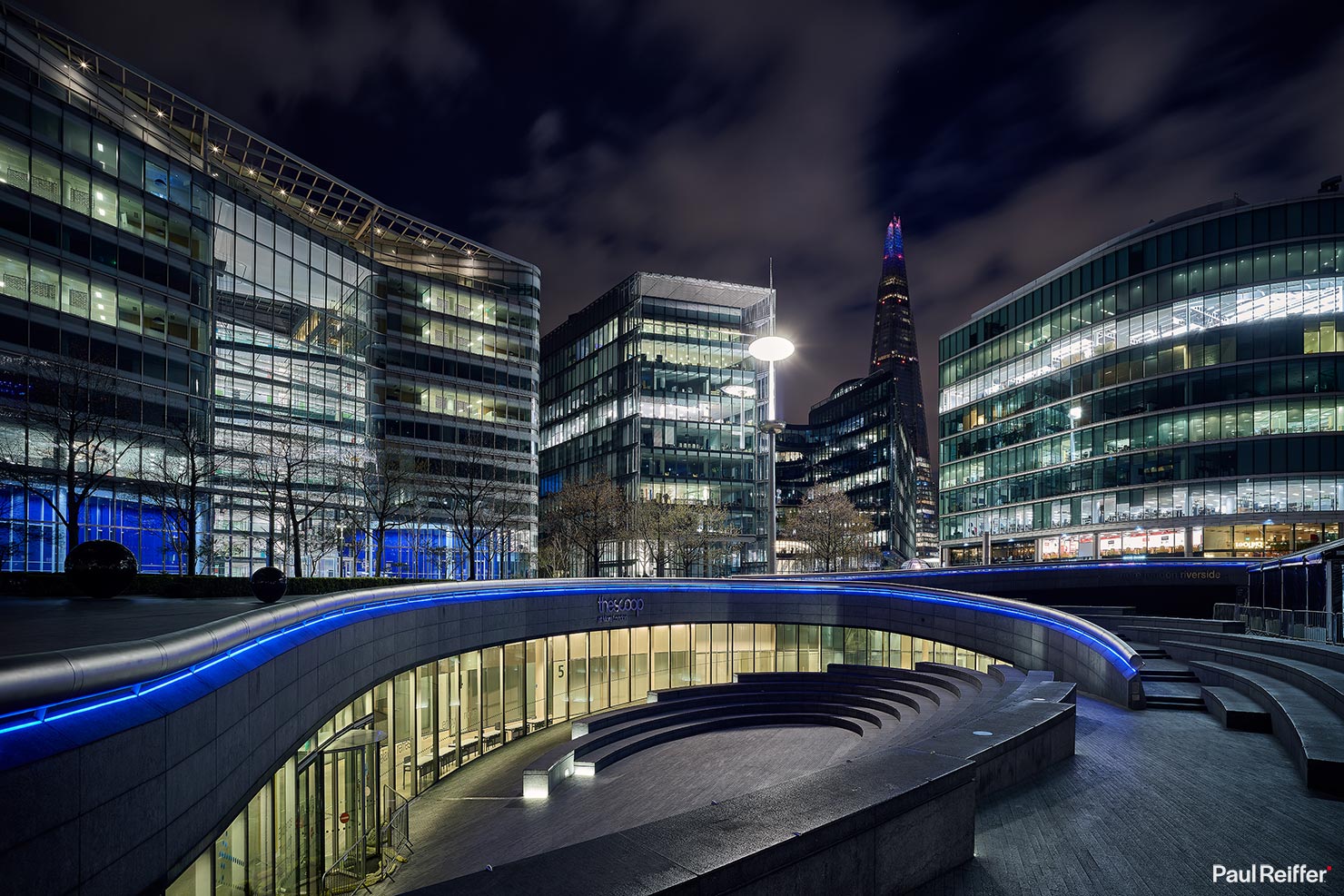 Incredibly, despite this being a period of relief in many ways, there were still the obligatory group of people causing a situation for the security team at City Hall. I say incredible, as after all that frustration through the restrictions, some still felt the need to attempt to ruin others' nights the second the rules were lifted – how very sad.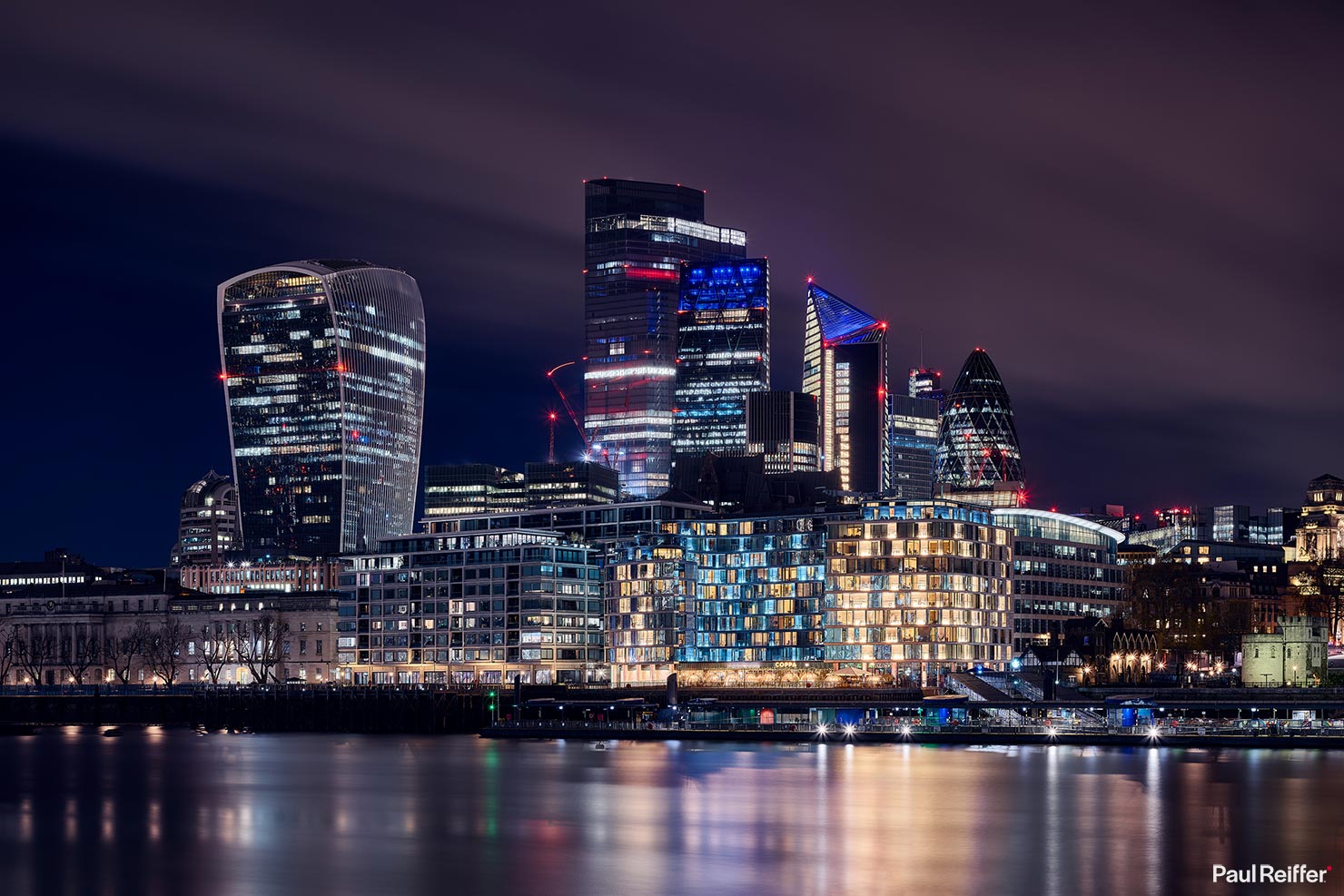 Turn the camera around from this spot and you get a real sense of how much construction has continued during the period of "shut-down" that we've all experienced. The City of London's Square Mile is anything but static – I remember when even just "The Gherkin" was conspicuous on the skyline, but not any more as it's joined by other landmarks such as the walkie-talkie, cheese-grater and the huge development of 22 Bishopsgate too.
But it's the details I wanted to see again in this shot. Averaging out for the effect of a long exposure over a couple of minutes, it was all about how those elements would hold up from 500m away, across the river.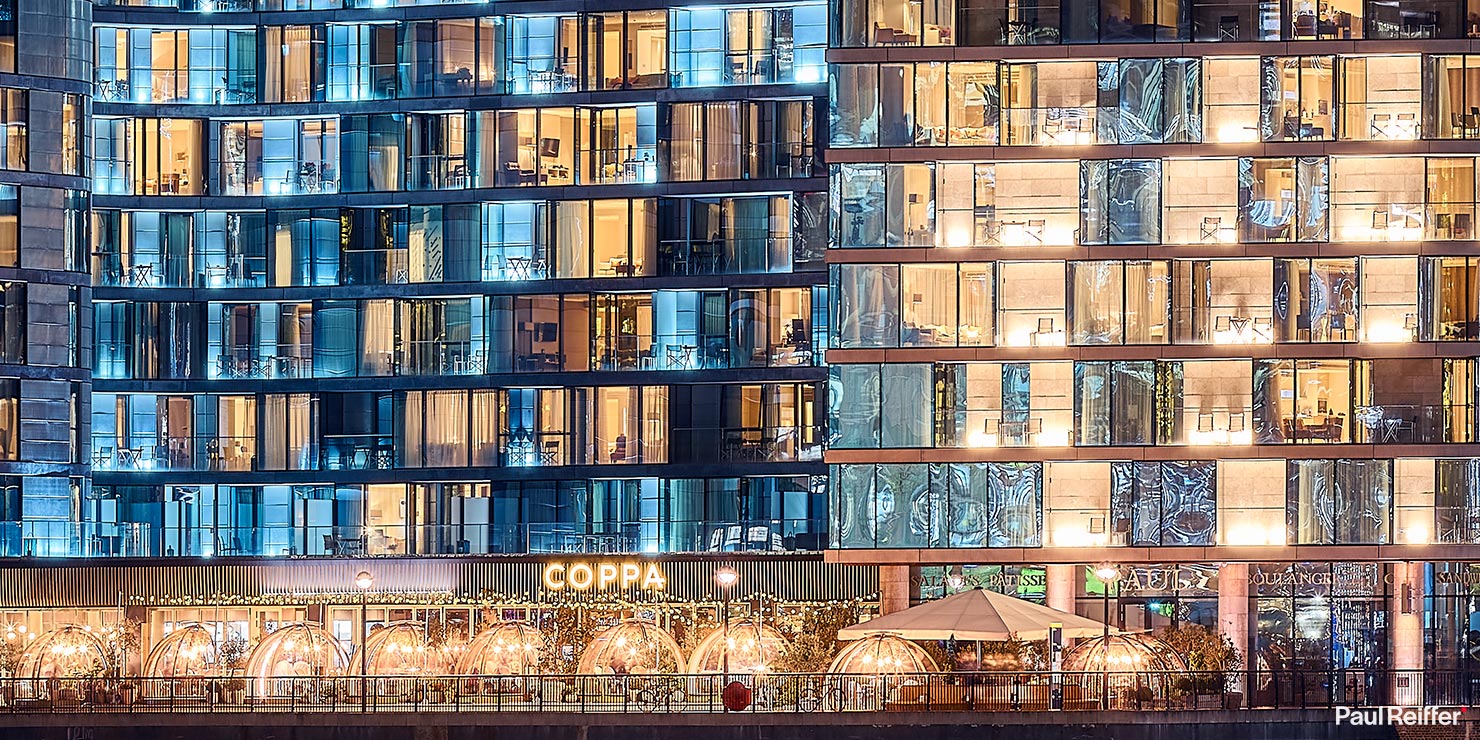 At even a 50% crop, as above, I'd have to say that's pretty sharp – especially given the effect of the wind hitting my camera the whole time.
So what about one last shot for the evening, given I was so close to a known spot for light trails. It's a relatively safe "postcard" scene, but one I've never shot seriously before – so I headed up the steps to Tower Bridge to see if the level of traffic had finally returned to some sort of "normal" level for the evening.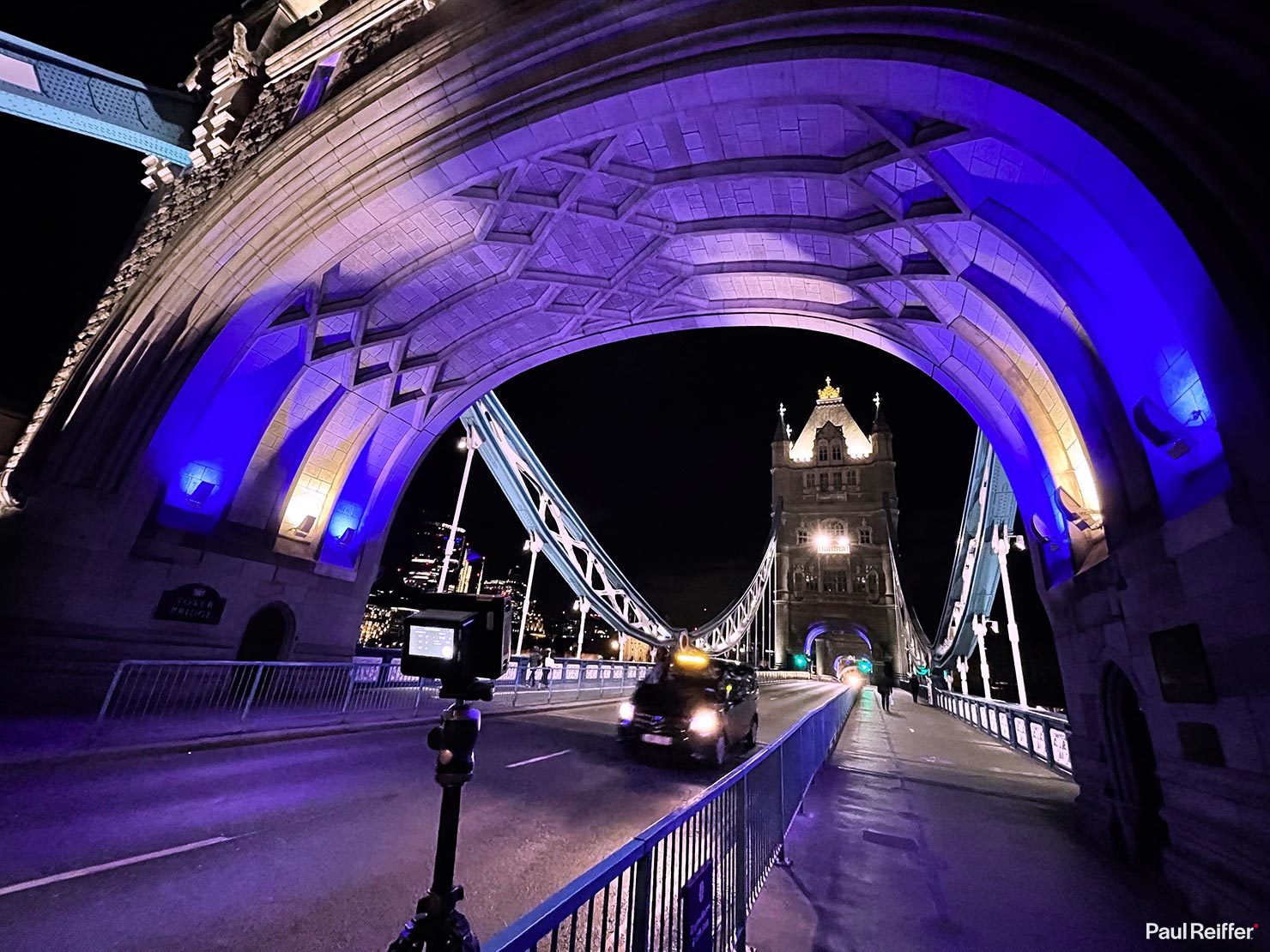 This would, traditionally, be a tough call – balancing a long enough exposure to capture traffic vs a short enough shutter to not blow the highlights on the illuminated static parts of the bridge itself.
Not with Frame Averaging though – we can dial in the settings for the "single frame" to be correct for all those solid highlights and just allow it to run for as long as we like. In this case, 5 minutes…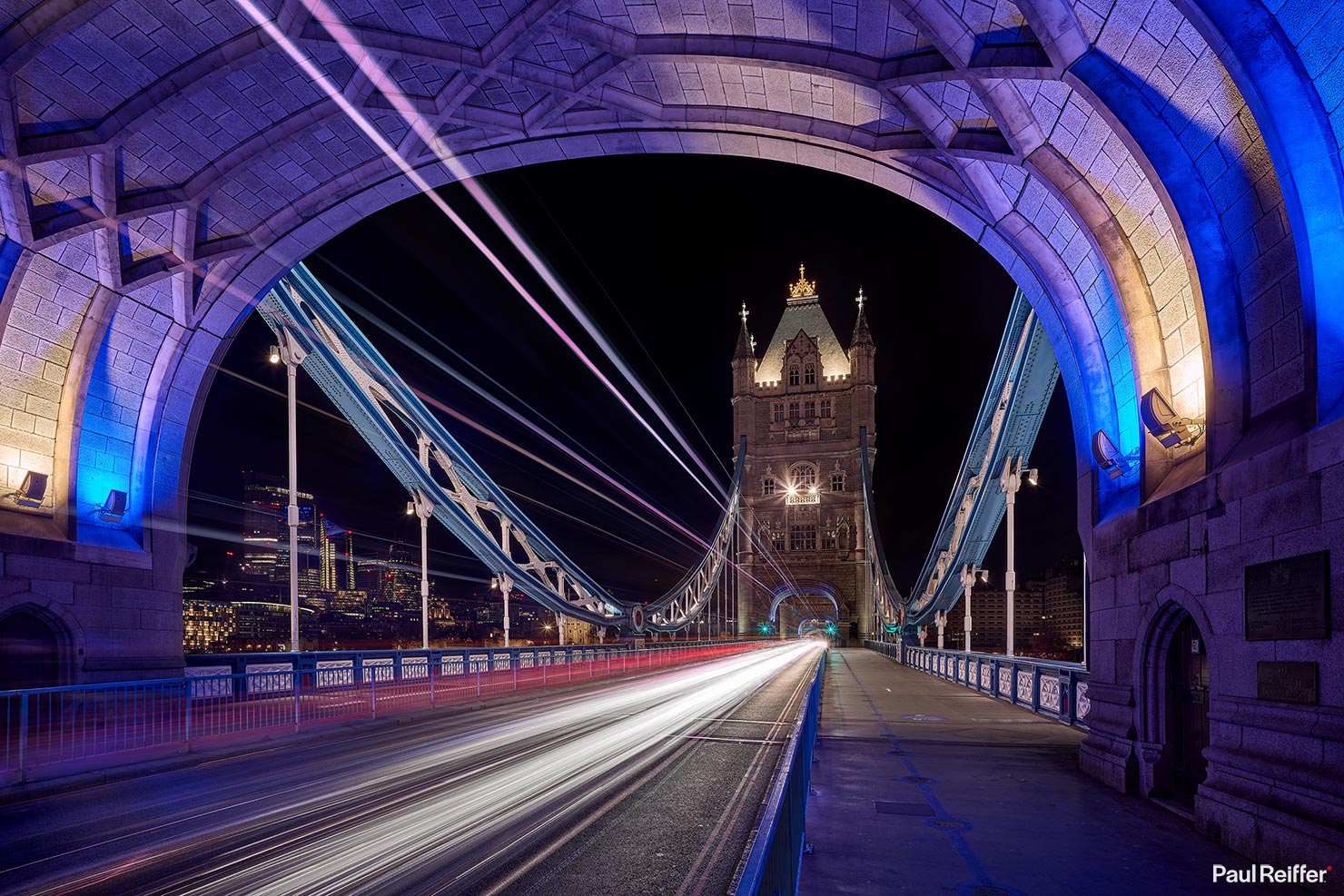 That Rodenstock XT 23mm lens is truly incredible – the quality of the details being recorded over that period are in my view, impossible to beat – and just look at those trails thanks to the long AFA setup: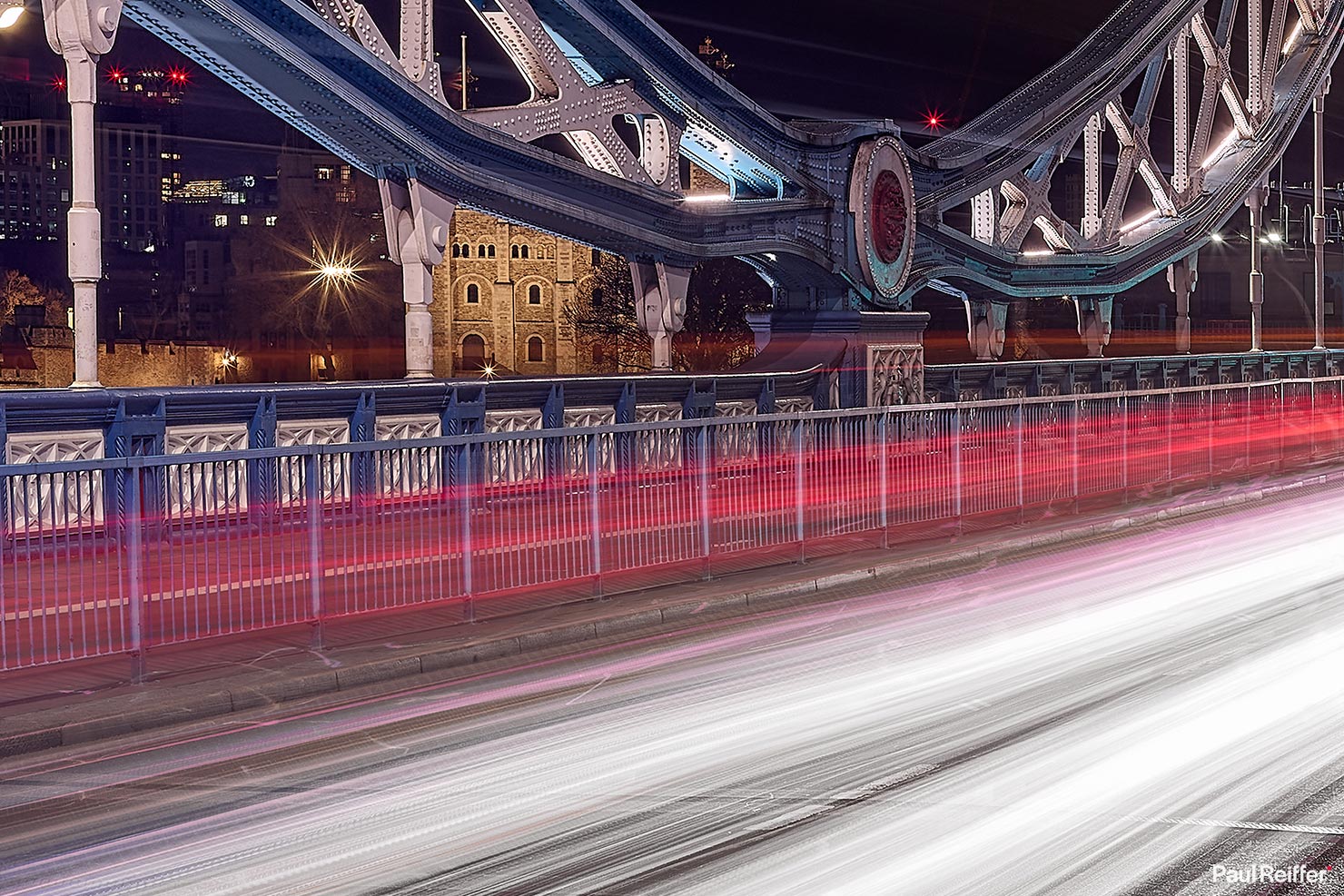 But, arguably, more important to the final shot would be how well those highlights were protected. Remember with a Frame-Averaged capture, we're only dealing with the light in a "mean" term for each pixel on each frame, rather than as additive exposure. The result? A perfectly clean highlight, while still capturing 5 minutes of trails below.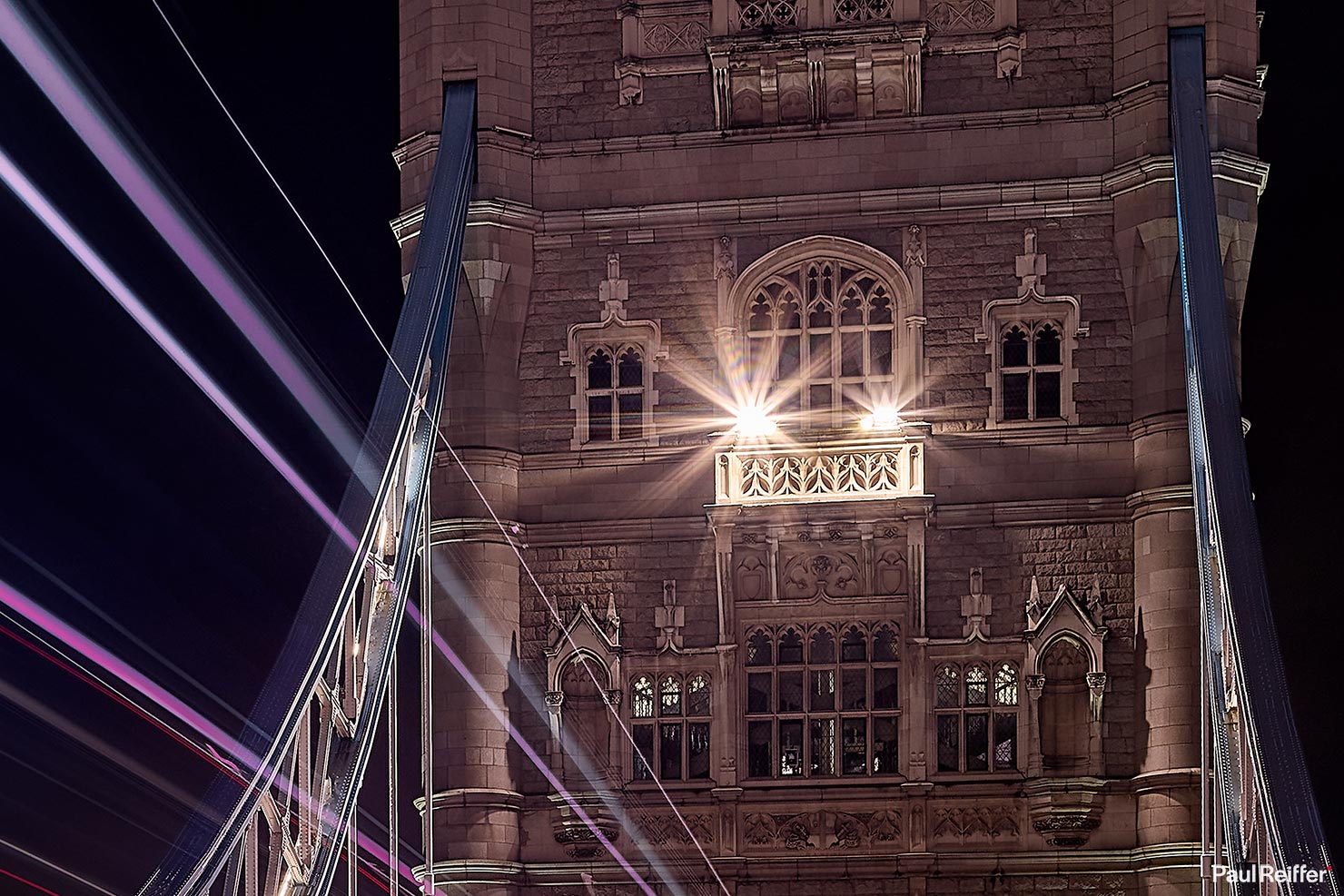 And here we are – 3 years since launching Automated Frame Averaging on the Phase One IQ4 platform.
Since then, I've added the XT Field Camera to my landscape toolkit, and switched up my way of capture to move away from the "old school" exposure triangle – instead, getting the best from the power that sits inside that clever box of tricks.
To be able to re-shoot London while watching the city come back to life – even better – especially when we start from high up above!
Although, one final thought – being based down on the coast for most of lockdown and feeling "jealous" of all those delivery services that carried on operating in the city means I'm then bitterly disappointed when 5 individual gentlemen completely let me down with a foil-wrapped splat!

---
The Phase One Ultimate Flexibility Webinar
For those of you interested in learning more about Automated Frame Averaging as a way of having complete control over a traditional "long exposure", Drew Altdoerffer (Phase One's VP Portfolio Management) and I ran a live webinar to explain the use, benefits, considerations and example images on 9th June 2021.
Click on the image below to watch the replay: