151 million pixels of pure medium format perfection, combined with the most advanced camera system in the world – all revealed inside today's announcement and hardware release from the amazing guys at Phase One in Copenhagen.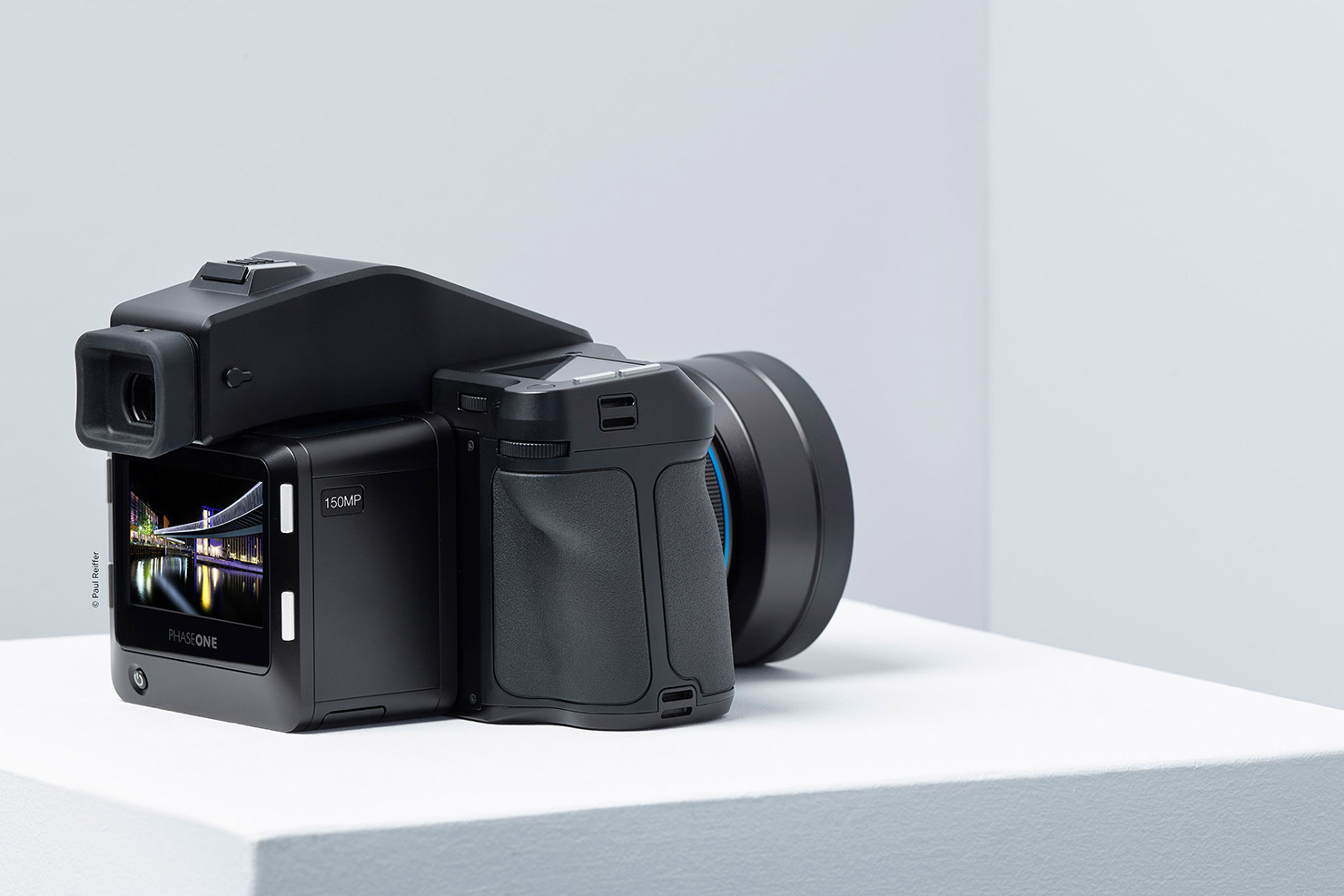 For sure, the IQ4 150MP tech specs are impressive: A Back Side-Illuminated (BSI) sensor capable of capturing unsurpassed levels of detail onto dual storage cards, coupled with lenses that can resolve incredible resolutions in a camera package that now harnesses the power of Capture One Pro within the system itself.
All of this comes as part of their new "Infinity Platform", which makes use of the existing XF Camera System and a whole heap of brand new technology in the XQD and USB-C enabled digital backs.
So, how do you put it through its paces? Well, you head out to Copenhagen with the Phase One guys to shoot their sample images for the launch campaign, of course!
And I have just one word – WOW.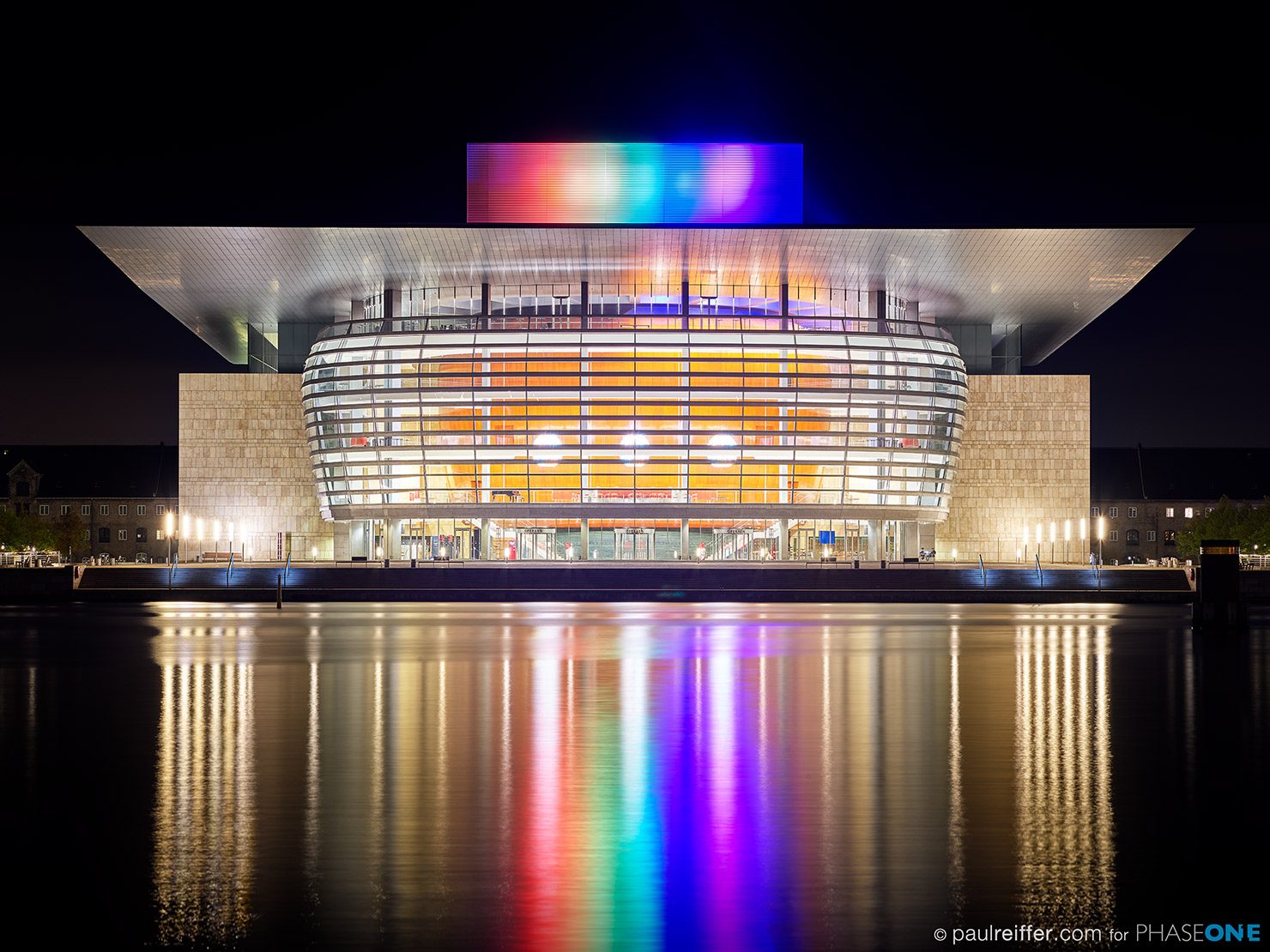 Phase One are not just celebrating the launch of the IQ4 Infinity Platform this year – they're also looking back on their 25 year history of Danish development as they build all of that experience and knowledge into the system that, once again, resets the benchmark for image quality, detail and colour-accuracy.
So what better way to celebrate that heritage than to use their home town, Copenhagen, as the backdrop for the sample images and hero shots of the system? From the Royal Opera House (above) to the historic views of a truly charming city, this was about capturing Danish design with Danish engineering.
Heading out to shoot a few of the most iconic (and busy) locations in town isn't quite as easy as it sounds, when you're working with a secret product that can't be leaked ahead of launch! Luckily, with a crew around me, it felt like I had the place to myself, shooting a mix of historic buildings, modern design and world-famous views of this incredible city.
Starting, naturally, with that digital back shot from the Phase One Campaign: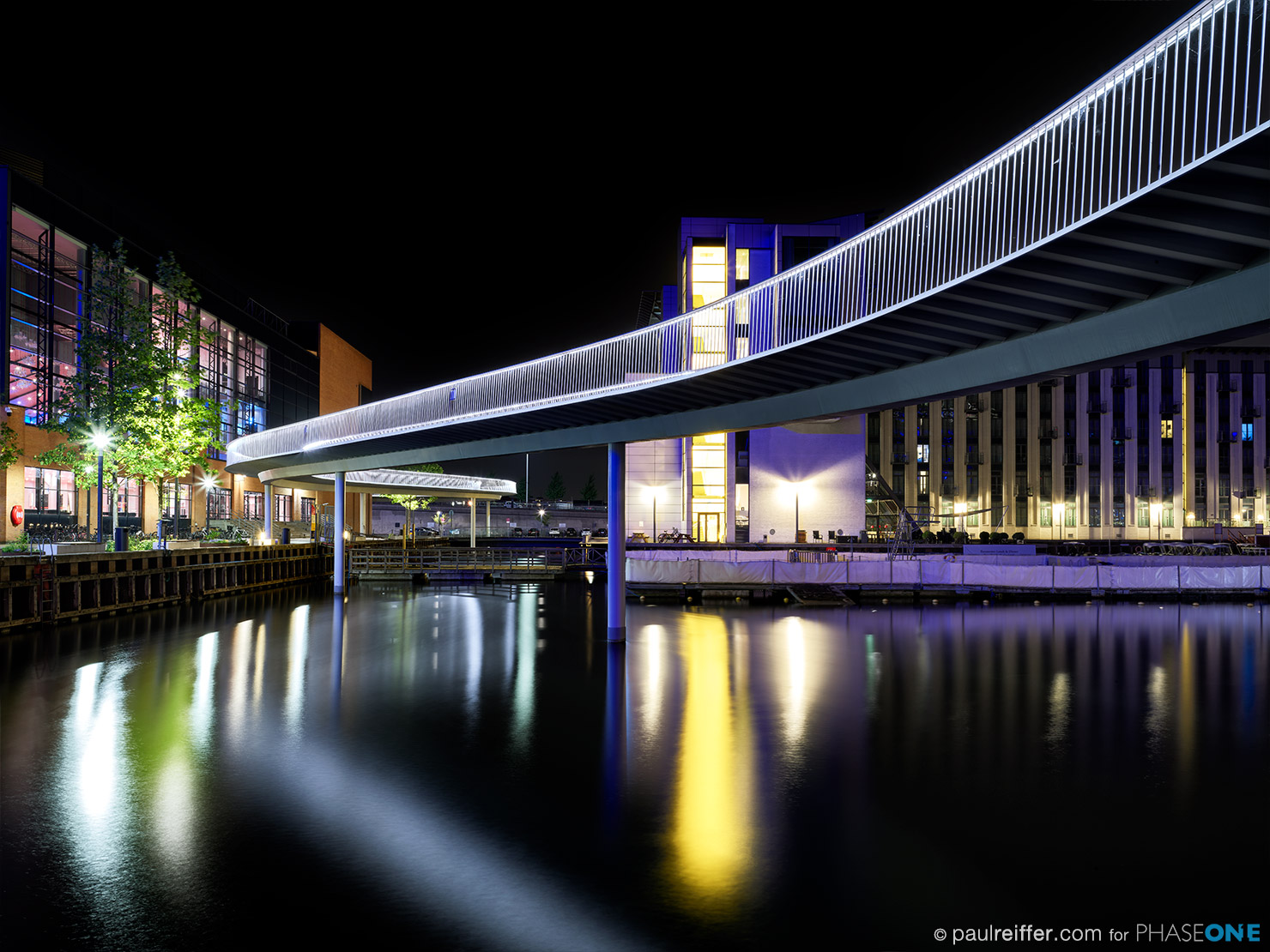 When capturing cities at night, there are always a few unique challenges:
The preview accuracy on-screen
The use of filters when photographing high contrasts and bright lights
The need to keep detail in areas that would typically blow-out
…While still capturing what hides in the shadows at the same time
So how did the IQ4 system handle all of these challenges? PERFECTLY, of course.

capture one inside

With "Capture One Inside", Phase One have now built the best features of their class-leading imaging software right into the IQ4 system itself. The processing, image rendition, workflow options (with on-the-fly styles) and output of these files are each game-changers in their own right. Plus, the unprecedented flexibility it allows for in future is on an entirely different level (more on that later)…
So, heading out to one of the busiest places in the city with a secret pre-launch product to shoot an iconic scene – that sounds like a plan…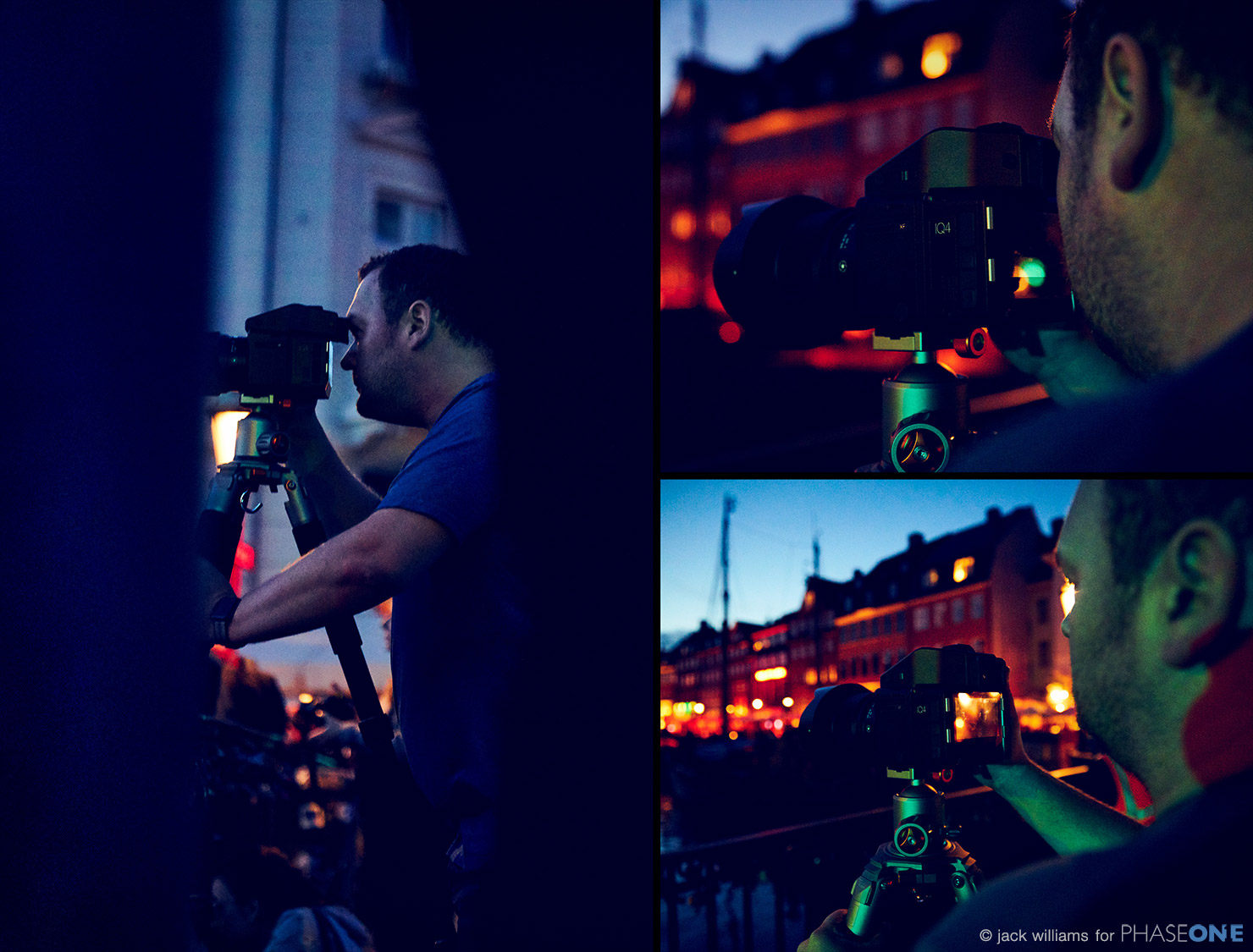 Nyhavn itself is one of the most photographed areas of Denmark, with architecture unique in both its character as well as its inability to hold a straight line in any direction you look – quite a challenge, but this was the shot to get.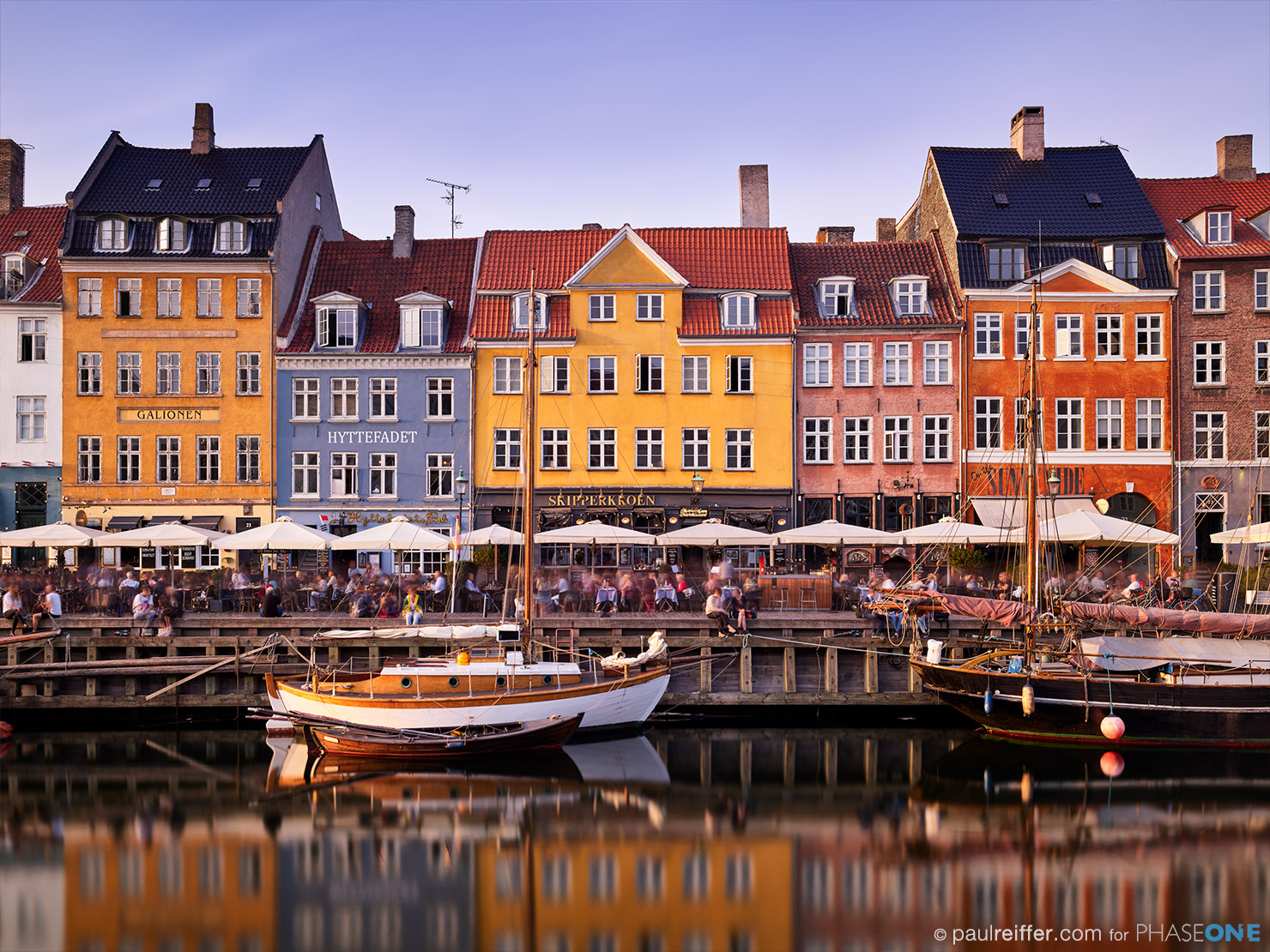 Initial testing in the day pointed to amazing levels of detail (as you'd expect from that sensor and the lenses), to the point where we simply had to come back in the evening to capture the area with the atmosphere that nighttime brings to a city.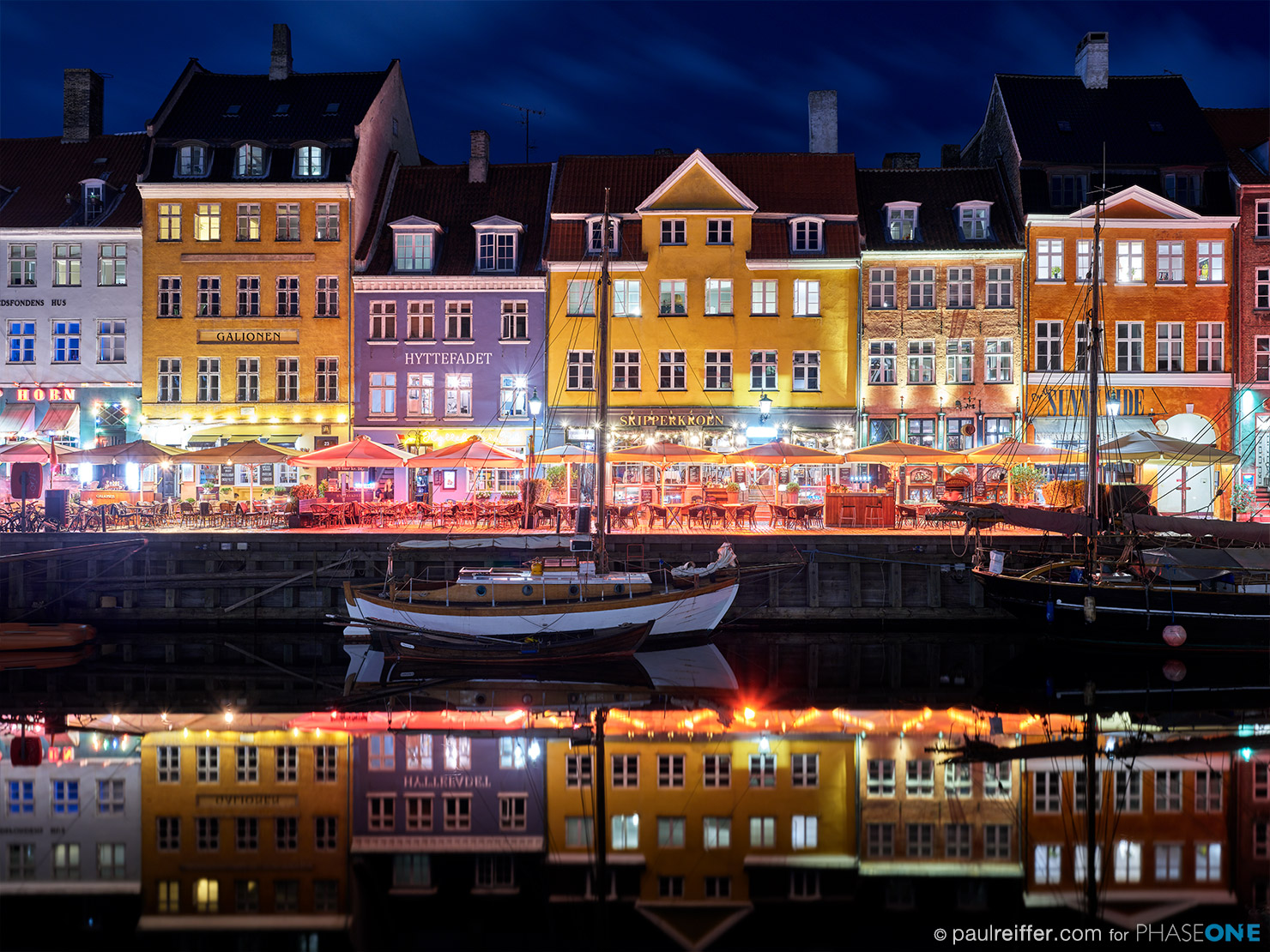 In my opinion, dynamic range is an often over-used tech spec – with the captains of industry constantly trying to out-do each other with X-stops or Y-stops, but none seem to deliver in the real world like my Phase One Medium Format cameras consistently do.
So, what was so special about this new launch product – I mean, there's not much talk of a huge bump in the infamous "DR", right? Well, kind of right, but oh so wrong… 😉
Let's take that image above – a most challenging setup with a range from pitch black to bright white – even my previous CCD Medium Format systems would have struggled to capture it all. Now, what if I made the point that this was a single shot, with no filter, at all? No "HDR tricks", no middle GND, no luminosity masks – just a single shot from the Phase One IQ4 system – and that goes for the Opera House image, earlier on in this post, too.
---
151 megapixels
So why am I getting so excited about a new piece of high resolution silicon – is it simply because it now gives me the capability to capture 151,301,008 wonderful pixels of light?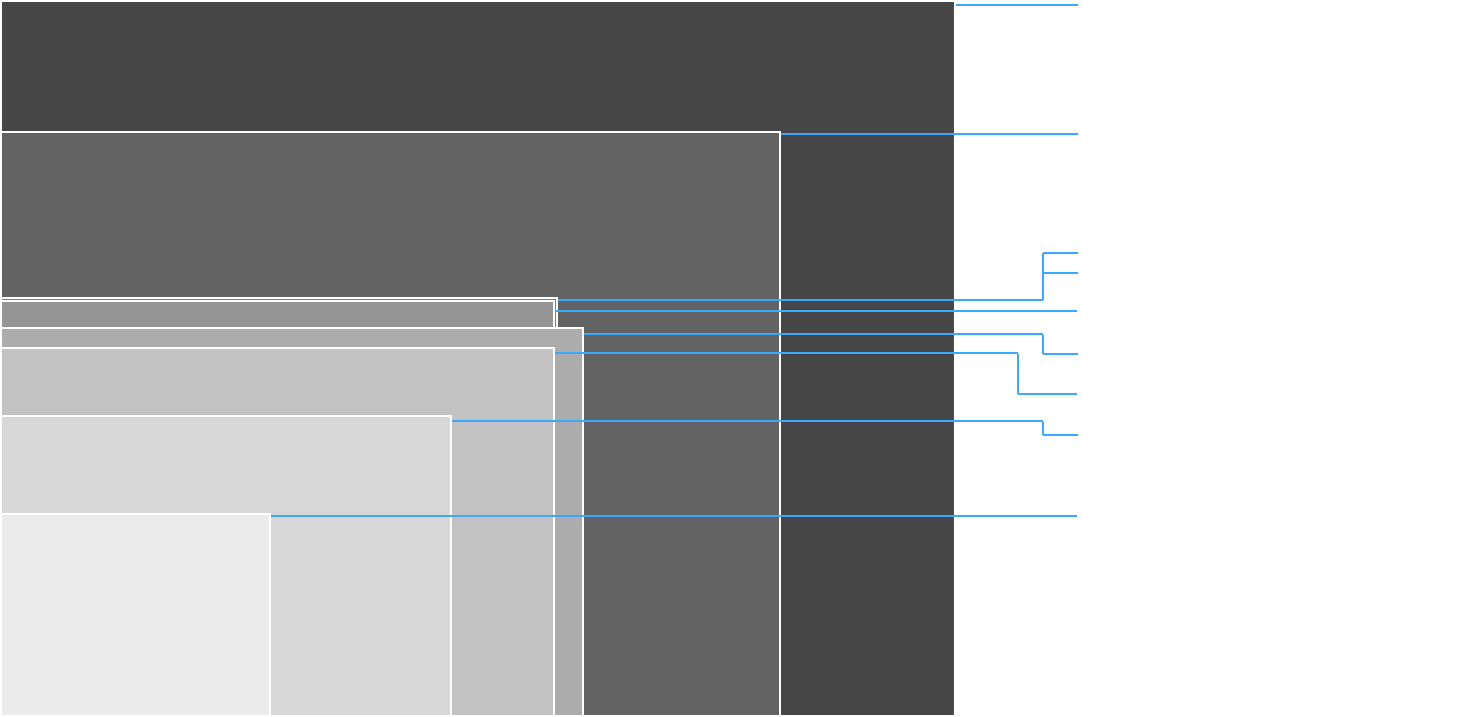 While printing BIG is what I do, that's not the only reason, but let's cover the sensor size first, starting with its physical attributes. Within the announcement today is also another clear statement – Phase One are focusing purely on full frame Medium Format technology.
There's been a recent influx of "pseudo medium format" cropped-sensor cameras – from Fuji's GFX 50S to Hassleblad's compact X1D-50c, and many more in the works – each using what I consider to be a loophole in the industry to claim that "anything bigger than 35mm is therefore Medium Format".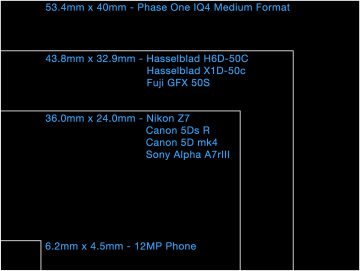 Medium Format is not just about resolution.
Sure, the larger chips help deliver more pixels, but it's about the quality of light hitting those larger pixels, the huge dynamic range of the sensor, the smoothness of tonal range transition, the iconic shallow depth of field, the more "natural" (closer to what our eyes can see) appearance when using wide-angle lenses…
…and while they're all subtle differences, they combine to deliver a look that's distinctive to that designation.
---
back-side illuminated (BSI) sensor
My experience of changing from CCD to CMOS was really positive out in the field, with better high temperature and low-light performance, so could the switch to BSI sensors be a similar leap forward in imaging quality?
The short answer: a resounding yes.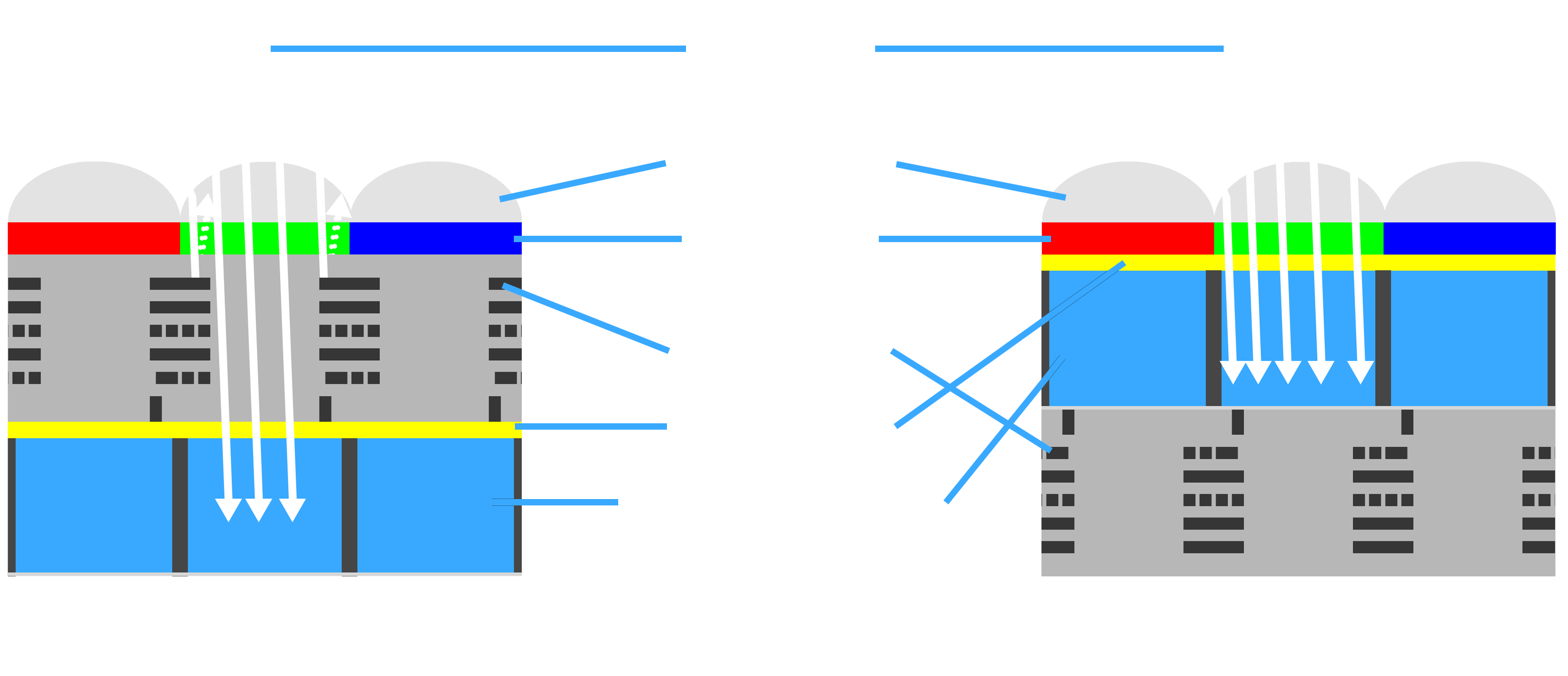 While people keep hearing that BSI sensors are "better" than traditional (FSI – front-side illuminated) setups, the science is still described in a rather needlessly confusing way. In an effort to simplify the difference, here we go in one sentence:
On an FSI sensor, the light has to travel through all the circuitry and metalwork to get to the photo-sensitive part, meaning that a significant percentage is bounced back or lost – by flipping the silicon around (putting the circuitry behind it), the photo-sensitive part is able to capture almost all light that is received through the sensor lenses.
Looking at it now, an FSI sensor would be like putting the windscreen wipers on the inside of your car, "because it's easier".
So a completely logical move for the industry, with BSI sensors delivering around a 1/2 stop increase in light transmission over their traditional FSI counterparts. With Phase One now including the BSI 151 megapixel sensor, Trichromatic 101 megapixel sensor and the Achromatic 151 megapixel sensor in the new line-up, there really are infinite possibilities for every type of photography you can imagine.

Yes, we can talk about levels of detail (the above are only 50% crops – the 100% crops are insane), but it's the quality of the capture that gets me excited about this system all over again.
That BSI sensor from Sony, with the amazing wizardry from the team at Phase One, come together within a platform which is (yet again) at the very forefront of imaging technology worldwide. And with Capture One inside, along with the potential for frame-averaging in the future (the beta versions look great…), this could become the camera that does away with ND filters when you want to get "that shot".
Yes, I said it, this is the system that could potentially remove the need for point-of-capture optical filters in the future…
Finally, if ever I needed a way to really show how much detail those 151 million pixels collect, let's go back to that hero image on the digital back itself – of the "Bicycle Snake Bridge" in Copenhagen.
Maybe it should be renamed the "spider bridge", as even with my 35mm lens (21mm equivalent on a Full Frame 35mm camera) – I can see the individual spider webs on the railings, blowing in the wind during the 150 second exposure: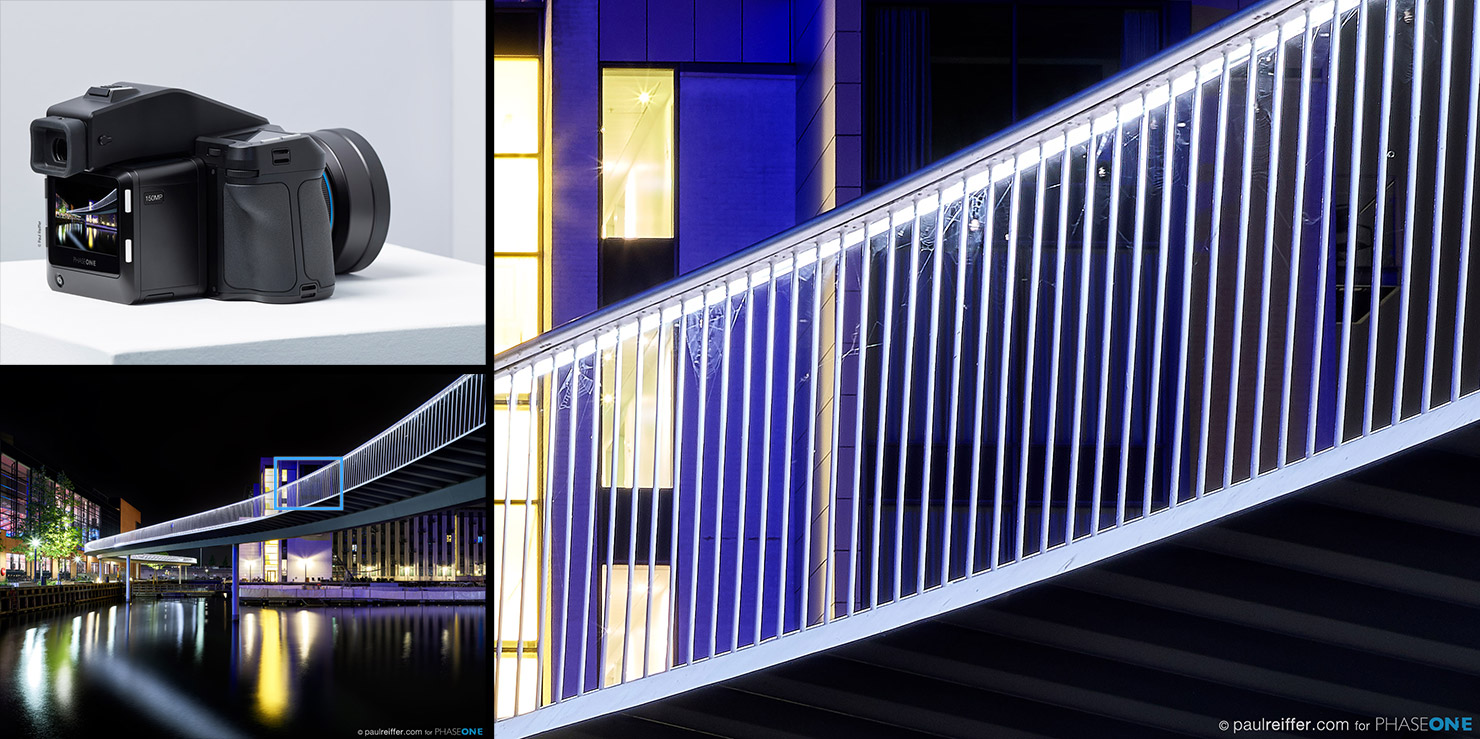 10/10 to the Phase One guys – it's been great working with them on this.
It was fantastic shooting with them around the city (and the beer always helps!), but more importantly, they've made an already epic product even more amazing. I'm now looking forward to seeing what it can do in all the other cities I visit around the world…
Oh, and did I mention there's a 150MP Achromatic being launched too? (Watch this space for more on the output from that soon!)
Prices for a full IQ4 Infinity system, including 1 prime lens and 5 year warranty, are:
• XF IQ4 150MP Camera System: $51,990 USD
• XF IQ4 100MP Trichromatic Camera System: $47,990 USD
• XF IQ4 150MP Achromatic Camera System: $54,990 USD
For more info – head to the Phase One IQ4 pages where you can find the tech specs, downloadable raw files and the ability to request a demo: