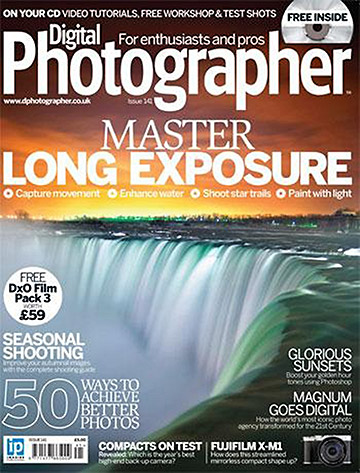 Featured in issue 141 of "Digital Photographer" magazine – my long exposure shots from the Northern Lights above Tromso in Norway during 2012.
The feature focuses on the techniques required to capture different situations with long-exposure settings in-camera.
From firework shows at 20 seconds to lightning captures to sports scenes, the whole spectrum is covered.
My visit to view the aurora borealis didn't go without the odd hiccup or two – as I wrote at the time. But it was most definitely a trip that was worth the effort to make.
It's funny that this is one of the rare cases where the camera really does see more than our own eyes are capable of, but the experience of chasing the lights was fun enough in itself to make the trip enjoyable.
Ironically, since the issue went to print, I've been producing more and more long exposures with my new Phase One iQ280 digital back – resulting in some cool images of cities at night.
I'm not back to the UK for a while so won't get my hands on a physical copy. That said, at least I got the PDF version to read in the meantime 🙂
Long exposures can deliver some truly unique images – hopefully the tips in the magazine will get more people out there giving it a try!