Can a £50 compact digital camera really hold its own against a full-frame DSLR?
I was contacted somewhat "out of the blue" a few weeks ago by Lucy at MoneySupermarket.com, the UK-based financial comparison and advice site, asking if I'd be willing to take on one of their challenges: to use a £50 camera (which they would provide) and write a comparison between that and my own (slightly) more expensive gear. How could I say no…? 😉
The weapon of choice? A Nikon Coolpix S2600 – which is now around £50 having been sold at over £100 6 months ago. A bargain, I guess, and on paper it was: A 14-megapixel sensor, 5x optical zoom (equivalent to 26-130mm in 35mm terms), ISO 80 – 3200 and large colour LCD display made it look like a bargain. So far, so good.

Unboxing it, you seem to get a lot of stuff – but most of it is paperwork. A few "quirks" were apparent: First, this camera actually has a small amount of on-board memory (so, you can literally shoot out-of-the-box before purchasing and installing an SD card into the bottom of the unit). Second, annoyingly, the battery charger demands that the camera itself is plugged in to the wall directly, using Nikon's proprietary cable in order to charge. As someone with enough cables to stretch to the moon at home, yet another "type" of cable is annoying. Also, on closer inspection, I saw the sensor details. As a landscape photographer, I really dislike the 4:3 aspect ratio as it's "wasted pixels" for many scenic shots (my DSLR gear is all 3:2). As a home-shooter, there are sacrifices to make too as a print at 7×5 or 6×4 (standard processing sizes) will mean you have to crop off the top and bottom of the image, but I'm sure for many it's not a big deal.
To be honest, this is probably the single most unfair review I've ever done – comparing (even with one lens) a £4,500 piece of kit with a £50 point-and-shoot compact camera, but hey, they asked for it… 😉
There are no manual shooting modes at all on the Nikon, just 18 preset "smart scenes" where you tell the camera what you're taking a picture of – designed to make things easy. In reality, every now and then even a one-a-year "holiday snapper" might want to make a tweak or two to an image they're taking, and the restrictions Nikon have built in to this device are likely to get in the way of a certain amount of creativity. As a side-note, before anyone gets concerned about the "Canon vs Nikon" debate thing that people with a lot of time on their hands seem to get in to, the fact is Canon don't even make a decent £50 digital compact camera. So this is a comparison purely on image quality rather than the companies themselves!)
So, out to the Shanghai skyline I went with one of my Canon DSLRs (an EOS 5D mk III) with its 16-35mm f/2.8L II lens (in a backpack) and my new Nikon Coolpix S2600 in my pocket. First stop : The famous Pudong peninsular: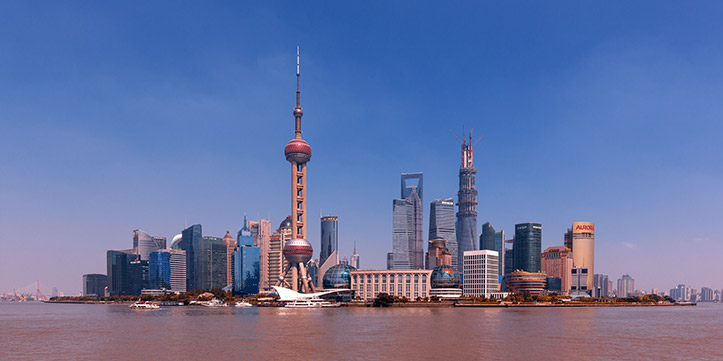 The above shot is from the Canon DSLR – and now, the Nikon Compact Coolpix S2600 equivalent: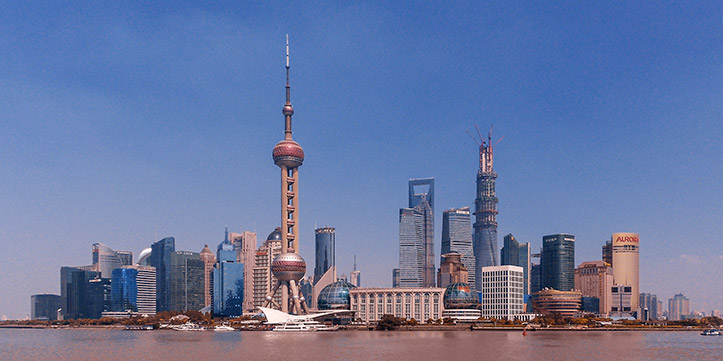 Clicking on either image will give you a larger version (albeit not full size) to compare, but I'm hoping even from the resized pictures you can see the difference. Of course, with a 16-35mm lens the Canon could get more into the frame (and the top image is actually zoomed in a little). Both images were actually shot in "Auto" mode (well, on my Canon, that's "A+" mode, which I've never used before!) and I'm impressed with both for metering the scene accurately. But there's still something wrong. Even with the Canon shot at ISO100 and the Nikon (auto-selecting) at ISO80 there's a huge difference in the noise that's apparent in the sky. Let's take a closer look: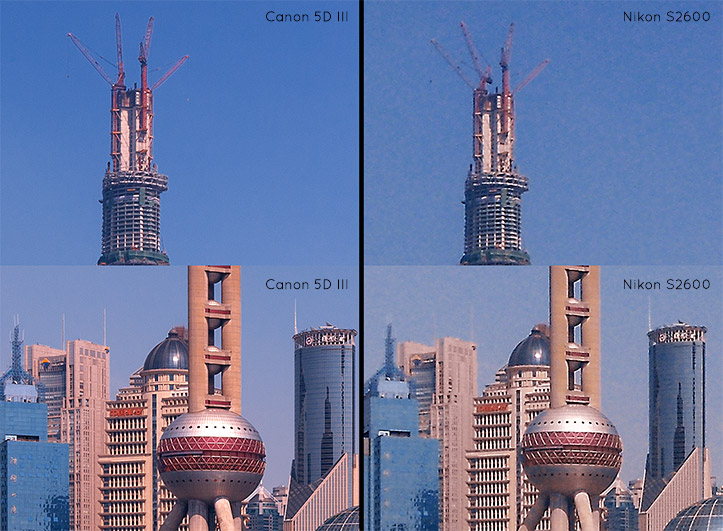 On the Nikon, despite it being "only" 14 Megapixels, I'm seeing images which are way too noisy for a claimed ISO80.  This was shot on a tripod too. The details, lost. Sharpening (up-close) has JPG artefacts with harsh halos around the tower and the image just looks messy. To be fair to both, shooting through Shanghai's (ahem, cough) "haze" can be a challenge, but the comparison is quite clear between the two. For a "holiday snap", to be fair, both would print out just fine at 7″x5″ or so. The problem is, I like to print images BIG, and there's just no way I could do that with the Nikon.
In fairness this is a £50 Camera (as I kept reminding myself) and for that price, there's a lot of technology packed into this little camera body. However, it got me thinking – I wonder how the Nikon would compare to a device that many people already have in their pocket: An iPhone…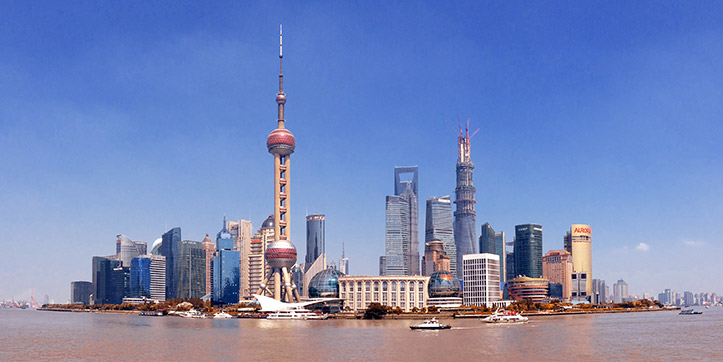 Yup – that's the exact same shot taken from an iPhone… Not bad, eh? So, let's look a little closer:

Now, I'll give the Nikon a bit of credit here : the detail is stronger, the colours less washed-out and the sharpness seems better than the iPhone 5's camera at 100%. BUT (and it's a big one). I already have an iPhone in my pocket – and most people have either that or an Android/Blackberry/etc with them when on holiday. For £50, the Nikon should be classed as a bargain, but when your smartphone camera (with its tiny, tiny, sensor) can capture something so similar, I'm not sure I'm convinced its worth the money even at that price.
Not to be put off, I ventured into "Skyscraper Alley" where the SWFC (as I've photographed from a few times) and Jin Mao Tower are about to be dwarfed by the "Shanghai Tower" which is currently under construction. Why did I pick here? Well, it's a big challenge for any camera. Bright sky, shadows of skyscrapers AND a sun-flare. First, here's my Canon 5D III's attempt at the scene: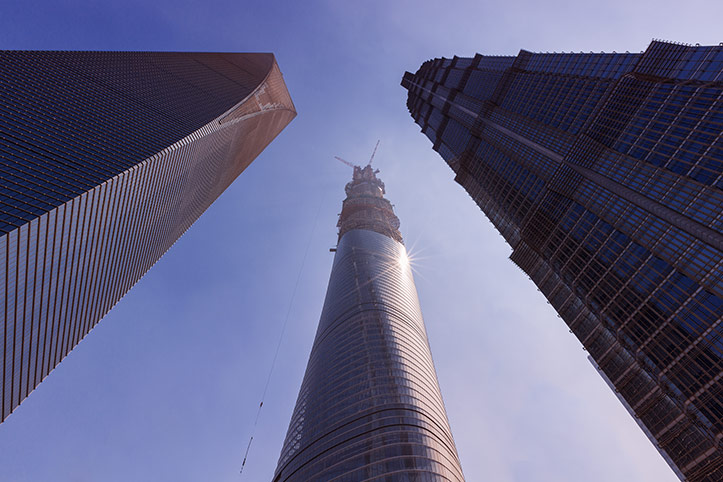 At F/16, and no "tweaking", the camera creates a well-metered exposure with a signature "starburst" on the corner of the Shanghai Tower which is reflecting the sun. Details in the Jin Mao Tower (to the right) are OK, despite it being in shadow, and the image is (as expected at ISO 100) noise-free. Now, the Nikon Coolpix S2600's turn: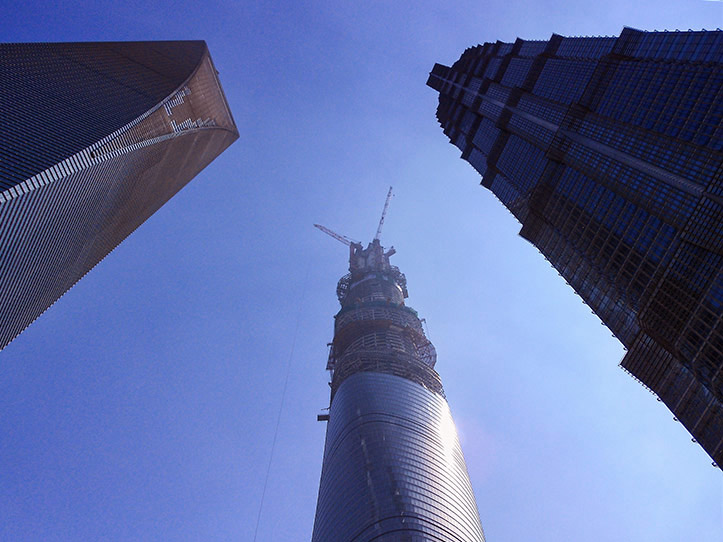 Again, it can't quite deal with the ultra-wide angle of the 16-35mm Canon lens, but it holds its own. Metering is slightly off (with a strong bias towards a blue tone in the white balance also) but it's lost any hope of a flare on the reflection of the sun. Partly, in fairness, due to the tiny lens and its apparent limit of f/8 within the camera, but still, a shame. 🙁  Also to note is the strange purple glow coming off of the tower where the sun hit – a refraction/chromatic artefact, maybe, but it's definitely not meant to be there…
So far, it's proven as an "OK" camera, but nothing special – time to take it for a real test (and one where I knew the lack of manual options would be a challenge) : A night shot. Nikon has two scenes that should be perfect for shooting car light trails – "fireworks" and "night landscape". Set upon a tripod, I would normally want around a 30 second exposure at night to capture decent trails of light from car headlights. To see what we could do, I took both cameras up to the top of a building looking over Shanghai's famous "Nanpu Bridge" with its ingenious method of getting cars up to the starting height of the platform. Here's what my Canon 5D III saw:
Sadly, the bridge and road lights weren't on that night so I couldn't quite capture the energy that I did when shooting the downtown elevated roads – but still, I love the colour mix as part of this 45 second exposure. Then, I gave the Nikon a try:
Knowing the limitations on the camera, I'm actually impressed. I fixed the ISO at 80 and this is what it gave me (on a maximum 4 second exposure using their "scene" presets). Annoyingly, it's not quite enough to show the rich detail in this scene, but at least it does allow some flexibility to shoot at night – and I can imagine fireworks do well in this mode. The problem is, at 100% the noise in this image is absolutely terrible. Night images are always a problem for cameras – noise creeps in as exposure times extend, but at only 4 seconds, to my mind this is unacceptable. I would love to see how the S2600 would do with a full-manual mode too, as there are a few tweaks I know I could make to improve things, but Nikon's insistence that this should be removed could actually be the thing that limits this camera.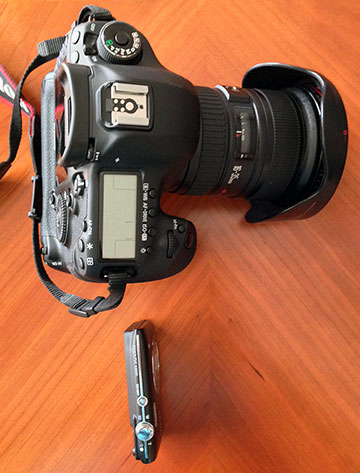 The verdict?
Honestly, it's not what I thought I'd be writing when I first opened the box of the Coolpix S2600.
I knew, of course, that a compact camera for £50 was going to have a tough job standing up to any decent modern DSLR. As thousands of pounds are spent on full-frame sensors, noise reduction processors and high quality professional lenses, people would be rightly annoyed had a compact camera beaten it in terms of image quality.
What I wasn't expecting to see was a comparison which demonstrates a simple smartphone camera image being either just as good, or (potentially) better with add-on Apps, than a dedicated piece of kit from a worldwide camera manufacturer such as Nikon.
For the avoidance of doubt, I'm certain a £50 camera from Canon would have fared no better – indeed, we're asking a lot here – so this is in no way about the ability of Nikon to produce a good bit of kit.
The Coolpix S2600 is SO much smaller than the Canon EOS 5D mk III + 16-35mm lens I was using to compare that it makes any scientific verdict impossible – these are two very different bits of kit with entirely different purposes. And of course, there's no way of doing a fair comparison between the two. (The Canon loses points for "can it fit in your pocket?" for a start!) but the point of this exercise was to determine whether a £50 camera was a "good buy" and capable of images which could hold their own.
In my mind, this is actually more about the fact that modern phones now have built-in technology which makes these devices redundant. Indeed, even on my Facebook page, many of the images I upload are from my iPhone and get just as much attention as my "professional" shots. When you get to the £300-400 level of compact camera I'm sure you naturally bump up a level or two, but going back to one of the most influential phrases in my photography career really does ring true in this case:
"The best camera in the world is the one you have with you". In my case, that'll be the iPhone in my pocket when one of my DSLRs are not to hand.
The Nikon, sadly, will be living in a drawer until somebody takes pity on it… 🙁