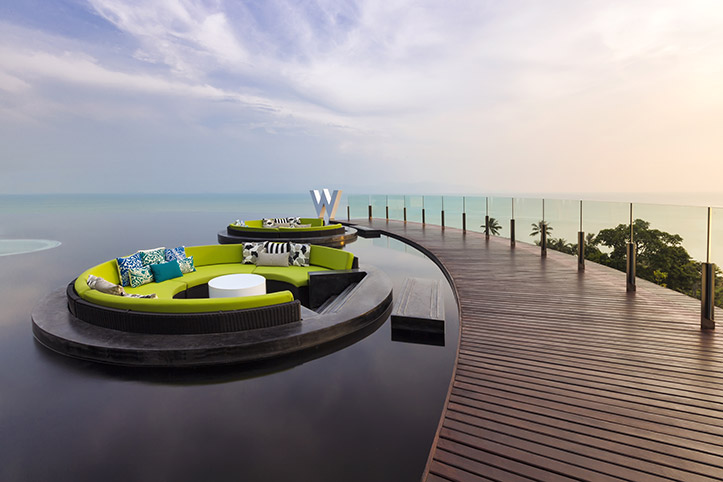 Welcome back to the W 🙂
That stunning view, above, was part of what prompted me to write about the W Retreat Koh Samui in February, after I returned from an amazing stay there. Realising that what made the place so special was in no small part down to the the talent of the staff at the retreat, Nick (the general manager) and I got talking…
W Hotels pride themselves on being cool, hip, and vibrant – and so do the people who work there. We hatched a plan for me to return to capture some of the characters at the retreat as part of a social media campaign for the brand. Given the chance to stay at the retreat again (along with the opportunity to capture the essence of some of the fantastic people who work there) this was a trip I had no hesitation in booking 😉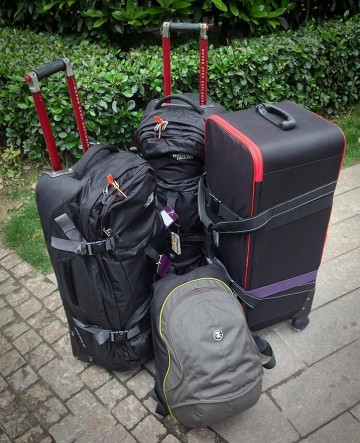 Now, a little "rant"… 🙁
Given the number of different looks we'd be shooting, I needed quite a bit of kit (plus, I was heading back to London for a few days afterwards too). My portable Lencarta (or cheaper direct from their manufacturer over here in China – Jinbei) Safari Li-ion ring flash kit and stands, flash heads, portable battery packs, gels and cables had to come along as well as a body and 4 lenses etc.
Annoyingly, DragonAir give a really tiny baggage allowance even in business class, so I was already worried before I even started packing. Virgin Atlantic (from Hong Kong to London) gave me a total allowance of 129kg(!). Bangkok Airways (who you connect with from Hong Kong to Koh Samui) were equally fantastic – a quick email to them explaining the situation meant they put a note in my file and allowed me a hefty allowance to get there and back. DragonAir…? "Computer says no".
I guess 2 out of 3 isn't bad, but it did annoy me nonetheless, as they won't even let you pre-pay for extra bags, you just get stung at the airport… Anyway, I arrived into Samui where the guys at the W were waiting to pick me up along with all of my gear, and we got started planning the shots.
The first shot just had to be of Oak – the guy who really should be driving round in a racing car, not a golf buggy. Oak is one of my most memorable characters at the W, and this trip just added to that as he somehow managed to pull off the look of "cool" despite being in control of a (not exactly speedy) golf buggy… Rumour has it, he'd even polished the wheels for the shoot!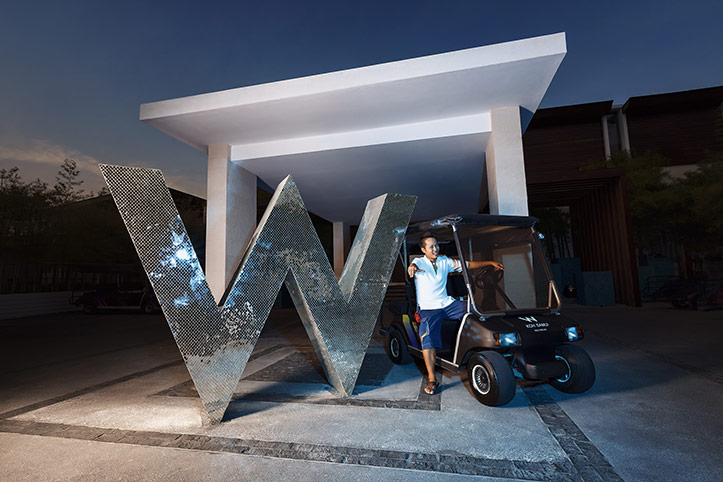 Fair play to the portable gear I had with me, at 600w/s, these two flash heads really did the trick and setup was quick enough to not need to close down reception!
Later that night, a bit of fun (and not on my original list of shots) – something I didn't know they did every month on the infinity pool : fire dancers 🙂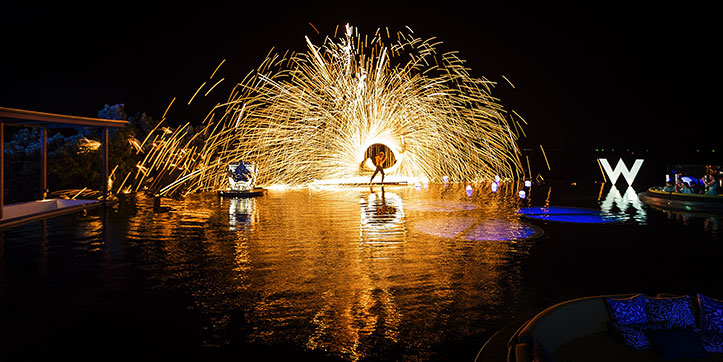 Small technical tip : this is not like shooting fireworks. A long shutter speed simply means you lose the people as they become a blur. Instead, this was shot at ISO320 at f/2.8 for only 1/10 of a second. Yes, that means there's a lot of fire coming from this guy! Once all the flammable liquids had been cleared up, the W's "WooBar" returns to its cool night-time state with the DJ re-appearing from the hedonistic reflective mask while the island slowly fades away to sleep. What a cool night to start with 🙂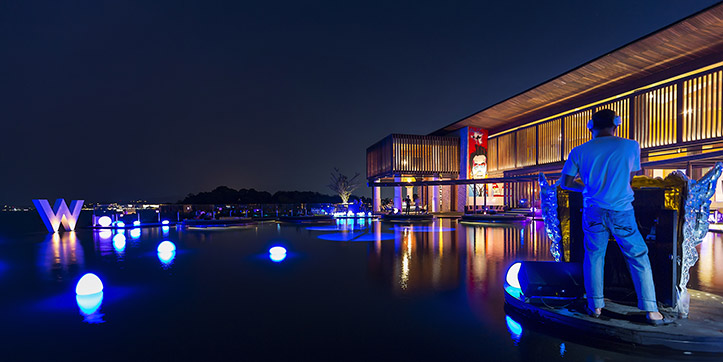 So, then on to capturing some more of the characters at the retreat – and of course it would be impossible to not include one of the best people in the world when it comes to the hospitality industry, Nick Downing, the General Manager of the W Koh Samui.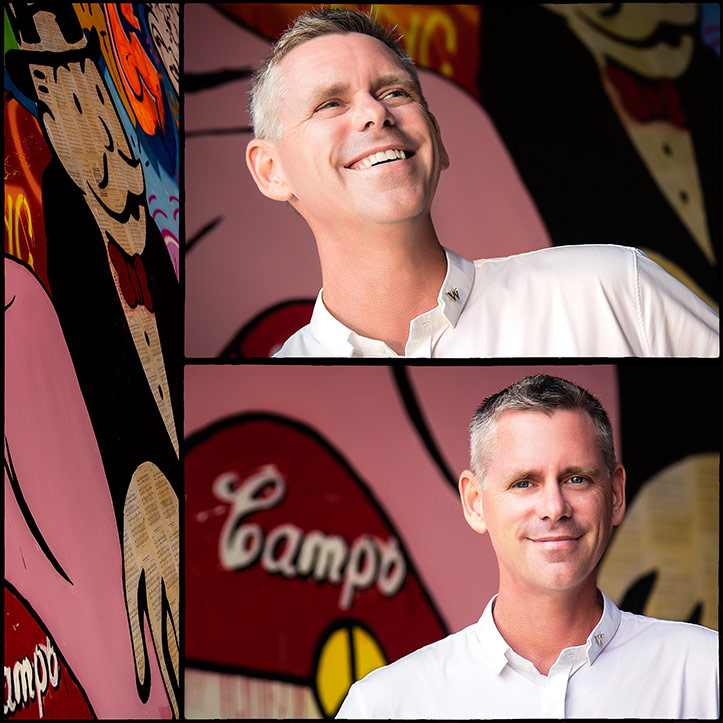 Initially nervous (I think he was under the impression "capturing the characters at the Retreat" didn't include him!), these two shots really capture the essence of this guy. You never see him with anything other than a smile on his face and eyes that are always happy to see you. This isn't a GM who sits in an office waiting for customers to demand his attention (like some hotels I know!) – this is a guy who works 12 hours a day throughout the property and brings a new definition to the phrase "hands on". Pictured against one of his favourite areas there, Alec Monopoly's graffiti wall, the natural reflections from the pool and a tiny bounce board just lit him perfectly, with no need for any "tricks"!
By the afternoon, word had gotten around the resort that some of the images were coming out pretty well, so a few "requests" started coming in – cool, I like a challenge, and it got me thinking about ways we could show off the different aspects of the hotel 🙂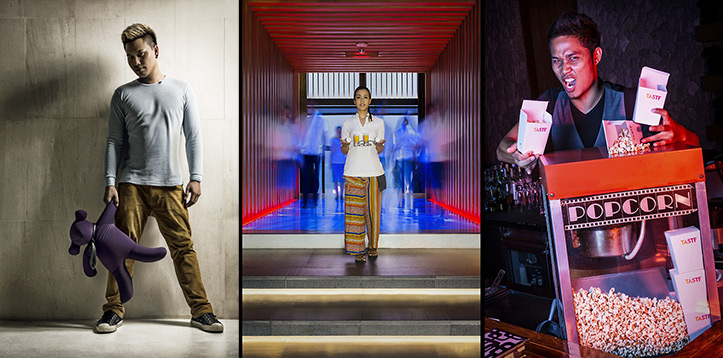 Here's (left) Tom, the "W Insider" who knows everything that goes on across the island. Followed by (middle) Farng, who has been welcoming guests from the busy outside since the retreat opened its doors – and finally (right) Ice, the drinks manager, who surprised even me when I asked him to show some emotion at the popcorn stand!

Then we come to two more of the girls – Wan (left) and Sea (right). Wan is in charge of the Welcome team, and really is the person who "looks over the retreat" making sure every guest has a great stay with them. There's an amazing vantage point at the Wet pool (although every room has its own private pool, there's also a larger one for the whole property) which looks up to the WooBar infinity pool and down over the Gulf of Thailand. For me, that shot captures the perfect essesnce of her role at the retreat.  And then Sea, who's looking after everyone all day as part of the F&B team – pictured in one of the "pods" at the "Extreme Wow Suite" (which is, I have to admit, absolutely amazing).

Speaking of Food and Beverage, here's a guy who everyone should know – Robert Conte. Cut from the same cloth as Nick, his work ethic knows no bounds – as the head of F&B for the W Koh Samui, the picture many people would have (thanks to the likes of Gordon Ramsay et al) is someone who directs a team and shouts a lot in the kitchen. Not this guy, he's as hands-on as you can get, and someone who really engages with his team. I had the pleasure of "shadowing" him for part of the day and started out in the kitchen with him, as they prepared for lunch. Then I realised, I was starting down the "same old" path of shooting the chef in the kitchen – not exactly a unique concept…
…so we left the main kitchen and sat and talked. Robert is not only a great (well, amazing) chef, but he's also a writer, a photographer, a traveller – this guy was about a lot more than cooking. I wanted to capture that side of him, not only the chef part, and worked out a way I could show it. Set against the hustle-and-bustle of the Namu kitchen (which is a tiny, but stunning, Japanese restaurant within the retreat), I shot Rob during his morning chill-out. A coffee, a glass of water, his phone and a pen & paper – simple. Looking out across the sea, this is how the chef in a top resort prepares before setting back to work in the kitchen of one of the top restaurants on the island. The two images show such an accurate contrast, I had to join them together – and I just love the top image: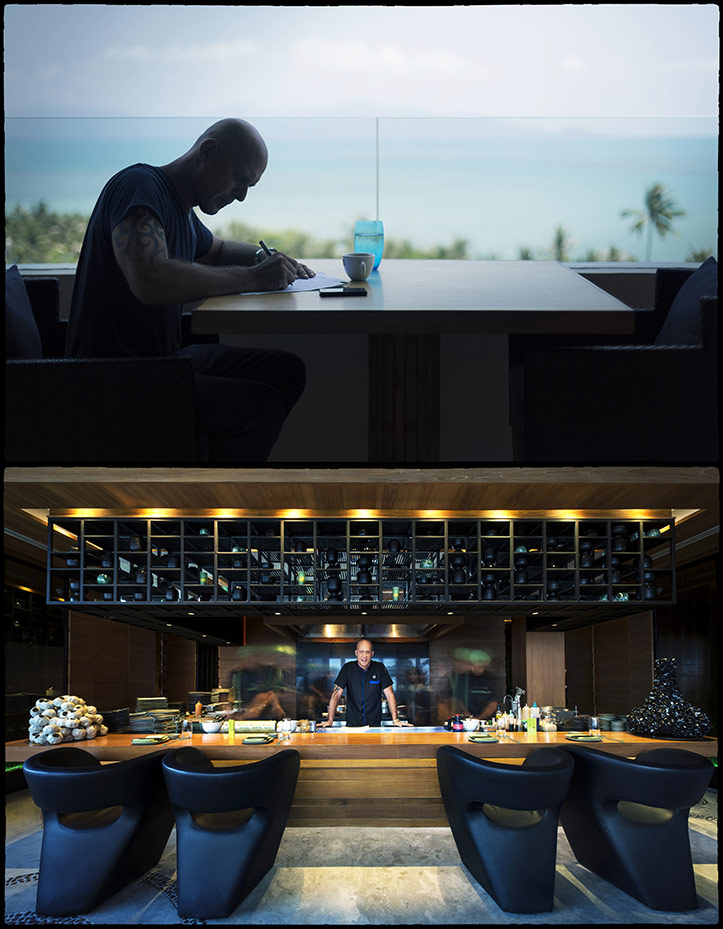 Now that doesn't mean it's all serious and about the kitchen in Rob's team – another thing I'd missed on my last stay : Barbecue Saturdays! The "Bite Me" team are there on the beach every Saturday, with Rob, cooking up some fantastic local food and drinks with great music from the DJ "sound shack" while the guests relax on the beach bean-bags.
This had become about getting more of Rob's team involved in the shots so we went for something which is usually a disaster – a group shot. To be fair, from my perspective it worked – we got a cool "action shot" of the F&B team down at the Sip Beach, usable for promo material. Sadly, for one of the guys, it didn't go quite so well – it turns out that the W Retreat's shorts aren't designed for high-jumps on command down at the beach…!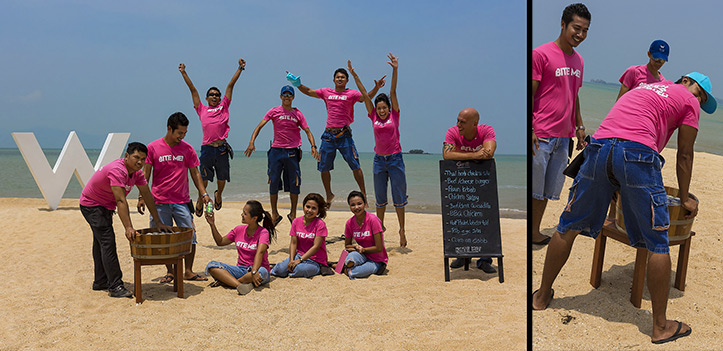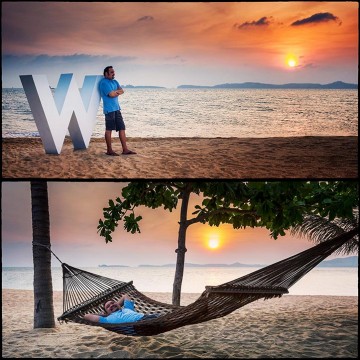 Then, a sign of how committed these guys are.
Jean, the Operations Director was actually on holiday while I was there. I wanted to shoot him at sunrise on the beach (which, unfortunately, is around 6am) so a call was made.
You guessed it, he came in on his day off.
Admittedly, after a few (cough) glasses of some great wine the night before, I wasn't exactly in the best state at 6am myself and unfortunately the sun wasn't playing nicely either. We opted to shoot something a little more "natural" with Jean, and there's nothing more natural down at the Sip Beach than laying back in the sun. For those who know the direction of the island, it's clearly sunrise that we captured – but if you didn't, to me, this could actually say sunset at the beach just as well 🙂
That shot of Jean, despite not being one of the more technically "cool" images I thought I took, went off the scale on Facebook when W put it up on their page. Just goes to show, you never can call these things…!
Speaking of Facebook, as the team at the W started uploading the images I took (one every two days), some clear rivalry began between the guys I'd included in my shots. Always up for making things more interesting, we put these two "fun" shots up (one of Tom with the Extreme Wow unique purple teddy-bear, and one of Nick against another piece of Alec Monopoly graffiti) with a voting competition. You'll have to go to their Facebook page to find out who won 😉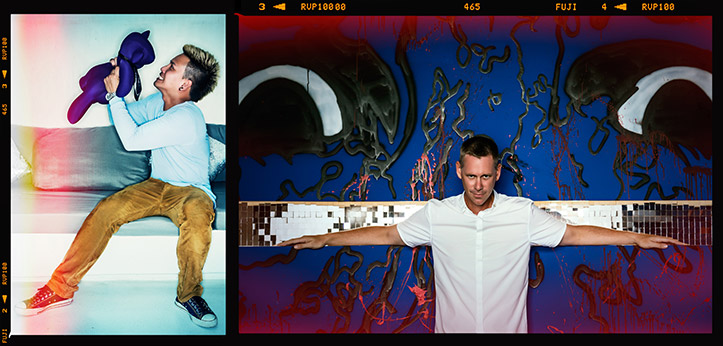 So, was that it? Not quite. There are many more images I've not mentioned on here, which the team now have – and I'm grateful for the time I spent with them. For me, it was a really enjoyable challenge and one which I'll never forget. For them, the exposure on Facebook of the characters who make the resort what it is was really noticable. Thousands of "likes" on the images, with people really getting an insight into who they're going to spend their vacation time with, not just where. As a brand, the W guys really do embrace the people as much as the place and I left the retreat buzzing knowing that I'd left a (good) mark there with the guys.
There is one more character image that I do want to showcase though – one which I made use of a fantastic tool by "Alien Skin" to edit (along with the shots of Nick and Tom above). This image, purely of Tom, just screams advertising. It never got used as part of this campaign, but I have a feeling it might pop up somewhere soon… 🙂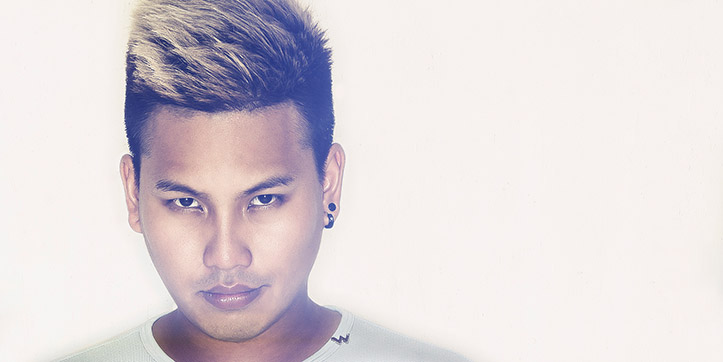 I just love that headshot 🙂
And one final shot – this time, a property image. That infinity pool at the WooBar just fascinates me, and the big "W" that Nick placed out at the end of the walkway is a massive part of that. This must be the most photographed letter on the island – and one which I'm sure helps the W brand around the world as holiday photos are brought out of an amazing hotel reception with the W overlooking the sea. For me, however, there's one other trick up the big letter's sleeve : it changes colour.
By making it matt white, it reacts to both the water and the sun, meaning sunrise and sunset transition the bold, ice-white statue into a warming logo, just asking to be photographed.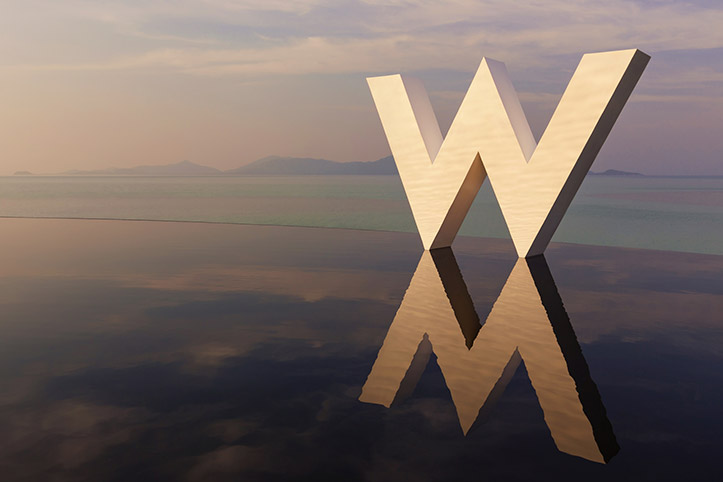 Here's to next time, and thanks to everyone at the retreat – you were all superstars 🙂