I don't think I'll ever get tired of sitting on a rooftop, watching the world and time pass by beneath my feet.
Rooftops have always been my "calming space"; no matter how busy the city is down there, it's like an escape from everything going on below.
Knowing that a million new chapters of people's lives are being spun "just over there" – some captured on camera from above, others being written behind closed doors – it's a truly special way to be able to feel the beat of a city and understand how tangled-up our own existence is within a place.

Add in some warm Florida air, an epic skyline, a pink sky and some great camera gear, and I'm set for the night.
Looking around at the buildings in Brickell, downtown Miami's southern neighbour, there's certainly no shortage of vantage points from which to enjoy the view.

Set back, just a little bit, from the constant construction that's ongoing in each direction – our spot for a few evenings seemed far and away from that world of traffic, entertainment and cranes that fill your mind as you get closer, or lower, towards the action.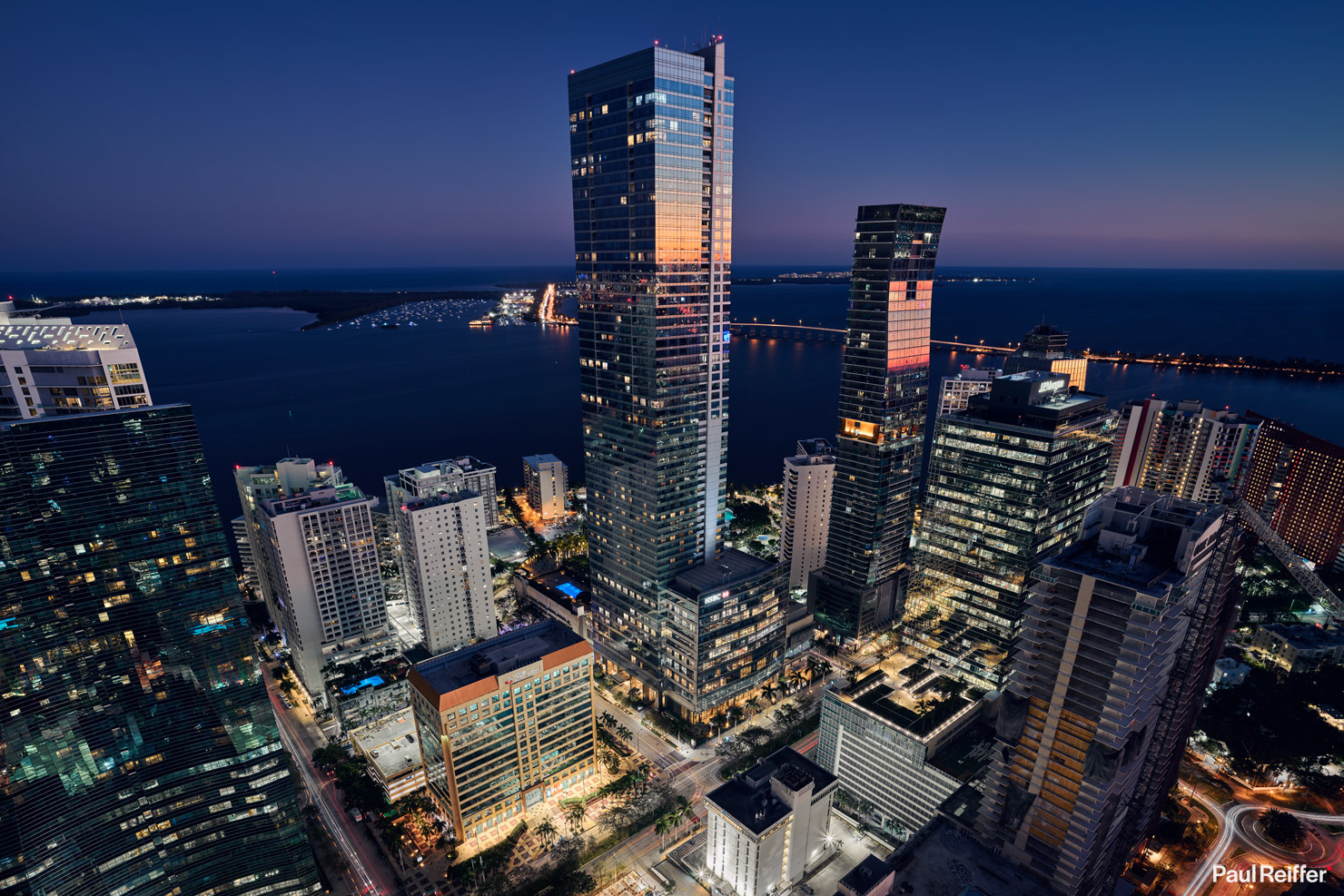 In my head, Miami is such a contradiction – sun-kissed shores and topaz blue oceans form a tranquil boundary to one of the largest passenger ports in the world, along with its bustling city neighbourhoods beyond.
As the sun began to set, those iPhone panoramic shots turned pinker and bluer, until it was time to start clicking buttons on its big brother in order to get my "proper shots"…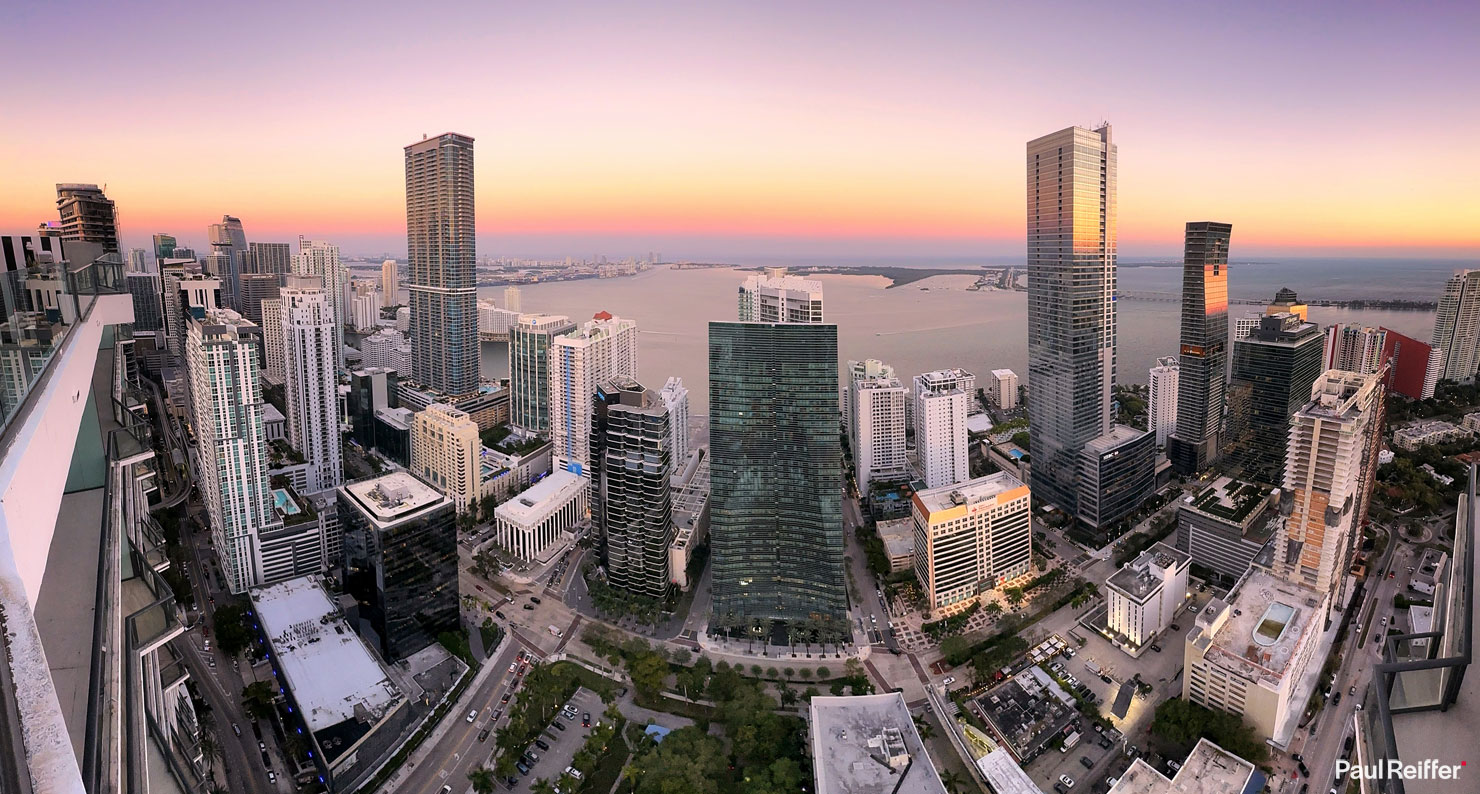 One of the challenges we often have from rooftops is perspective distortion – as you look down towards the ground, the buildings appear to diverge around you, getting bigger as they do.

Switching to a camera/lens setup that offers the ability to "shift", however (such as the Phase One XT) allows us to keep our perspective, and horizon, straight and level – while bringing the scene back up into the frame.
The result?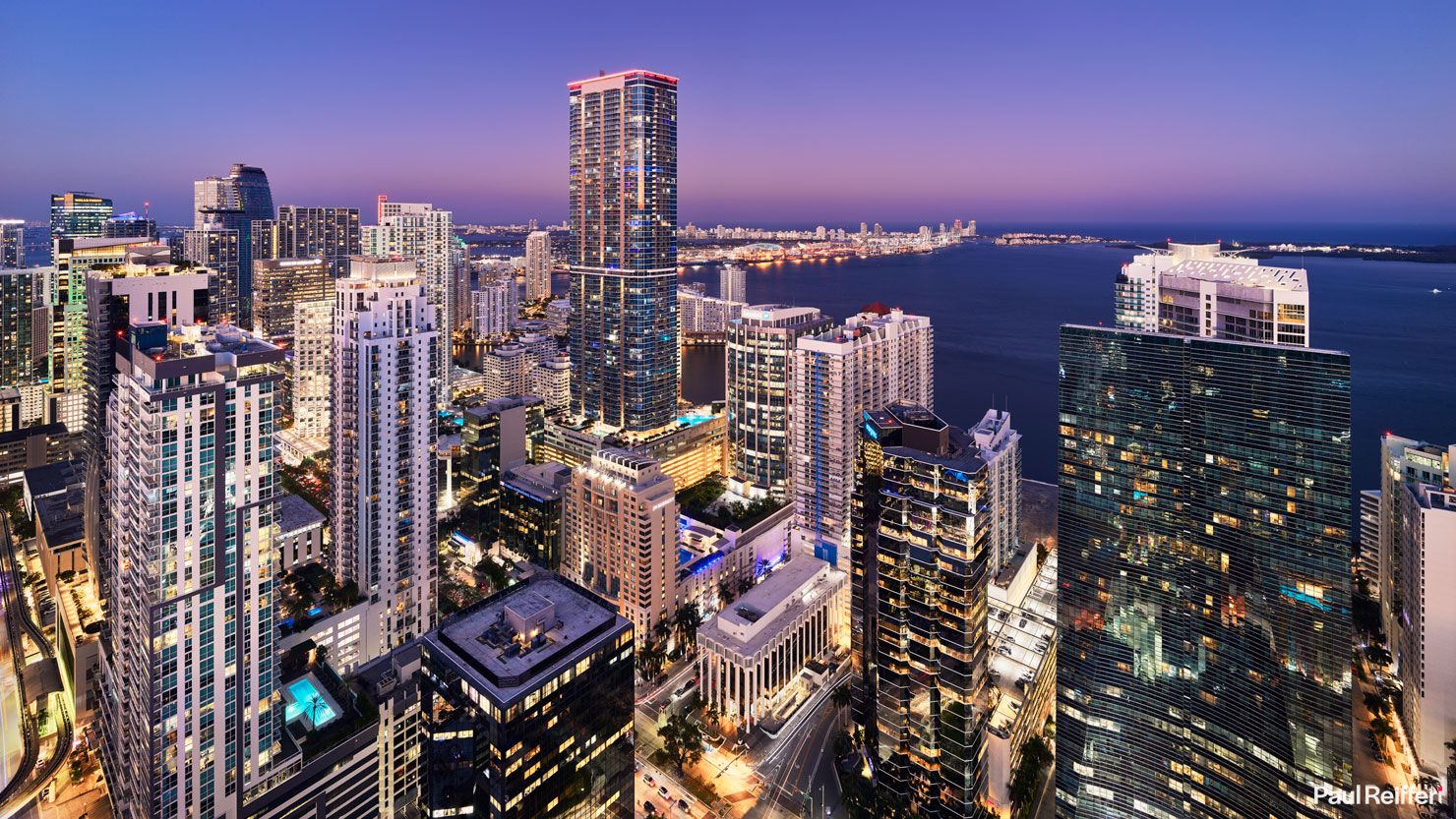 Wonderfully straight, tall, perspective-accurate cityscapes with levels of crisp detail that span as far as the eye can see.
Of course, the longer I shot, the more the city lights came to life – and as we lost the blue/pink sky to darkness, those intricate little stories and segments of lives below began to fill the shot.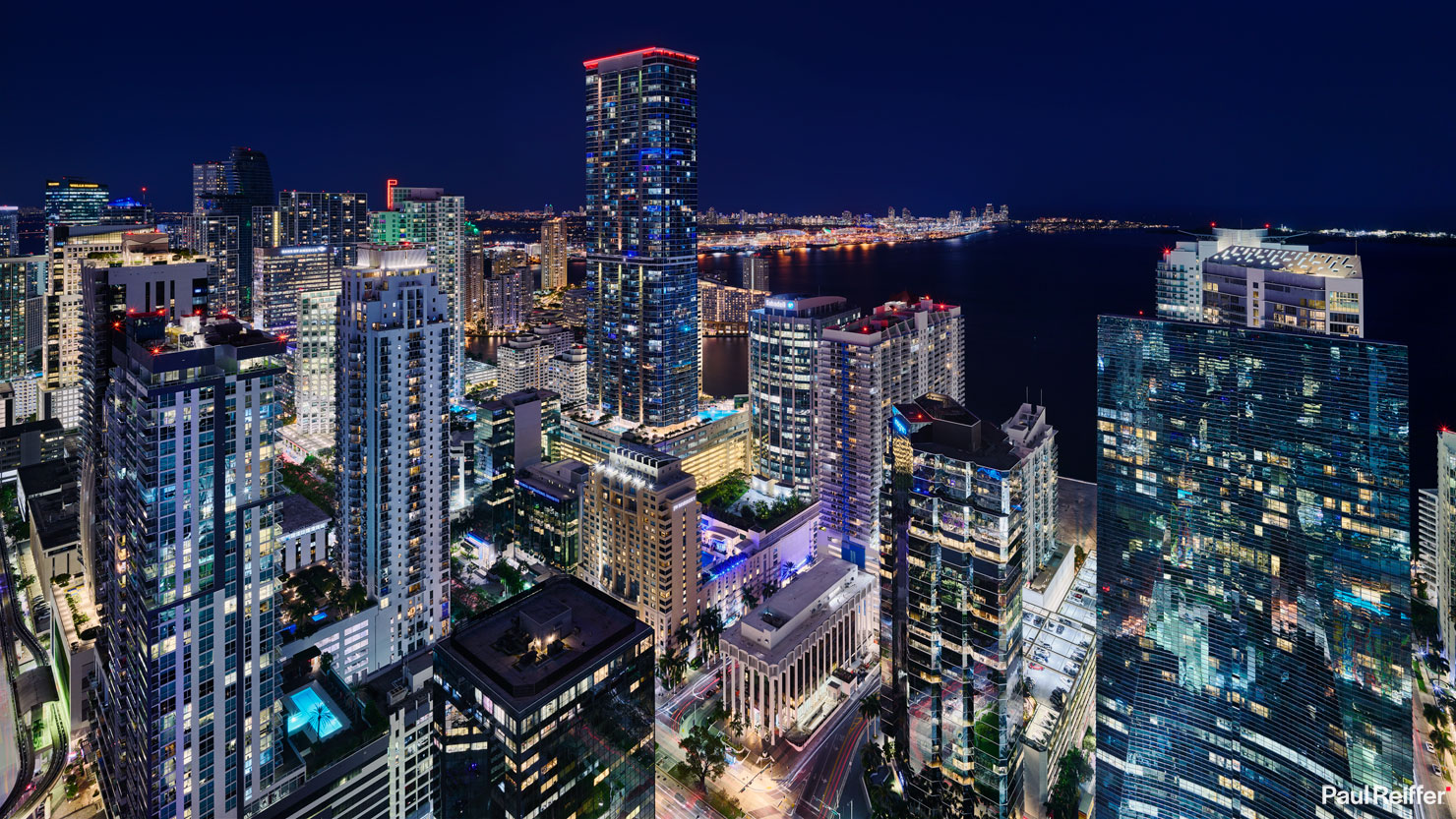 And, naturally, shooting with the 151MP IQ4, it's possible to take a closer look…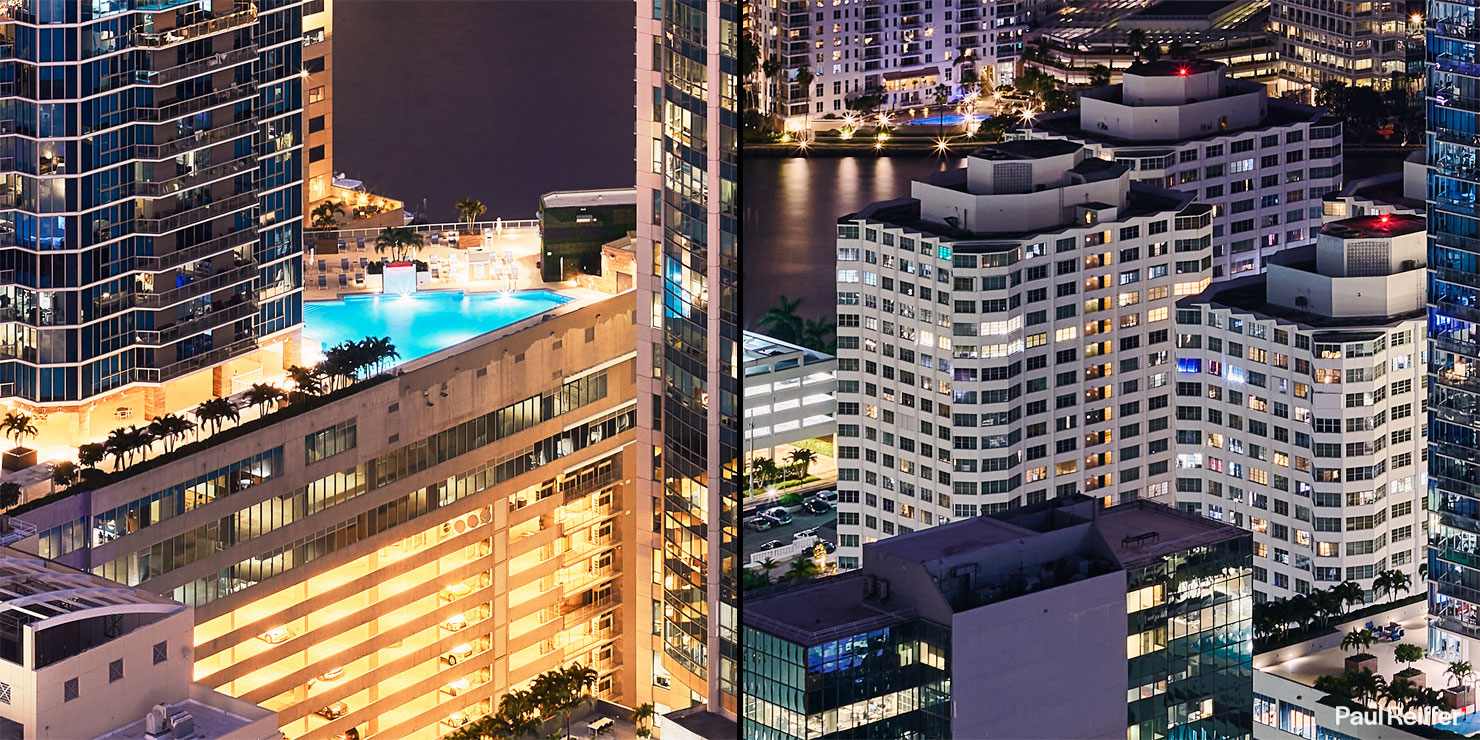 And at night, an even closer look…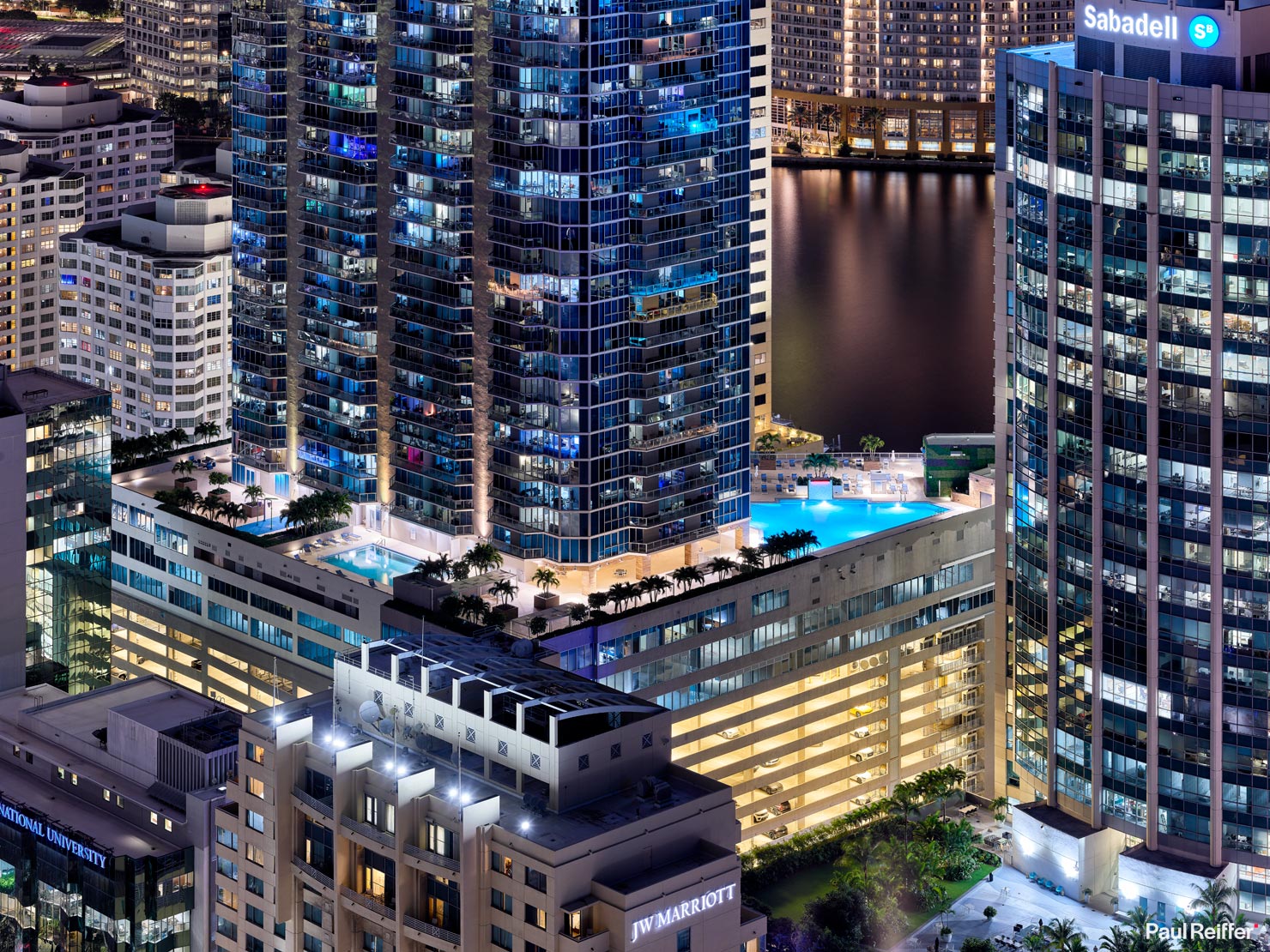 The levels of detail are simply incredible – especially as I was worried that the rather "uneven" placement of the tripod, coupled with strong winds buffeting the camera the whole time.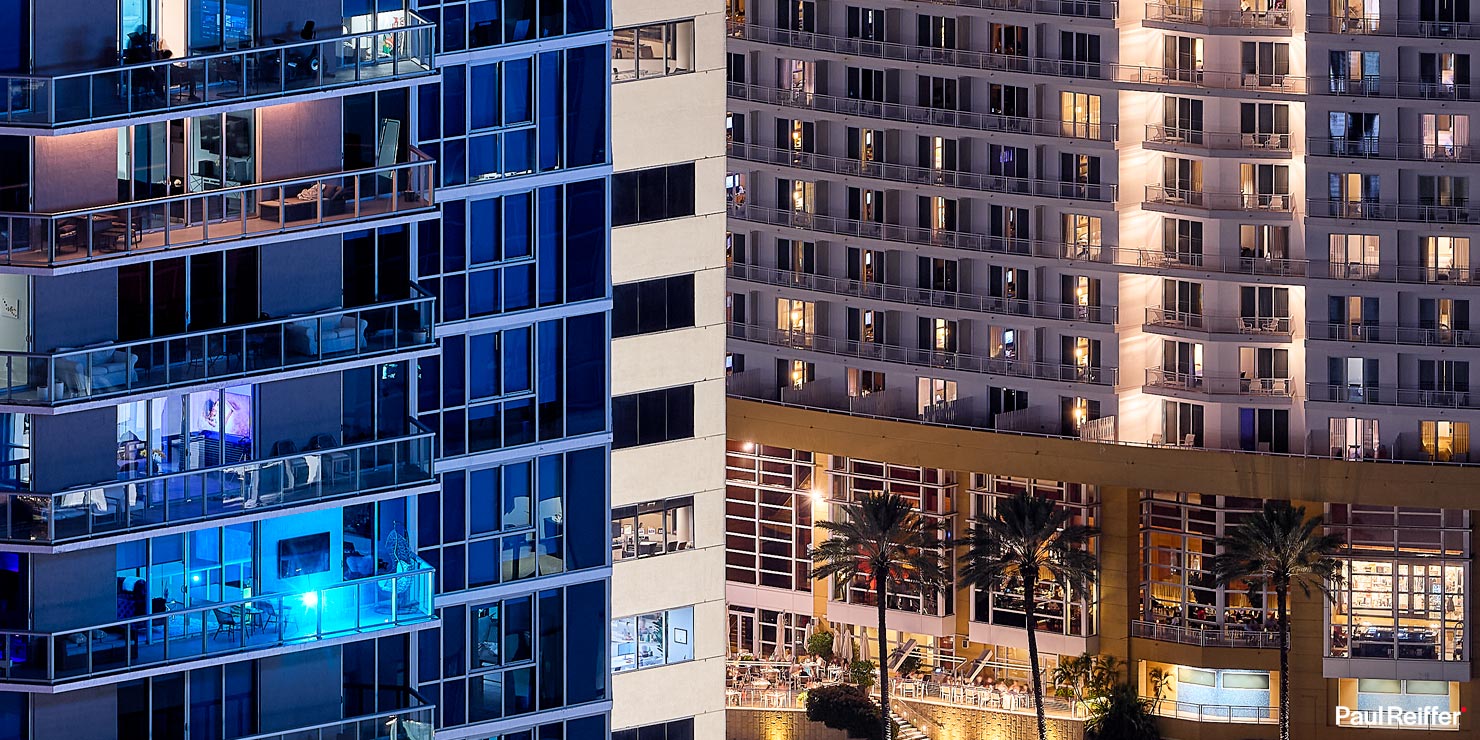 The noise-free nature of these shots (shot between ISO200-400) comes from the use of frame averaging over 20-60 seconds at a time – effectively cleaning all the shadows into what we see above.
It's Behind You!
Well, in front of you, I guess, as I wanted to capture the skyline.
It's a rule we often talk about: Decide where you want to shoot from on the basis of where you can see from the subject you want to capture.
While there are very well-known spots around Miami to capture the city itself (for example, the Hobie Island Beaches along the Rickenbacker causeway) – I wanted a view that was from a slightly different angle with the city laid out straight across the shot.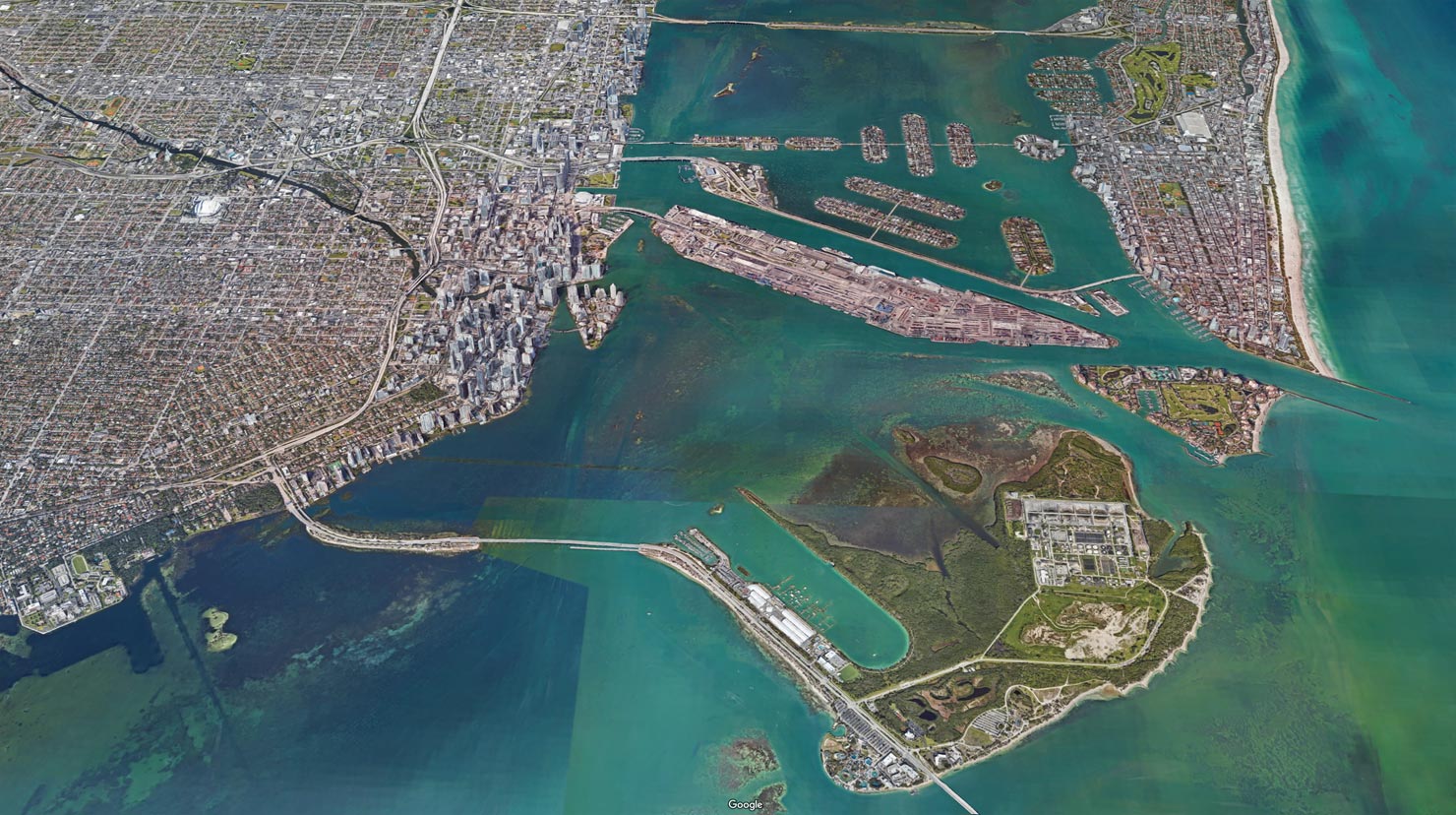 And in this case, that would be directly opposite Brickell – on Dodge Island. (Yes, the cruise terminals…!)
Heading out in the dark, we arrived to a spectacular view, mirrored in almost perfectly still water. There wasn't much time before those ship movements would begin, so these shots needed to be quick, as the light also began to increase in the sky.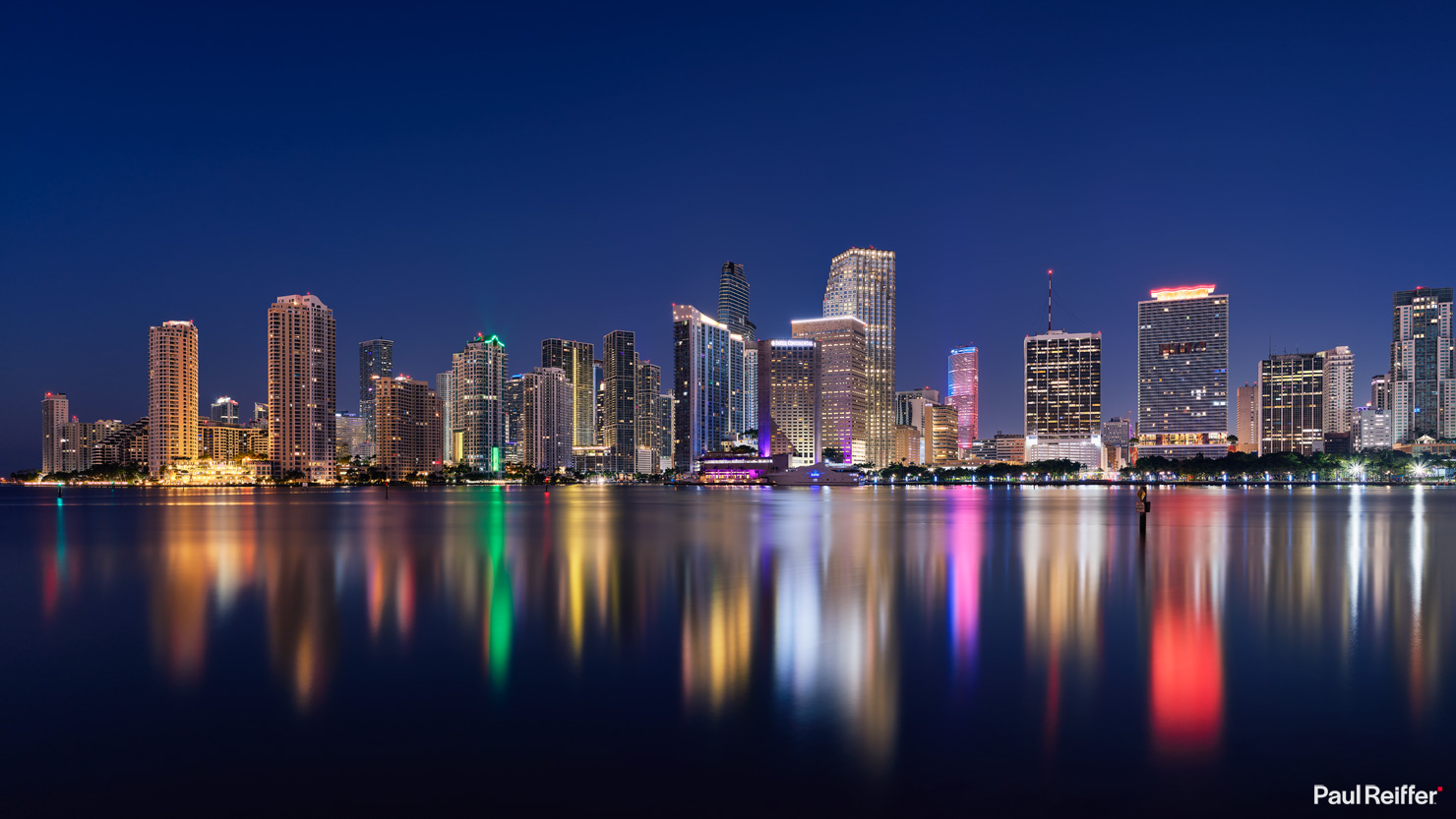 With a raccoon for company (who, luckily, couldn't have been less interested in my kit or what I was doing), it was then a case of holding out for the light and keeping an eye on the floor – just in case.
And then waiting… Until, finally, it arrived.

Not the golden light we'd been waiting for – no, the first of many, many, many ships. From fake (turbine-powered) sailing galleons, to speedboats, to tugs guiding super-yachts from the harbour – we saw it all, the second that sunrise occurred.
But all I needed was a tiny window – 40 seconds, more if I could get away with it, to flatten the water and give me the reflection of that warm glow bouncing off the Miami skyline itself.
Click.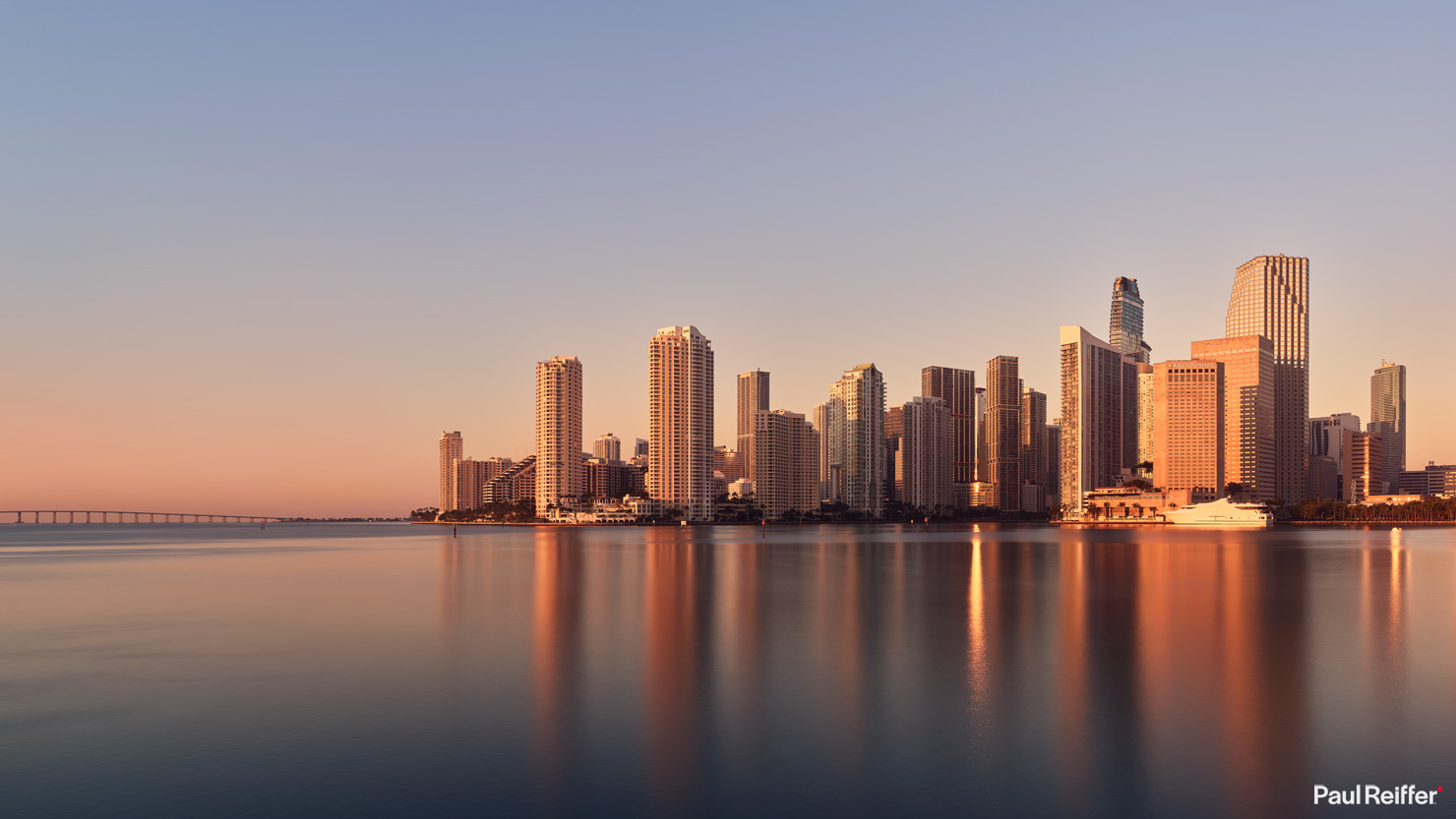 I got it.
To the left of this shot is a giant ship, just about to sail into view; to the right, two guys with music blaring out from their beaten-up fishing boat, creating shapes with their wake in the otherwise still waters.
But none of that mattered – I was lucky enough to catch it just right, and with Frame Averaging in use, could stop my exposure at the perfect moment to avoid all of that ruining the shot.
It's actually part of a larger, stitched, panoramic below – but to me, the balance of the bridge against the buildings just worked in the 16×9 above.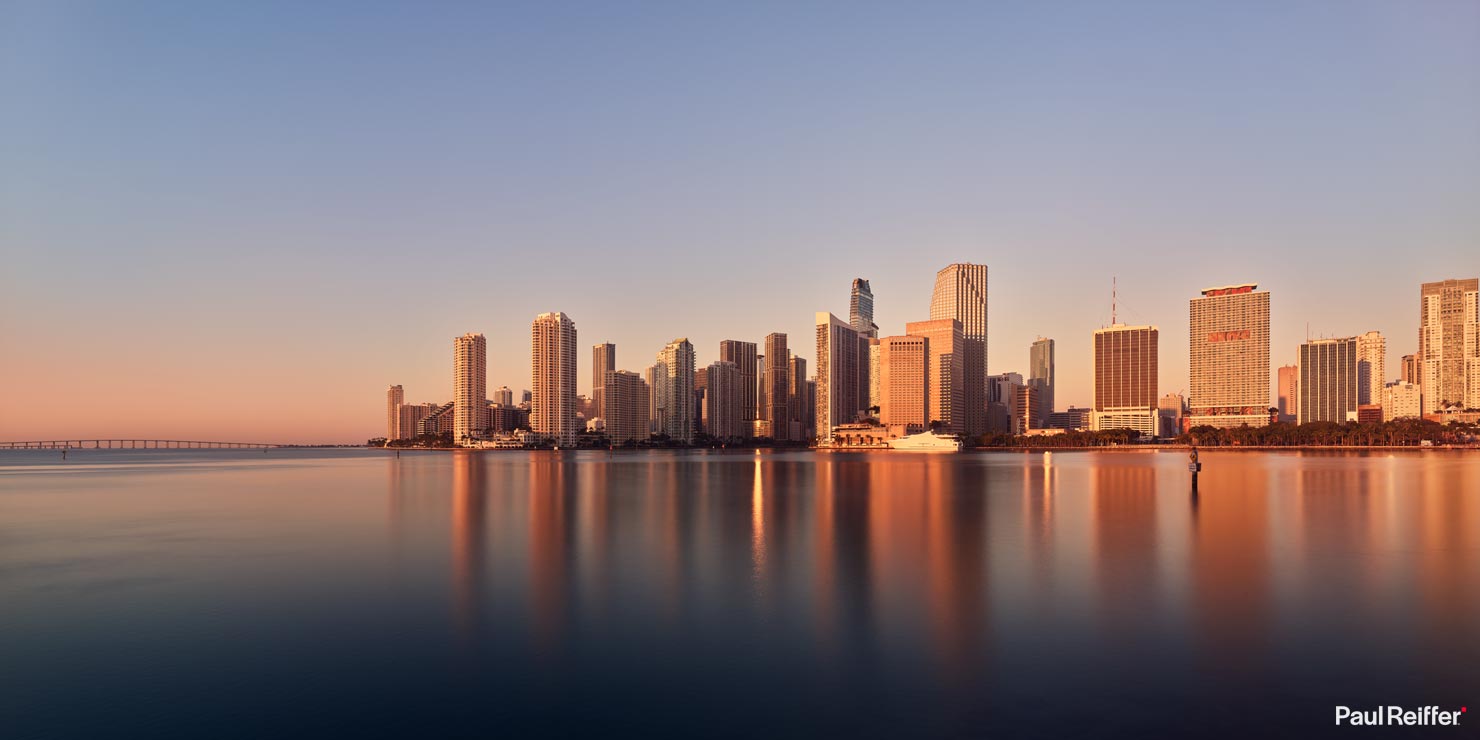 At over 1.5 miles away, you'd be forgiven for thinking this shot is all about the space, and the shapes created by the skyline in the distance…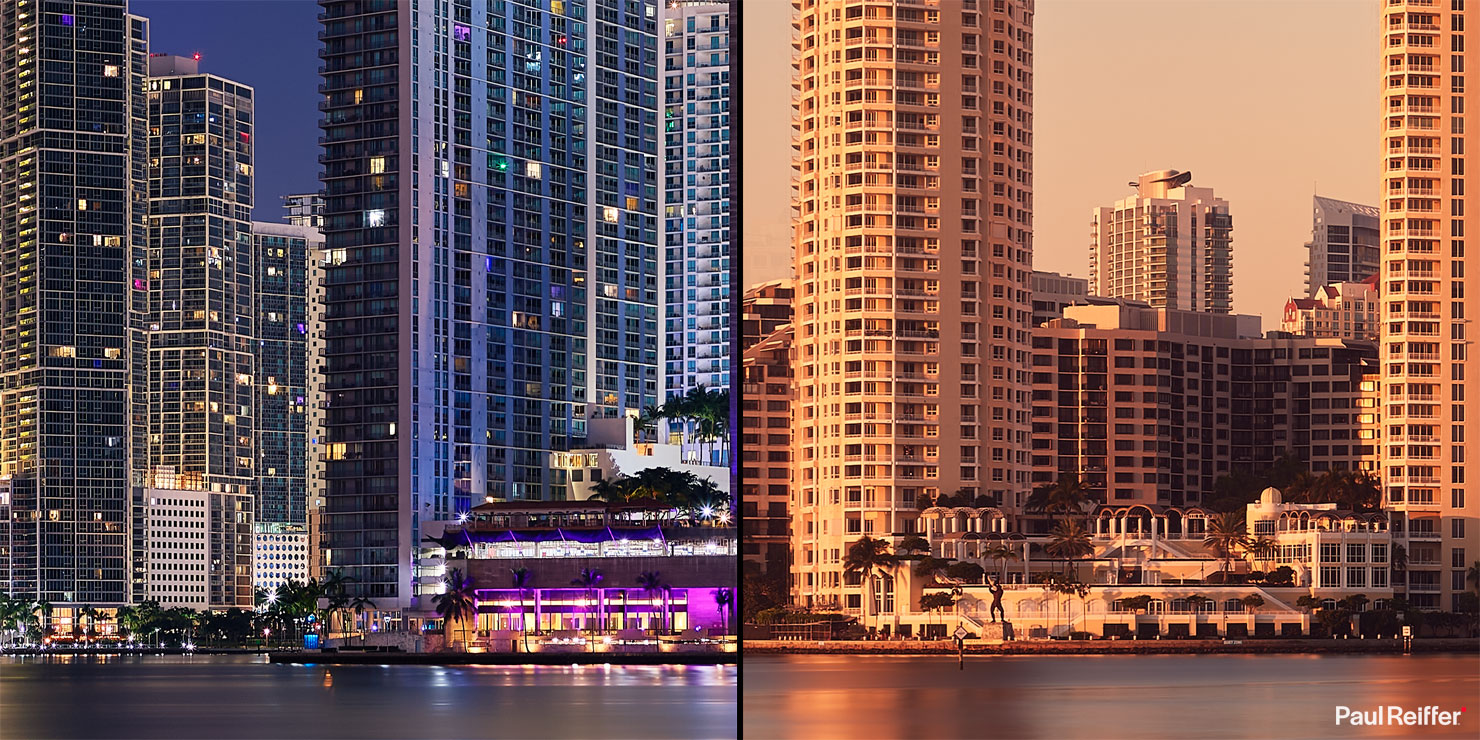 But no, we're looking at that exact same level of detail even from all the way back here…!
The 10th Street Tower
I've visited South Beach many times now, over the years – and there's one icon I've always been drawn to: The 10th Street Lifeguard Tower.
Sure, there are the cool bars, hotels and neon signs of Ocean Drive (and we've captured them quite a bit before too), but it's this pink and green space shack, like something from The Jetsons, that keeps grabbing my attention.

Having only ever captured it on my iPhone in the past (and it's a challenge at sunset from the sheer amount of people around), an early morning start was my opportunity to get the tower all to myself.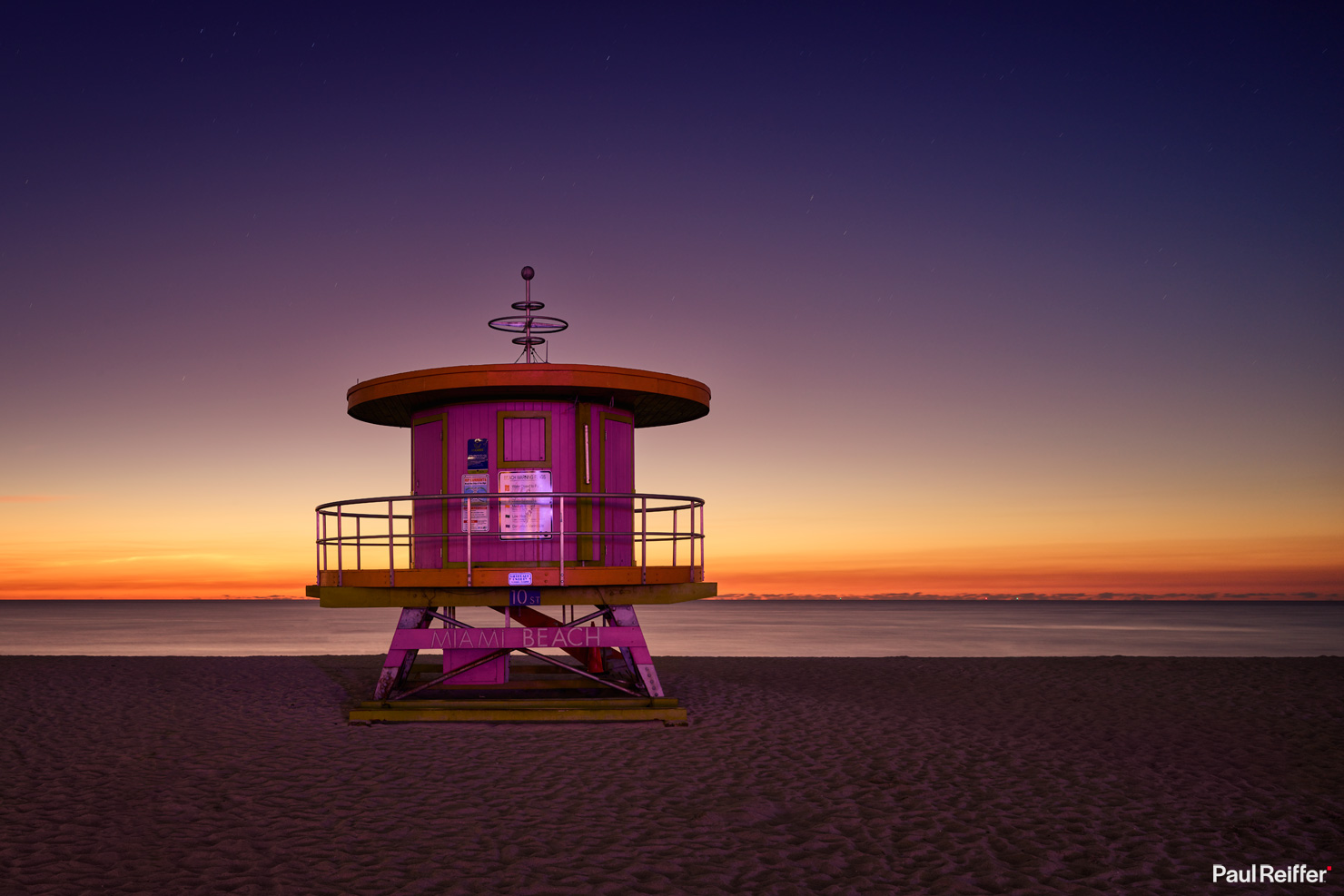 Or so I thought.
You see, it seems that dawn on South Beach is a special time – a time when every person within 10 miles decides to come and celebrate yoga, while obnoxious tractor-driving "beach cleaners" run donuts around each lifeguard tower for 2 hours solid, trashing the natural lines of the sand.
The picture above? That's the only shot I managed to capture of the building alone during the entire morning. After then, despite the efforts to re-randomise the sand after each 5-minute-interval-race the tractor-boys attempted, there was no hope.
So – if wide won't cut it; long it is. 138mm Rodenstock-long, that is…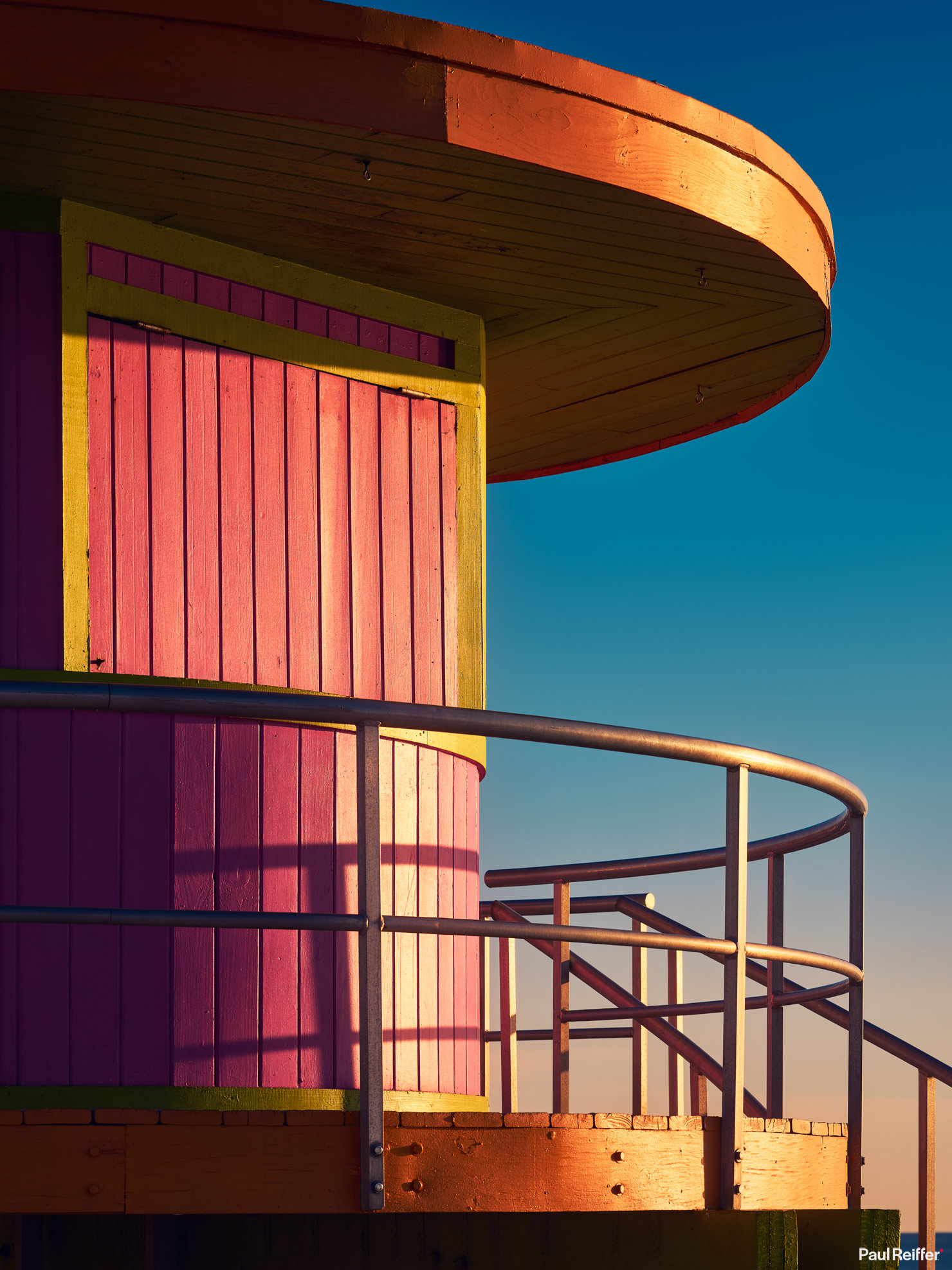 Granted, it's not the shot I had in mind, but bordered, mounted, and floated in a frame, this really does scream "Miami Beach", so it works.
Of course, there is a down-side to using that lens, even when deploying frame averaging: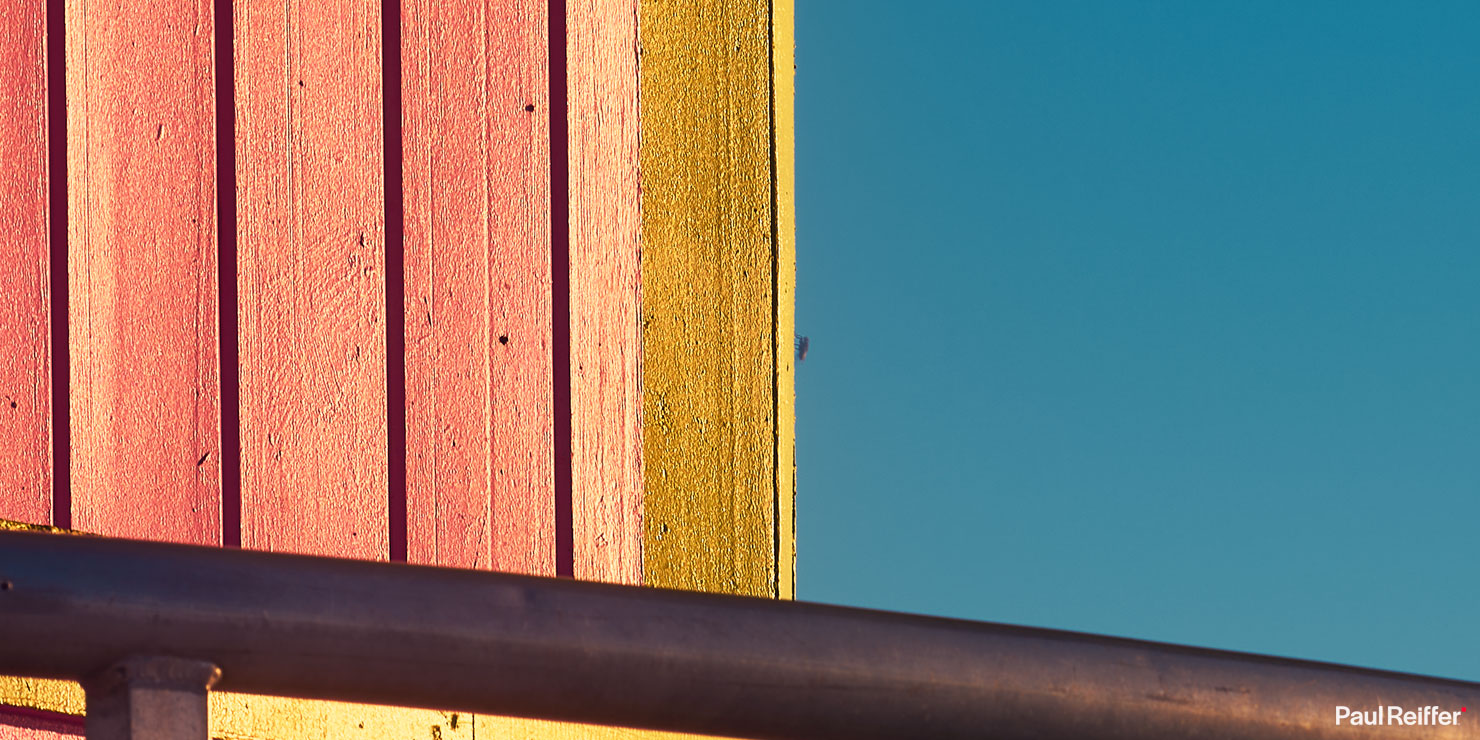 And that's the amount of time you need to spend hunting for "surprise friends" who wanted to be in the shot…
"Do you photoshop your images?" – to remove a pesky little fly, you bet!
Not-so-wild-life.
Sure, Miami has its downtown, nightlife, beaches & everything that goes with that – but it's a shame many don't venture outside of that bubble (even just a little way) to explore the area.
For starters, there are the friendly pelicans in the north – at Pompano Beach. Not exactly wild, they've got this fishing "thing" wrapped up as an art form, just waiting for the right moment to pounce as a line's brought in.

Then there are the "spare keys" (as I now call them) – not part of what's seen as the main archipelago for most people, but Key Virginia and Key Biscayne have some wonderful views, including the ever-popular Cape Florida Lighthouse.
Just plan on being there at least an hour to get a shot of it without people hanging out on the balcony.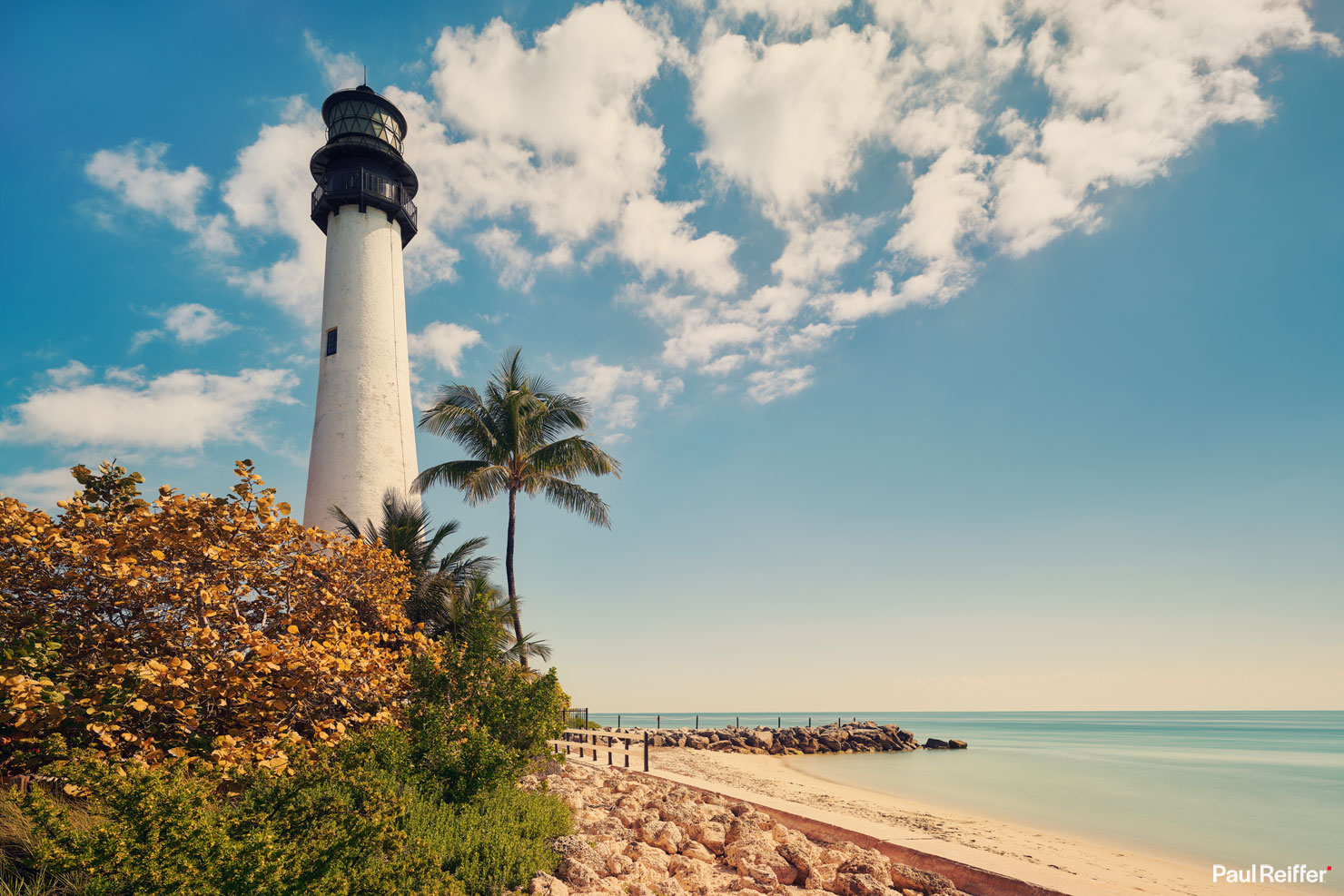 So – Miami. Time to head out, for this trip…
It's a case of venturing south from here – time spent in the Florida Keys can only be a good thing, right?
Of course, on the way, there is a definite need for some food comparisons – and in order of ridiculousness when consuming 3 at a time, we go from the over-hyped Pringles attempt at a hot crisp (no, not chip, crisp!) through to the awesome power of the Paqui Spicy Ghost Pepper Chips.

Try 'em – I can tell you the worst that can happen (offline)…!