Standing in front of a 27 million year old "lava plug" on the four corners of Utah, Colorado, Arizona and New Mexico, you'd be forgiven for losing your sense of time and scale as the sun creeps down the side of Shiprock (or "Ship Rock Peak").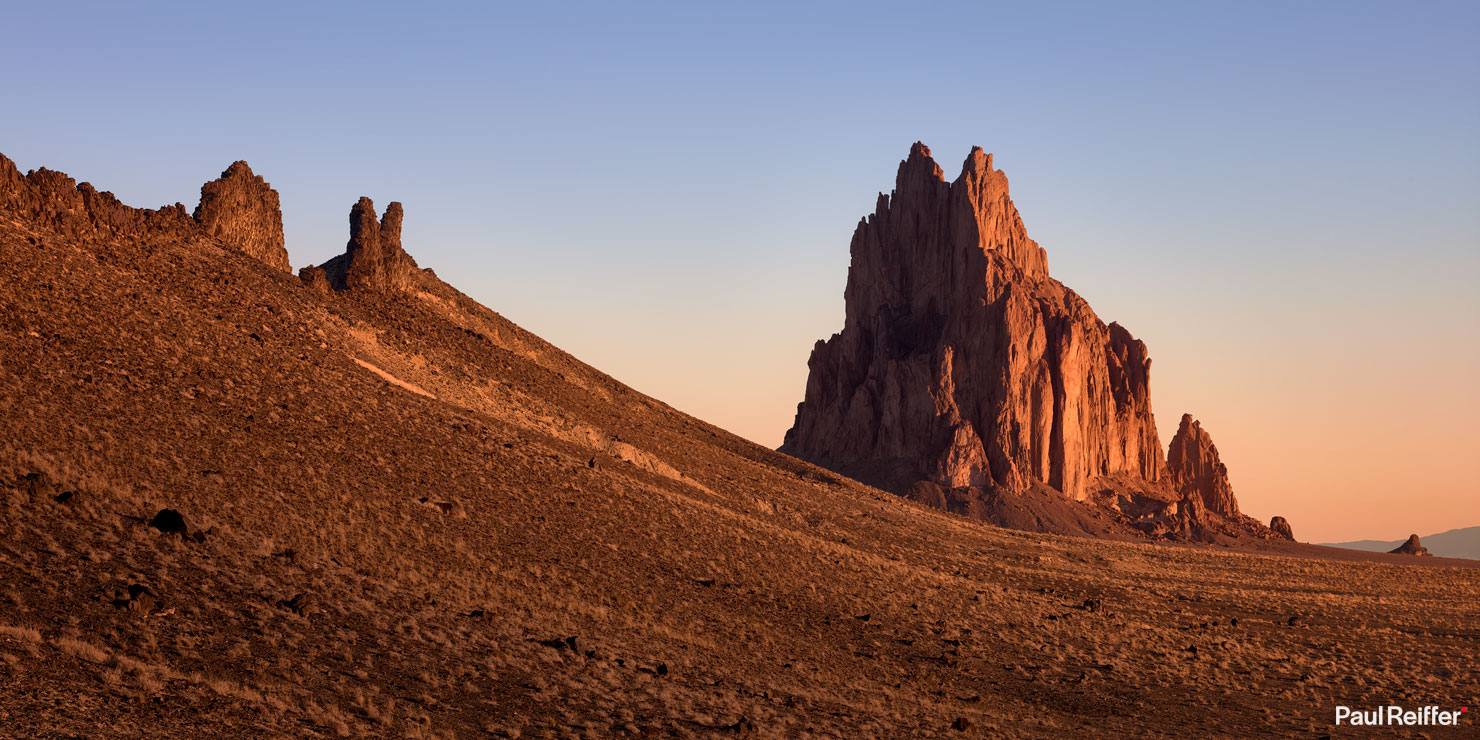 Named "Tsé Bit'a'í" by the Navajo (or "winged rock"), the english name came from its resemblance to a huge 19th century clipper ship.
At 7,177ft above sea level, the sunrise reveals this giant rock formation inch by inch, well before the surrounding desert becomes light – and capturing that transition in the still morning air is nothing short of spectacular.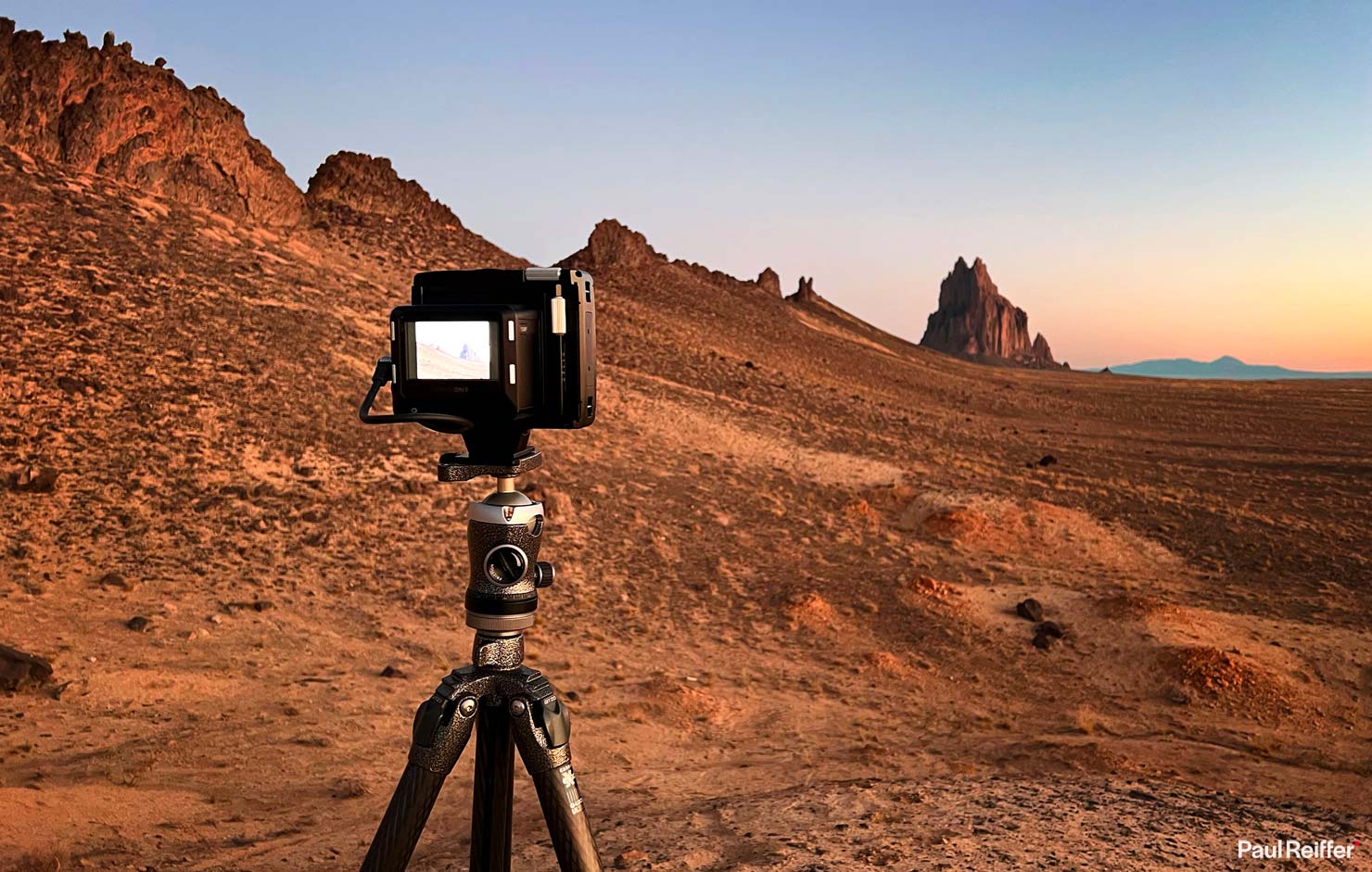 Of course, the scale of Shiprock can only really be appreciated from above – and it's that view that reveals its awesome neighbours that we were standing alongside: the black dikes ("minettes") that form huge walls leading out from this ancient throat of a volcano.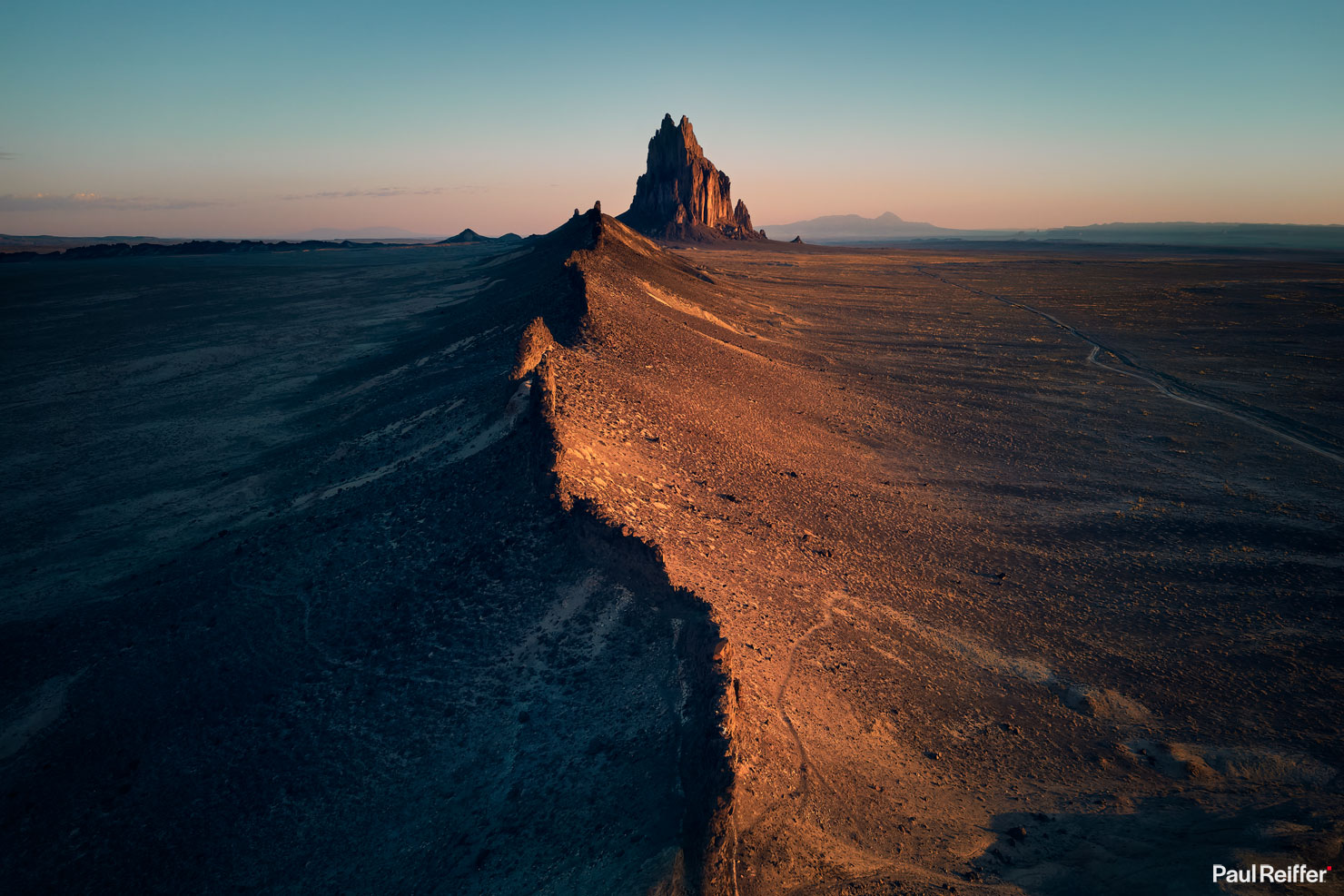 You see, Shiprock isn't just a lone feature out in the middle of the southwestern desert – it's part of a huge geological network.
It sits as a prominent element of the wider Navajo Volcanic Field, which spans all the way across to Monument Valley in the north-west and deep into Arizona and New Mexico to the south.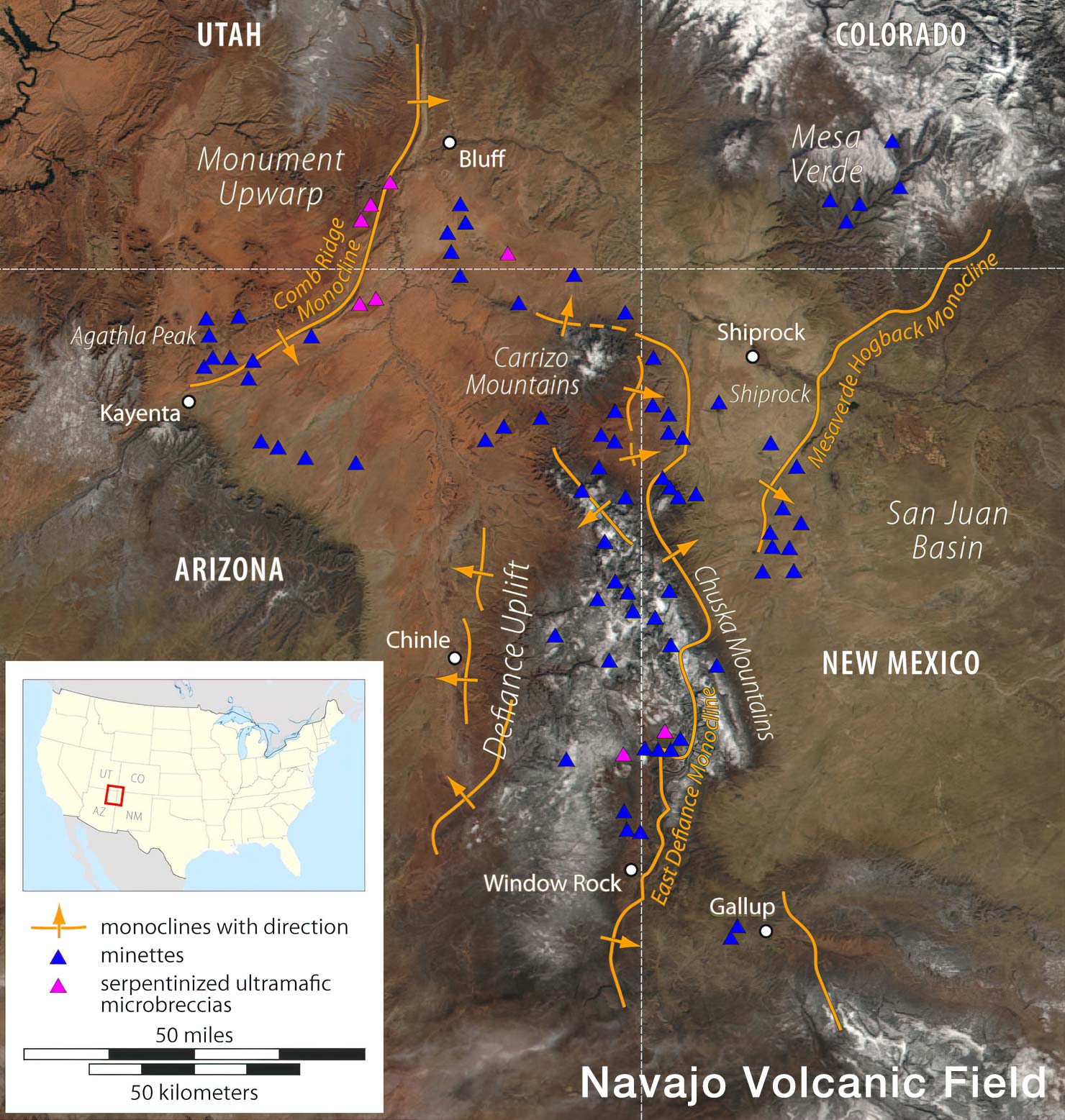 As the tallest of 8 huge "vents", it's one of over 80 volcanoes that cover this massive field that's been dormant for nearly 30 million years.
From above, the runways that are formed by volcanic walls leading up to the monolith make it easy to spot: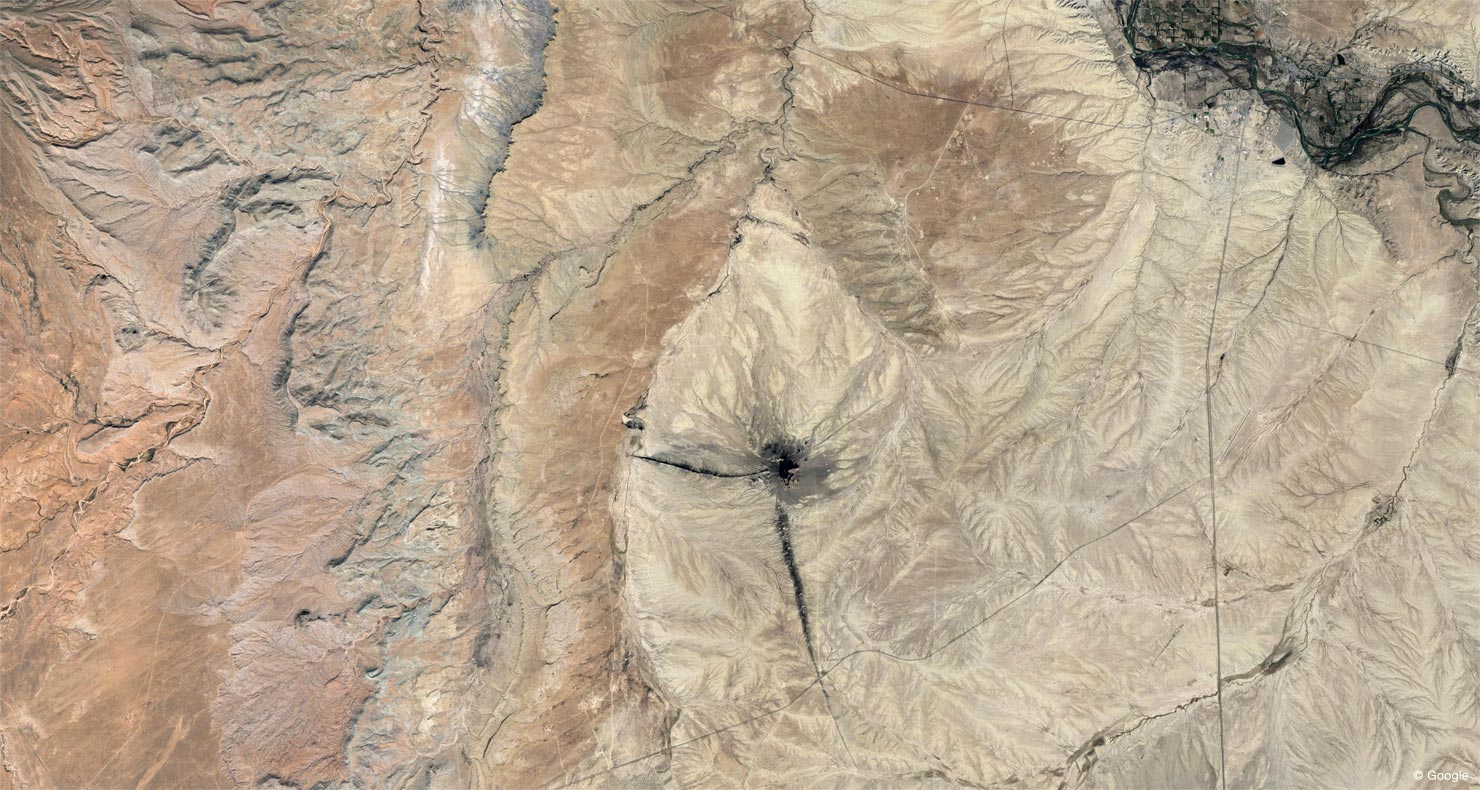 And from the side, it's hard to miss the pointed feature surrounded by flat desert land for as far as the eye can see: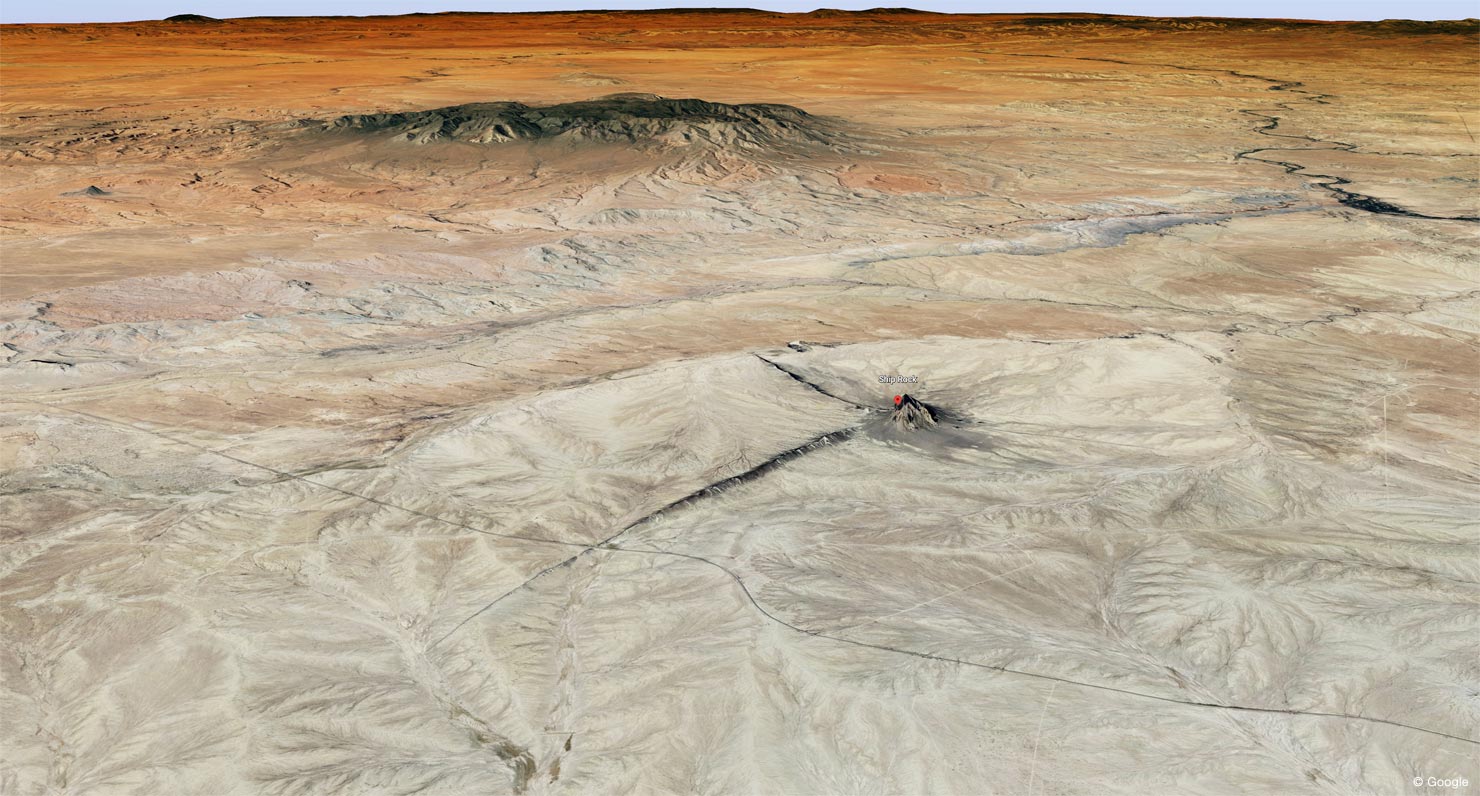 Which is probably why it became so attractive to climbers last century – an activity that's since been made illegal on Shiprock due to reported deaths and, fundamentally, its sacred status among the Navajo.
However, while I'm not keen on dying, or being arrested, the volcanic walls that lead up to this incredible feature are an easily accessible feature that many have come to appreciate and enjoy responsibly at sunrise.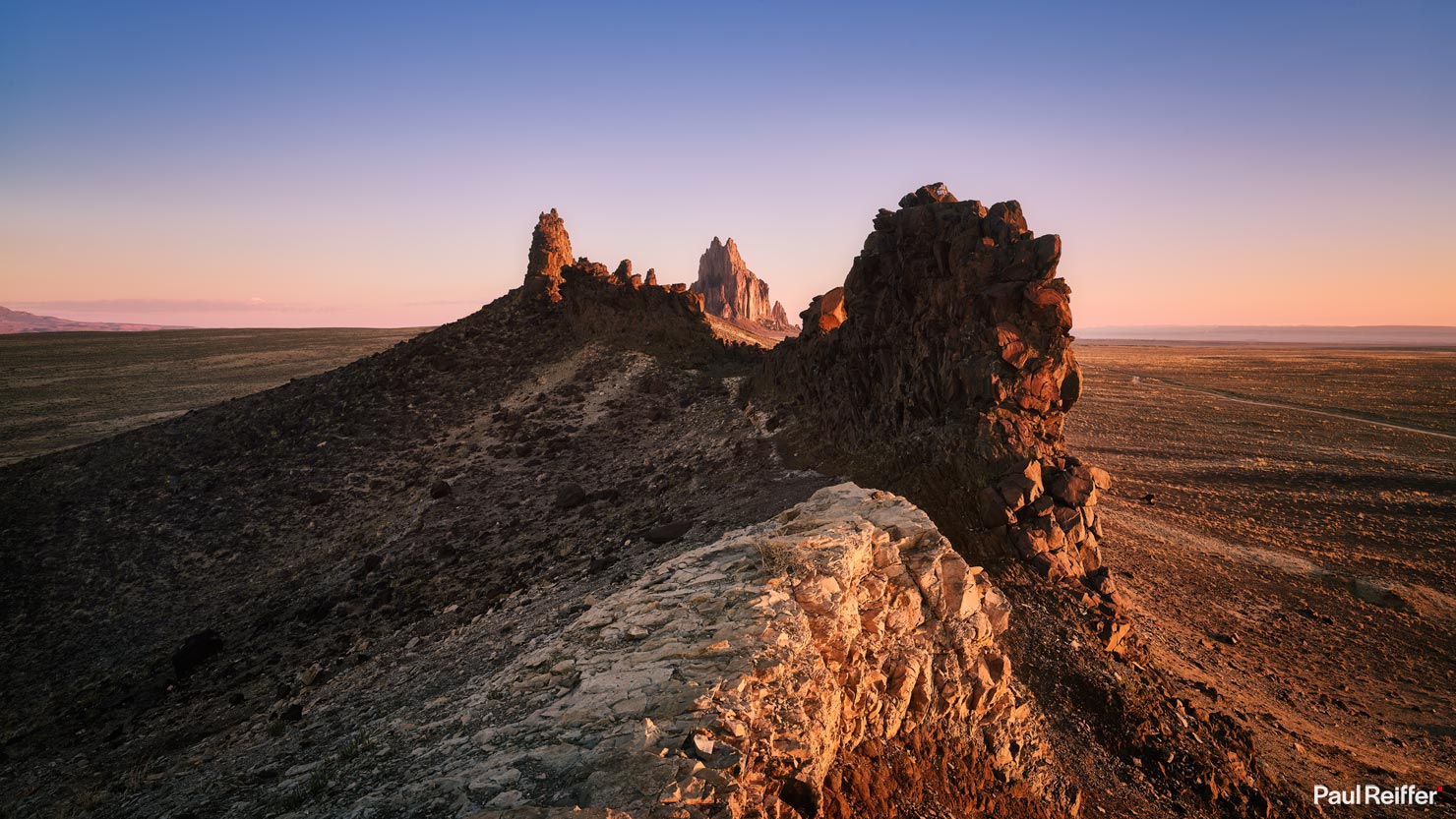 Photographically, I can tell you, it's a depth of field nightmare. Even on a 32mm full-frame medium format lens, we were pushing it at f/11 to get foreground and feature nice and sharp – but the Rodenstock pulled through and delivered.
Of course, this would have been a great test of the new 40mm Tilt lens, but that would have relied on me bringing it along this morning…!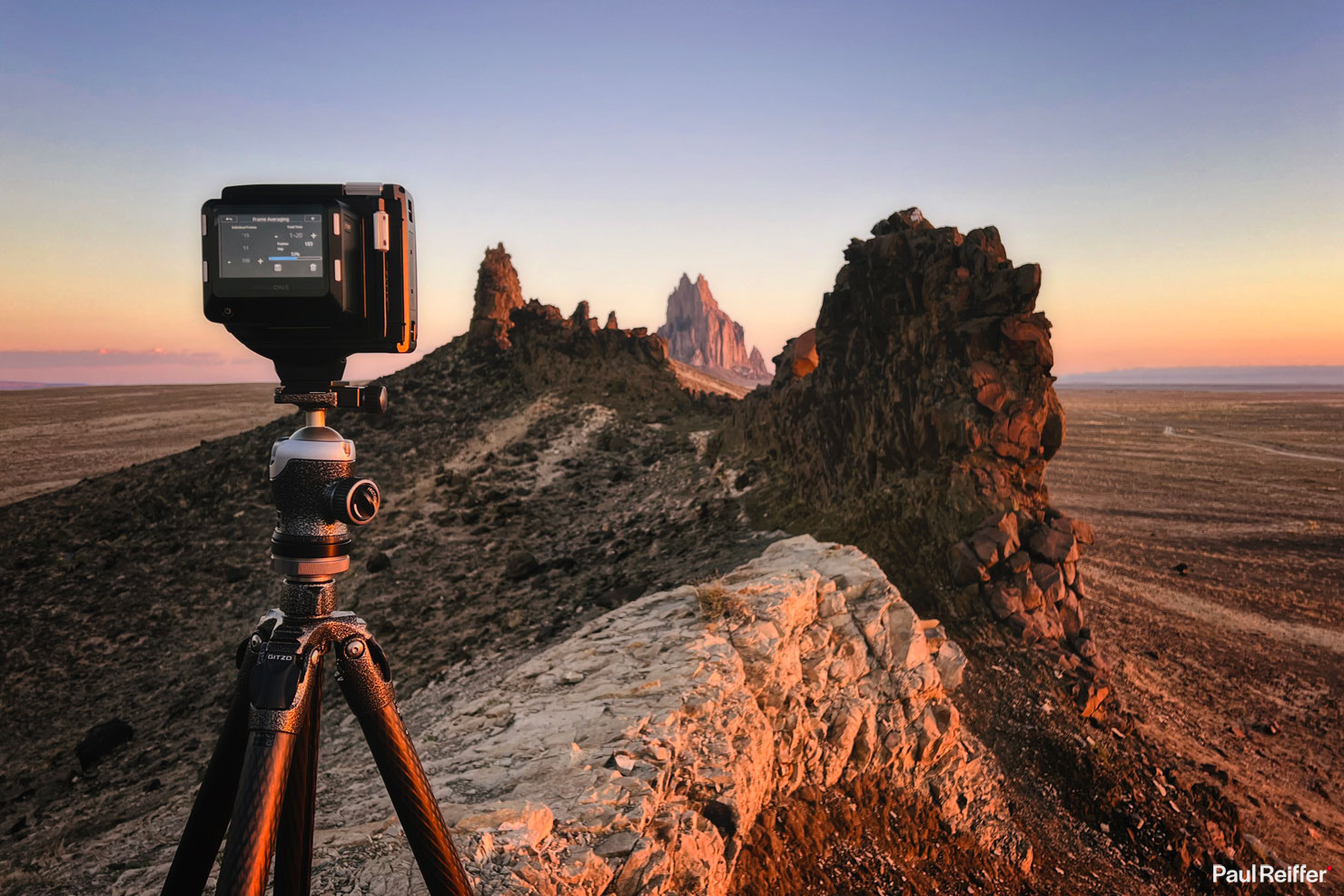 Over a couple of days, we explored the sunrise from different angles:
From below, the Shiprock is incredible – tall, huge, standing strong.
From along the volcanic wall, it almost fades into the distance – part of a much wider feature, beyond just the rock itself as this iPhone panorama helps show:

Alan, my partner-in-crime for the week, also managed to provide us with a rather handy reference in that image above. For scale, here's a crop of that image with our car down below…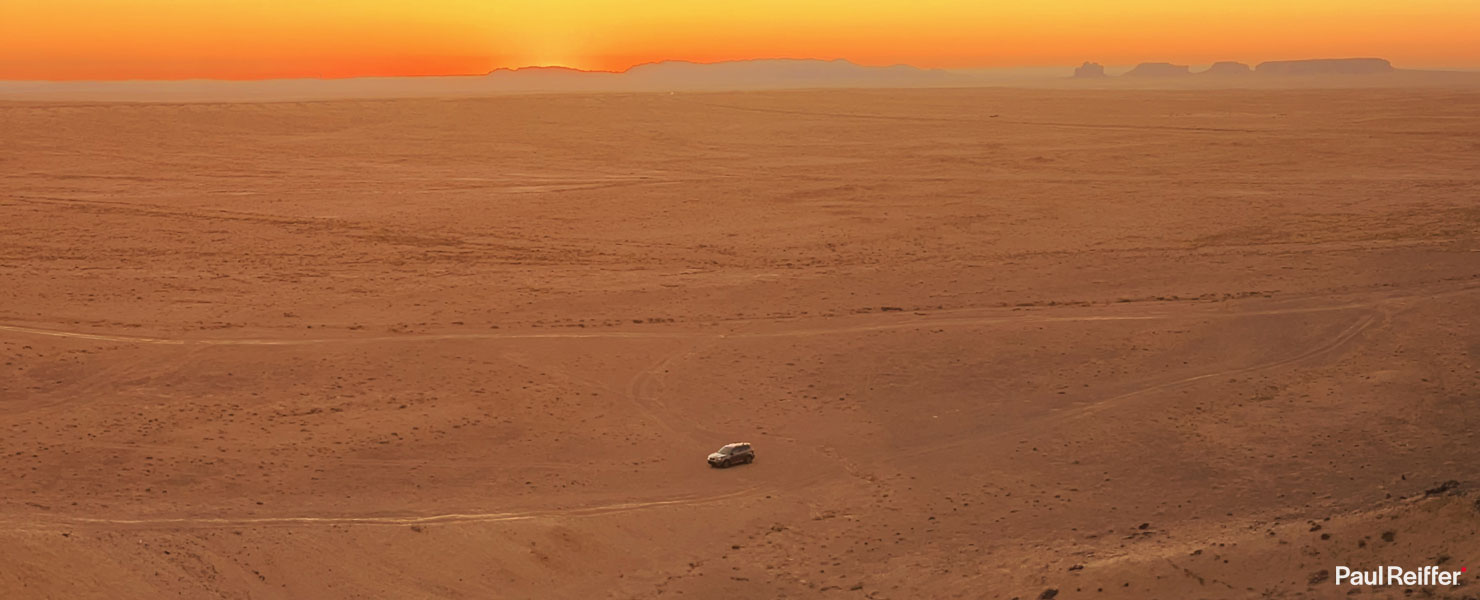 Of course, nothing really beats the view from above – and that's where Shiprock takes control of the entire scene once again.
From up on the side of that volcanic wall, the monolith can feel a little lost. Rise up a few hundred feet, and it makes its presence known.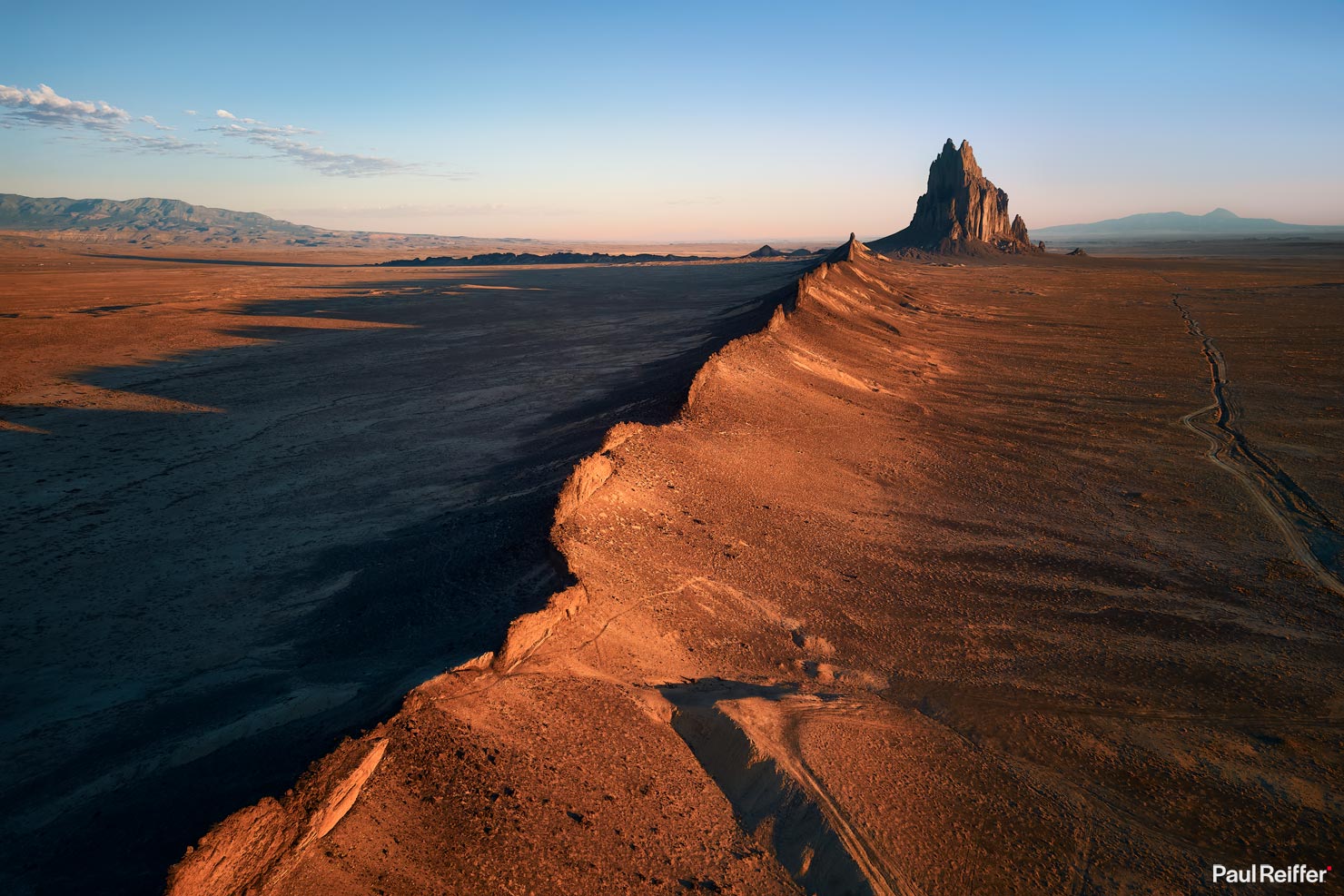 And, again, for scale – here we are on that ridge: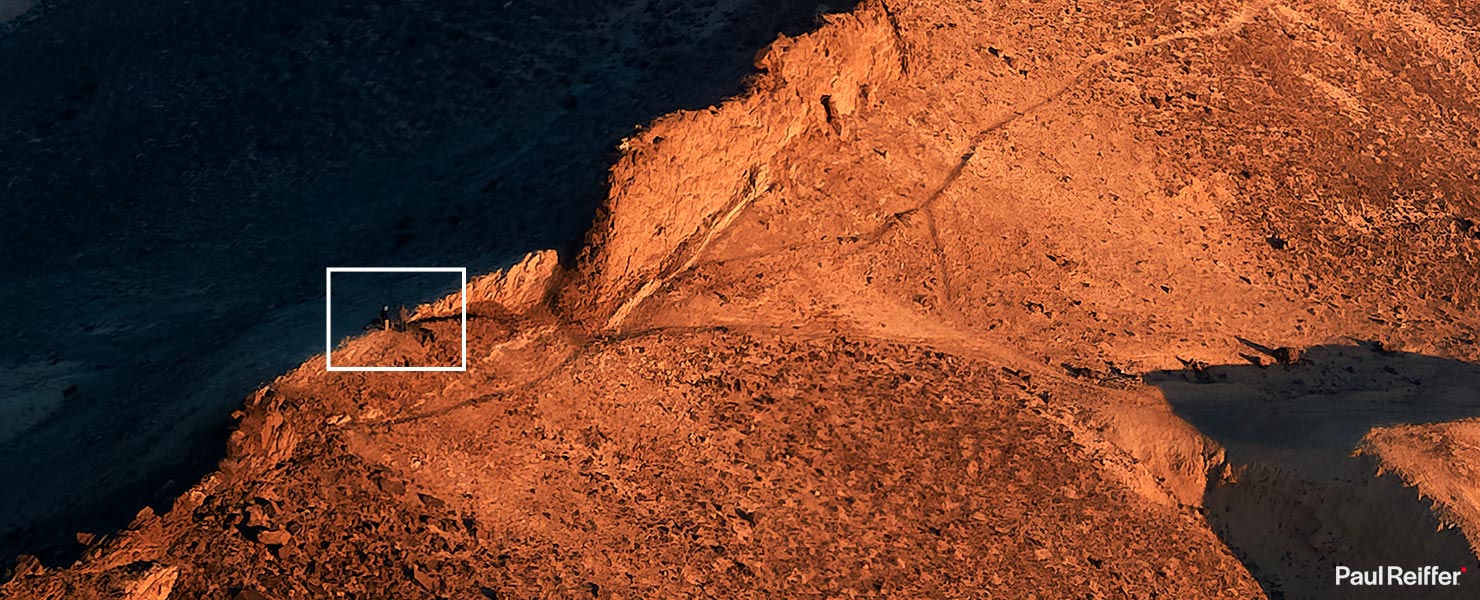 As the sunrise turned to daylight, it became easier to take a look at the dikes that span from the volcanic neck of Shiprock itself, and they're no less incredible than the star of the show.
How on earth (literally) did nature manage to create a perfectly vertical line of thin, flat, rocks that span for miles? I'm sure somebody knows, but I'm actually quite enjoying the mystery.

And there's something that screams "mystery" whenever I look at the images I took over these few mornings.
There are towns nearby, there's an airport, supermarkets, all the evidence of humans going about their daily lives – and yet, still, I look at this picture and see something from another world.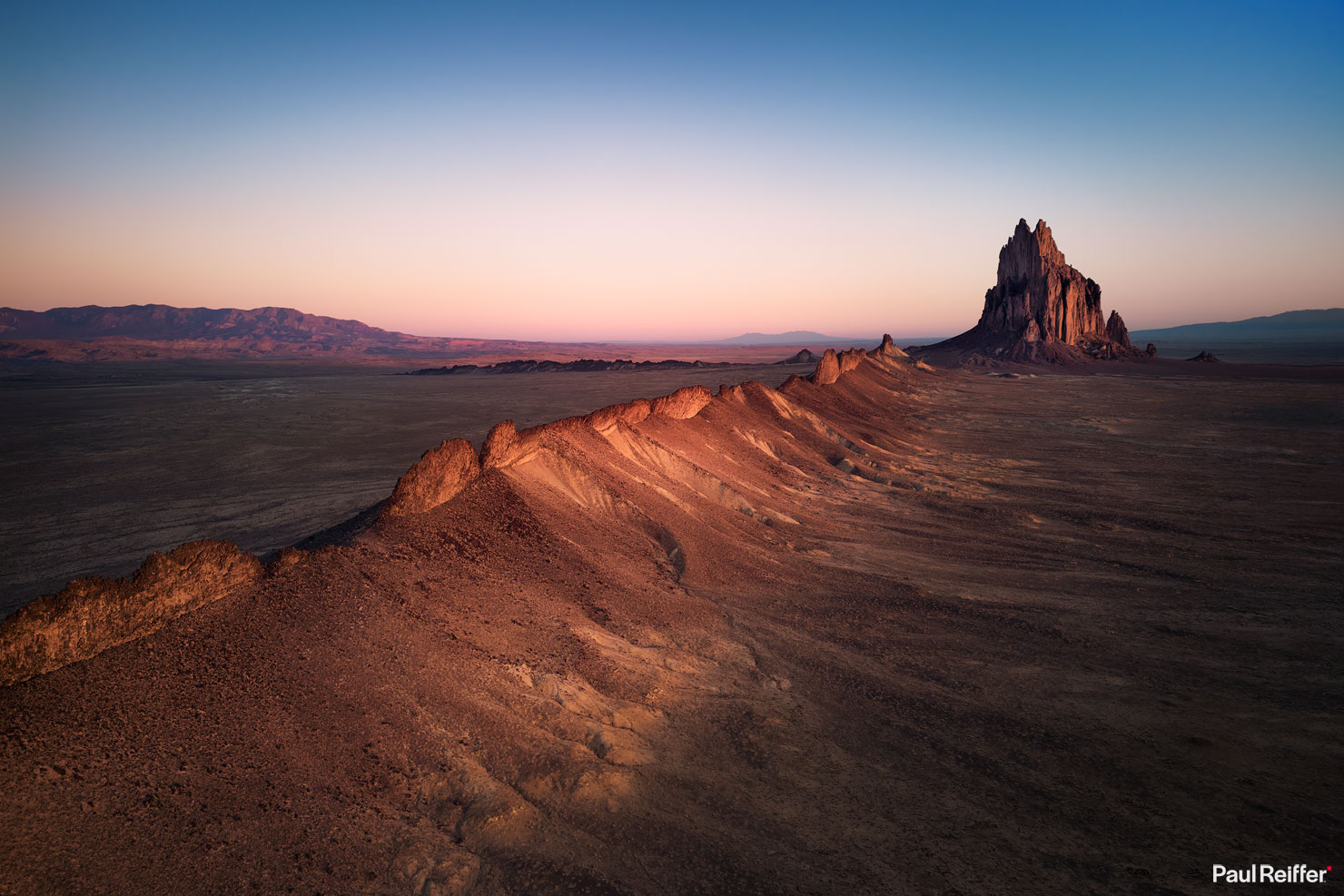 And that's what makes it so incredible.
It is another world – right on our doorsteps.

Back to earth – a few learnings from this trip:
New cowboy hats seem to attract flies if they're keen on that "new hat smell".
Farmington folk don't mess around with career advice.
Sam's Cola should not exist.
Whataburger are the ONLY chain that aren't dead to me now, thanks to this sticker.