Everybody loves a new toy – especially photographers – and with the transition roadmap for Apple Silicon nearing its finishing line, many of us have been holding on for that "ultimate workstation" for a while.
And I think, in many ways, it may well be sat on my desk right now – in the shape of the Mac Studio M1 Ultra, along with the 27″ Studio Display by its side.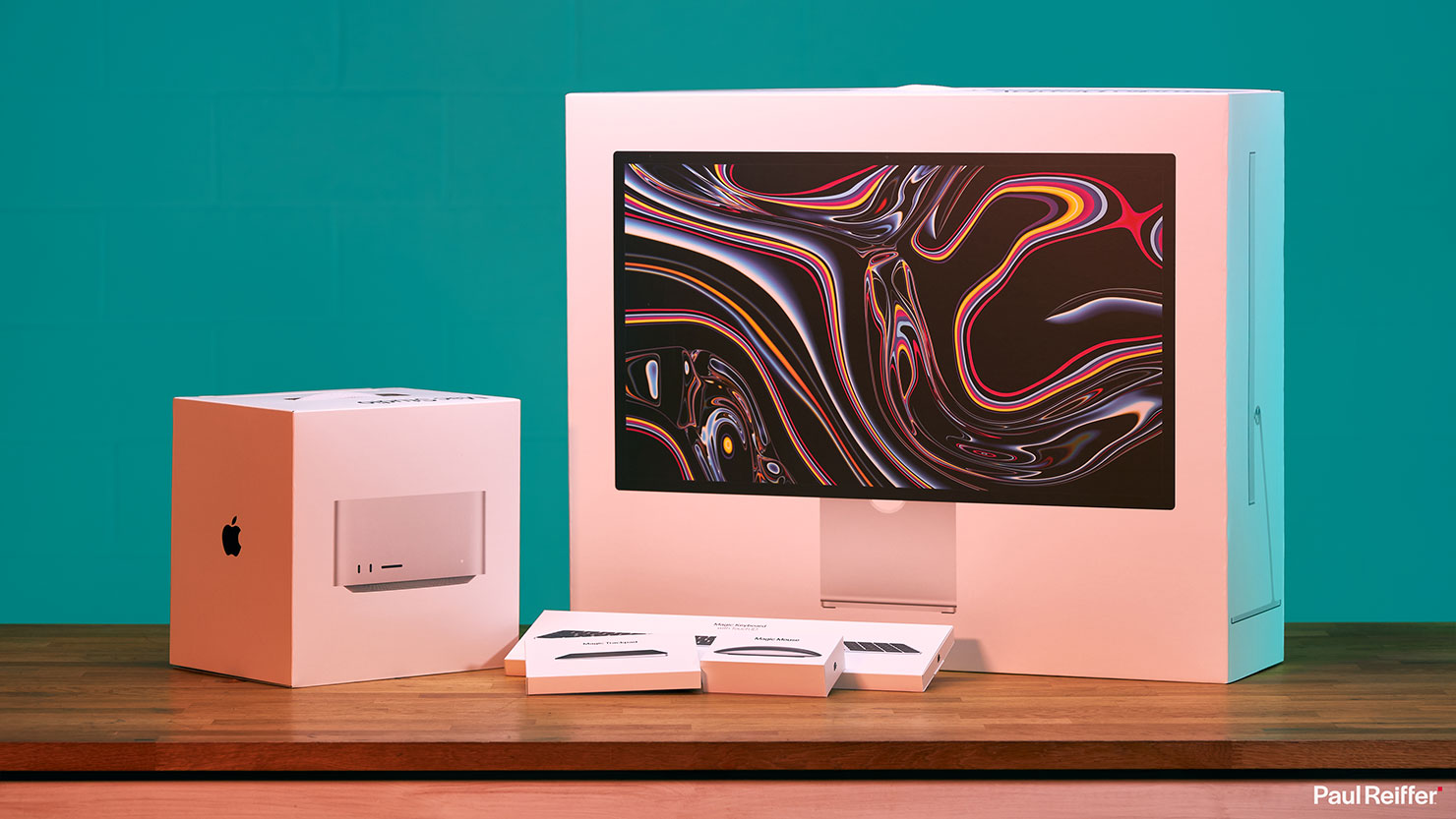 ---
Skip to section : | Mac Studio M1 Ultra | Studio Display | Setup | Speed Tests | Multi-Tasking | Multi-Display | Portability | Digi-Tech Solution | Power & Heat | Pricing | What Is Mac Studio | Photographer's Buying Guide
---
If there's one thing I'm certain of in this world – it's that Apple packaging designers take their engineering task just as seriously as those who create the actual products inside – and opening the boxes for this set of hardware is quite the reveal.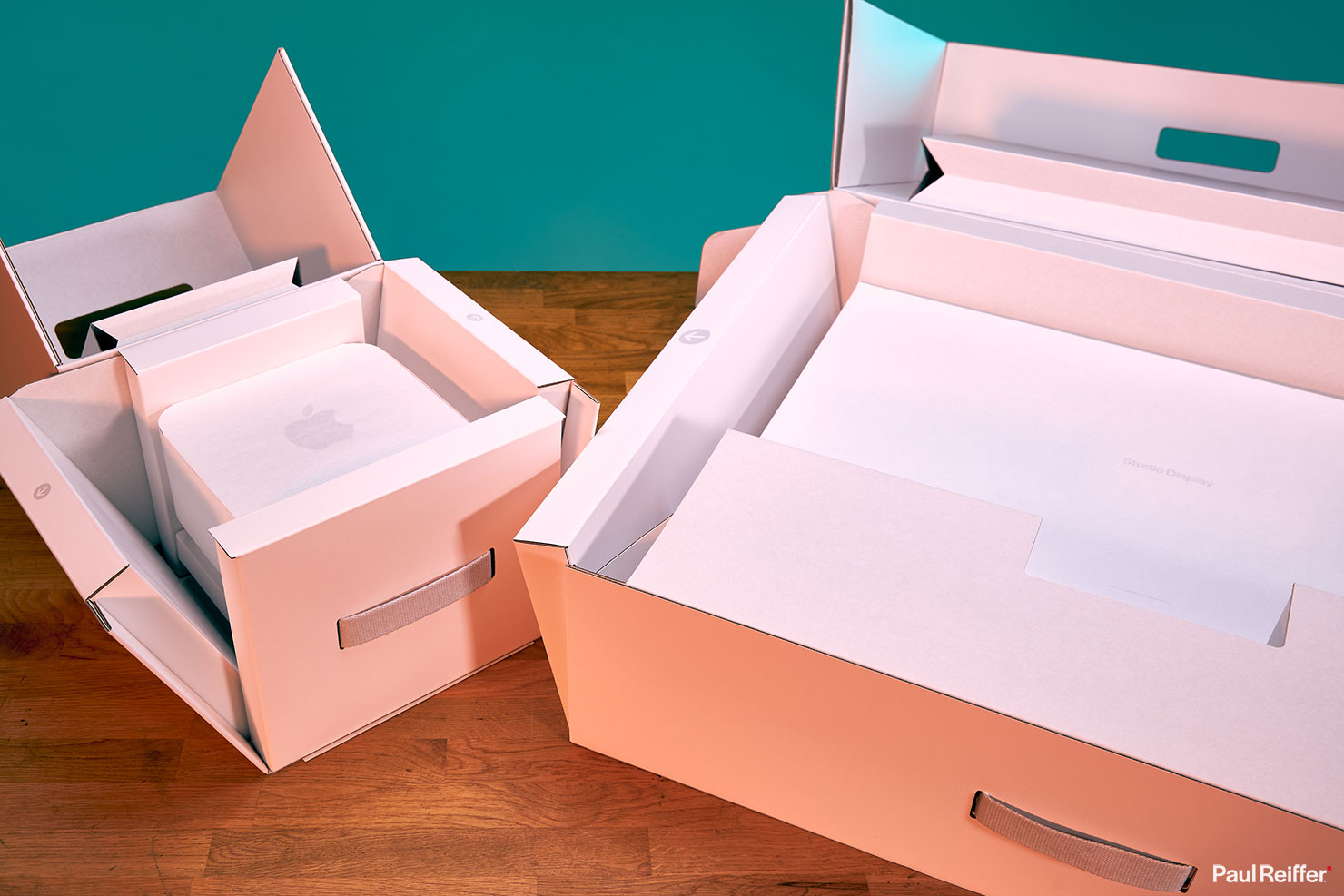 Inside – a tiny little box of tricks, housing their latest release:
Mac Studio M1 Ultra
Effectively, two M1 Max chips – the same technology that powers my MacBook Pro 16″ – joined together to create their most powerful Apple Silicon machine to date.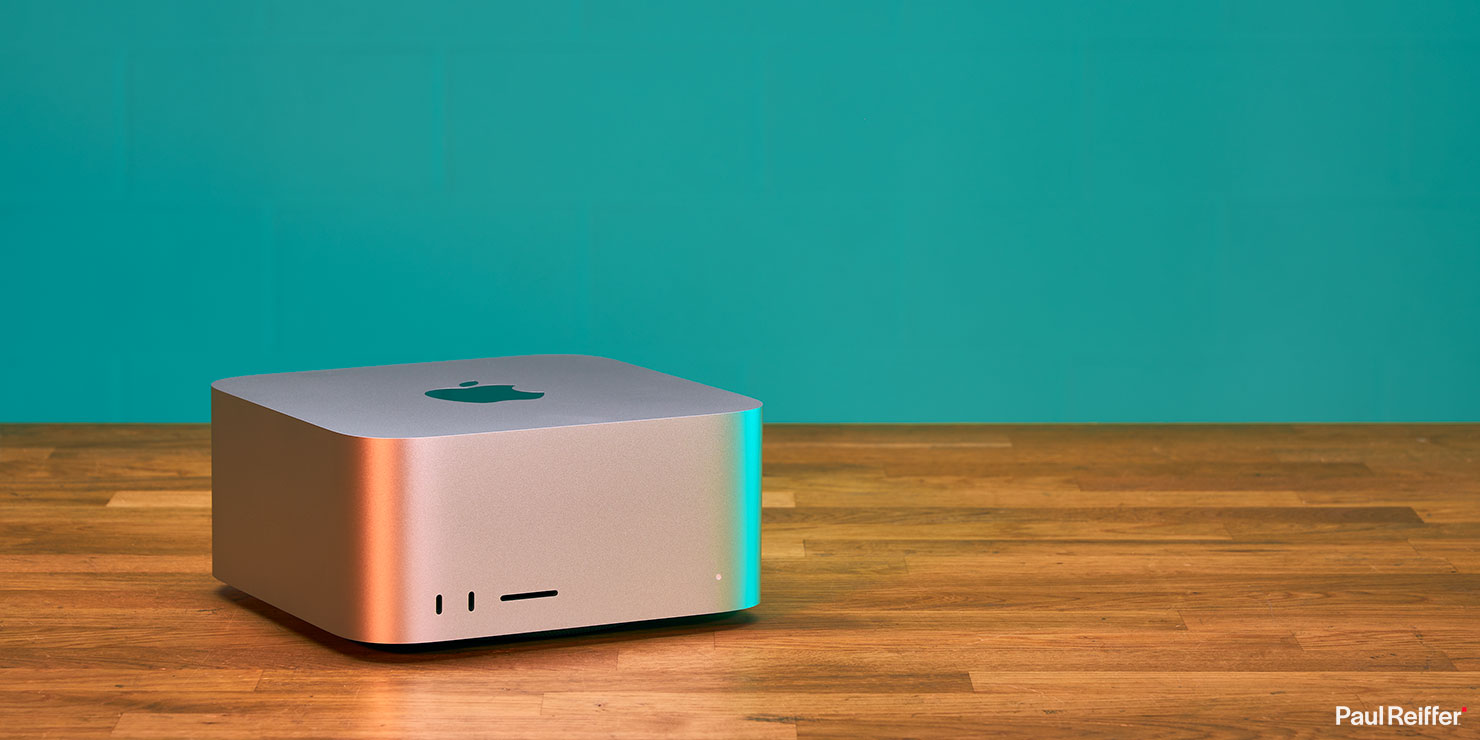 This rather unassuming 20cm square box houses a computer that defies its written specification, given the architecture inside:
Apple M1 Ultra chip
20-core CPU with 16 performance cores and 4 efficiency cores
64-core GPU with 32-core Neural Engine
128GB Unified memory with 800GB/s bandwidth
2TB SSD storage

Given the direction of travel with the new MacBook Pro 14″ and 16″ M1 machines, it's not surprising to see an array of useful ports front and back, as well as a cooling system for the rare times we manage to push this little beast to break a slight sweat.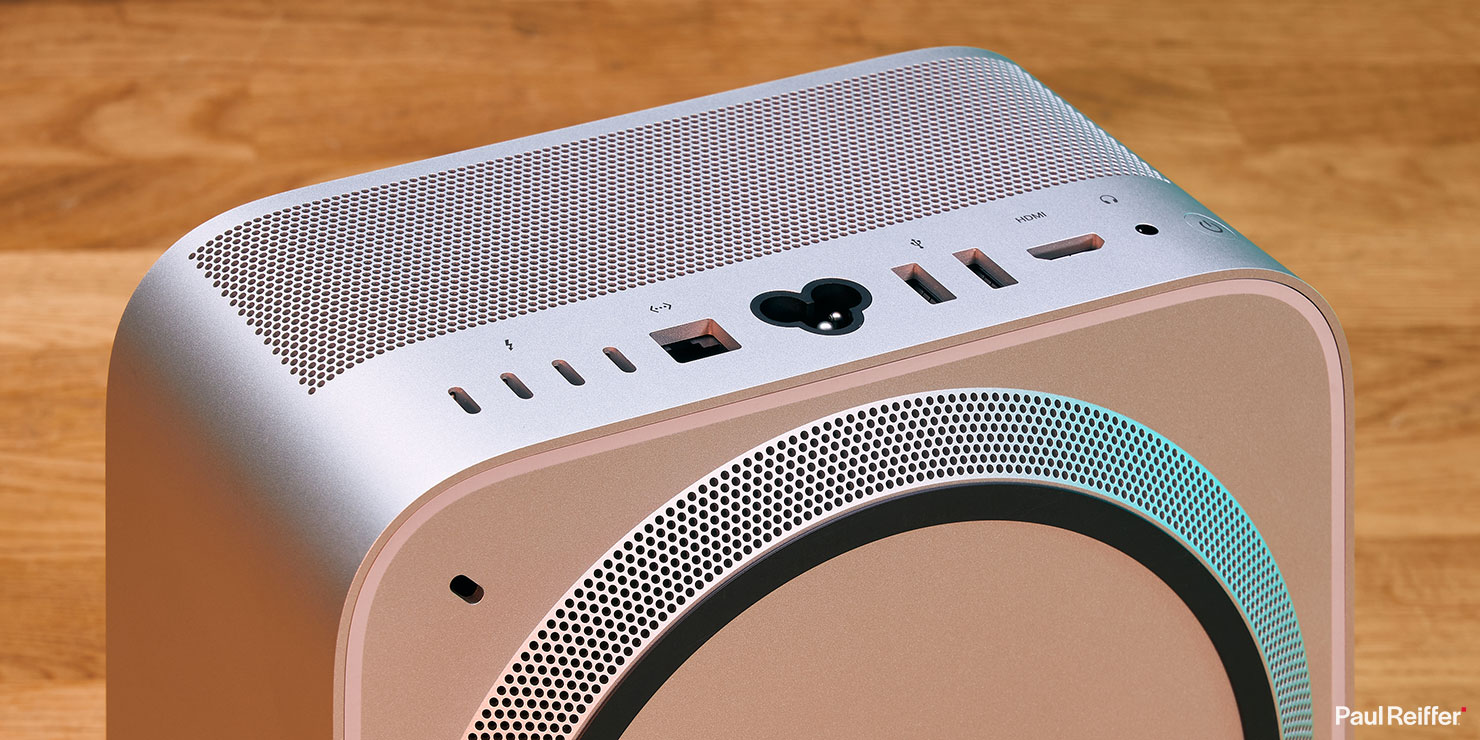 I joke, as I've yet to see this machine struggle at anything I've thrown its way (more on that later), but the 6 thunderbolt ports in total, USB, HDMI, Network and SD reader are a big hint as to what the Mac Studio is expecting to eat…
This, is a media editor's dream.
Studio Display
The 27″ 5k Studio Display doesn't disappoint either – with cues from the incredible Pro Display XDR that I've been using for a couple of years now, it's perfectly matched to the Mac Studio in all the right ways.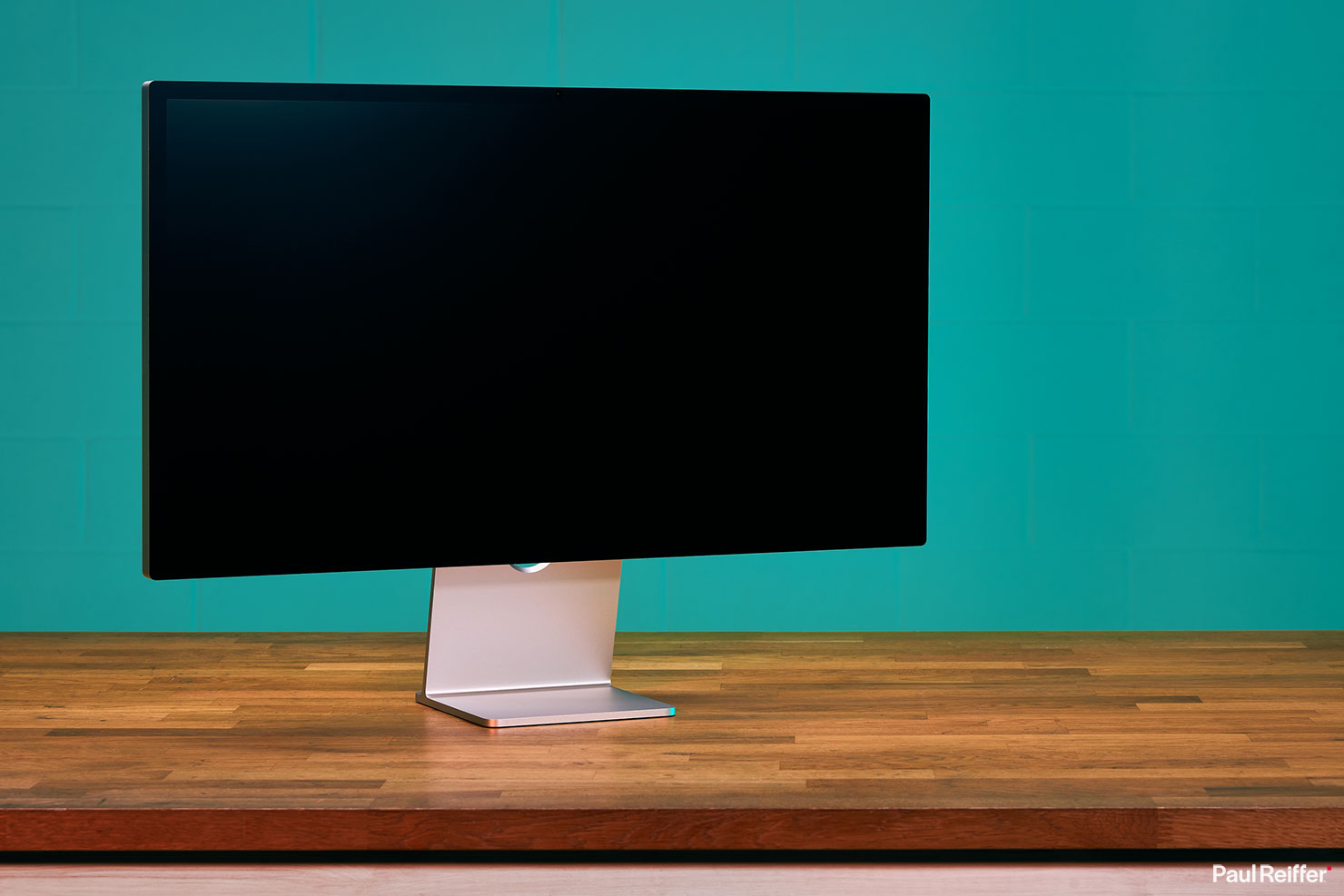 Using the same nano-textured coating as its XDR big brother, the screen is virtually reflection-free (I had to shine a light directly at it to get even this slight bounce on the top corner!).
In a way, this feels like Apple coming back to the days of the "Cinema Display", that was discontinued some time ago. For clarity, this isn't a smaller version of the Pro Display XDR – they're in different leagues – but it does provide excellent colour rendition (on an SDR basis), and calibrated reference modes that photographers can use right out of the box.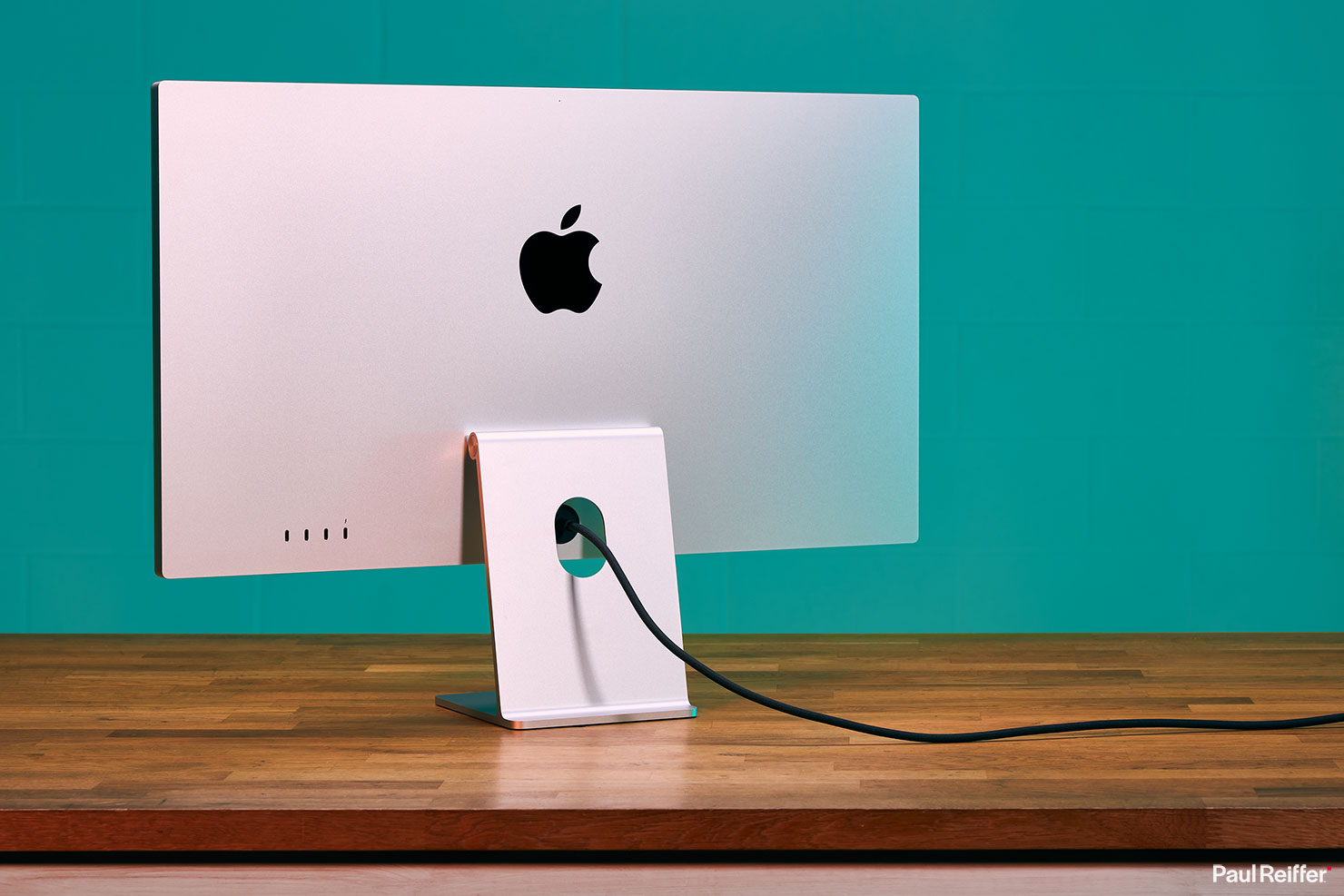 With an additional 3 USB-C ports on the back, along with its thunderbolt connection, the Studio Display houses a whole bunch of new features that make it perfect as a primary monitor:
6 built in speakers for cinematic sound (and it's goooooood)
Center-Stage with the latest ultra-wide 12MP FaceTime camera
Built-in A13 Bionic chip (yes, the same chip that's inside iPhones), enabling Siri and Spatial Audio
600 nits of brightness with the full P3 wide colour-gamut (more on that later).
And how does it all fit together? Perfectly.
The Setup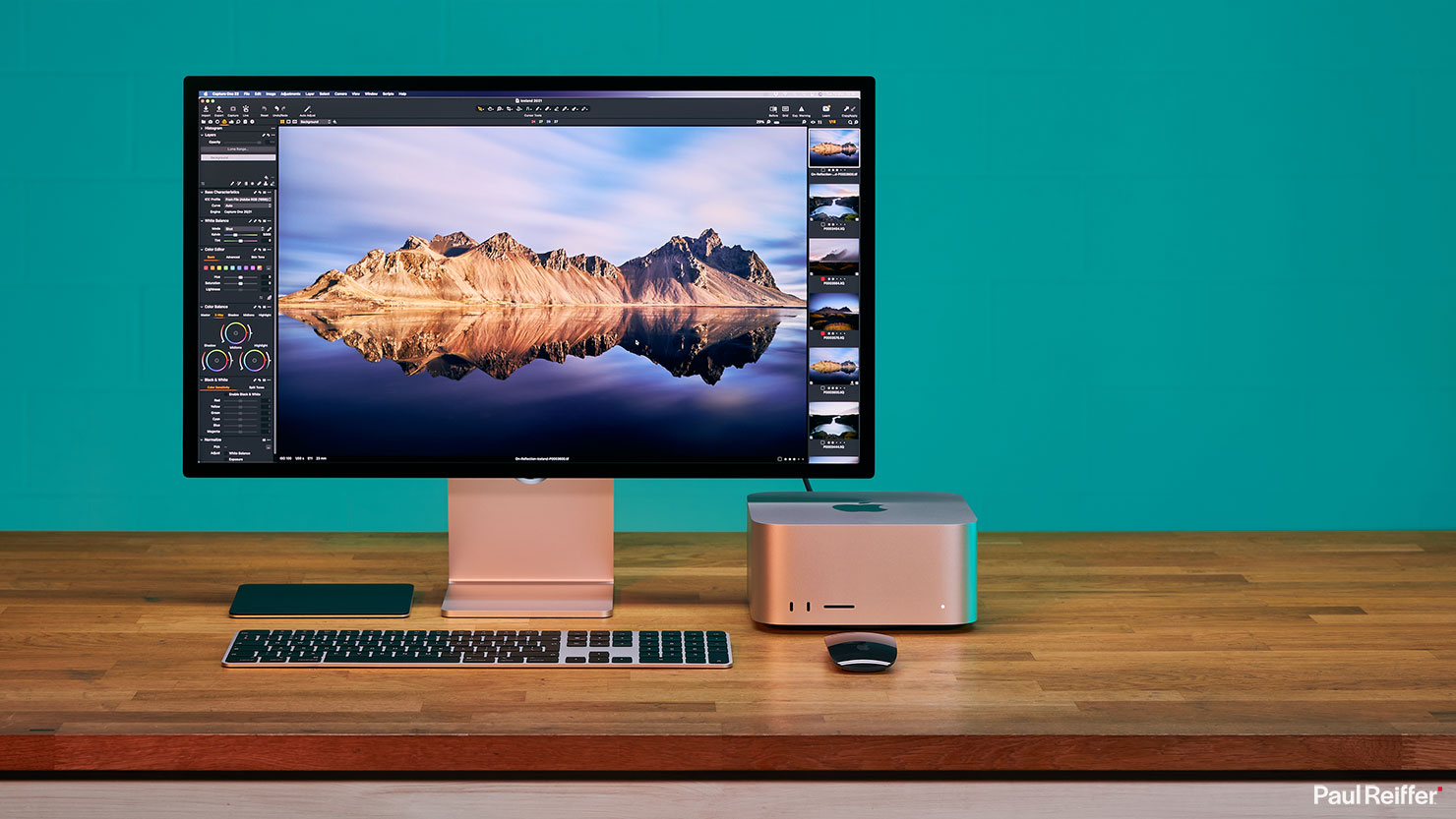 With a choice of the latest Magic Keyboard, Magic Trackpad and/or Magic Mouse in Space Grey and Black (the "Pro" look from the Mac Pro and iMac Pro), everything is designed to look just right on the desk together.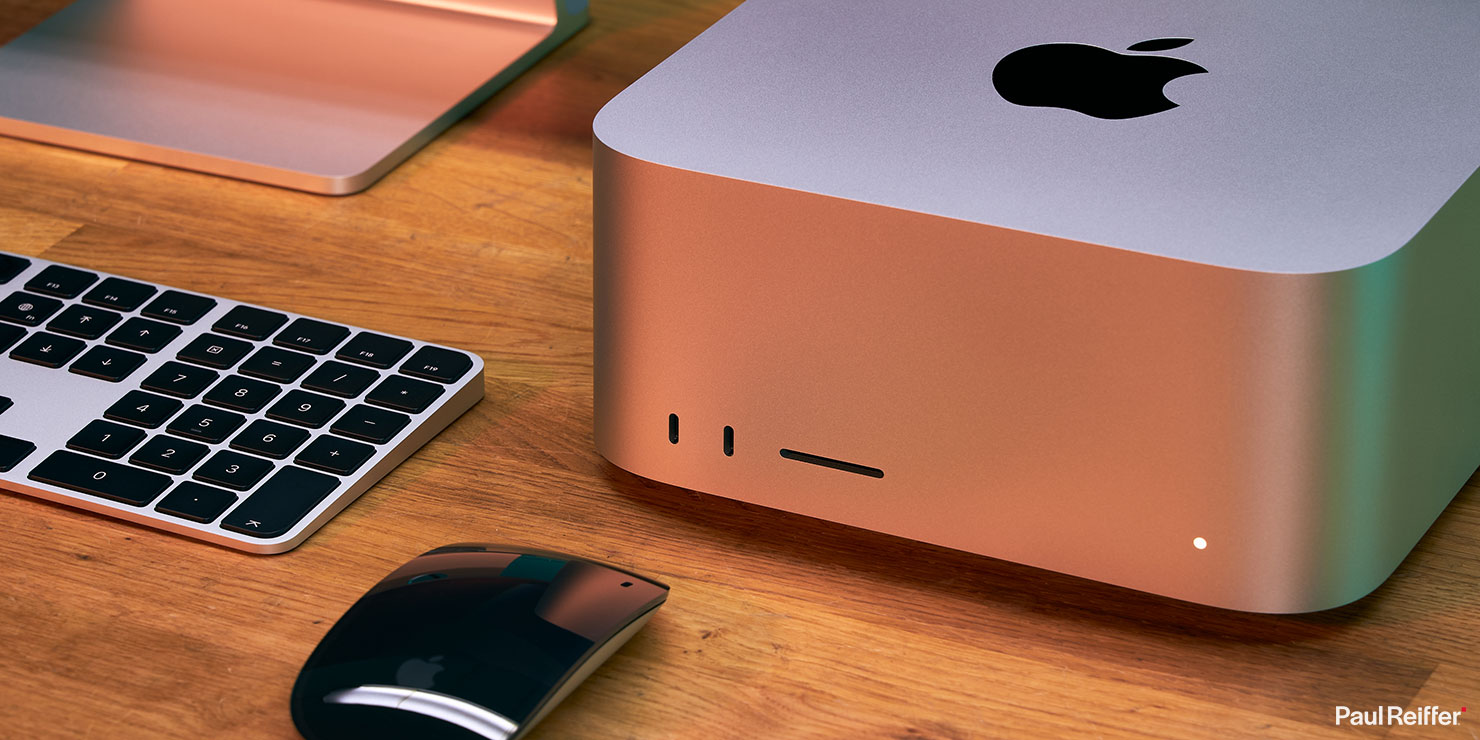 I must admit to being a little frustrated on my Mac Pro, with the need to type in passwords, when my MacBook Pro and iPad/iPhone have used my fingerprint or face for so many years – so the addition of Touch ID on this latest model is more than welcome.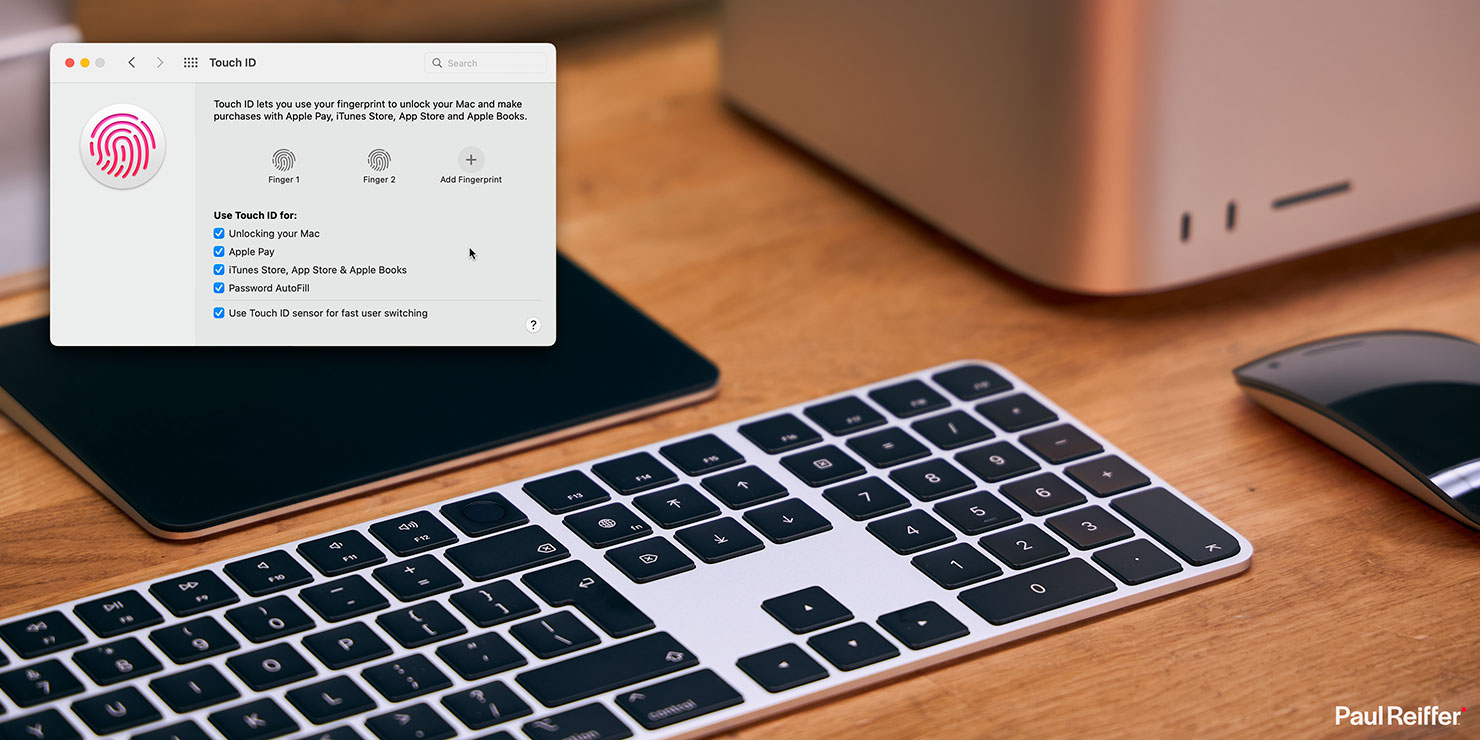 The card reader on the front is also a very useful addition – even my Mac Pro has an external reader permanently plugged in, so this one extra slot has to be one of the biggest "small improvements" to my mind.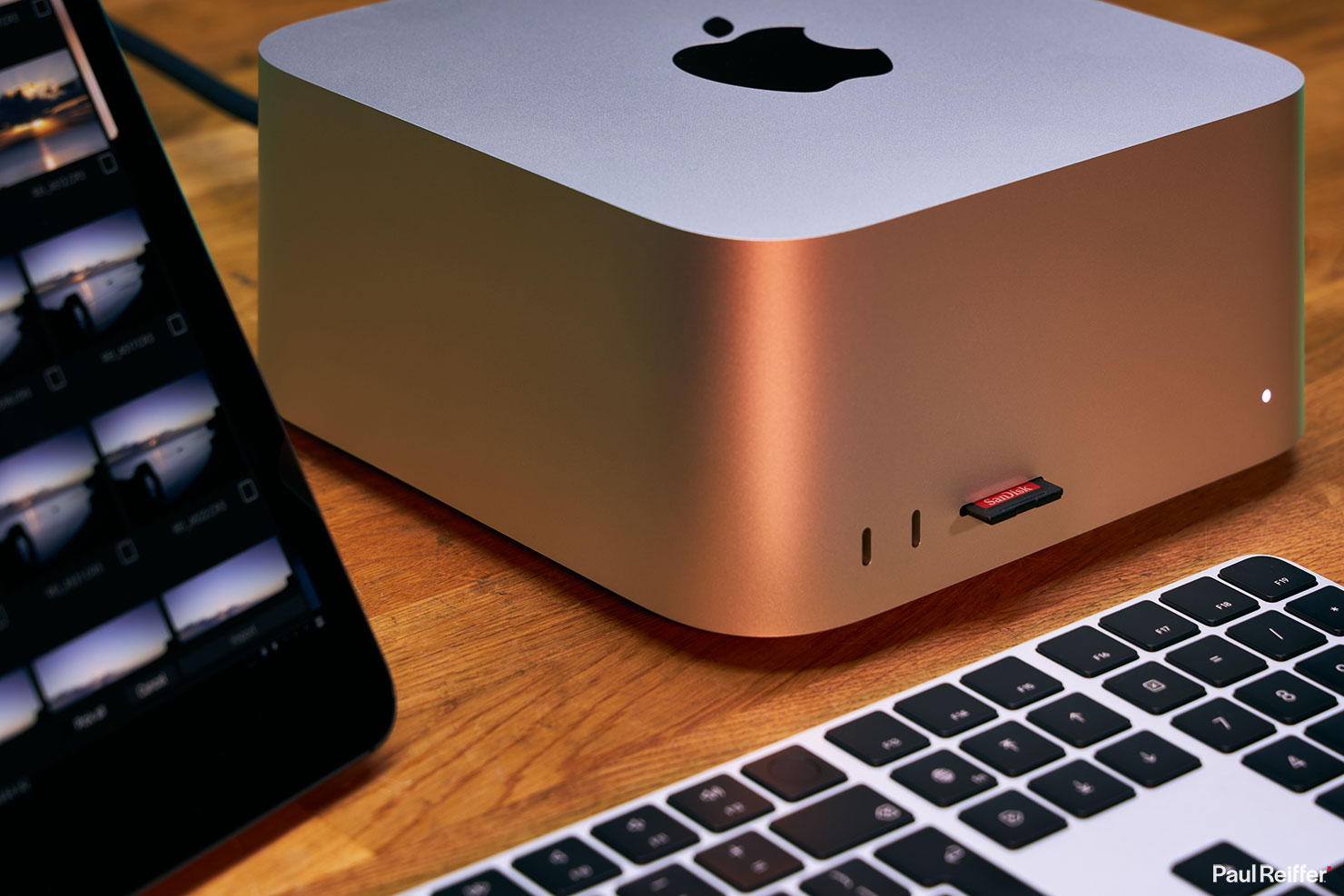 Speed Tests
So having transferred all my data from a MacBook Pro 16″, I guess it's time to take the Studio for a spin – and check out how it performs against our other machines in one of my primary applications: Capture One Pro.
Headline: The Mac Studio is ludicrously fast.
Switching between high res images, there is no delay whatsoever – the preview of the next shot is already there when I press the arrow key, even when quickly scanning through. Luma Ranges react instantly, with no lag at all, and the previews all update in real-time as changes are made, even on ultra-high res 16-bit RAWs.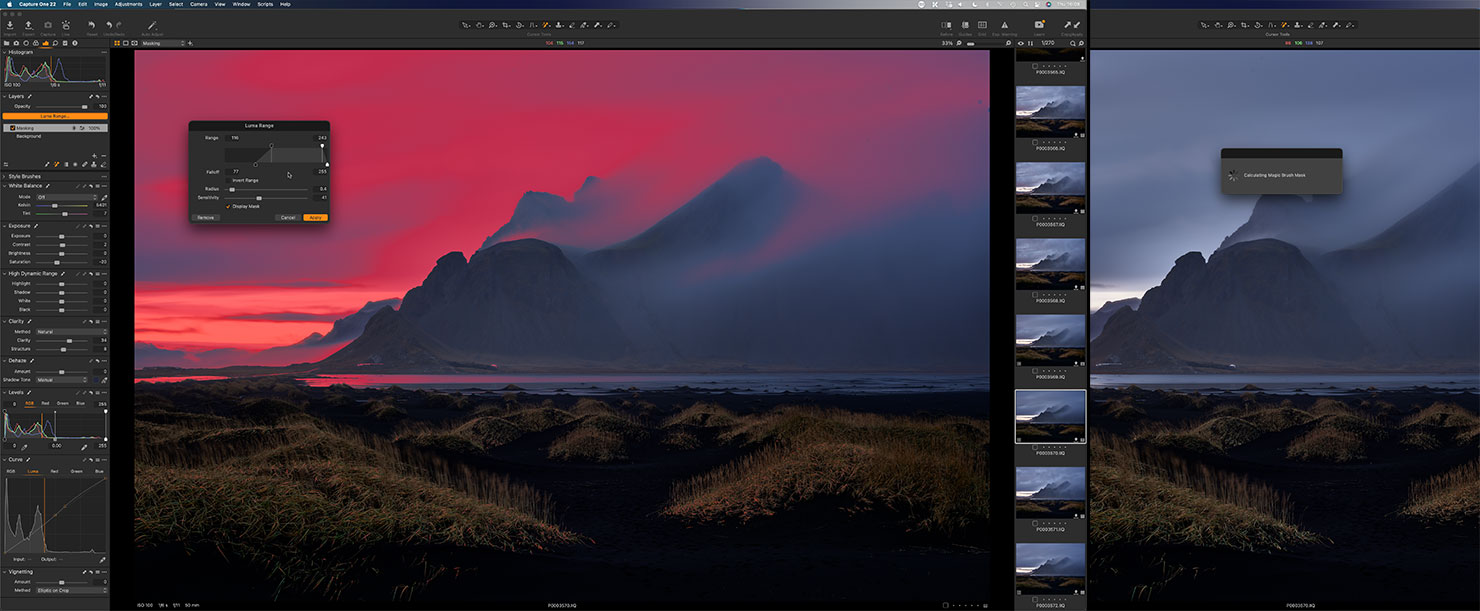 With 151-megapixel images, using Magic Brush on the Mac Studio is a delight – the calculations are so quick that I needed several attempts to try and catch its dialog box for a screen grab on the brief occasions that it appeared.
Styles apply to layers effortlessly, to the point where you actually forget the computer is having to make adjustments in order to deliver the changes you've demanded on-screen.
It really is a joy to work with – the Mac Studio is the best user experience I've had in Capture One to date.
Batch Processing Benchmarks
For those who remember the speed benchmarks I ran on my Intel Mac Pro in 2020 and the latest MacBook Pro M1 16″ in 2021, you'll be familiar with this test: Importing and building 5k previews for 270x 151-megapixel 16 bit medium format raw files, then processing them out again as 16-bit AdobeRGB TIF files at the end.
Some machines have struggled, others have surprised me – but as my time with Apple Silicon has gone on, I've become a little more accurate with my predictions over the past year, to the point where I wrote a number down just before I started (just for fun).
Making sure I had hardware acceleration enabled and that I'd allowed Capture One (now version 22) to complete its optimisation for this chipset, I clicked the button…

…and wished I was quicker with the screen prints (I had to do it again!)
That dialog box may say it needs another 5 seconds, but I swear it disappeared in 2 seconds flat. That was the initial import done, in a couple of seconds – next up, it was time to build the high res previews themselves; all 270 of them.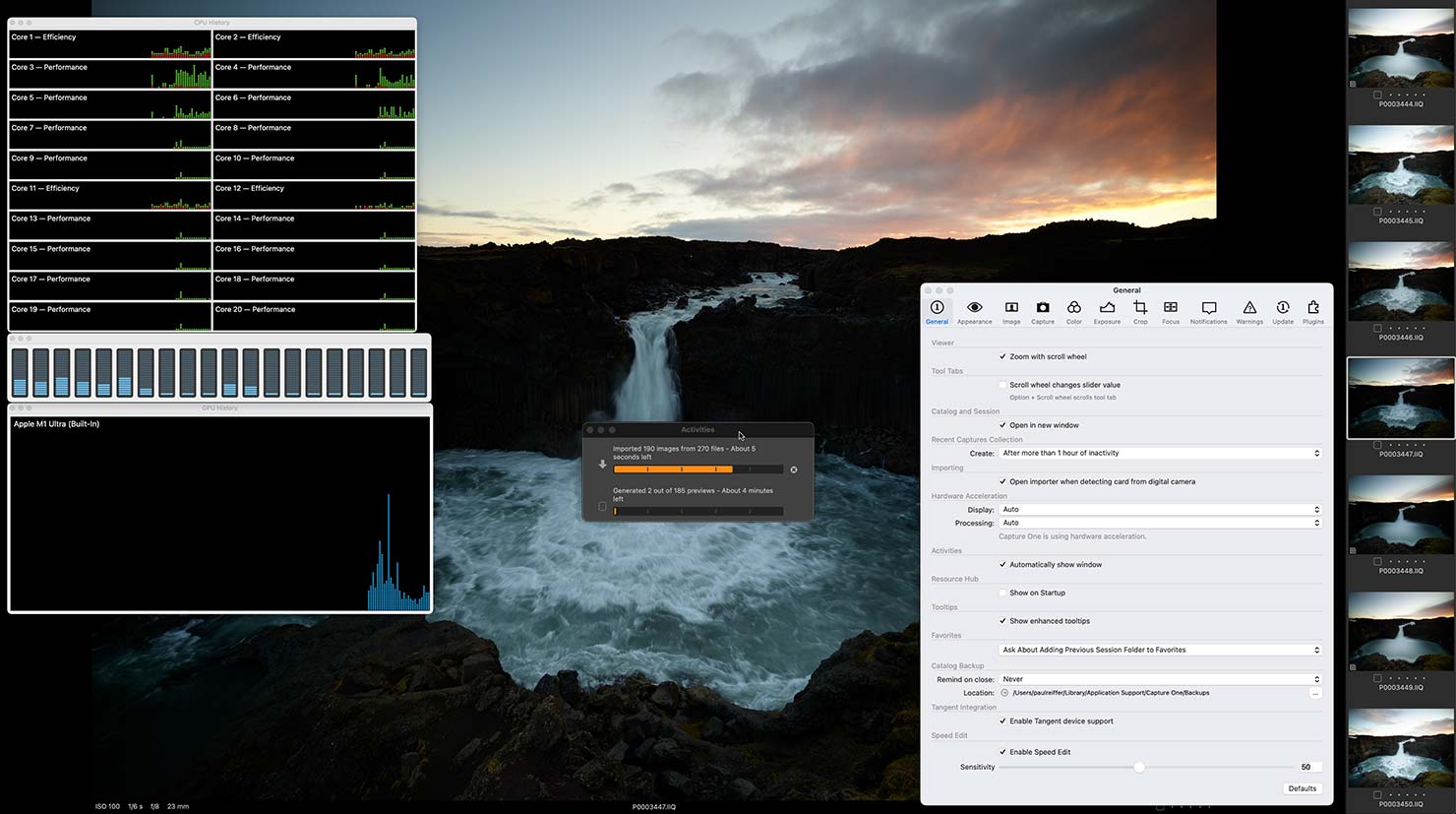 So what about my prediction? Well, I wasn't far off.
| Importing of 270x 151-megapixel files: | Time Taken: |
| --- | --- |
| Apple Mac Studio M1 Ultra (2022) – 20-core, 128GB, 64-core GPU | 236 seconds |
| 16″ MacBook Pro M1 Max (2021) – 10-core, 64GB, 32-core GPU | 248 seconds |
| 13″ MacBook Pro M1 (2021) – 8-core, 16GB, 8-core GPU | 432 seconds |
| 15″ MacBook Pro Intel i9 (2018) – 6-core, 32GB, 4GB GPU | 1027 seconds |
You see, while slightly quicker than the latest 16″ MacBook Pro, Capture One isn't actually using the GPU in any significant way for preview build, so those extra cores aren't utilised.
Further, if you recall from my previous M1 testing, Capture One doesn't currently seem able to light up all the CPU cores in such tasks either – and what we're then dealing with is essentially the same processor as the 16″ MacBook Pro, just with more cores sat idle in this scenario.
But that's not a bad thing: Idle cores mean other tasks can be achieved at the same time – and this machine has plenty of power left to run extra tasks while importing in the background.
So what about a task where we do use that hefty GPU setup – like on export?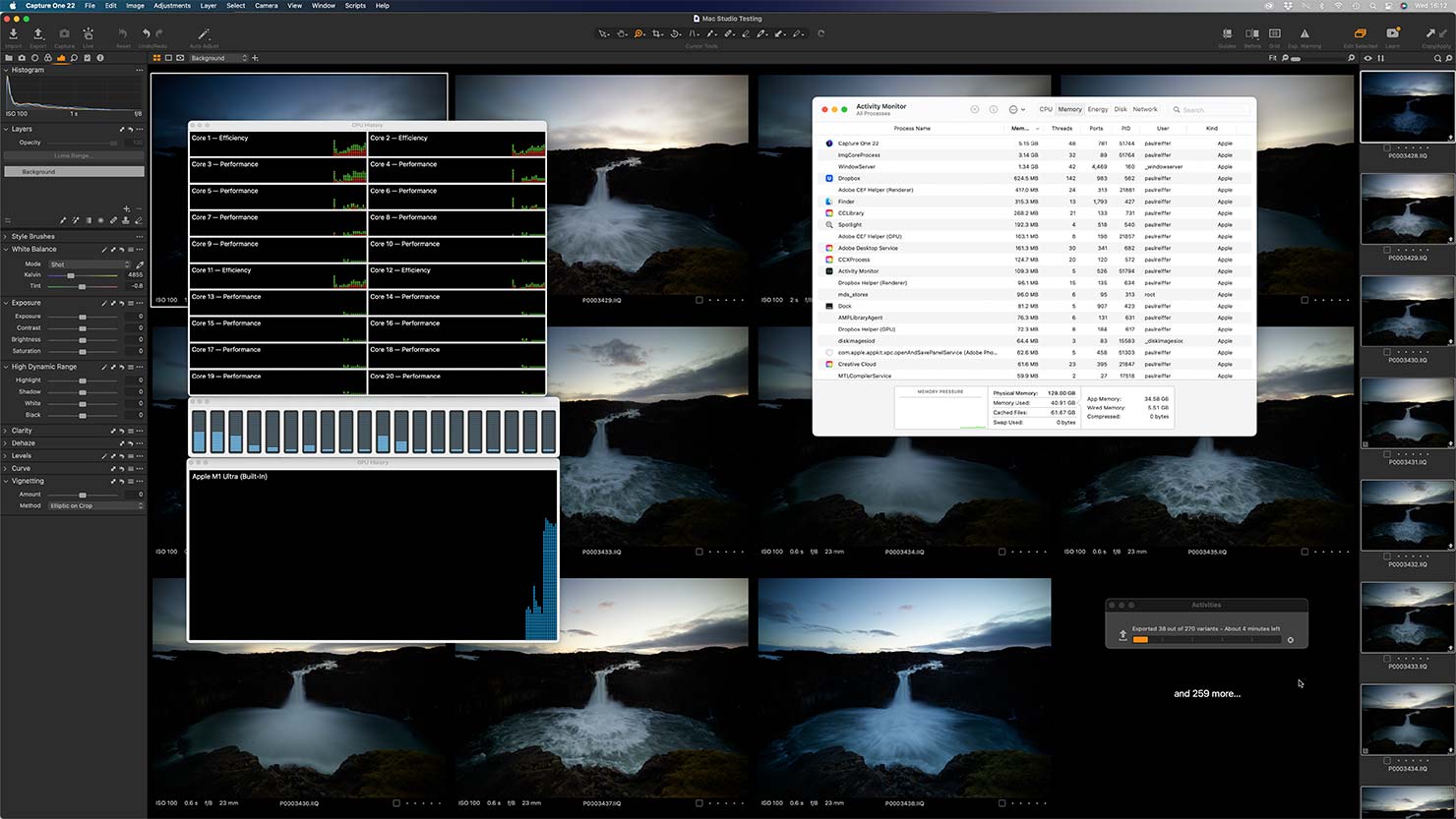 This is where I expected to see more CPU cores light up, and a lot more activity on the GPU.
The image export (all 270 images at full 151-megapixel resolution, to 16-bit TIF output with AdobeRGB profile) was speedy, silent and cool. Again, it seems the software hits a limit well before the hardware now does – while pushing the GPU a lot more, it still only utilised a few of the processing cores and less than 10GB of the 128GB available RAM.

Even with that restriction in software, the numbers were still impressive when comparing to last year's M1 MacBook Pro benchmarks: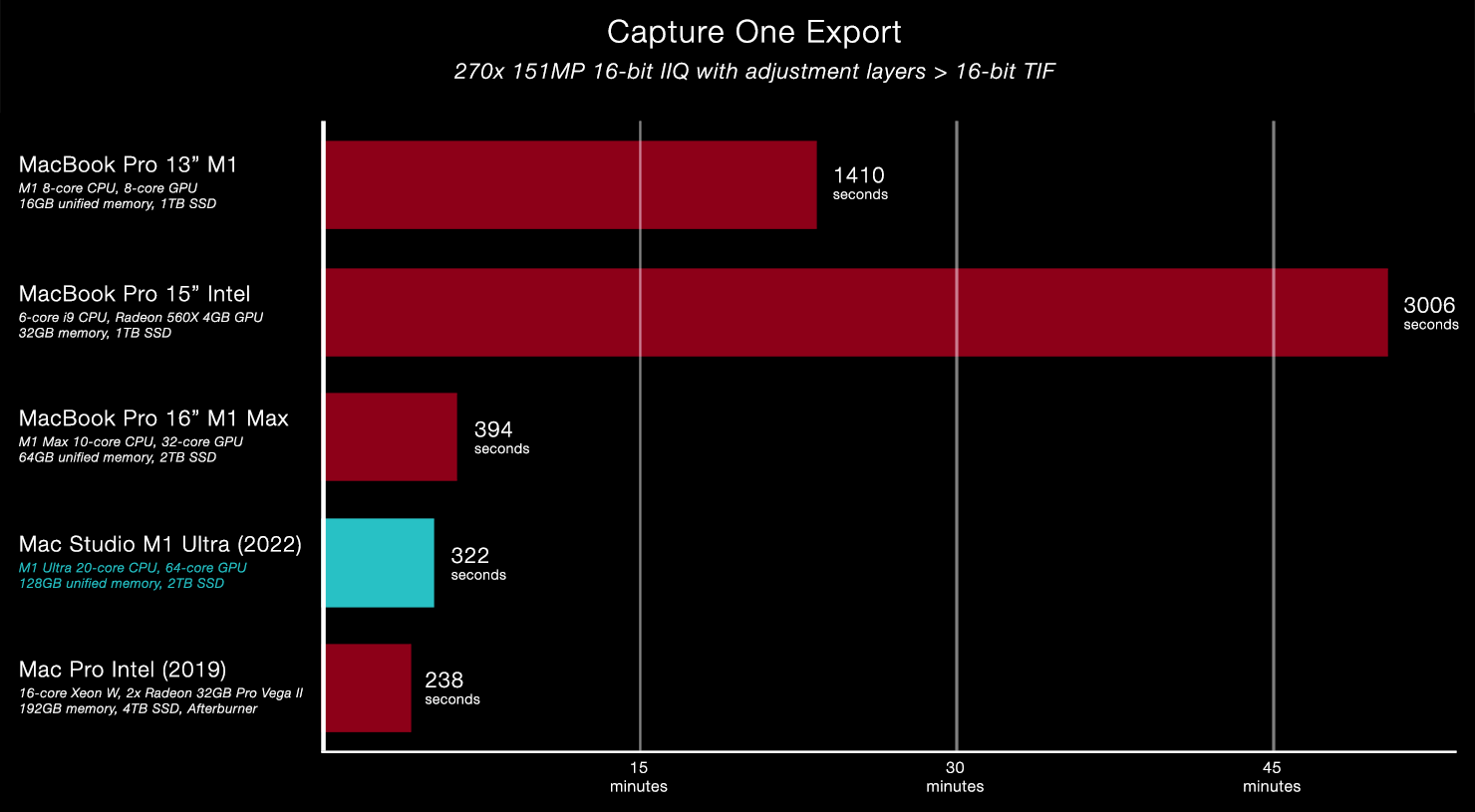 So it's a marked improvement, in this task, from the MacBook Pro M1 Max – but with all that power, should I have been expecting it to also beat the top-spec Intel-based Mac Pro Tower?
Well, it comes down to how these processes actually utilise the hardware they're given. While the M1 chips are incredibly efficient, crazy fast and able to complete any task without even breaking a sweat – they all rely on the software developers making use of all that power to really fly.
Some have already done that, others are still working on it.
As it stands, if you throw a huge graphics card and expensive "traditional" multi-core processors at certain applications, they can still run a little quicker, for now – with one important caveat…
Multi-Tasking
The ultra-fast export speed of the Mac Studio stayed the same, regardless of any additional activities I asked it to perform at the same time.
It didn't matter what else was running in other applications, tasks, processes – the numbers never changed. I ran it again and again and again, with the same result (give or take a second or two – probably my fault on the timer!). Fantastic.
I also ran the same 4K export out of Adobe Premiere Pro as I did last year – with slightly better results, as expected.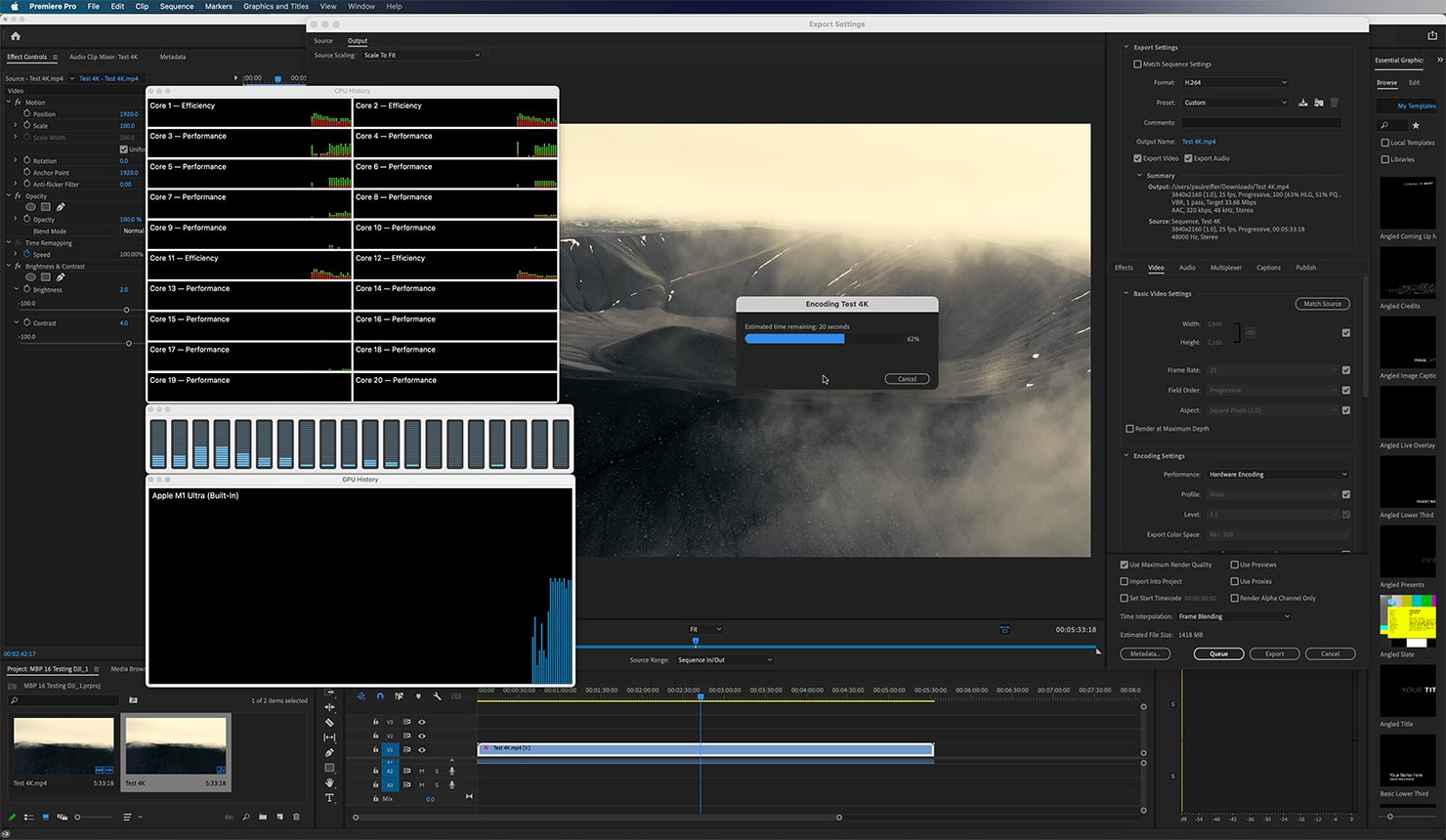 This machine exports 5.5 minutes' worth of 4K footage in under a minute (44.6 seconds, to be precise – just short of being 30% faster than the MacBook Pro M1 Max 16").
But it STILL exports 5.5 minutes' worth of 4K footage in under a minute while Capture One is ALSO exporting 270x 151-megapixel TIFs.

From what I can see, and through testing this for quite some time now, the architecture inside this box means these figures remain consistent, regardless of whether the Mac Studio is loaded with other tasks or not. I'm sure there's a point where it's possible to saturate it (and I look forward to seeing developers really trying to push the hardware), but for the time being, this is an amazingly cosistent multi-tasking machine.
Tethered shooting, while streaming, while exporting, while processing – all performed with ultra-high res content? No problem.
Then to the quick-win numbers in other areas:
Adobe Photoshop 2022 loads in 2 seconds.
Capture One 22 with our full final images catalog opens in 4 seconds.
I can open 24 TIF files (a total of 4GB) in Photoshop, all ready to edit, in under 5 seconds.
Cold startup (from pressing the power button) to login screen is 15 seconds. (A full-spec'd Mac Pro is considerably longer)
This computer is a genuine speed demon.
That said, it does still feel like we're not pushing the Mac Studio quite hard enough when I still haven't managed to make its fan angry after all these tests.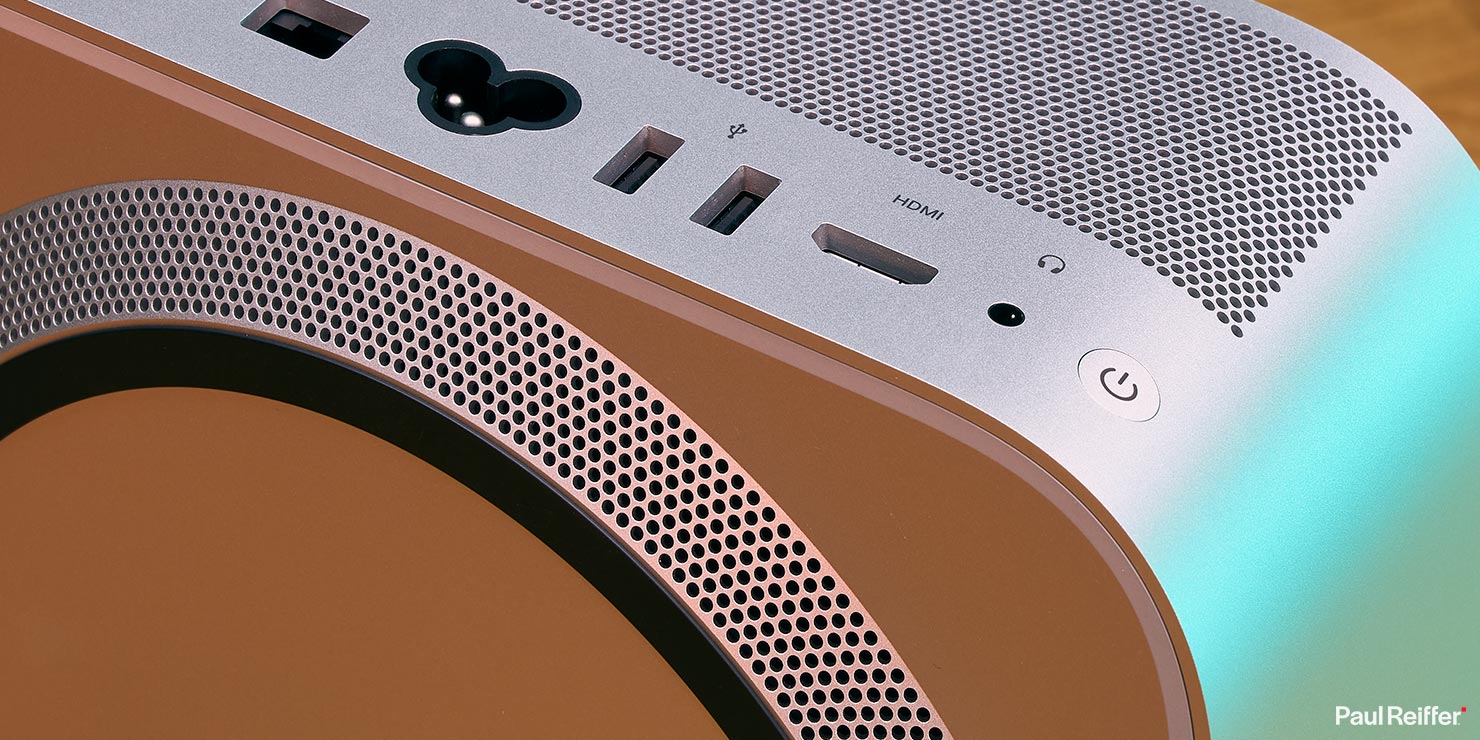 While Apple's own software (such as Final Cut Pro) is clearly engineered to really utilise all of the power that sits inside these machines if you let it – it's now a challenge for third party coders to catch up – and really push this new realm of hardware to its limits.
An impressive machine already, so what about its additional display options?
Multi-Displays
On the Mac Studio, Apple boasts support for "up to four Pro Display XDRs (6K resolution at 60Hz and over a billion colors) over USB-C and one 4K display (4K resolution at 60Hz and over a billion colors) over HDMI". This is quite the serious workstation when it wants to be, and with Apple's ability to add an iPad display in to the mix as well, you have the potential for a perfect editing setup.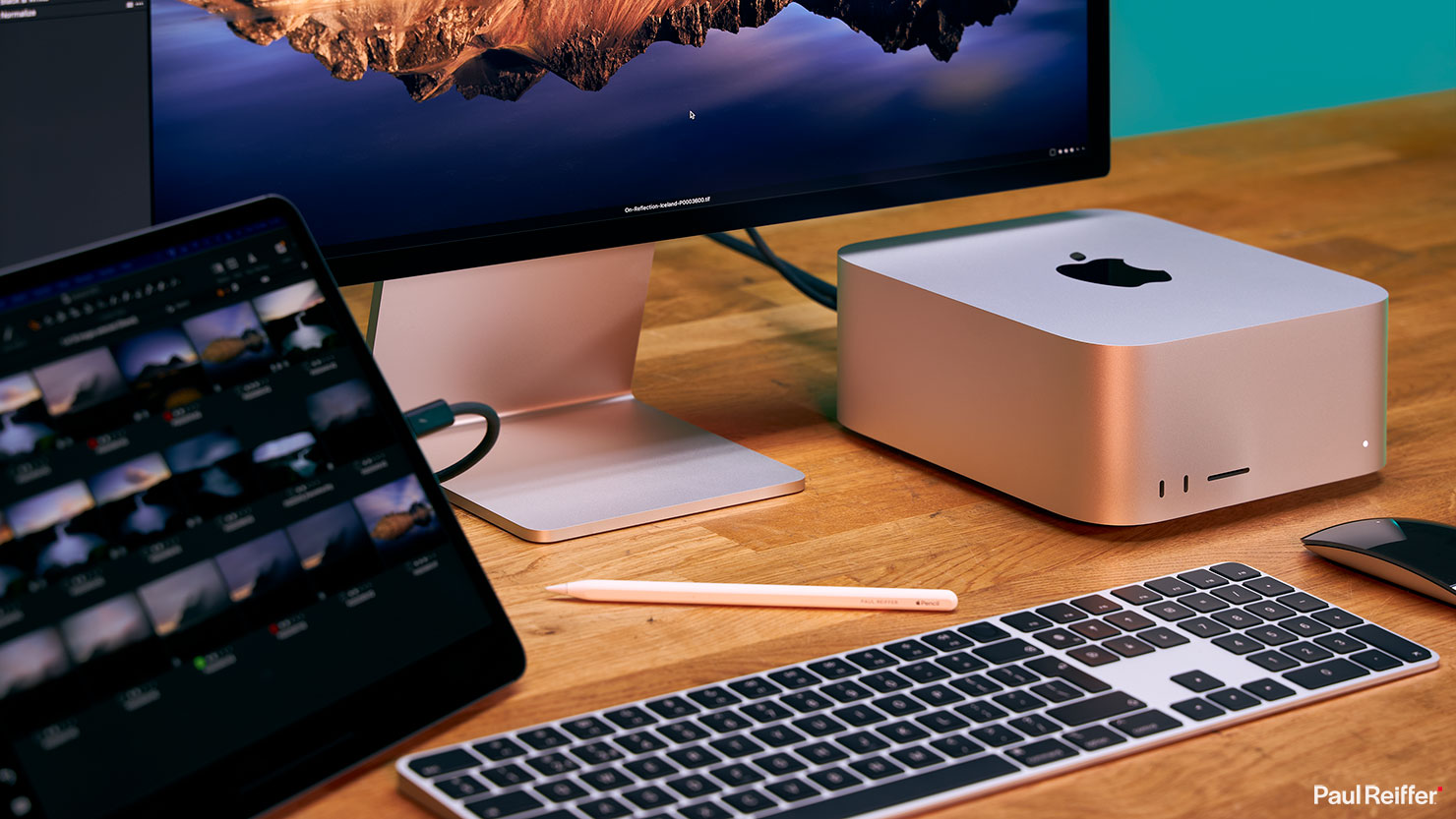 Whether used as a reference monitor, a library of images for editing on the main screen, or simply some extra real-estate on a wider desktop – the addition of an iPad as a secondary display has become a really handy feature for me these days.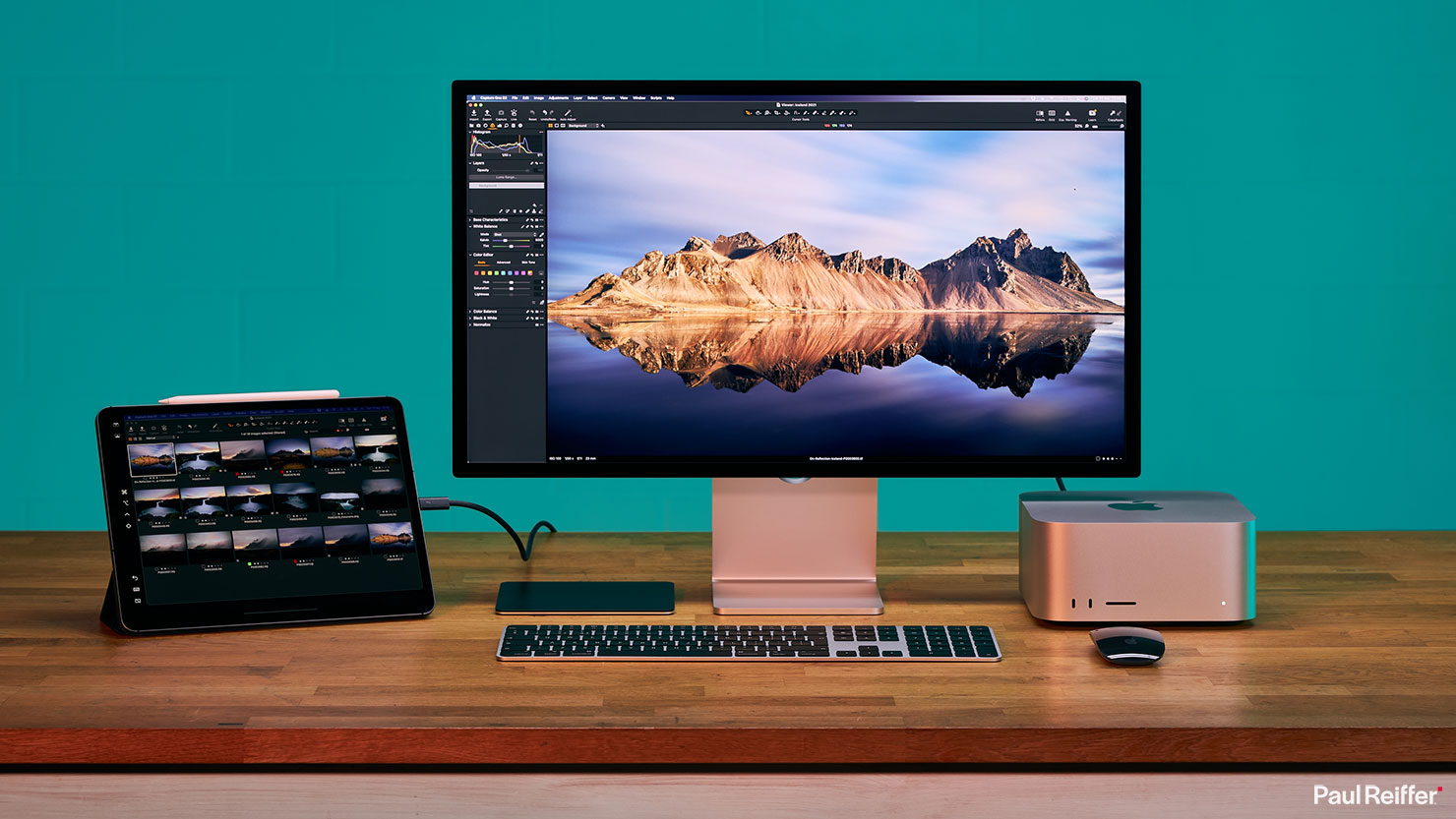 I'll admit, I've had *some* challenges running things wirelessly (granted, while other things have been going on across the network), and so the USB-C option would be a preferred way of connecting things if on the desk – but given the power, flexibility and tiny size of this modular setup, it's a real game-changer.
And if space isn't an issue – remember, it's not just the 27″ 5k Studio Display that this machine can run – it's up to 4 Pro Display XDR's at 6K resolution too…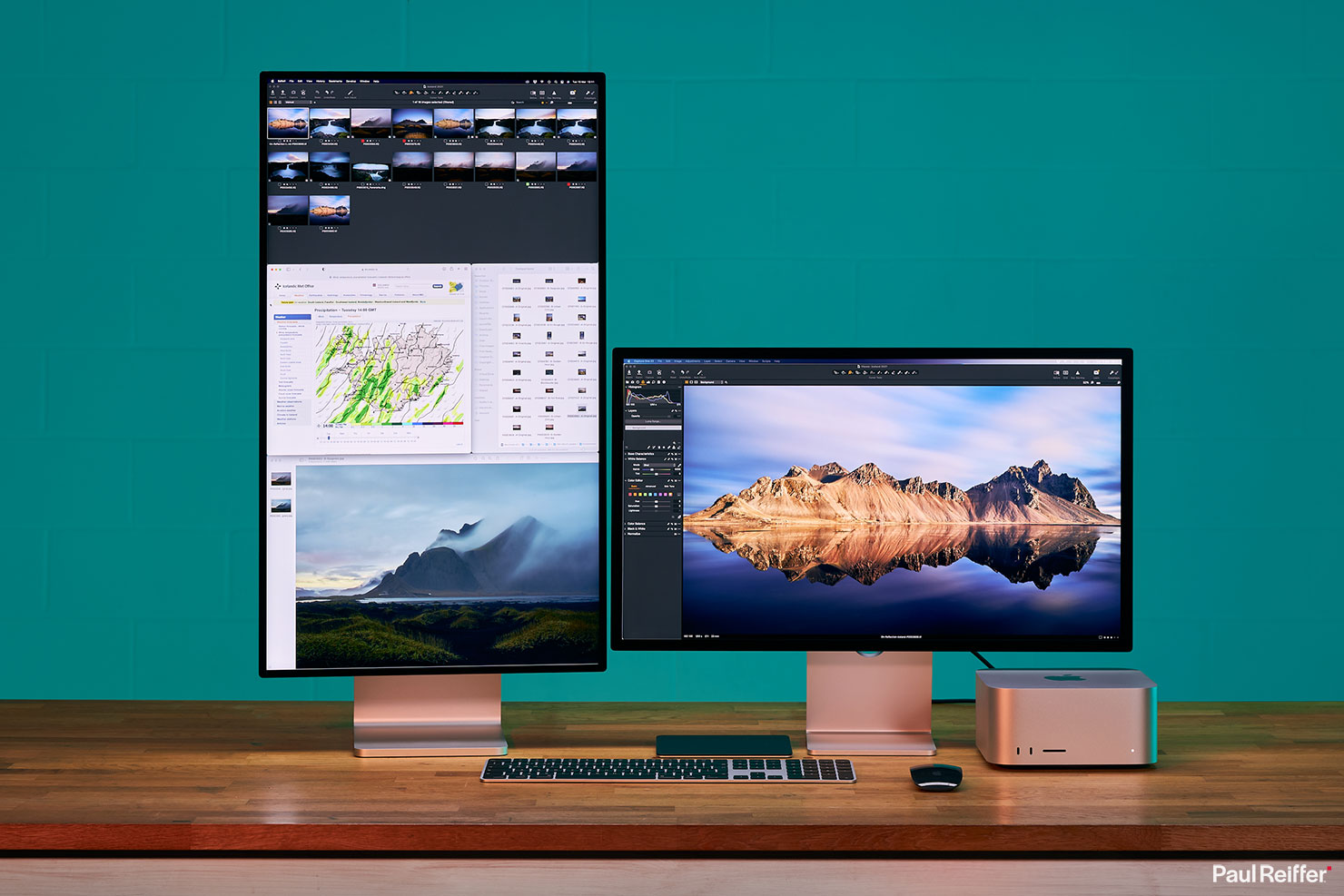 (And yes, I took someone's advice to "try it vertical" with the XDR – while weird at the beginning, I have to say I'm getting used to that quirky setup now too.)
For photography work, and proofing, do remember to disable both True Tone and Automatic Brightness adjustment – it's just not good for your workflow or output.

I did think running a Pro Display XDR next to the Studio Display might be distracting: One is 1500 nits max brightness with HDR capabilities, the other being 600 nits without – but there are a few things to bear in mind:
First, the new Studio Display uses the exact same reference modes as the XDR has in place. P3-D65, and my own calibrated versions of that mode are available on both screens for a well-matched solution. For day-to-day use, with that reference mode profile enabled, I don't think many would notice a huge difference moving from one to the other.
Second, these two displays are designed for different things. What the XDR gains in depth of tone and maximum brightness, the Studio Display delivers in enhanced multimedia capabilities and built-in cameras etc. You might use one for proofing, the other for general work, and so on.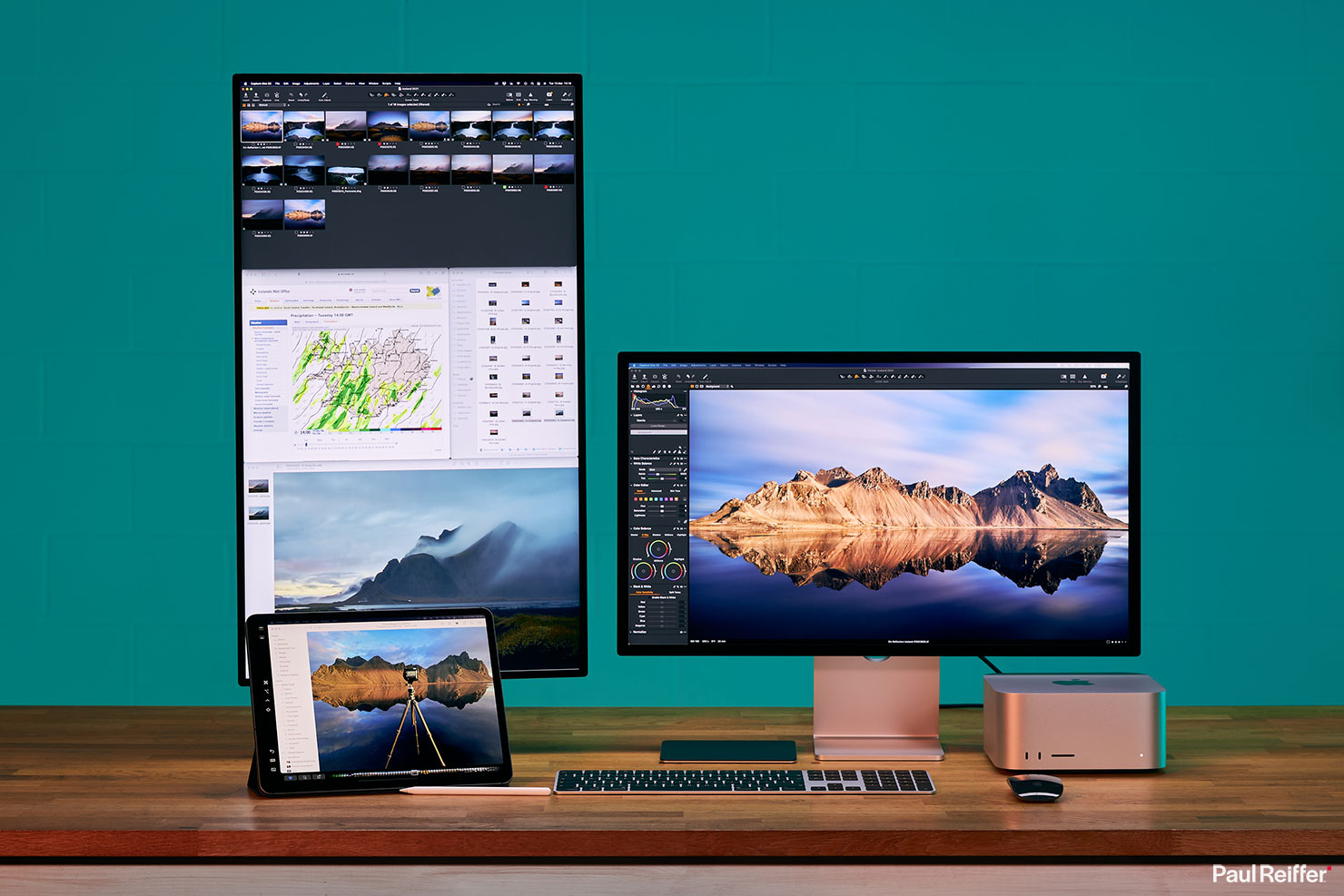 And finally, the Mac Studio doesn't actually care what flavour of screen you connect – it's happy to deliver content to whatever shape and size of extended desktop you want on whatever display you plug in – with the tools to easily adjust the layout in a single click.

Add in to the mix, the latest improvements with Universal Control – this is quite simply the easiest way to connect devices in whatever way you want, and have them "just work", seamlessly, as one consistent experience from a single little box.
The Portable Option?
So adding displays is one thing – but so is taking them away.
One of the huge benefits of the new Mac Studio is its size – and it really packs a punch in comparison to its form factor – so what if we wanted to keep things low key?
Well, who says you even need a dedicated display and cables everywhere? Apple certainly don't…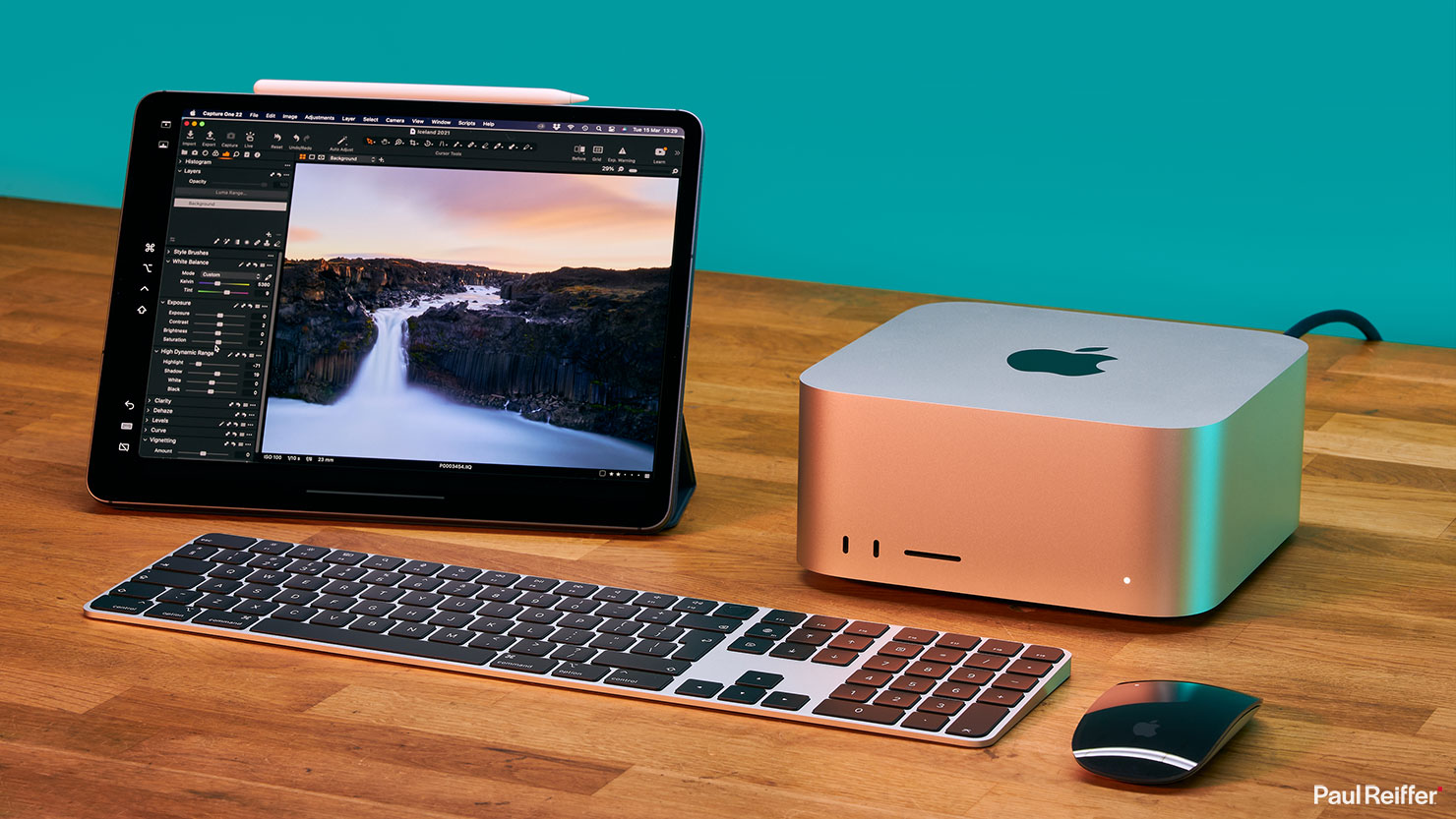 I've seen videographers, photographers and other media creators lugging their 27″ iMac Pro's around the country (and world) to be able to keep editing "on the road" – where a laptop didn't quite cut it. But the burden of doing that (and risk of damage) was insane.
The new Mac Studio, to my mind, presents a new option for those creatives – where you can bring one of the most powerful boxes in the world with you, to anywhere on the planet, and plug it in to whichever screen you like.
And that, as a thought process, opens up one very specific use case which I think will be the industry's making of this box: Photographic Digital Assistants.
Digital Technicians
To use a "Digitech" on a shoot is a considered decision – the costs of bringing them along can be high, but the rewards can make it really worthwhile.
Beyond their technical assistance with setups and hardware, the ability to review images live on-screen and find any the issues we'd miss ourselves while looking at the back of the camera, can be the difference between a perfectly successful shoot and one that needs to be rescued in post-processing.

But the portability of all the high-end kit that's needed to run things in real-time has always been an issue.
To date, the legendary Mac Pro (in all its guises and generations) has been a staple piece of hardware for many digitechs around the world. You'll often see rack-mounted Mac Pro's attached to trolleys and carts on-location, weighing a ton, with huge power requirements to keep things going.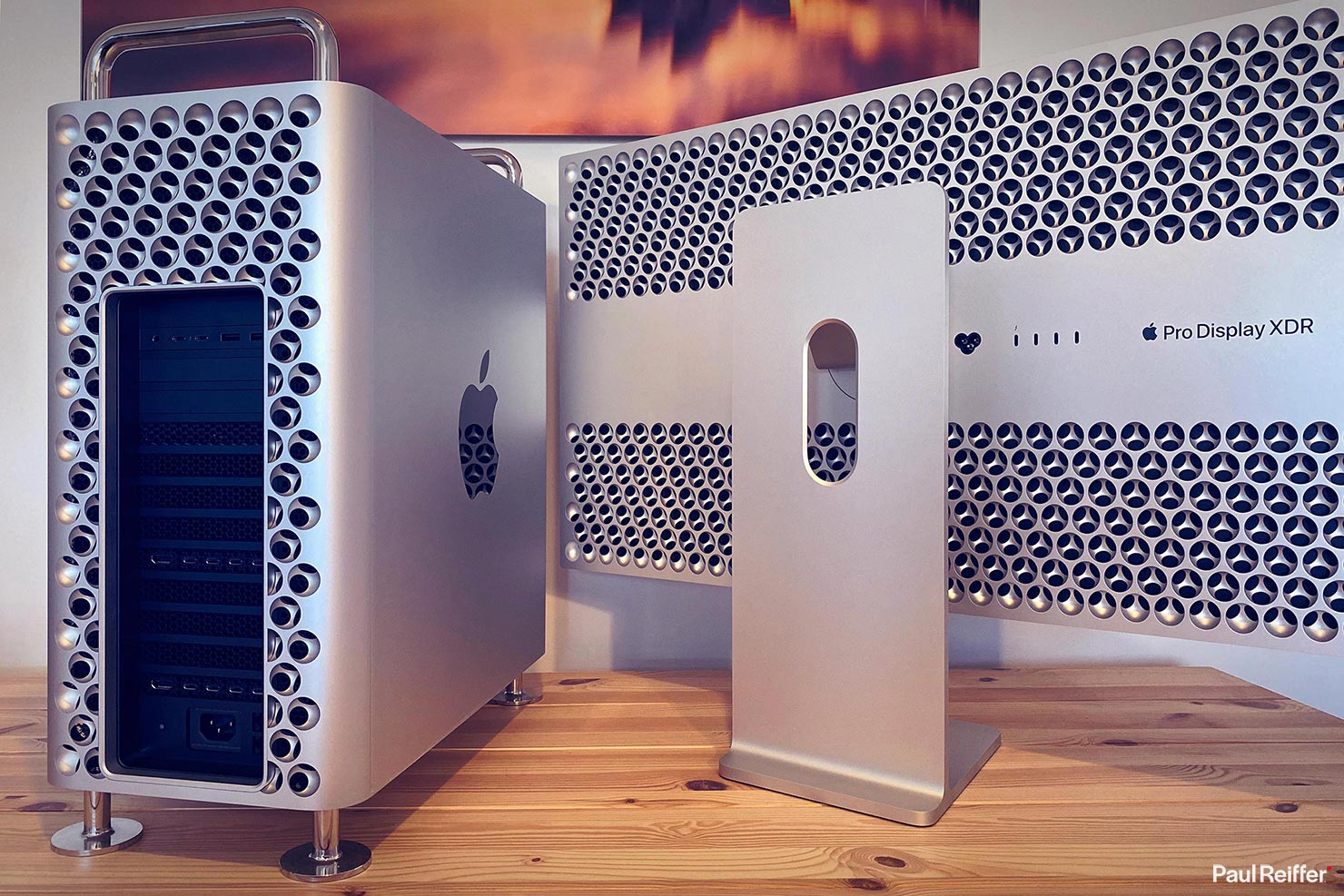 For all its processing ability, it's that size, weight and purchase price, that's sometimes had people compromising on the hardware they brought to the shoot.
Well, I'd argue, not any more.
In the Mac Studio, I have an amazing little box of tricks that can keep up with any task I throw at it, in a tiny form-factor that's quite literally able to be "shoved in a backpack" and brought to location.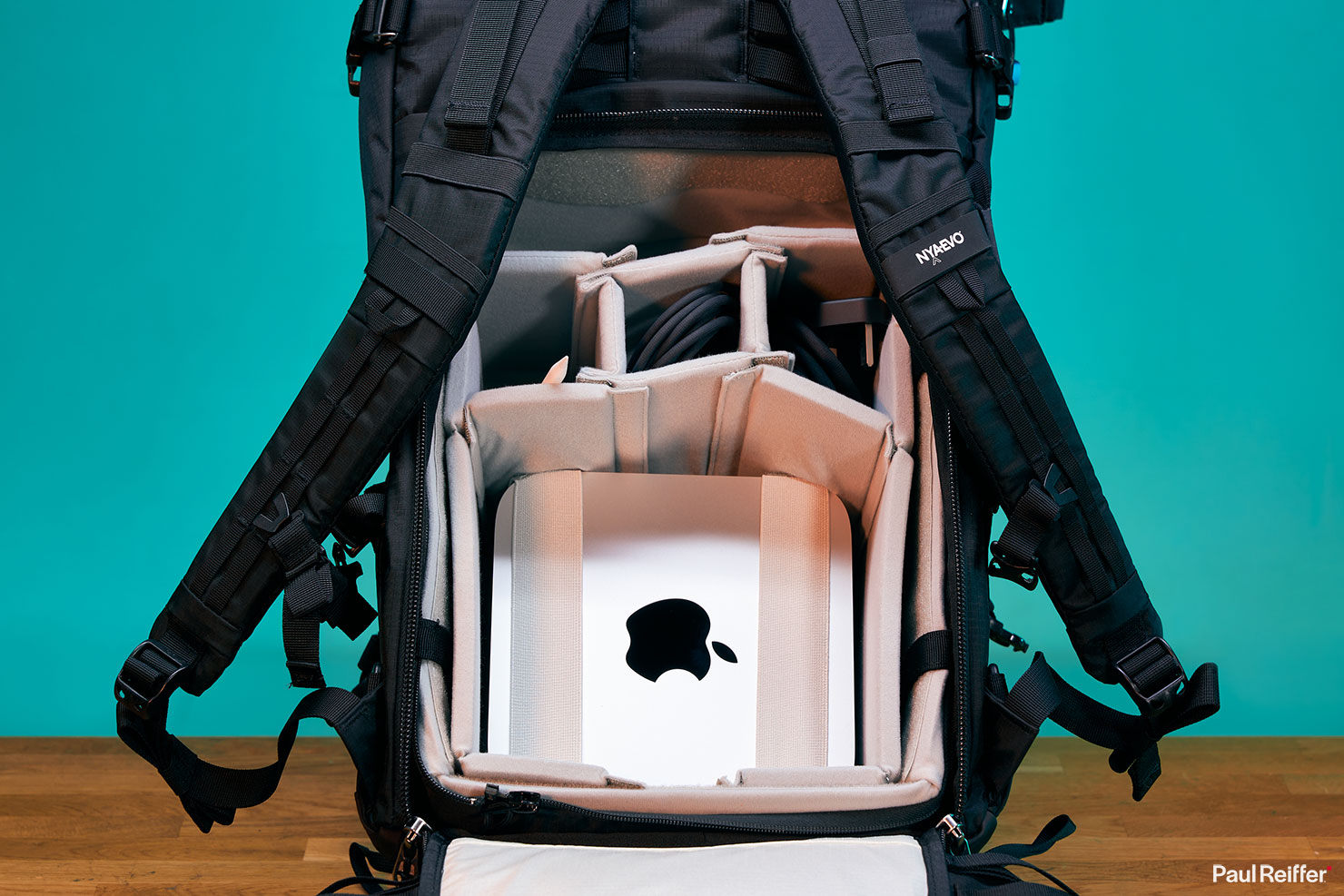 When it comes to screens, I have the same options as before – I can use an on-location device, bring a Studio Display along for the shoot, run on the iPad Pro M1's XDR display – or any other monitor that I choose.
Of course, if I wanted to go further, we could look at building this in to a Peli-case (which I may start doing – watch this space!) that's completely self-contained – and definitely more portable than the server-on-wheels that we're used to.
Power to the People
Of course, the more remote we are, the more of an issue power becomes. Indeed, power consumption and costs of running equipment are now a key issue for most of us as the world finds its feet in the "new normal", and the Mac Studio doesn't disappoint in this space either.
Bearing in mind how close this computer runs to the speed benchmarks of my huge Intel Mac Pro tower, the energy saving numbers are quite staggering.

Yes, that's a 71% reduction in max continuous power rating (370W vs 1280W)
So, a powered/generator shoot becomes cheaper, a battery-operated shoot becomes possible and my bills back at base become lower – all from switching to the Mac Studio as my core editing workstation.
Cool Dude
And that's not all. For those who recall their school science lessons, you'll remember that huge power use also tends to mean huge amounts of heat. Operating in a relatively small office space, I can tell you that running for 3 days on the Mac Studio has brought the temperature down by a noticeable amount compared to using the Intel Mac Pro tower for the same period of time.
Lower bills and lower temperatures – a win!
Of course, the MacBook Pro M1 14″ and 16″ are also obvious choices for power saving and portability. However, for those wanting to bring all the processing power they can dream of on a location shoot – suddenly – that idea of having your entire studio setup in your bag doesn't seem quite so crazy after all.

Pricing
Yes, as it stands, there are still certain tasks where the high-end current Mac Pro will "beat" the Mac Studio.
Likewise, there are scenarios where a MacBook Pro is the right solution for both the desk/office as well as on location.
But for the times you need all the computing power you can throw at a scenario, the new Apple Mac Studio makes an incredibly compelling case when you look at the numbers: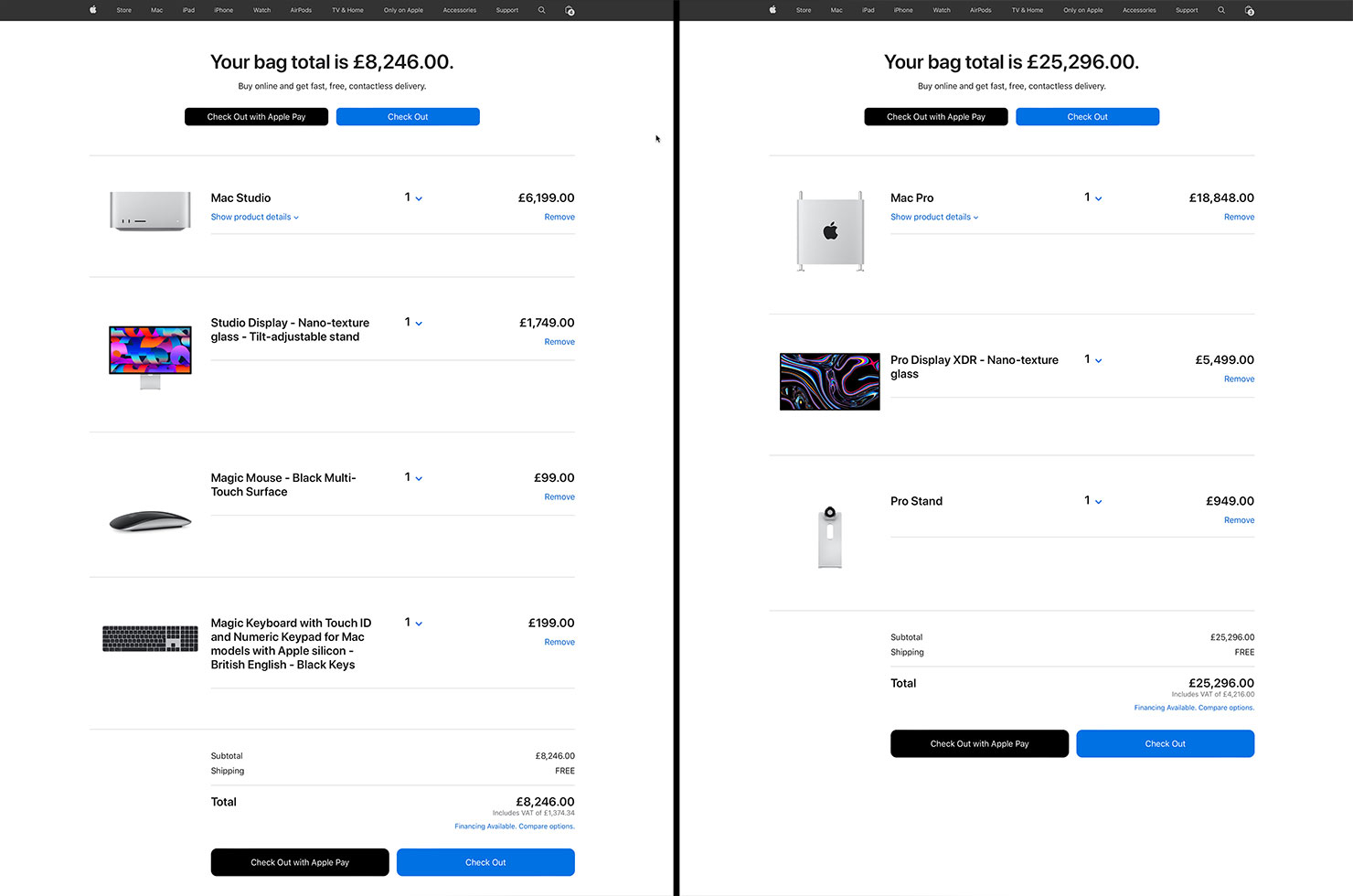 Those are live prices for the equivalent machines I've been benchmarking here – my Mac Studio on the left, with Studio Display, and my Intel Mac Pro with Pro Display XDR on the right.
Removing the display from the equation (as both machines can run either), this is a magic box that can keep up with (and beat) some of the best hardware available in the industry – for only a third of the price. (£6,497 including mouse and keyboard vs £18,848 with the same).
That's a heck of a lot of "bang for buck" out of this unassuming little silver box.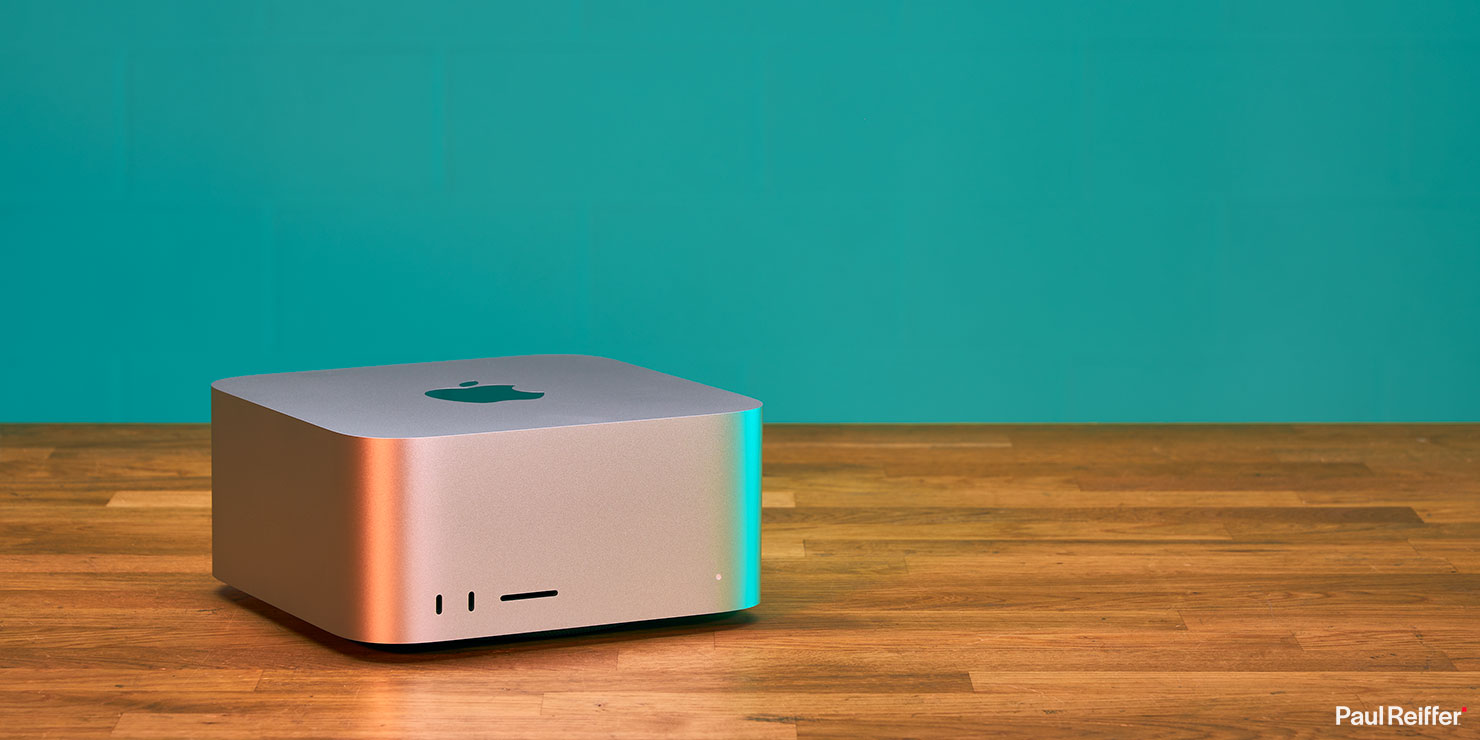 So what IS the Mac Studio?
Is it a replacement for the iMac?
No, I don't think so. The 27″ iMac has been discontinued, but the 24″ remains, and there will always be a market for all-in-one computers if only for their aesthetic, at least.
Does it replace the Mac Pro lineup in the long-term?
I can't see that happening either. The Mac Pro is Apple's high-end offering to those who want to push hardware further than anyone else – I'd say the Mac Studio is more like the smaller sibling, waiting for the even more powerful box to arrive. (Imagine what they could pack inside a Mac Pro "version" of this…)
Is it just a "boosted Mac Mini"?
Not really. I mean, it shares some design features with the mini, but this has a very specific setup in mind, for studios, creatives and those wanting to focus the very best hardware on their tasks.
In my view, this is a hybrid – it's flexible, portable, and crazy powerful – for an attractive price.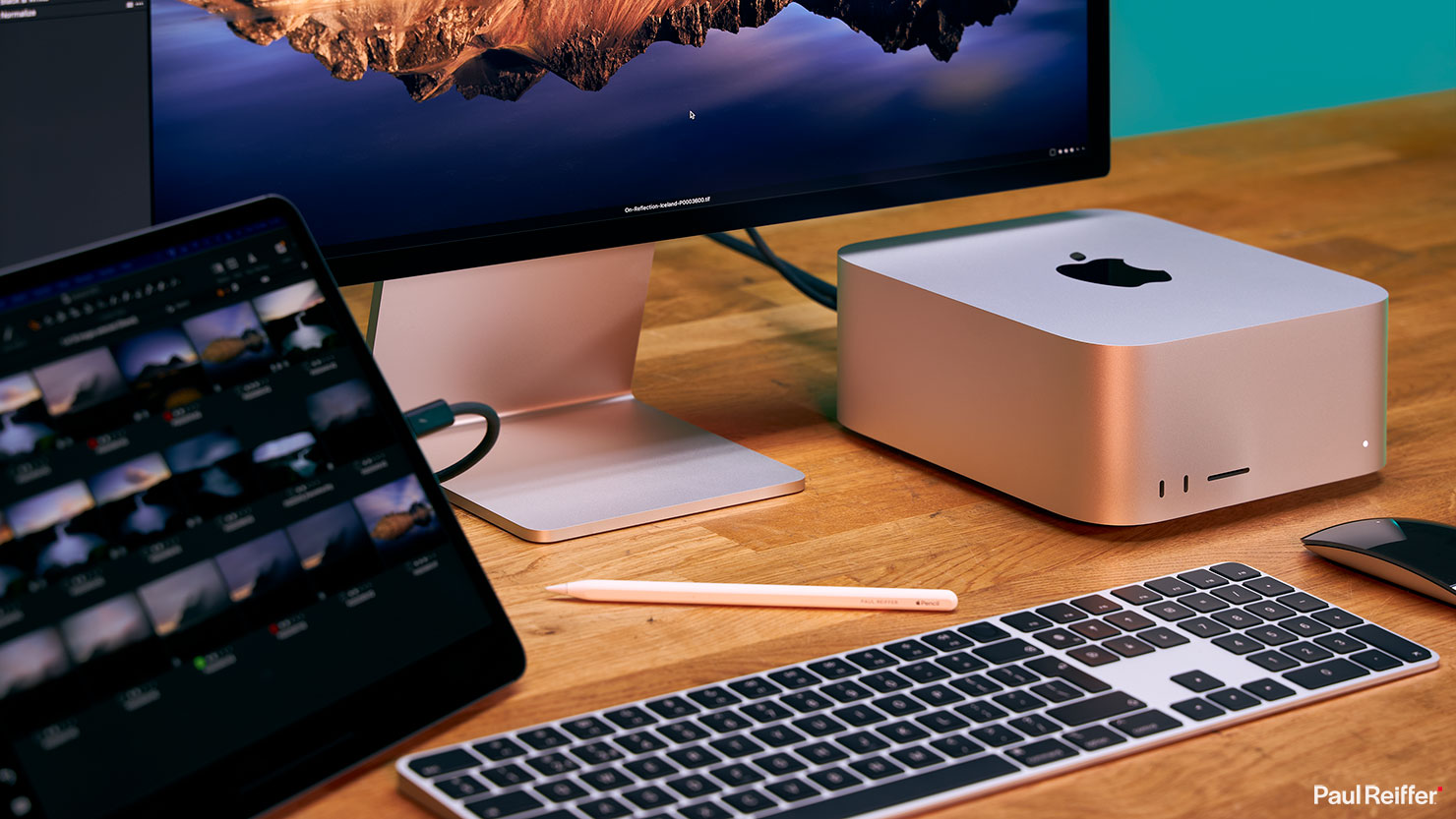 A Photographer's Buying Guide
If you're looking for a workstation solution, what configuration should you consider?
A lot will come down to your own specific workflow, but there are a few factors to consider before taking the plunge, and avoiding the trap of automatically ticking the top box on every upgrade option.
For a start, let's look at the chips inside.
Back when I wrote about the M1 Max MacBook Pro, we were looking at a marked difference between the M1 Pro and M1 Max chips in terms of capability for processing high-end images. They themselves being a huge leap forward in that respect form the original M1 – which was also a staggering achievement of performance in its own right.
But the difference between M1 Max and M1 Ultra will be somewhat more subtle when it comes to the tasks undertaken by most photographers.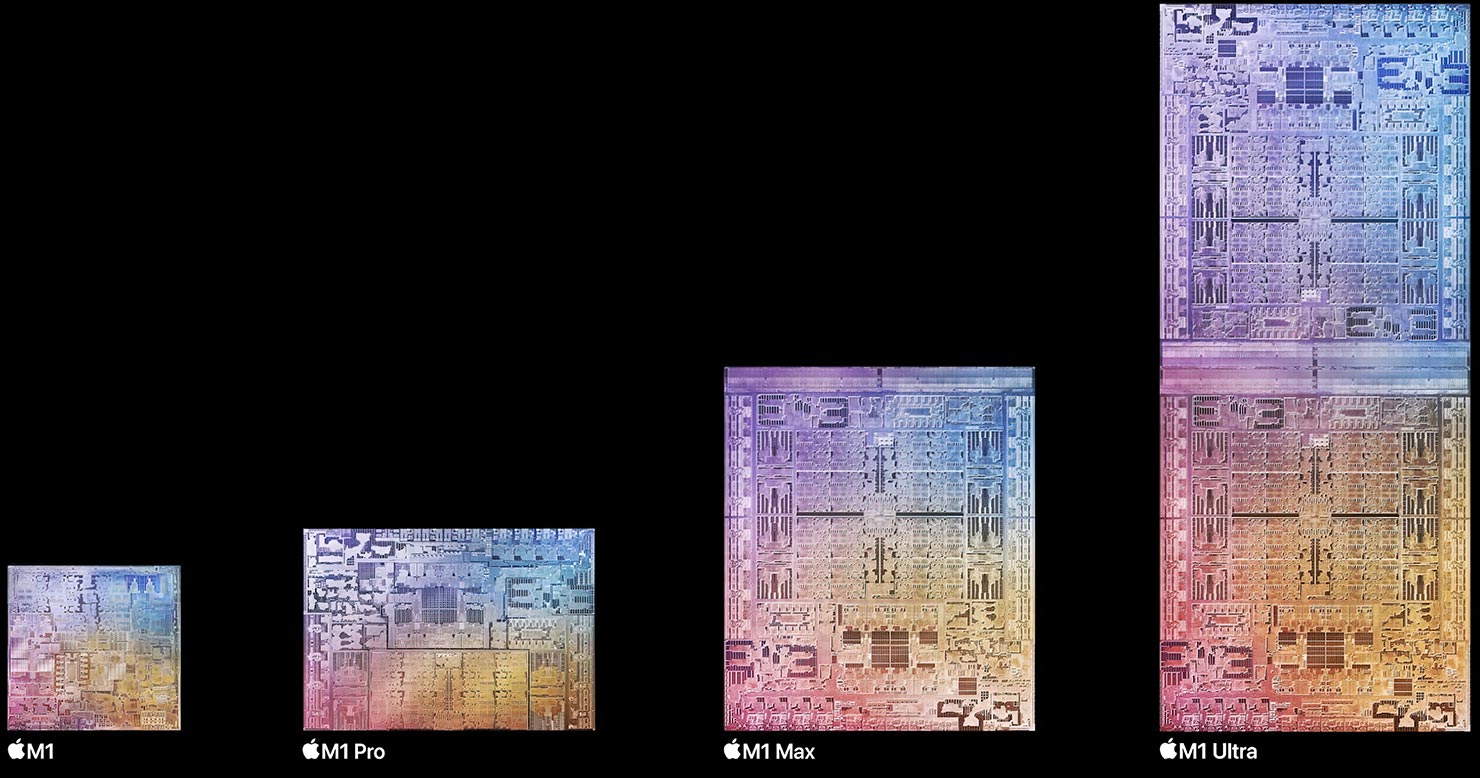 The M1 Ultra is, quite literally, two M1 Max chips bonded together. You get twice the CPU cores, twice the memory, twice the GPU cores, double the video & ProRes engines and twice the bandwidth (800GB/s vs 400GB/s). In terms of ports, the M1 Ultra gains an extra two full-speed 40Gb/s Thunderbolt 4 connections on the front, beating the M1 Max's additional two 10Gb/s USB-Cs.
But fundamentally, it's the same processors, running at the same speeds, with the same CPU and GPU power per core – there are simply more of them available when they're needed.
So if your chosen software application is capable of utilising all those cores at the same time – say, 3D animation, 8K+ ProRes rendering, etc – then the M1 Ultra is a great investment – it'll absolutely fly – and comes at a price point that makes sense.
For most photo editing scenarios, however (including my own, with gigapixel images, 16-bit Phase One raws, focus stacking) – you may find yourself watching several cores working very hard, while the others are enjoying some vacation time.
It's also worth considering how much memory is really required by these new chips. In the new Apple Silicon world, I'd argue 64GB is the new 128GB+, and one of these systems running on "only" 64GB is still able to outpace an Intel-based machine with 192GB sat inside. Sure, 128GB is nice – but consider whether your workflow, and applications, will be capable of using all of it during your period of ownership. (As you saw above, Capture One hovers around 10GB even in heavy use.)
Of course, buying the best you can at the time tends to be the long-term winner in these situations, and I'd say it's worth going for the highest spec'd machine you can reasonably afford right now. (Bearing in mind they're all capable of outpacing other computers that are 3x the price.)
With all that in mind, I'd recommend looking at one of two options: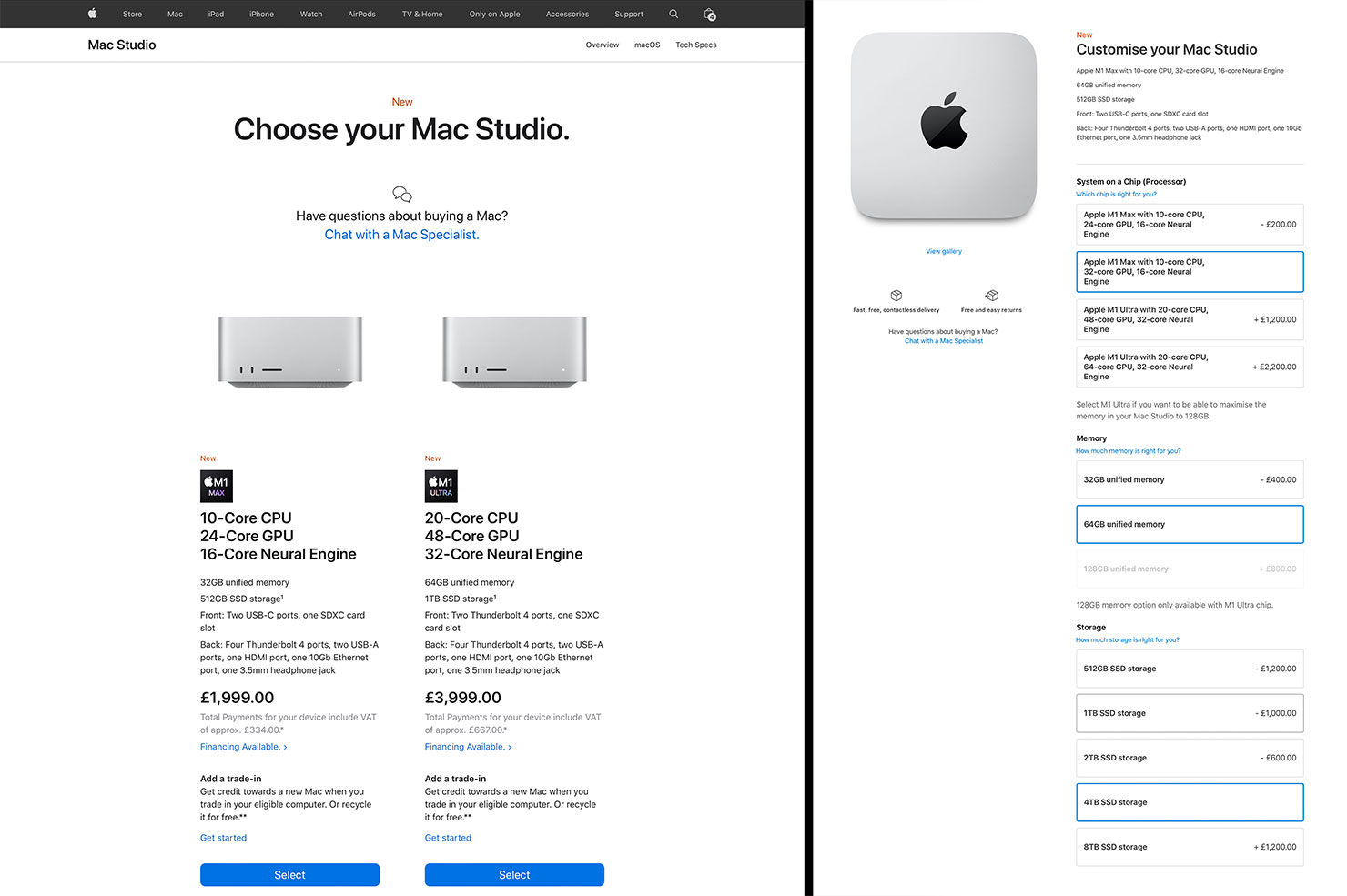 1. Photography Setup (for those using this box to tether, edit and produce high end images):
M1 Max, 10-core CPU, 32-core GPU
64GB Unified Memory
4TB SSD Storage
2. Rendering Setup (for those who need to produce 3D content and render ProRes 8k+ footage):
M1 Ultra, 20-core CPU, 64-core GPU
128GB Unified Memory
4TB (or 8TB) SSD Storage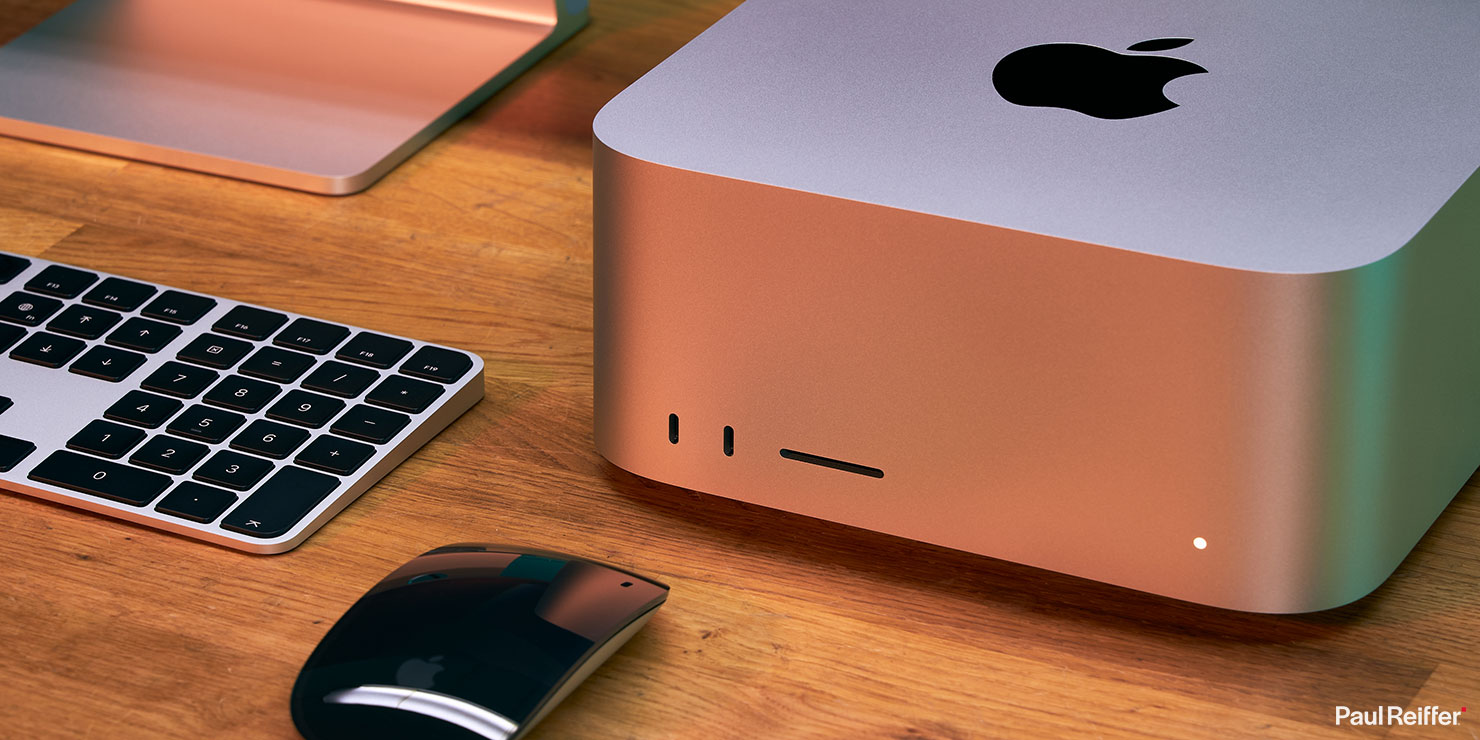 As photographers, we often make big investments in the best kit, to get the best results.
With the Mac Studio, I'd argue we can now make a much smaller investment to still get the best kit and some even more incredible results.
I guess all that now remains is for the third party developers to finally push these machines to sweat (or at least pull in some air)…