"Good things come to those who wait", they say, and given the anticipation this release has generated since the introduction of Apple's first M1 chip – there were big expectations set earlier this year for creatives on the road.
With the M1 seeming to impress every corner of the industry, many professional photographers (including myself) switched to the first iteration for travel – the 13″ M1 MacBook Pro – and I know I'm not alone in being happy (and surprised) with its performance and efficiency ever since. But for many of us, this was clearly just the warm-up act…

Fast forward to October, and look what's finally come to fruition (in all-new plastic-free packaging too!):
The pro-grade creative workstation, the powerhouse on the road – The brand new MacBook Pro 14 and 16 inch editions with M1 Pro and M1 Max processors.

And these new machines, truly, are game-changers for photographers and filmmakers on the move.
---
TL:DR_
This machine is insanely quick – at all the tasks that are important to me.
Want a quick benchmark comparison? It's right here in a chart.
---
The 16-inch M1 Max MacBook Pro – a creative powerhouse
First impressions count and with the new 16 inch M1 Max this is most definitely a 'revolution' over the previous 'evolutions' we've seen in recent years.

Gone are the tapered edges, the previous keyboards, the contraversial touch bar, even the classic feet that have been a feature for countless series of MacBook Pros out there to date. The new M1 design was intended to be bold, and that's been achieved in a purpose-built housing that suits the new architecture inside. (In fact, for those who mourned the loss of the 2012-ish design, there are definite cues back to that look too.)

Arriving pre-installed with macOS 12 Monterey, setup's a breeze these days (although I'd always suggest trying to do any migration over Thunderbolt, having wasted much of my life on wireless connections in the past!)
---
M1 Max -ed Out…
My configuration of choice?
The 16-inch M1 Max (10 core with 32 core GPU), 64GB unified memory and 2TB SSD.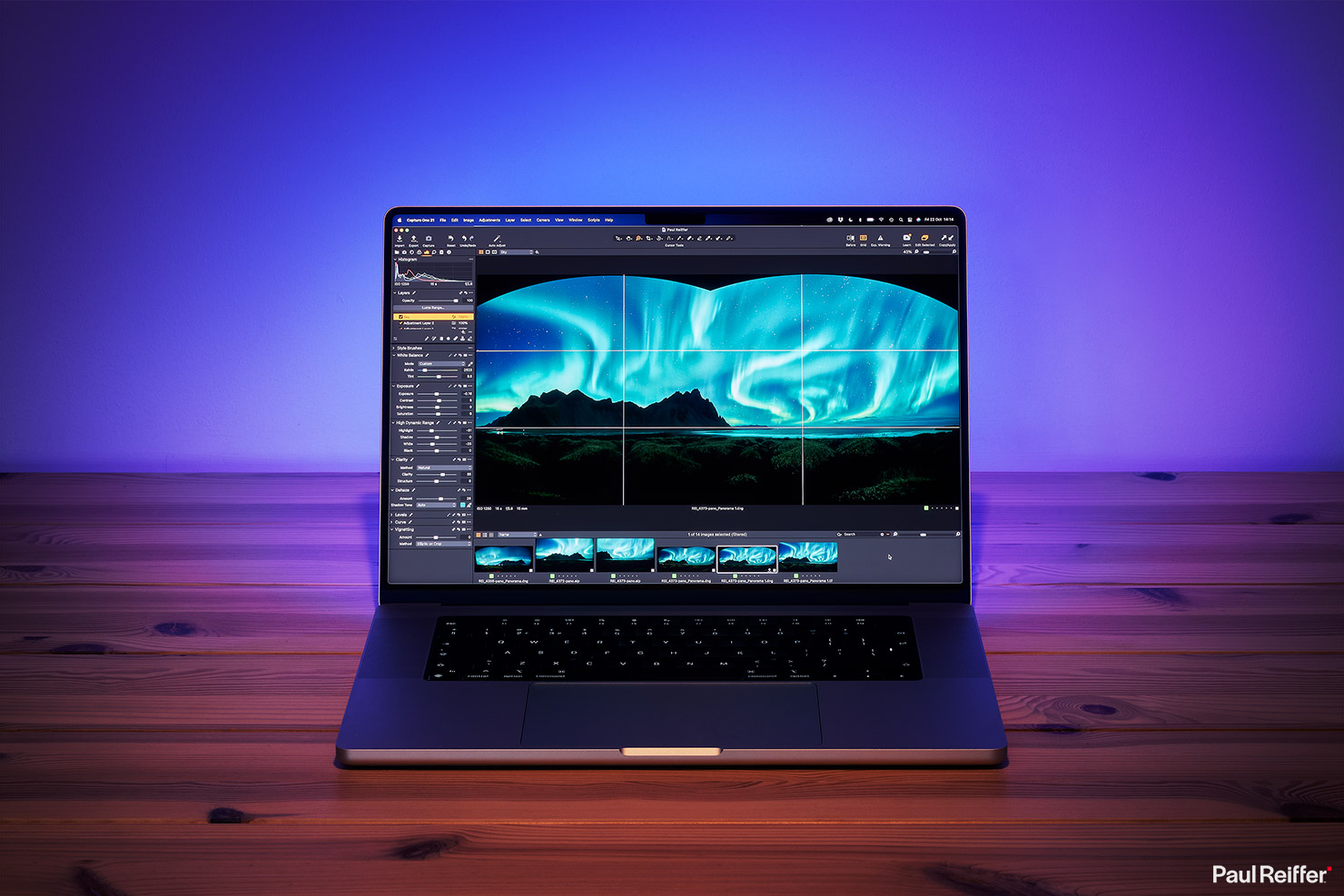 While the M1 Pro chips are impressive in their own right, there are a few extra treats for those who push for the M1 Max option – namely twice as many cores in the GPU (32 vs 16) and double the memory bandwidth at 400GB/s. Beyond that, for video editors, it includes two ProRes engines inside the system, instead of one.

The temptation to increase the SSD was there, but given every shoot I do is triple-backed up and cloud-synced before I'm even home these days, the extra investment in drive space doesn't make sense for my own workflow – although it could for others.
The 14-inch model is still hanging around in my mind as a travel option – and for those who want to stay mobile, there's no denying that the 16-inch unit is a somewhat "sturdy companion" when wanting to keep your bag light. But when you're working on 151 megapixel raw images, that 16.2″ Liquid Retina XDR display with its crazy 3456×2234 resolution at 120Hz was rather compelling, I must say.
When comparing it to the 15-inch Intel MacBook Pro (left) and the 13″ M1 MacBook Pro (right), the new P3-gamut XDR screen is vibrant, sharp, bright and (quite obviously) huge: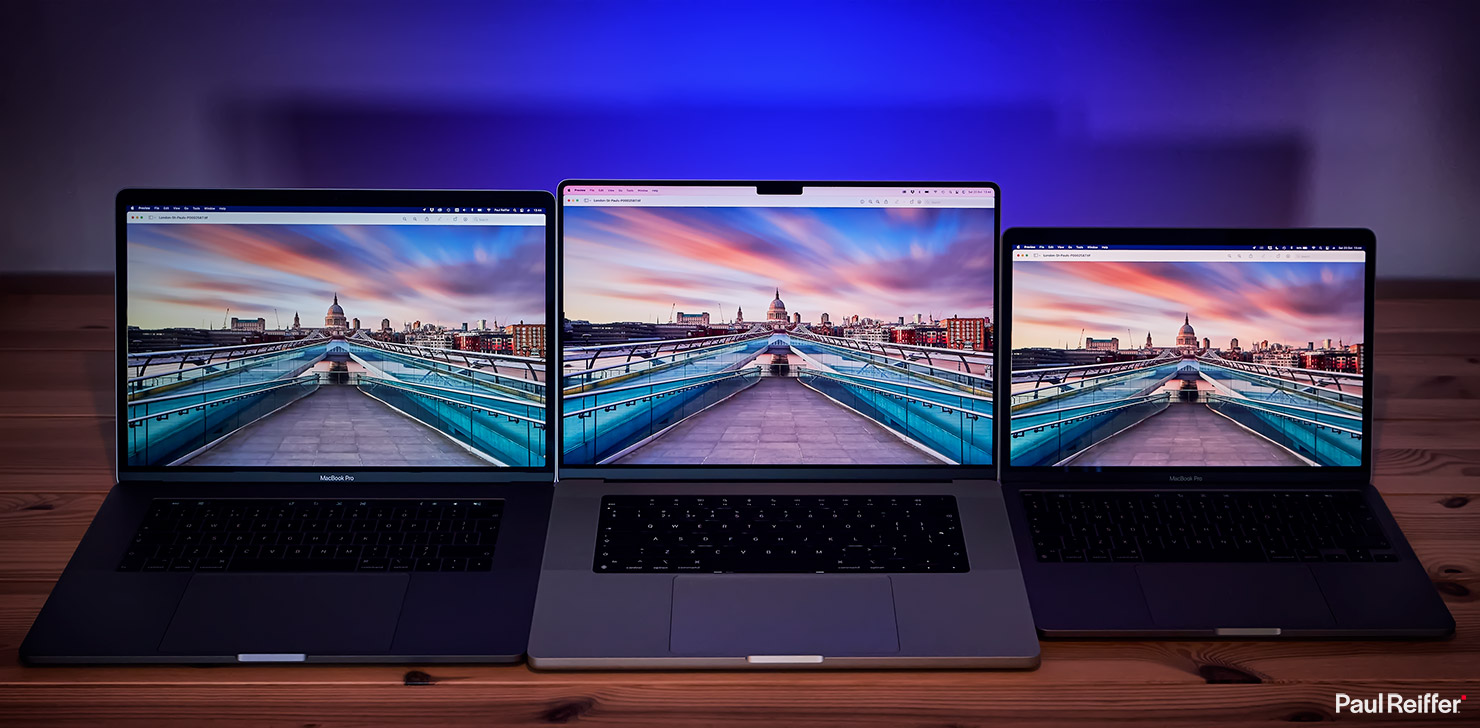 The Notch
Much has been made of "the notch"; the little cut-out that houses the FaceTime camera and sensors at the top of the screen (much like the current series of iPhones).
How will it work with menu bars? Where does the mouse go? Is it counted in the overall resolution? Is it distracting?
While I was equally intrigued by its inclusion at first, I found that all those questions disappeared within 10 seconds of using the new MacBook Pro and now, having used it for a while full-time, I can say it doesn't get in the way at all – if anything, it helps.
If you view it more as "allowing the menu bar to move up and away from your focus" instead of as a gap in the screen, I think you'll see where the designers were going with this.
macOS handles the menu setup seamlessly: Applications don't need to be re-coded, the OS just moves their items either side of the cut-out when required. The mouse pointer can be "hidden" there if you need to, but more importantly, it gets the status bar and upper menu items out of the way, giving my apps more space to breathe (well, that's how it feels anyway).
And when you need to display images "full-screen", macOS blacks out the top line to ensure nothing distracts from whatever you're working on or presenting.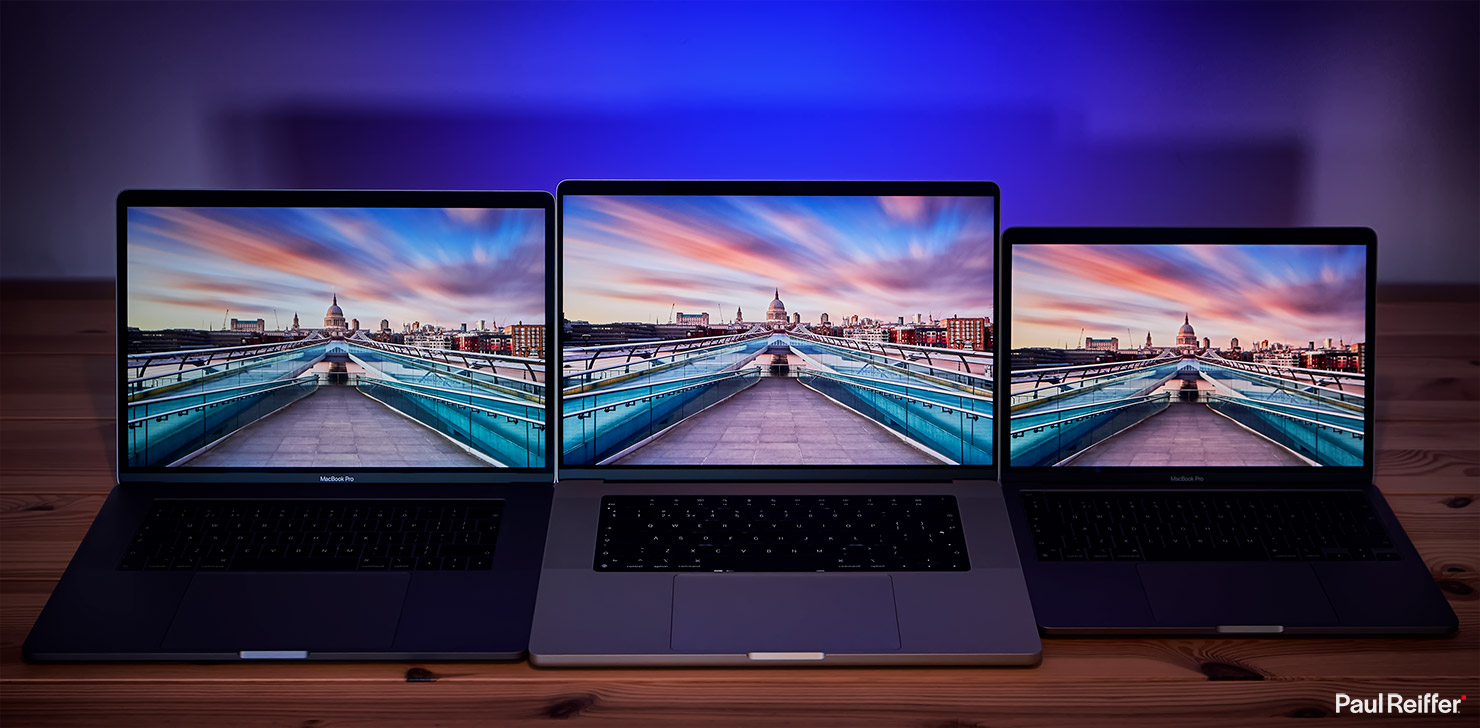 Dual XDRs?
As some of you will recall, I switched to Apple's 6K Pro Display XDR last year, connected to a Mac Pro – and haven't looked back since. I won't go into the tech specs of that screen here, but suffice it to say it's been an exceptional addition to my office when it comes to producing calibrated print outputs over the past 18 months.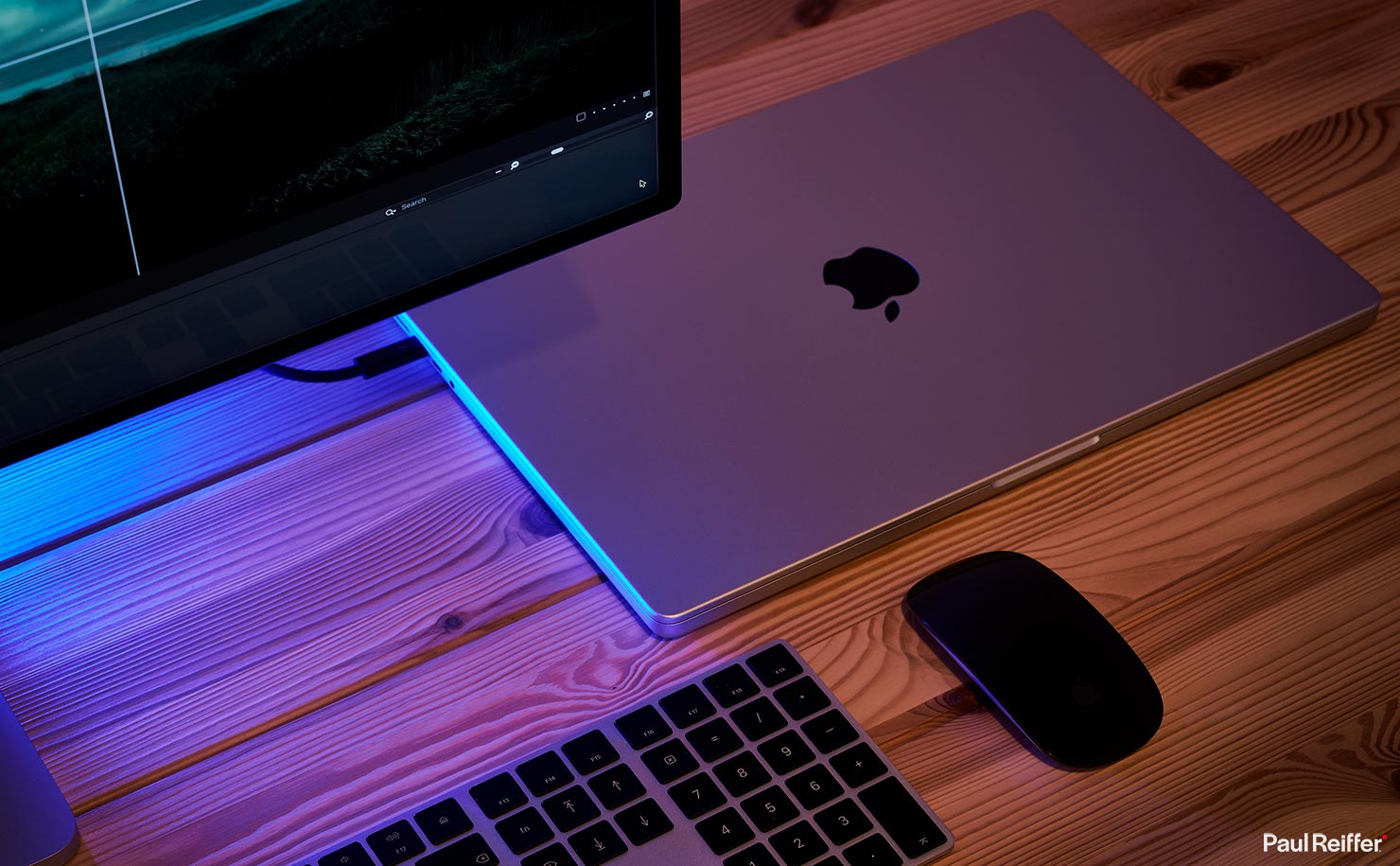 While my 15″ Intel MacBook Pro and 13″ M1 system could also drive the display well, there was always a difference in brightness, contrast and colour rendition if I ever wanted to use them in a dual-monitor scenario. With the new 16-inch (and 14-inch), that all changes.
While, of course, you can use the external Pro Display display in "docked" form – with your MacBook Pro closed and displaying while charging via the single thunderbolt port – the fun comes when you use your portable display as a library/toolkit for a much larger viewer in the 6K XDR at the same time.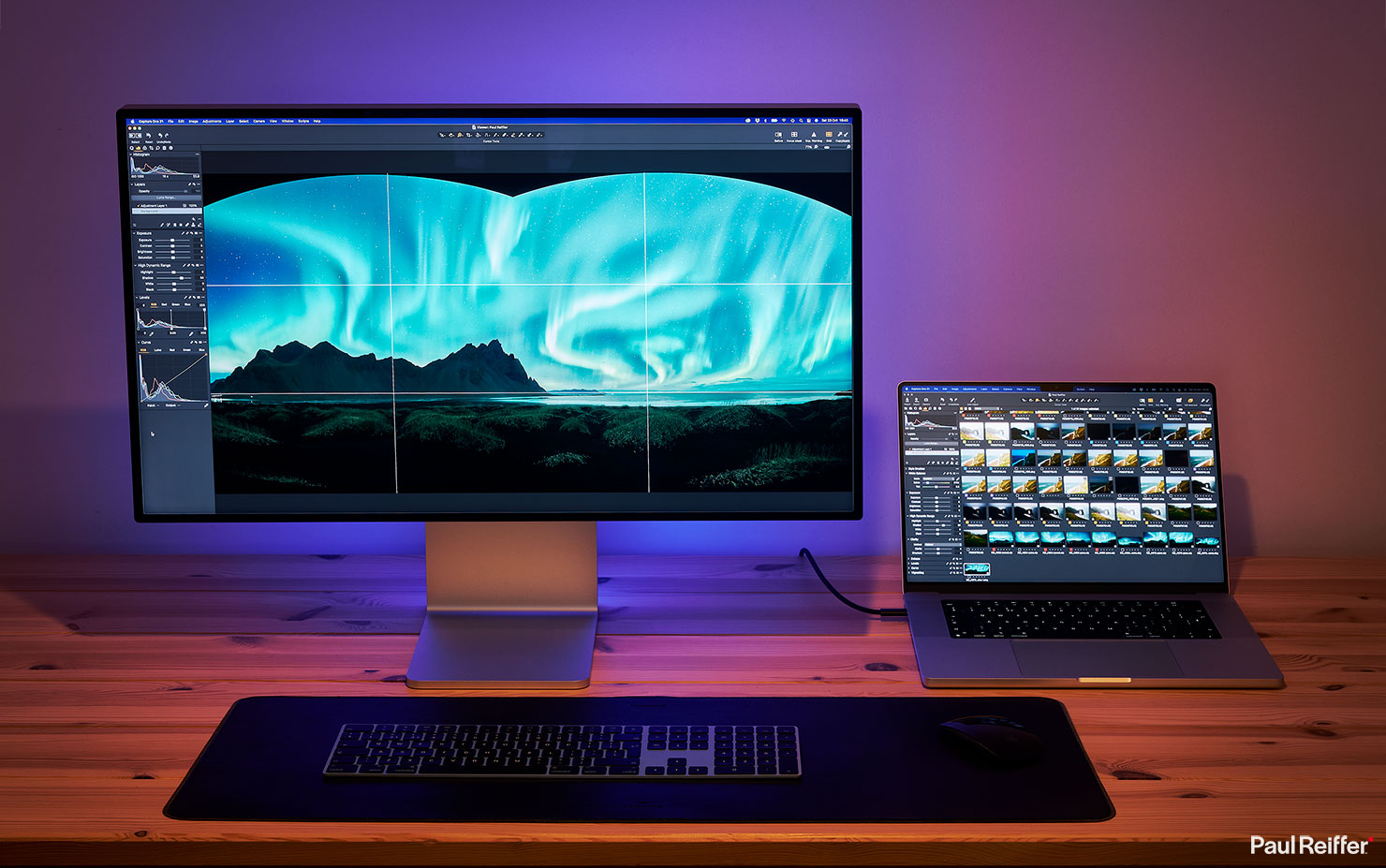 And with both screens now pushing up to 1600 nits of peak HDR brightness, 1000nits of sustained brightness along with (for my workflow) matching each others' 500 nits of calibrated display reference, I now have a truly dual-display setup that allows me to edit as quickly and accurately on the move as I can back at base.
In fact, if you feel the need, you can run 4 external displays from this beast…
For those focused on editing, just as with the Apple Pro Display XDR, it's important to set up your profiles in the Display Preferences area – as well as turning off "True Tone". While that function can be really great when working in different lighting situations, it will really mess with your white point calibration throughout the day, so I tend to turn it off.

The ProMotion feature (allowing up to 120Hz refresh rates to be dynamically applied by macOS) makes the new XDR MacBook Pro screens feel more fluid and smooth when viewing content than before – with a refresh rate up to twice as fast as the external Pro Display XDR for the time being.
---
Battery, Power and (lack of) Heat…
Just as I found with the first introduction of M1 models, in terms of battery life, this machine is crazy – even with image editing tasks on the new 16-inch model, I've been able to run over 10 hours on battery power and still have 32% left to use afterwards. The whole time, remaining ice-cool, with no fan noise whatsoever.
As such, while I haven't managed to push this one to its full 21 hour stated battery life (for standard use), I can well believe the numbers. The 13″ M1 MacBook Pro impressed me by nature of being able to work solidly on an 8+ hour flight and not even worry about plugging in – but while it performed exceptionally well, there were a few specific tasks that it struggled to keep up with when really pushed.
No more, it seems – as the 21 hour rating of the 16-inch MacBook Pro M1 Max is based on a much higher starting point of processing power. So not only does this machine have their best ever battery life, it appears to be operating at a faster base speed with it too.
Capture One luma ranges applied on layers across 270x 16-bit IIQ 151-megapixel raw files at a cost of less than 3% of battery life…?
….yes please!

When it comes to power, before I did any tests, I switched the machine to "High Power" mode – something that is only available on the 16-inch M1 Max setup (and therefore unavailable on M1 Pro and/or 14-inch models). Whether that's due to the enhanced cooling infrastructure of this configuration or something else entirely, I don't know – but for transparency, all tests were completed with this mode enabled instead of "Automatic" switching which is set as default.
Speaking of cooling, what about those times when it does need some help keeping the temperature down in there? (Despite being more likely to have come from ambient heat than internal causes, it seems!)
Well, running along both sides of the lower case are two long vents that feed from the newly designed internal cooling layout to help keep things nicely chilled – and there are fans inside, I've just never heard them…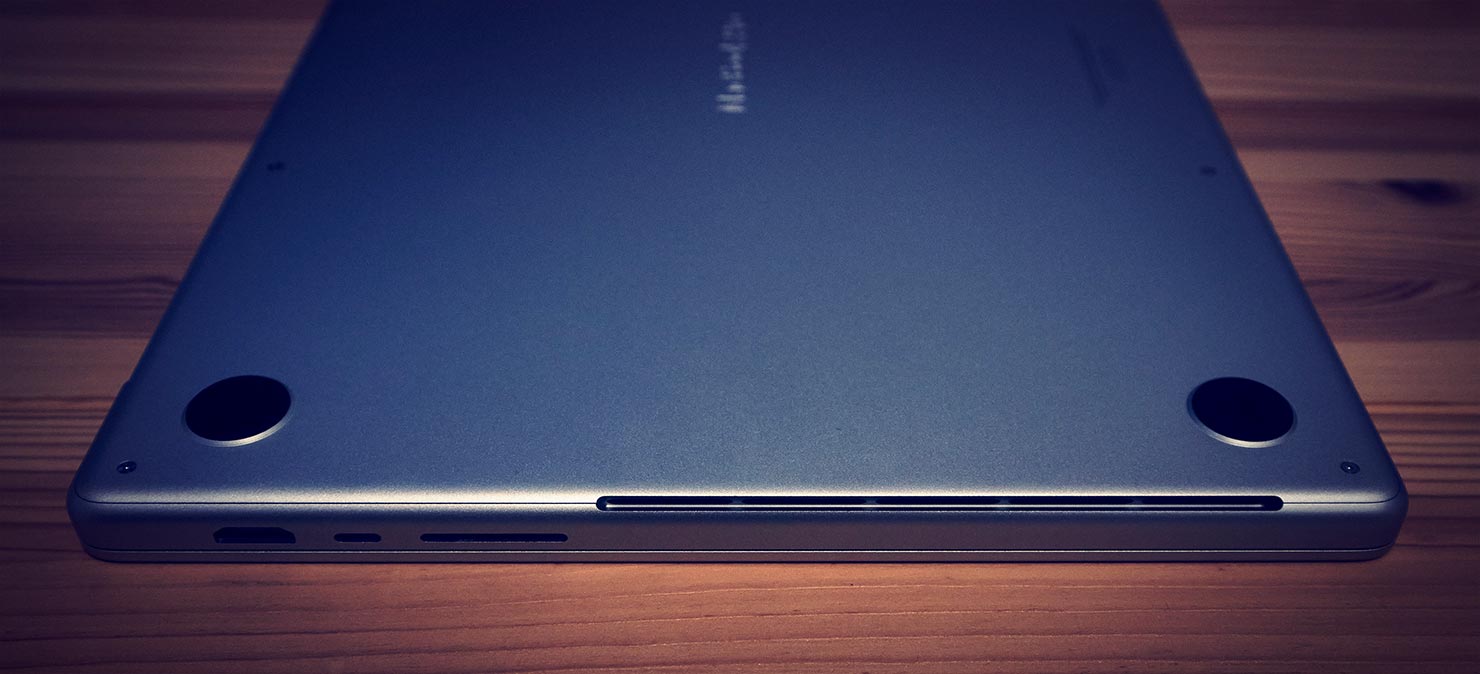 Speed Tests
So with all that in mind, let's look at how this new machine performs in real-world scenarios.
Most of my on-the-road work is done in Capture One Pro, with a nod every now and then to Adobe Photoshop and Premiere Pro. As such, it only seems right to put this new chilled-out-speed-demon through its paces with that tool. In each scenario, all files were loaded from the respective machine's internal SSD.
---
Capture One Import & Preview Generation
First up, our standard Capture One import.
In this case, I fed the 16-inch machine 270x Phase One IQ4 raw files – each a 16-bit IIQ at 151 megapixels.
Asking Capture One to load the dialog box to preview the imports in thumbnails was instant – something I've not even seen on my Mac Pro. And I don't mean "a few seconds to watch them appear", I mean instant.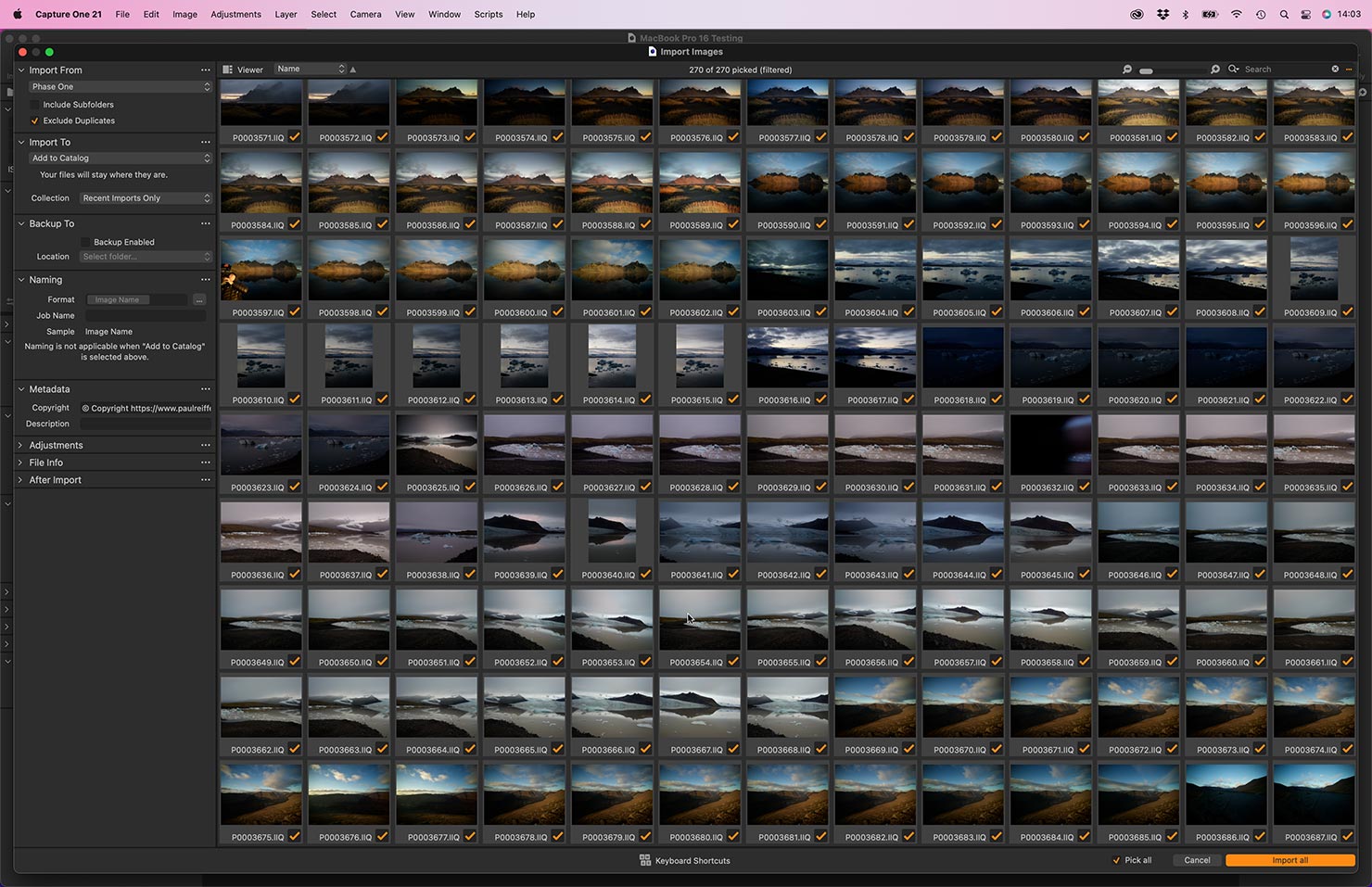 Hitting the "Import all" button triggers the addition of those files to our test catalog alongside the creation of all 270x thumbnails at 5120 pixels wide for editing later. This is generally a processor (CPU) intensive task, not really making use of much in terms of GPU functionality – and it finished in just over 4 minutes.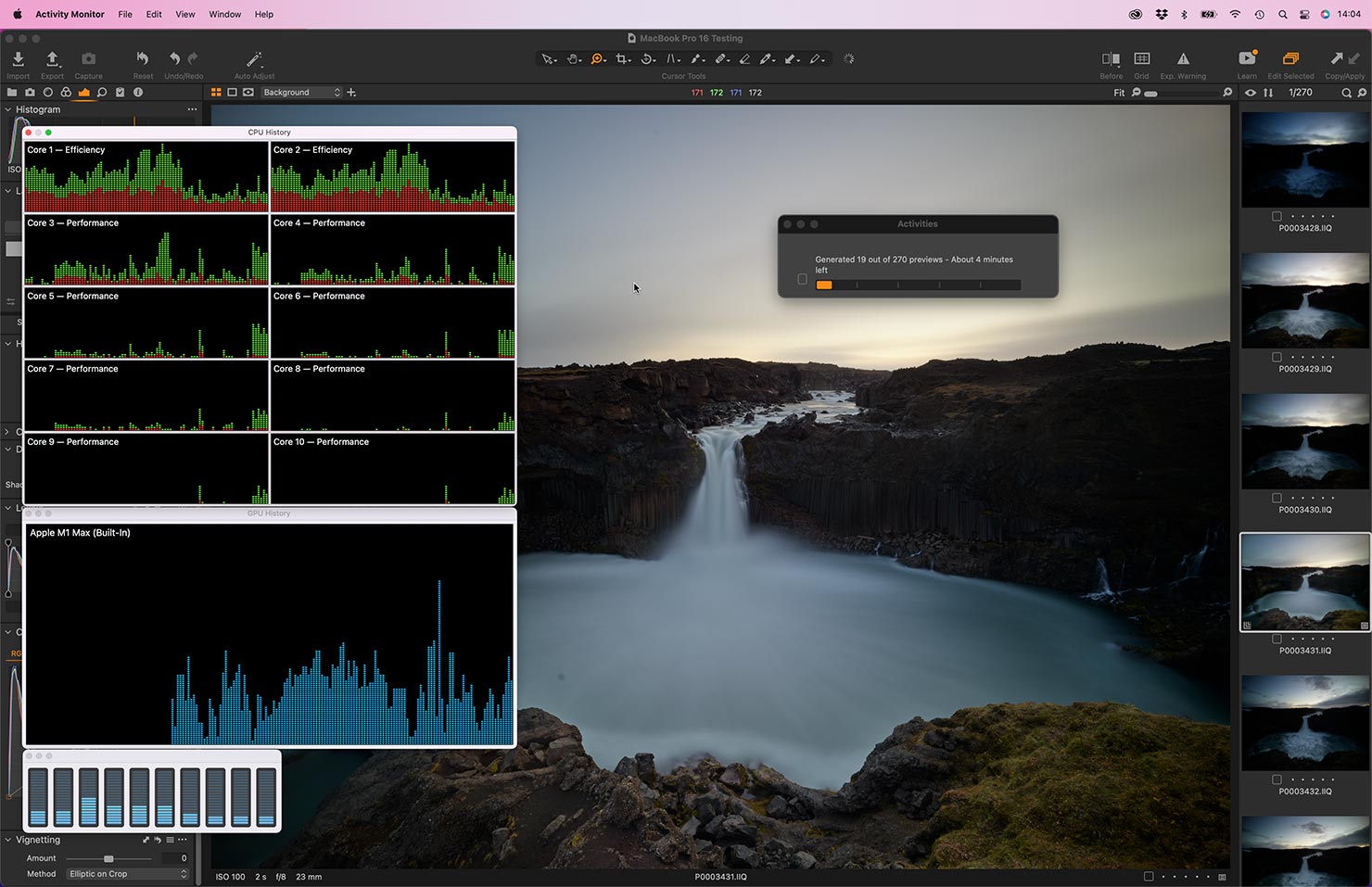 To me, that's a hugely positive start – as (while impressive), the 13″ MacBook Pro M1 normally hits around 150 images in the same amount of time. Indeed, in our like-for-like comparison of those same 270 images, that smaller machine finished in just over 7.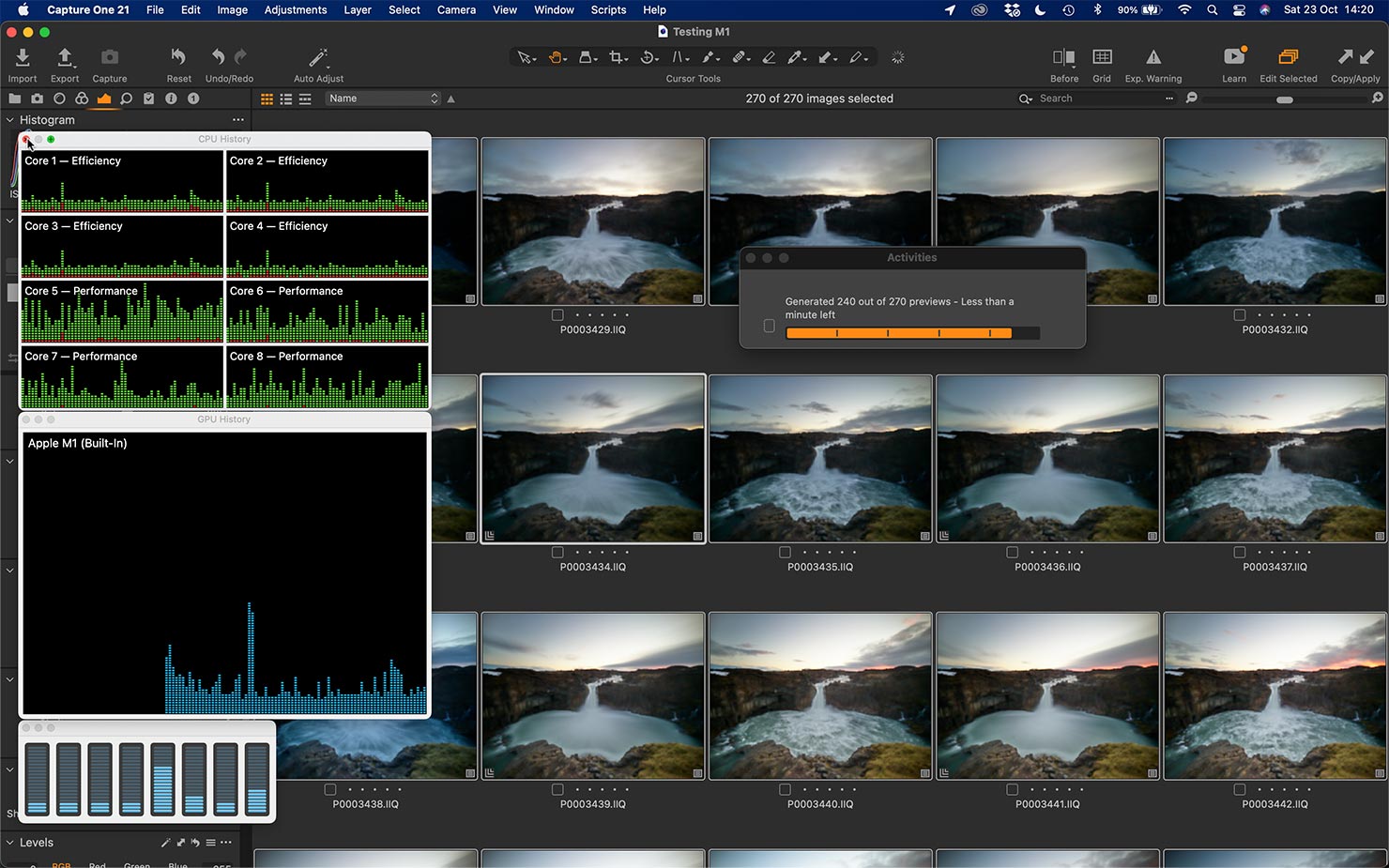 But that's not where I'm really coming from here – the 13″ is a fantastic travel companion, but it's just not got the screen to be my serious editing station on the move. A more realistic comparison was my previous generation 15″ MacBook Pro Intel i9 setup with dedicated 4GB Radeon 560X GPU.
Ensuring hardware acceleration was enabled, I clicked the button – and waited…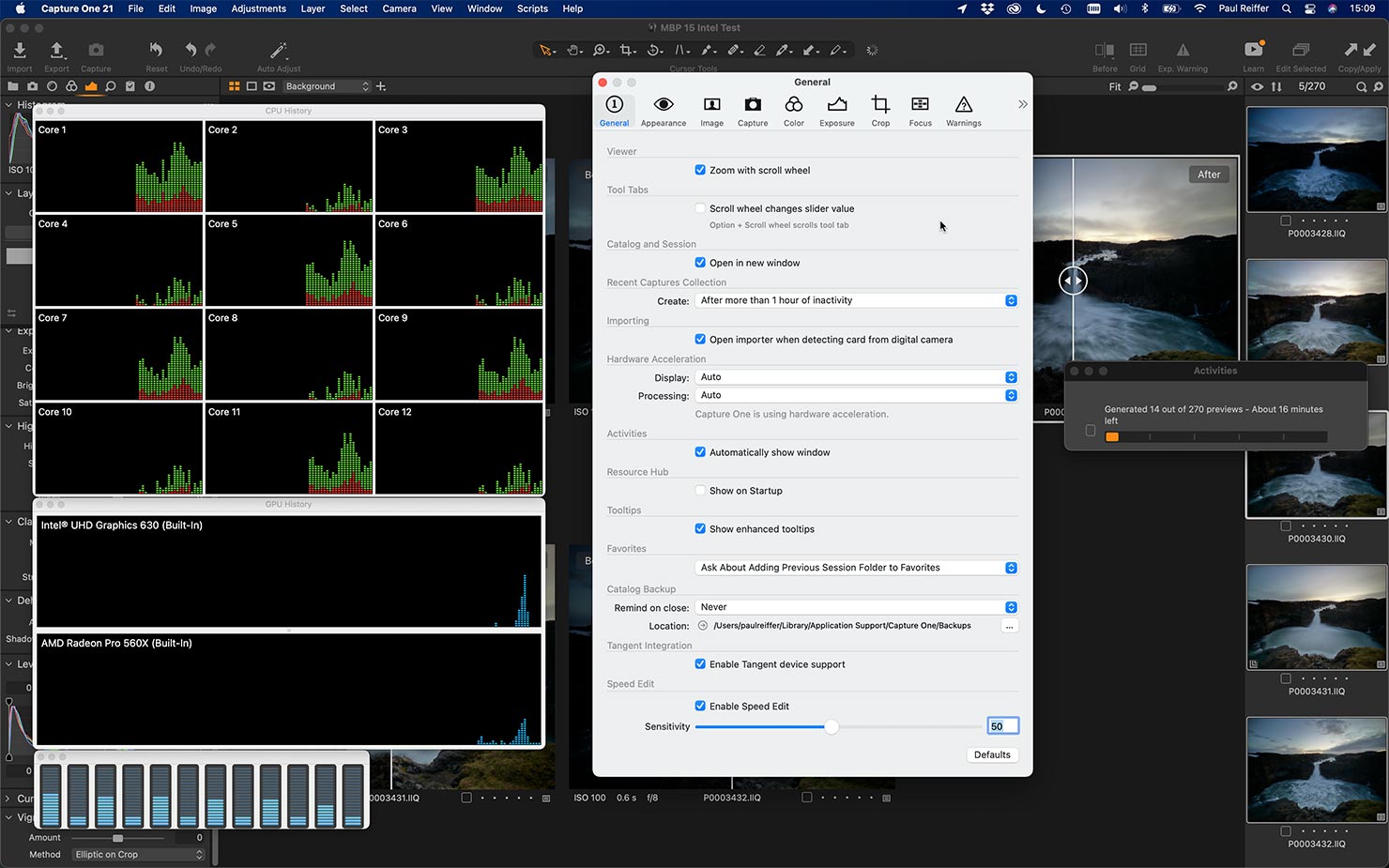 …for 17 minutes to allow it to complete the same task.
Now as a reminder – there was a time, only a couple of years back, where this was THE fastest MacBook Pro setup that you could get. It was since upgraded to the 16″ Intel model, with a bump in memory and GPU, but this custom-build i9 was genuinely my main mobile editing system for exactly these files not that long ago.
| Importing of 270x 151-megapixel files: | Time Taken: |
| --- | --- |
| 16″ MacBook Pro M1 Max (2021) – 10-core, 64GB, 32-core GPU | 248 seconds |
| 13″ MacBook Pro M1 (2021) – 8-core, 16GB, 8-core GPU | 432 seconds |
| 15″ MacBook Pro Intel i9 (2018) – 6-core, 32GB, 4GB GPU | 1027 seconds |
Of course, my Mac Pro can still shave a little off of the 16″ M1 Max's time – but let's remember we're talking about a machine that's only 15% of the price of a full-spec tower, and more importantly – mobile!
---
Capture One Export – High-Res Adjusted TIF
On my previous Mac Pro testing, I played with exporting huge enlargements of files – ultimately generating an impressive amount of TIFs (2.67 terabytes' worth) in a variety of dimensions to really push the system.
In this case, I wanted to apply a slightly more "real-world" benchmark that more closely aligns with a task I'd normally perform in the field.
So, taking those same 270 IIQ files, all still at 151 megapixels, I applied the same dynamic range adjustments to them all and exported each of them as an Adobe1998 16-bit full-size TIF (the output file size being approximately 900MB per image).
This is a heavy GPU-intensive task, relying on getting data from the raw file quickly, re-processing it using Capture One Pro's toolset and writing it back to disk when done.
To set my expectations, this time I ran with the impressive 13″ MacBook Pro M1 to see what it would do first.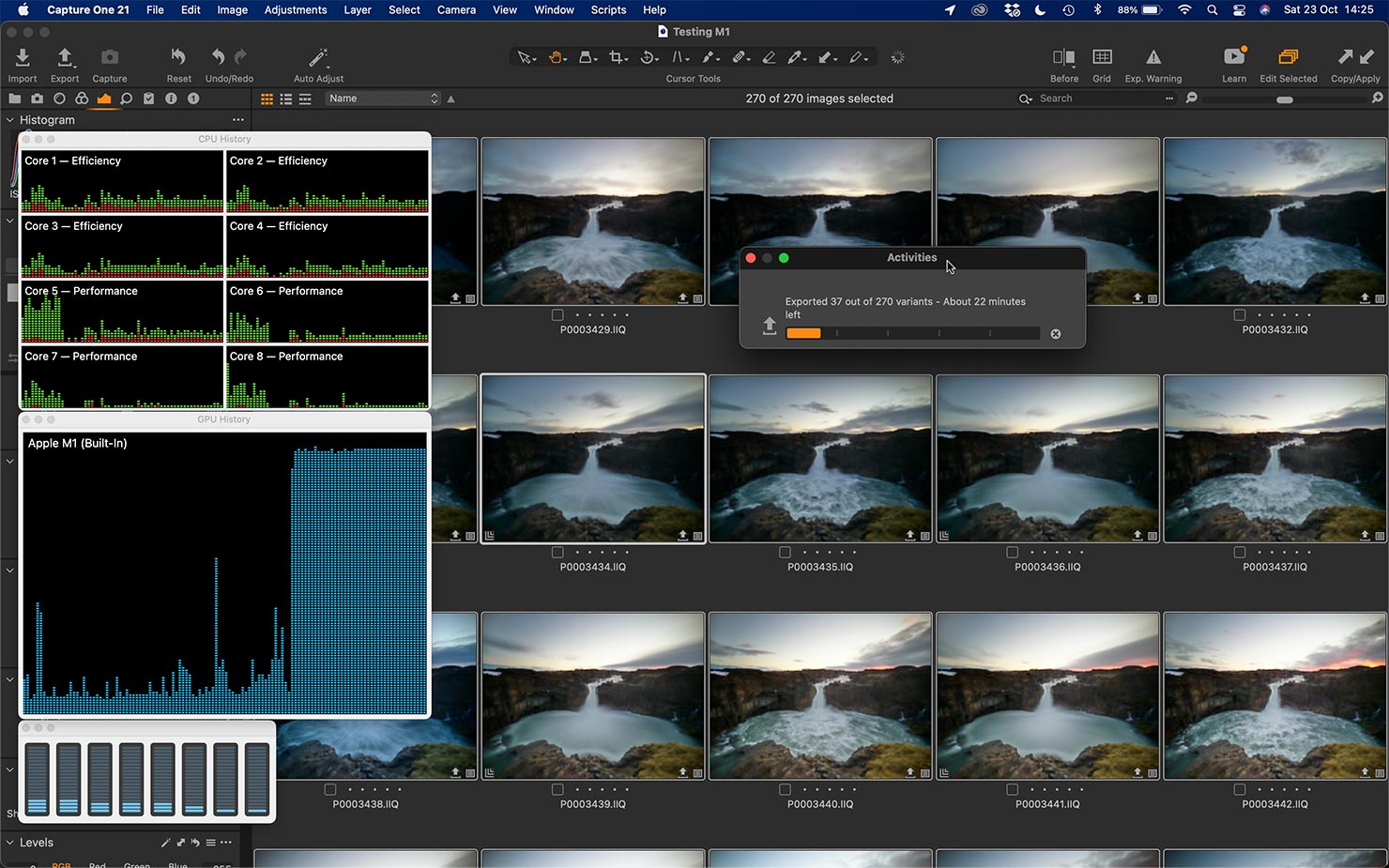 …and to be fair, at just over 23 minutes in total it still beat most expectations for such a small machine (and it certainly put the GPUs to work).
But how would the M1 Max fare, with its 32 GPU cores and all that unified memory? (Which, now thinking about it, reduces the wasted handoff time between Disk, CPU and GPU for processing each file.)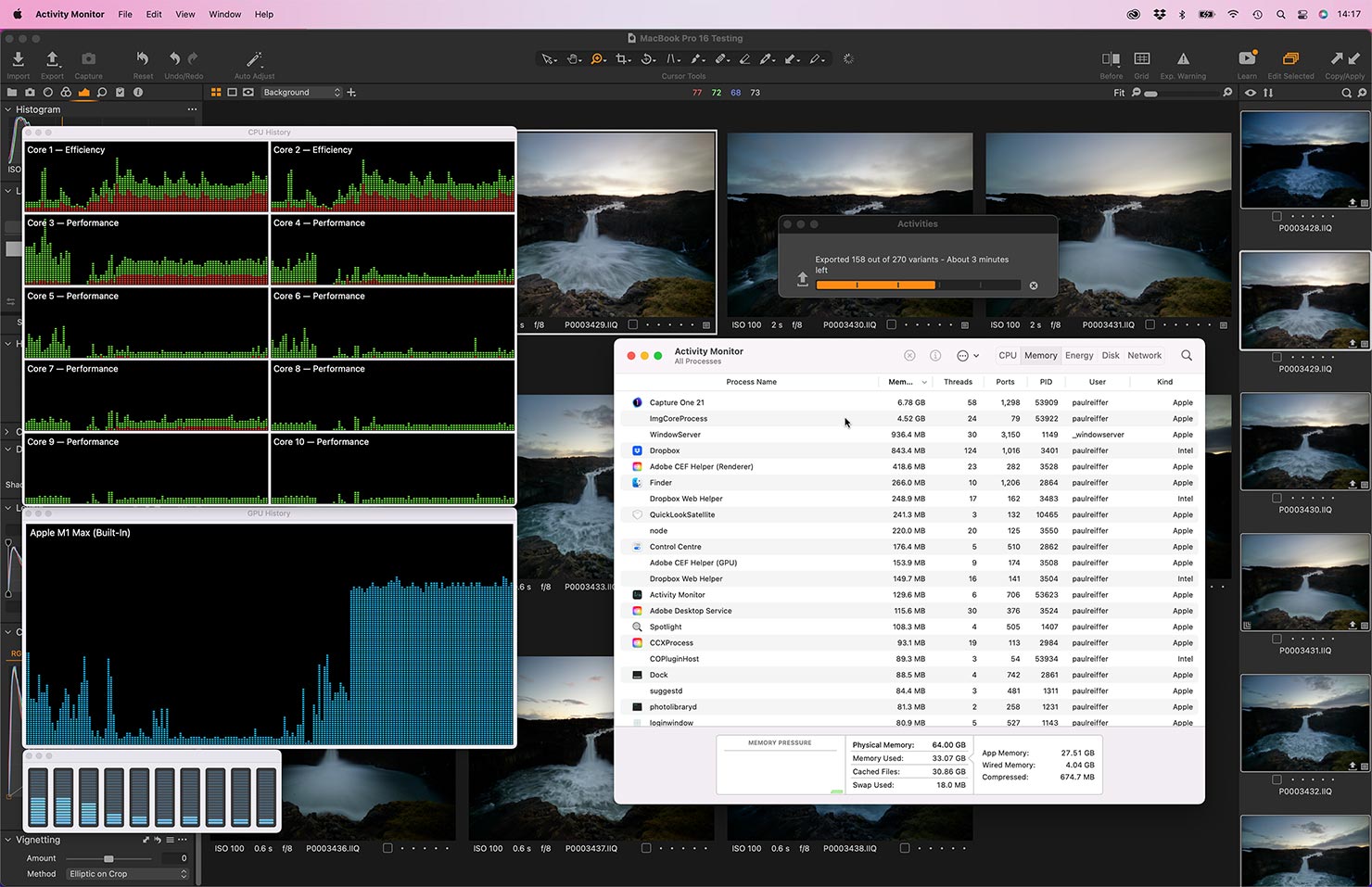 Well, it completed in 6.5 minutes, flat.
The same task, the same files, the same adjustments, same output. It barely touched the processors and used minimal memory while allowing the GPUs to do their thing. I was already impressed with the M1 13″ at 23 minutes, but this is crazy for a laptop solution – that stayed as cool as a cucumber the entire time.
Feeling a little chilly as a result of all this relaxed processing, I figured it was time to turn up the heat (literally) and double-check these numbers. I know from memory I've never exported that number of files that quickly before while on the road, so I fired up my trusty Intel 15″ MacBook Pro to compare.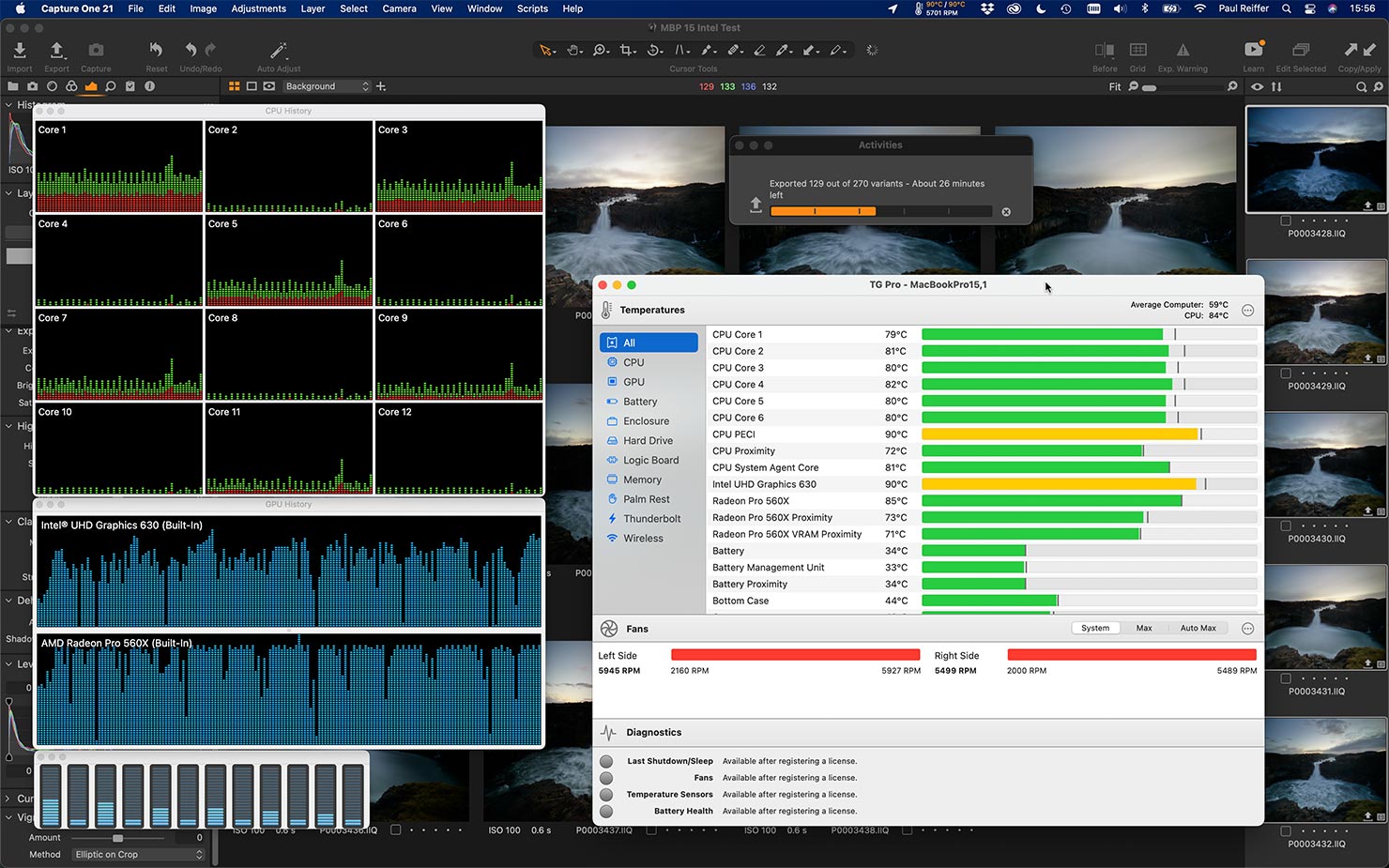 <aaand insert lunch break here…>
That's right – 50 minutes later, it was done – and so was my grilled cheese sandwich I'd placed on top of the case for that time.
Talk about bringing back memories – of waiting for ages for outputs, of needing to plug in as the battery died, of apologising for the noise of the multiple fans on overtime, and (painfully) of all those slightly burned legs that resulted from doing these things with the machine on my lap.
Yeah – for me, this is the point of no return for those old systems – the world of Apple on-the-road has moved things on, and it's a much happier, faster, cooler place to be.
And what about the Mac Pro?
Because I'm always keen to compare as devil's advocate, I wanted to push these exact files through my "big" Mac Pro system to see just how close these new M1 MacBook Pros have got.
When I said earlier that I tried to "really push the system" in my previous testing of the Mac Pro – I did hit one snag: Capture One Pro itself. You see, originally, it wasn't really designed to make full use of the hardware I had available for it to utilise.
Luckily, that's all changed now – instead of only touching one of the dual graphics cards, Capture One Pro really does use the resources in that machine, and so this would finally be a "fair" test of tasks.
The same 270 raw files, the same image adjustments, the same 16-bit TIF outputs: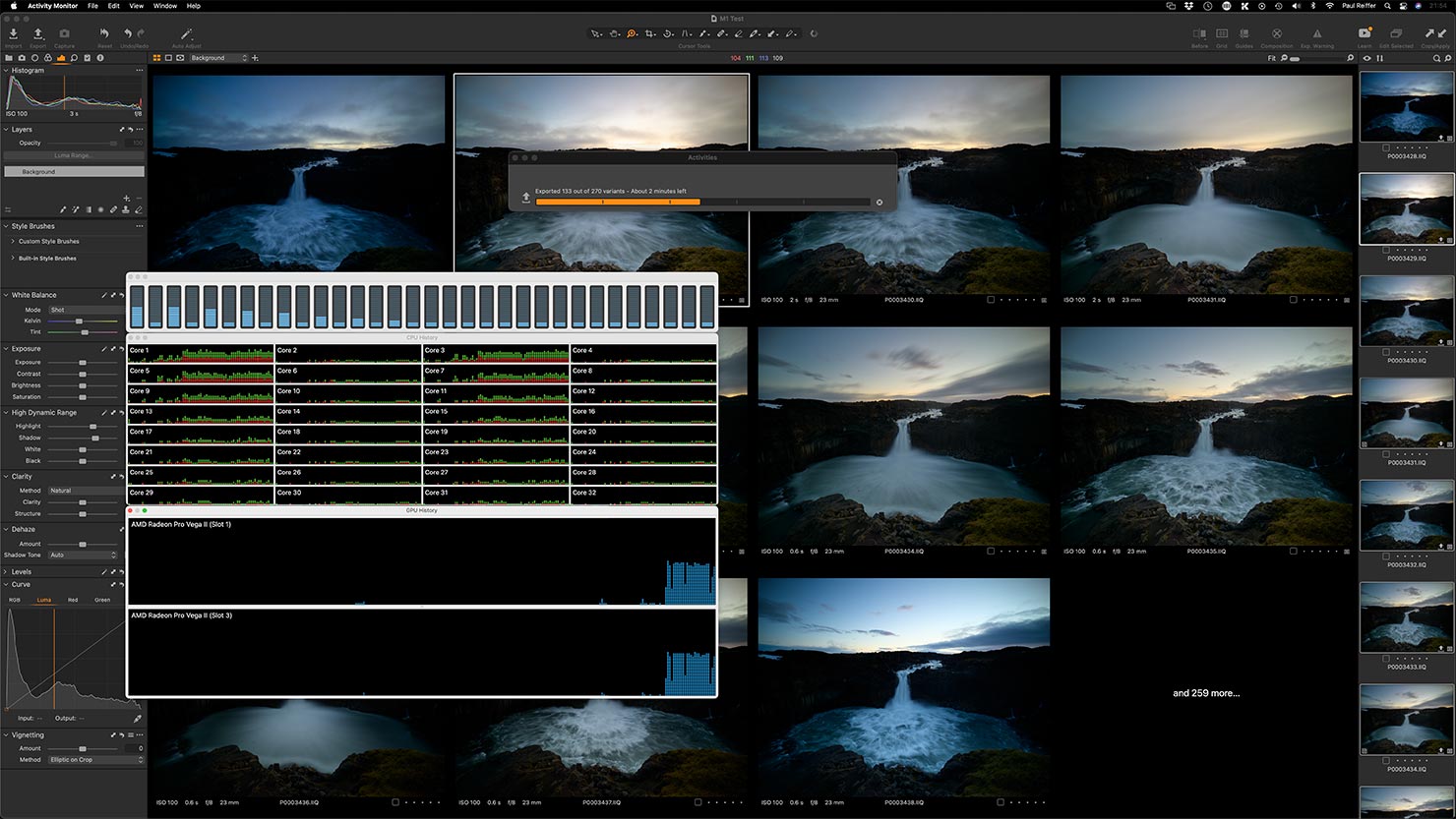 …and on the Mac Pro, it completed in less than 4 minutes.
Was I surprised? No.
Impressed? Kind of – but then, this is a monster system, designed and built from the ground up to just eat its way through data and graphics processing, in a power-driven form factor that's far from portable.
That 16-inch MacBook Pro M1 Max, though?
Well, as far as "bang for buck" goes, I'd say it's currently impossible to beat.
It also raises the next potential question in my mind : If Capture One could be advanced to use the Mac Pro's power in the way it has been in the past year, could it be further enhanced to take advantage of the latest MacBook Pro's 16-core neural engine in the future too…?
---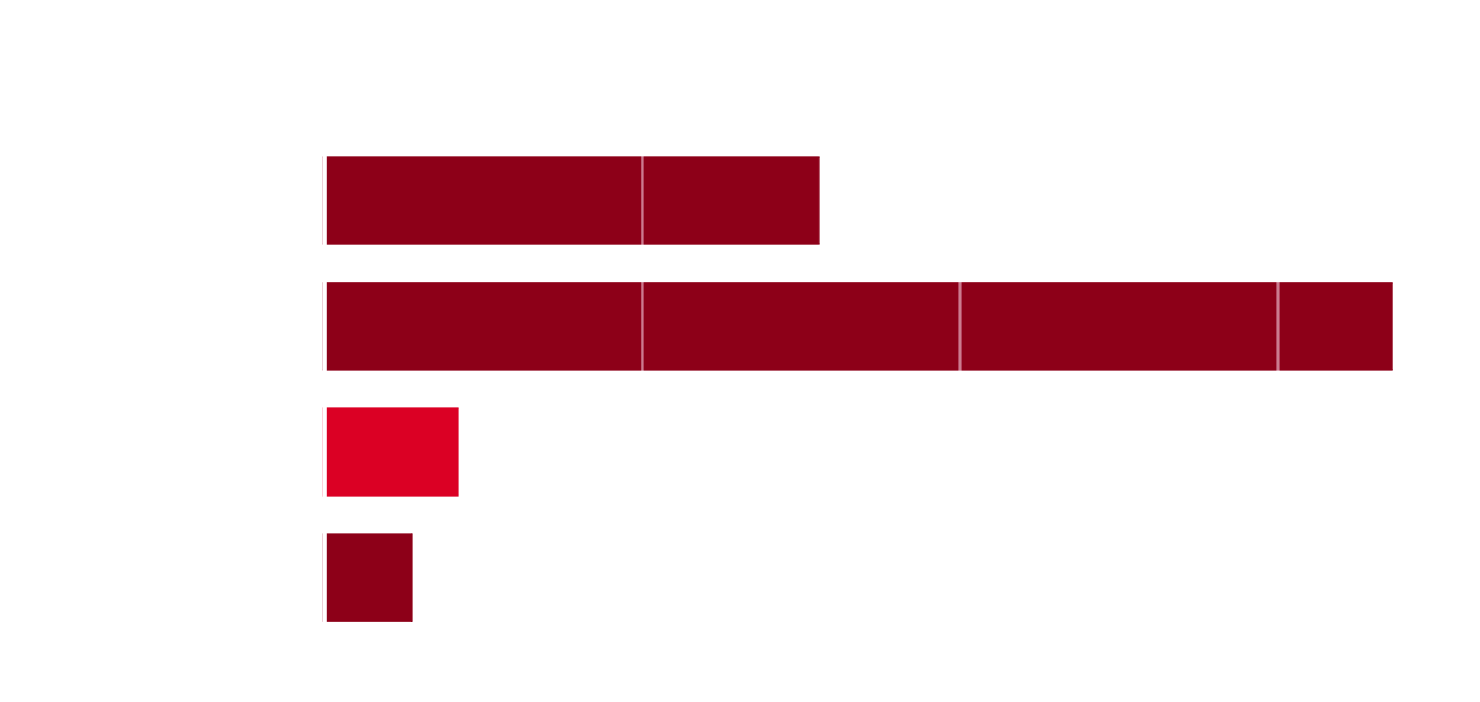 ---
Other Benchmarks
It's all well and good using batch processing to check speed – but while that's a proportion of my activity on the road, it's the speed of general use that's also important to me and this machine delivers it in droves.
While even on high-end machines, I'm used to waiting for "Magic Brush" to finish "Calculating" in Capture One Pro – on here, it takes 1-2 seconds on ultra-high-res shots, no matter how complex the shape.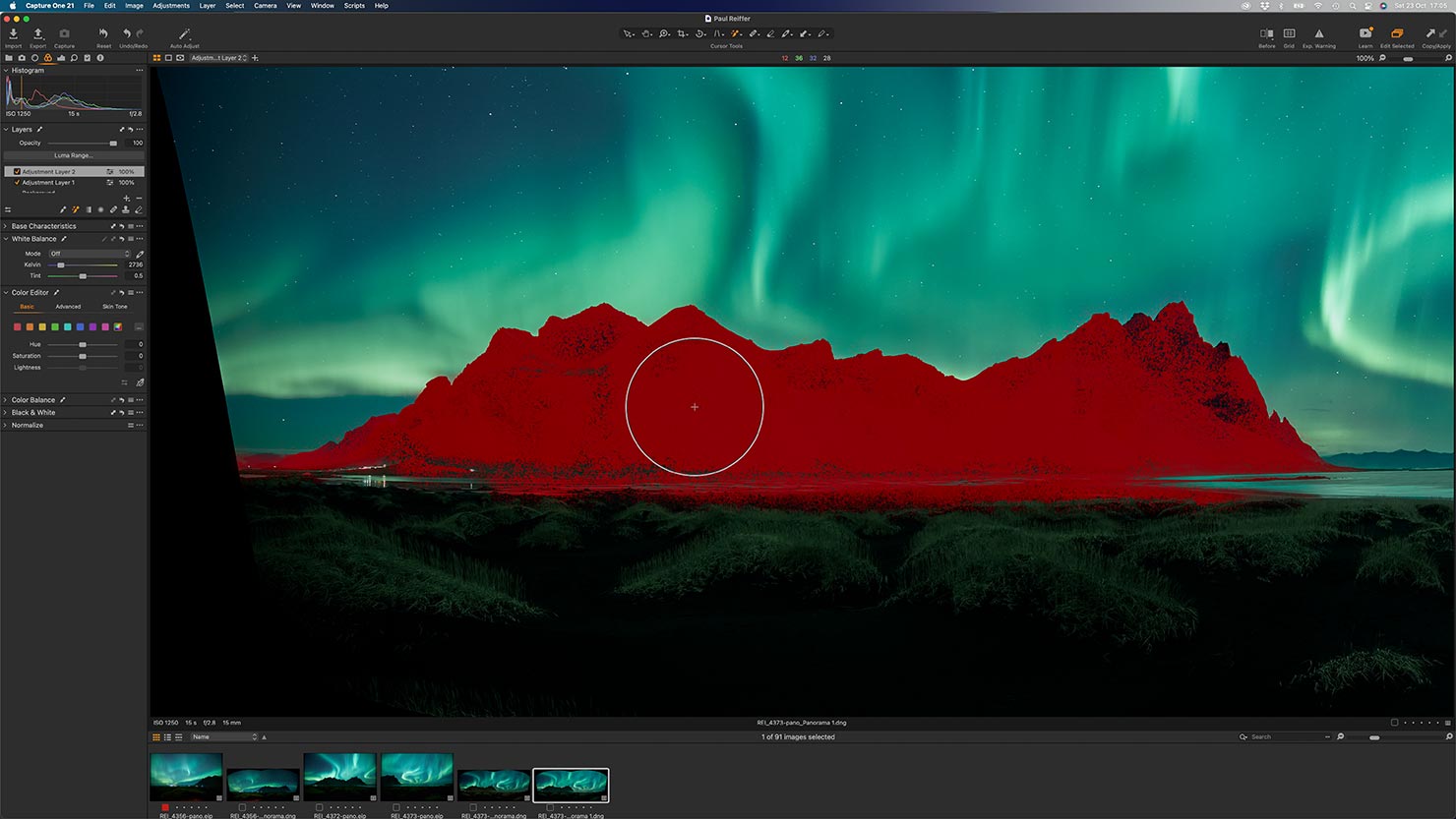 Drawing and erasing masks is done with ease, and luma range selections update without any delay at all – clearly something to do, yet again, with that use of unified memory between the 8 performance CPU cores and 32 GPUs.
Adobe Premiere Pro
I mentioned using Premiere before – and it's an application that I've been relatively underwhelmed with in terms of M1 performance in my previous tests when compared to how much faster other tools have become.
While Final Cut Pro was easily able to make the best use out of the M1 architecture, Premiere Pro frustrated – but on this machine, it's able to export edited and filtered 4k footage at a rate of 5.5 : 1 (minutes of content per minute of processing) – which is a phenomenal improvement over other machines I use.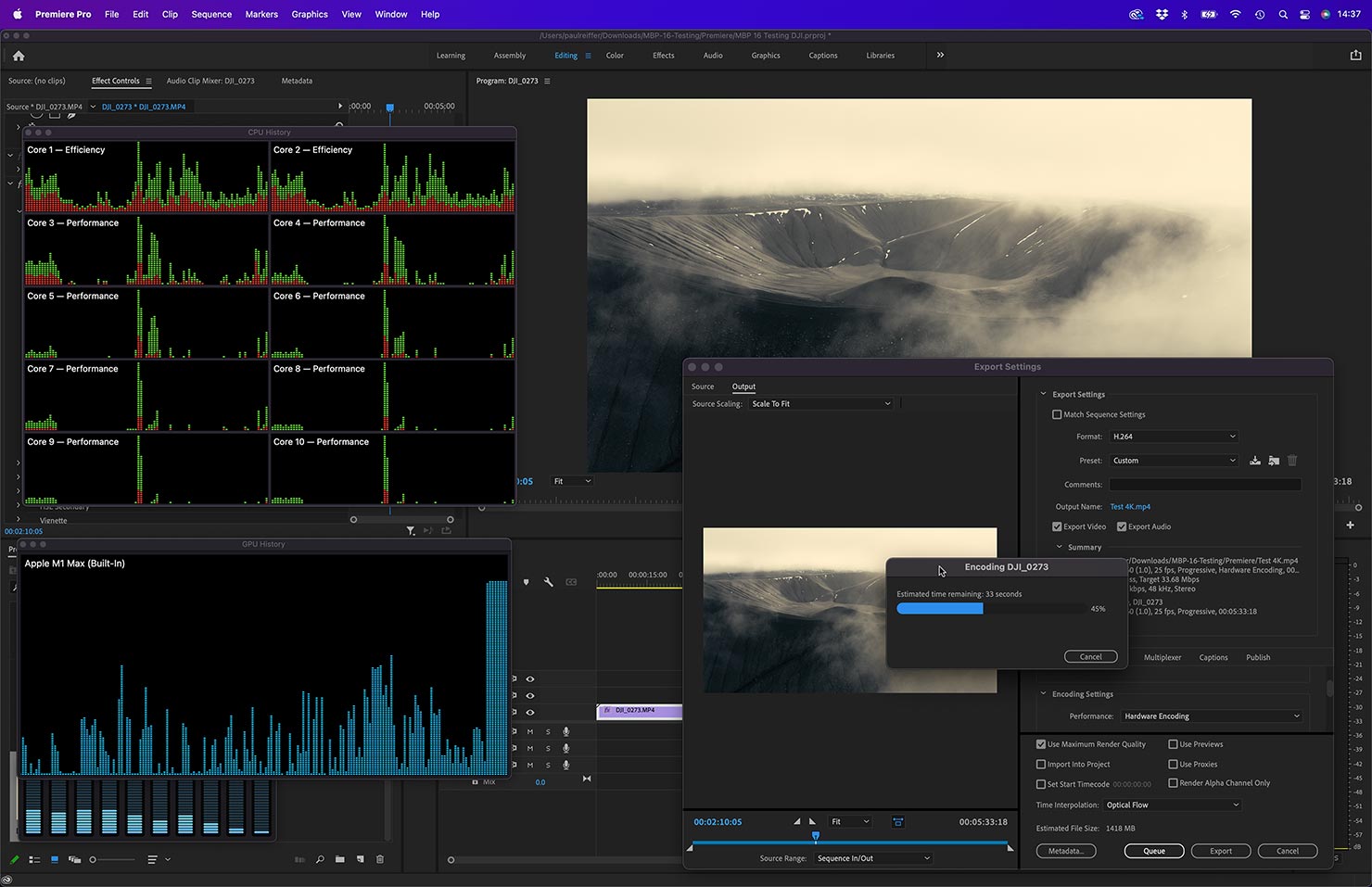 I know many of the benchmarks out there are really focusing on the 8k ProRes Raw outputs (and rightly so), but for me, this is a more real-world scenario that I hope will improve even more as Adobe catch up with their codebase.
---
So, is it fast?
Yes.
That's the simple answer – it's a fast machine, surprisingly so in some areas too.
But that's not the only story here.
Just like its baby brother – the 13″ M1 (and the new 14″ version too), it's not just about how fast it does things, it's about how well it performs while still delivering an incredible screen, ice-cool footprint and multi-day battery life in one package.

There are also a few other changes to the new range of MacBook Pros (not least of which the removal of its name from the front screen, with a replacement being embossed on the base).
Power has changed – significantly.
MagSafe has made a comeback in the form of MagSafe 3 – allowing for incredibly fast charging (50% in 30 minutes), while keeping the ability to continue to charge your machine via USB-C/Thunderbolt as well if desired.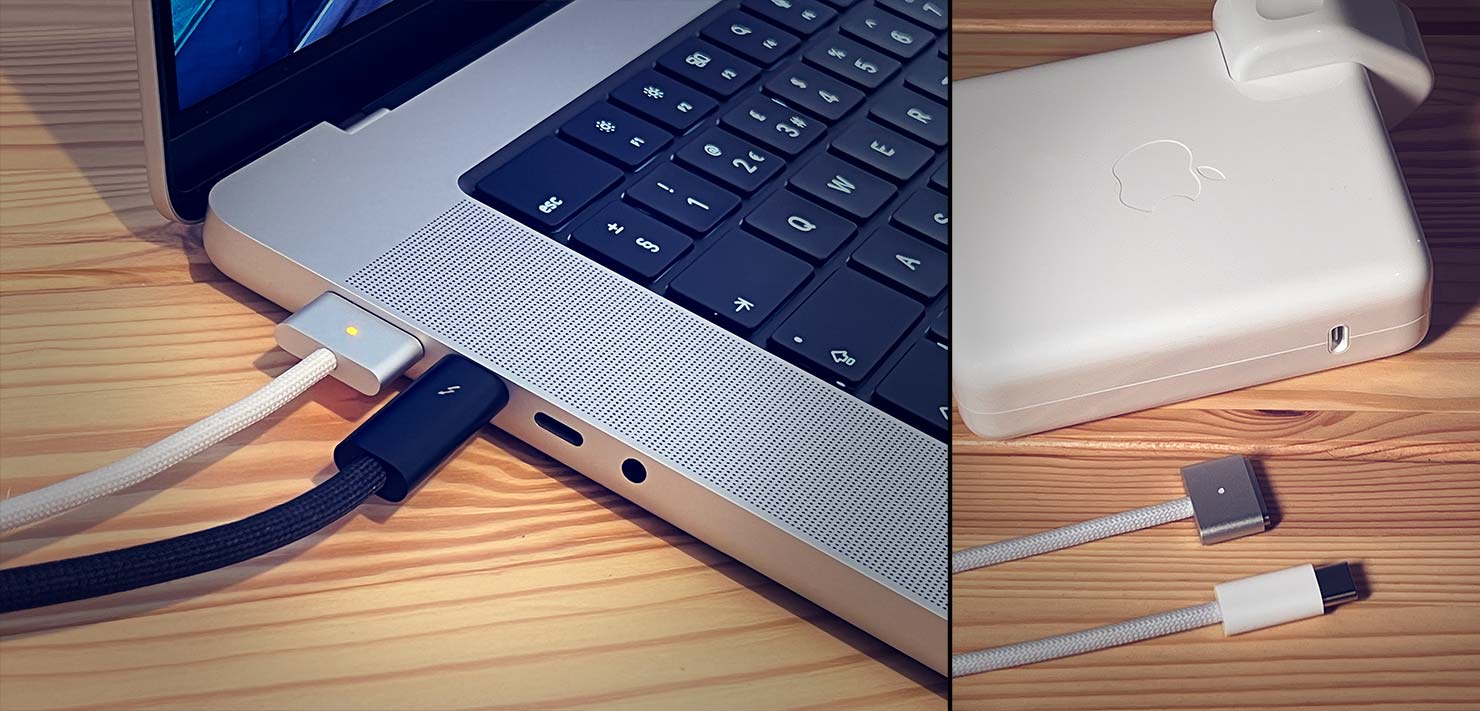 Then there's all those new ports. (They're back!)
We now have 3x Thunderbolt 4 ports that are able to drive those external 6K displays – as well as HDMI and an SD card reader, so I can finally stop worrying about "where my dongle is"!

The keyboard has had quite the overhaul – it's now solid black from corner to corner.
While the 15″ Retina's "butterfly" keyboard received mixed reviews, I liked the latest 13″ MacBook Pro M1 setup so was a little nervous about this change, but I have to admit, it types really nicely and is certainly an improvement on the older versions.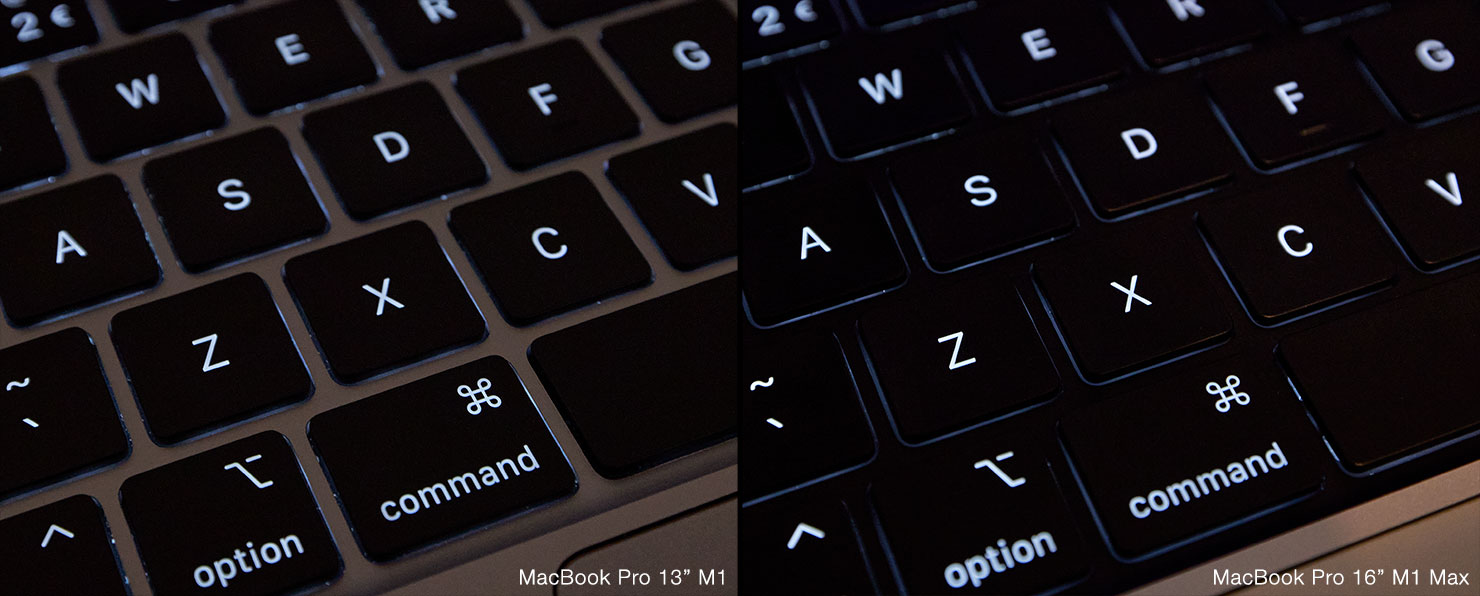 One thing I was slightly disappointed with was the removal of the Touch Bar in this series.
I know many people preferred the physical Function keys – and the Touch ID functionality is now incorporated into the top right power button on the keyboard – but for me, the dynamic bar gave some other advantages too.
Such as, for multiple displays, being able to quickly adjust either screen's brightness – or having access to the keyboard illumination brightness which is no longer available on the keyboard's function keys themselves.

But I guess in the main, it's about compromise – and I know the challenges some faced with the Touch Bar, so I'm not surprised at its removal with this update.
---
On The Road
As a tethered workstation – the new 16-inch MacBook M1 Max really does tick all the boxes for me.
It combines the power of (almost!) my Mac Pro tower, but in a form factor that works while out and about. The screen is phenomenal – in both size and colour accuracy, and it means I really can consider editing final images on the road (rather than stopping at 90% before needing to come back to base for the final 10%).
The fact that it just eats up my 151 megapixel files and asks what's the main course…?
…that's the win.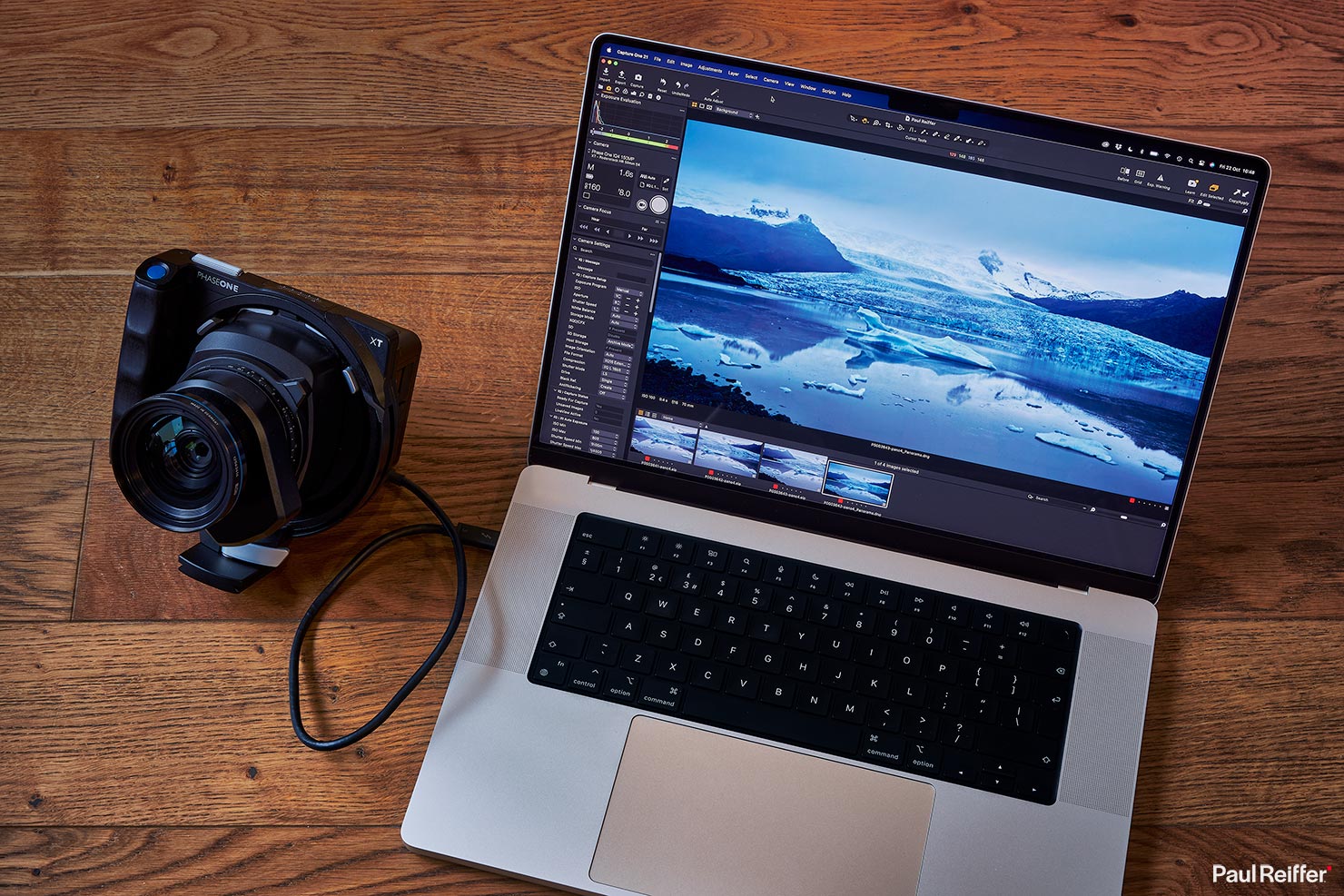 Of course, none of this comes at a size/weight advantage over previous models – but having carried it out and about with me, I wouldn't say it's a dealbreaker.
While the old MacBook Pro models used to look considerably thinner – it was mainly a trick of building it to a tapered edge, and if you measured the unit at its widest, things weren't that far different to the new models.
The new 16″ MacBook Pro M1 series are actually only 0.6mm taller than the previous generation 16″ Intel model and only 1.3mm thicker than the much lower powered 15″ version too.

Weight-wise, the M1 Pro 16″ is 100g more than the previous generation Intel MacBook Pro, with the M1 Max adding 200g to the previous version – not a big issue in either scenario, and it still fits comfortably in my camera bag.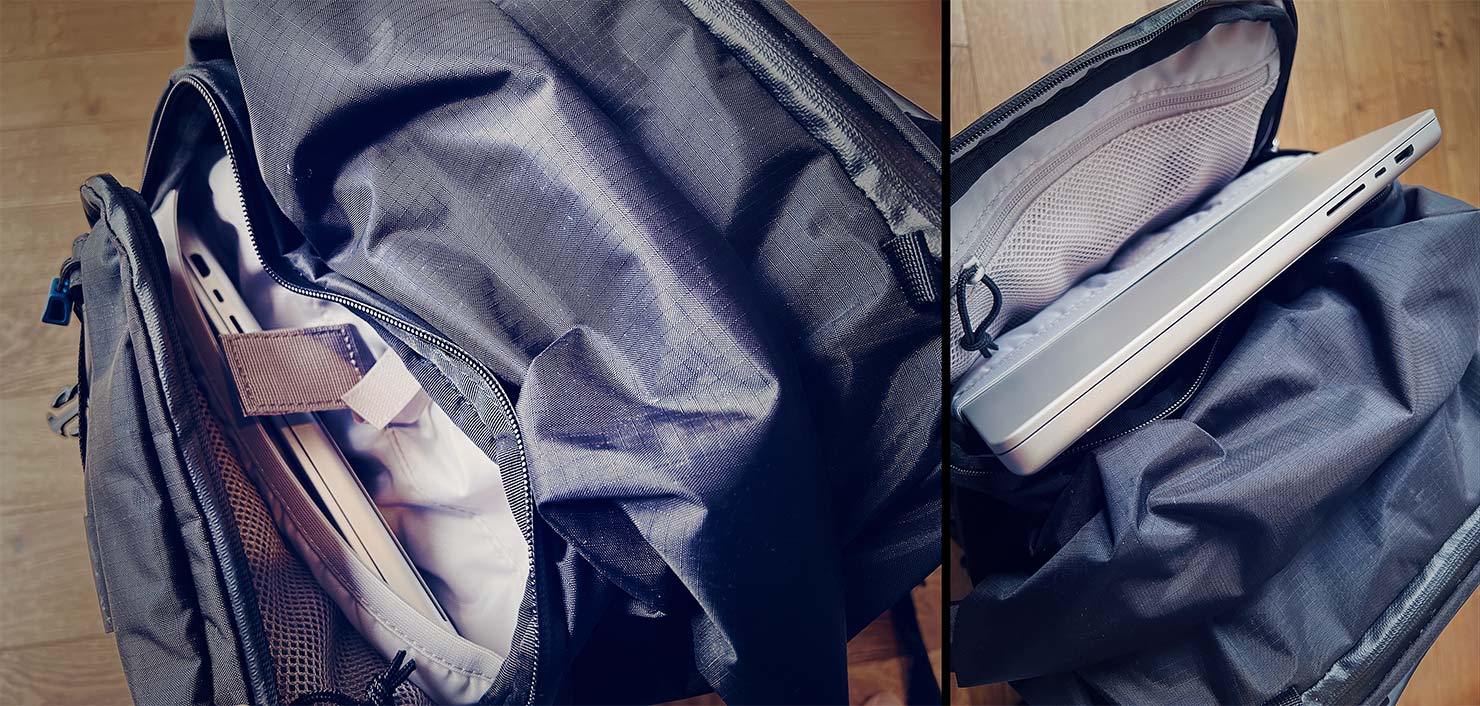 If size and weight really is a concern (and as I mentioned earlier, I am monitoring it myself), then the 14″ version comes in at the same thickness as the old 15″ intel model, and 200g lighter too, so adding the M1 Max processor to that configuration could well be the winner – depending on the screen size you feel you need.
Does it replace my Mac Pro?
Not really – it's a different product for a different purpose.
That crazy tower of a machine has become my "home base" and it's never phased by a single thing I throw at it – but I can't carry it with me around the world!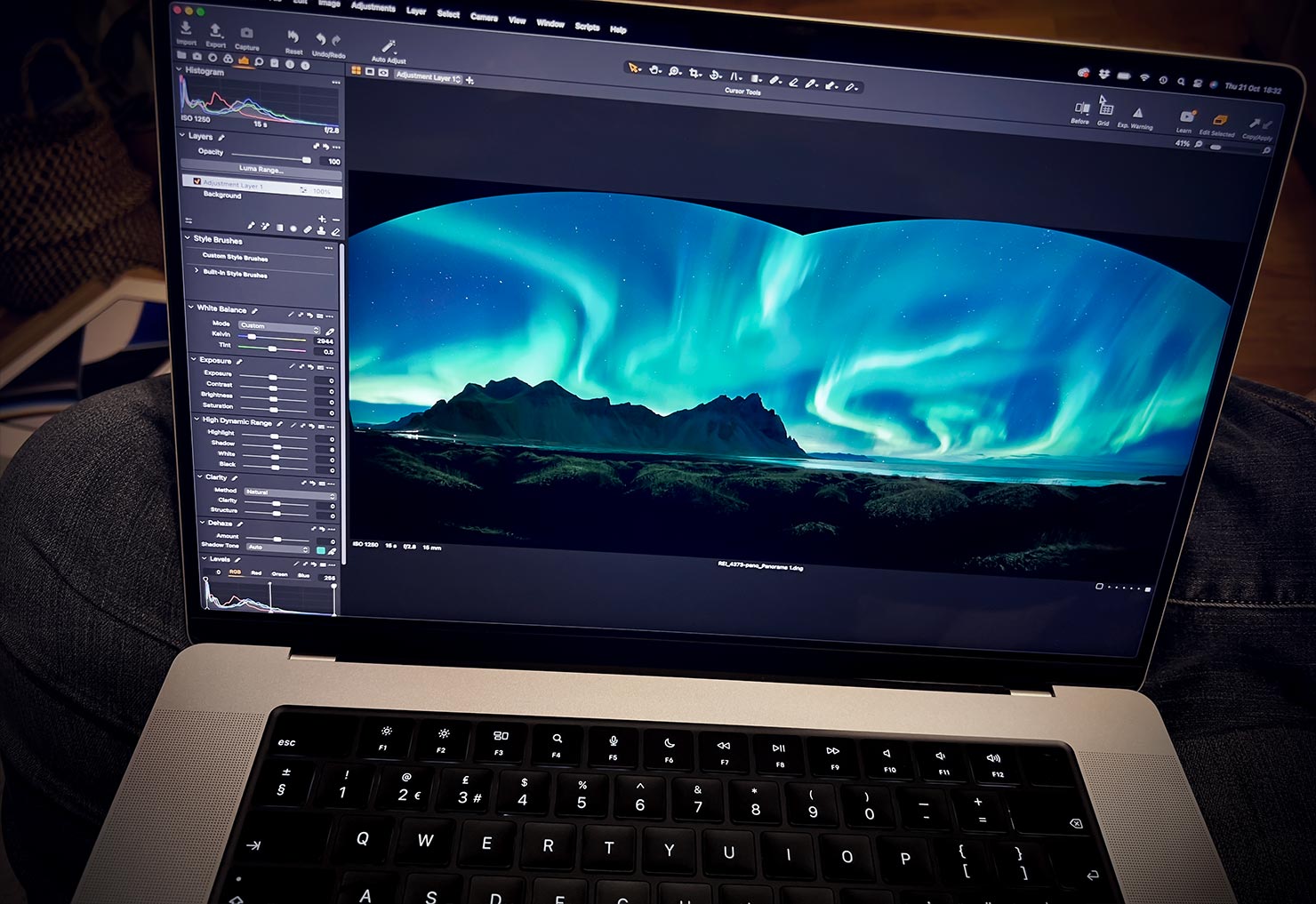 So for now, for me, I'll be found happily editing giant panoramic stitches on my lap for hours and hours without even a hint of warmth coming from this brilliant new little beast, wherever I am on earth.
Finally, I can take my entire workflow with me on the road – with no limits.