We've finally made it happen – Our new Augmented Reality (AR) tool can bring your chosen fine art print to life in your own space, using an iOS or Android device, wherever you choose to be!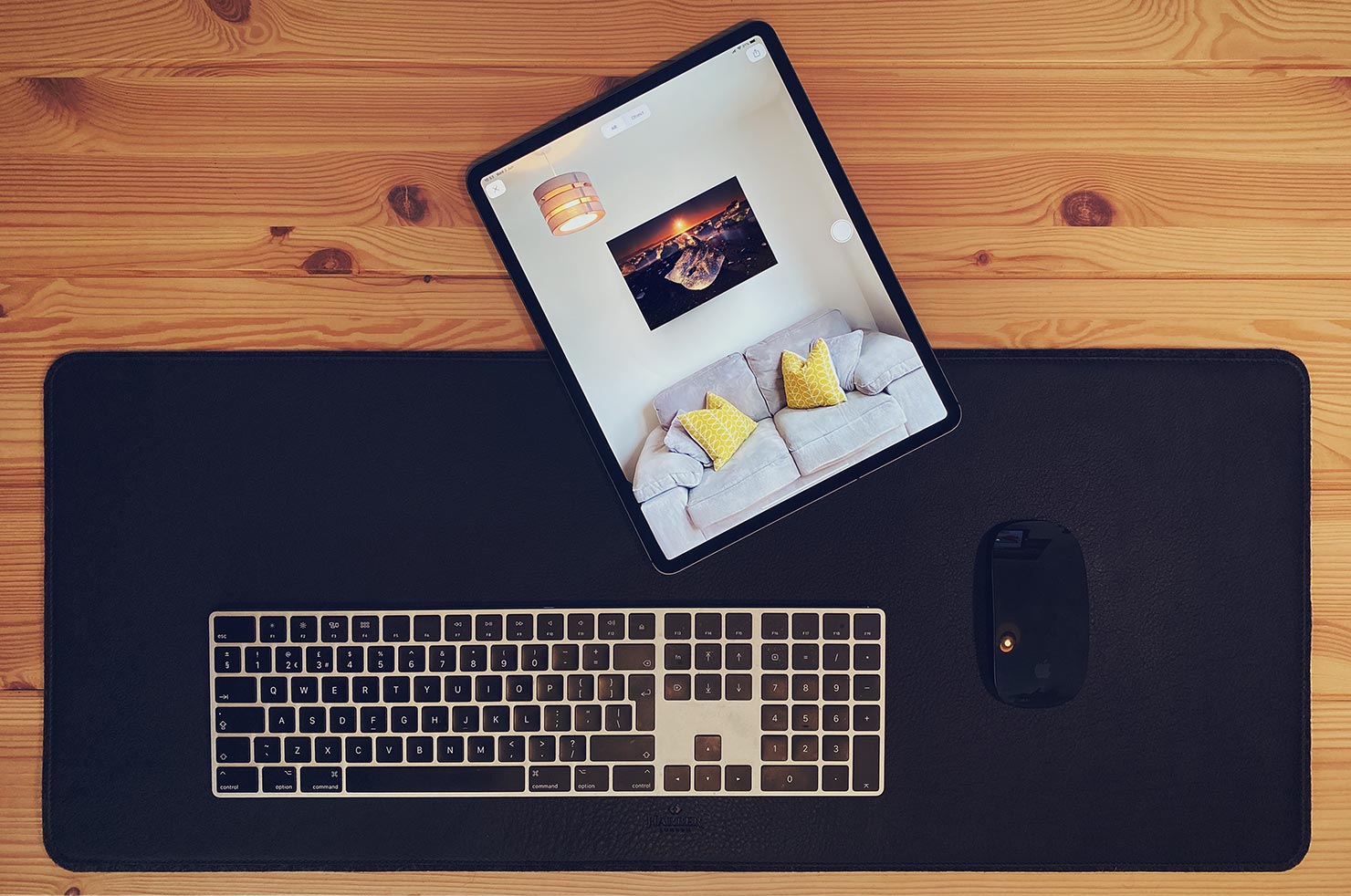 It's been a busy few months here "back at base" – despite having our travel wings well and truly clipped for a while, there hasn't been a moment of down-time for us since the worldwide lockdown began.
Instead, we've been editing a huge library of images, working with new partners on new projects and testing some amazing hardware from Apple and Phase One. Enabled by that technology, on top of all that other activity, we've finally finished testing and can now launch our brand new print visualisation feature – AR.

See Your New Print in Your Own Space
With the click of a single button on any of our Fine Art Limited Edition Prints, you can now use your Apple or Android mobile device to view and walk around our large format images in real time – in any setting you choose.
From home, to office, to commercial locations – we've been scrupulously testing this against "the real thing" for months, and it's now live across our print portfolio for you to use in the comfort of your own space.

The results are reactive to ambient lighting and will adjust to your own environment, with accurate colour temperature and reflections of the light in any room. Each print initially provides a full 42″ x 28″ framed example which can be scaled to any size on your chosen wall.
Explore Every Angle
We've designed each Gallery Acrylic Print to be seen from every possible angle – by switching to object mode in your AR QuickLook function.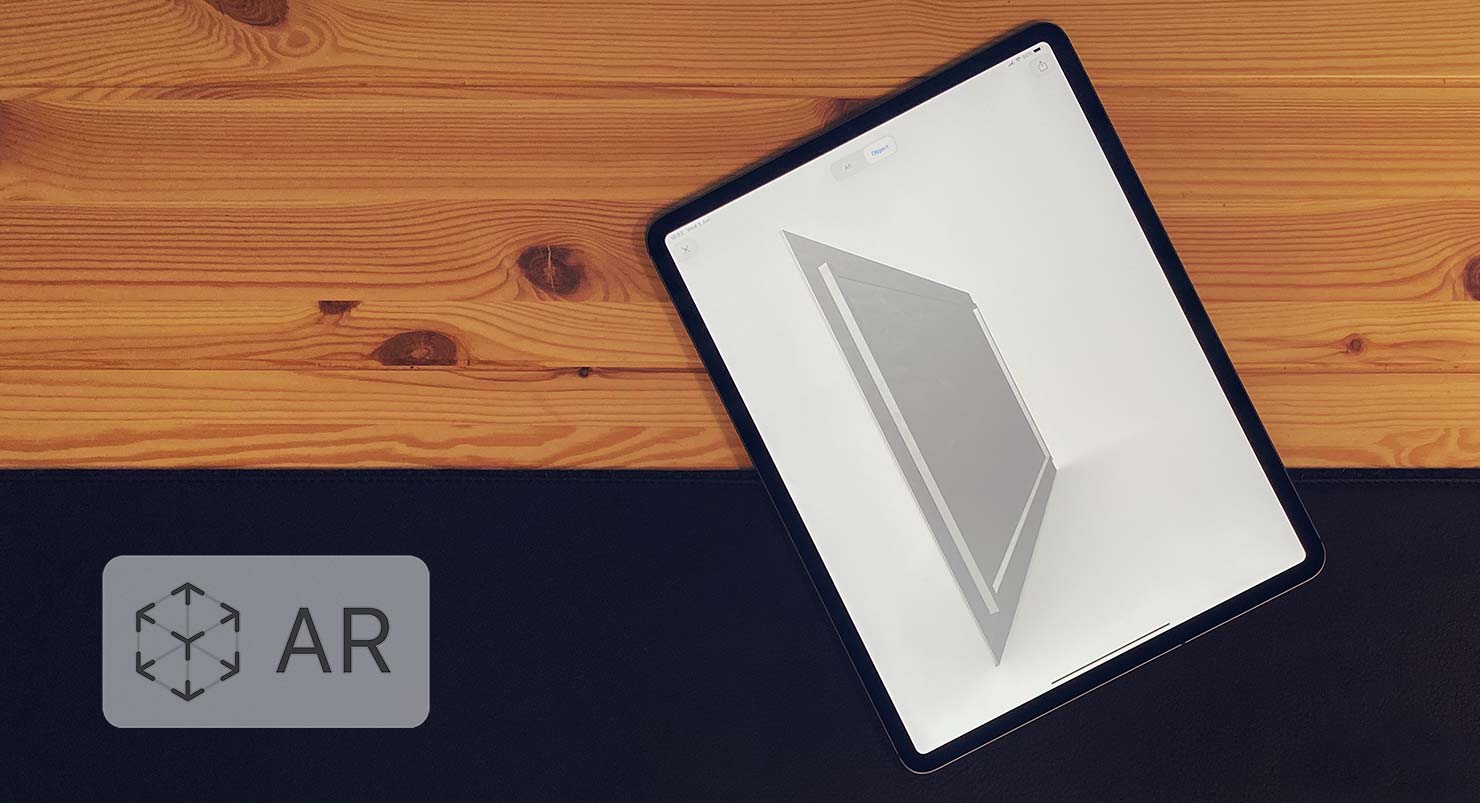 This allows you to spin the print around to see the layers of how the frame is constructed, the impact of shadows on your wall, and up-close into the details of the image itself – all with a swipe of a finger.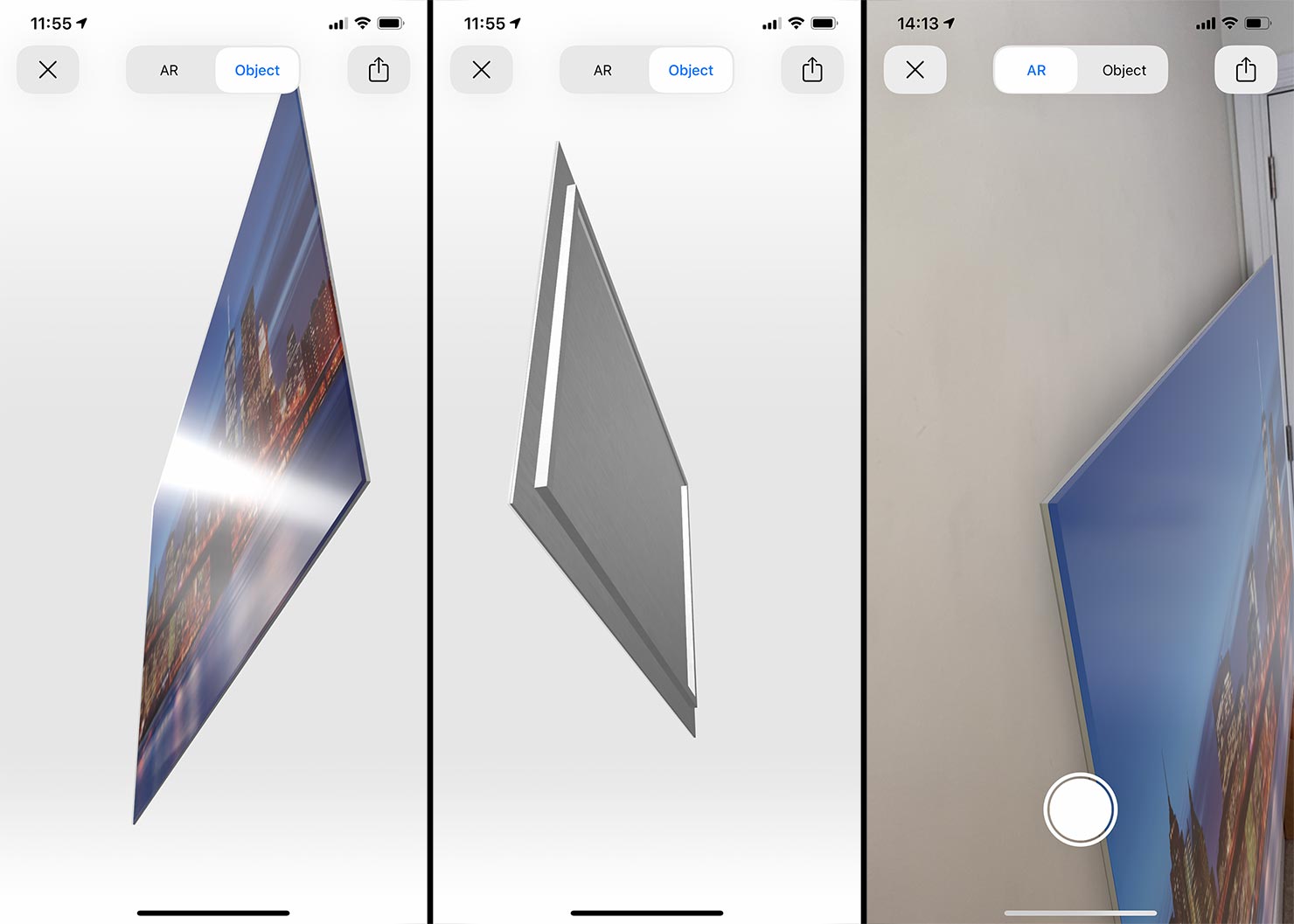 To access the AR version of your chosen print, just head to the individual product from our "buy prints" page with your ARKit/ARCore capable mobile device.
Most phones/tablets manufactured since 2017 are able to display AR – but see the bottom of this post for links to the most recent compatibility lists from Apple and Google.
Enabling AR Mode
If you're using an Augmented Reality compatible device – such as an Apple iPad, iPhone, or Google Pixel phone, etc. you'll see the following box displayed just above your style choices: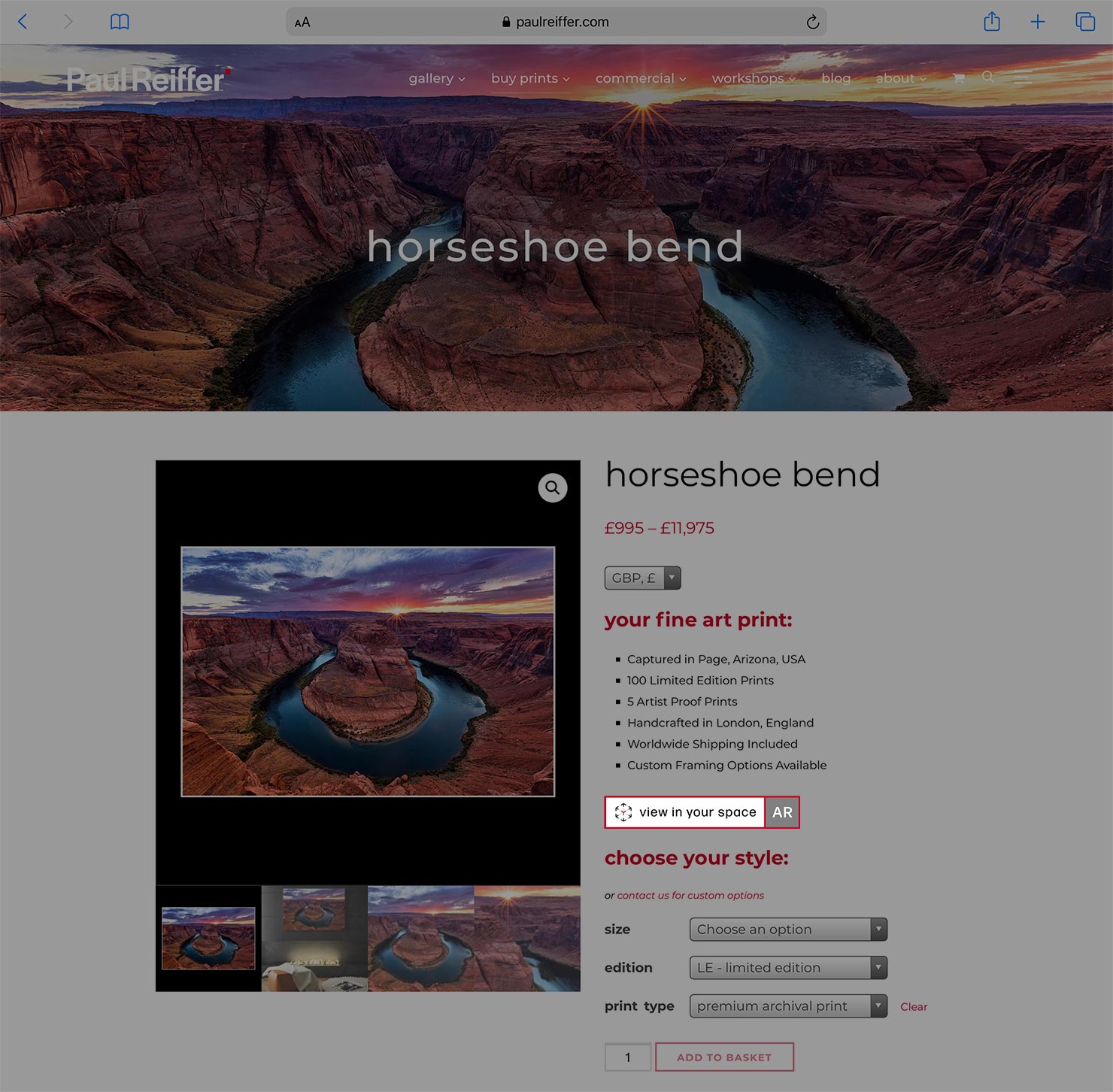 Tap that button, and your device will transform into Augmented Reality (AR) mode. It will then ask you to move the screen around so that the camera can capture the specific wall on which you're looking to place your new piece of art.

You may get prompts along the way to help – if the camera needs more information (especially at the top and bottom of the wall, and into the corners):

Please make sure there's enough light in the room for the camera to see all the details on the wall so that it can ensure the print is sized accurately to your space.

Take a Look Around
Once your device has got a clear view of the room, you'll find your chosen print placed onto the wall in front of you. It can then be dragged around, stretched, "pinched" smaller, and rotated at will – all with simple finger gestures on the screen (see the end of this post for tips).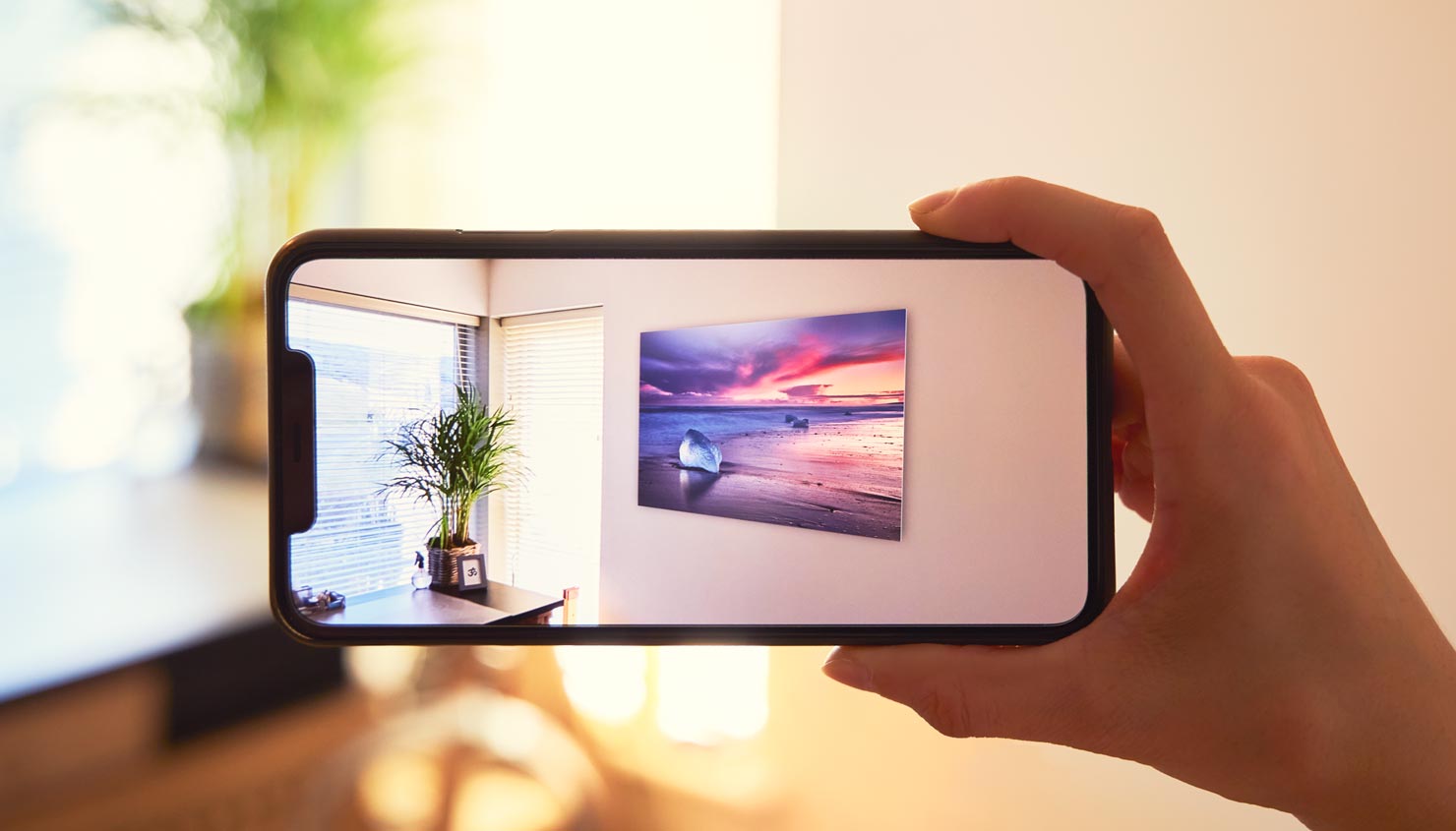 The print will remain in position even if you look elsewhere with your screen. So, you can walk out of the room, walk back in again – and it'll still be in place, waiting for you to see it once more.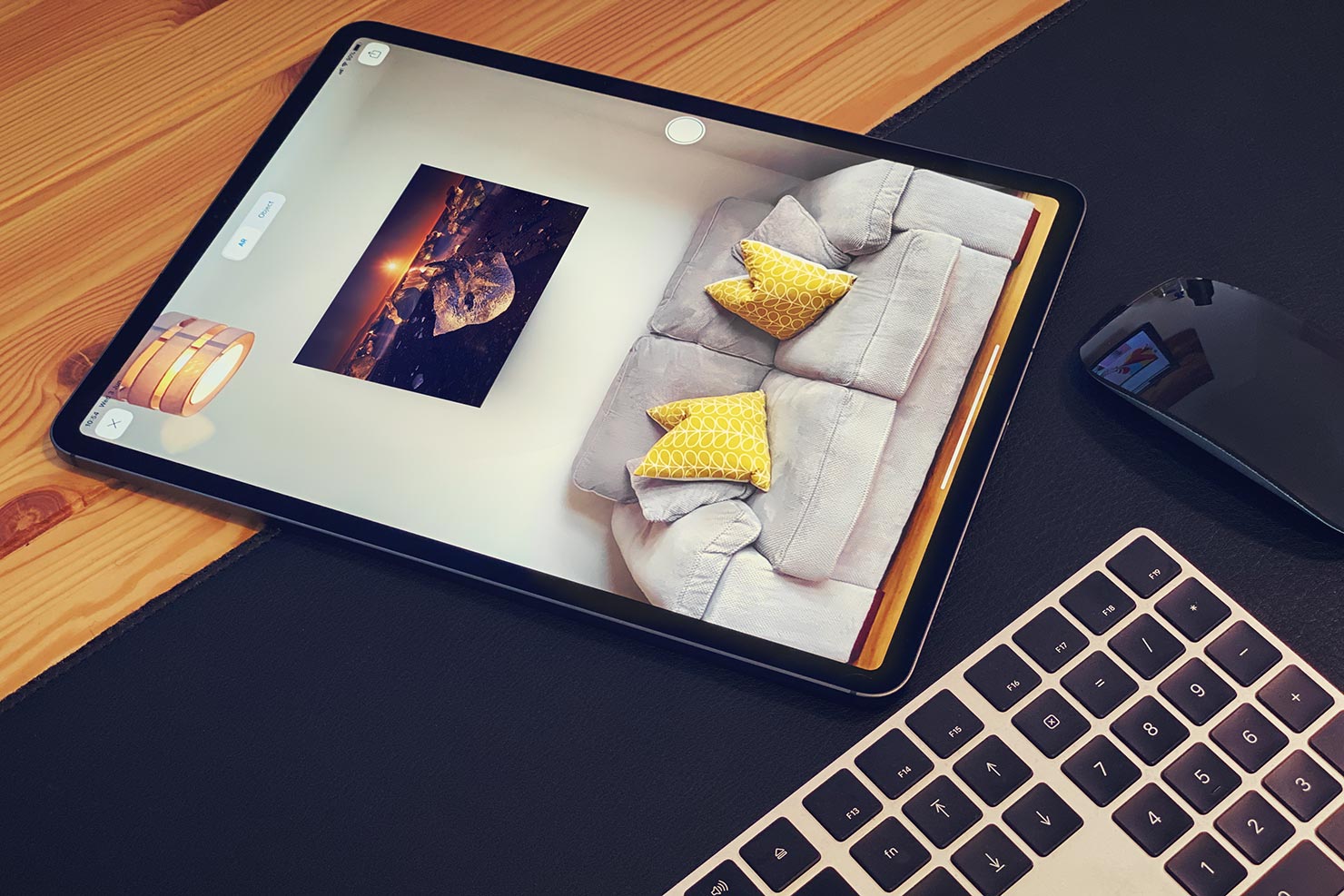 You can screen-print using the standard button sequence on your phone or tablet – to revisit later, share with friends or compare with other print options – and once you're done, just hit the X to return back to our print store online.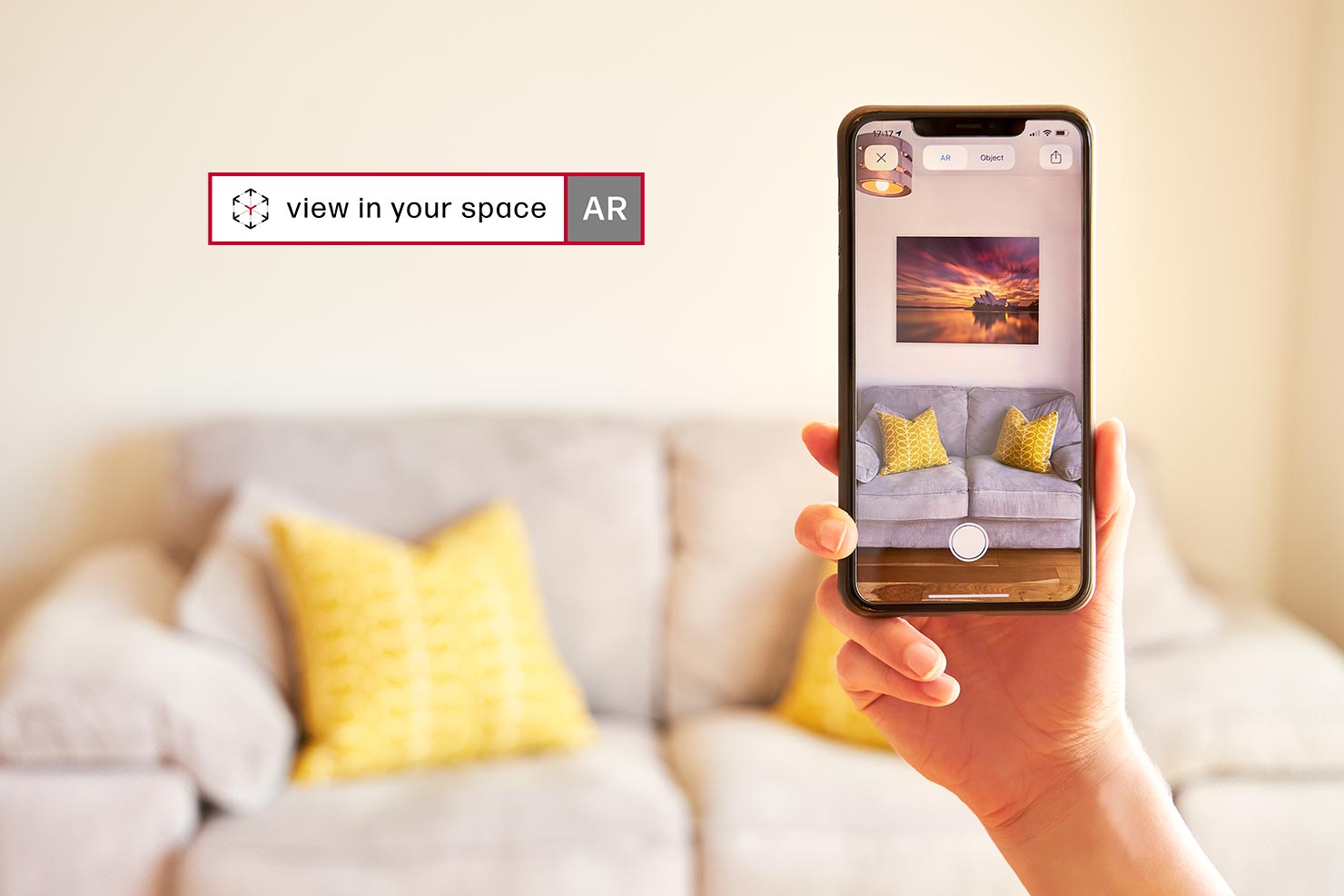 So the next time you're viewing one of our prints and want to know how it could look in your own home, office or commercial building – you'll find a handy little banner to remind you to grab your phone and take a look!

And for those of you now sick and tired of staring at the same four walls for the past few months – what better time could there possibly be to check out our online store and choose something that will brighten up the view?
---
Hints & Tips:
Use multi-gestures to position the print around your room. You can use one finger to bring it closer, or further away, two fingers rotating to spin the frame, and two fingers sliding up/down or left/right to move it around your wall.
At this point in time, AR QuickLook is much more reliable and intuitive on iOS devices than it is on Android. Known problems on Android include lack of movement in low light and an inability to shift the frame from the floor. Such issues are constantly being worked on as part of ARCore (Google), but in general Apple devices currently provide the better experience.
When launching AR on an Android device, you may be forced to "ground" your print on the floor to begin with. You'll then need to use a single finger to slide onto the wall. This is different to the gesture of two fingers held together to move the object around on the same plane, as is the case with Apple.
In order for your frame to successfully place into your scene, the area must be well lit – low light levels can result in an inaccurate experience.
For a list of up to date compatible technology, please see this document for Android devices and the bottom of this page for Apple/iOS phones and tablets.