Sometimes it's great to just have a bit of time to experiment and play with a new way of seeing the world. When 95% of your photography is capturing the outdoors or images for commercial clients, a few hours in the studio with some new toys to play with can open the mind (and shutter) to something very different indeed.

Whether you hear it referred to as "water drop photography" or "splash photography", we're generally talking about the same thing. Using really fast flash speeds alongside some clever (or lucky) timings to capture drops of water as they hit the pool below.
To make this as easy as it can be, we're going to need, and use, a few key ingredients:
1) A remote-controlled water drop delivery system. In this case, I tried out the MIOPS "Splash" kit, with its intuitive remote app and simple setup, attaching it to a tripod and turning it on was almost all the preparation that's needed. Of course, you can do this manually, with a dripping bag or human control, but trust me – this is much, much, easier!
2) A macro lens. In this case, as I was only experimenting, I just grabbed an old 100mm Canon macro lens – allowing us to get really close to the subject and remain focused while filling the frame.
3) Some powerful, "freeze capable" flashes – in this case, the Rollei HS Freeze 6 heads, capable of flash durations as short as 1/19,000th of a second. With their 600W of power and wide spread from the attached reflectors (along with the option of coloured gels for added effects), these are the perfect setup for this type of photography.
4) Some water! Seriously, however, we need to think about what the water is going to fall in to – a flat-topped transparent vessel is key, allowing us to fade out the edge to infinity in the background of the final images.

So with all that set up, it was time to try out the first drop.
In order to pick up the droplets more easily, I added a small amount of food colouring to the top tube – meaning a slightly orange drop fell into an otherwise clear pool of water below. By luck, our timings were right, and this was the first capture: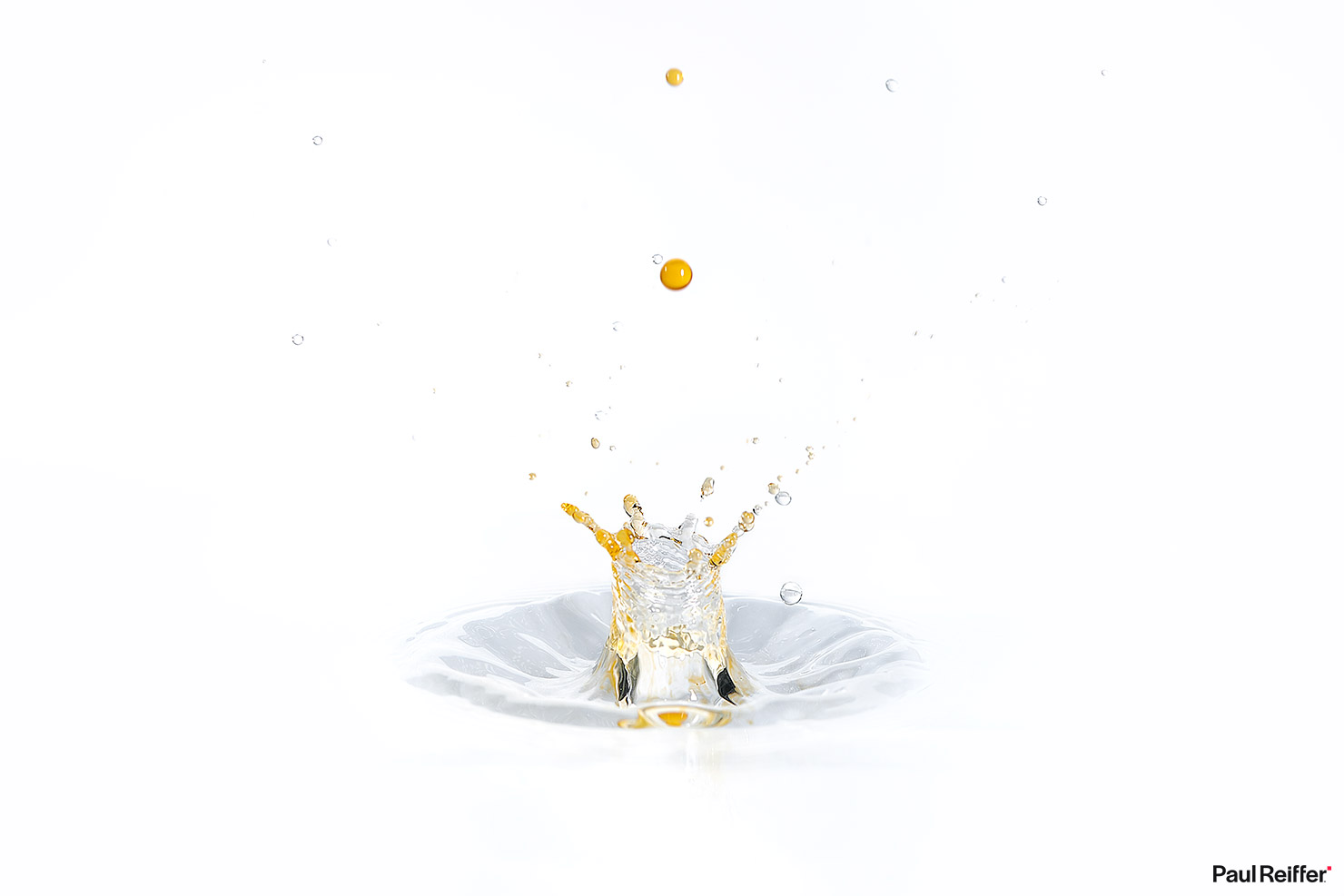 So what about adding those coloured gels to the flash heads? What would happen if we fired a little bit of red light back at the water with one flash, while firing more powerful white light at the main pool?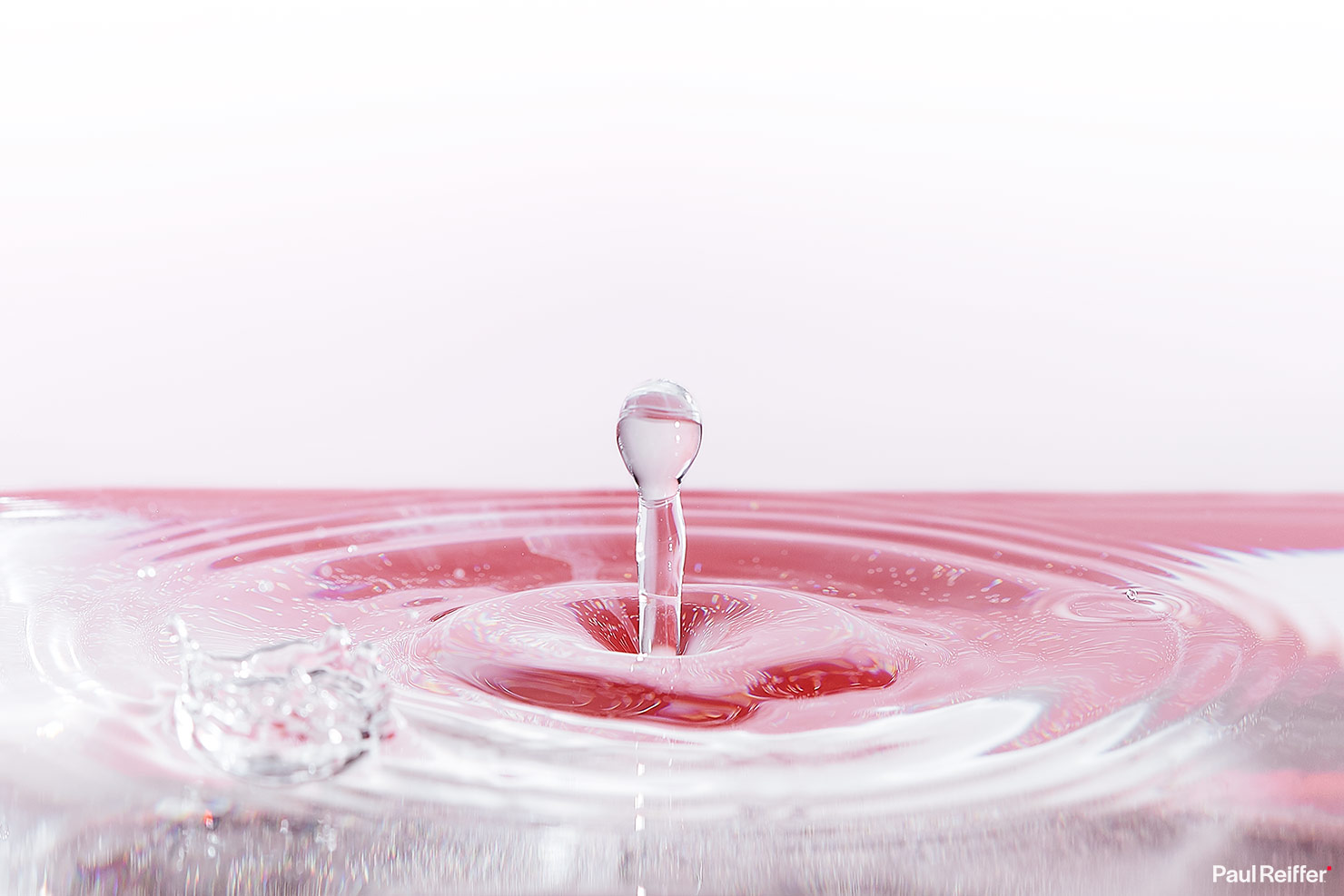 Granted, that shot could be confused with diagrams from certain biology lessons, but a cool effect nonetheless – and what was the difference in the splash shape from my first attempt? Well, that's all down to the app: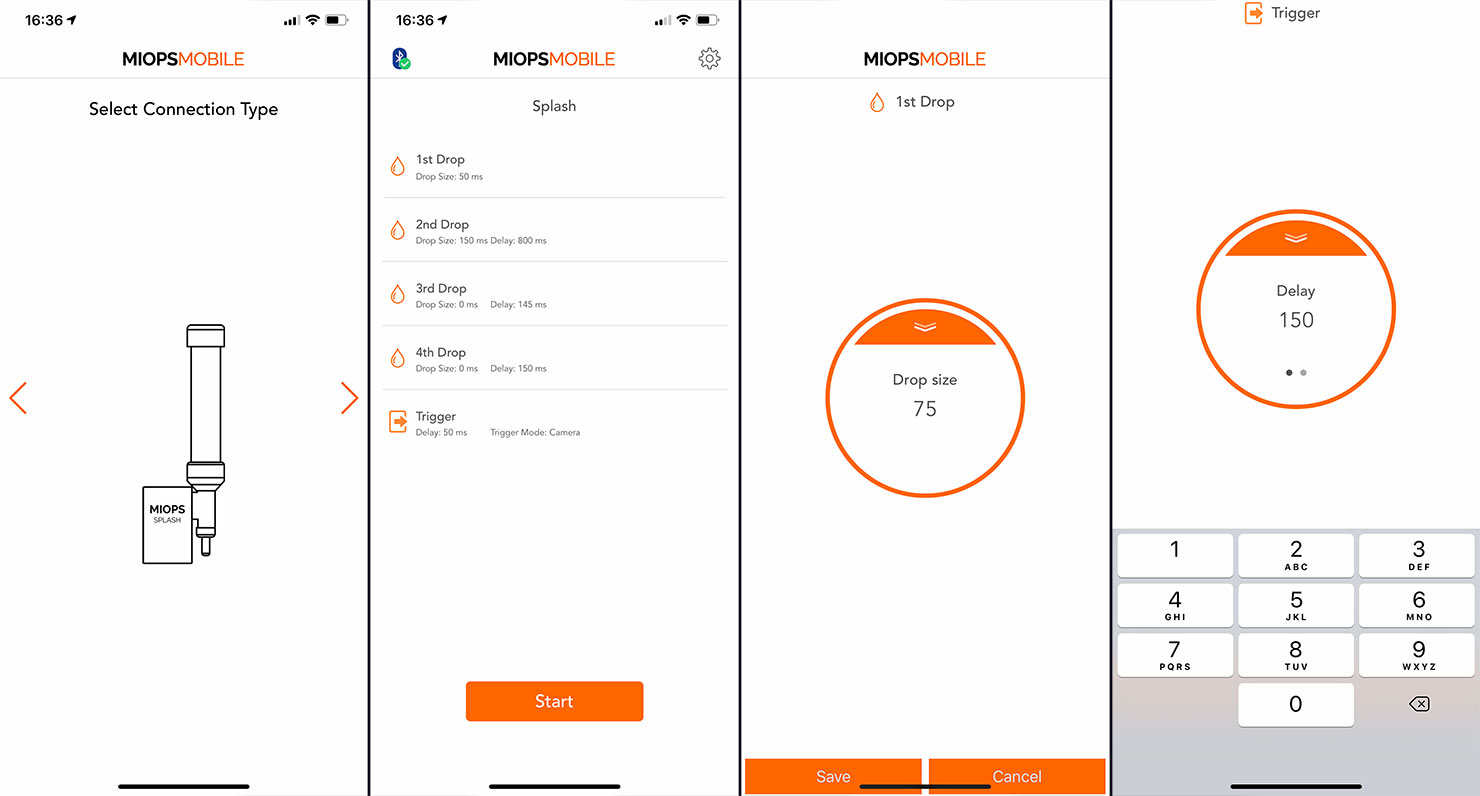 With the MIOPS controller, not only can we set the delay to match the exact height of the drop's fall, but we can program in different droplet sizes and multiple drops to follow at a set delay in a sequence. Pretty cool, huh?
Knowing that capability, and the ability for these HS Freeze 6 heads to freeze the motion at the exact point the droplet hit, it was time to play around with more light and coloured water possibilities. What if we shone a mix of blue and red light into the bowl, while still illuminating the background in white? (Granted, we're up to 3 flash heads now!)

What about if we fired two orange droplets down into a clear pool, but with a blue light across the foreground?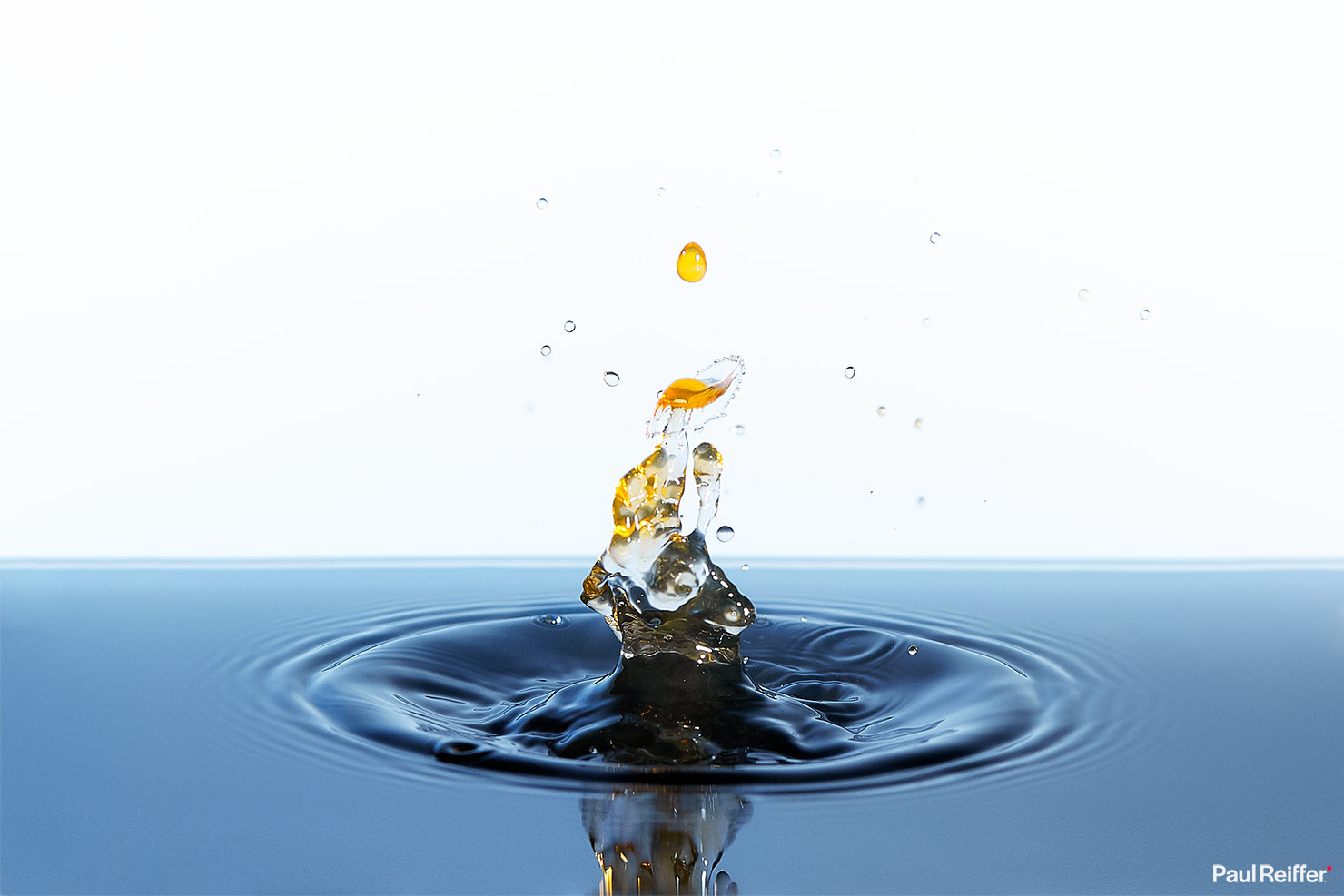 Or how about sending black droplets into our pool of orange liquid below, with simple white light all around?

The setup, equipment and timings were all working perfectly and the results were similar to what I'd seen created by others in a similar environment. It can get messy (remember the pool below needs to be full to the brim, so it does spill out after a few drops!) – and it can be annoying having to continually change the water over when the dye from above has taken over the main body of water – but the captures were abstract and exciting to see with each and every click.
Some small tweaks were needed every now and then – to power settings, distance of flashes to the subject, but our aperture and shutter speed (which isn't really relevant when using freeze flash) were constant, so it was more about creative lighting and colour than the actual button clicking.

One thing, however, that I'd seen before was still missing : Shapes.
You see, when water falls directly from above in a neat droplet, the resulting splash tends to be rather uniform and symmetrical – just like the results I'd seen so far. With some small adjustments to the angle of the drop controller above the bowl, along with an increase in droplet size, and we were looking at an entirely different set of captures: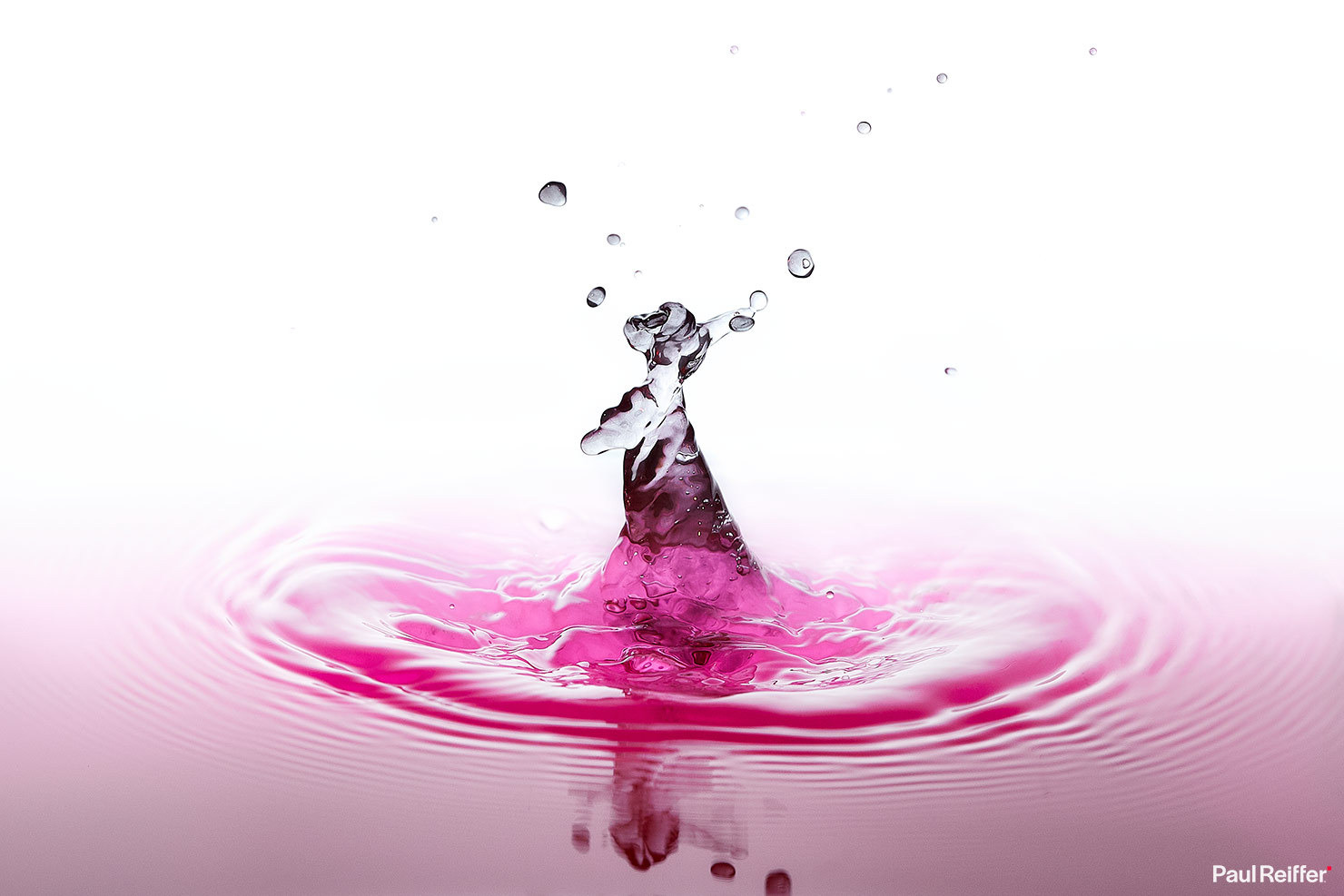 How's that for "the shape of water"?
Or, if we want to go a little less cute, there's this "little monster"…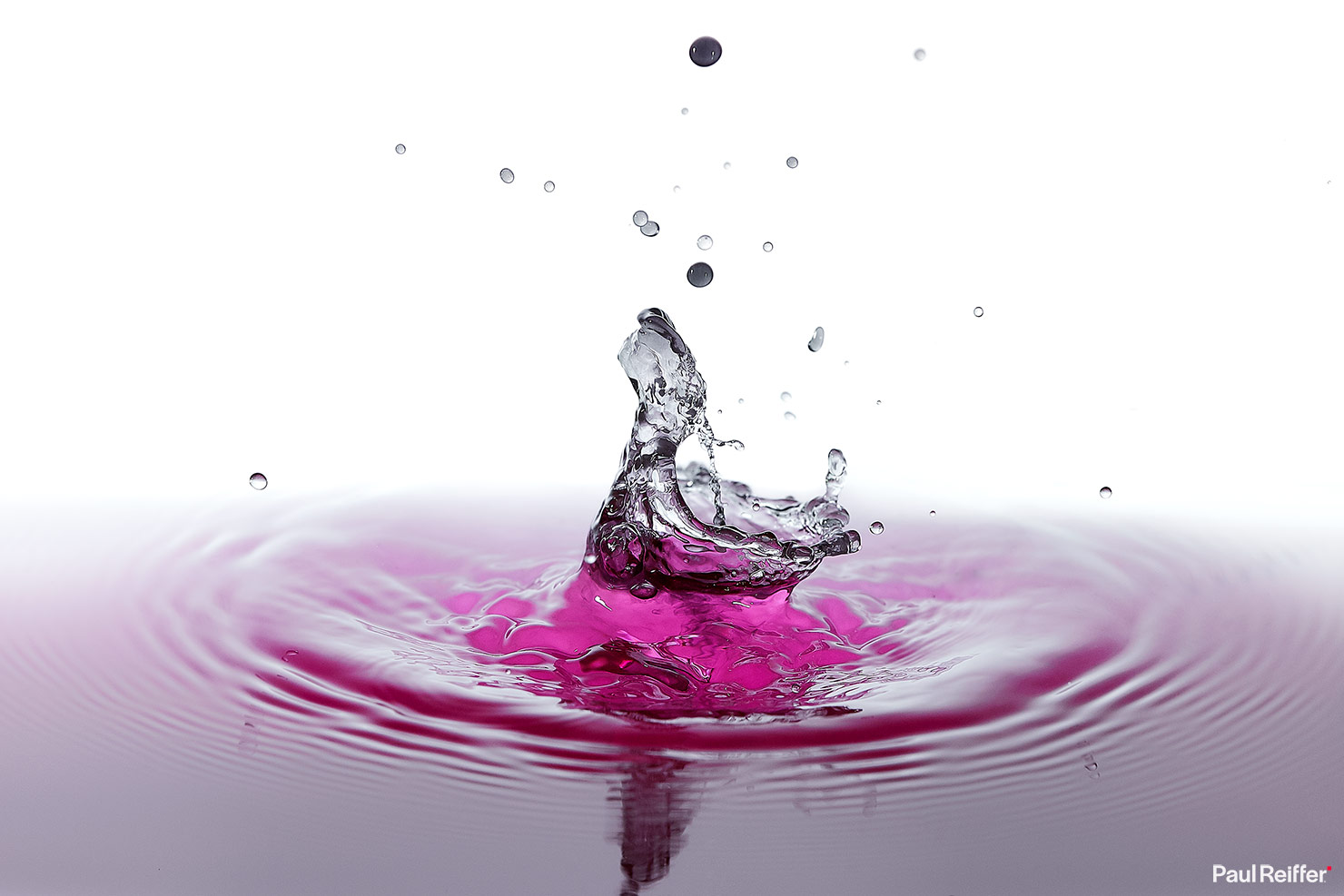 So that's it – easy enough, and pretty fun to try to capture.
As I mentioned above, all perfectly achievable through manual methods, with holes in bags of water, lucky trigger timing, and speedlight style flash units – but using the right equipment allowed me to focus on what was important, the shapes in the water, rather than the technical difficulties of capturing it 100% by chance.
A few tips for those wanting to give it a try:
1) Manual focus – you'll need to focus on a point directly under the source of the drops, and lock that off on the lens. Any autofocus is going to get it wrong the second you press that trigger.
2) The cable releases, whether to the flash units to to the camera shutter (in this case, I had the splash unit control the shutter on the camera, which in turn fired the flashes) will induce their own delay. Depending on how long the cable is, you'll need to experiment to get the perfect timing.
3) At these distances, and wanting the images to be as bright as possible in a freeze scenario, the use of relatively wide apertures delivers its own challenge too : depth of field. Don't expect to get everything from front to back in perfect focus, but don't worry about it too much either – it's a bit of fun and it can add to the artistic effect!
4) Freeze duration – remember that freeze modes on flashes are specified at their lowest power setting. So, that 200W flash head you have is likely only kicking out 10W in its fastest freeze mode. Using the 600W Rollei HS Freeze 6 heads gave me the power I needed to not worry about that, even when capturing at 1/13,000th of a second (in this case).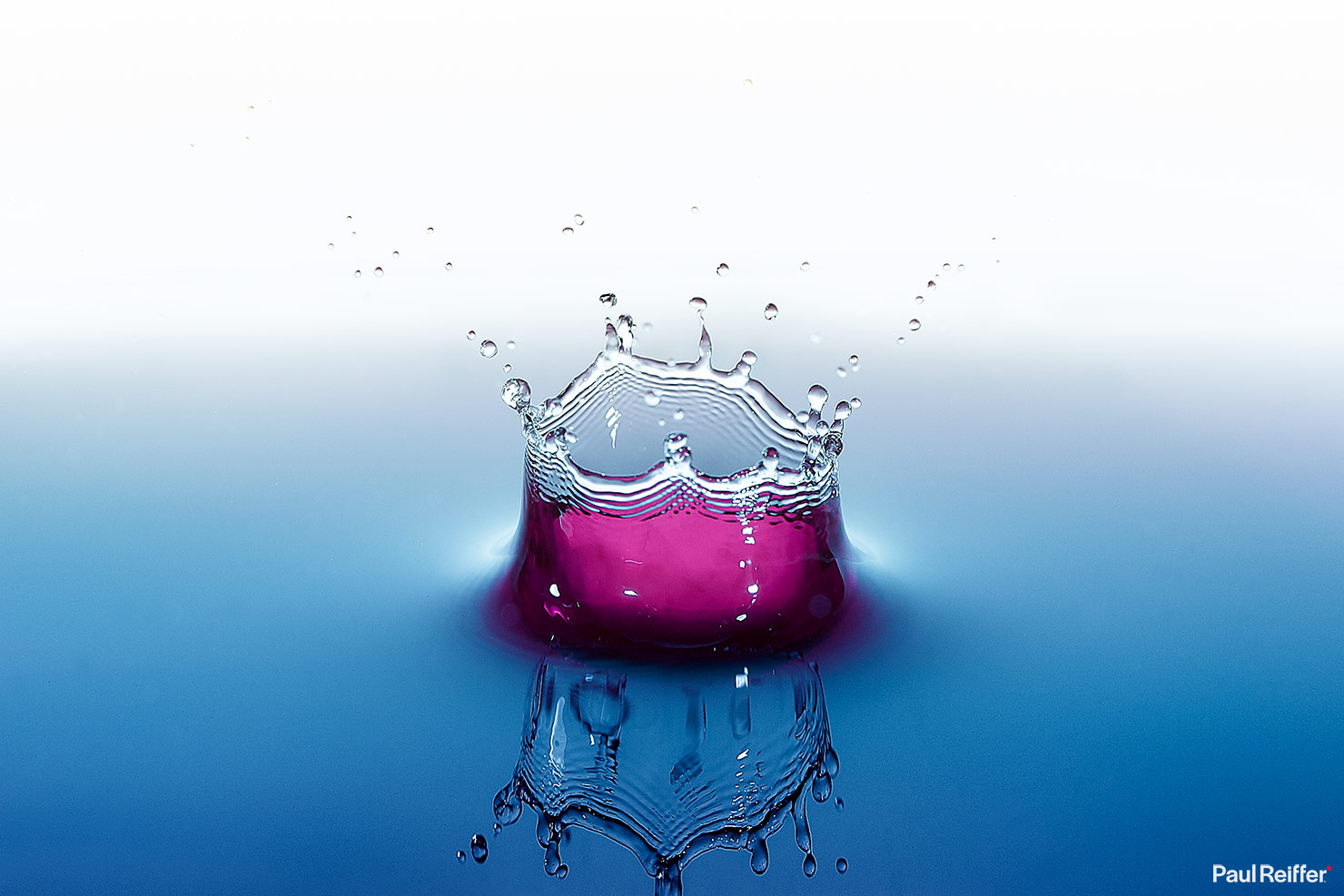 The cherry on the cake? A special offer!
Rollei are offering 25% off their freeze flash head kits to readers of this blog post until the end of January 2019. That's both the battery powered HS Freeze 4 (400W) and HS Freeze 6 (600W) – and as luck would have it, the HS Freeze 6 is also IPX3 rated for water resistance…!
To get the discount, just use code "Freeze25" at checkout to take off 25% from all freeze flash kits and heads.