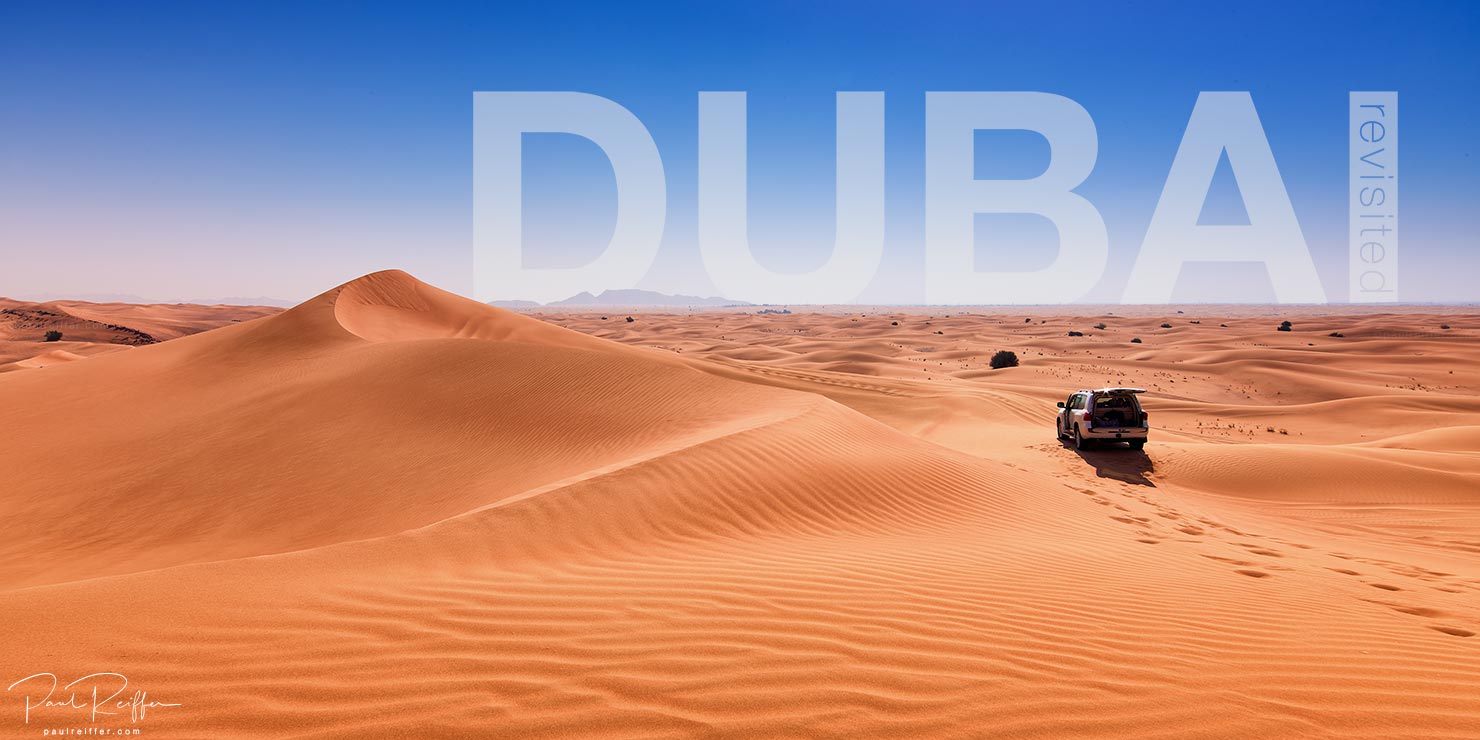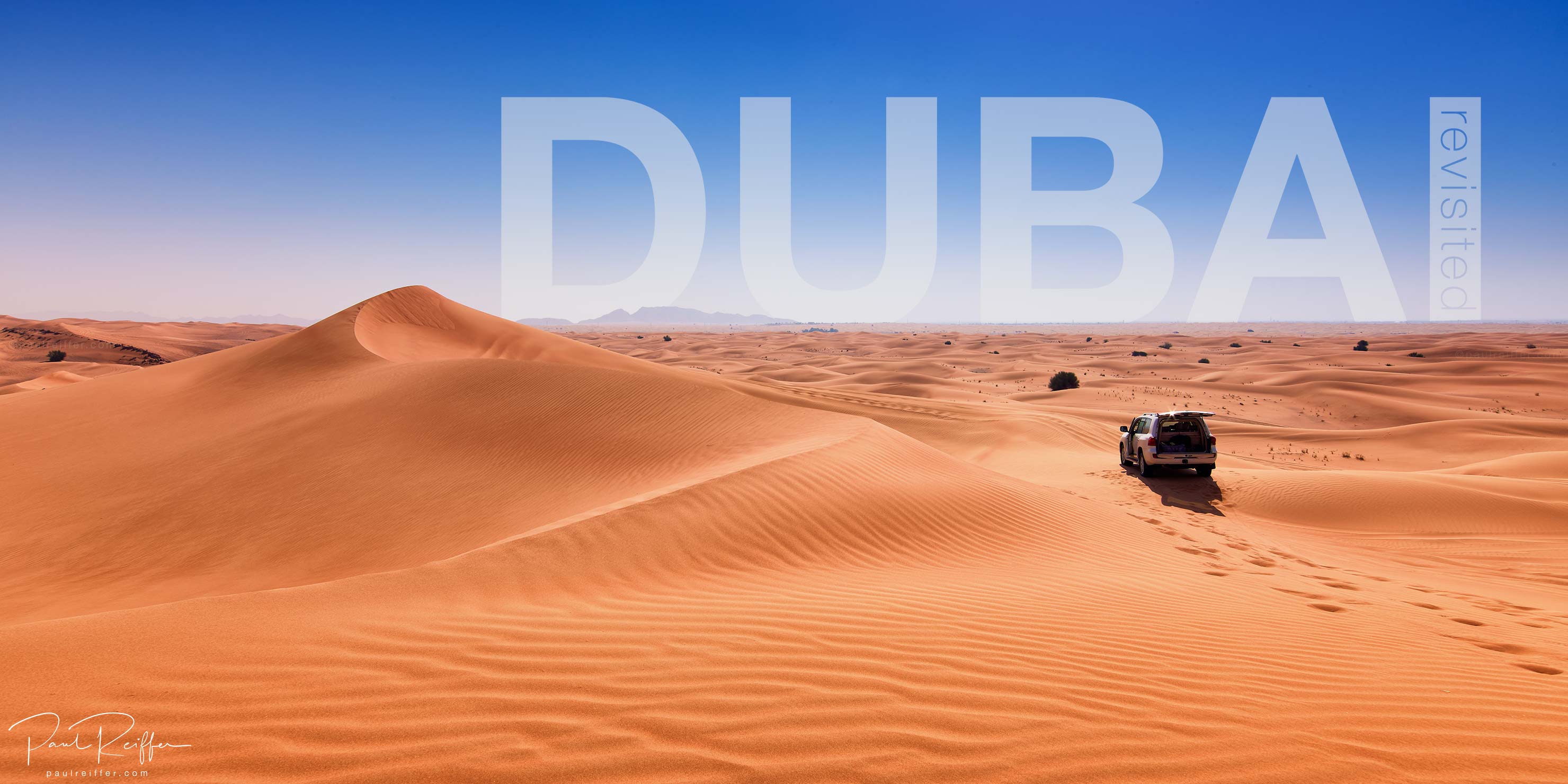 Stepping out onto the scorching hot ground of the Red Sand Desert, I was reminded (rather cheerily) by our guide of the one thing I should be grateful for in this midday sun : "at least it's not last month, it was at least 10 degrees C hotter!".


It was quite a contrast to where I'd been sat just hours before, being looked after in BA's Concorde Room at London Heathrow – getting pampered (in a manly way, of course) and then shouted at by Gordon Ramsay as he instructed all passengers to fasten their seat belts in the new safety video onboard an air-conditioned plane.
Having just spent nearly 3 weeks shooting across China in 40 degrees C during August, that wall of heat that hits you when the aircraft door opens was like the recurrence of a bad dream. It didn't matter though – this trip was about shooting the city from a mix of old and new locations – and the temperature wasn't going to get in the way.


After being picked up by the fantastic Shangri-La hotel (I do love cars with toys and buttons to play with!) I was greeted with a phrase I wasn't expecting on check-in : "do you mind if I put you in a high room with a Burj Khalifa view, Sir?". Of course not – and despite being nearly 1am by the time I saw it, the view brought back all the reasons why Dubai's skyline feels so energetic and alive. Buildings that were simply not there a couple of years back were now skyscrapers themselves, this city really does move at a staggering pace.

Morning one, and it was time to embrace the heat. After introducing others to Patchi (every chocolate fan should, and needs to, know Patchi!) in the Dubai Mall, a quick step outside gave a brief reminder of scale. The rest of the dramatic skyline faded away as we watched 6 tiny dots abseil down the immense height of the Burj Khalifa as part of its window cleaning operation… (Not a job for me, that one)
Still, it did provide the only reason to stay outside in the heat before retreating back to the air-conditioned comfort of the hotel ready for the evening's shoot ahead.
Stood high above the streets, being on the ledge brought back sudden memories of my last visit to this very same spot. The skyline was different, it had evolved; but the city still felt the same. Shangri-La have an amazing location almost directly overlooking the first major Sheikh Zayed road interchange as it heads west into town, and the terrace makes great use of that view.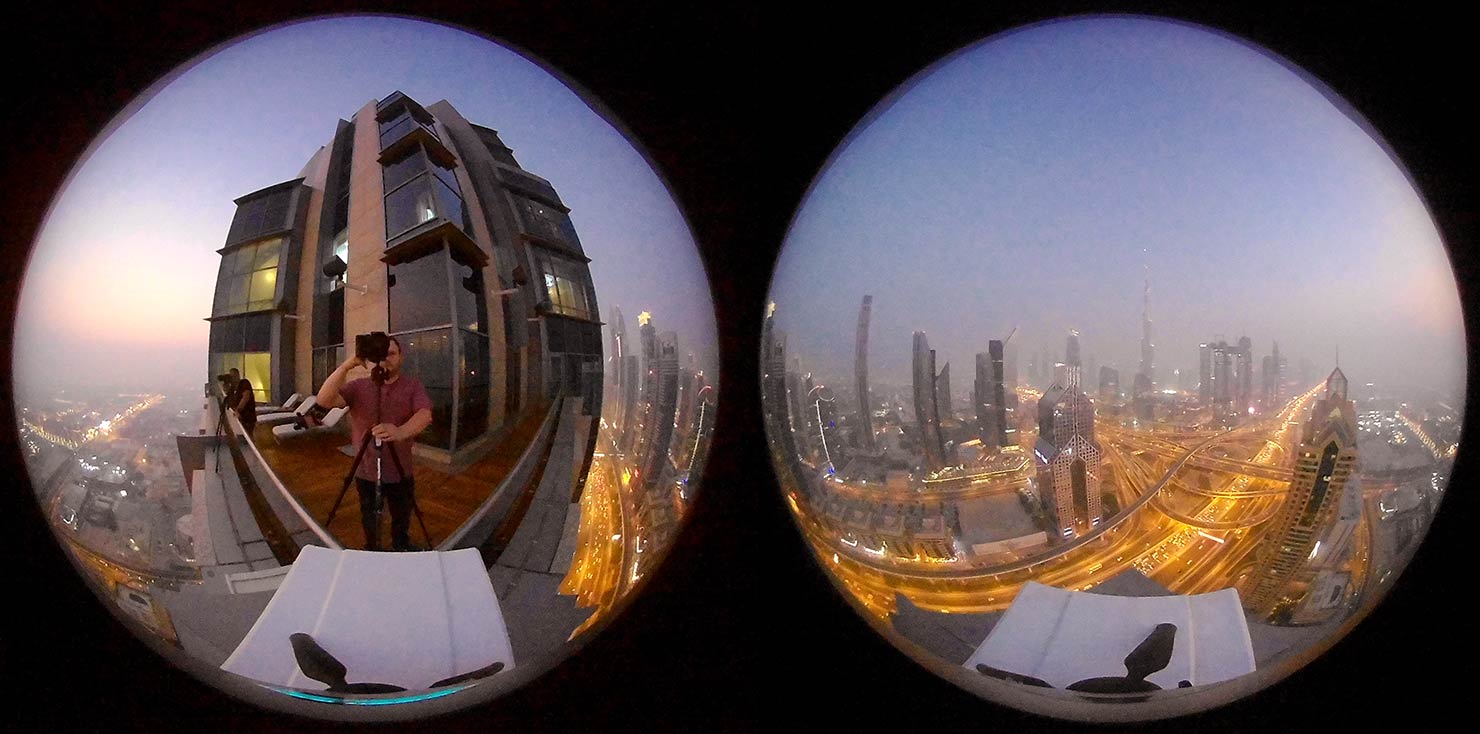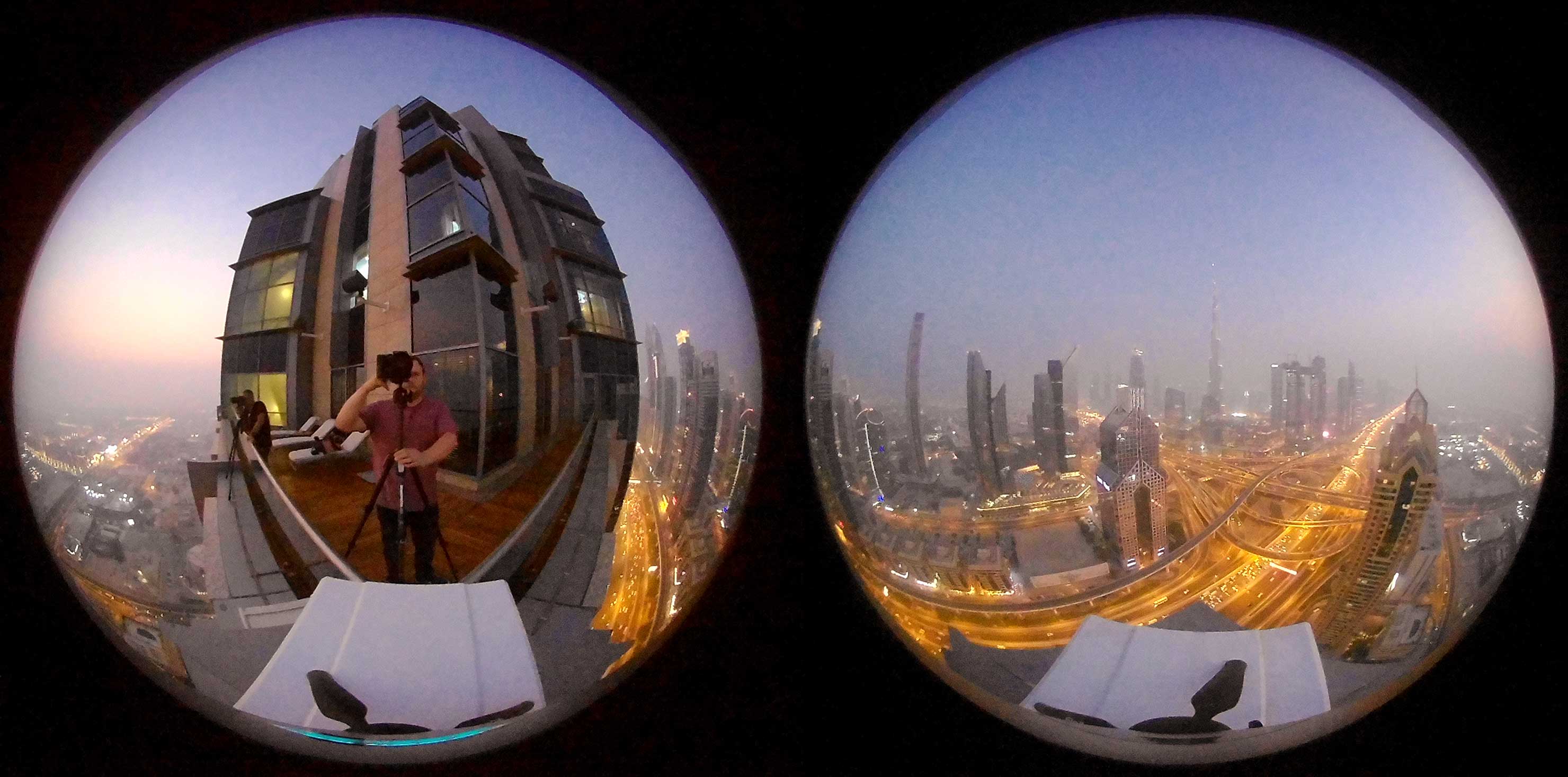 As the glow from the distant sunset faded in Rollei's latest 360 degree camera, the city below came to life with glittering LEDs and spotlights all around. Rush hour built, but so did the thickness of the air as the visibility dropped dramatically over the next few hours. What's more, a rather large CCTV camera had been installed since my last visit – right where I wanted to shoot. While a prime location for the security camera itself, this really did now risk ruining the image.


As with all things, there are always ways around such problems:
For the view from my camera above the CCTV unit, well – a tripod with a rotating and extendable centre column fixed that.
For the haze and poor visibility – that was all down to timing, and a visit the next evening fixed everything…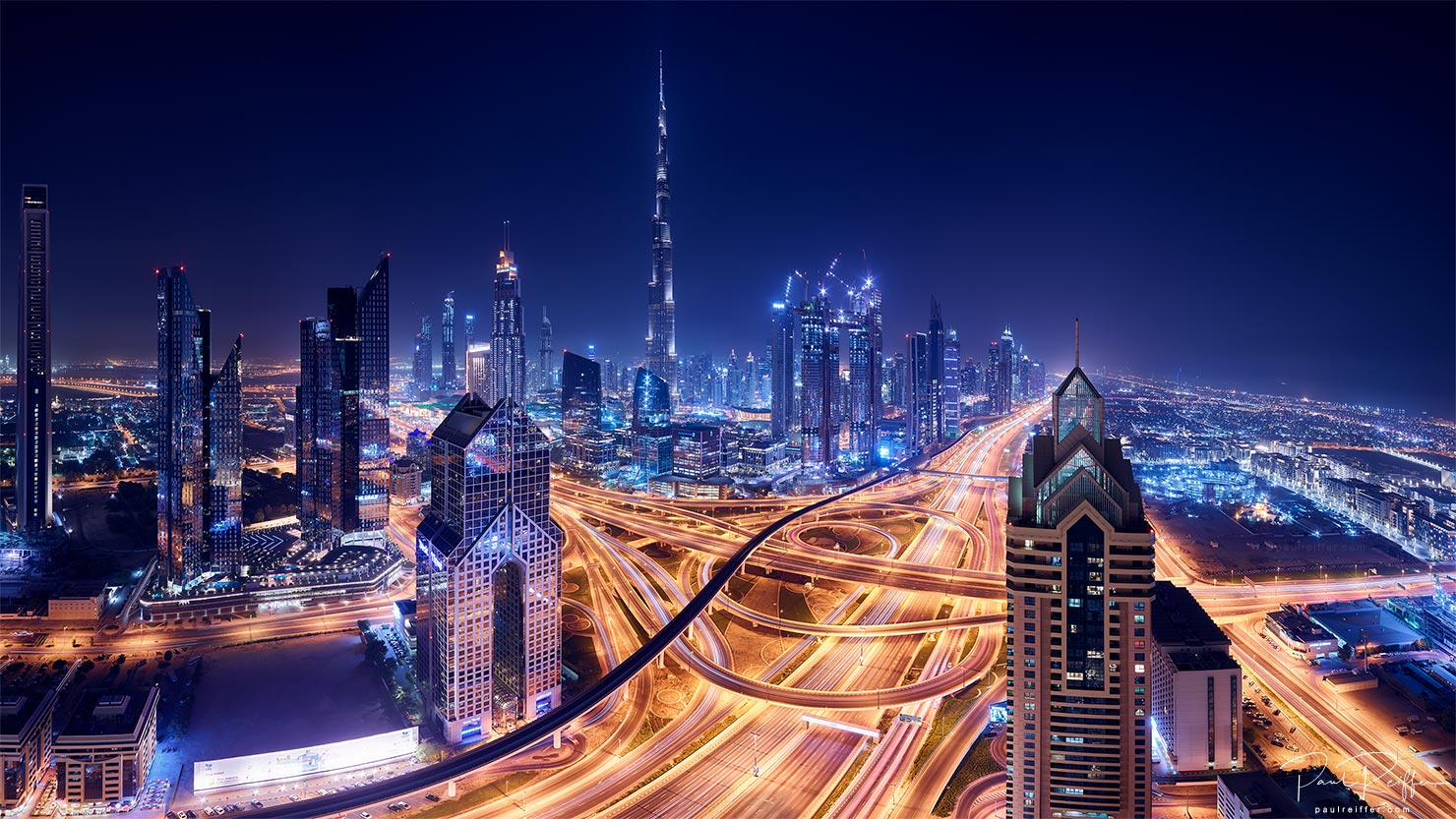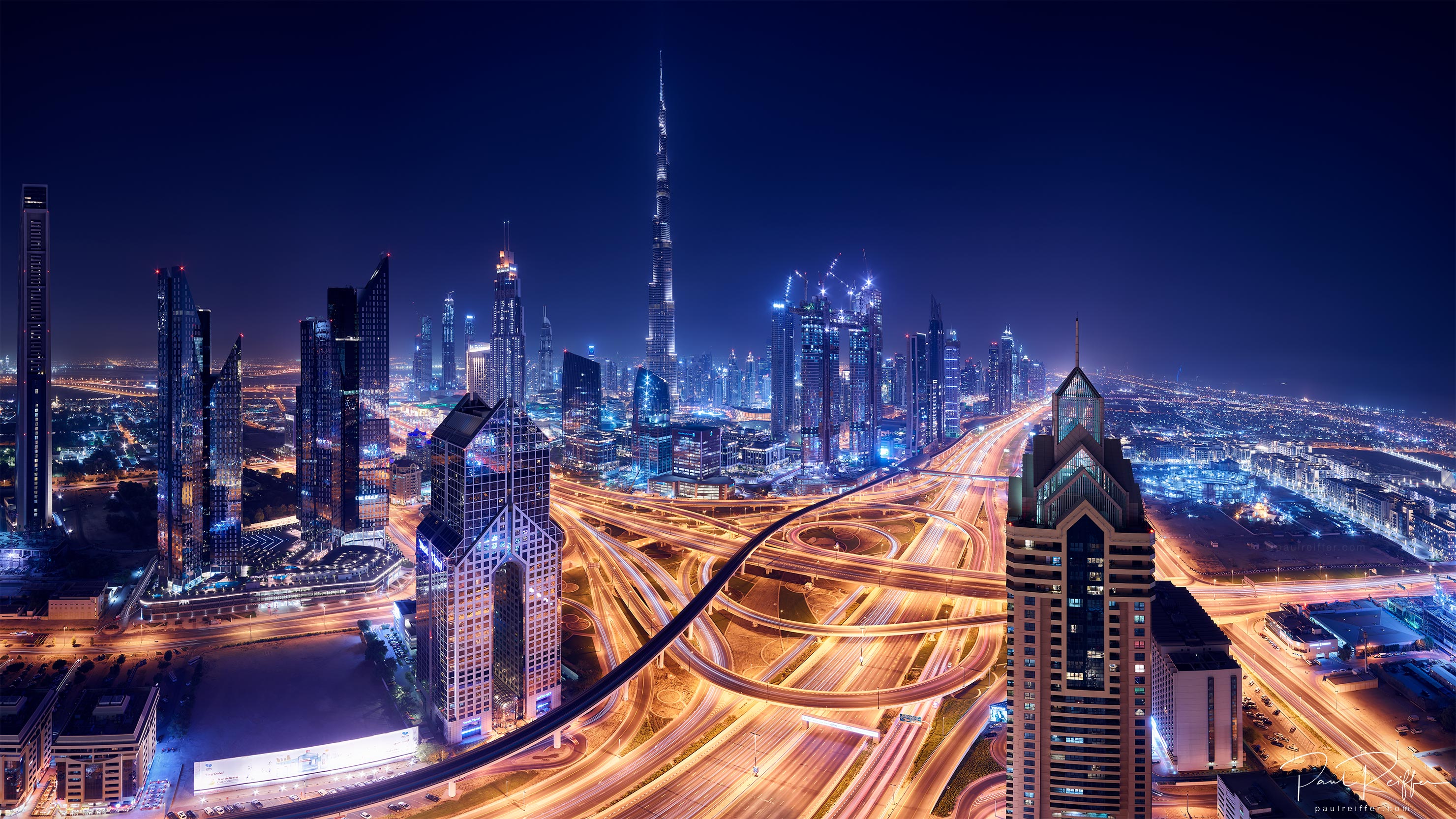 The image above is actually a 363 megapixel shot, produced by panning over a period of 18 minutes with my Phase One iQ3 100MP digital back. With a 28mm lens (17mm equivalent at 35mm sizes) attached, the field of view while producing such shots is incredible – as is the level of detail when zoomed in close as the below crop (only 50% of full size!) from way out in the distance demonstrates: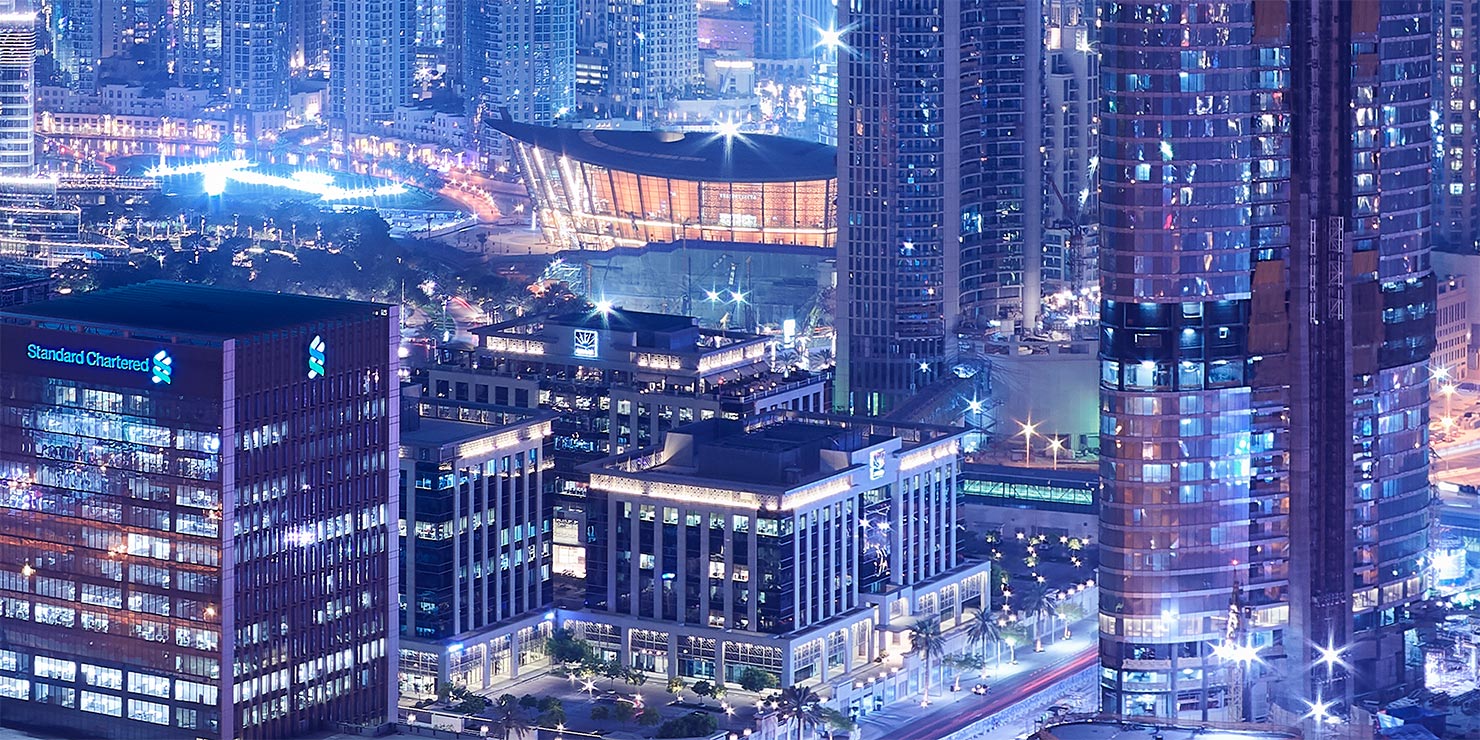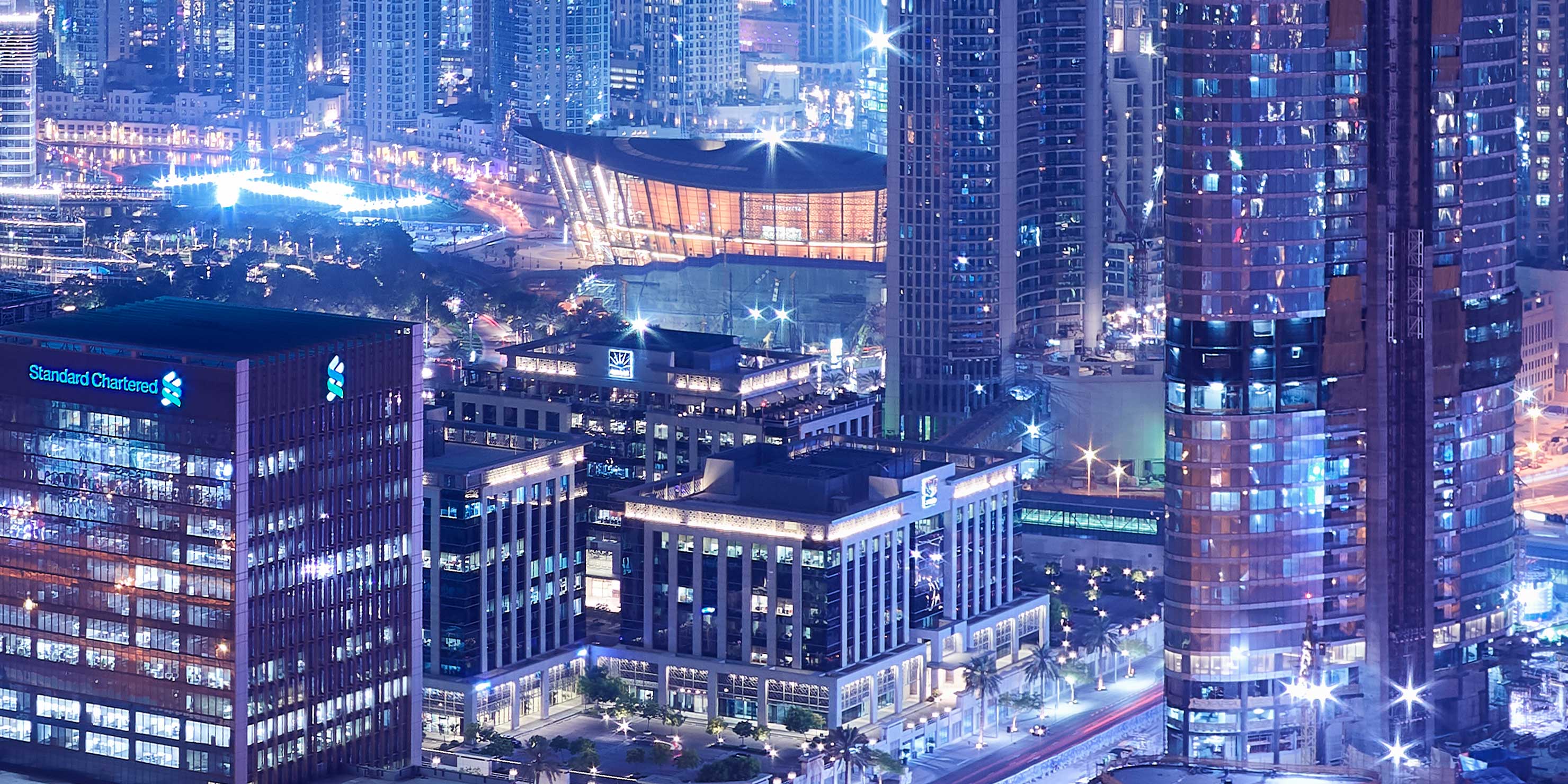 This visit would be more than a quick shot from a familiar location, however, and the next day would be a new experience for me in Dubai – Dune Bashing. Well, not quite – the irony of saying to your "dune-basher" that you don't want him to bash any sand, as we needed to photograph it, wasn't entirely lost on him or us…


Getting thrown around in a 4×4 as we made our way to a "clean ridge", we passed the tourist traps set for each standard car-load of people passing through. What might seem like intimate oasis-like evening venues during the organised sunset tours are clearly huge industrial setups with stages, food, drinks and lounges in the middle of nowhere when you see them by day.
As are the camels that are kept nearby; with factory-like processing of tourists onboard these amazing animals during the peak season, it's hard not to feel sorry for them as they sit there tied up in the blistering heat. Although I guess getting fed every day makes life a little easier at least for your average desert camel – including "Steve" (as I named him, above) and "Sheila" (not kidding, that was the actual name of the front camel in the train of two above!) as they took a break.
But it was the dunes we were here to capture, not the camels!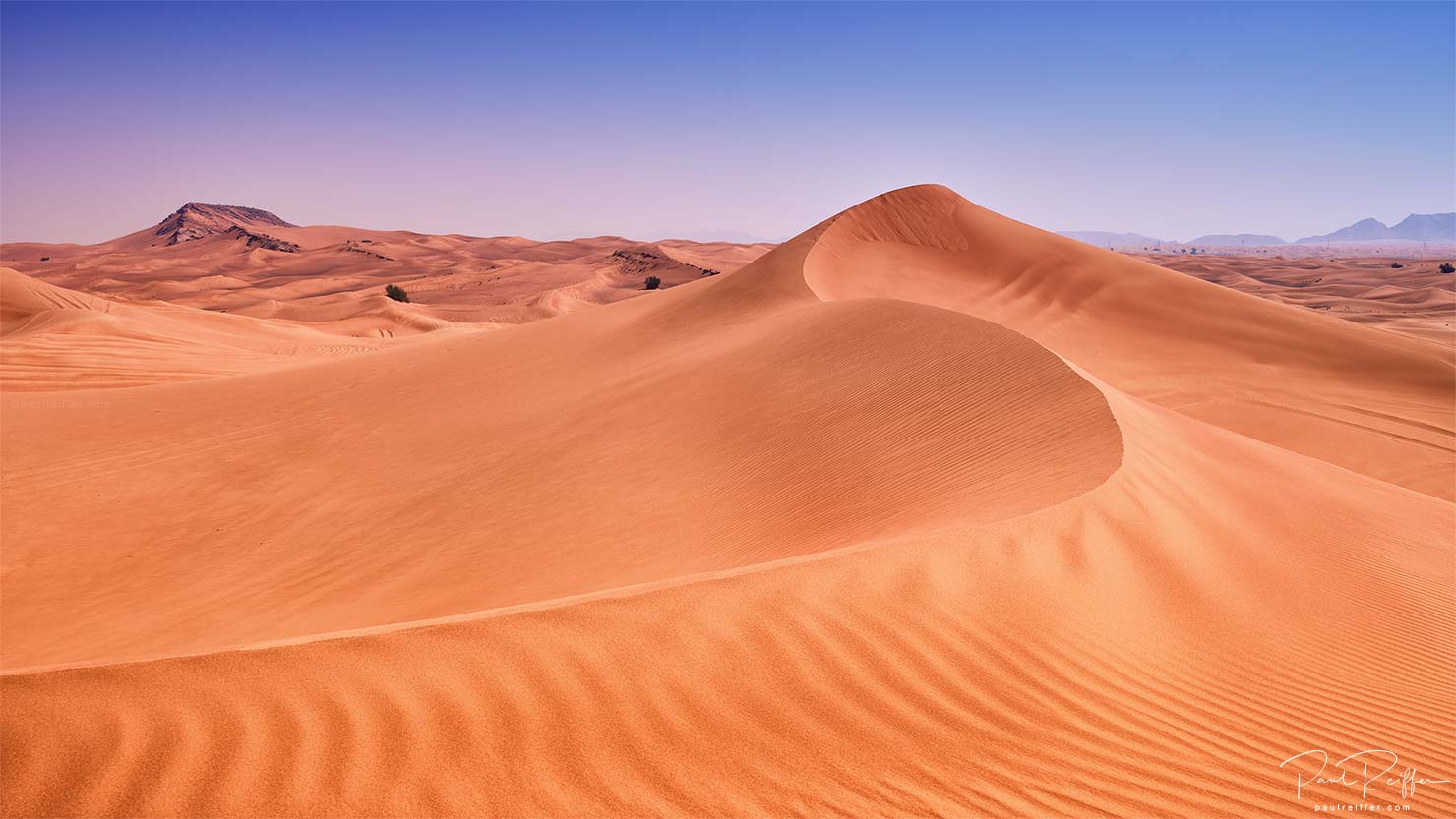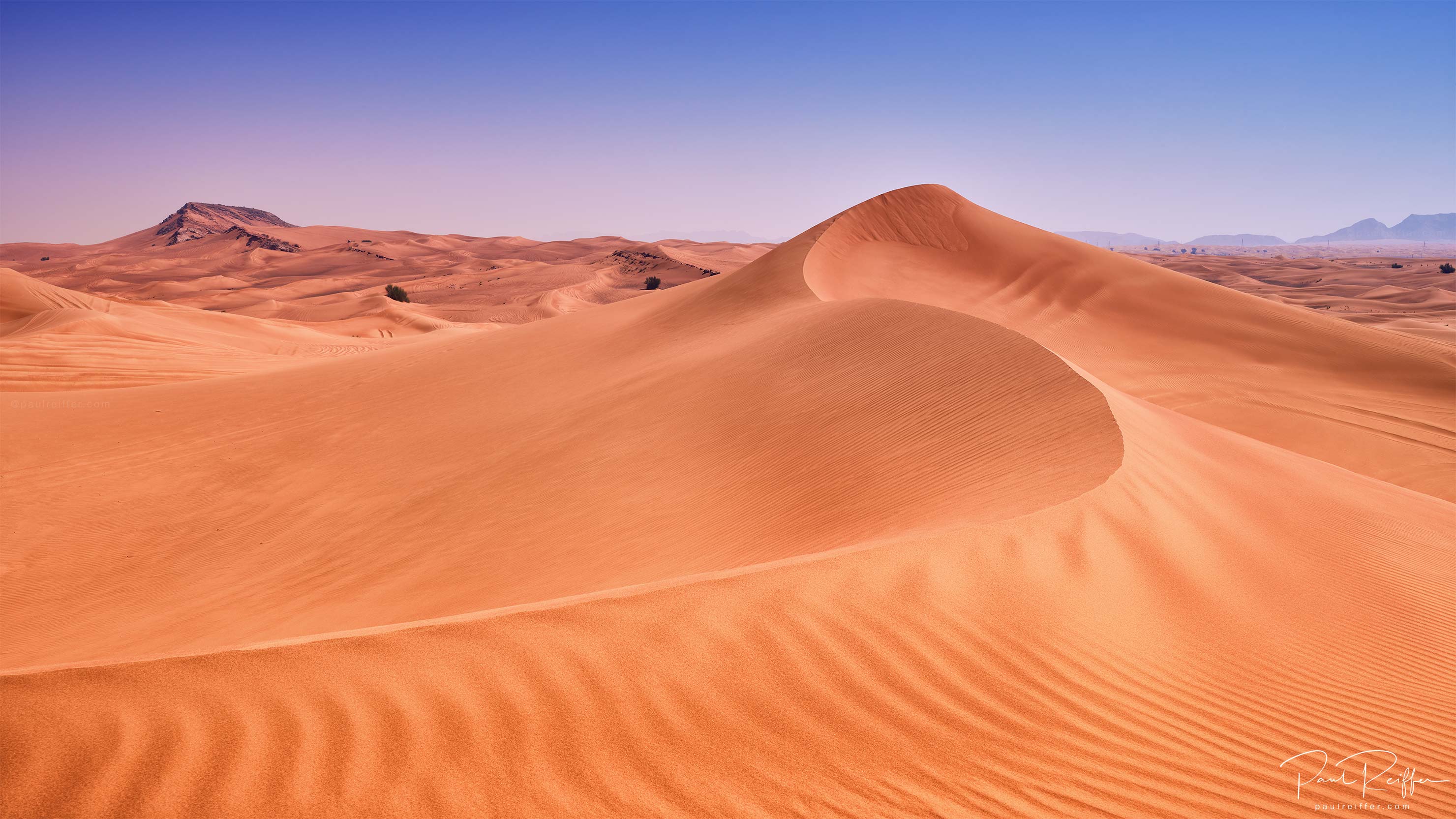 Finding a "clean ridge" was near-on impossible during our 2 hours inside the Red Sand Desert – and even this huge crest was subsequently ruined by 4 quad-bikers who either didn't notice, or didn't care for, us trying to capture it in the midday sun. At full resolution, the detail in this shot is absolutely incredible – every single grain of sand is clearly visible both in the foreground as well as way out into the distance – but it was hot, and frustrating, so time to head back for tonight's rooftop location : Level 43.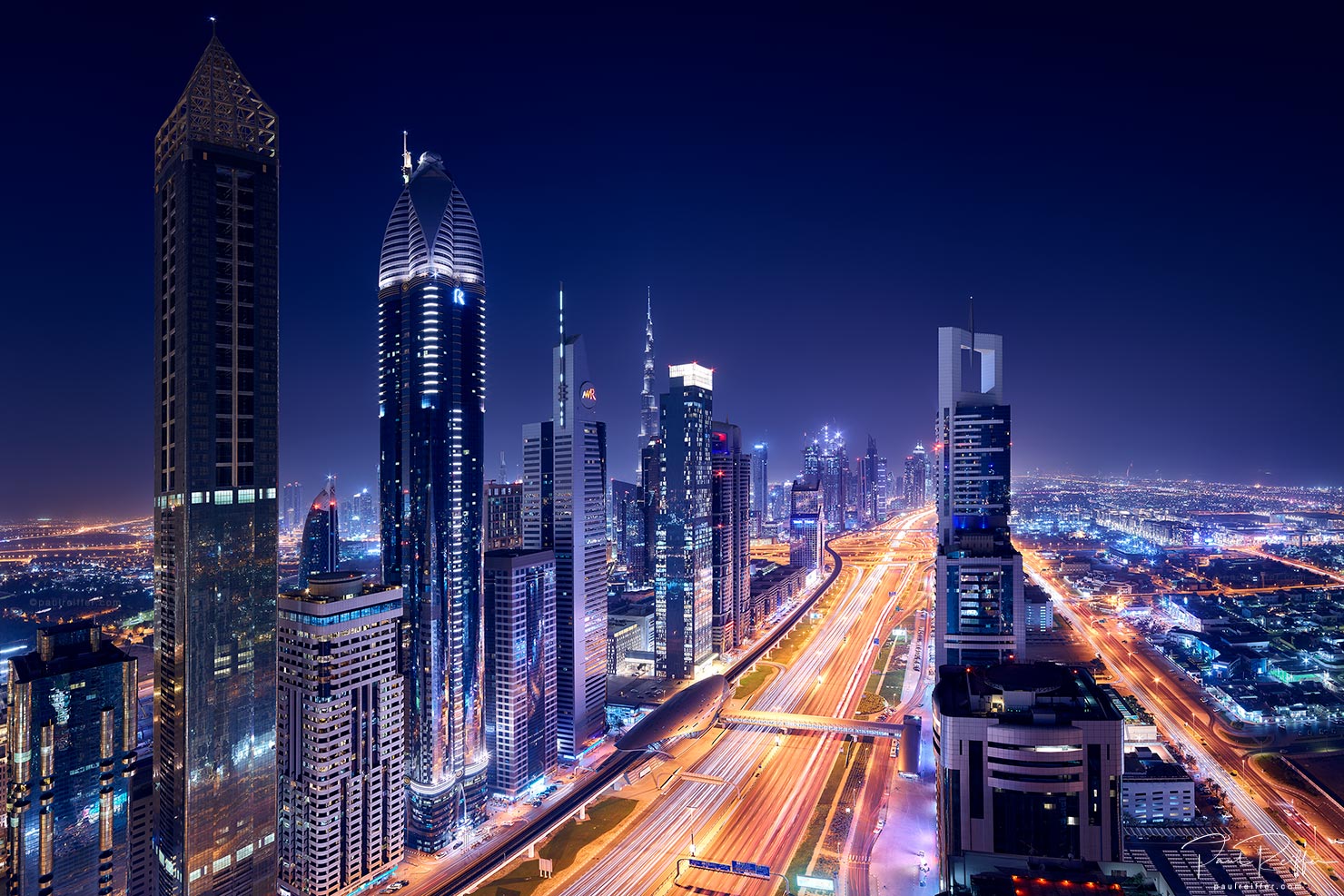 Set further east along Sheikh Zayed Road, one of Dubai's main traffic arteries – it was a very different view to the closer shot of the intersection I'd captured the night before. Again, capturing multiple shots while panning gave me the luxury of fitting the entire height of these crazy buildings into the one scene, while keeping the detail of the Burj Khalifa and Burj Al Arab in the distance intact.
It was also a lesson in the key ingredients for a successful cityscape rooftop shoot in crazy desert heat:
Camera with CMOS sensor (my old CCD would have struggled here!)
Tripod with extending/rotating central column
Memory card with lots of space
Prime location (the guys at Level 43 were kind enough to provide both permission as well as the one key corner spot)
A cold glass of NZ Sauvignon Blanc (most important)


What more can I say? The view from up there is truly incredible, made even better with a sunset drink or two while "chilling out" in 40 degree heat!
Back down to earth, and one of my biggest frustrations about Dubai has always been the lack of public access to the waterfront. Don't get me wrong, the skyline is fantastic as a result, but for a city which has a huge long coastline onto the gulf it's such a shame that access to the water is severely limited to only those who have exclusive beach club memberships or are current hotel guests. A few public options still remain – including Jumeirah Public Beach – one of the last remaining access points for the next few years before a property developer will likely claim that too.
What Jumeirah Beach does offer, however, is a stunning view of the iconic Burj Al Arab. While it can be seen in the distance from the high-res cityscapes of Downtown Dubai, there's something so much more impressive about seeing it from a little closer. Especially at sunset!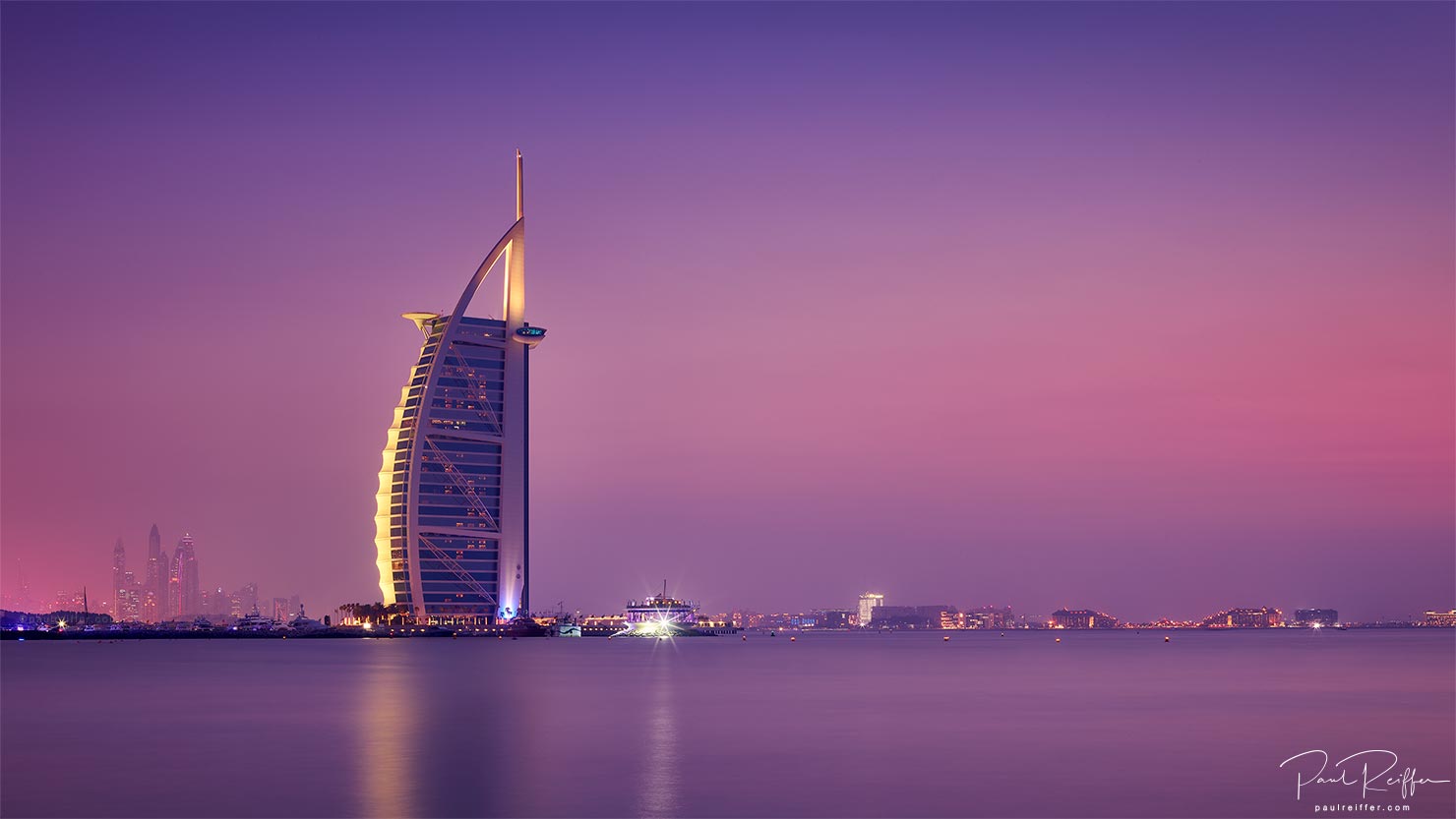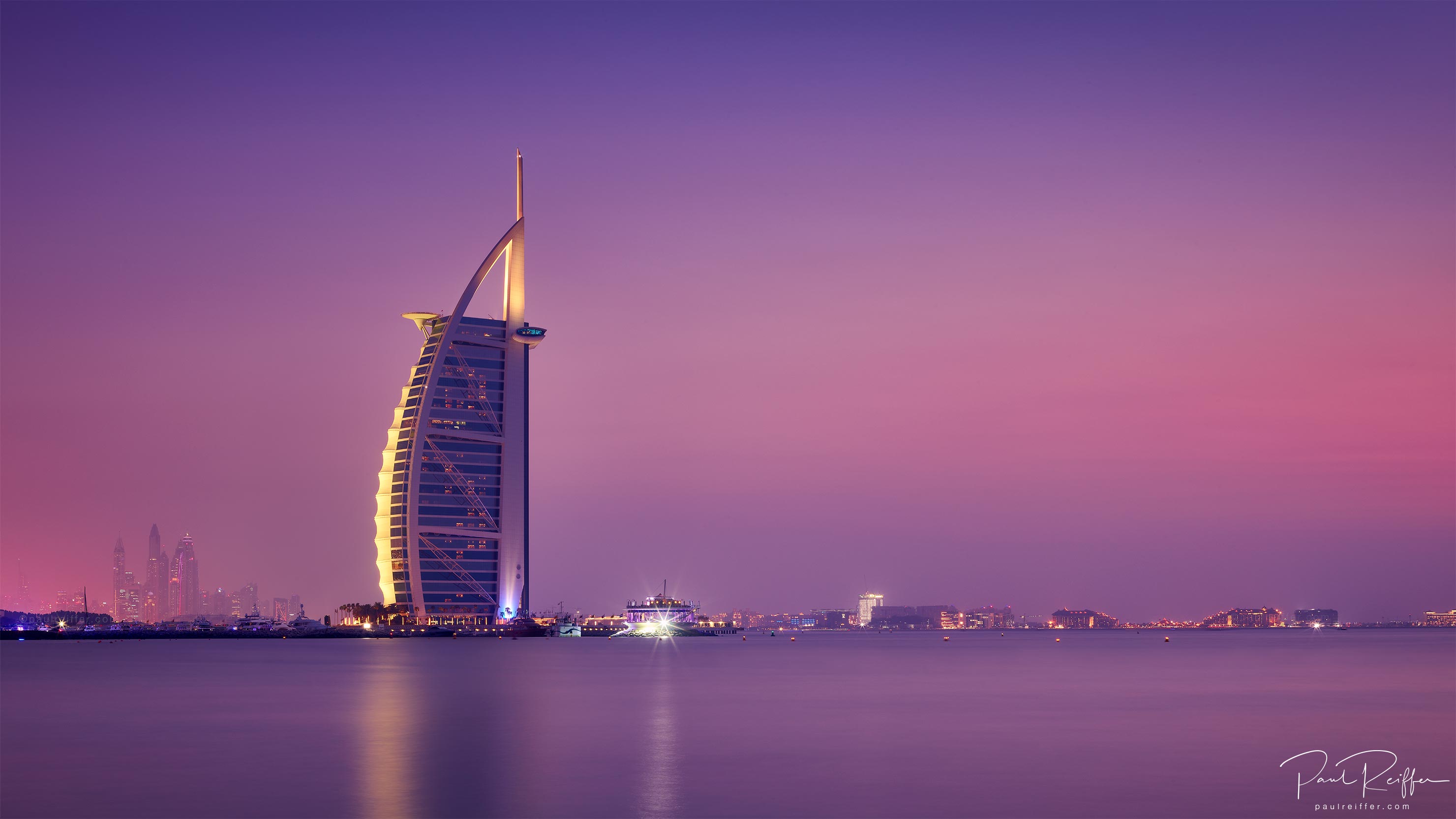 Access continued to be an issue around the city as planned shoots around some of the iconic locations began to get shut down by over-zealous security guards "protecting the interests of the property developers".
Sadly, there's another dynamic to add into the mix – in the form of a few stupid Russians who took it upon themselves to ruin access to Dubai Marina rooftops by filming and publishing their illegal stunts last year. It's a harsh reminder that part of the "deal" of getting access to fantastic locations is to in turn respect that access and not ruin it for others in the future.
Such a shame to not be able to get one specific shot I was looking for, but the alternative was a fantastic evening spent on the water from the Marina and through the islands of The Palm, where the skyline unfolded before us from the water.


One last advantage of a late night flight (leaving at 1:30am back to London) was one last shot! While everyone tends to focus on the skyscrapers and high-rise viewpoints, we found a slightly lower position to capture the bright lights of this amazing city on the way out, a bridge as we headed towards the airport: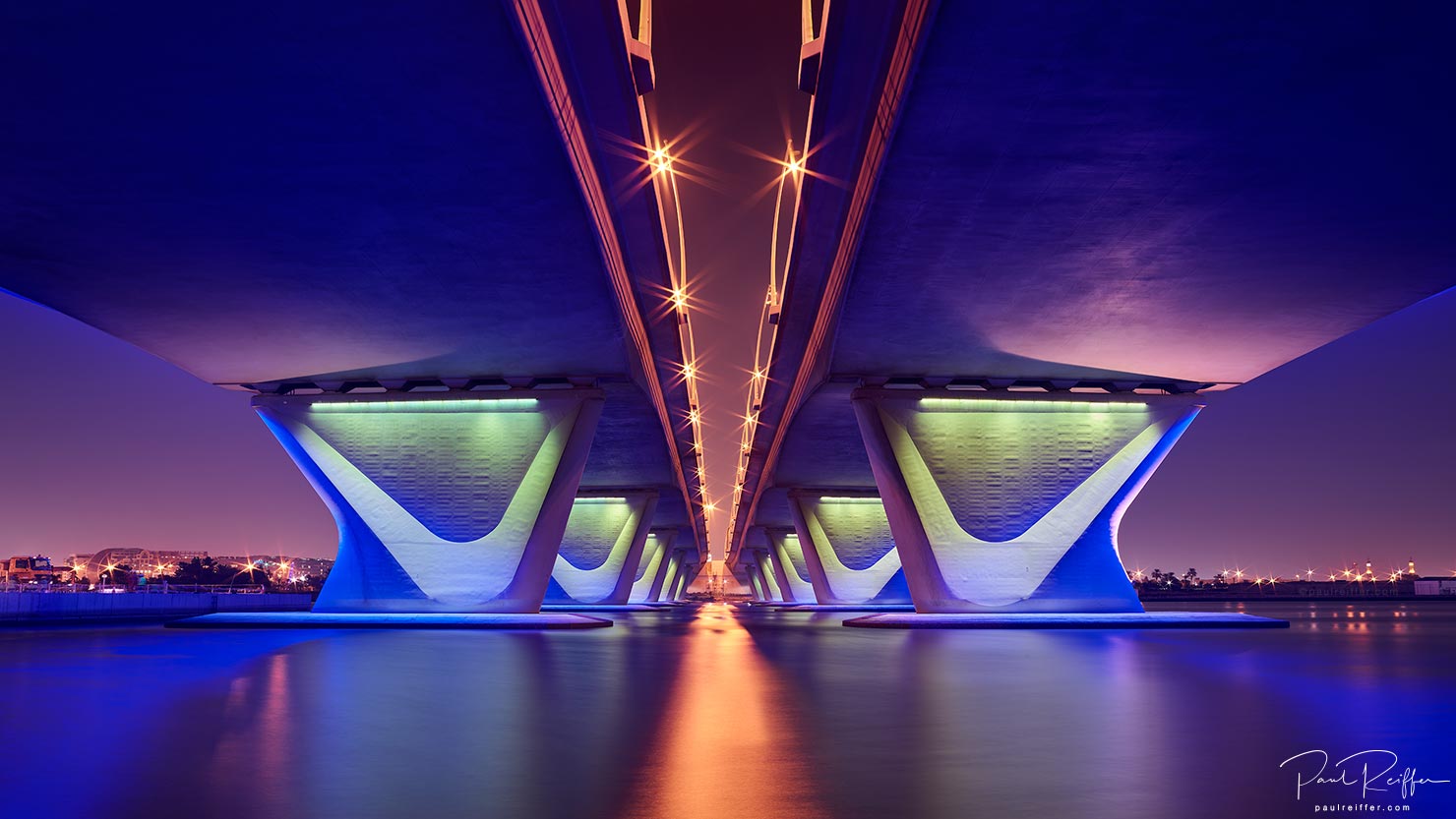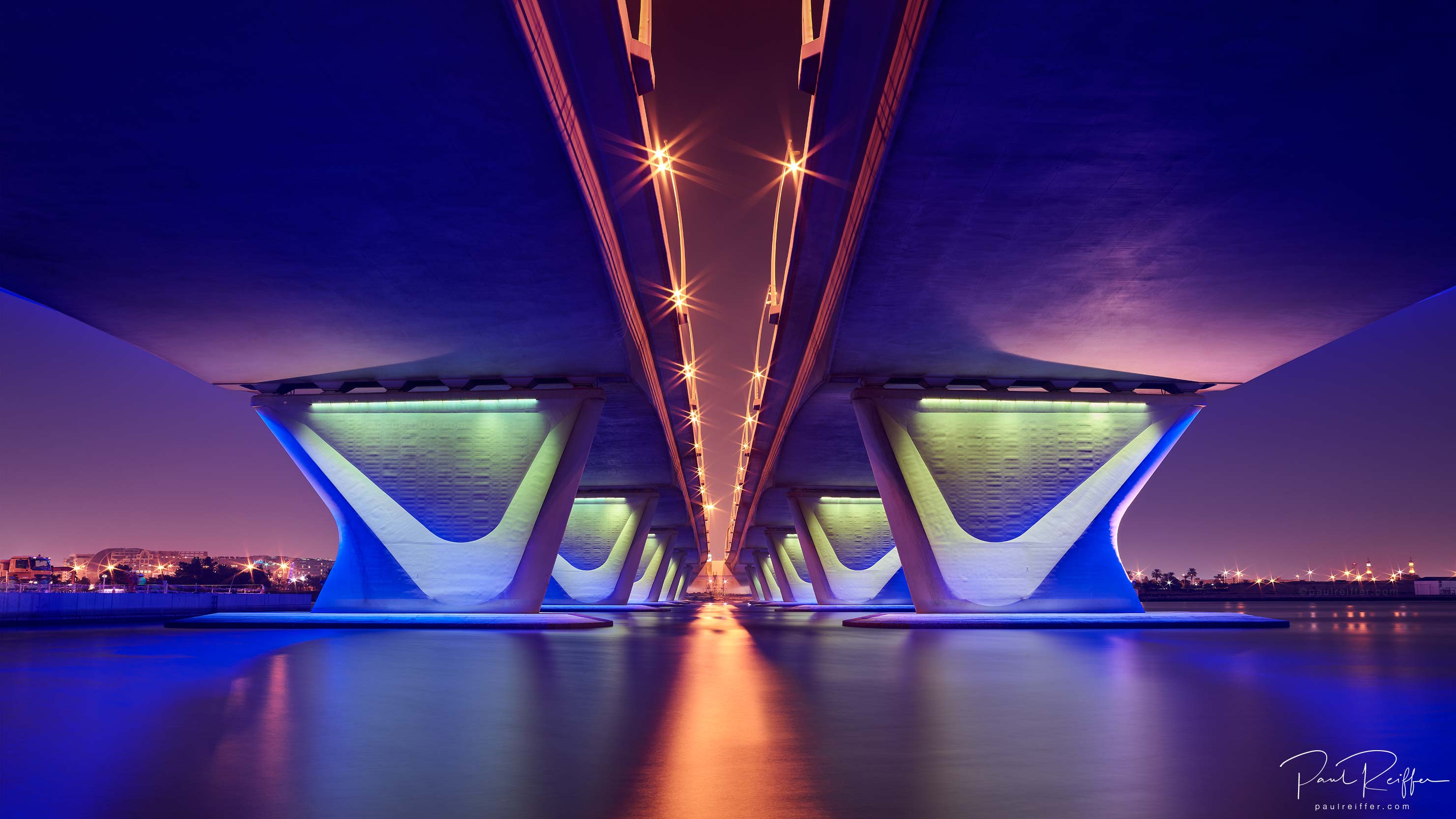 Trying to capture a decent shot in-between the heavy machinery's appearances on the left hand side proved frustrating, especially over 30+ seconds of exposure, but I guess nothing rewarding is meant to come easy…! A quick shower and a nightcap in BA's fantastic little Concorde lounge later, the time came for the ride home, and time to sleep. The heat and humidity rendered my shower absolutely pointless within 5 minutes of stepping foot into the airport, but probably better than nothing…!


And so to sleep…
…right?
With all that content on my memory cards, that clearly wasn't going to happen. So what to play with first?
Simple – I just had to see what my new shot of the Burj Khalifa/Downtown Dubai interchange looked like as a Tiny Planet once more: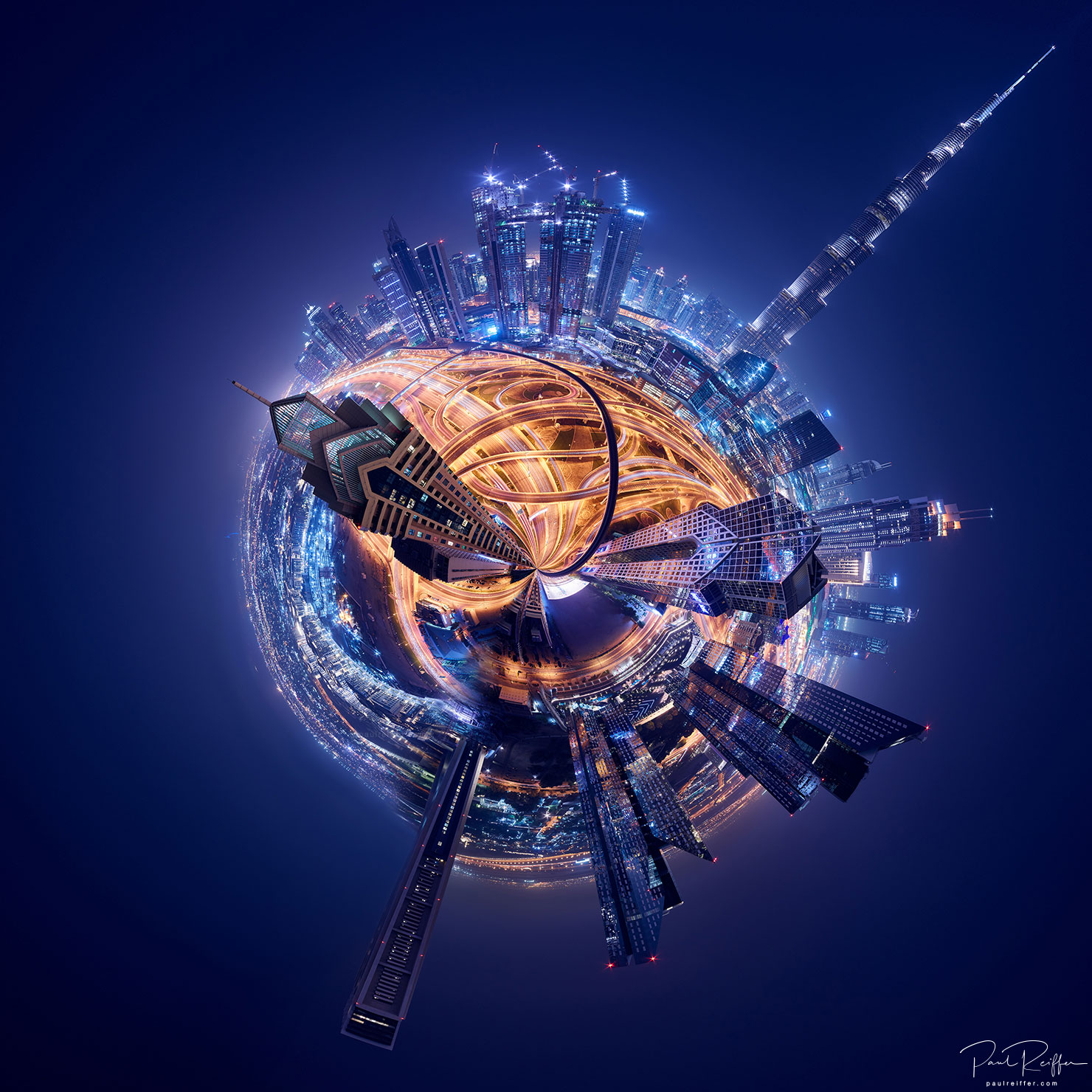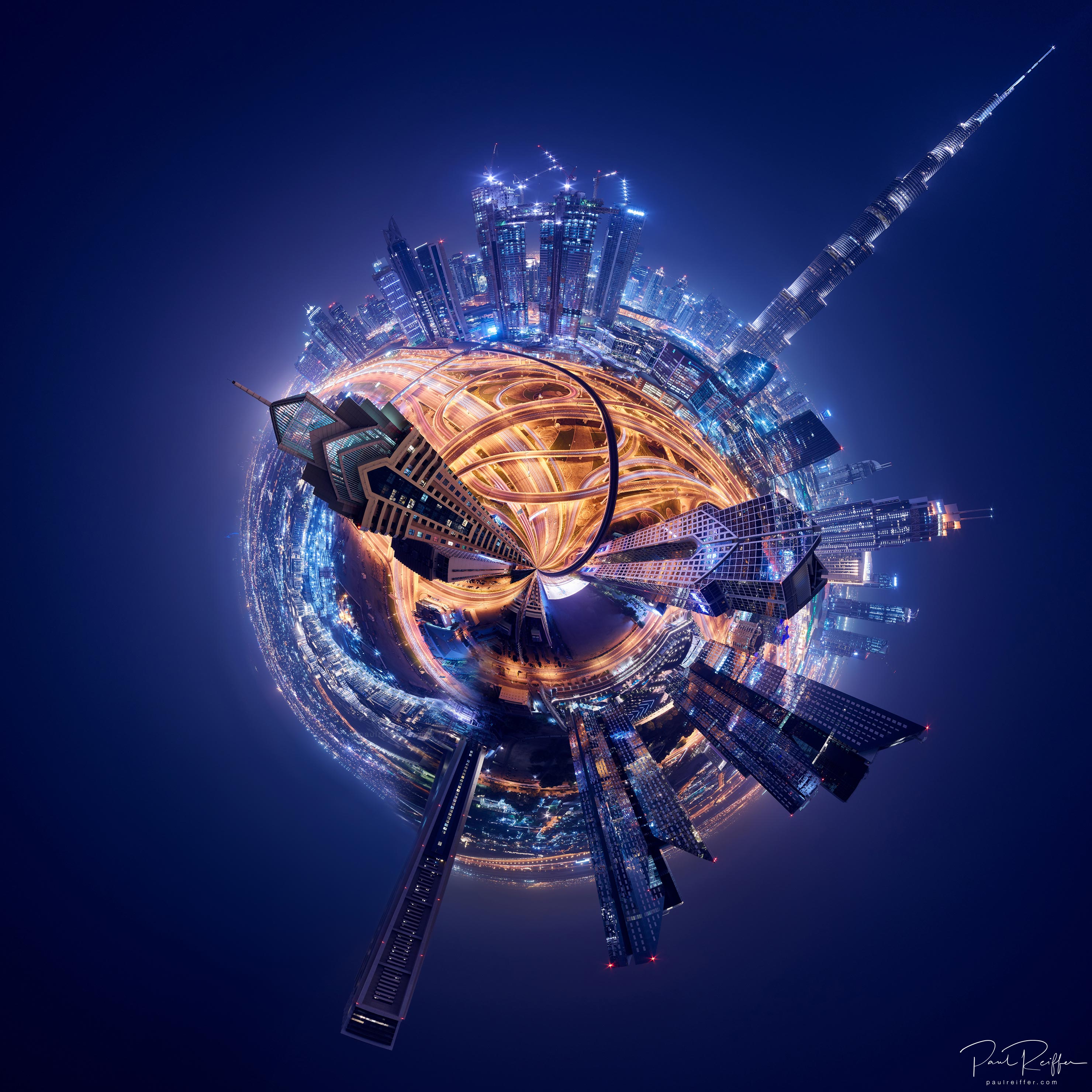 Not a bad view, Dubai – not bad at all 🙂