What an evening – and what a view!
Being lucky enough to stand in the foothills of Kirkjufellsfoss at 12:30am this summer was quite the experience, and everything I thought it would be all those months ago when we planned this trip to Iceland to see the midnight sun.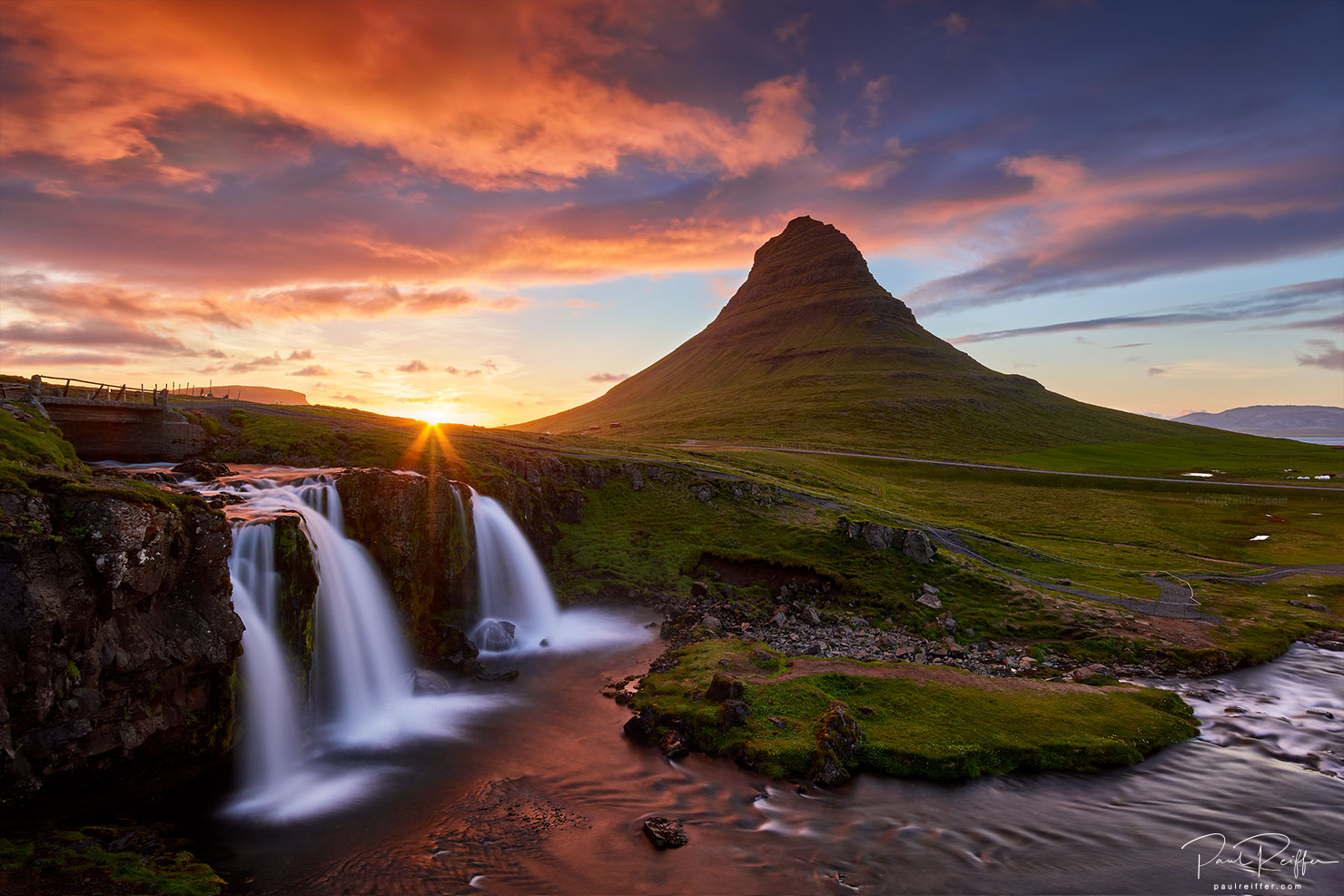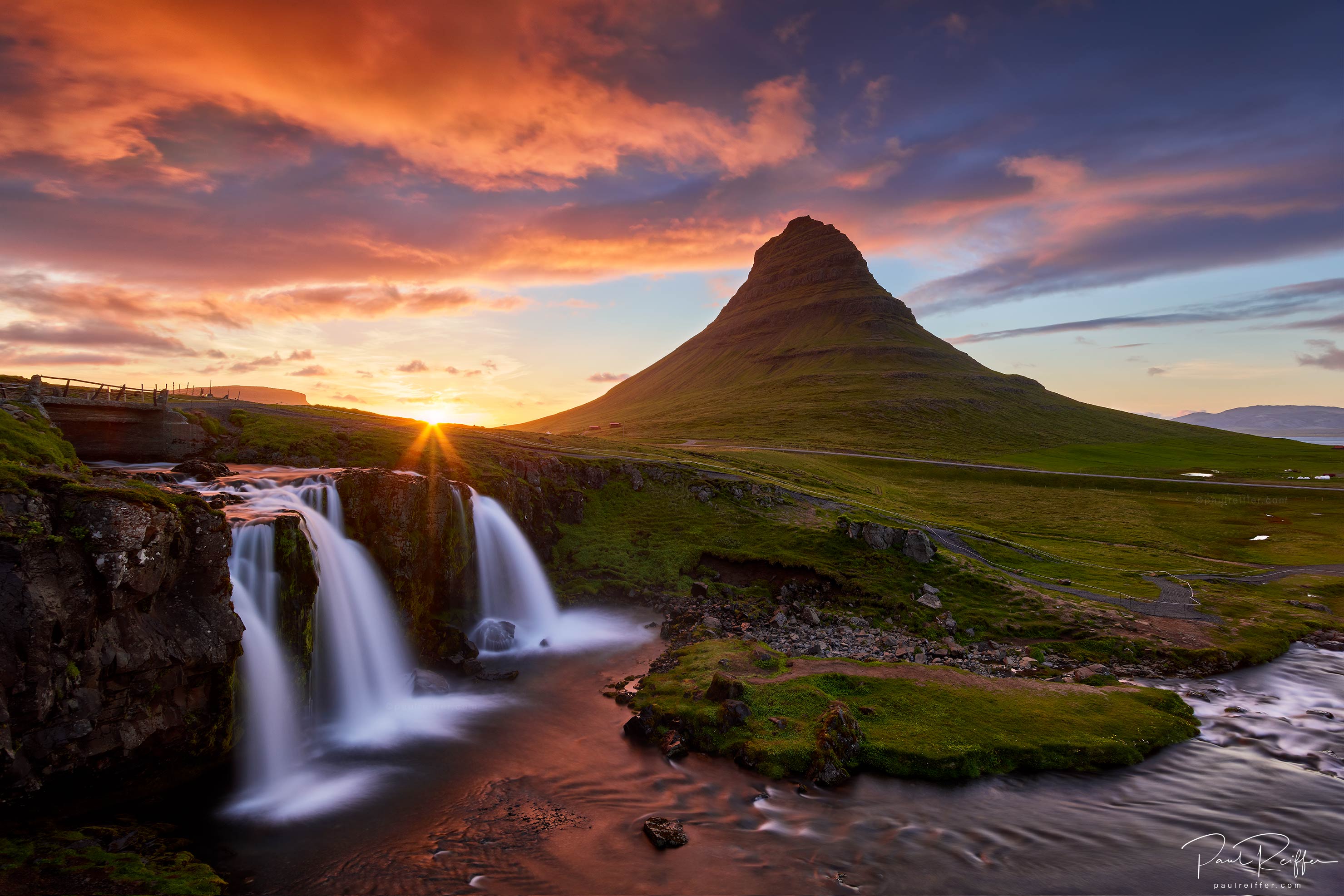 Landing into Reykjavik, it was clear this was going to be a strange week – looking back to the plane in the middle of the night gave us quite the surprise as we were greeted with a 2.5-hour long "sunset" in the distance all the way back to the city. Our first plan was hatched – shooting Kirkjufellsfoss the following night…


It was clearly not meant to be. Despite the complete lack of sleep (I'll never understand why the "land of the midnight sun" can't bring themselves to install either blackout curtains, or at least ones that fit!) – our 2.5 hour drive yielded nothing, even after staying at the location until 1am in the hope that things would improve. Having permanent daylight is one thing – having permanent cloud-cover is quite another.
Sleepless and restless, it was time to try once more – and the next evening, things really were looking up. On arrival this was quite the different scene – instead of miserable weather and an empty waterfall viewing area, we were greeted with fantastic light but crowds of people. Still, there's "always room for one more", as we say, and was lucky enough to get the exact spot I wanted.


It had been a painful couple of days, but payback this evening came as swift reward.
The sunset seemed to last forever as the golden dot skirted across the edge of the Kirkjufell countryside for over an hour, the reflections in the sky constantly changing until it eventually fell behind the mountain itself. The new Rollei Gorilla Glass mkII filters performed flawlessly, and their water-repellent coating certainly came in handy with the spray.
I also had another thing in mind when capturing my final shot (the top image in this post) – adding motion to the still frame I'd chosen:
After 3 days with almost no sleep, the decision between waiting for the sun to reappear for "sunrise" (ish) the other side of the mountain versus starting the 2.5 hour drive back to the hotel was an easy one – but if ever we needed a reminder of how bizarre these few weeks of the year are in Iceland, it was the amazing light that followed us back all the way to daylight at 3am.


So, one down – was there one more to go?
I was hoping so – and this time it was off to explore the South Coast, near Vik. The original location I'd planned on shooting was clouded-out (annoyingly, against a sky which had been perfect all the way until 5km before we arrived) – but passing the waterfall of Seljalandsfoss in the last rays of sunshine gave me at least some hope that the evening could be rescued.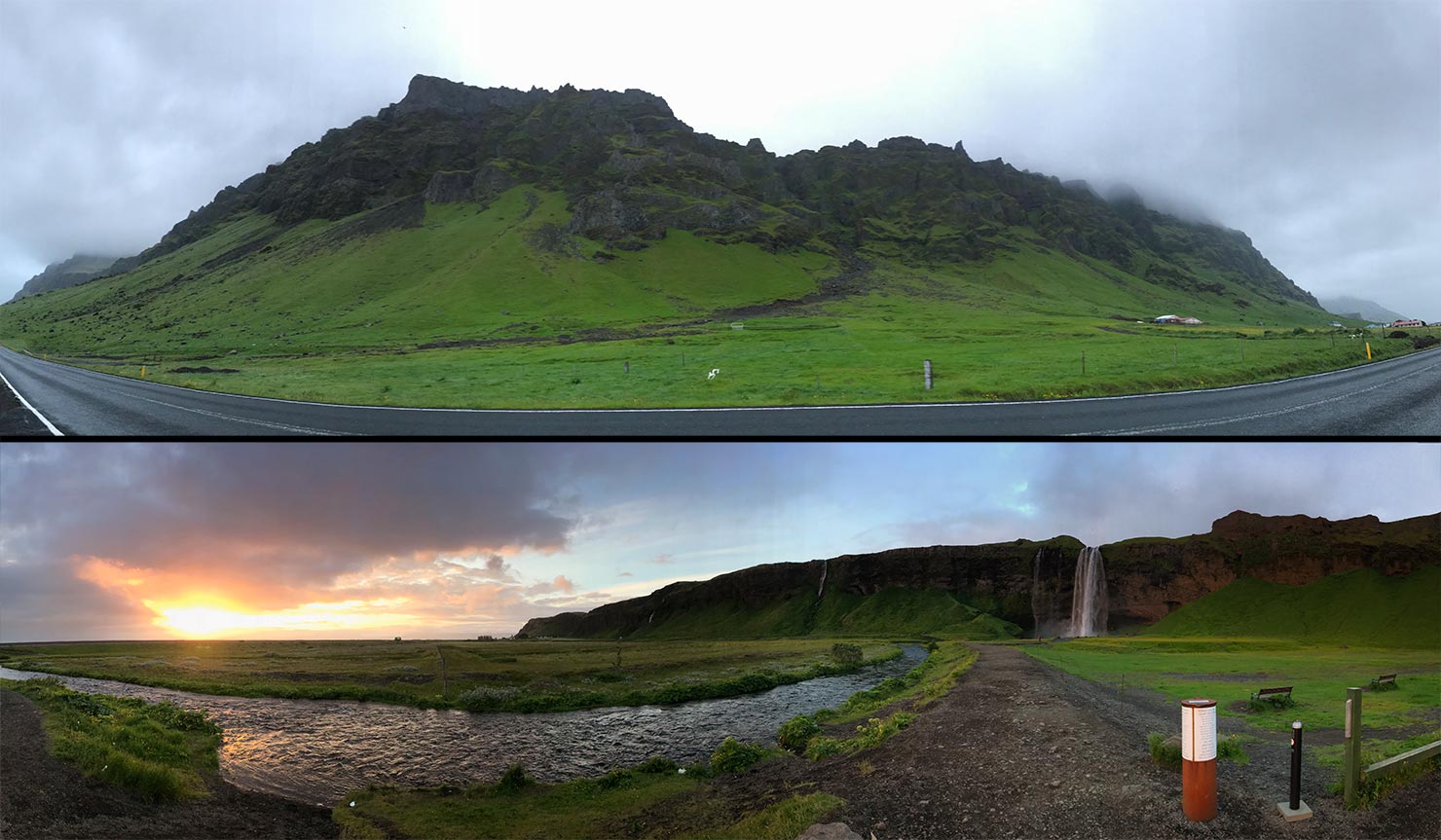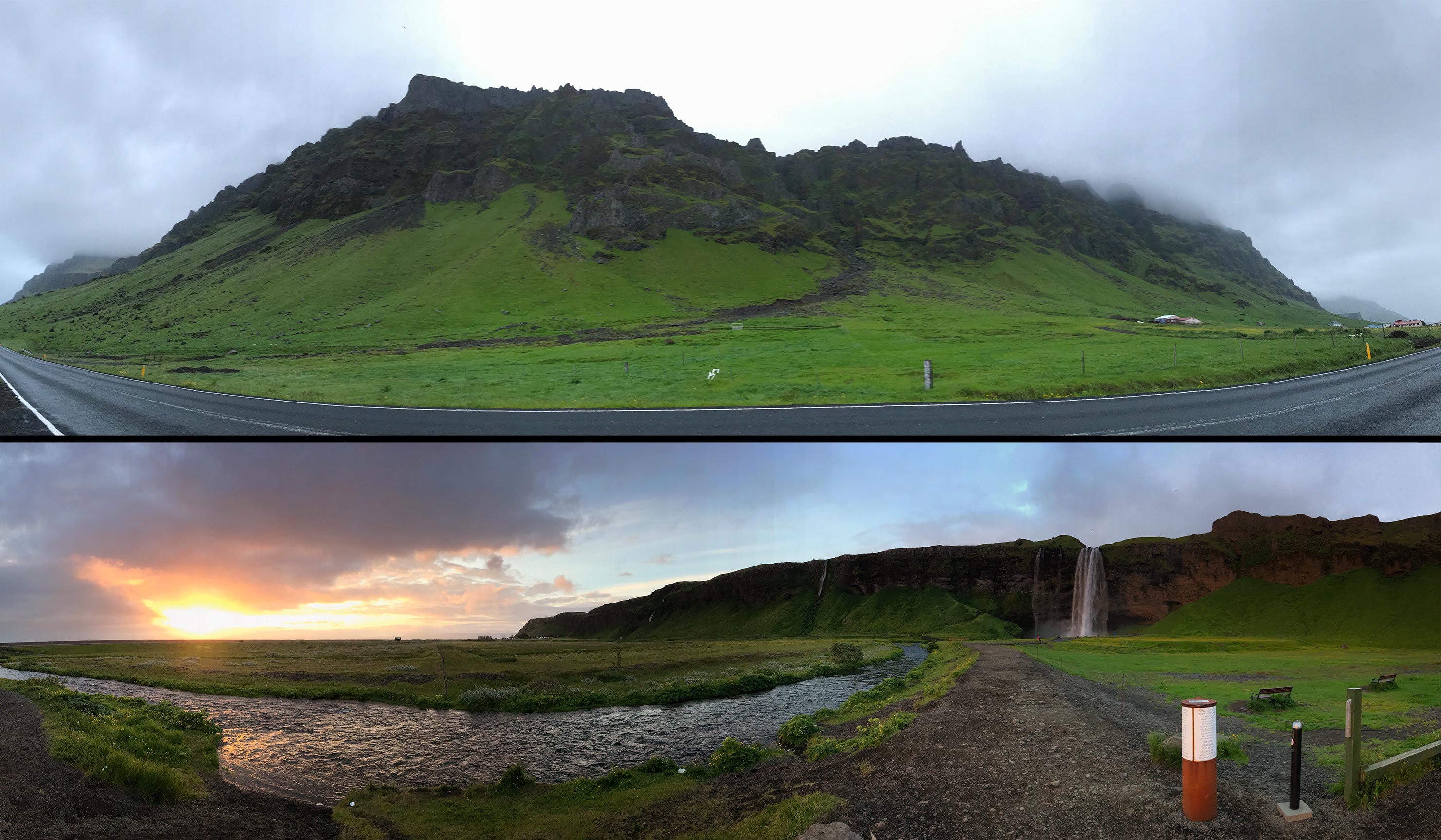 Now here was the dilemma – I had my Phase One kit with me, but without any plastic covering or protection whatsoever. It was time to use one of my Canon bodies as a sacrificial test-lamb, just in case it got as wet as I remembered from my last visit inside the falls – if it survived, I'd consider risking it with the XF.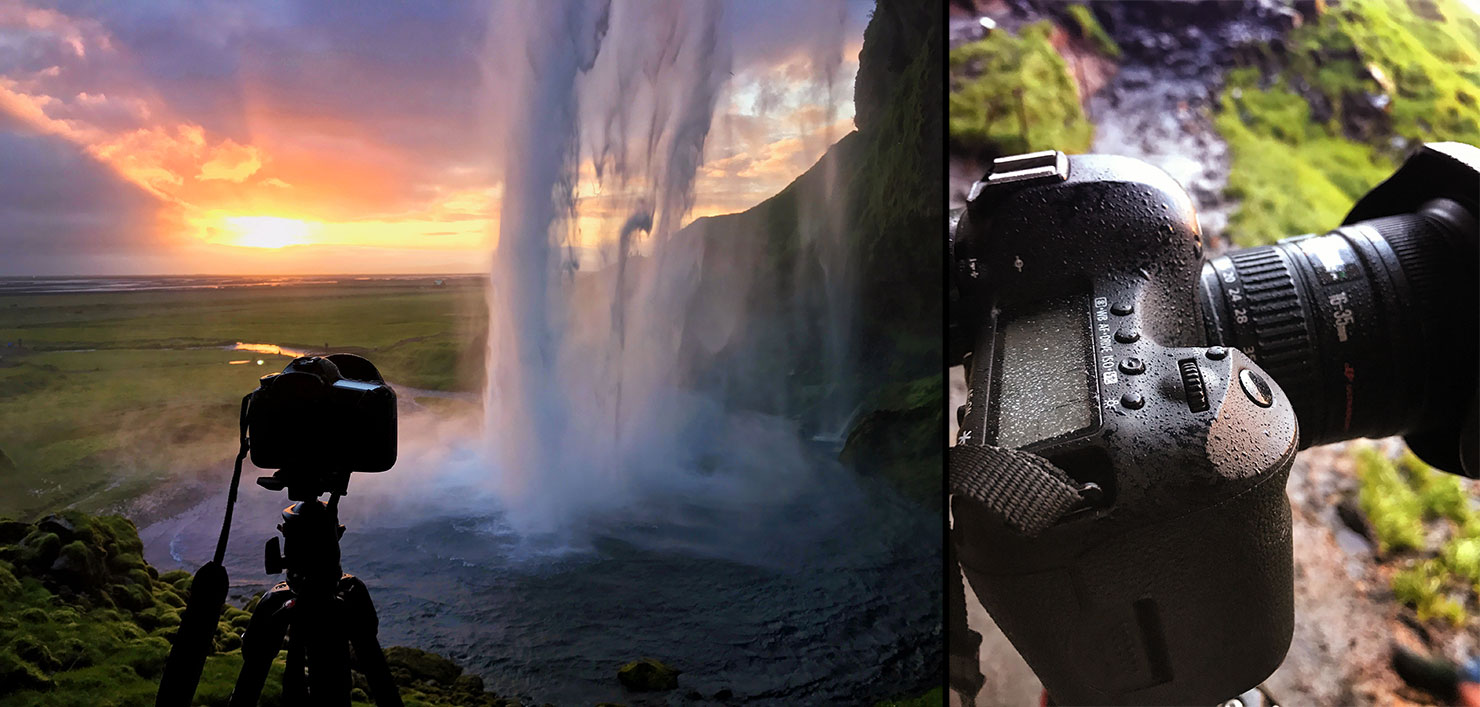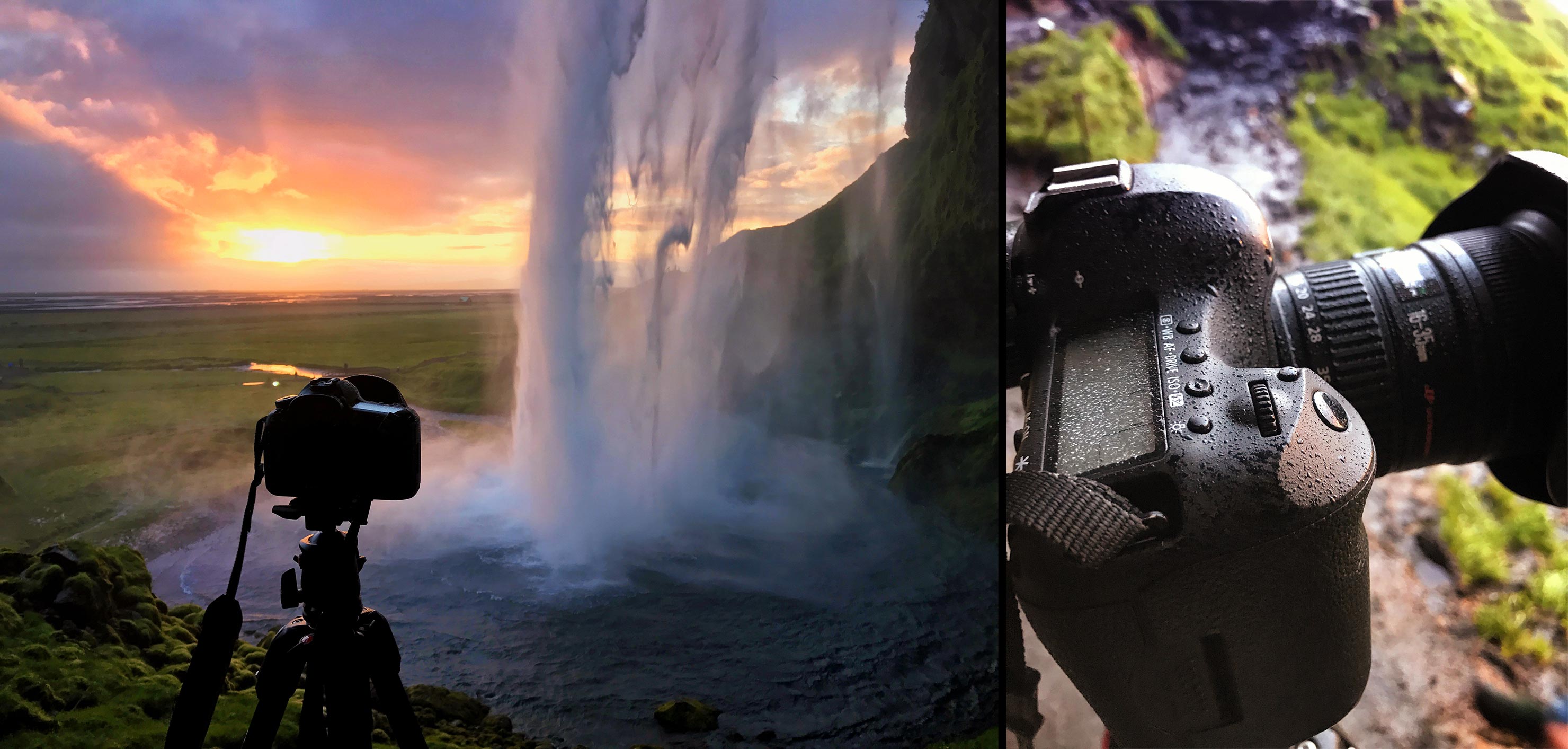 Survived? Yes.
Dripping after 30 seconds? Yes, that too.
I got the shot, but really wanted the 100 megapixel version now I'd seen how fantastic things looked from in there.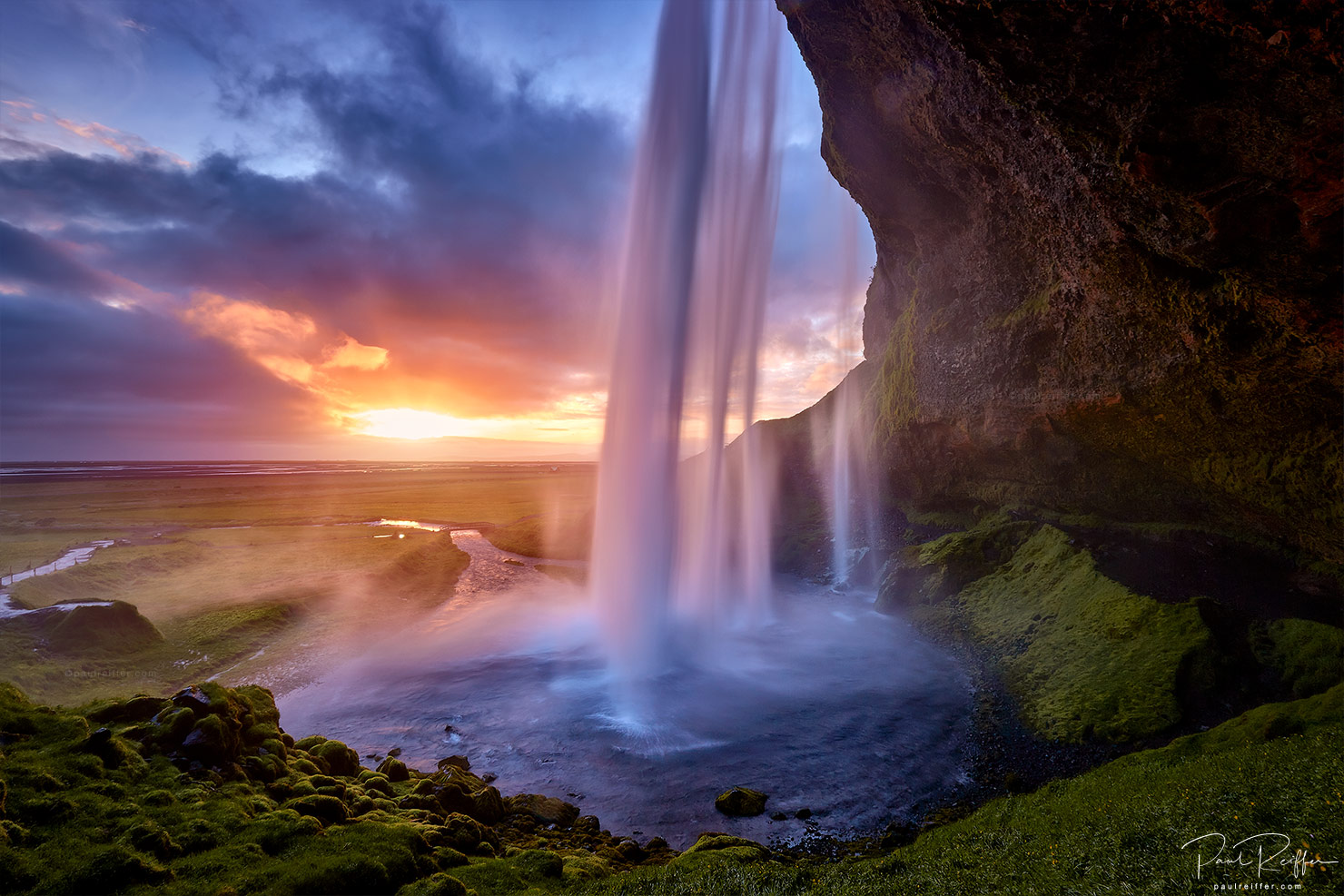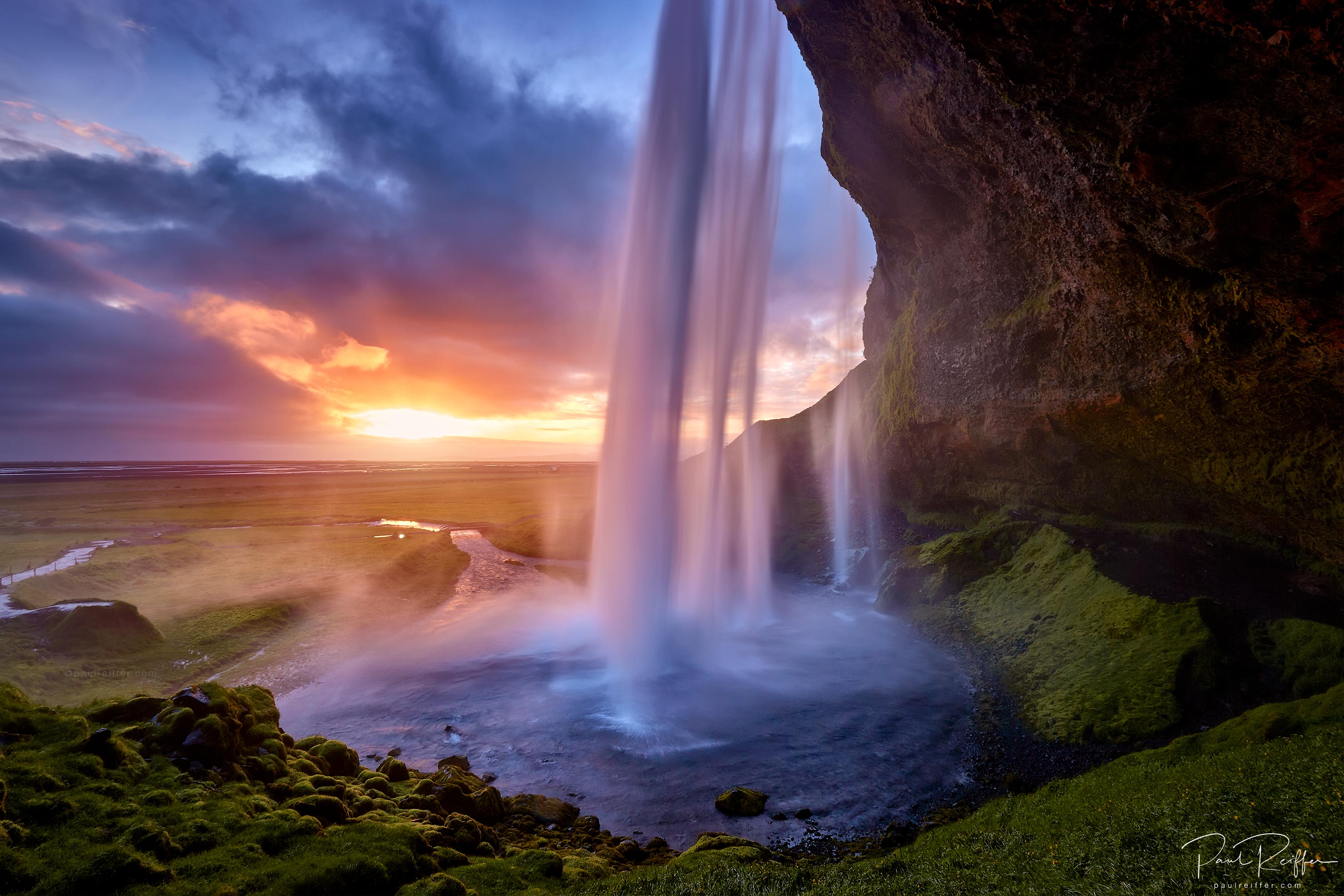 While I know the Phase One gear can survive brief clashes with fresh water, I just wasn't ready to push the envelope on this occasion – and as a result made the wrong decision in hindsight : I'd return the next night, with my medium format camera all sealed up, ready to go.


As many of you will remember from my trips into Antelope Canyon, the home-made "camera condom" can be a lifesaver if built correctly.
However, another note to self from this trip : don't plan on buying tape or bags in Iceland. It's not just the food and drink that can be crazy expensive – $50 for a single roll of tape and $25 for plastic freezer bags was a new low-point in this adventure! That said, sealed and packed, we headed back to Seljalandsfoss waterfall the next evening, arriving into the perfect storm of flat skies, solid cloud and high winds – it was a bust.
Lesson learned : If it's really that good, shoot it – and fix things later if needed. Still, it gives me a great excuse to head back out there next year too, for a "retry"!
Driving back through the daylight night, there was one more box to tick before heading home to London – Gardur Lighthouse.


This would be my 5th trip to this one location on the West Coast with not a single shot to show for it so far. Each time it's been either too windy, too full of clouds, not enough clouds, too many flies, big groups of people – or a mix of all which have prevented me from capturing the view.
I guess the weather was a little kinder to me this morning than it had been the night before at the waterfall, and disregarding the thousands of flies surrounding the camera, I finally clicked a shot I was happy with.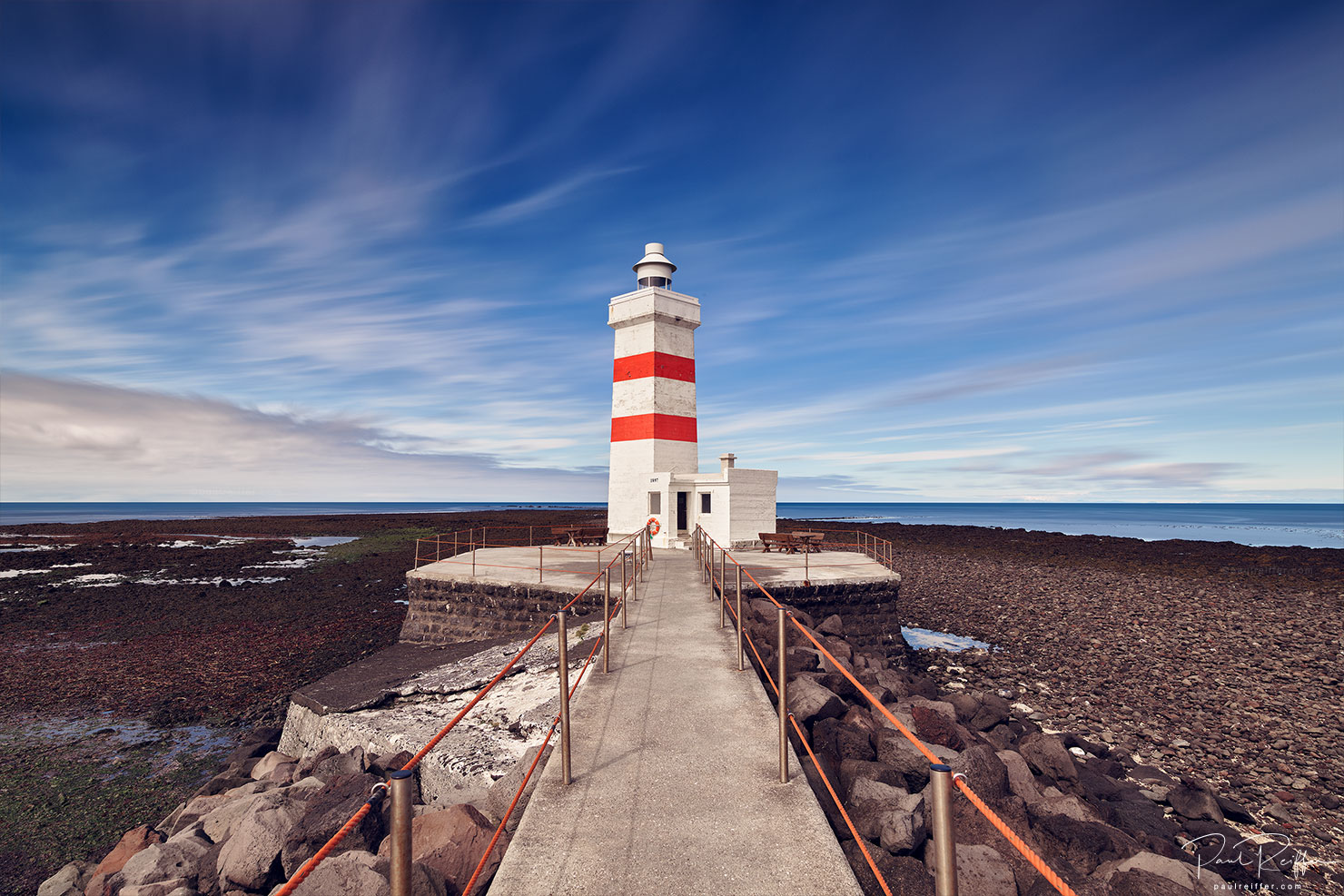 Despite being a frequent visitor to Iceland, this was my first true "midnight sun" – and a few things took the form of great lessons over the week:
Don't rely on the Icelandic hotels to factor in the eternal daylight when it comes to their hotel design – neither of the two we stayed in had curtains that cut any light, so you'll be sleeping (or not!) in daylight the entire time if you don't bring something of your own to help.
Apparently Icelanders don't ("ever") use umbrellas. Not great when you ask one of the top hotels in the city for one to use behind the waterfall and they inform you that it's a ridiculous request. (To be fair, I'd agree that on most occasions when it's raining in Iceland it is also too windy to use one)
Just because it's daylight doesn't mean you don't get tired driving home at 3:00am. Bear in mind that, again, even though it feels like daylight – it's still the middle of the night and most services (and toilets!) are closed until the real morning time. Be prepared!
And what of my new imaging toy? Well, animating long-exposure photography turns out to be quite effective – including the shot I have of Seljalandsfoss below 😉
Interested in joining us on our next Icelandic adventure?
We're shooting Iceland's glaciers, caves, icebergs, waterfalls and Northern Lights in March 2018 – click here to learn more and come along!