When you've been testing a new series of filters for a while, it's easy to forget that one day they'll actually become real-life products – that is, until the final versions arrive in their shiny new packaging at your door.
Say hello to the brand new "Mark II" Rollei square photographic filters, and finally I can talk about some of the amazing features on these German-engineered sheets of glass. And they're not just any glass, they're now made from 100% Corning Gorilla Glass® (yes, the same stuff that means your iPhone screen doesn't scratch) – not a bad idea for something we carry with us around the world, I'd say!
So, the quick tech-specs:
Made from Anti-scratch Gorilla Glass®
Great optical clarity with IR and UV blocking
Ultra-low colour-cast and "luminance" coating
Water-resistant coating
Grease repelling surface
Engineered in Germany with a multi-year warranty
Plus, in the box, you'll also find a protective soft-shell case, microfibre cleaning cloth and even replacement foam seals for the ND series plates, just in case…


Rewinding to just over a week ago, those with eagle-eyes will have noticed I was shooting with a slightly different filter setup to normal in Russia. Birthday festivities aside, it was time to capture the CBD buildings that have been joined by yet another new skyscraper. With the brand new Mark II Pro series in-hand, here's a tiny preview of one of the shots from Moscow that we captured.
For transparency, as this is a filter review, both images below are exported raw from Capture One:


What am I looking for in the "perfect filter"? Simple – it's all about image fidelity.
Colour fidelity, optical clarity, the filter should cut light, but allow the natural feel of the image to remain completely intact. It's all about helping me to capture what I see before my eyes – instead of (as is so often the case now) using "tricks" to invent a scene that was really never there.
Granted, the timing between the two images was a little off, given the shot with the filter was 2.5 minutes long and the light levels had dropped in the meantime – but adding motion to the sky without altering the colour-balance at all is pretty impressive in my book.

So, that's a quick preview shot from the new series we'll be releasing soon from Moscow, but with the final production versions in hand today I decided to do a quick check that everything was still OK. For that, I'd need a hill with a view; luckily, I have one up the road…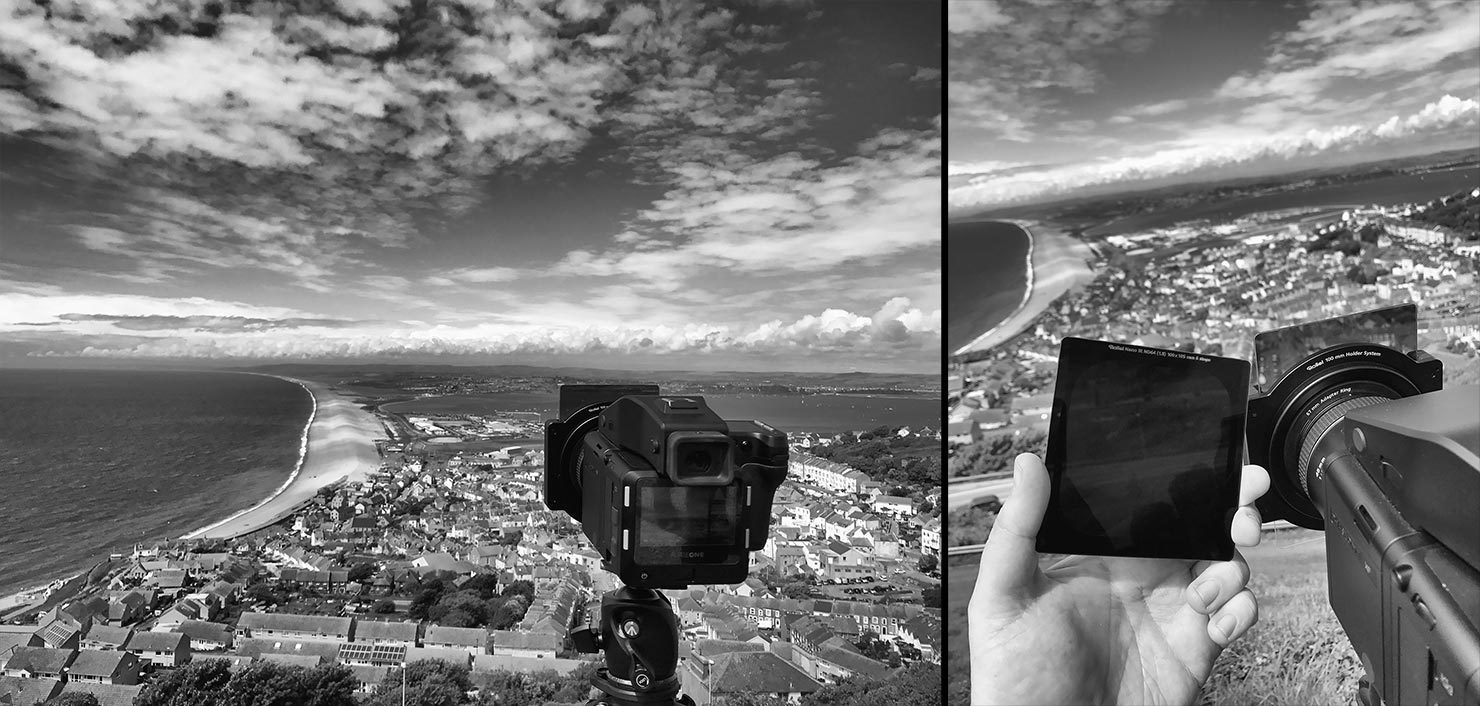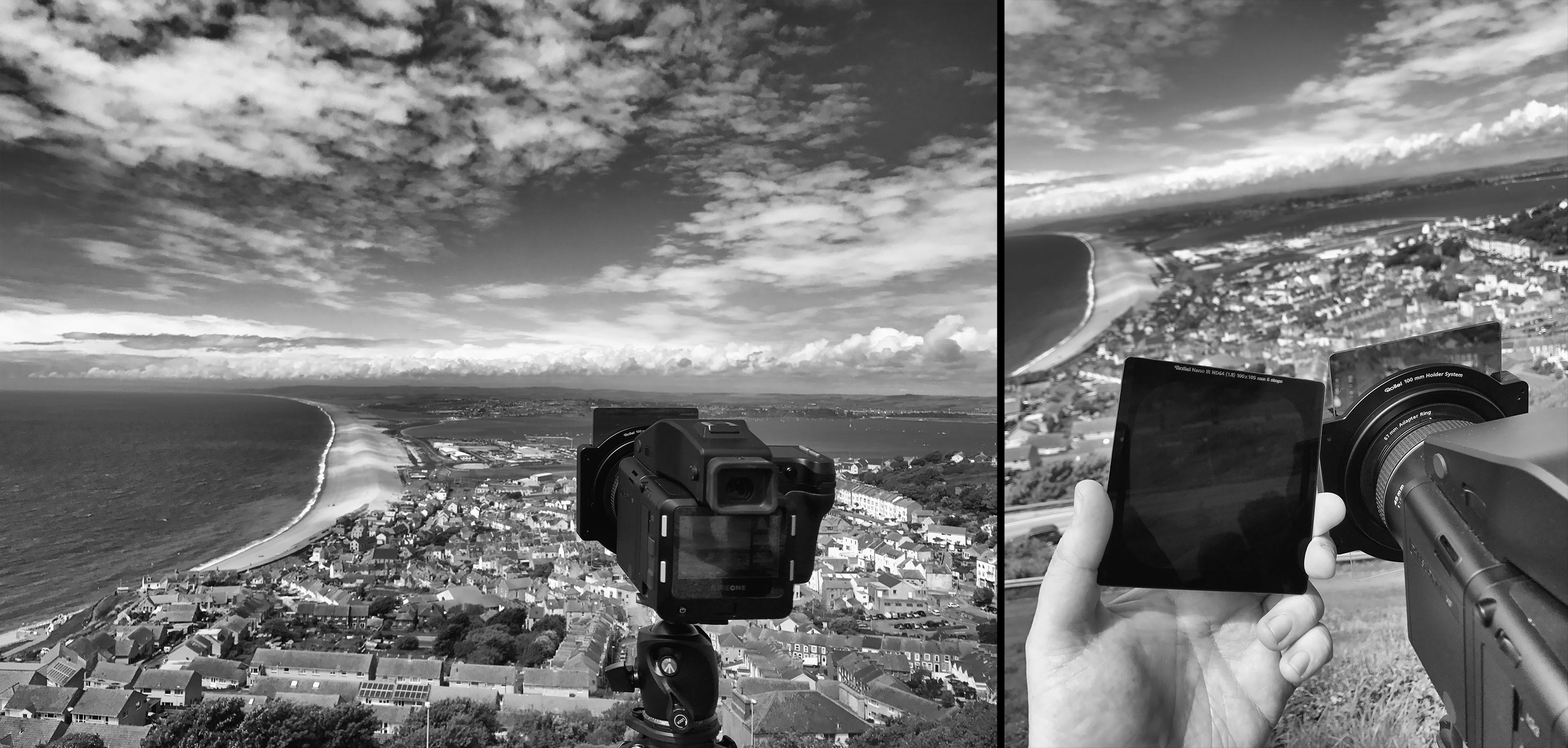 Stood on the top of Portland, England, looking north towards the Jurassic coastline, this was a good test for colour fidelity in the final boxed versions – so how did they perform? (For those new to using photographic filters, many of them are explained in my handy guide, here.)


Starting with a simple light-balancing filter, the rather handy "soft graduated neutral-density filter" (or "GND-8"), this allows me to reduce the light recorded in the top part of the image by 8 times to allow me to expose evenly across the frame. The key thing I'm looking for is consistent colour across the frame in comparison to the base image (allowing for the difference in brightness I've introduced) – and in these RAW images, it easily passes.
Next up, let's add a little bit of motion to the shot by placing an ND1000 (or "10-stop") filter in front of the lens too:


Annoyingly, with the ambient light, even my ND1000 only produced an exposure of 5 seconds – and while I'm still really happy with the colour-cast (or lack of!) with two filters stacked in the raw images above, there wasn't enough wind to allow the clouds to "streak" over 5 seconds.
Normally, I point people away from the idea of "stacking" 3 or more filters – any colour-cast in the glass is likely to be amplified through to the lens, and the clarity of the final image can also suffer. But I didn't have a stronger option than an ND1000. Well, it was a test, so if ever I was going to give it a go – now would be a good time to try it out. So, the sandwich of GND8-ND64-ND1000 was loaded in to my Rollei holder: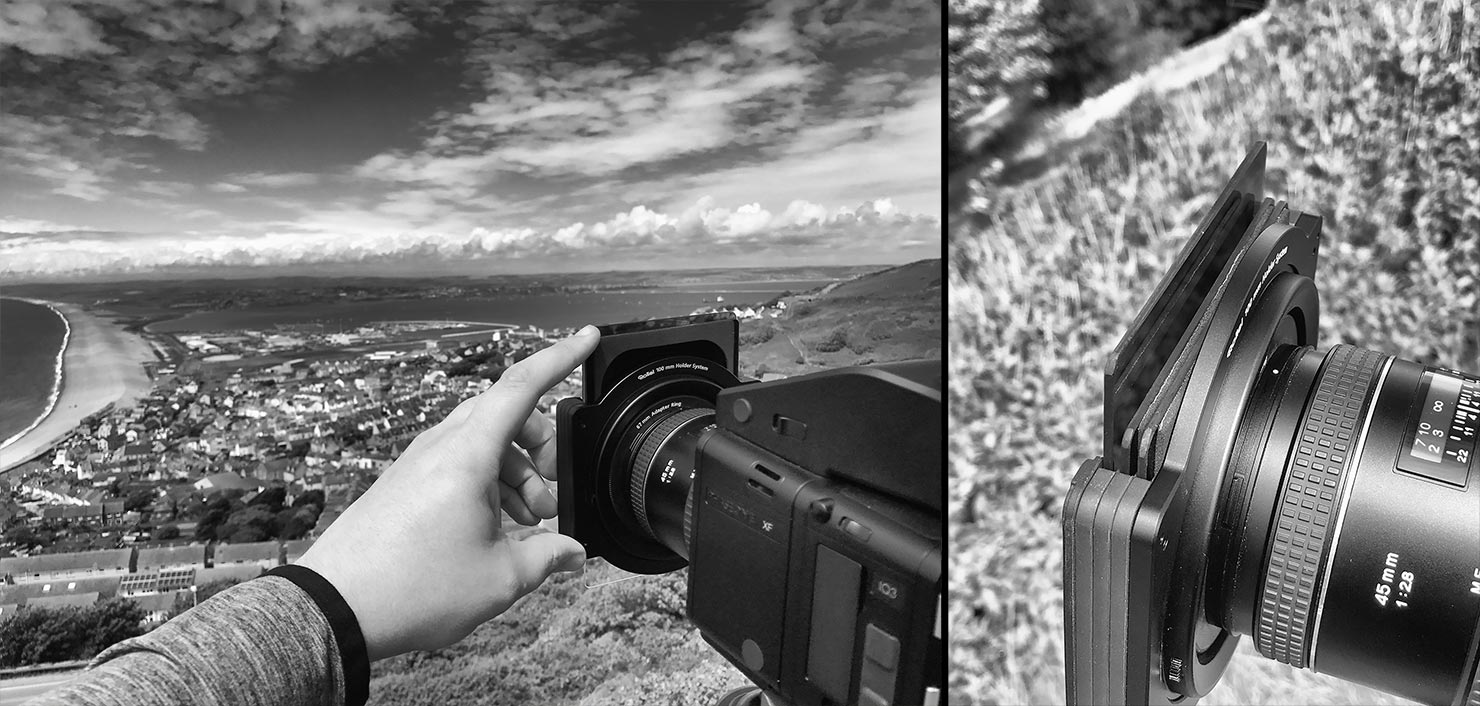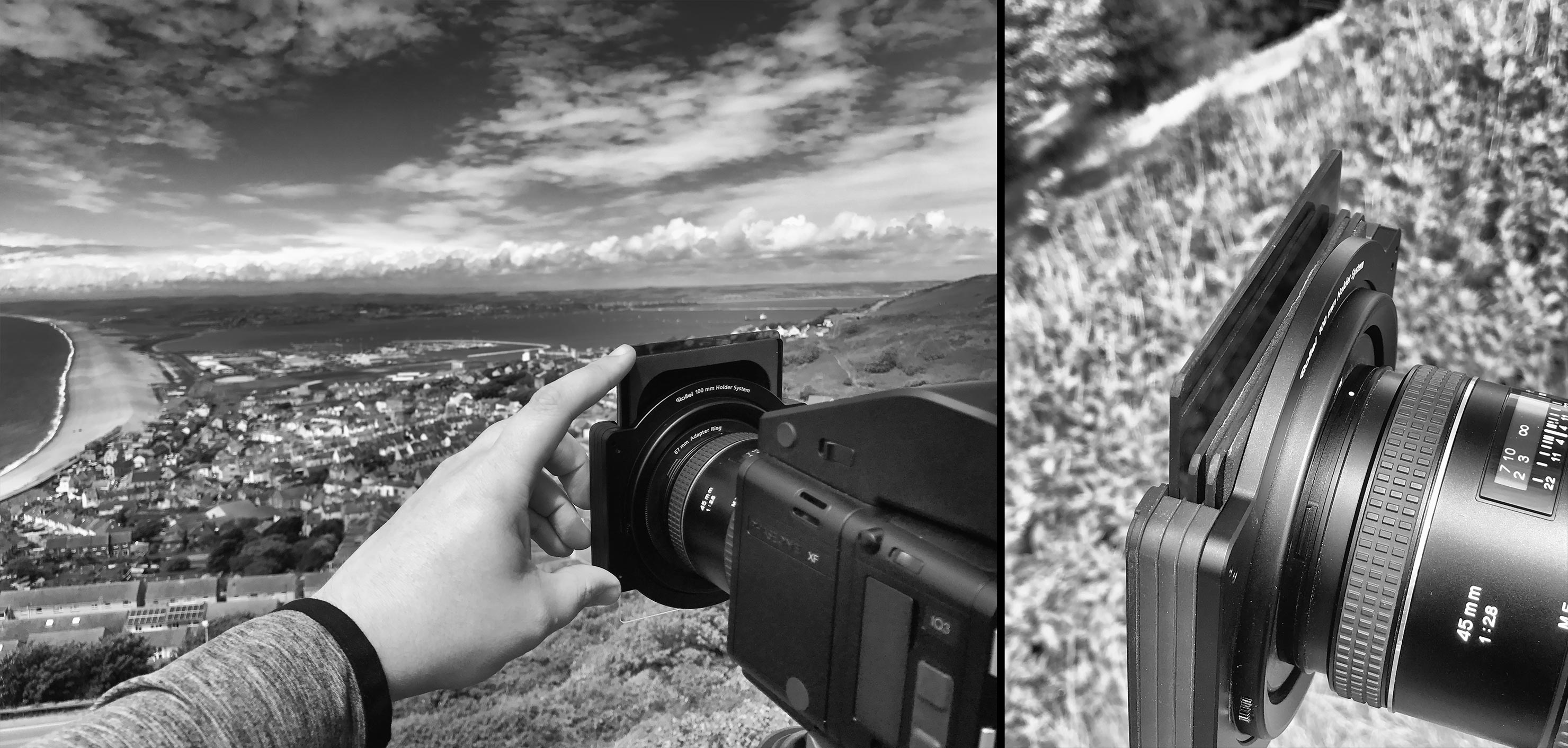 The result? Not bad, I'd say – as an understatement!


Again, in the raw outputs above, we still have great colour-redition across the scene. With 3 filters stacked (including two heavy-ND options), I was ready to forgive the glass a little bit of colour-cast, but while I could make a tiny "tweak" here or there, I'm genuinely impressed with how correctly balanced these images came out from the camera in Capture One. Had I shot the same scene with either my LEE or Cokin systems, we'd be looking at either a grass-green sea or a blood-red sky.
So, what of my previous filter set? The ones from NiSi?
Some of you may remember my update to the initial thoughts I had on using the NiSi system – while on the surface they were indeed very good, the niggles on how badly they scratched over time and the challenges of their filter holder put me off using them a while back. Although their colour rendition has always been good, there was a tendency for images to appear a little blue/green once more than one filter was stacked. With an ND64 and GND8 in my bag, I figured now was a good time to do a quick comparison:


While subtle, yes – there is a noticeable cast to the NiSi shot. Again, both images are RAW, exported from Capture One, in the same lighting situation as all previous shots – but in this case, we can see a definite cooling effect of stacking the two NiSi filters together. Looking at the warm yellows on the houses, or the greens of the trees, there is a noticeable difference in tone between the pure lens shot and the one with two NiSi filters stacked (and this was only 2…)
I'll be updating and adding review pieces as I continue to shoot with the Rollei Pro Square Filter Mark II system over the coming months, but having used them already for a while I can say they're holding up to their claims pretty well so far.
Are they the "perfect" filter? Who knows…
But I can honestly say they're now the best ones I've used to date!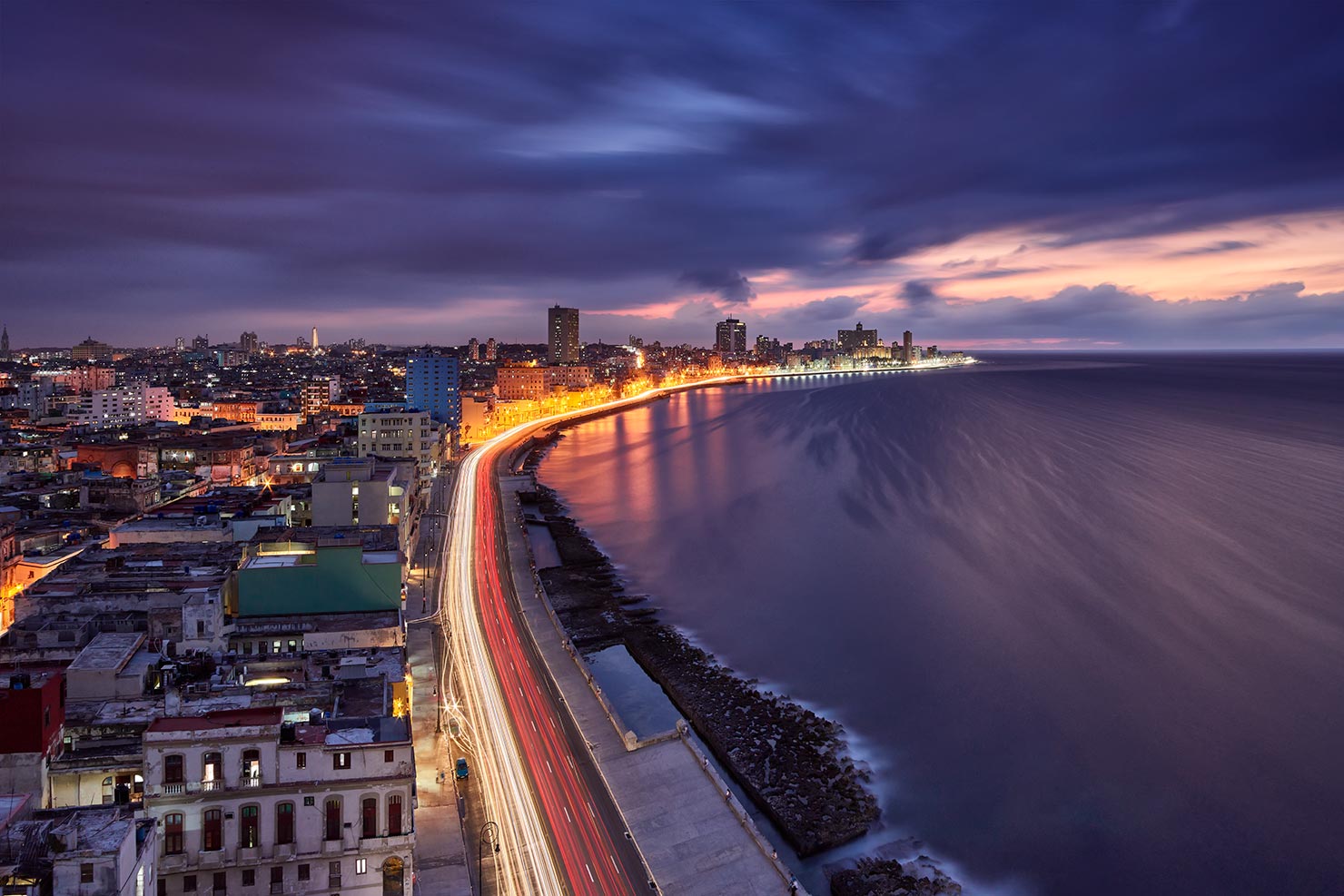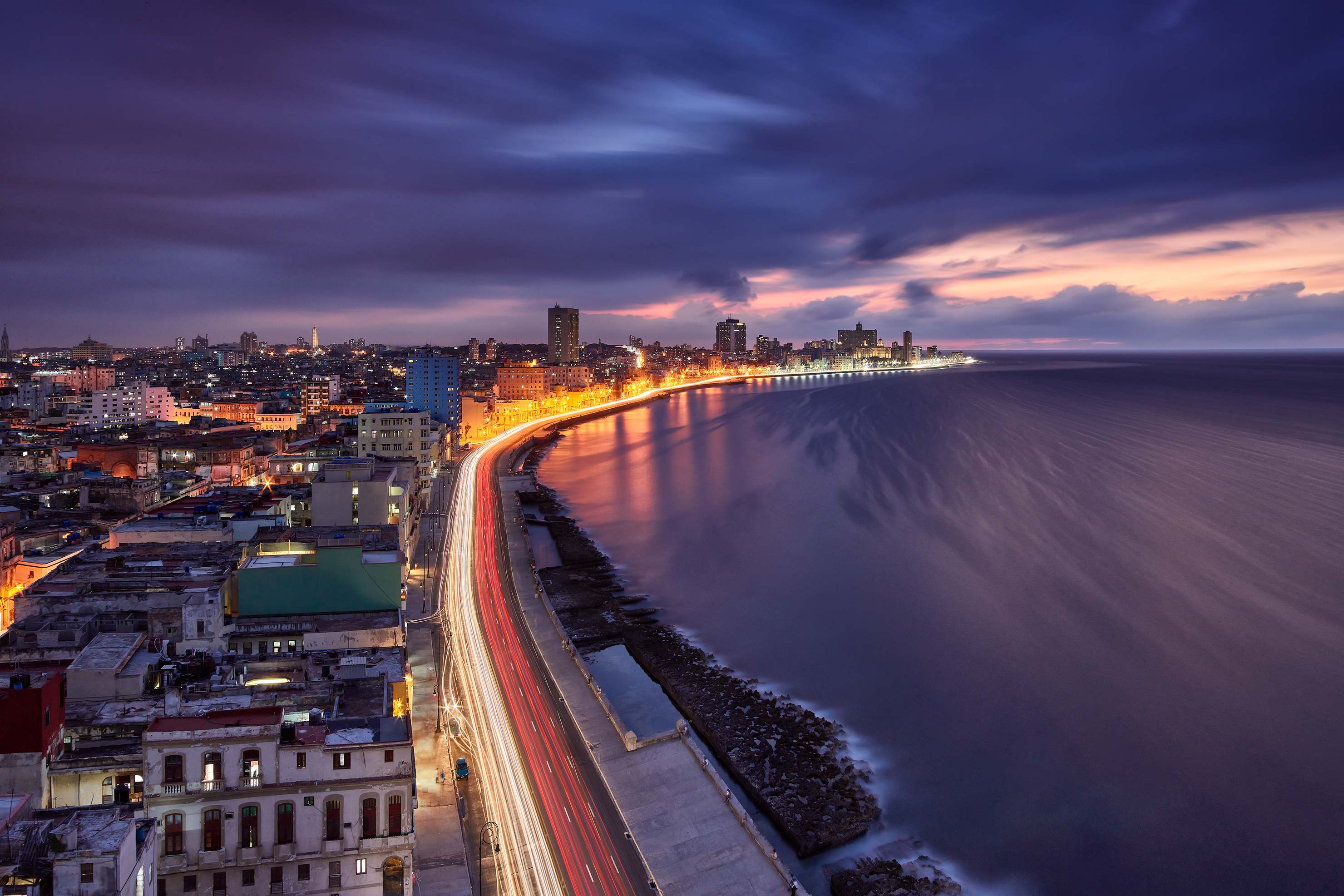 (Oh, did I mention I took the new filters to Cuba to shoot, too? Stay tuned… 😉 )
…and for those who want a closer look at that original Moscow shot as well – here you go: