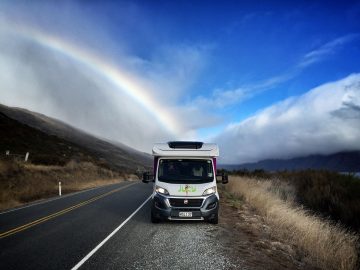 Persuading me to leave a 5-star hotel and "rough it" in a Jucy campervan for a week or two while tearing around New Zealand's south island is no mean feat, but just over a year ago now it was done – and with some great photography results to show for it.
This year, based on that success, was the return.
With a lot more clarity on our route, more flexibility in our approach and with Jucy kindly providing a brand new vehicle for us to take around the island, we were all set for a winter in the southern hemisphere that would deliver some amazing scenes on camera.

Arriving into Queenstown after a quick stay in Sydney, our favourite crazy rental agent was waiting for us, along with Wayne, to introduce the "new toy" we'd been given this year. With added space and a new layout, a "Jucy Casa Plus" 6-berth home on wheels was ours for the next 10 days. Granted, it didn't take long to transform it into a mobile photo studio and outdoors equipment store, but all that extra space and the permanent bed setup was a big shift from the 4-berth campervan we'd been driving around in last year.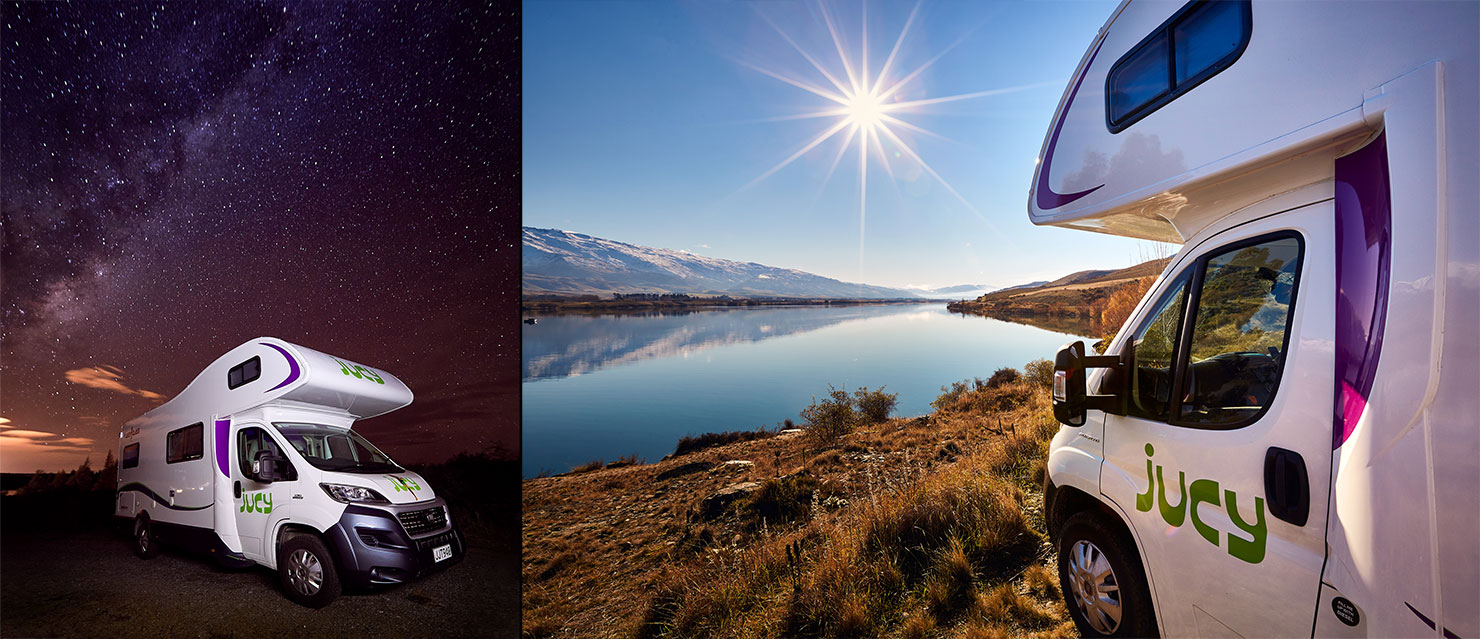 Having landed on a winter's afternoon, it didn't take much time picking up supplies for the light to fade, meaning we needed to get on the road to our first destination : Mount Cook. Reaching the campsite late at night had meant a distinct lack of scenery on the way up – but it was sunrise we were aiming for, in an area that was relatively unknown to any of us – so a quick snap to check how clear the sky was at night (and it was!) and we were off to bed.

Campervan Advantage 1 : Time-saving.
When you know it's going to be a 1.5 hour hike through snow in the morning to reach a location an hour before sunrise, the ability to be near the action and get some extra sleep is worth its weight in gold. While the sky was a little disappointing, the Hooker Valley Track delivered its own mini-adventures with swing-bridges, ice-covered walkways and a comedy-show's worth of slipping and sliding as each of us fell down one after the other every 20 minutes on the way there and back.

The view? Simply incredible. The lake was frozen, and while the lack of floating icebergs and clouds were an issue photographically – the sight of the sun reaching up across the tips of the mountain, in temperatures that meant cameras and phones simply refused to turn on, was absolutely breathtaking.

On the road again, the collective decision was to head somewhere a little warmer – and this winter in New Zealand really had been late arriving. As soon as we found ourselves outside of the Aoraki Mount Cook perimeter, the snow began to fade back to once again reveal the autumn colours beneath.
A lot of people seem concerned at the size of a motor home like this, and how difficult it can be to drive (as, to be fair, I was the first time we took one around the island!). In reality, these are some of the most modern vehicles you can drive, with all the features and systems you'd expect on a well-spec'd van – and while you're not going to be breaking any speed records as a result of carrying your hotel along with you, they're exceptionally easy to handle on New Zealand's roads.

Campervan Advantage 2: The best views.
While you may not be able to set up and camp at the exact spot you had in mind, the chances are you'll be in a much better location than any hotel out there on the road when you wake up in one of these. Mountains in the background, fresh water lakes ahead, blue skies and 360-degree scenery, not much beats the ability to bring your own hotel along with you to every location.
Setting up breakfast on a lakefront, lunch in the forest and dinner in the snow-capped hills can be your typical plan for a day – and when you have shower and toilet facilities onboard (most of the campsites offer these too), there's not much you actually need that isn't there with you. Yes, you have to adapt your living space and routine a little – and yes, it's VERY cold during the winter if you forget to put the heating on(!) but for our purposes of getting to the perfect spot for each photo, the Jucy Casa Plus was perfect.

Campervan Advantage 3 : Home is where the food is.
I remember as a kid, camping meant "roughing it": Burnt food, bugs, fetching clean water, etc. Well, not in these.
While, of course, we had the choice to eat at local restaurants (and chose to quite often), having a fridge/freezer onboard and full cooking facilities meant the "nights in" could be just as good. Shooting images after dark often gets in the way of restaurant dinner timings too; something easily avoided when you have your own dining facilities and food store in the back!

Campervan Advantage 4 : Flexibility.
With experience in booking photographic trips for more years than I can remember, there's one thing I would say can be the biggest problem in planning: weather vs hotel bookings.
The weather (obviously) can change in a heartbeat – unlike a hotel booking unless you're willing to pay significantly more "just in case". With New Zealand's vast array of campsites and "Freedom Camping" rules, however, this really isn't a problem.
Decide you want to head to the southernmost point of the south island because there may be an aurora display on that night? No problem.
Want to shoot late into the evening when still 200 miles away from where you'd originally planned to be? Great.
Thinking that sunset might be good over Lake Te Anau tonight? Let's go.
Fancy a dip in a hot-tub before heading out the next morning for another sunrise hike? Easy.
While some of the mod-cons and luxuries are most definitely left behind when you take one of these on the road, for photographers, I have to admit the flexibility it delivers is second to none. There are some shots from our most recent trip that would simply not have been possible had we not been able to make location decisions on the fly with no financial or time impact whatsoever – and that, on a photographic trip, is priceless.
Campervan Advantage 5 : Close to nature.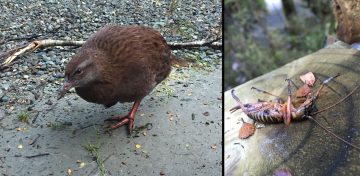 There is of course one element of camping that's a true "love it or hate it" for each of us – nature. To some, the ability to wake up to the friendly Kiwi that hopped around our motorhome in Milford Sound would be incredible. For others, the thought of having to move super-bugs out of the way to "hook up" is simply too much.
Whichever way you look at it, places like New Zealand are about exploring – the views, the locations, the wildlife, and while these Jucy campers are much, much, more secure than any tent-based option, they do still allow you to get as up-close and personal with nature as you wish. (Or as far away from nature if you don't!)

2,000km can take its toll on both the vehicle and its passengers, and while I really did enjoy driving across the island – I must admit to a certain level of excitement when we approached Queenstown once again on the return leg.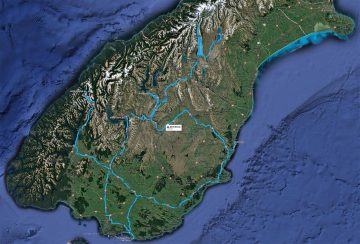 With a mud-covered mobile home (along with all its passengers), we checked in to rooms with the first bath and "big shower" we'd seen in 10 days, each smiling from ear to ear.
Life on the road can be incredible – it was in this case – with images I simply would not have captured had we stuck with hotels and a car. It can also be tough at times, with some of life's luxuries missing and no ability to escape from your fellow travellers, but that's all part of the experience too.
These are the things that memories are made of – and while New Zealand offers some of the most amazing scenery on earth, the age-old saying still stands: It's not what you do, it's how you do it that counts.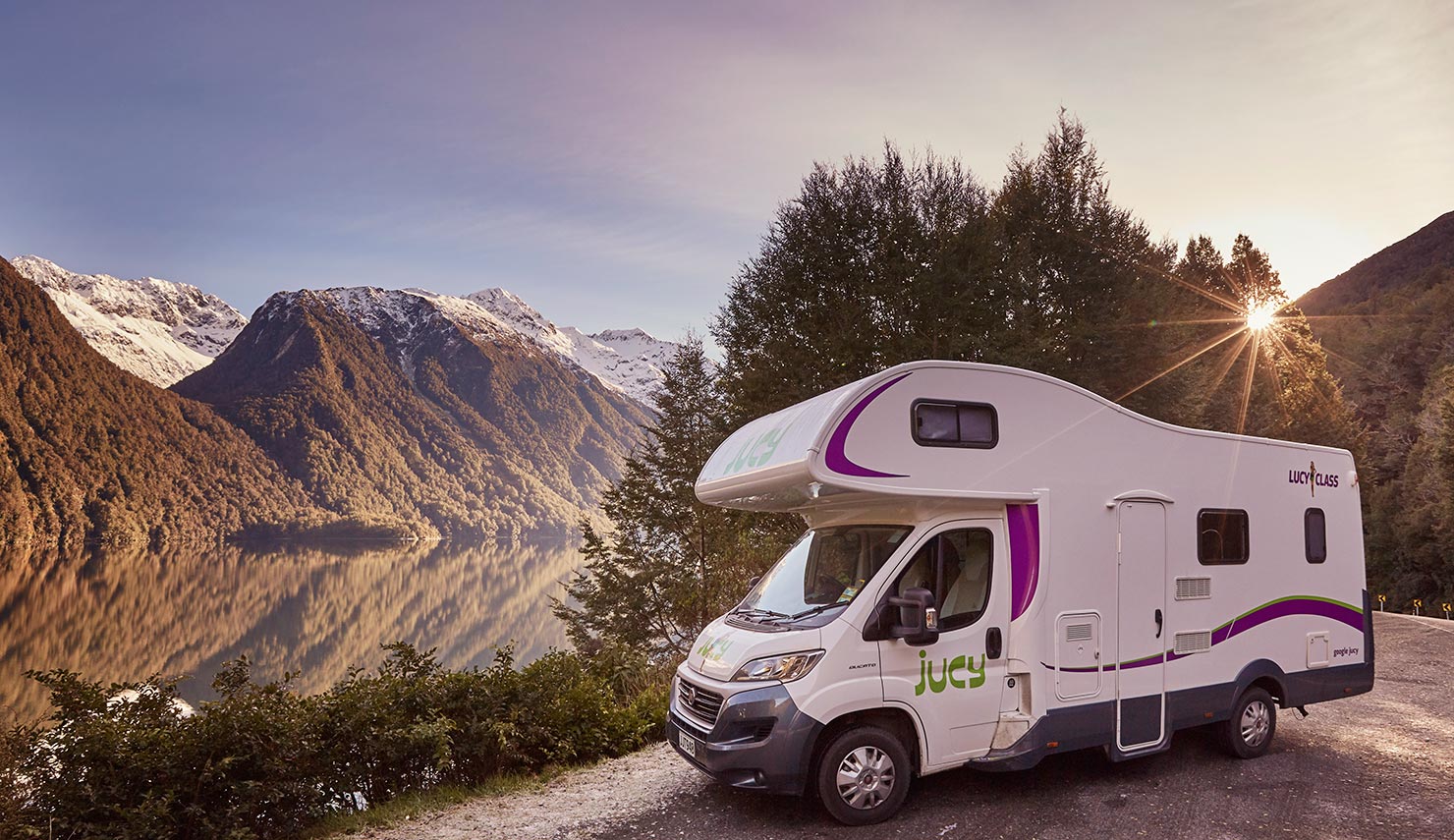 …and here's to the next trip – see you next time, Jucy!