For all the weather forecasts and cloud cover tools that exist out there, one element of each day still remains completely unpredictable to all of us photographers: Sunset.
We might proclaim "it's going to be a good one tonight" or "there's on point, nothing's going to happen" with a knowingly convincing tone every now and then, but the truth is nobody can really say what will happen in the sky from one evening to the next.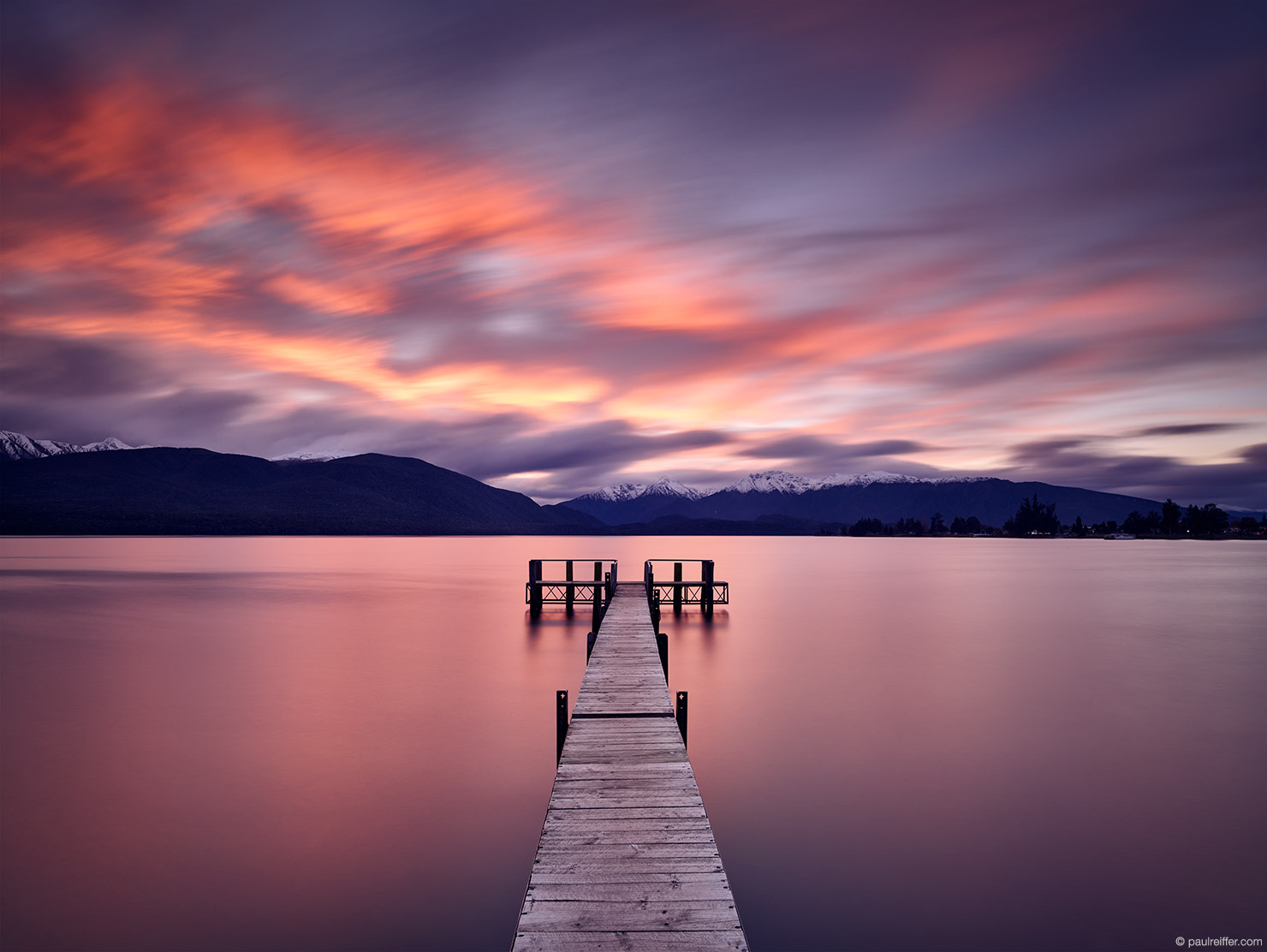 Our time in Te Anau was brief – just one night before continuing the journey deep into Milford Sound to capture more of New Zealand's Fiordland National park, a truly stunning landscape which surrounds you with mountains, lakes and wilderness on the west coast of the South Island.
Having photographed this lake on a previous trip, I knew exactly how unpredictable the weather in this part of the country could be, and didn't hold out much hope when we arrived to find the layered stacks of clouds hanging over the mountains, obscuring the sun as it headed toward the horizon.

"Well, we're here now" – the often-used phrase that accompanies disappointment on arrival into a location. But it's the right sentiment – there's no point in wasting the opportunity to shoot if you've already committed 90% of the effort in getting there in the first place. While there were hints of a brightening sky, and despite being happy with the initial tranquil shot below, it wasn't the explosion of colour I'd been hoping for on this revisit and my enthusiasm began to fade.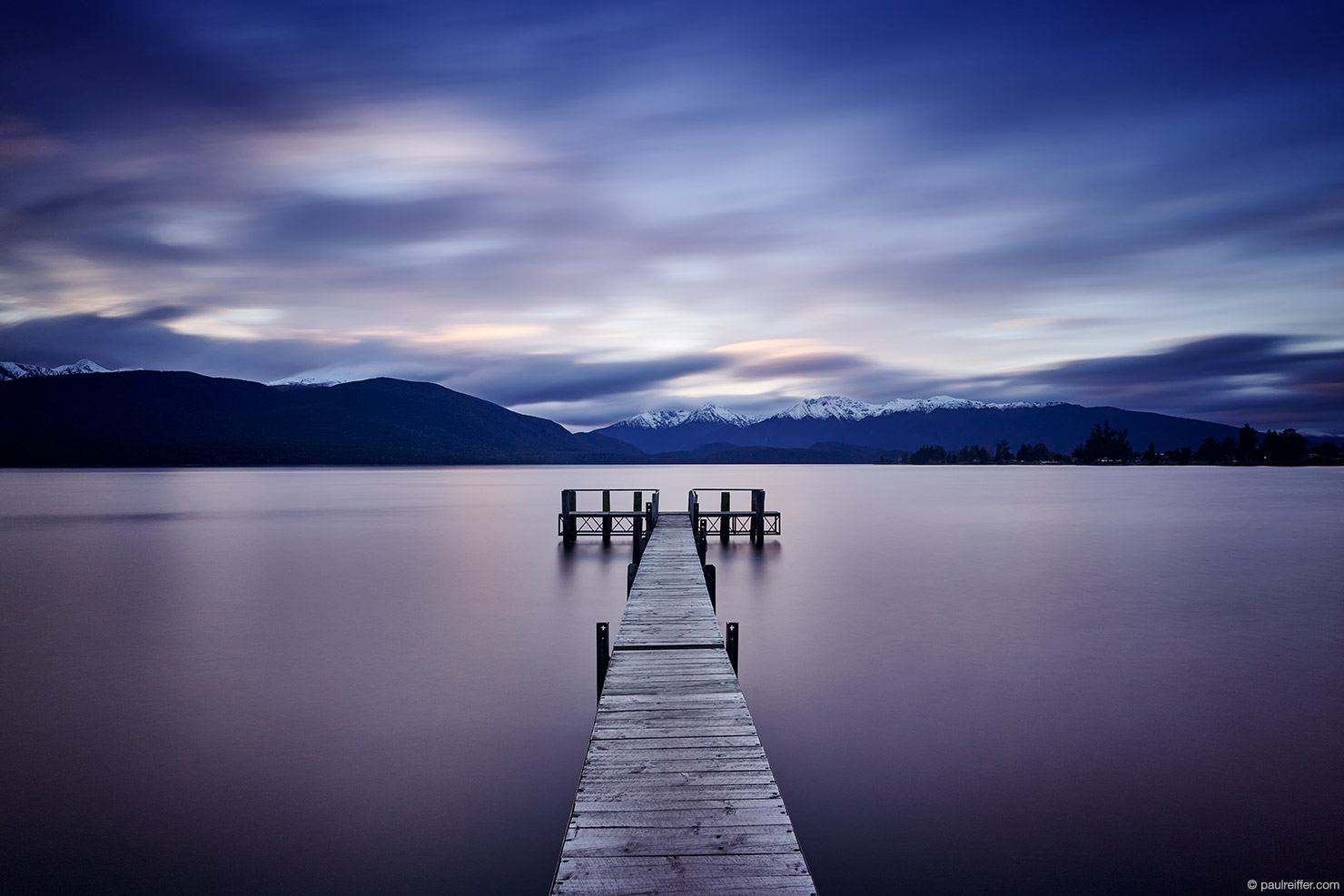 The time for sunset came and passed, by now the sun would already be well behind the Fiordland mountains to the west and the brief bit of colour we'd noticed had started to disappear once again. However, as those of you who have attended one of my workshops will know, in my view it's always worth hanging on for "another 10 minutes or so, just in case"…
And here's the proof of why: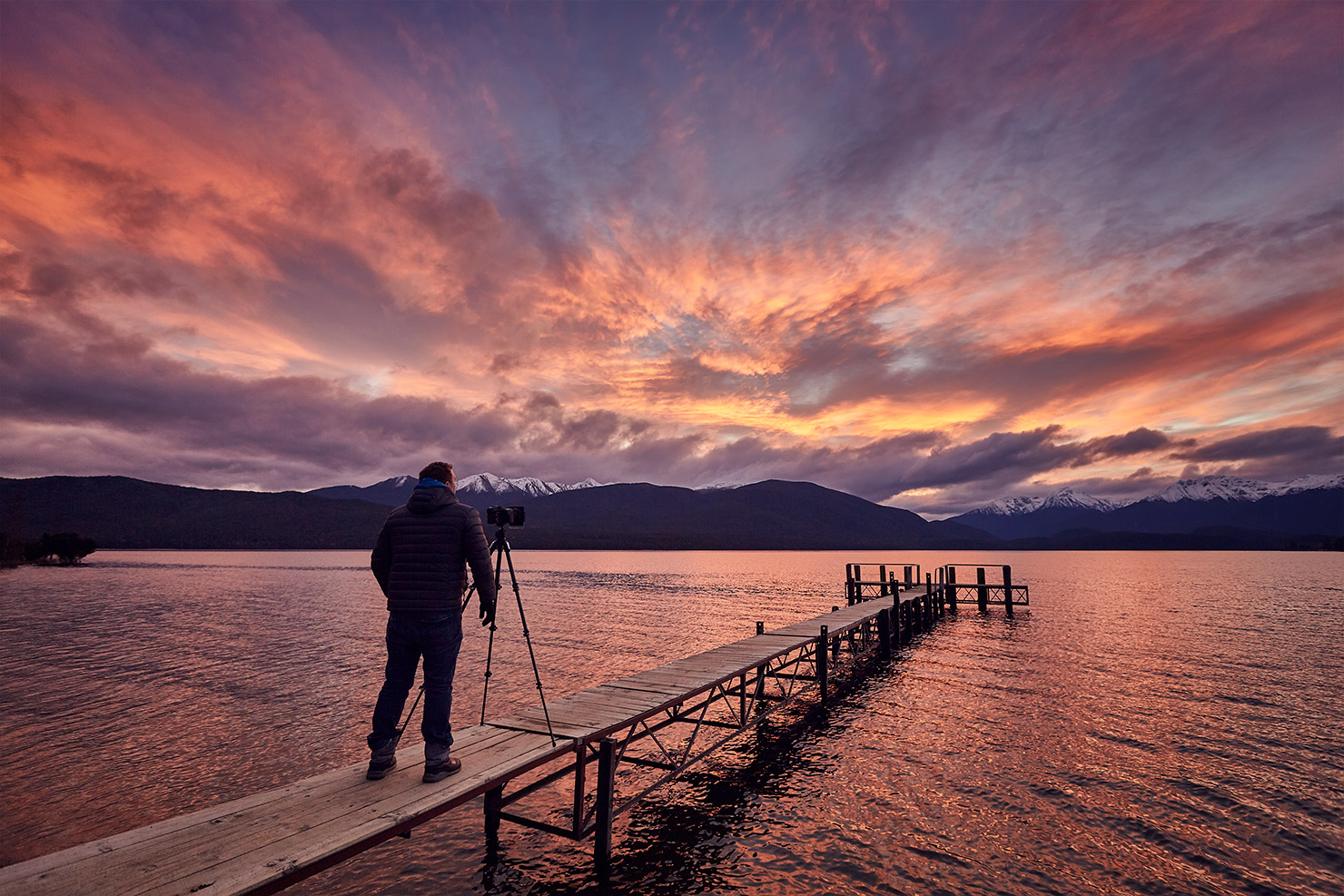 The sun had found a gap on the distant horizon – and while the low level cloud across the mountains continued to block the light, the upper layers erupted into an explosion of colour all across the sky. From short clicks to ultra-long exposures, I captured every possible combination of jetty and sky in the brief moments that the colour reflected off the clouds.
Looking back, I did want to keep TeAnau's peaceful, calm, slow feel – and so it's one of the longer exposures where the water remains still that we're releasing as a limited edition fine art print. The title, however, is more of a clue to how quickly and dramatically the sky changed before my eyes that evening. "Restless":