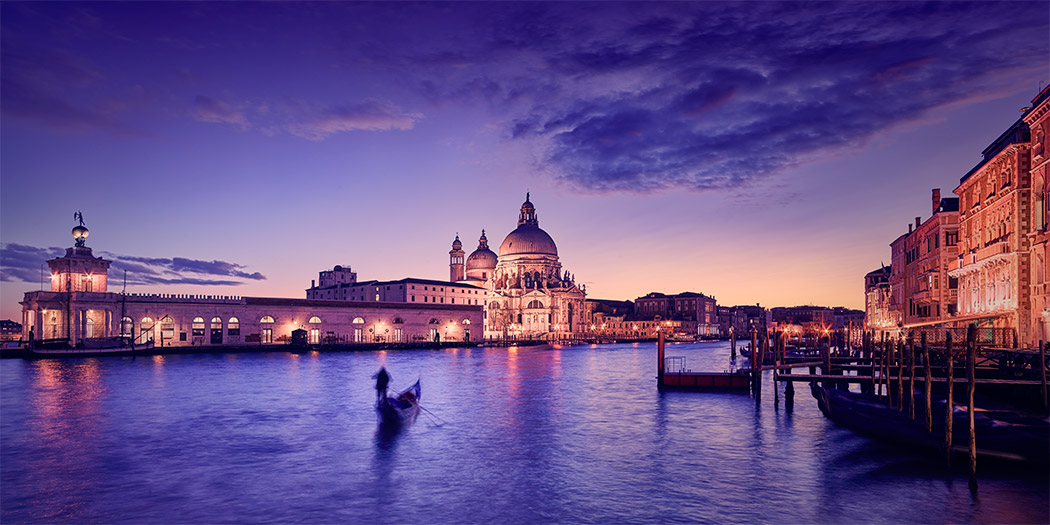 Ah, Venice. The Bride of the Sea, City of Bridges, City of Light, City of Water and Serenissima. A stunning place to just force yourself to get lost with no maps and wander around the winding streets, waterways, alleys and ancient buildings exploring an area that is so set back in time, it's as close to arriving in a Shakespearean novel as you can get.
My last visit to Venice had resulted in quite a few "learning opportunities" – the flooding, the smell, the cold wind, the transportation "options", and much more. This time, I was prepared – and in more than just one way.
Not only was I heading back to a city that I knew a little more about, but I was now (finally) heading there with my new toy – the Phase One XF Medium Format camera system, an upgrade from my 645DF+ body. The upgrade has been a long time coming – having placed the order back in September(!), but finally, the day before we flew out, I could collect it from London and bring it with me.

Having gotten used to the "quirks" of my old 645DF+ (the Phase One camera for years and years was actually just a rebranded Mamiya 645DF/+ body, based on a design with origins in 1999), I was actually quite sad to let it go. I'll miss the random crashes, shutdowns and petulant dial controls that would each try to second-guess what you were trying to do (incorrectly) before just refusing to respond at all, but it was "time to move on".
Time to move to a new body. One that's better behaved in hot environments. One I can set up the way *I* want it to operate, with touch-screens that are fully configurable throughout. One that's got one of the most advanced auto-focus systems in the world. One with two viewfinder options (prism and waist-level), interchangeable by the user. One that has "vibration detection" to delay taking long exposure shots in an intelligent fashion. One that will accept my new 100MP sensor without worry (when it arrives…!)
…one that allows me to just plug my £275 Phase One remote cable trigger into the side of it and head off shooting, right? Oh, WAIT. No. 
For all the advances, it seems Phase One have (sadly) forgotten to develop one small, but very important for me, accessory to go with it (or indeed, design the XF to accept the existing one). That's right: At present, no cable release. Wow. So, let's move on from that (I guess it'll force me to see how the vibration delay works, let's just hope there aren't any "NOW!" moments I may miss, hey?)

Arriving into Venice is always a surreal, yet serene, experience. You land by the water (much like the Maldives) and your only real route to the lagoon is via a private water taxi or shared "shuttle boat". In our taxi, we headed down towards San Marco, where the hotel was located just 3-4 minutes away from the world-famous square to dock outside the entrance and check-in from the boat.
This was the last day of Carnival, an annual event over 2 weeks where what feels like half the city is dressed up in ancient Venetian costumes, ready to parade around the streets and Piazzas in contests, masquerade balls and huge parties. Walking amongst them was fantastic, yet strange, and actually made me consider returning a few days earlier next year to catch more of the activity.

Venice as a town has always distracted me, photographically, and left me torn as a visitor. On the one hand, it does have some fantastic opportunities to photograph an almost ancient, or historical, lifestyle that still exists in the 21st century. However, with a population of only 60,000 – compared to the tourist influx of over 25 million a year (yes, 25 million tourists to 60,000 residents!) I'm also extremely conscious of not being "that tourist" who gets in the way of locals, or ruins things for others. Sadly, we saw a lot of that behaviour during this trip (maybe something to do with Chinese New Year) but I really do feel for the locals, as this place is truly stunning and I can imagine how amazing it would be when/if it was ever quiet.

The cruise ship ban no-doubt originally helped, and I'm extremely thankful for the opportunity to shoot landscapes that would otherwise be obscured by these monster metal beasts in the years when they used to just sit by Piazza San Marco, but the recent lifting of the ban last year does suggest such views and lack of huge groups descending on this tiny city will be short-lived. For now, however, it seems the awareness alone of the damage the boats were doing has meant less are frequenting the waterways – a move that I genuinely hope remains for as long as it can.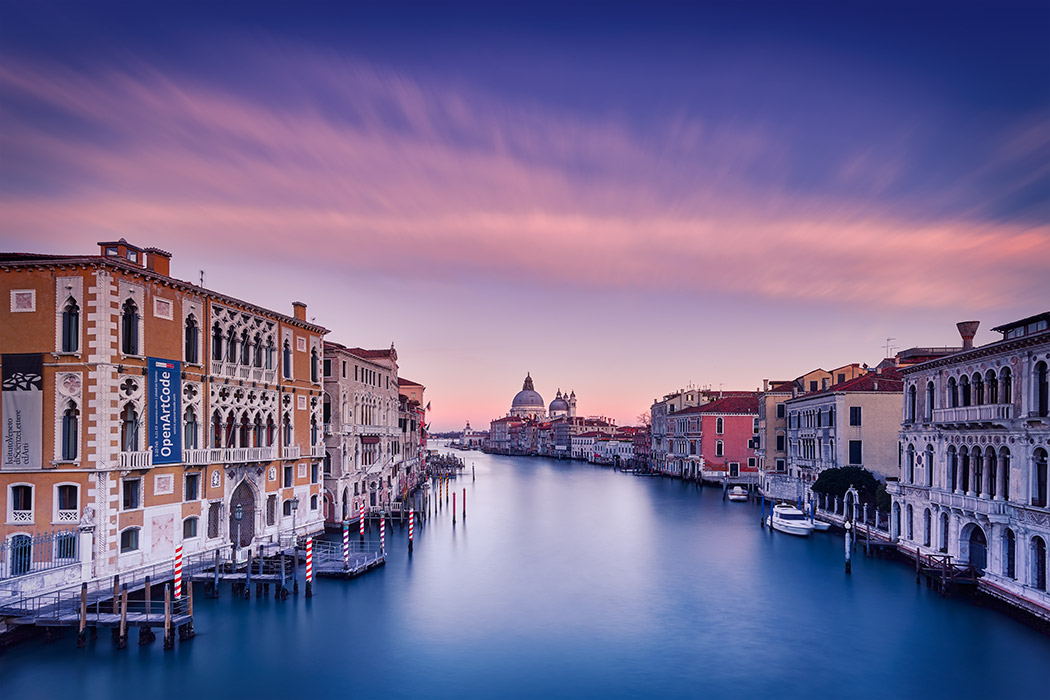 I only wanted one shot from Venice this time – the shot at the top of this post : "The Merchant". I just love this view from San Marco, looking towards the Basilica Santa Maria della Salute as the last of the gondoliers heads out to his "parking space" on the Grand Canal for the night. The lights in the city are spectacular in the evening, as are the quiet periods between the water buses as they pass by.
But sitting on the Grand Canal, enjoying a glass of wine in the sunny afternoon, left me with one further view in my mind. The "reverse sunset" looking East from the Accademia bridge – while the sun set behind us, the pink reflections of light hit the remaining clouds over the lagoon, spreading towards us in the wind. What a view.
So, did the new Phase One XF hold up? A resounding yes.
I LOVE the fact I can finally customise the camera to have every button doing what I need it to do, instead of having to learn the inner-workings of the mind of the engineer who built it. I love the "chunky/boxy" style of it. I love the vibration sensor and improved autofocus. And I love the countdown timer on the top that saves both Vic and I counting with "Mississippi's" on a 2 minute dark frame following a long exposure.
Luckily, on this occasion, I didn't need to shoot anything spontaneously – otherwise, I doubt I would have loved the lack of remote cable release(!).
Still, I guess that at least gives them something to work on in Copenhagen for the next few months 😉