Every photographer has "the list" – the list of locations they've always wanted to capture.  It could be 1, 2, 10 or 100 places, but we all have one – and for me, a feature on my list since I can remember is Mesa Arch in Canyonlands, Utah – and I finally got to tick that box.
Introducing: "Eye Wonder", my latest limited edition print: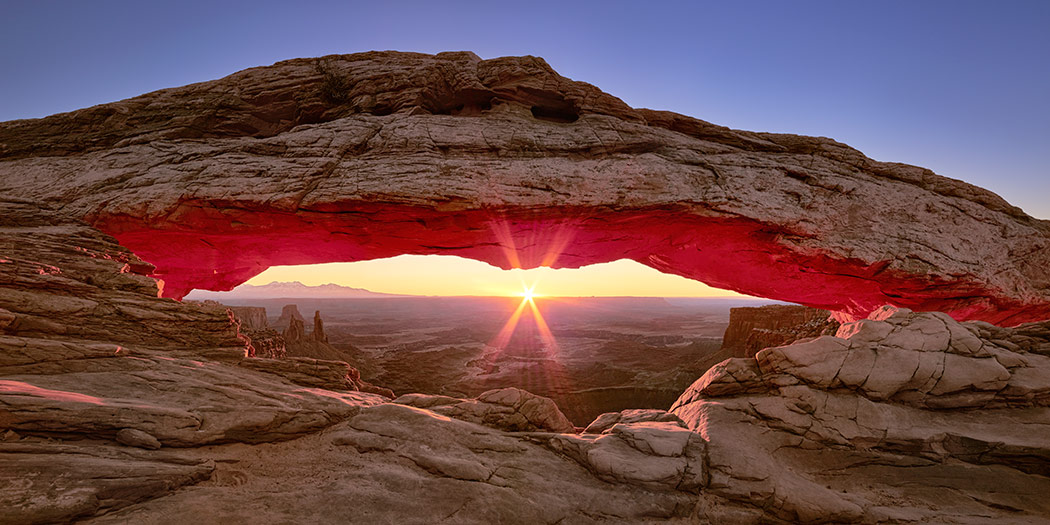 "Eye Wonder" – Buy the limited edition print
Having years to prepare for this shot, you'd think it would be an easy task, right? You know where you're going, you know what you're shooting, you know how to capture it… But no, not so simple.
You see, there were three massive factors involved in getting "the right shot", for me:
Getting the sun in the position I wanted (everyone seems to have it over the mountain and shoot from the right)
Getting there early enough to beat the many other photographers at the same spot
Getting the perfectly clear sky I needed to ensure clouds didn't take any focus away from this incredible structure
And only one of them was really in my control…!

It's always best to stay a few nights if you think weather is going to be a risk factor in getting the shot – and while Moab may not be the most happening town on earth, there were at least two places that served beer (in this otherwise dry state) and it's a pretty cool neighbourhood anyway. So, with hotel all sorted, it was time to head down to Mesa Arch to scope it out the evening before "attempt 1".
In my entire career, I've not once arrived to a location to find it exactly as I expected, and this was no exception. Parking up at sunset, the quick hike up-and-down the hill brought us to a tiny little sandy area with a hint of "something over there". Walking further, we found it – and after a little bit of playing around (including my amazing attempt at a yoga pose 😉 ) it was time to get out all the tools to work out the sun positioning for the morning. All looked good…

Waking up at 4:30am is something I'm used to, but never happy about, but hey – at least we'd be the first ones there, right? Wrong. We pulled up to a parking lot to find two other cars already sat there, with more following us down the road – the race was on…!
Thirty minutes before sunrise, there were 11 people all lined up to take the shots. At sunrise, another 10+ tourists arrived to witness it also – as I had expected (feared), this was not a solitary or peaceful experience! 🙁
Still, I have to say, 10/10 to the photographers there with me – from the guys shooting star trails when we arrived, who ended up helping us all by moving up, to the ones who arrived late – everyone just "got along". It's sad to say that's unusual, but I really was pleasantly surprised, especially given how many other situations there are when the same cannot be said about photographers trying to "get that shot".
1.5 hours, we'd been there – waiting, hoping, desperate for this to be "the one" which meant no setting the alarm clock tomorrow morning – and then, perfectly on time, the sun just popped out over the horizon.

Never in my life have I heard so many camera beeps!
Click, beep, move, click, beep, beep, beep, click, click, move, beep, "shit", click, beep, "nooo!", click, beep.
…and then, 5 minutes later, I looked behind me – to find only selfie sticks and tourists holding iPhones – the photographers had all gone. It seems, this amazing moment was but a tiny fragment of shooting time for many.
Me? I stayed. For another 30 minutes, and just reminded myself: It's one thing to share an amazing moment with others through the power of a photograph, but it's another to miss it entirely yourself by not taking the time to appreciate what's before you.
Yes, we were all there to capture the moment on camera. But I was also there to witness, with my own eyes, how amazing this natural wonder truly is. As the sun rises, the arch really does come alive with a fiery red glow; the snow-capped mountains in the background, still cold with the winter air; the hoodoos and mesa just off in the distance, reminiscent of Monument Valley, basking in the fresh light from a whole new day.
THAT's what being here was all about – sometimes it's not all about the photo 😉