Some call it a "Black Friday Sale"; Others call it a moment of madness; I call it "giving something back" (as you'll read more about below).
However, regardless of the reason, you're not reading the title wrong – You can download, for free, one of my latest digital images for personal use. 😉
Proudly presenting… "Curtain Call":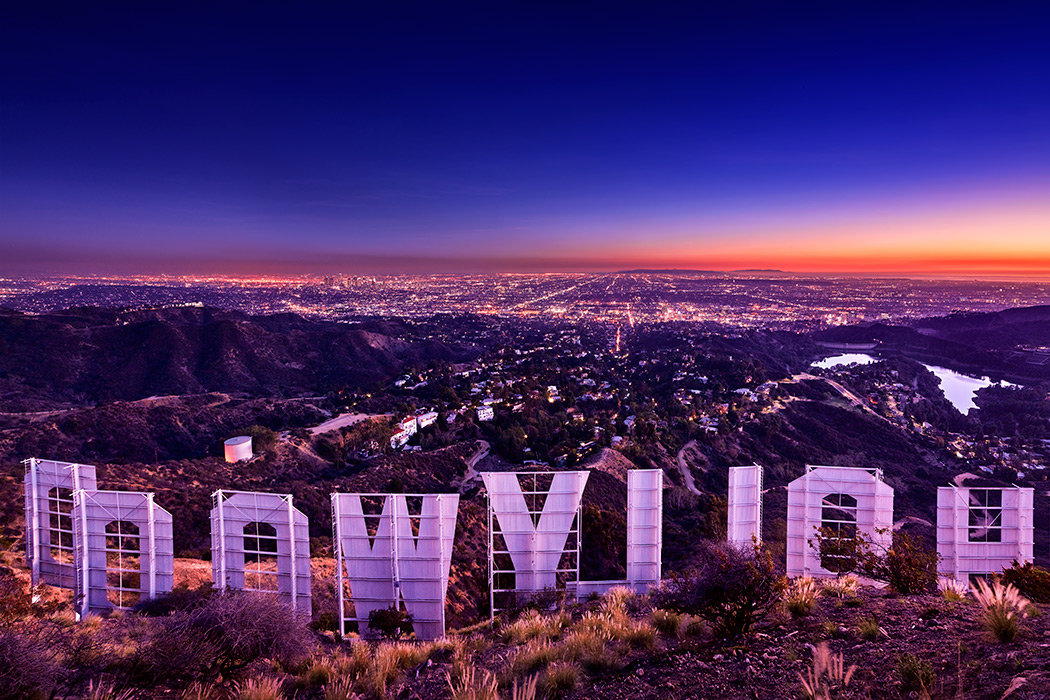 Clicking the image above, or clicking here, will download the lower-resolution version (suitable for desktop backgrounds, 3,000 x 2,000 px).
Clicking on this link here, will download the higher-resolution 61 megapixel version for print (9,600 x 6,400 px).
Yes, you can save, print, share and enjoy this image in whatever way you choose for personal use, with no payment due whatsoever. By downloading this image, you are agreeing to the terms set out at the bottom of this page, but in essence the only restriction is that it cannot ever be used for any commercial purposes of any kind without a license from both myself and Global Icons, the trademark owners.
So, why would I ever give a high-resolution digital image away?
It's simple, really, and it all comes down to the crazy licensing and trademark/copyright issues that are becoming an increasing feature in cities around the world.
For those unfamiliar with the concept of commercial licensing, more and more cities have allowed private companies to "copyright" or "trademark" certain aspects of their skylines. The result? You cannot use commercial images of some cities without paying a large fee to the license holder. Yes, you've guessed it, that includes the Hollywood sign – but it also includes things as crazy as Paris' Eiffel Tower at night (note: not the tower itself, but the light show, which is considered a work of art and therefore protected), the London Eye and even parts of Singapore's Marina Bay skyline.

Allowed to continue, ultimately this will leave the world looking a very sad place, photographically, as more and more enterprising companies start to flex their legal weight over some of the planet's most iconic destinations. What's even more frustrating, of course, is that in some cases it's not even possible to photograph a city without these features – even if you wanted to. (The alternative being above…!)
The last time I shot around LA, an agent/broker handled all of the permits and licenses on my behalf. This time, however, I hadn't initially planned to shoot around the sign, so didn't bother asking them for help.
The result? I decided instead to head up to the sign to take a photograph that I know cannot be licensed commercially without further arrangement (by the user) with the trademark owners. 🙂
So with this image, I'm simply "giving something back". Being on top of Mt Lee at night, looking over the dazzling lights of LA below, I was reminded of how lucky I am to be able to capture these views – and it's a view I really want others to enjoy. With no prior arrangement, this image would need quite a bit of paperwork to license later on, so it's much better if it can make others smile at home!
Permits can be a good thing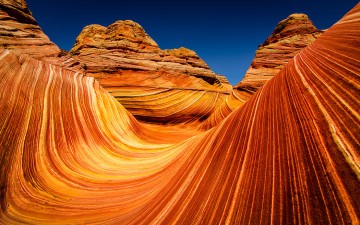 Ironically, when applied reasonably, limiting the number of people using a location for commercial filming and/or photography can be a good thing. Photographers can ruin the view for others and a minority have a reputation for pushing the limits too far. To see the process being put to good use, look at the lottery system for visiting "The Wave" in Arizona, and you'll get what I mean – imagine how trashed this amazing location would become if any and all were allowed free access 24/7.
So my frustrations aren't about the need for a permit. They're about when and where they are really required for any reason other than making money, and why on earth private companies are allowed to trademark publicly visible landmarks and city icons we all see every day.
My hope is that those in charge will soon realise this practice cannot continue in this way.
Photographers: Getting the permits and permissions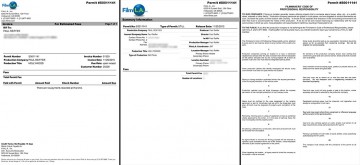 For the photographers out there, a little help – specifically if you want to shoot any picture for a commercial client that includes the Hollywood sign:
To get access with a camera within Griffith Park (where the sign itself is based) in order to take a commercially-licensed photo requires an all-clear from the Park Film Office, City of Los Angeles Recreation and Parks Department (plus payment of their fees).
Then, you'll need a permit to actually shoot in Griffith Park, for which you have to contact the city's non-profit organisation, "FilmLA" who assign a project manager to your case and add some extra charges to the existing fee.
To be granted the final permit, you then have to have your insurance company underwrite both the City of Los Angeles as well as FilmLA as named parties on your insurance cover, regardless of the level of Public Liability Insurance or other policy you already hold. This has to be done in writing, direct to FilmLA.
So, let's imagine you've managed to do all of that, then you must be all set, right?
No…
You then have to contact the private company who own and manage the trademark and copyright of the sign itself for a licensing quotation – Global Icons (and you can imagine how that call goes…!)
All in all, it can be a frustrating experience which is, on the face of it, there to protect the iconic sign along with the residents who may be disturbed by large film crews and stage setups. In practice, however, I can't help but wonder how much cash is generated every year from such processes being applied to simple still photography shoots as well as big productions.
Getting the shot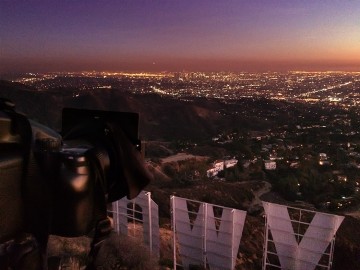 So there we have it, you are free to download my latest image in screen or print resolution free of charge.
For those a little more adventurous, getting this shot really isn't too difficult, despite the long-standing battle between the tourists and residents of the streets that provide access to the sign itself. The use of illegal red-curb markings, fake "no trespassing" and "no access to the sign" placards, along with threats of towing in order to deter people from visiting, have escalated over the years. However, the city has recently stepped in with some new measures to help, and in reality the sign itself is on a publicly accessible trail.
As long as you're respectful with parking (which may mean a longer hike!) and treat the neighbourhood with the appreciation it deserves, it makes a pleasant hike up to the top (around 40 minutes up, 30 minutes back) with a stunning view as a reward when you arrive. No, you cannot actually get "on" the sign (without a huge, huge, permit!) but it's possible to get near enough to "get the shot".
…just remember to enjoy the view as much as taking the photo while you're up there!
---
Terms of download and image use
On receipt of the downloaded image named as "Curtain Call", you are granted a non-exclusive, non-transferable license to use the image within the terms and conditions explained below, FREE OF CHARGE.
You may use the Image:
In digital and print format for personal enjoyment only.
In its

unedited

form, with no changes to the content.
You may not use the Image:
To endorse products and services.
For any form of personal or commercial gain.
As part of a trademark, service mark or logo.
Selling of this image is strictly forbidden.
For unlawful or other immoral purposes, for spreading hate or discrimination, or to defame or victimise other people, sociteties, cultures.