"Malaysia, truly Asia" – The jingle on the TV ad, plane intro's and travel programmes that I've been hearing for years and years really did come true last week – and not only for all the good reasons they intended…
I'm sat writing this blog beneath bright blue skies and a fresh breeze in Bali – and with all of that above me, it's too easy to forget the horrendous conditions I left behind in Kuala Lumpur last week. It wasn't just the "haze" (such an innocent word for what is, in reality, deadly pollution) that I flew away from, it was also a group of great guys and good friends back there in the city. People who really don't deserve to be stuck in this mess.
This was a trip that was planned with shooting sunrise and sunset around Kuala Lumpur in mind – something I hadn't managed the last time I flew through the city last year. Catching up with Kamrul and Hafiz, along with a wider bunch of their equally hospitable friends was something I was looking forward to, along with the chance to get the dramatic skies above this incredible city captured on a memory card 🙂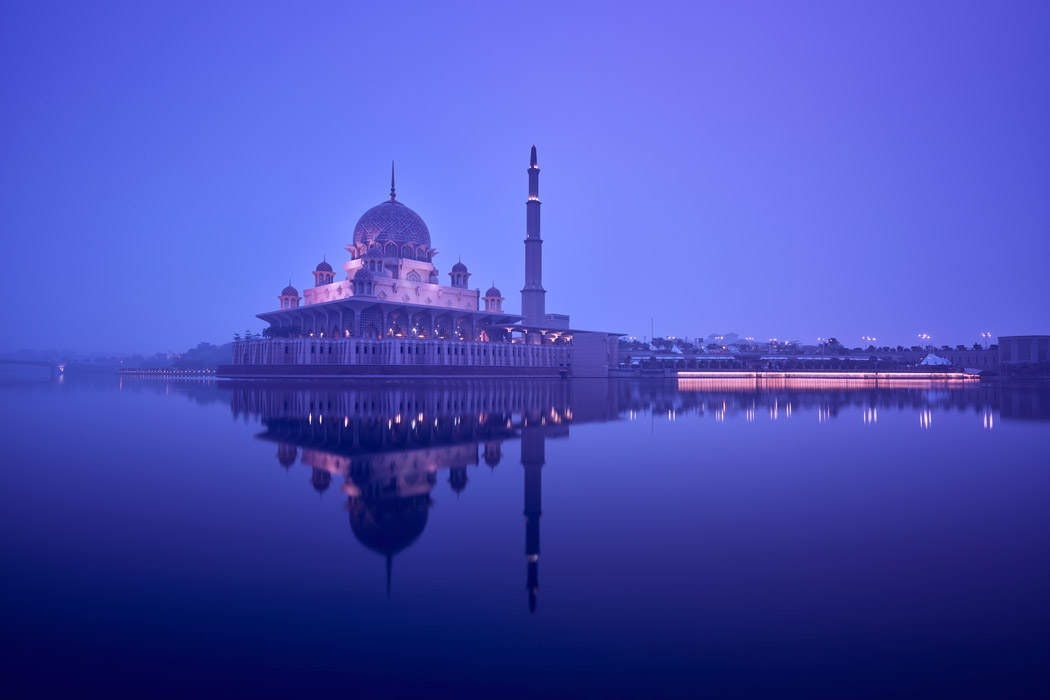 …but even from the very first morning in Putrajaya, photographing the mosque there, it was clear that it wasn't going happen. In fairness, two weeks before I landed, Kamrul got in touch to warn me that this year's "haze" was worse than normal. "Normal"?! That was worrying to hear, and coming from Shanghai where the air is also full of deadly chemicals and pollutants, my excitement turned into concern.

Arriving into KL, "the haze" was obviously the hot topic on everyone's minds. Schools were closed, pregnant women were suggested to stay at home, masks were being issued to public workers and many people had the distinctive cough (I used to call it "Shanghai Cough" when I lived there!) that I'd come to recognise as a sign of extremely bad air quality. But still, that didn't curb the enthusiasm of the guys here in the city – who'd arranged a full tour of all the key places, regardless of the visibility issues.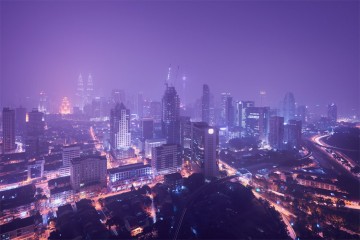 It was clear (excuse the pun!) from the first day's shooting, however, that distant city skyline shots were going to be an issue. Looking at the first "far out" shots we had of the city in the sunset hours showed us two things: 1) daylight was our enemy, more light just made the haze even worse to shoot through and 2) we needed to get closer to shoot with any detail.
When even the KL Tower started to become invisible in the first shots we captured at night, being so far out and high up during "golden hours" was a massive problem. So, with a few adjustments, we decided sleep was better than pointless sunsets and to re-organise around night shooting the KLCC (Petronas Towers) area instead.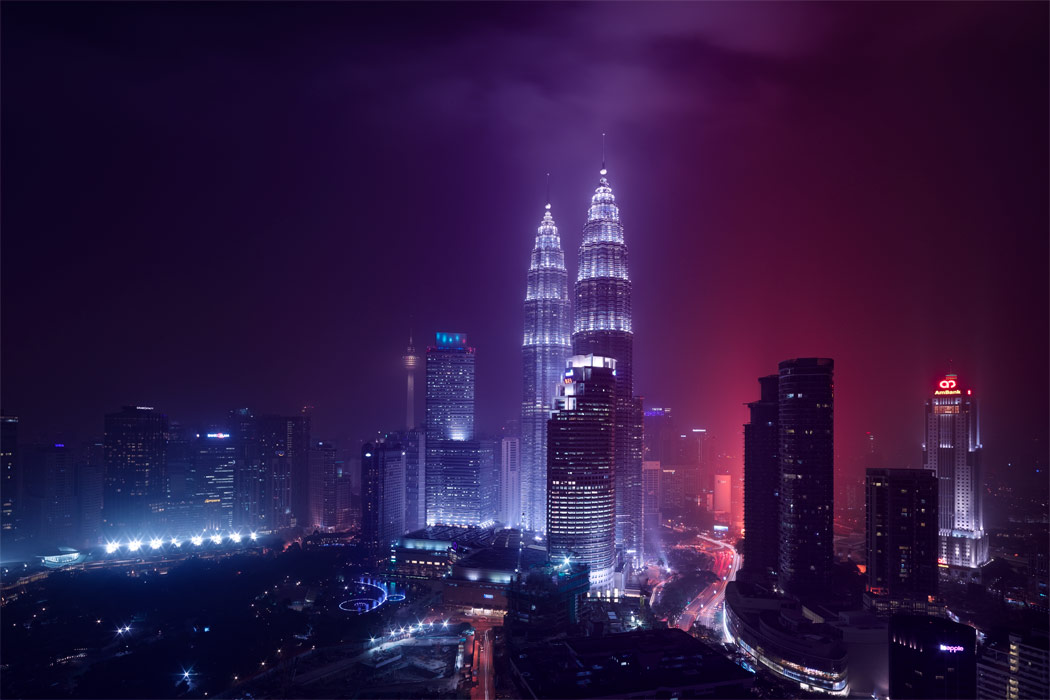 Now this is where my friends in Kuala Lumpur come into their own. Not only are they fantastic photographers, but they can also organise a myriad of location options in a matter of hours. Networks and social circles rule in Asia, and I've seen few better examples than here (picture below by Hafiz).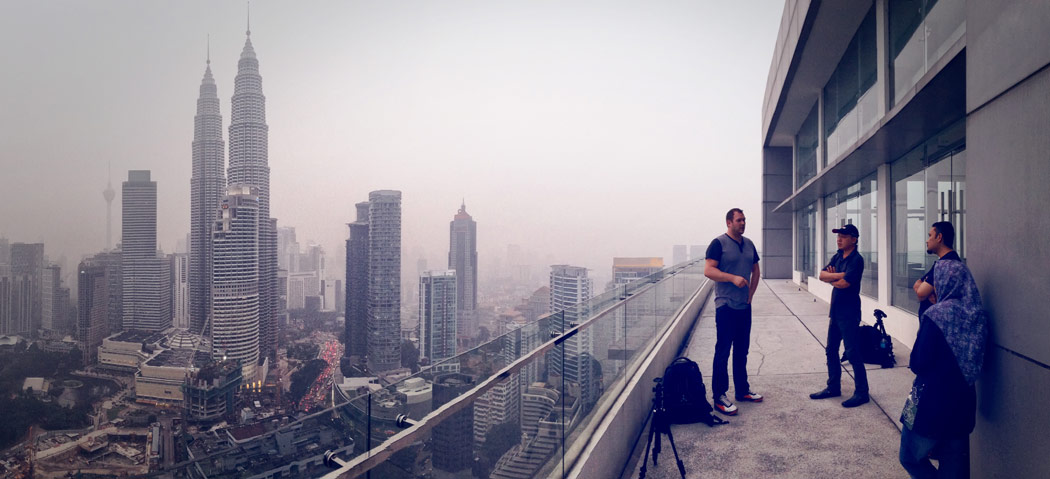 With the help of a group of (what I consider to be) the best ambassadors for Malaysian hospitality, it wasn't long before I found myself with access to some exclusive rooftops, towers and even the KLCC park to run a photo walk with the guys – a location which is to all intents and purposes "off limits" for professional cameras.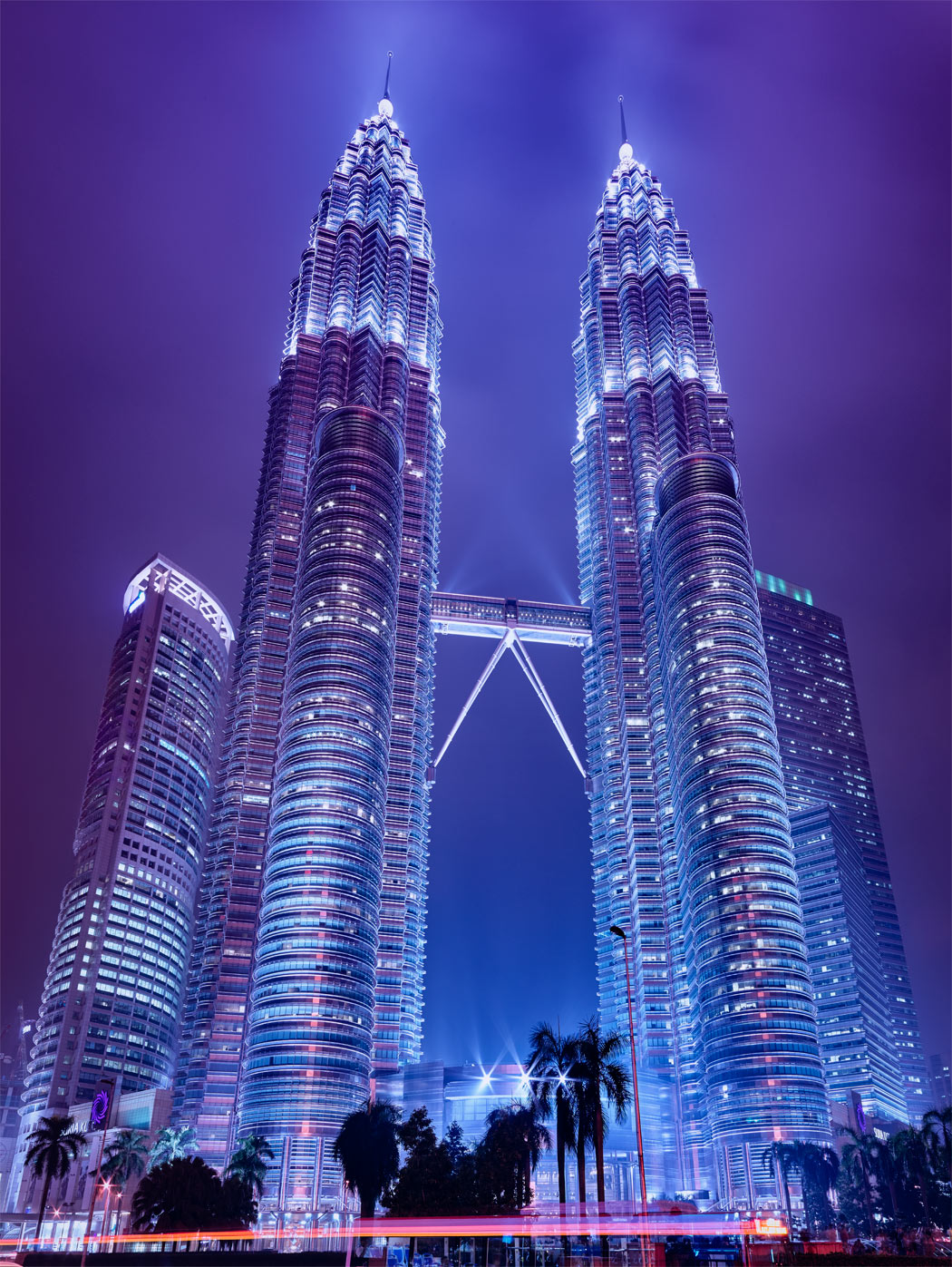 Ironically, in some ways, the pollution added an element of excitement to shooting around the city – "would it be clear enough?", "would we see the sun today?" – but in reality, it's really sad to think that those questions become normal for these guys for 3 months of every year. Sat at some of the local food outlets, including a night with our weird "blue rice" dinner and my new favourite shaved mango ice block dessert, we discussed the problem a bit more. (Oh, the bean thing in that picture is supposed to be good for you – in reality, it just makes your pee smell weird!)

So, you'll see on the news that it's "big bad Indonesia" which is responsible for the annual "haze" – caused by slash-and-burn farming techniques over millions of acres in Sumatra and Kalimantan. A statement that, on the surface, is true. But then you dig a bit deeper and talk about the actual cause of this sickening smoke to find it's not as simple as it seems.
As always, with Asia, there is a huge economic element to the problem – and one that in this case links the culprits to the victims in a way that is not being reported on fairly. Let's imagine, just for a second, that the fires didn't exist. Is KL a "clean" city? No. It really isn't. It's a city with little wind on a normal day, really poor quality fuel (the good stuff is exported for more money!) and not enough air quality controls in place year-round. Is it any different from most other cities in Asia in that respect? Not really – but it means that even as a baseline, it's not starting from a good place.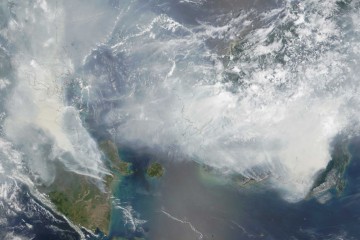 Now, load on the fires from Indonesia, and a constant slow breeze bringing the smoke from the millions upon millions of acres of land being cleared for palm reservations, etc. into that region. Look at the image to the right (courtesy of NASA/ABC Australia – click through for more) and you'll see the extent of the deadly smoke heading across our atmosphere from these forest locations. Imagine that all heading (and hanging around) Singapore, an otherwise relatively clean country, and Kuala Lumpur – which already has its own issues with smog.
So it's simple, right? Get the Indonesian government to stop the "illegal" fires that happen every year, and the problem goes away. Well, no. In a region where industrial and financial expansion are more important than the environment, that's a tough discussion to have with any government – but load on one other fact and you see the stalemate:
A lot of the groups performing the slash-and-burn "illegally" are actually Malaysian and Singaporean companies! 🙁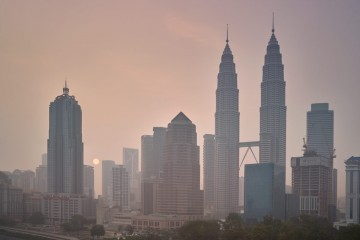 It's the same sad face I have when I describe one of the biggest issues of living in Shanghai: Pollution. On a world scale of 500, the "AQI" rating is something everyone in the city lives by every day. I remember in December 2013 we hit 734 in Shanghai (on a scale where 500 is deadly!) and we thought that was bad. One place in Indonesia last week hit 2,000!
It just makes you angry, the more you think about how these types of actions are simply allowed to continue. While we were there, the list of people sick and dying was increasing daily as a result of the deadly air that the entire region is now engulfed in. So, to us in the West as well as Asia in general, I have to ask – are the health risks of this sort of practice really worth the price of "economic progress" and cheap products?!
Stepping off my political soapbox for a second, and thinking purely photographically, it really was the case that daytime was off-limits to shoot the city. That scene there with the sun finally popping through the horrid smoke was taken just after sunrise – around an hour after this image was already on my memory card: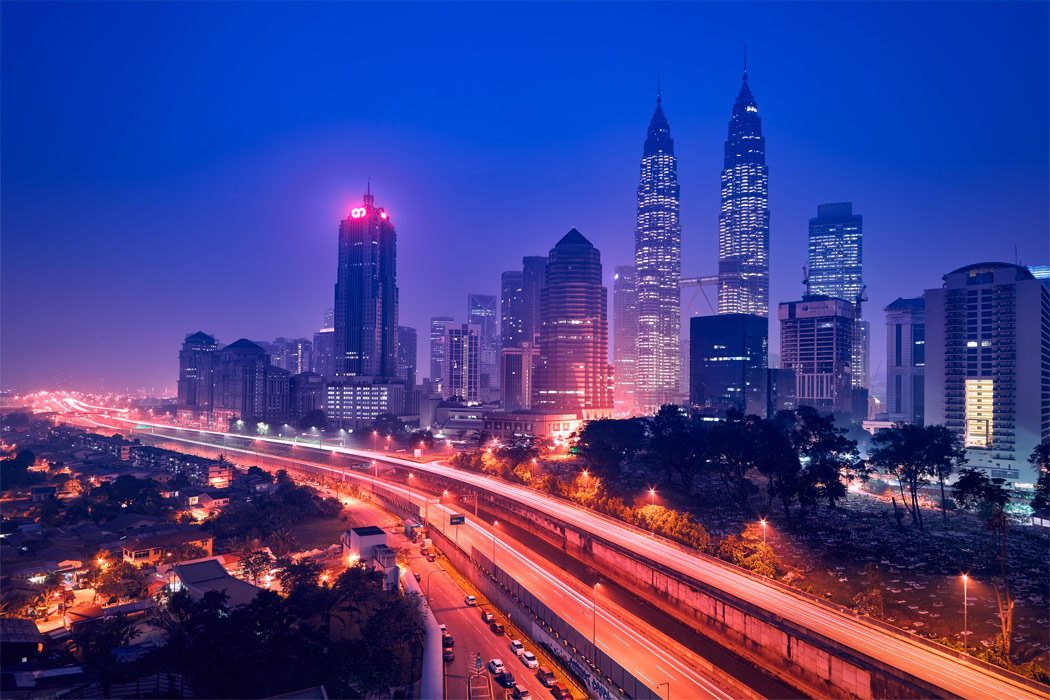 Granted, it's nothing special – which is sad because on a clear day this view with sunrise behind is stunning. But even with the haloing caused by lights reflecting the pollutants in the air it's a lot clearer to the eye once the night sky is in place. There are, of course, a few photographic tricks we can use to improve things also (a circular polariser seems to work particularly well in the smog!), and it also meant we got the opportunity to head out of the city to other locations as "tourists" for the day.

One such place, Batu Caves. With such a mash-up of different cultures, religions and beliefs across Malaysia, it's fantastic to see these places.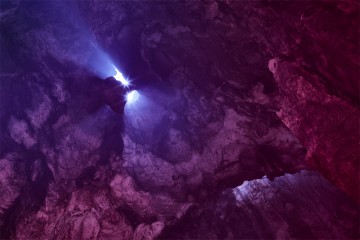 Many ancient locations are based around very different ideologies but they all just seem to work together in this country (a leaf many other countries could do with taking from their book!). Full of fruit bats, macaques (monkeys) and tropical spiders, this Hindu temple/shrine is a magnet for visitors – whether for religious reasons or not.
For me, the rock formations and light in this cave were the winner – with what was left of the sunlight just breaking through the openings in the roof, shining on the ancient stone all around.
…but of course, that wasn't why we were originally in Kuala Lumpur. We were there to shoot the city! 😉
What I wasn't expecting, however, were the efforts of Ismail in getting us access to the KLCC Park (which is otherwise completely restricted) to shoot at night as part of a photo-walk we'd run with the other guys. Now this was an opportunity not to be missed.

I say "not to be missed" with a heavy heart, as the pollution actually stopped one of the guys, Kamrul, from being with us. With visibility below 500m in Langkawi, his one-day trip up there had turned into a 3 day nightmare of not being able to get home 🙁 (middle shot, above, by Ismail)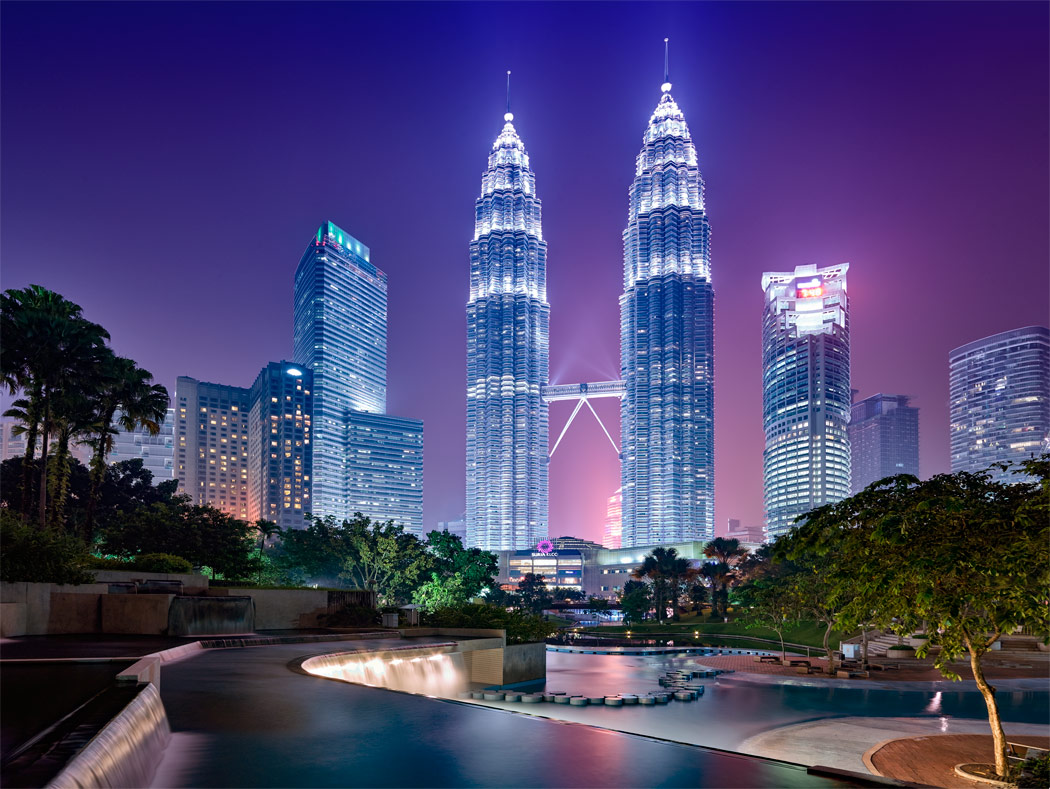 Even with the haze, the Petronas Towers and their lights still managed to make Kuala Lumpur look as impressive as ever. The water park was "ours" for the evening, with security looking after us – and I even managed to capture a clean image of the fountain show in front of the Suria Mall.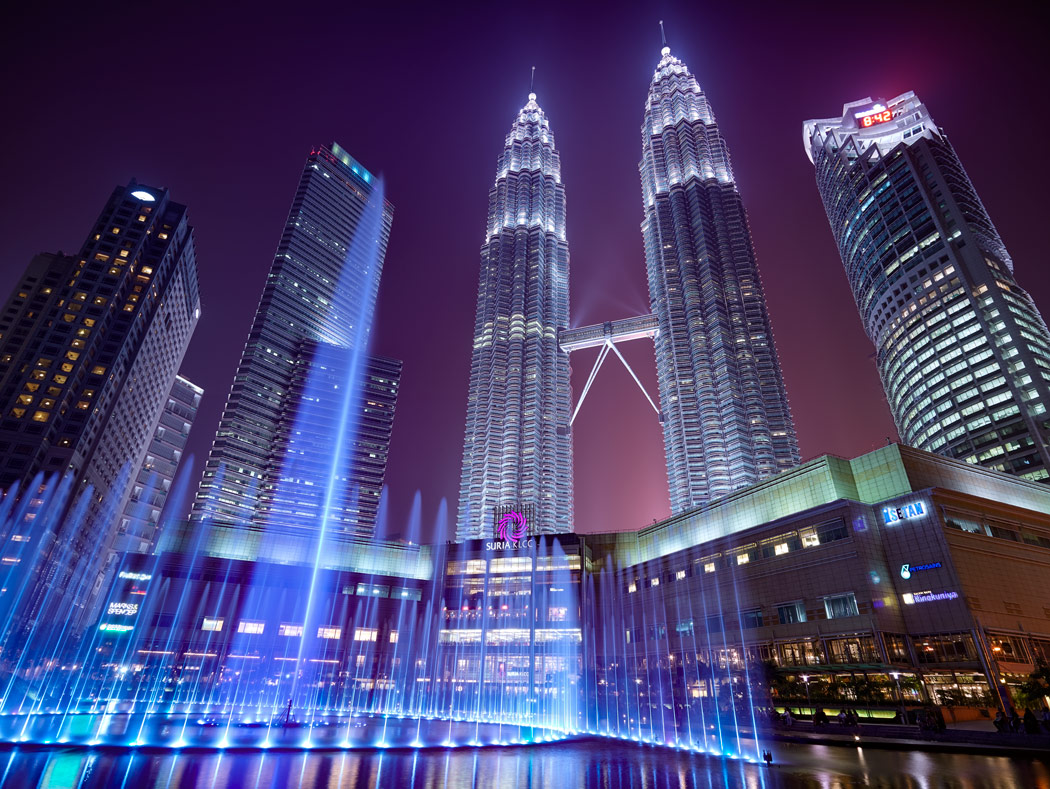 The one final shot of the evening? Well, it would be rude to ignore the effort that's gone in to making the entrance to the towers themselves look so spectacular – and with a little logistical shielding, we managed to get a view that I never thought would be possible with the otherwise constant stream of visitors and selfie-takers that surround the KLCC: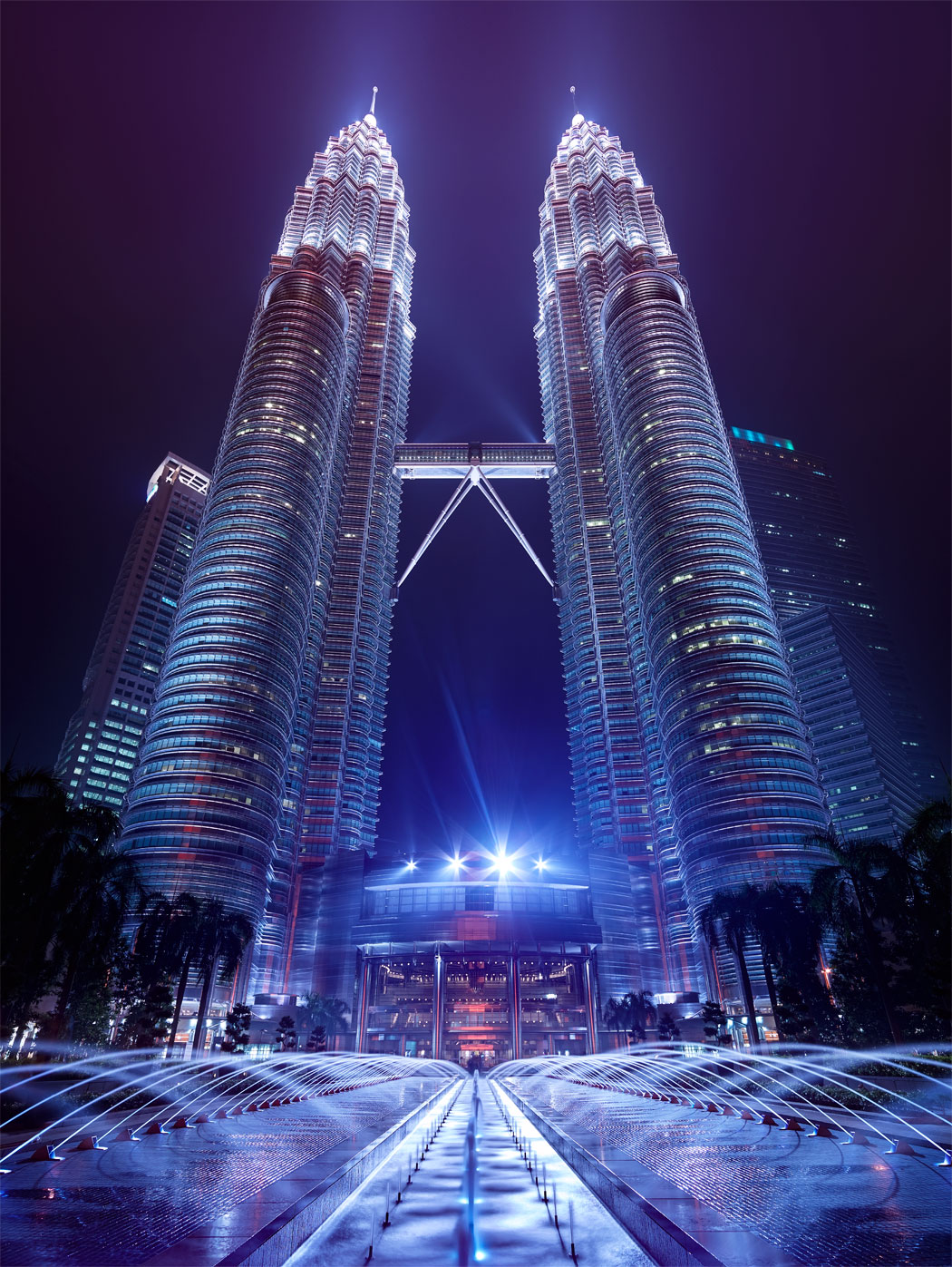 A successful trip? In some ways, yes. It's always great to see the guys in KL – they really are fantastic, and I'm already planning a workshop out there with them for next year. I love Kuala Lumpur, and Malaysian hospitality is truly second to none in many respects.
Was it the trip I imagined when I booked flights? Of course not – but that was out of our control.
What does annoy me, however, is this now commonly accepted use of the word "haze" (a natural weather phenomenon) to describe the deadly man-made pollution which this region of the world just seems to think is normal for 3 months of every single year.
In my book, no, this is not OK! 🙁