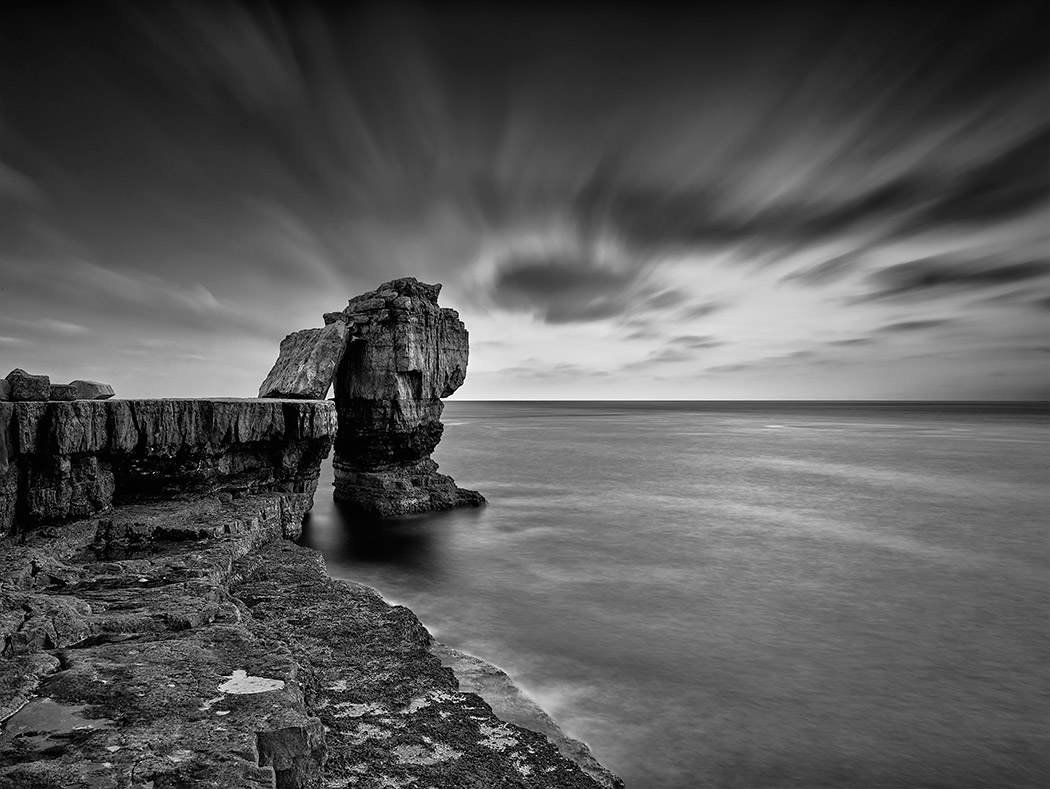 That's not a sunset! That's in black and white!
…would be what I'd normally think about the shot above. I mean, why shoot at that time of day if you're going to remove all that colour? And it really was fantastic colour – for two nights, I'd stood in the same little cliff-alcove and watched as the sun set off to the right of this amazing formation – "Pulpit Rock".

For sure, we'd been lucky with the sky on the first night. Rich golden yellows reflecting off the rock, soft pinks picked up on the high-level cloud above – and for once, a calm sea and breeze, something that's not always in place at this stretch of the Jurassic Coastline World Heritage Site in Dorset. Even the drones were out capturing it from above.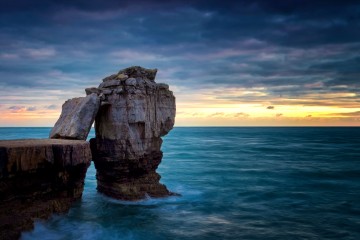 The biggest problem I have when shooting Pulpit Rock is that I still absolutely love my existing shot, taken many years ago now – here. To a certain extent, I never want to recreate it, either. It was shot from a different position, in very different conditions, and I really don't want to "replace" it with something new. So, what to do differently this time?
I hadn't initially planned to shoot the rock in black and white, to be honest. When we first got there, the sea was still bouncing off the rocks below and giving us a fair bit of movement despite the relative calmness of the ocean. In the interests of doing something different to my existing image, it was time to go for a couple of long exposures…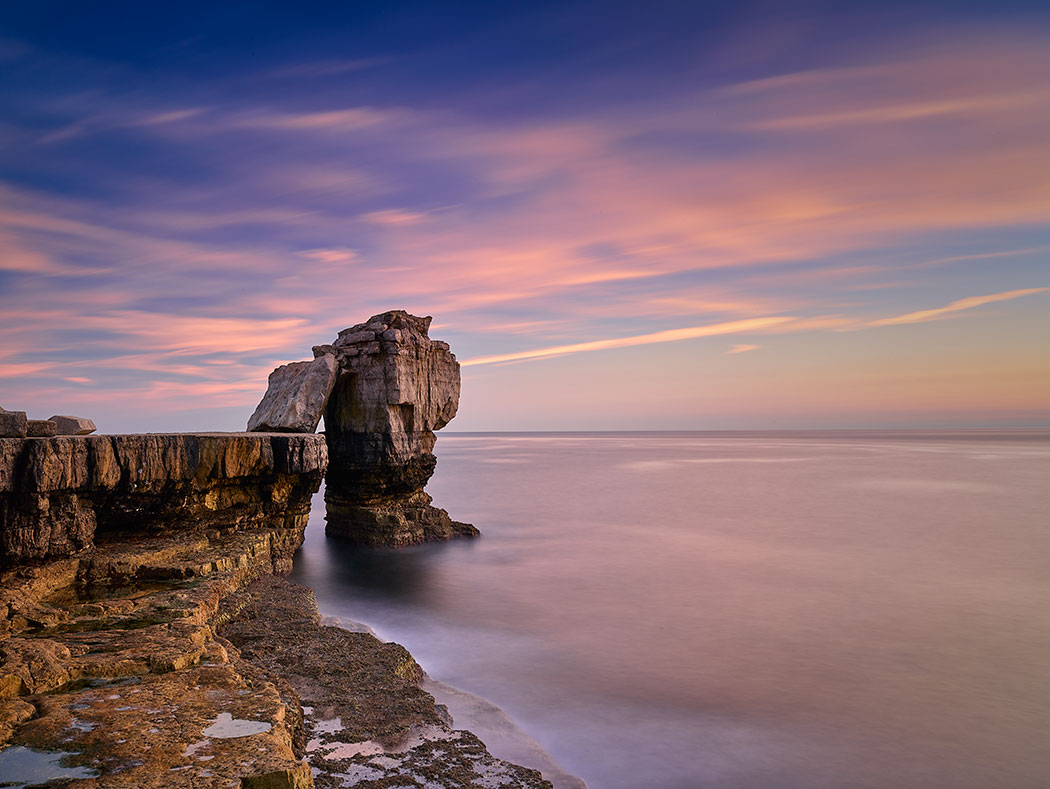 The problem was, while I love that sky – the ocean itself lost all movement in the frame, leaving a rather "washed out" style of shot. A quick 0.3 second snap of the same scene gave me a bit more action, but minus the long wavy trails in the sky: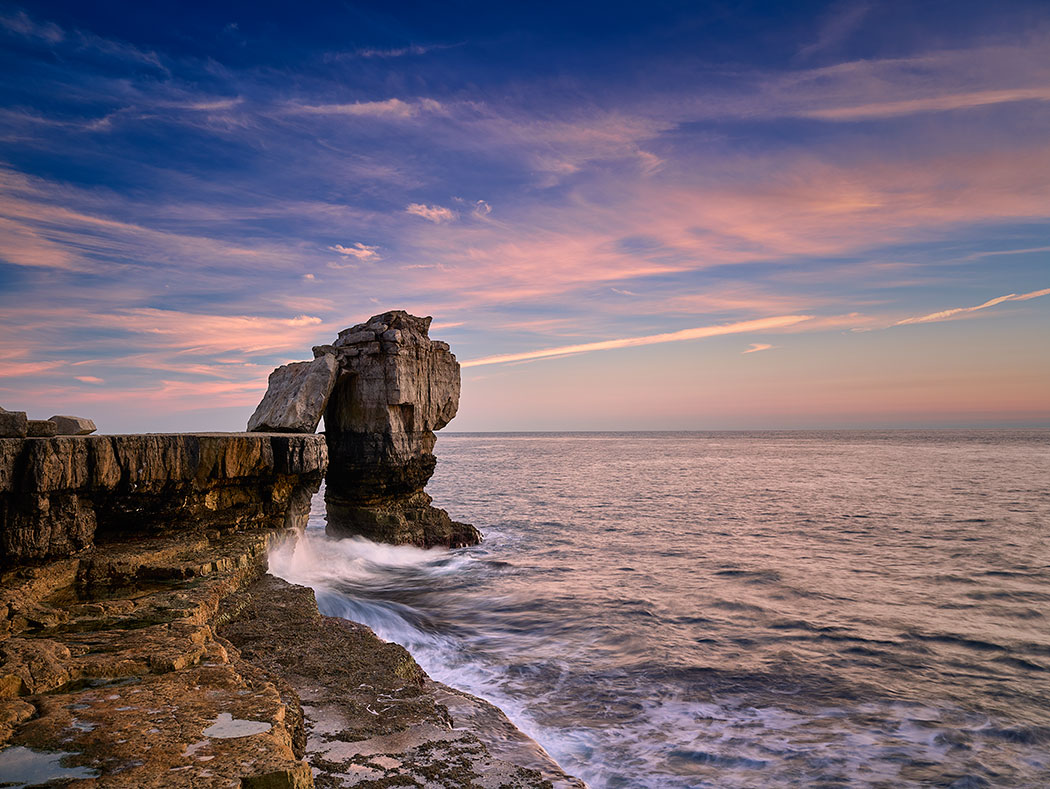 If anything, the sky looked a little messy to my eye. Time to try something which I'm not a fan of, but in this case, "just for fun" : blending. You see, I really don't like blending two images because it does create a final "photograph" that simply isn't real. And those of you who are particularly eagle-eyed would know that to get the following shot in one frame, the clouds would have to be moving at around 1,000mph! But for a bit of fun, I wondered what it would look like as a combined image – the "best of both worlds", so to speak: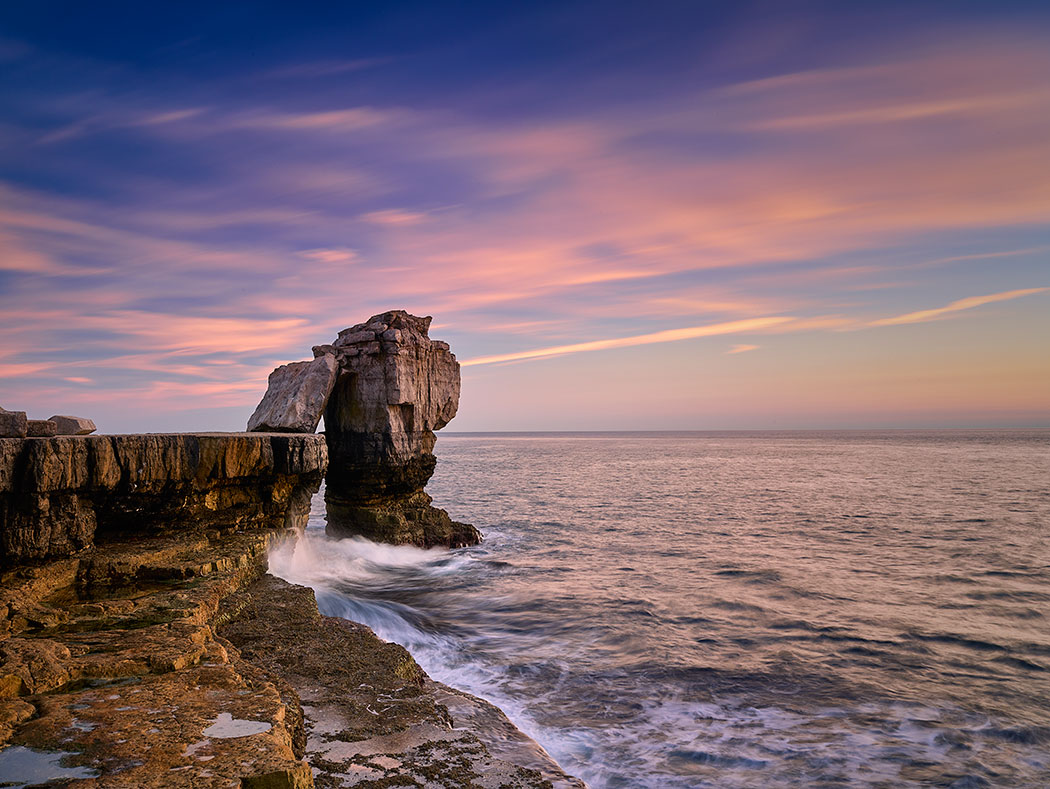 …and to be fair, I actually quite like it! The soft sky combined with the motion below makes for an altogether more pleasing shot – just a shame it's not real!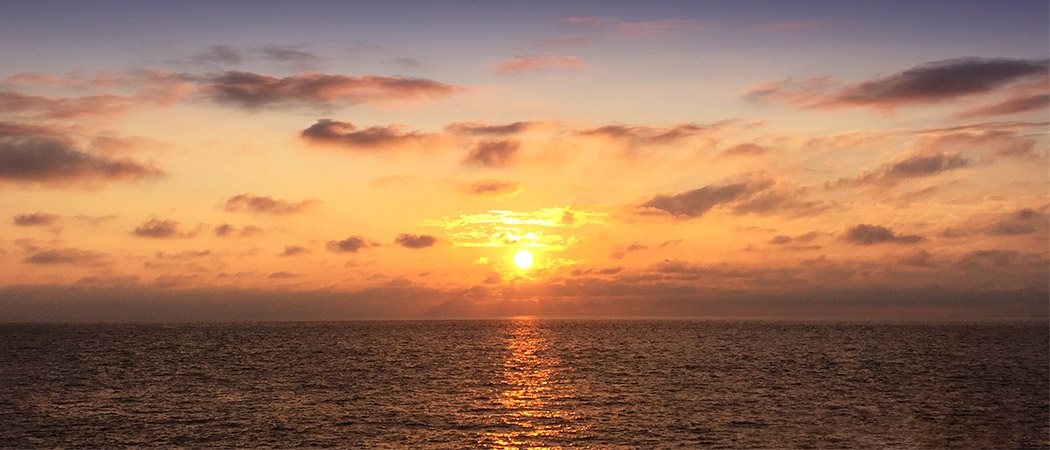 So, on to day 2, and sunset was due to be a good one again – even my iPhone did it proud (above).
The problem with this time of year, however, is that while the sea may be calmer (and nights are certainly warmer), the sun is really in the wrong place to capture it on the horizon as well as Pulpit Rock itself. What it does provide, however, is some amazing light picking up on all the textures across the land and sea.
That was what I was going for – and when we talk about texture, black and white / monochrome images scream "pick me!" as they can allow the viewer to focus only on the differing textures while not being distracted by changes in colour. In some ways, it can be seen as an "easier" type of photography (no colours to worry about!) – in others, it's a lot more difficult. Without all that colour of a sunset to help make the scene look interesting, you really are relying on the technical aspects of your shot to bring something good home.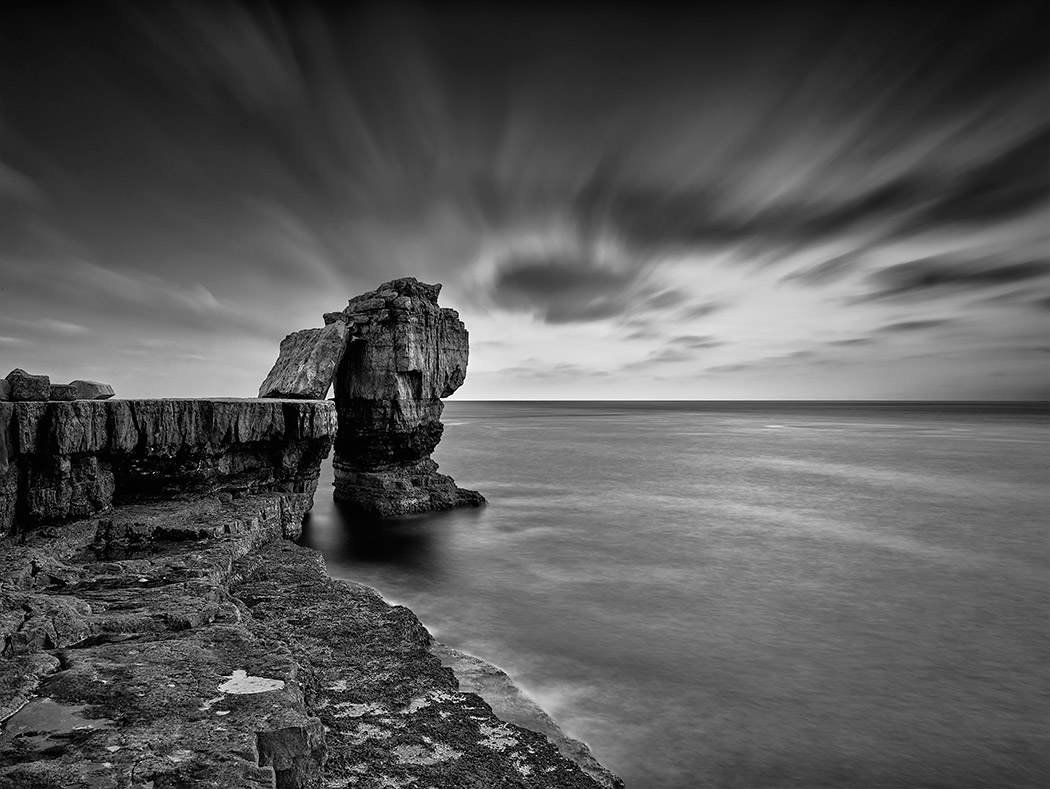 And that top shot, in my mind, is exactly that. It's got texture, mood, focus and most importantly – detail. Loads and loads of detail. Thanks to that amazing evening light, every little bump in the rock, every crack, every drop of water, is picked up by the sun and passed back to the camera to give me a rich and interesting image – even without colour!
So there we have it – two very different sunsets, over a very famous rock. It's a rock that will always be at home in one of my favourite places on the planet – and since moving back from Asia, I think it's time to find some more of these along the coastline too… 😉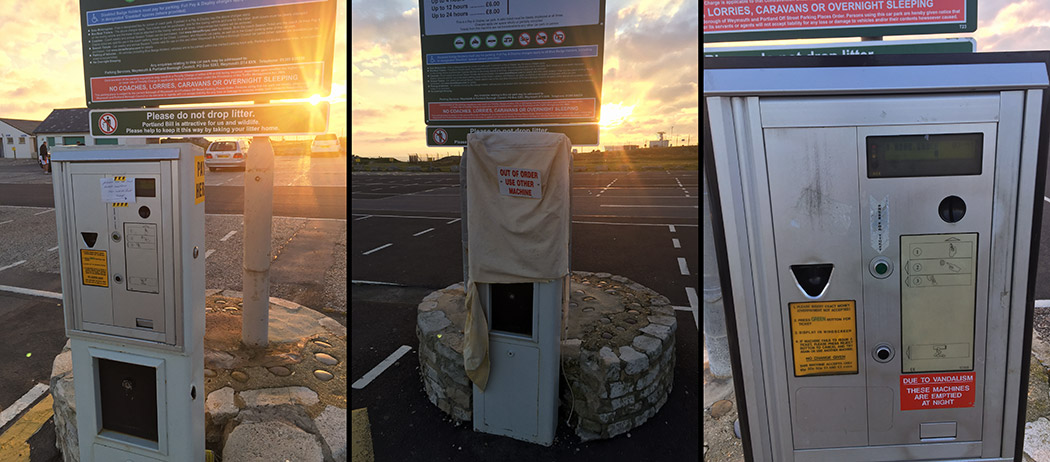 Final thought for the day? Nothing makes a sunset even better than all three parking meters being out of action, and therefore a free trip 🙂