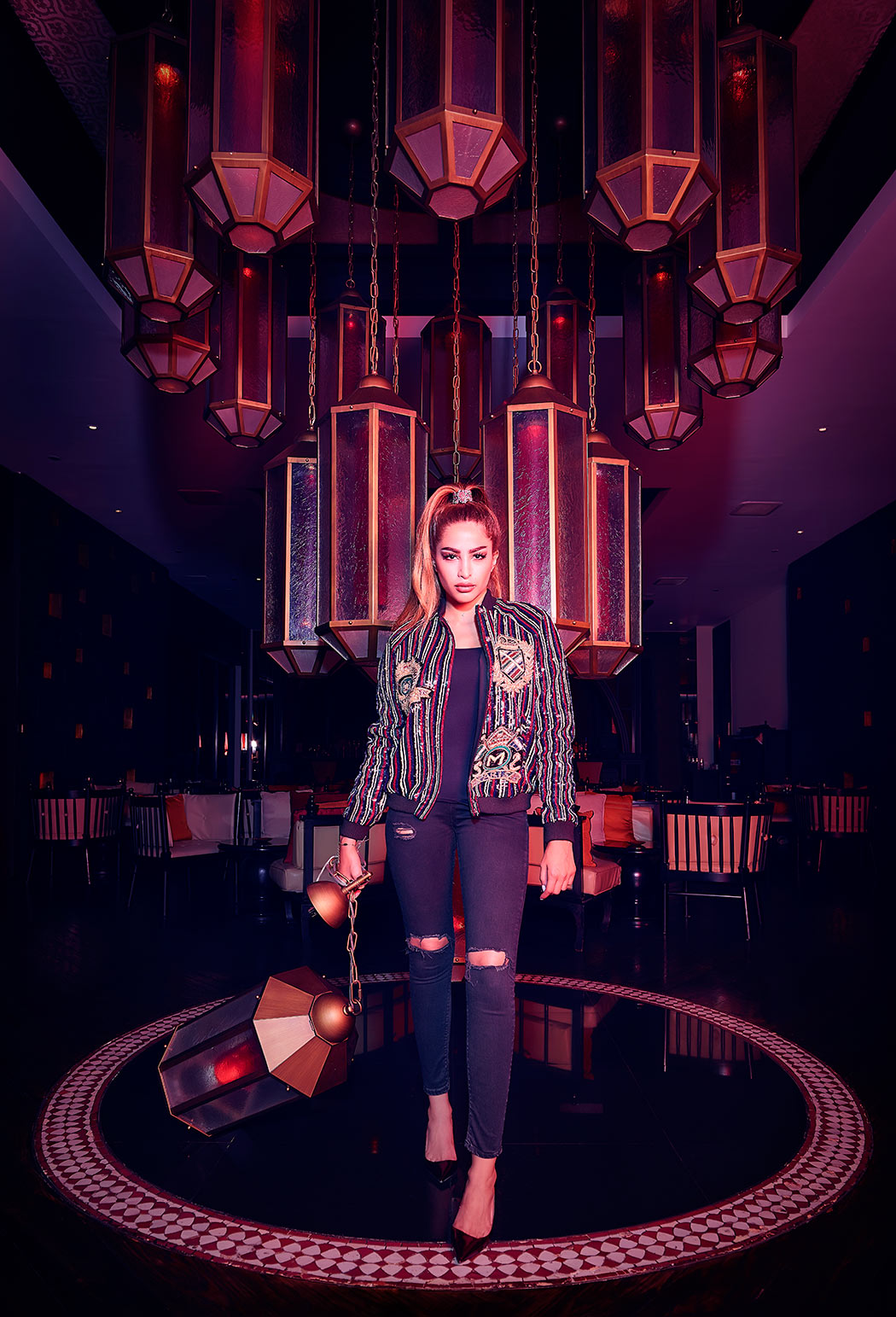 "Welcome to W Doha, we saw you had a good flight" – was my welcome as I entered this amazing hotel. Granted, W Hotels are unique in the way they really take time to get to know their guests, but I was still surprised. "Oh, we saw your instagram post", was the response when I looked back at him slightly puzzled. Ahhhh, I get it…

Entering in to the lobby (or "Living Room" in W speak), you're in no doubt you've landed into a luxury paradise when you arrive at W Doha, in Qatar's West Bay. Hundreds of Arabian blue lanterns fill the vast ceiling, with marble everywhere and staff all around to cater for your every need. We're normally looked after pretty well when we shoot for hotels, but the next words from check-in were still a surprise: "we've managed to put you in one of our W Suites, Paul – I hope that's ok?". Yup, that's more than OK, and wow – this was my "home" for the next 3 days… 🙂

So, me the photographer, fashion stylist Carla, makeup and hair artist Jules, plus marketing staff from W – why were we there? To shoot two very well-known Middle-Eastern women from Instagram – Bibi and Fouz, as they stayed at W Doha for the weekend.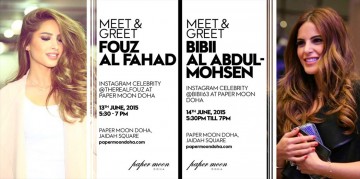 Now, call me old (or cynical I guess), but when I was introduced to the concept of "Instagram Celebrities" I wasn't initially convinced. I mean, they weren't "models" (in the traditional sense), nor were they "famous" in the classical way through TV/radio/books/sports/music etc – these were two people who simply posted a lot of pictures on a social media sharing app – so how could they be called "celebrities"?
Either way, we had a shoot list of 3 jam-packed days and a lot to get through, and both Bibi and Fouz were great fun to work with, so off we went…!
First up was Fouz – and given her fantastic fashion look it would have been rude not to go for something rock-star to start with as the top shot of this post, inside W's signature restaurant and bar – "Spice Market". And yes, that is genuinely one of the precious lamps from the ceiling – big thanks to the Engineering guys…!

That look, and styling, stayed with us throughout the shoot as we moved between the hotel's public venues as well as the top floor suites. From traditional Qatari Abayas to Beyoncé-style flowing dresses, there's a whole range of setups captured with Fouz – and in all, she gave us the perfect look.

What did surprise me (given my earlier skepticism) was the interest shown by several Qatari guests as they noticed who it was we were shooting – to the point where shots were put on hold as they came to capture selfies and group photos with the star they recognised from Instagram…!

So, time for a break – and a note for those who still think hotel shooting is glamorous. While on the surface, my welcome gift of fortune cookie cupcakes was truly amazing – in reality, much of our food never made it to a proper plate or cutlery to be eaten over the 3 days. Any space was good space, and quite a few of our dining options involved the floor as a table, while we snacked between makeup and styling…!

A quick review, and we were on to Bibi – with an equally impressive following, as cars stopped and beeped horns while we shot outside the hotel. People were even leaving their cars on the street to run and get a photo of her as we clicked away.

Some "classic" shots were always in the plan, but we also wanted to catch some fun elements to both of their stays here at the hotel. So, our "Pool Party Hangover" shot was born as well as the "raining rice", to go alongside the more traditional look in one of W Doha's funky round bedrooms.

Checking the back of the camera, we were all set – now all that remained was the room and venue shots (without our celebrities this time)…

When I say "room", however, check this one out – the "Extreme Wow Suite" at W Doha. Not only does it take up half of an entire floor – but it also includes its own pool room and table, floating fishtanks, panoramic office area, designer horse lamps and an electronic "peekaboo" window on the bathroom; now you see me (click) now you don't 😉

It's also worth looking at the amazing restaurants and settings on-site. Not only was the food great, but wow – what a design for a restaurant (or 3…!)

So, what's my take-away from the shoot? Well, on the "celebrity" status, I was wrong. Not only are Bibi and Fouz both great to work with and good fun for the 3 day shoot, but they genuinely are known across the country (and wider). Celebrities? Well, if you measure that definition by the ability to be recognised by strangers, called for photographs with passers by and adored by thousands of people across geographical borders – I guess they really are! You can look out for some of these shots in this month's Hello! magazine too.
As always, my final word – and a huge thanks to Ersin from W's marketing team. It would have been rude to visit Doha and not at least take a night skyline – and he made that possible. Including the giant orange building (that is locally known to resemble something available at a chemist) – West Bay really does have a celebrity status of its own 🙂