I was asked last week, as part of a written interview, if I'd ever had to get out of my "comfort zone" in order to get the shot I wanted – the answer, of course, was "yes", and many times over. The next question was, funnily enough, about how I approach a brand new city in terms of locations and what to shoot. So, what better than a live demonstration as answers to both questions on Friday night in Kuala Lumpur? 😉
The output? This new release: "Velocity":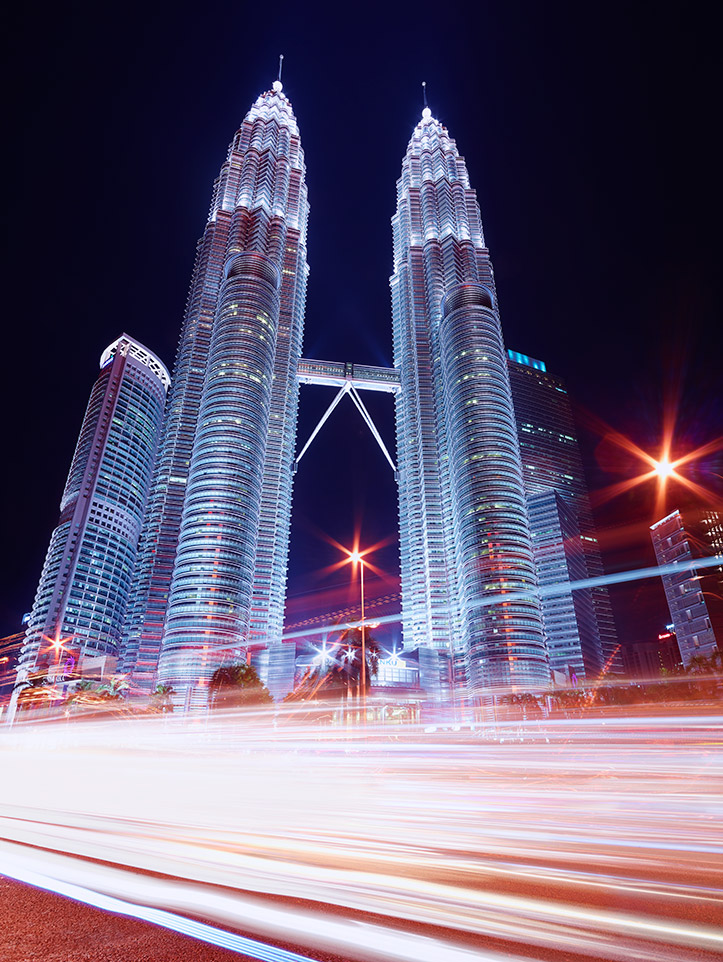 A photograph I took while laying on the central reservation of a busy road with 5 lanes of traffic either side of me in a city I'd landed into less than 2.5 hours before.
So how did I get "here"?
This really is a story (and ultimately a photo) all about amazing hospitality and proof of how small the world really can be. A story that I'll tell backwards, as I found myself at 1 o'clock in the morning in a roadside restaurant with Vic and 3 brand new friends from KL. One of the guys, Kamrul, had bought us dinner, and the five of us sat eating chicken & rice along with some fantastic Tom Yam soup. Together with Hafiz (who took the shots of me below) and Abd Halim Hadi, we sat discussing rooftops, cameras and travel; putting the world to rights as if we'd known each other for years. The truth is, I only knew them a little better than just an hour before…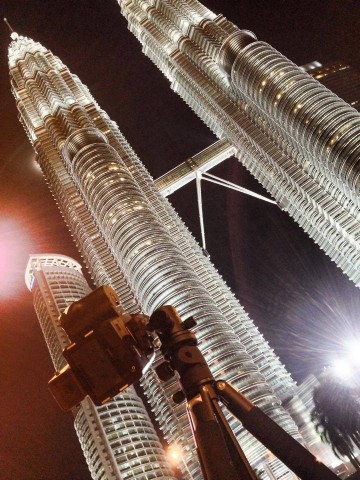 …when I was driven from this street by Kamrul.
I' been lying down on the roadside to get the light-trail shot I wanted of the world famous Petronas Towers (the KLCC) for around 25 minutes.
The guys were also there taking photos, but more importantly they were keeping an eye out for any rogue cars likely to chop my head off – or the random taxi driver who kept wanting to be the start of the shot 🙂
So, how did I get here?
Simple, they drove me from the top of the building we'd been stood on 45 minutes before to get the shot of the city skyline below.
All of us stood looking out over this Kuala Lumpur cityscape from the building as it displayed the perfect amount of light for me to capture the picture I wanted. It was a view that I'd been researching a few days beforehand, but had no idea where and how to get somewhere in order to shoot it.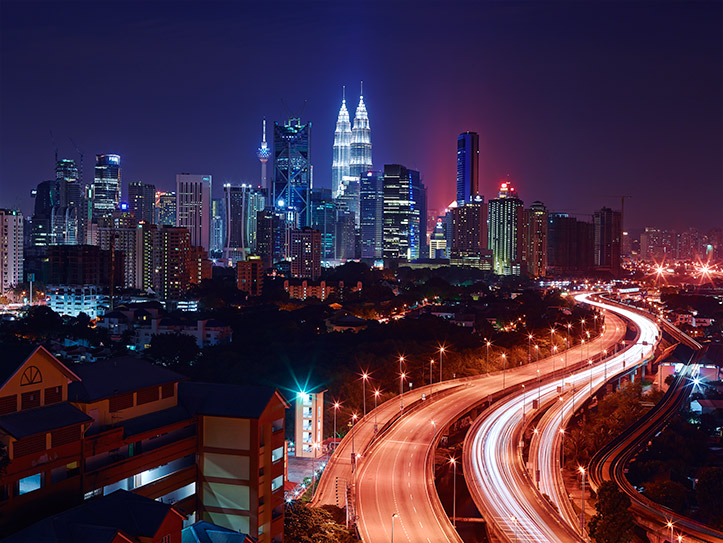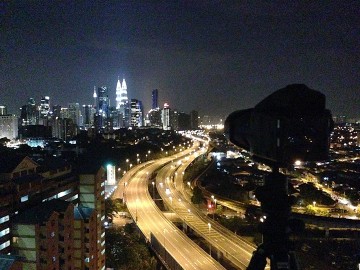 Of course, we didn't just teleport to this building, it's well known to Kamrul and his friends, and therefore easy to get to from our hotel – where they had picked us up about 30 minutes beforehand…
…having dropped us there to check in and leave our bags. After all, they had just collected us from the airport at 9:30pm that evening.
And that, was the first time I met Kamrul and his friends. At 9:30pm outside Kuala Lumpur International Airport on Friday night.
So, why such disbelief on my part?
Well – the entire evening had been planned using Flickr and WhatsApp with Kamrul only a few days before I flew in. It all started with a simple "hi – cool sunset shot!" note on Flickr – it was from a location that I wanted to capture at night. Photographers tend to be really guarded with their locations, so I wasn't expecting much of a response back – but he replied in hours with not only the location of the building, but alternatives and even an offer to take us there. Over the next few days, through back-and-forth discussions, we had a plan pulled together and Kamrul and his friends prepared for our arrival.
Now, side-note: Of course (note to everyone out there!), nobody should EVER meet a stranger without telling others where you're going, who you're meeting, their details and a time to "report in", which I did.
That said, Kamrul (and from what I understand, as well as a large proportion of the Malaysian population) really is a superstar when it comes to looking after guests; I was truly speechless when we left them. Here we were at KL airport, and a guy I hardly knew had arrived to drive us for hours and hours out of his way, show me the spots I needed, treat us to dinner, and welcome us into his group of friends. I guess with all the bad stuff in the world, our cynicism forces us to forget that a lot of those in the world are happy, friendly, genuine people who simply want to help others.
Sadly I was in KL for less 24 hours this time – but even if I hadn't got the shots I wanted, I'd come back here in a heartbeat just to explore the city along with the surrounding area with these guys again.
So – have I ever stepped out of my comfort zone to photograph a city that I really didn't know that well? Yup – and I'd jump at the chance to do it again 😉