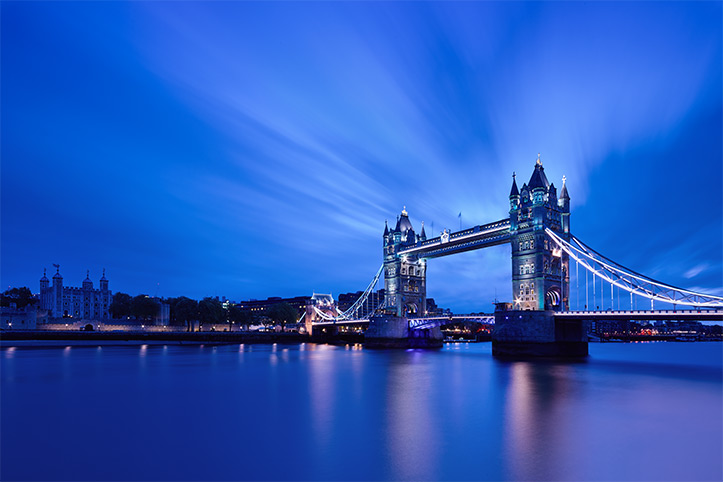 Stood on the banks of the River Thames looking at Tower Bridge and the Tower of London at 4:30am, I pondered over the question I'd been asking myself the whole way back to London this month: "Why don't I have more pictures from home?". Looking at the images I've captured over the years, I've been really lucky to get to see and photograph some stunning locations around the world – but as with many others, I've managed to ignore the sights on my own doorstep!
Heading back for my birthday weekend, I had one goal: Come back with some cool landscape images from London!

So there I was, in the cold (compared to Shanghai!) morning air, thankful for jetlag but waiting for a sunrise over Tower Bridge that I felt I deserved through effort alone… Sadly, it didn't quite happen – that image to the right was the best it got, but with no clear sun, it wasn't quite good enough for me to process any images from my Phase camera when I got back. Luckily, I'd already taken advantage of the strong wind that morning and quiet river to capture the image above – "Tower Blues". This is what a 60 second exposure and cold white balance can do straight out of the camera – I guess it made up, in part, for the lack of sunrise!
The rest of the day ahead, we started heading all over town to add to the list I had in my pocket – sadly, to be disappointed at every turn. Battersea Power Station? Covered in scaffolding. Houses of Parliament? Covered in scaffolding. Millennium Wheel/London Eye? Maintenance going on – I was doomed for the rest of my shot list!

Then, I guess, I realised I had one last chance to capture the remaining icon on my list for this trip: St. Paul's Cathedral.  I just love how prominent is is on the skyline from wherever you are in the city. Taking photos around town with my iPhone made me realise that there were a few places to get a really cool view of this proud feature in the city – just one problem, people.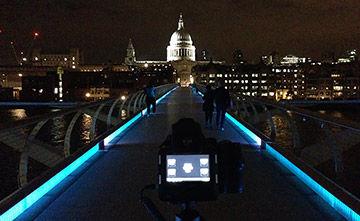 Of course, London is a busy city, and I wanted one particular shot of the Millennium Bridge leading up to St. Paul's Cathedral itself. With only 3 nights remaining, all of which during the weekend, I knew this was going to be a challenge but wow – I didn't realise just how many problems could roll into the taking of just one single shot…
The wind ripping through the River Thames – making the camera unsteady.
The bridge itself moving/swaying as people walk across.
The sheer number of people – the bridge is never empty!
The 10 photographers who appear each night to try to take the same shot.
My plan to resolve all these issues? Go to a bar, to wait it out (and of course, keep warm with a few drinks…)
A few hours later, we grabbed my equipment and headed back out into the cold. It had rained while we were inside and the other photographers had given up. The wind had died down, and the only people remaining on the bridge were slightly drunk and moving enough for a 60 second long exposure to wipe them out… Perfect!
And here we go! The title of this shot? – Well, it could only really be one thing for a flying visit back home, with that lighting setup: "Runway" 🙂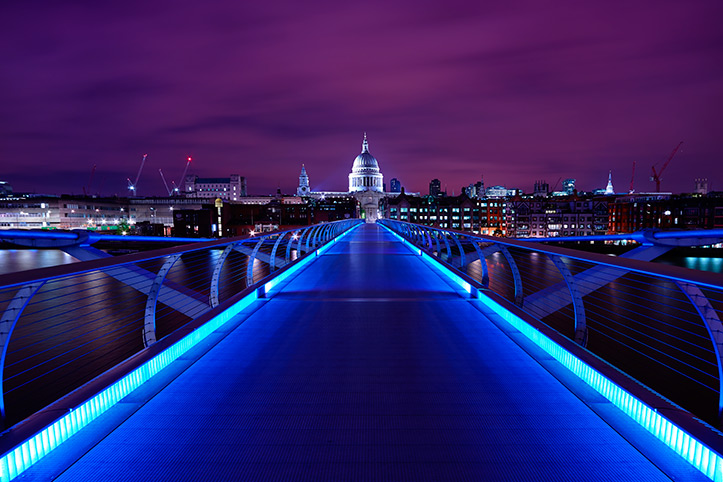 While it's a shame I didn't manage to get the entire shot list I had originally aimed for, I'm really happy with the two I captured and got back on the plane with a smile. They took more effort than I initially planned on, but hey – what doesn't, when you're determined to get the pictures you want 😉