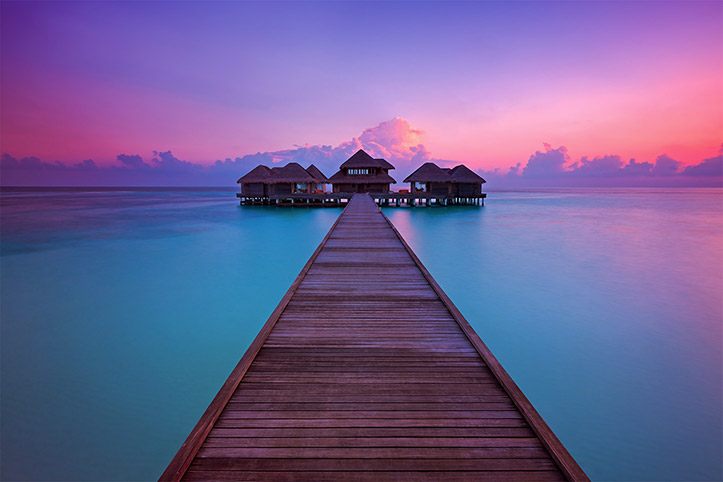 Imagine waking up to this view at sunrise every morning.
The crystal blue water, vibrant pink sky at sunrise and sunset, the tranquil overwater jetty leading out to your own private villa (or in the case above, the entrance to the island's underwater spa). It's all just "wow" and a memory I'll always keep with me.
Sadly, the web version of these 80mp images don't really do them justice – but I can assure you (from the 1.5m glass version I now have) the view looks just as great hanging on a wall as it did in real life!
A month ago, I posted the images from Per Aquum's "Phantasy Fairytale" underwater art exhibition which is happening simultaneously between Niyama and Huvafen Fushi – two islands owned by the luxury hotel group. Although I was there predominantly to photograph the exhibition and photograph some new resort images for them, I did also get the chance to disappear off and capture some landscapes after scouting around the islands for what might work at sunrise and sunset.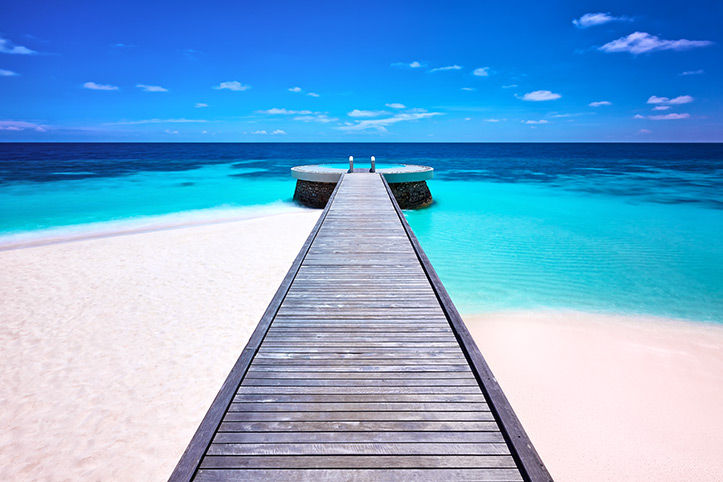 Of course, there's the question "was the sea really that blue?"
The answer? A resounding "yes" – it really is that blue, and clear, and the sand really is that white! To stand at the end of one of these wooden jetties and just look out to sea is an awesome experience in its own right. Nothing for miles around, the ocean lapping calmly over coral reefs, you really can't capture enough with just one photo but my hope is that this image of Huvafen's Salt Pool at least gives you some idea of how amazing these islands truly are.
Not to be outdone by Huvafen Fushi's ultimate luxury, we headed across to Niyama – the sister property about an hour's seaplane journey south.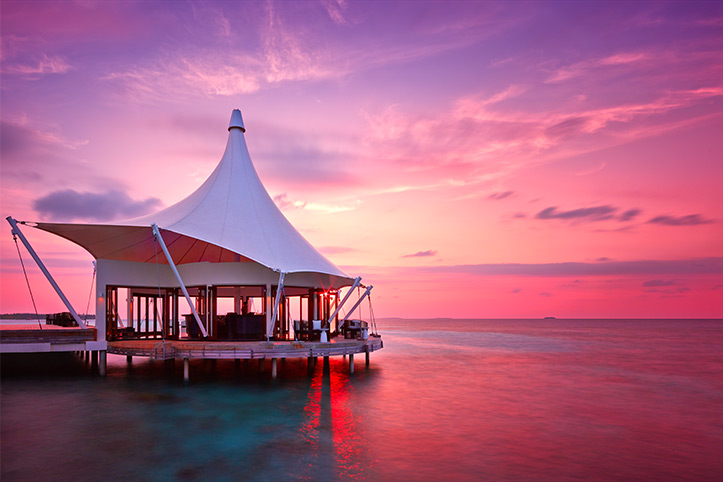 I mentioned they were installing the art exhibition in the underwater nightclub "SubSix" last month – but I didn't mention the amazing view of sunset you get from the other feature on the tiny private island accessed by boat from the resort, "Edge". Not just a great bar and restaurant but also an awesome setting for a truly spectacular Maldivian sunset.
And where else can you step out from your villa onto your own sun deck overlooking your private infinity pool, built on a white sandy beaches looking out to some of the best coral reefs in the world?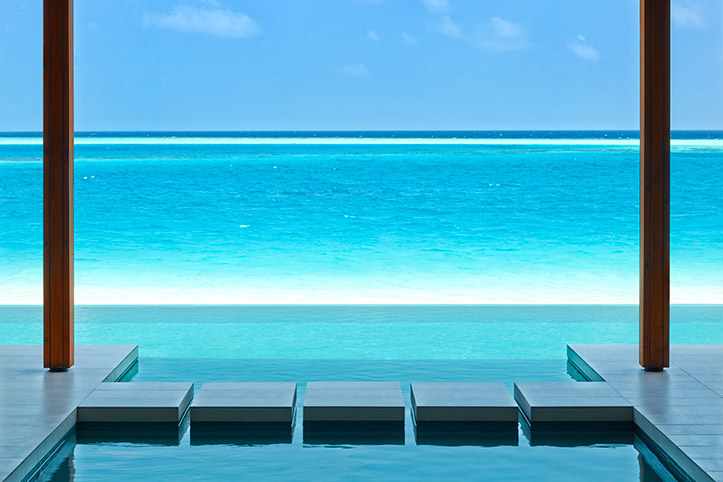 There's something special about the sky in the Maldives to me – and I guess part of it comes from the fact that I've lived in Shanghai for nearly 2 years now. I miss seeing stars at night. I miss seeing the sun set on the horizon (instead of 10 degrees up, as it sets on the smog layer). I miss blue skies, pink sunrises, white clouds! Maybe the Maldives appeared that much more amazing to me because of the dramatic change of environment – but I don't think it's just that. I've taken shots looking out to see all around the world; only a month before I'd been in Australia and New Zealand shooting those exact images – but this place has something special that I can't quite put my finger on.
Maybe I'll have to head out there again and try to find out why…
In the meantime, here's a view of what happens to the sun just after the sky stops being bright red at sunrise over the Indian Ocean 😉