I got it! The shot I wanted of Australia's Sydney Opera House at sunrise – and luck (while not wanting to give me an easy ride this time) was on my side.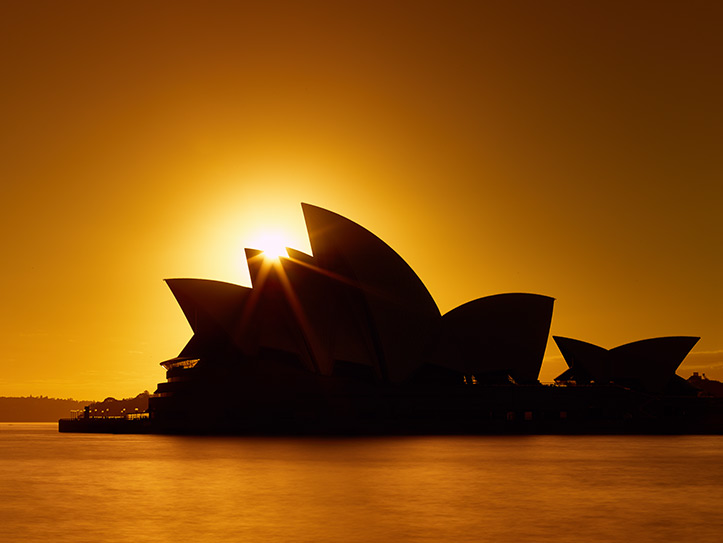 "Solo" – print available to buy now
Standing on the Grand Harbour wall at 4:30am wasn't exactly the best use of the room we had at the Shangri-La for the weekend – but this was an image of the Sydney Opera House that I had in my mind, and had planned where to be for sunrise to get the exact spot where the flare would appear over the arches. All was going well – set up, calm, even some pre-dawn test shots being taken to make sure everything was OK…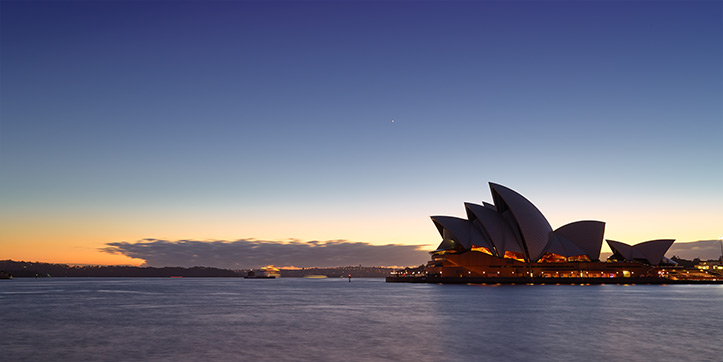 But then I looked closer. On the horizon, you'll see two blurs of light. What could they be? Ah, yes – CRUISE SHIPS! 🙁
A quick check of the Sydney Ports Cruise Ship Schedule online gave the answer. Two monster ships were due in exactly at sunrise. Now, those of you who know me will know that I have a slight issue with cruise ships(!) – they simply don't bring as much money "into the local economy" as they claim and have an amazing ability to ruin skyline views for thousands of people every day as they bellow out even more smoke into the city air. All that aside, however, today was not a good day for one of them to be docking right in front of me…

Luckily, it wasn't the actual sunrise I wanted – it was about 10 minutes after, as the flare would appear over the arches of the roof. By which point, it had just moved far enough across to give me a clear view, phew 🙂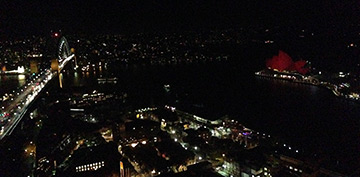 So, that was my one "lucky shot" of the trip.
Or so I thought. That evening, we headed to the bar at the top of the hotel, it has an amazing view of the entire harbour and well worth a visit if you're ever in town. Managing to grab a window table, we started to enjoy a great bottle of wine when something seemed wrong outside – the Opera House had turned red?
It was of course the weekend of Chinese New Year / Spring Festival, and there's a large Chinese community in Sydney, but this was something unexpected. Now – decisions… Wine? Or RUN downstairs (as nobody had any idea what time the lights would go out), grab all my camera gear and get to the end of the harbour? You guessed it 😉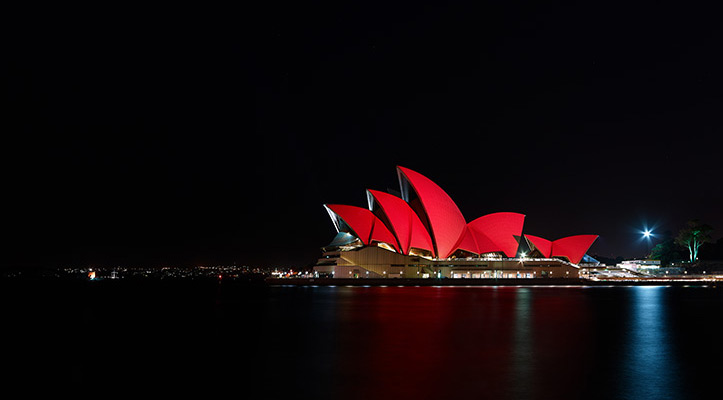 "Encore" – print available to buy now
I love how different this building looks with a simple change of light. Such a magnificent piece of architecture which really is an icon, worldwide, and I managed to get two photographs of it that are unique. Of course, with all that architecture, it would be rude to just focus on the building from a distance, so the next day was a chance to get up close. It was also a chance for me to try out a new Polapan filter I have…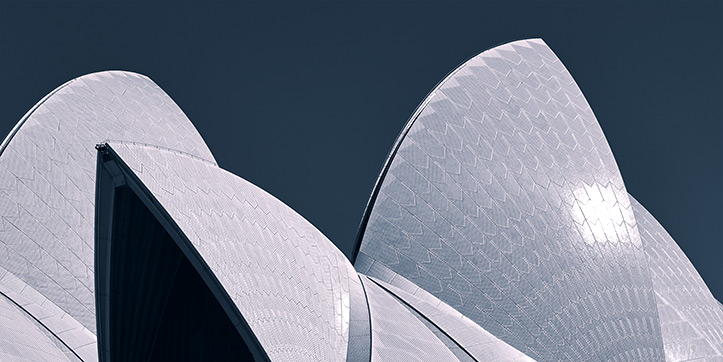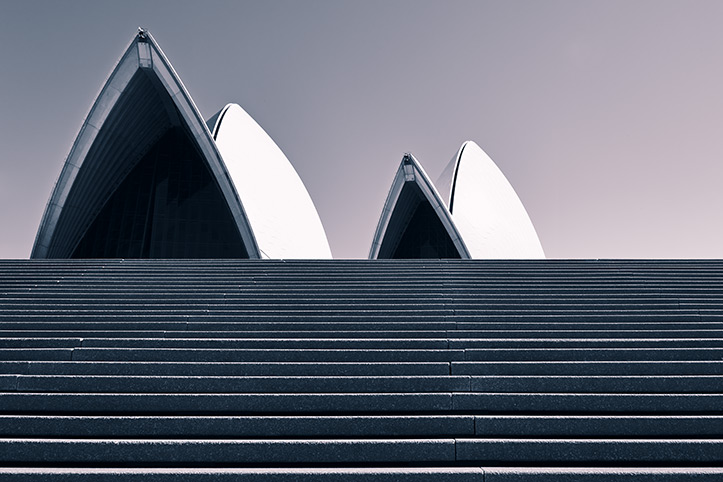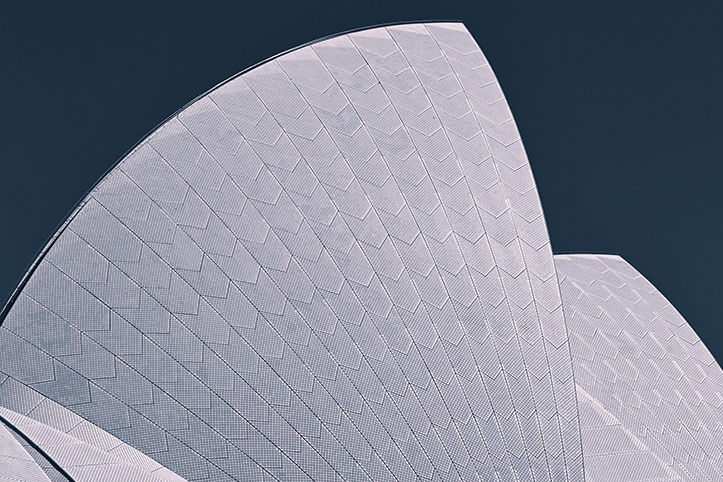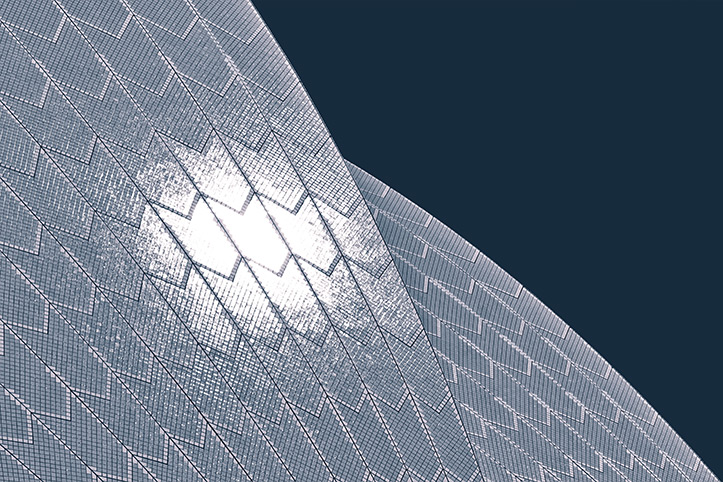 What an amazing building, and I was lucky enough to see it in clear blue skies, and warm sunshine! So, what was missing from my list of shots of Sydney? Only two at this point, which I managed to grab before the weather changed for the next few days, first up, the entire Grand Harbour skyline and cityscape, including the Opera House, Sydney Harbour Bridge, Circular Quay, and Sydney Tower – all at the peak of a perfect sunset: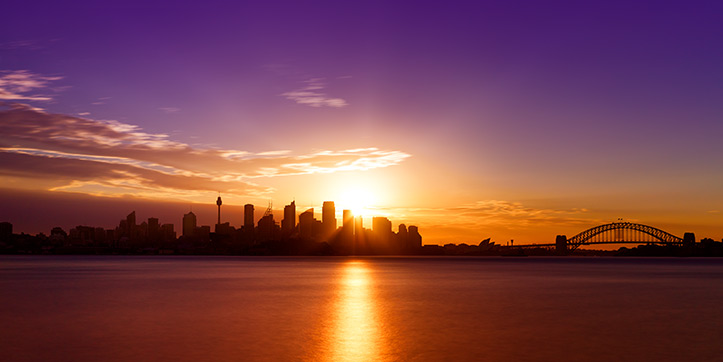 "Bradley's View" – print available to buy now
Then last (and maybe least in this case), I felt rather obligated to shoot the bridge itself. Now, honestly this isn't one of my favourite shots. I've seen it done many times before and it's never really "clicked" with me. Some like this angle, I don't.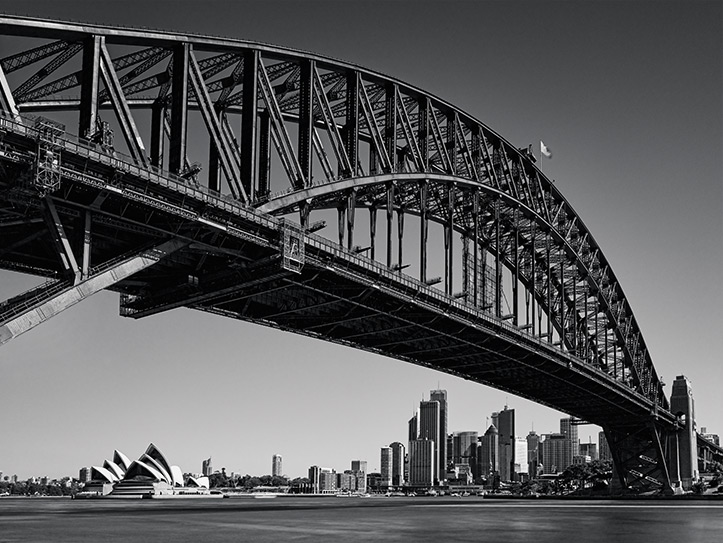 I love the highlight it adds to the rest of the inner harbour with the framing, but personally, I'd rather shoot the Opera House all day 🙂