Well, *I* was back for winter – I'm going to guess the willow trees themselves didn't go anywhere since I was there last year!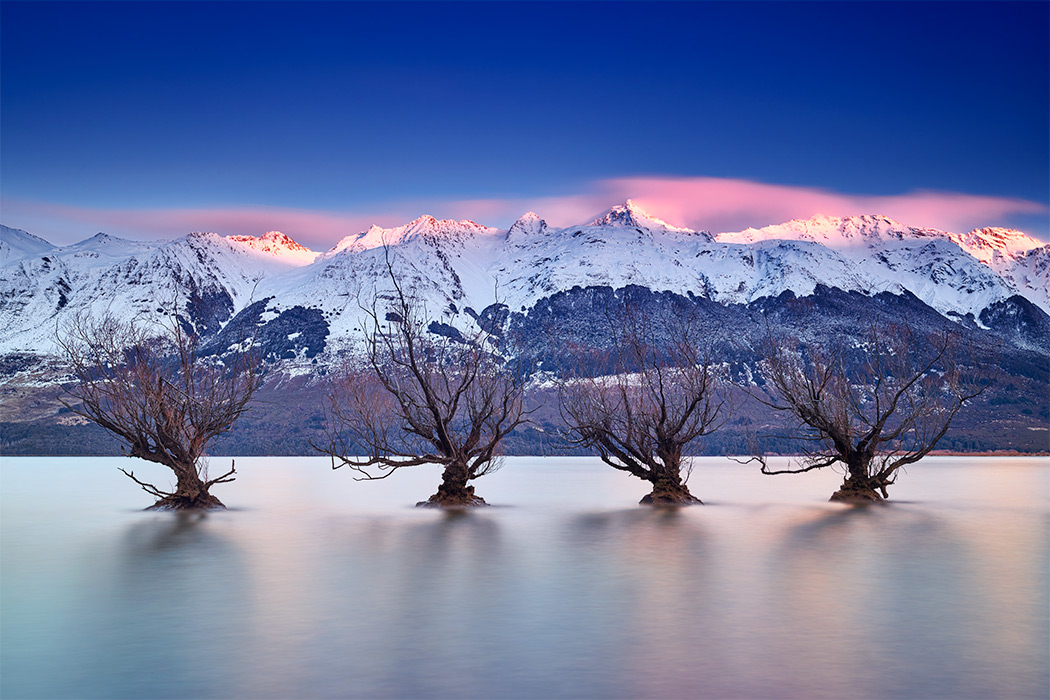 For those who remember my shots from last winter – "myst" and "the three witches", you'll recall that we were pretty much fog-bound for the window we had to shoot. This time, with the flexibility of our "Jucy Casa" home on wheels, I was determined to get a shot showing the true surroundings of these often-photographed little trees.
Heading back from Nugget Point lighthouse (on the East Coast of New Zealand's South Island), we were originally hopeful. We'd managed to miss all snow storms and major road closures and despite the rain as we left for Queenstown, the weather seemed to be getting better the whole way along. So much so, we even had time to try out step 13 of my new 21-step "pie diet" that is now required for any 8-day trip to New Zealand – this time, thanks to Jimmy 😉

So, getting to Glenorchy in time for sunset, hearts then sank when we realised that while the weather behind the trees was great – the sky in front of the sun itself was full of cloud. With no colour in the sky at all, flat light losing all definition in the mountains and a temperature dropping below freezing, night one was already a bust. The second problem was the framing: While I preferred the sideways shot in some ways, the trees in the foreground just moved too much on a long exposure to allow for anything "tidy" to come out of the camera.
Only one thing for it – a quick drive back to Queenstown for some warmth in the form of pizza and beer at The Cow. Indeed, another education as Wayne found out just how "dirty" a multinational pizza could be… 😉
Sadly, beers stop flowing quite so freely when you remember that you need to be 50km away an hour before sunrise the next morning – so, after a quick sleep, it was back up and out to the boat house and pier at Glenorchy's waterfront.
WOW it's cold in the mornings there in winter. Granted, it was actually warmer than I remember it when I was there last year (there was no ice on the ground), but it's not the perfect place to be stood for over an hour  before any form of sunlight appears to provide some heat.

So… Just like for a Guiness, we wait. Slooooooooowly the sun was rising and due to hit the snow-capped mountains in the background. The clouds hung around over the peaks and were moving just enough to capture the perfect frame. So, the right place, the right time, the right conditions…
…and then it struck. [warning – TMI moment ahead] It seemed I'd maybe had one too many pies and a few too many slices of pizza. Standing in the cold for hours on end with that lot "on-board" meant I had a drastic decision to make (which every photographer at some point in their life will have to make): to stay, or "to go".
I've never driven a car with as much panic as I did that morning – let alone a 4-berth camper-van, on my mission to find somewhere to go. We'd all vowed to never use the "facilities" onboard our vans (basically, as nobody wanted to deal with any form of cleaning after a week!) so this was a red-alert moment. And here's the thing – after my quick 1-mile round trip, it worked out perfectly (ish!). When I returned a few minutes later, the sun had just hit the tops of the mountains with a warm pink light – and I clicked away with a few long exposures.
The top shot was exactly what I wanted to capture – these trees are actually part of a cluster of 12-15 in a row, and 9 of them find their permanent home in Lake Wakatipu itself. The warmth of the sunlight above, hitting the cold winter snow-capped mountains against a pure blue sky, with the still lake below below where the wiry trees reside. On first inspection, they're not that impressive (they're quite small actually!) but when you combine them with the fog we had last winter or the stunning backdrop of that mountain range at sunrise, wow, even winter branches seem to come alive.
I guess you could say it all came good in the end. Much to Mark and Wayne's enjoyment, they both pointed out that there was actually a public convenience about 25m from where I was stood with my tripod, right next to the boat house itself. There aren't words that I can write without being censored by Google search results, but you can imagine.
Only one thing for it to make me feel better… Pie 14 out of 21 of the plan – this time a Glenorchy speciality.

Many lessons learned that morning – and all for just one picture of some little trees in a lake 😉