There's something really nice about arriving back in England for a few days to find some of your work, in print, waiting for you at home.

This year the Royal Photographic Society has produced its 157th International Print Exhibition, featuring my image of Shanghai's Nanpu Bridge – "Over The Rainbow" and both the RPS Journal as well as the Print Exhibition Catalogue were sat waiting for me to read when I got back from Shanghai.
As the longest standing exhibition of its kind in the world (it's been held almost every year since 1854), it's quite an honour to get an image featured in the show, but there are two other reasons I'm particularly happy about this one.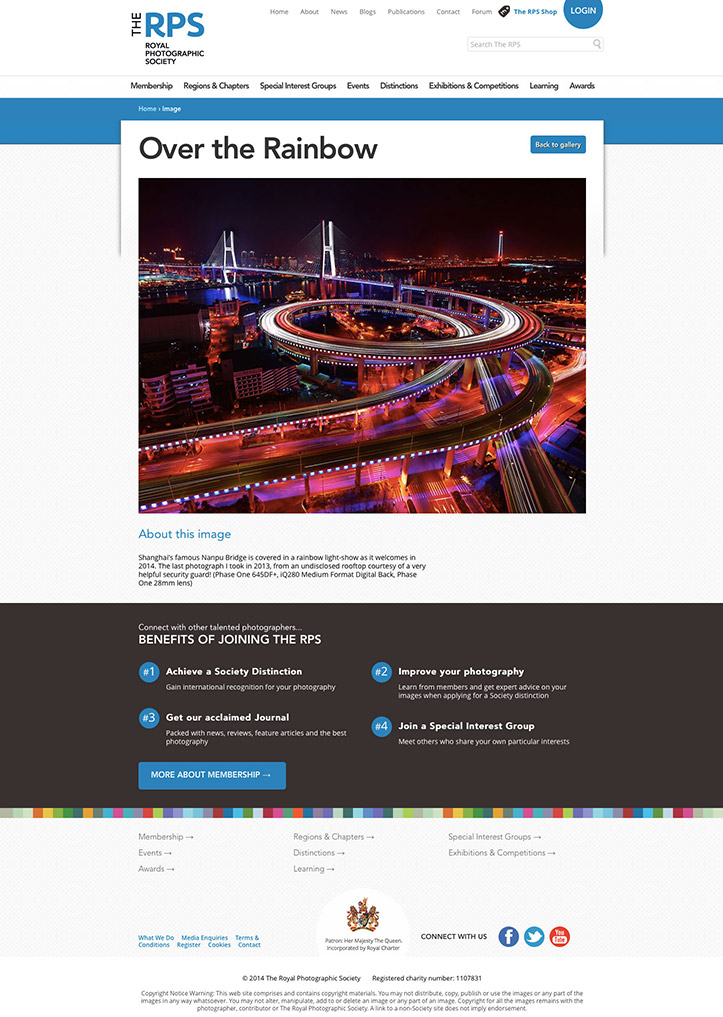 First, the RPS Print Exhibitions are known to be very "people heavy". By that, I mean most images selected for the final show feature people – whether through portraiture shots or as components to a story, it's a prominent attribute of a huge percentage of the 100 prints. On that basis, to get a landscape photograph of a road in the show is quite some going…!

And secondly, the RPS have been kind enough to actually feature my image twice – once as a standard print along with all others on display in the exhibition. The second copy, however, is a larger print that is shown at the entrance to the show to welcome visitors – very cool 🙂

Now the obvious downside to living 6,000 miles away is the limited time I have to go and see not only my own work but also that of the other 99 photographers on show. This weekend's 4-day trip didn't allow me to make it to the exhibition in its opening leg (above) at the Greenwich Heritage Centre, but huge thanks to Sally Smart at the RPS for the images here. So instead, the plan is to catch it at the Royal Albert Hall in January when it is displayed there instead. For those interested in taking a look, here's the touring schedule for the exhibition over the next 12 months:
31 July – 28 August 2014. Berkeley Gallery, Greenwich Heritage Centre, London
6 September – 8 November 2014. Aberystwyth Arts Centre, Wales
22 November – 10 January 2015. Banbury Museum & Art Gallery, near Oxford
16 January – 15 February 2015. Royal Albert Hall, London
14 March – 10 May 2015. Shire Hall Gallery, Stafford
4 – 30 June 2015. Waterfront Hall, Belfast (Belfast Photo Festival)
More information can also be found here on the RPS website. Anyone wanting to pop along is of course more than welcome – and those in London, I may see you there at the Royal Albert Hall 🙂