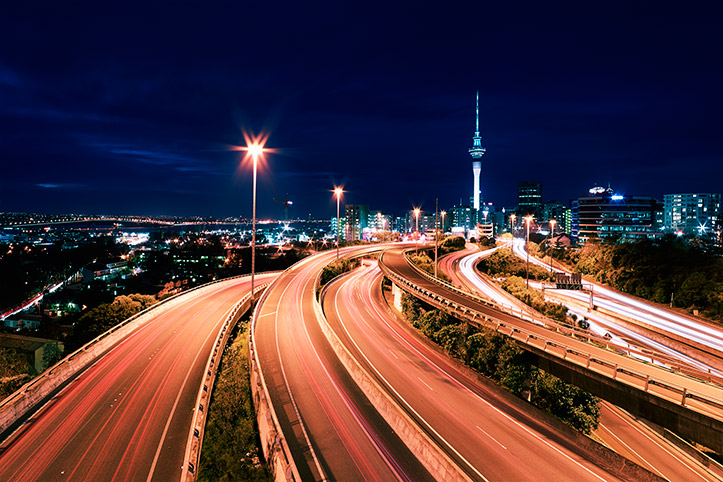 Approaching the city of Auckland for the second time this year, I didn't hold out much hope for a great set of images. Based on some of the weather "challenges" we'd encountered on the south island during this trip to New Zealand, despite being lucky with a few images it seemed that Auckland's weather wasn't set to be much better. Still, when you've travelled for 12 hours to get somewhere it would be rude to not even try and this would at least be an opportunity to get out and see more of the city than I did during my last visit in January.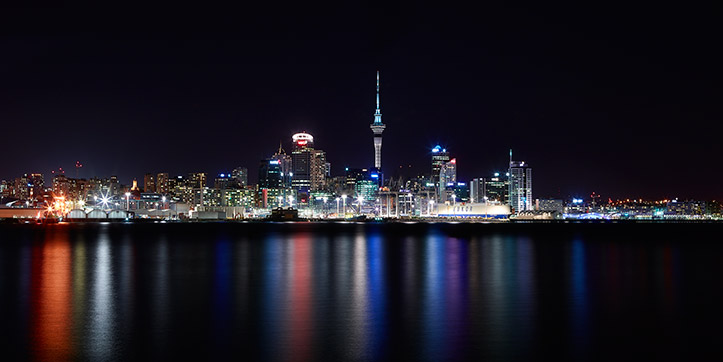 As I discussed with the guys at Phase One for their cityscapes feature, sometimes the people you know in a city are as important as being in the city itself – and this would be no exception. Before setting out for the North Island, I got in touch with a great guy – Wayne Boardman, of 10-Stop Photography, who I'd been in contact with on-and-off on twitter for many months before. The photography community really is made up of genuinely helpful people (yes, there are obviously a few bad eggs, but in general it's a great bunch!) – and getting tips from insiders in a city is something I now rely on.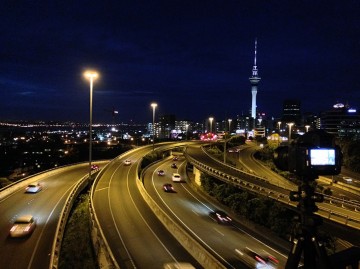 Simple things such as the fact you need to go to Devonport in order to get a wide night-vista (as above) of the city skyline.
Or that Auckland has its very own "Spaghetti Junction" (of sorts!) as in the first picture – looking down from Hopetoun Street as you approach the city.
Or when the Sky Tower will light up in different colours at night (yes, there's a schedule!) – and no, we didn't manage to be there on one of those dates! 🙁
And then, we come to the side of Auckland I had no idea about.
You see, I'm the first to admit that I wasn't initially a fan of the place – we only spent 3 days there in January and despite heading across to Waiheke Island for a day and spending a lot of time looking around the quayside, the city itself just didn't manage to "click" with me. This time was different: I knew my way around a lot better, had more time, and also access to Wayne. As a British ExPat, he had a few tips but also a hidden gem only a few miles from the city itself on the West Coast: Muriwai Beach.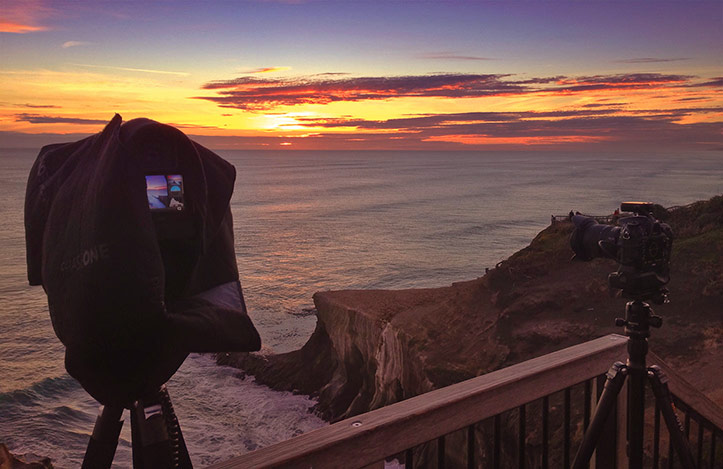 On the one hand, there was a slight disappointment – the huge Gannet colony that usually nests on the rocks below was missing (I guess it was a little cold!). On the other, the weather had given us a lucky break – the cloud which had swept in during the day now had breaks and the mist had gone, we were due a sunset that should be good. Wayne specialises in long-exposure shooting and actually runs workshops at Muriwai so we knew exactly where to go along with where and when the sun would drop over the horizon (remembering, in the Southern Hemisphere, it traces the opposite path across the sky!)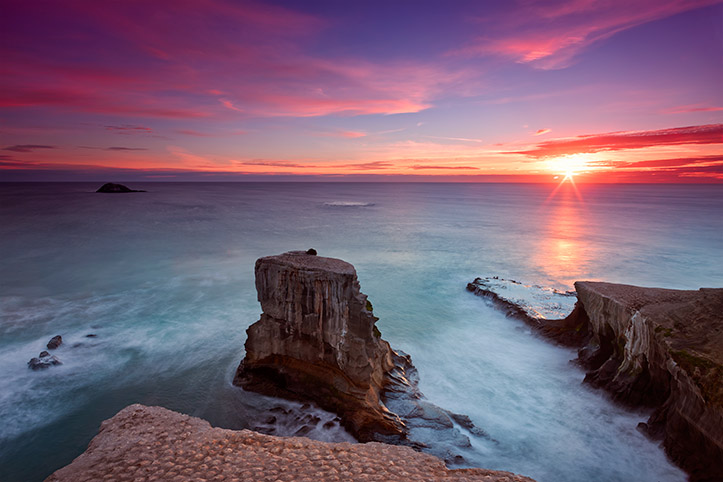 On this one, I got lucky. As you'll see above in the shot from my iPhone, there was only a tiny break in the cloud that was long enough for a decent sun-flare and when doing long exposures (with a black frame following), there's not much forgiving if you get the timing wrong. I also had to do a little improvisation as I forgot the blackout hood I use on my Cokin ND filters when attached to my 28mm lens (thanks to Phase One for the velcro soft-bags!). Still, as a coastal shot I'm pleased. It's amazing to think that this stunning place and home to surfers was just a short drive from the bustling port city of Auckland.
And back to the city, and a very strange effect I discovered on my camera when shooting long exposures in the daytime. The next day, I headed back across to Devonport and more specifically, to Stanley Point Road where there is a view right out across the bay. Unfortunately, due to the traffic, I arrived about 20 minutes too late to get a pure city vista as Auckland had suddenly become its own tagline: "The City Of Sails". What must have been over 100 sailing boats were passing through the harbour, causing an issue for the shot I had in mind.
So, in true "Plan B" style, it was time to experiment and an ND400 + ND8 stacked on my 75-150mm lens along with a 2 minute exposure at f/25 gave me this: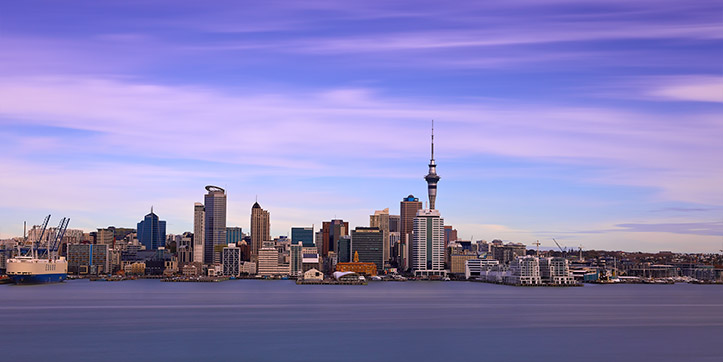 So why am I taken by this image? Well, for starters, it seems those sailing boats move fast enough to pass the whole frame in 2 minutes – leaving only light streaks as a blur of where they once were. More interestingly for me, however, was the effect the long exposure and small aperture had on the city in comparison to the flat water and moving sky. Click on the picture and take a look – it's almost like I used a Tilt-Shift lens: I made Auckland look like a toy town!
Anyway… 😉 Moving on to Reiffer's Final Thought. You're in a city, wanting to explore, but also trying to get that different angle. Well, you could do worse than looking out of your hotel room window!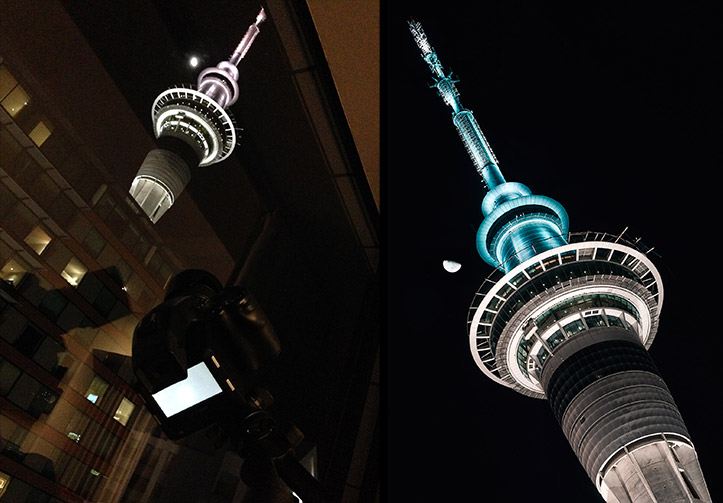 Here's a shot taken using a tripod, turning out all the lights and then standing there with dark jeans hanging behind the camera to knock out the reflections in the glass. All necessary things to pull off a shot from a hotel room window – but if ever there was an opportunity to get up-close to the Auckland Sky Tower without actually going up it, this would be it. This was also the second time I stayed at the Crowne Plaza in Auckland, and both times we've had a cool view of the tower itself. Of course, the moon coming out to say hi on the last night there was an added bonus, but that's a shot I wasn't planning to get. A bonus, I guess! 😉