Within a week of landing in Shanghai, I'd already heard from two people about "The Restaurant".
Owned by acclaimed French chef Paul Pairet and as a sister property to Mr & Mrs Bund, his latest project is known as "Ultraviolet". The killer? It hosts 10 guests, on 1 table, for only 1 sitting each night. With as much technology involved as kitchen mastery, in an unknown location, and a nightmare wait-list for a fixed tasting menu which varies in price between CNY2500 and CNY5000 (£275-£550) depending on the evening this place has quite the reputation…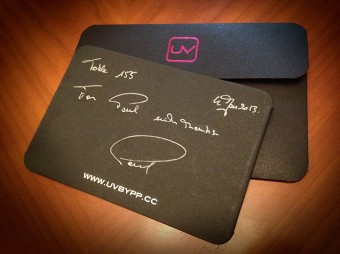 Now, to be sensible – if anyone is planning to go to this place and wants all their surprises left intact : STOP READING! I'll only spoil it otherwise! For the rest of you, read on. Sadly, I only had my iPhone with me at the time, but hopefully the dark shots will give at least a feel for the truly fantastic restaurant that Paul Pairet has built here now. I won't go into huge detail as that's unfair, but the experience is definitely worth sharing.
First, how to get a seat? Simple : Keep checking. You can waitlist too, but it's really a case of looking every now and then. They also have special occasions/guests/wine pairings, but by sheer luck some spaces popped up on a previously unavailable date; so I bought them 🙂
In the strangest restaurant confirmation I've ever received, you're advised to rendezvous at his other restaurant where private transportation will take you to UV's secret location. The experience starts here… Presented with a napkin almost a metre square, which also turns out to be the menu for our 25 course dinner to come, along with drink pairing guide : this was going to be a long evening!
Getting driven around the backstreets of Shanghai and dropped off in what looks like an old warehouse is not quite what I had in mind when we booked, but it really is part of the whole "thing". We walked inside, 10 of us, into pure darkness and the fun begins : the walls start moving and a doorway opened up. Just like in a halloween night in a theme park, our group of newly reliant strangers stepped forward slowly into… the dining room 😉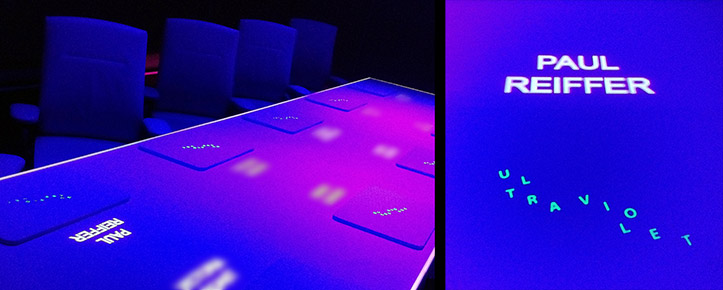 I've blurred the other names, but as you can imagine this is not quite what I expected from a restaurant, but then things started to all add up. We weren't in a restaurant – we were in our host's experimental theatre where every single aspect is controlled : The lighting, sound, smell, temperature, background, staff, even the table – it's all under their control in a live feedback loop to and from the kitchen. Having eaten in Heston Blumenthal's "The Fat Duck" in Bray, I had an expectation in terms of food experimentation but in joining culinary mastery with a completely immersive experience, this guy really does take it to a new level.

Every single course not only matches the wine with which it's paired, but the entire environment around you changes to suit. Think oaky foie gras "cigarettes" surrounded by a humid, misty forest with the sound of nature. Or, as above, an entire meal of fish and chips in one bite, accompanied by a classic ale, the British flag and the sounds, sights and temperature of the best of London on a rainy day…!
Each and every course is a genuine surprise. Things really do not taste as they look; Food has hidden treasures inside; Magic tricks abound and very shortly, the entire table of prior strangers start interacting as the excitement of each course grows. I even ate a tomato – something I normally feel ill at the sight of!
Our hosts for the evening were a collection of amazing and entertaining professionals, and coupled with the fact there is also one waiter for each guest, along with kitchen staff and those interacting with us, you can start to see (on top of the food and physical environment) where the costs begin to feel justified. Everything is simply perfectly rehearsed and brilliantly executed.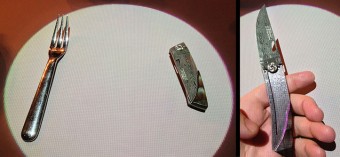 Speaking of executions – what a novel idea: For anyone feeling a little more "rustic" when it comes to a steak course, how about picking from the wide collection of hand-crafted genuine antique pocket/flick knives to use for a few dishes?!
Don't worry – they're deep cleaned between every course, let alone every sitting. The way they cut through pretty much anything leads me to believe they're also sharpened at similar intervals…! 😉
You get a few breaks in between some of the heavier courses, and time to explore the rest of the building too. I won't ruin it with any details, but this place is genuinely more than just the one table in one room… Signed on all the walls are the guests who have eaten there (with only one sitting per night, there's enough wall space for a while yet) and each time you return to the dining room a completely new setting awaits. For anyone going – try finding my name 😉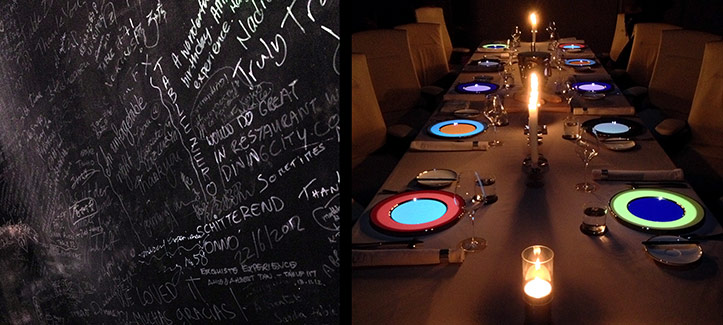 A few courses before the end of the evening, the star of the show reveals himself and all the technology behind the magic. A genuine and humble guy, Paul is eager to answer questions and explain how things are done – it seems UV really is his playground, where he gets to experiment without limits and provide every guest with an experience he knows they'll love.
Even with the evening's events and illusions, one final experience does still manage to catch a few guests off-guard : the washing up arrives. Don't worry though, it tastes as good as the previous 24 courses 😉

Evening over, it's time to head back to civilisation after a few more drinks around the building – a long night, but truly one that nobody wanted to end. A few mementos are given before you leave, including the rather long listing as a reminder of everything you ate – juuuuust in case you used your giant napkin to wipe away any signs that you've been playing with your food for the past 4 hours 🙂