Wow, it's been a looooooong time since I wrote on here – and for that, I can only apologise. Those following me on facebook and twitter will know that it's been a crazy busy few months, but I know that's no excuse for not checking in on here every now and then. So tonight, I was planning to grab a few pictures of the 99% full moon – but instead the somewhat permanent feature of rain lately has put pay to that so it's time to catch up on here!
First off, a new image! Granted, I have months and months of images to catch up on, but this one from yesterday caught my eye : amidst all the rain that's been going on all over England recently, I managed to snap a passing break in the clouds over a field I drive past all too often:
…and now to answer the immediate question I got on facebook about this image… No, the sun is not photoshopped in any way. Ironically, I'm kicking myself that there are a few "spots" on it where my filter wasn't 100% clean. That starburst is what I get when shooting at either f/11 or f/14 on my 16-35mm 2.8L lens. And yes, I love that lens! 🙂
What IS cool though, is the fact that for many years I've always missed the opportunity to capture the bright yellow fields that I pass most mornings in the car – always being too late when I finally got around to bringing my camera! The same could be said for Nick Dempsey who came along and snapped his own versions of the same field. Now is the time to get out there and capture the colours in the fields across the country though; before the farmers get to them with their harvesting!
So what else? Well, I've been on a bit of a world tour to say the least, since my last post I've been to Chennai (in India), Montreal, Paris, Lille, and up and down the country non-stop. While every trip has been great, the dodgy stomach I got in India, coupled with constant jet lag, is something I could have done without in such a compressed period of time!
What all that travelling has done, however, is make me appreciate a bit of "down time" at home – something I've not had nearly enough of so far this year! I now have a pile of memory cards full of images from all of those places, however, which I'm looking forward to sifting through and picking some favourites 🙂 In the meantime, I did just find this little gem from Paris: Everyone seemed to be taking pictures of the glass pyramid entrance in front of the Louvre. As always, I'd rather not shoot what others are (and it was cold and wet outside!) so captured this one of the Louvre from inside the pyramid itself: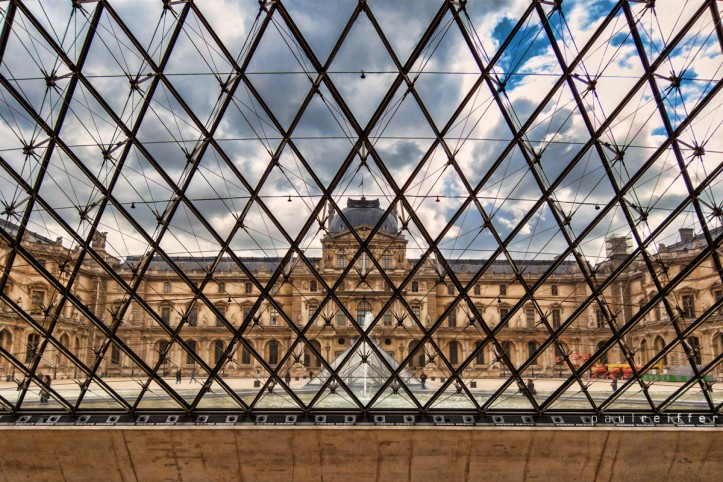 Yes, that's had a touch of HDR applied but I just love the contrast between the traditional old building as seen from the very modern glass structure that's been built in its forecourt.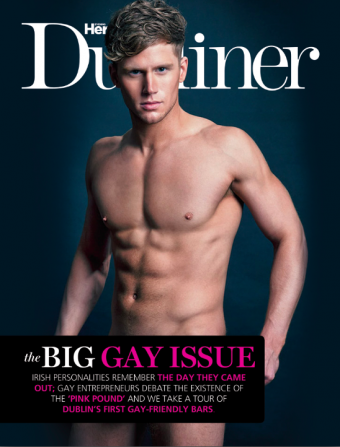 Beyond all that travelling, it seems one of my images has started a debate online! The cover to the right is on the current issue of the Dublin Evening Herald's "Dubliner" Magazine – and was the outcome from an email conversation I had with their editor about the use of some of my previous images of Sam Kneen (the winner of "Mr Gay UK 2011").
For my part, I just provide the images – but it seems to have kicked up quite the conversation online at "broadsheet" over what constitutes a gay image or not.
For me, I find it funny – people have missed the irony that years ago the "big issue" was whether this type of subject could even be broadcast in mainstream media; now people are arguing over what is broadcast and whether it accurately defines them.
I, for one, would say that's progress…!
With all that going on, I also have the latest set of images for Lick's campaign and we're shooting again next weekend – all good stuff, but once again, keeping me far too busy for my own good!
Next up, it's vacation time soon – and on this one, I'm going to some places I've visited before (but with my decent cameras this time) such as Bodie and Mono Lake – but also to an area of Death Valley which has evaded me for some time: "The Racetrack Playa". Click on the link to find out more…!
In other news – I've started noticing a few similarities (to say the least) between the images and locations I've shot, and every single one of another photographer's landscape images. One to keep an eye on, but while nobody can (or should) "protect" a view, it does slap you in the face a little when you see every shot you've taken in some way imitated! 🙁
On a massive positive, however, I'm ditching my second Canon body for the new 5D Mark III that I've just ordered. Having evaluated the 1Dx, as far as 35mm DSLR's go, while the 1Dx may be better for sports and portraits, the new 5D/3 sensor seems to win hands down for landscape work. So, my crop body will be going to camera heaven, leaving me with the Canon combo of a 5D mk II and a 5D mk III. Should be good!
Take care, and I promise to write more soon 🙂