"Welcome to Amboy" – a phrase which I'm sure was used many times in the past, but not any more. Apart from the (randomly) fully functioning post office, Amboy is now very much a ghost town, around half way between Palm Springs and Las Vegas.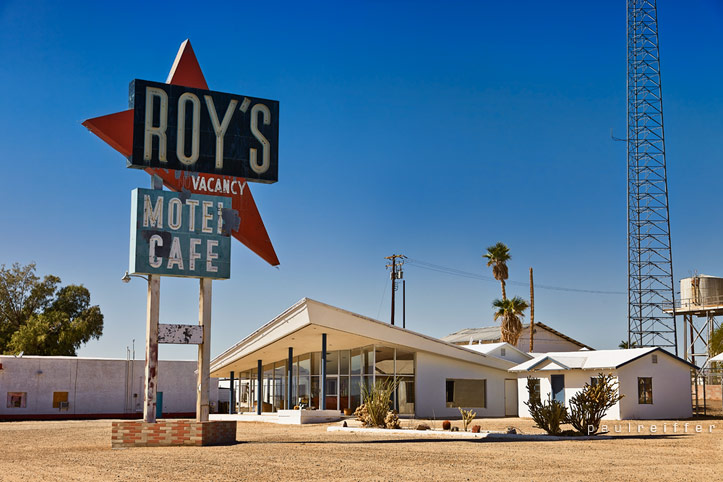 Having checked it out before we headed there, I knew that "Roy's Motel" is actually a bit of an iconic landmark, locally.
Postcards are sold with the famous sign and many films have used what's left of the location as a set, with stars such as Harrison Ford setting up camp in the town while filming for Hollywood.
Amboy itself is actually one of the stops along the 2,448 miles that make up the famous "Route 66" from Chicago to LA.
Obviously, since that route was established a lot of the roads/buildings (and even towns and cities) have moved, changed or become dilapidated but the essence of "The Mother Road" still very much exists.
What I didn't quite expect was just how isolated and desolate the place actually was.
There's a tiny cafe/gas station, an abandoned school, Roy's and a (what appears to be half-collapsed) church far into the distance next to a very noisy rail track.
Once they've been shot, there really isn't much more to see (as a lot of it is boarded up) so it was a good job we made notes of mile-markers where a few random photo opportunities existed along the way.

So, on the way there we passed through miles and miles of desert with no signs of life apart from the odd motor-home scattered among the tumbleweeds. Then all of a sudden, a cluster of mailboxes would appear – evidently for houses that we couldn't even see! I guess it makes it easier for the mail man to deliver, not that I'd be keen to take on that route myself, regardless of how efficient the residents try to make it – this place is 100 degree heat, with nothing for miles between Twentynine Palms and (well, a deserted) Amboy…
After passing the confusing sight of a few speedboats left on the side of the road in the middle of the the desert (?!), we then came across this little gem. What seems to be an old British taxi, painted in yellow, on the side of the road with a number. I'm guessing they don't get too much passing trade, as it's been there for sale for quite some time! While maybe not such a successful sales job, it did make for a great picture, especially with that fantastic deep blue desert sky and the sun flares in the background.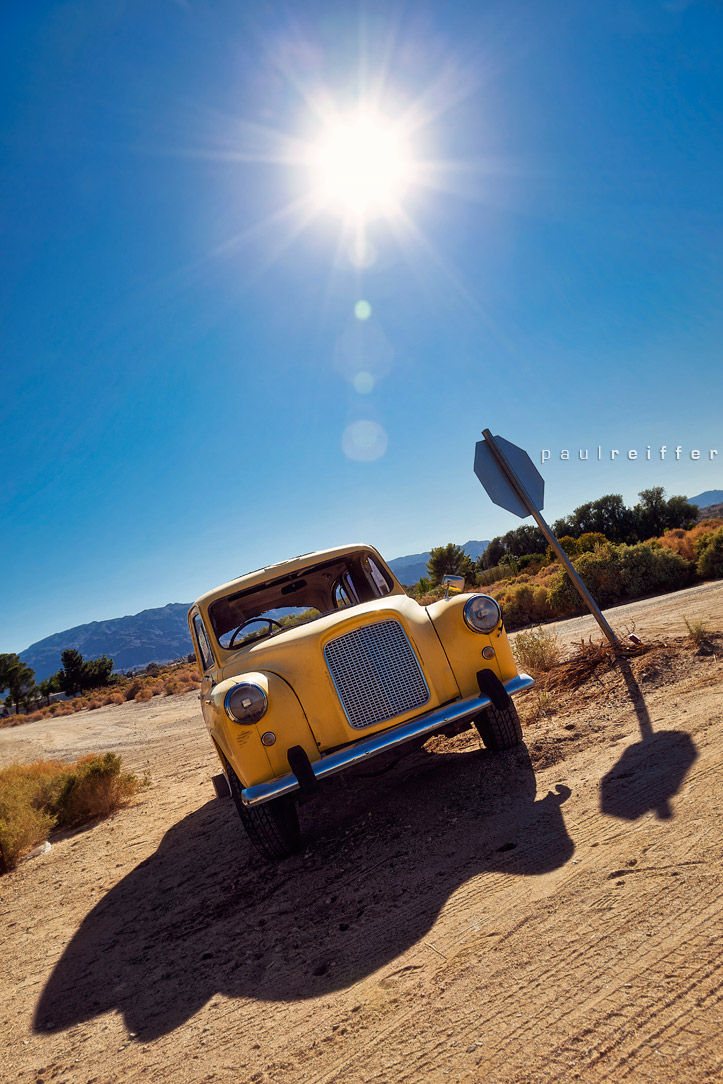 Moving on, the last item I made a note to see was the chlorine fields just outside Amboy – and it seems I wasn't alone in that thought as there was a full-scale fashion shoot happening at Bristol Dry Lake, just a few hundred feet from the chemical works. Now here's where I made a schoolboy error. To get this shot (which I love, the colours, the richness, the depth and backdrop all work) I had to quickly pop down to the edge of the chemical lagoon…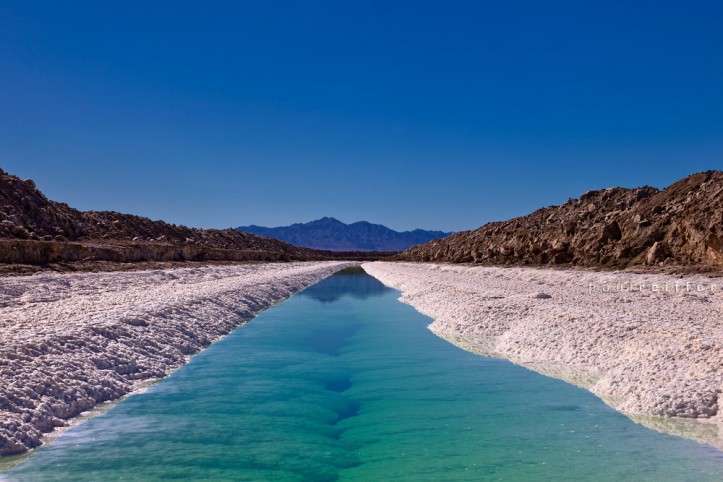 Having seen, and photographed, "dry lakes" before in Death Valley I made two (incorrect) assumptions:
1) That the chemical lagoon was just salt, and
2) That flip-flops were suitable footwear for a quick exploration.
I won't upload the picture of the bottom of my feet here, so don't worry – you're spared the gross image, but let's just say my feet are well and truly paying the price for my failure to engage my brain before exploring with my camera! I've been struggling ever since – despite needing to walk around a lot to grab pictures of Santa Monica for the next few days – anyway, lesson learned the painful way!
On the way back to Palm Springs, we stopped by Joshua Tree National Park – I do love that place, and it was really weird (but cool at the same time!) to be handed the guide by the park ranger on the way in with one of my images on the cover. While it wasn't a surprise, it was certainly a lot more "real" being able to hold it and seeing all of the other visitors with one than when you get the proofs by email.
So, while in there – what else could I do than try and get that better sun position on the edge of Arch Rock I was looking for last winter. My feet may be in agony, but hey – I got my missing Joshua Tree shot 😉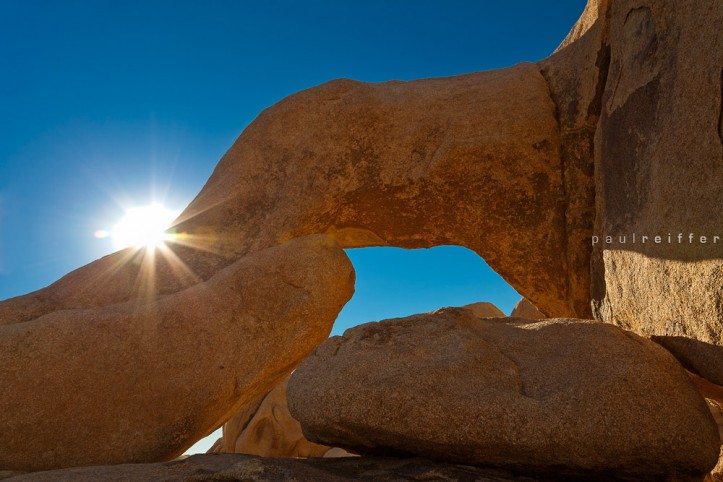 (and no, I haven't forgotten the Thailand images, I just have to make a few more decisions on which ones to cut!)