Yes, it got to me. Not even two days after visiting Joshua Tree National Park, the fact I hadn't seen the "big arch" finally made me crack. So, rental car on order, I finally managed to hunt down where it was through Google maps/earth/images… So, maps and iPhone in-pocket, I set out through Joshua Tree (the town) and hit the park through the same entrance Chuck and I had used two days prior.

This time, without the rush to beat the sun, it was possible to stop off on the way and grab a couple of more considered shots of the terrain out there. (PS – handy hint, a National Park vehicle pass is good for 7 days – so no need to pay twice if you need to head back 😉 )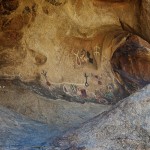 This time, with a slightly more relaxed agenda, I stopped off to take a look at a few things – the first being some random carvings/drawings etched into the sides of the rocks in the park. Now, not being one to believe everything they tell you – I can't *honestly* say that they looked entirely convincing – I mean, I've seen similar on the wall outside of schools, but apparently they're the real thing. Sadly, I had originally meant to take photos of Barker Dam – but it turns out it's not much of a dam after a long dry summer…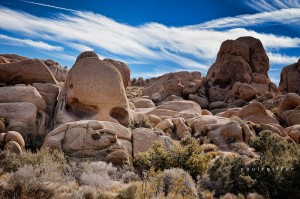 After that excursion, on to "Skull Rock". Now, for those of you who can't quite see it, it's about 1/3 of the way in from the right, and half way up this photograph. Do you see it? Try harder… That's it… You're getting there… That's right – it's a rock that looks like a skull! And that's me sorted, I like things that do as they say on the tin!
Anyway, back on track for the reason I returned. This Arch Rock thing. To get to it, you have to stop off at a campground called "White Tank". From there, there are NO signs to Arch Rock – handy… So, I walked about half a mile south, and nothing. I walked back, checked my out-of-signal phone to be certain it was of no use and then saw the first human beings I'd seen during the entire morning coming from the north. Now, being British and male means I clearly can't ask for help – so I walked another half a mile north to where I figured they'd started.
And….. Nothing. Nope – not a single even slightly bent rock, let alone an arch. So, this is where the NPS could really help people out. I'm all for exploring, but this was ridiculous. Not to be beaten, however, I climbed up one of the rather large bumps in the ground to get a higher view. There it was – I'd walked all the way around it, and hadn't even noticed. I'd have loved the sun to have been in a better place than it was, but hey – I wasn't up for waiting another 3 hours in the park – so this was as good as it was going to get. Anyway, I found it 🙂
So, mission accomplished. Back in the car, I hurtled back to Palm Springs (naturally, obeying every speed restriction in place…) ready to go out for the evening. But then, something stopped me in my tracks – literally. There's an AmTrak line that runs under Indian Canyon Drive, which overlooks a wind farm that spans as far as they eye can see. I first saw this in 2003, driving along the I10 – but never thought to stop and capture it. At the very front of the farm are 5 turbines all on their own, 4 of them bunched together. Aaaaaand this is why it was worth stopping the car and snapping a few images as the sun started to lower…. 🙂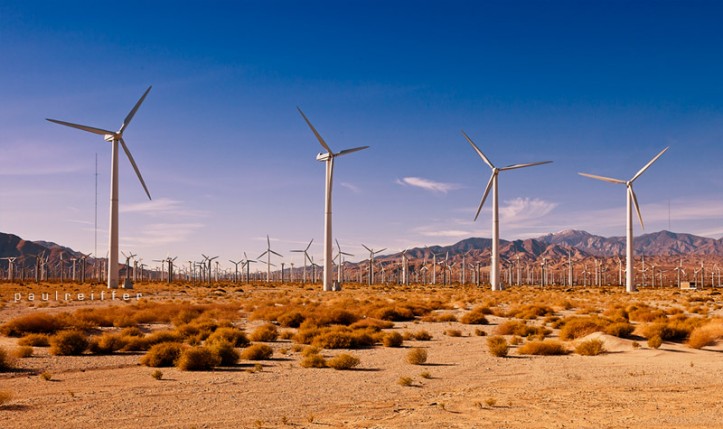 Right – next up, the models I shot in San Francisco – but for now, g'night 😉