It's been nearly 10 years since my first visit to Yellowstone National Park – on a quest to see and photograph the spectacular Grand Prismatic Spring in what I thought was a genius approach of going during "quiet season".

Turns out, it's quiet season for a reason – not only are 95% of the facilities closed, but your chance of seeing the incredible colours of this geothermal marvel are somewhere between slim and none.
The reason?
It's quite obvious, when you think about it:
Aside from an unfortunate few days of rain which we'd had in this case, your odds of being able to actually witness the spring in all its colours are scuppered by one simple variable: Temperature.
With water in the spring arriving at up to 87ºC (188ºF), crossing paths with freezing cold, wet, air, that combination generates only one thing – huge clouds of visible steam and mist (of the eggy, sulphur-ridden variety…)

Beyond that, without that hard, direct, bright sunlight hitting the pool – there's nothing to be reflected back at us – leaving a murky, dull, grey (but still quite impressive) steam bath for you to enjoy instead.
While the satellite images don't show it (it'd be less than useful to show the geyser basin as one big cloud!) – it's only in the summer months that this icon is able to show off its full kaleidoscope of colours as the warm ambient air allows that moisture to dissipate and allow the reflected light to do its thing.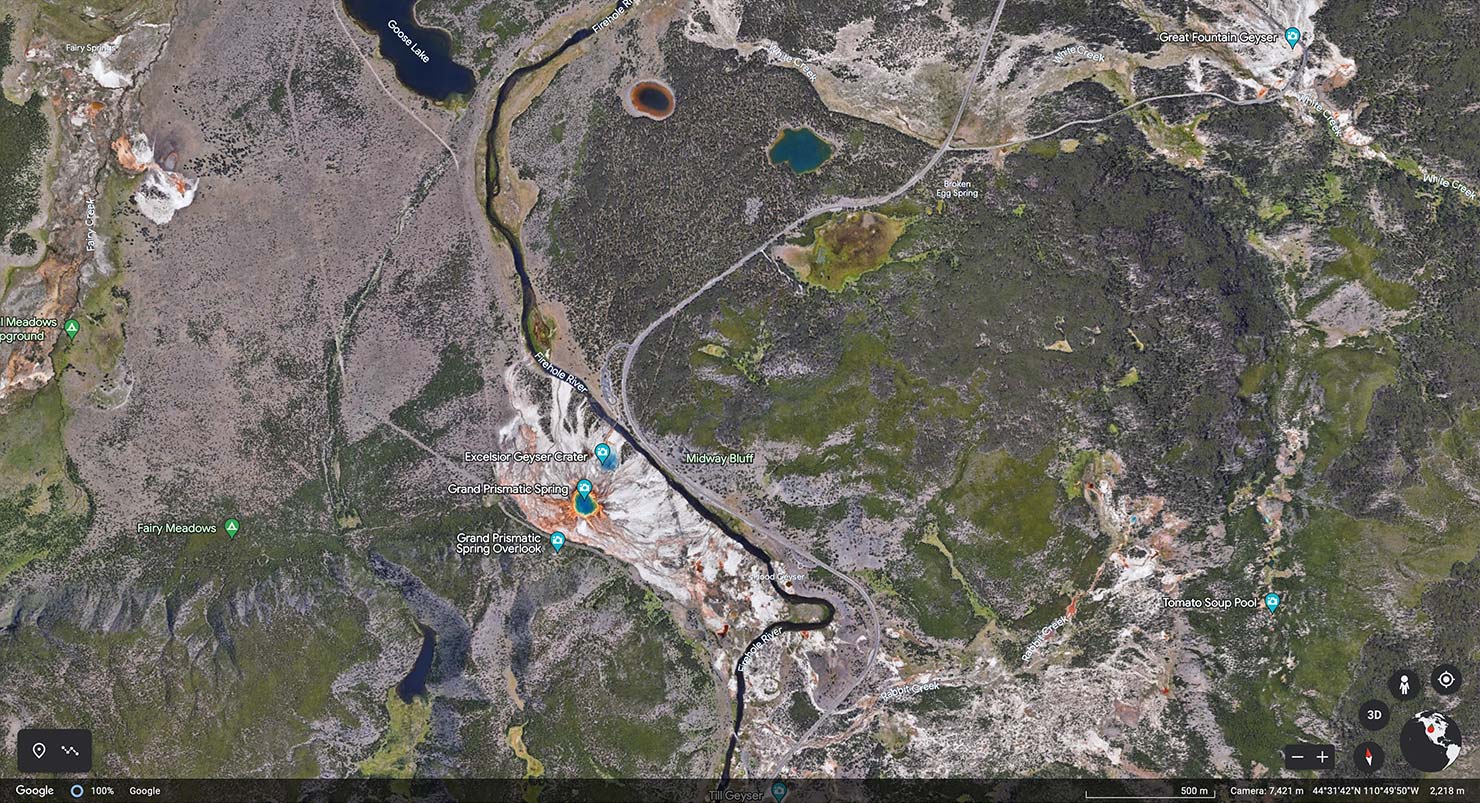 Determined to get a better view – around 5 years ago, I returned, this time in the warmer summer months.
By this time, the "Overlook" photographic location on the side of the hill had started to become more popular, given the benefit of less movement on rickety boardwalks and an elevated view of the whole area.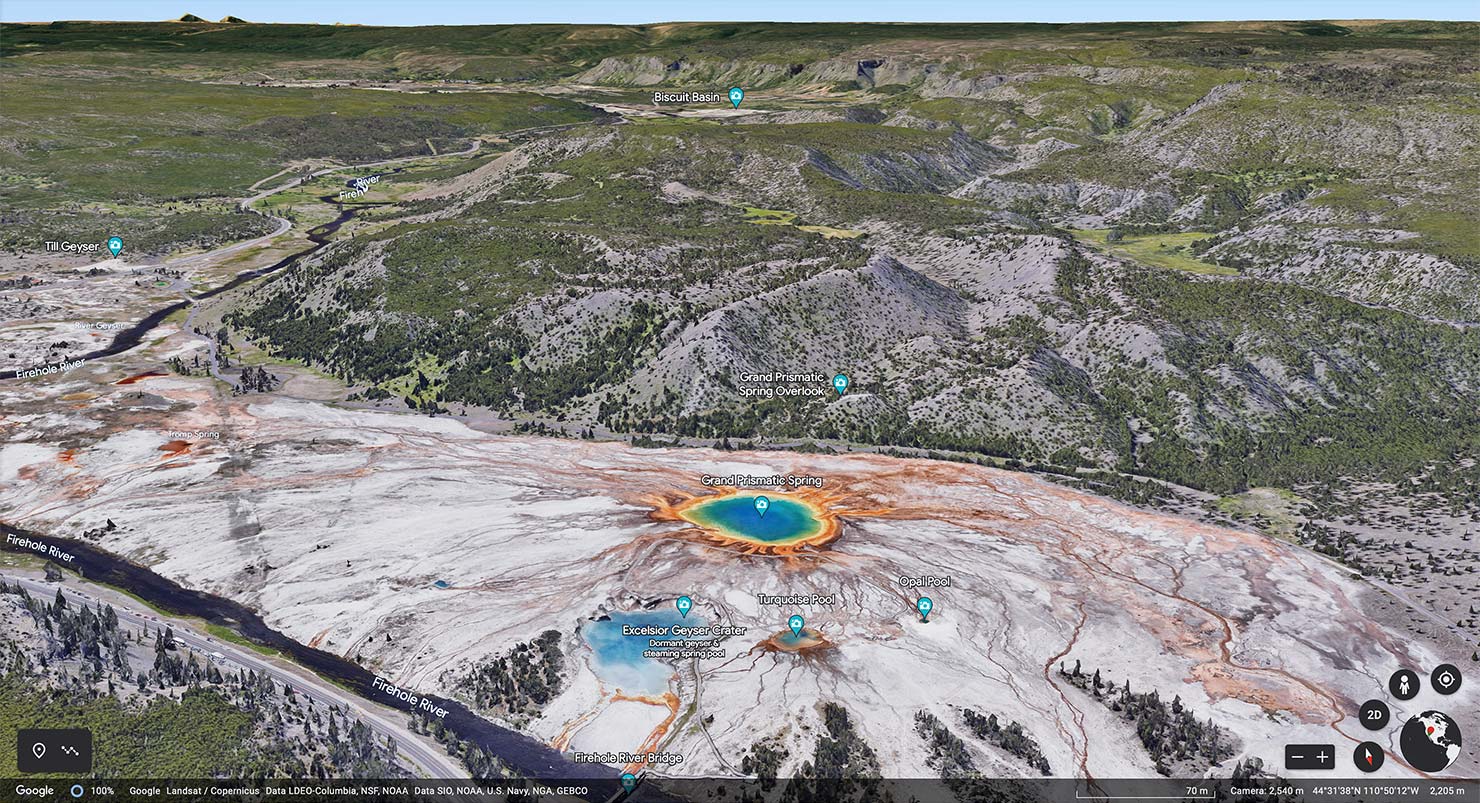 But, then, of course this would be the year that summer arrived late.
The all-too-familiar sight of mist above the pool sat there the entire time in the unusually cool air for that year. Once again, while I love an epic cloud structure as much as anyone – it was with disappointment that we left once more.

Fast forward to Spring 2023, planning for our Capture One Live road-trip with David Grover, and the question came up:
What's the best way to see Grand Prismatic Spring?
The best way?
Easy – Helicopter!
I say easy – it's not actually that simple when it comes to aerial photography over National Parks, as we'd need a few things…
A helicopter (obviously), but with a company happy for us to shoot from it with the doors off.
A pilot, who's also happy for us to shoot from their helicopter with cameras and kit potentially dangling out.
Permission from Yellowstone National Park to allow a slow flight at low altitude over the spring (to be fair to guests below, you wouldn't appreciate that happening all day long, right?)
The perfect camera setup, designed to capture all that light and texture, as automated as possible, at the click of a button.
The right lens, allowing for variable altitude based on what flight path we took (given it would only be a single figure-of-eight loop that's permitted).
Helicopters aren't cheap to hire, especially with specific requirements, and taking the wrong kit would be a big fail in this case. The guys at Yellowstone Helicopters were fantastic, helping with planning and approvals as well as keeping flexibility for us due to weather windows.
So the "right lens" is an interesting one – as that would traditionally mean a wide aperture, long zoom – allowing us to make changes on-the-fly, get the most light into the sensor and keep that shutter speed up high.
Only, my choice of 138mm Rodenstock lens for item 5) was, in this case, related to my choice in item 4) : I wanted to shoot this on the Phase One XT Medium Format system.
That's a camera setup with manual focus, no shutter button (the 138mm is cable-linked to the back, so no mechanical shutter release, it has to be done by touching the preview screen), no image stabilisation and a fixed focal length f/6.3 lens.
Arguably, I could have used a gyro – but with kit already pushing the limits of handheld use, I figured we'd give it a try without…
FUN!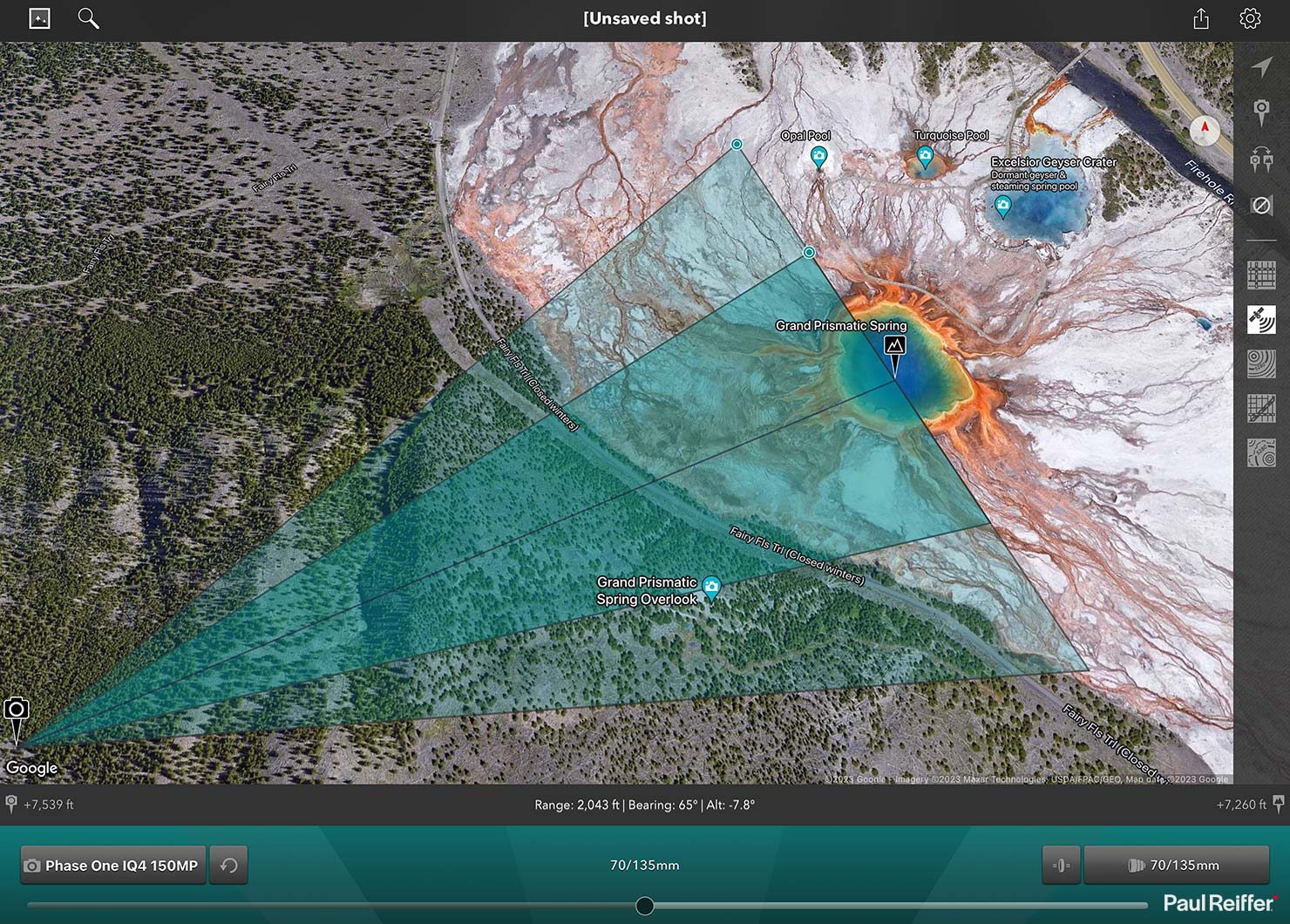 Now, it would be fair to point out that this wasn't a mistake – this was a choice I'd made, to "see if we could". Ridiculous though the setup seemed for an aerial shoot, as long as I could keep the shutter speed up at 1/1000s+, I figured it would work.
Our day rolled around – and after a stunning sunrise, so did a bank of thick, low cloud.
Determined not to make this a third failed attempt to capture Grand Prismatic Spring, I called it – we're not going up today, there's no point.

Now, on a positive for my co-shooters below, David (left) and Brian (middle), having "passed the weigh-in" (like it's an achievement?!) they decided they could tuck in to some rather "hearty" BBQ ribs, brisket, hot dogs and whatever else could be loaded into one giant roll.
I mean, they now had confirmed "headroom" before we hit any limits for the next day, after all…

And then, the next day arrived – with perfectly clear blue skies, awful for long exposure landscapes but perfect for reflecting all of that incredible light that hits the natural spectrum of colours of the Grand Prismatic Spring.
Speaking of colours – Don't forget (or lose) your circular polariser: I did – and had to rely on Brian's ability to hunt out photographic gear in the town of West Yellowstone at the eleventh hour!
It's a 15-20 minute "hop" from West Yellowstone Airport, over the huge forest area that surrounds the central geyser basins, and then slowly that insane little pop of colour appears through the clearing: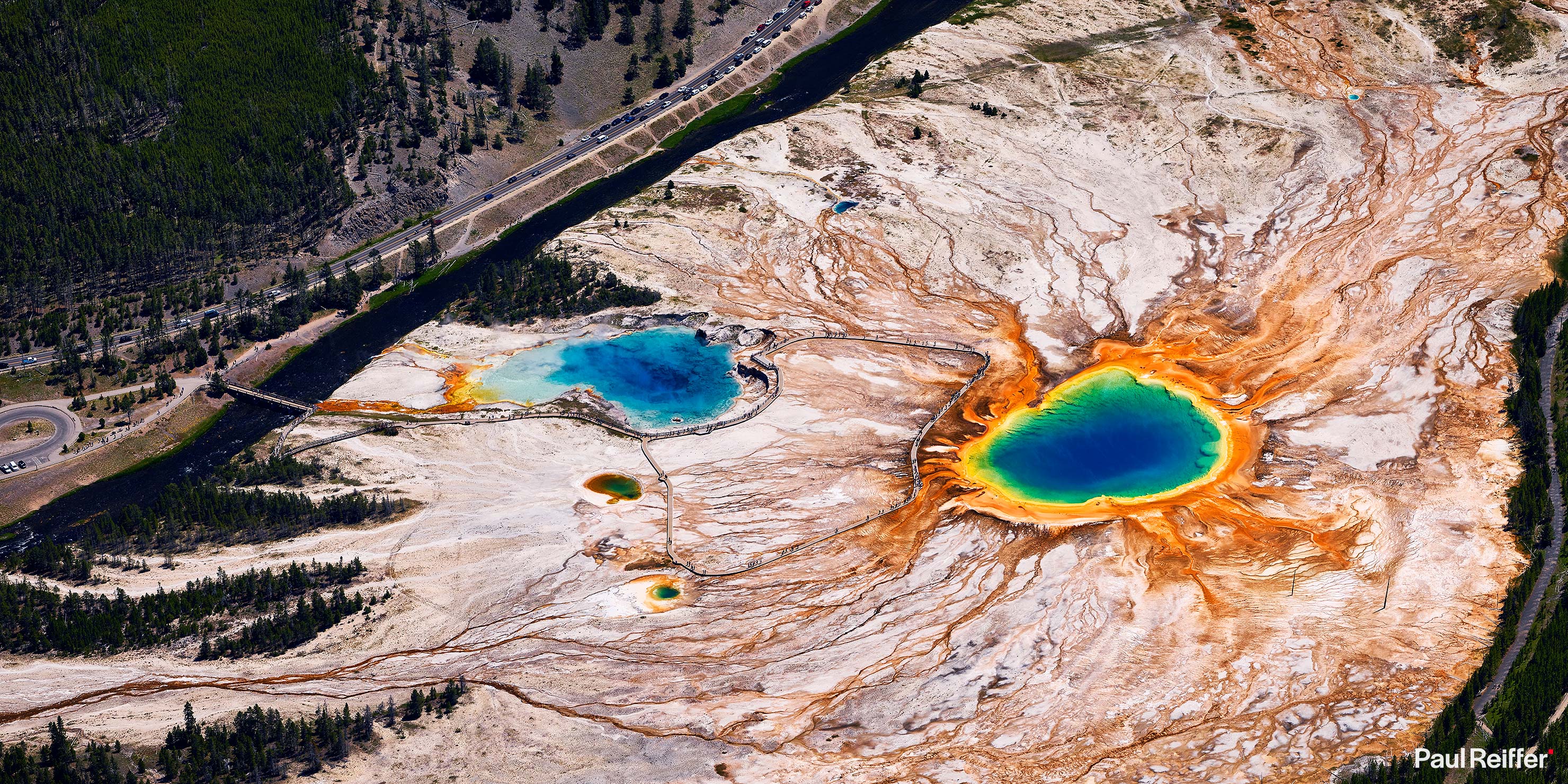 It's funny, when you have three photographers and a pilot with the prospect of only one loop over Grand Prismatic to "get the shot", those headsets sure do go quiet for a few minutes…

Approaching from the north-west corner, we passed by the Opal Pool (the smallest, middle left), Turquoise Pool (the larger one above it) and the Geyser Crater known as Excelsior with its distinctive rich blue colours and flowing steam: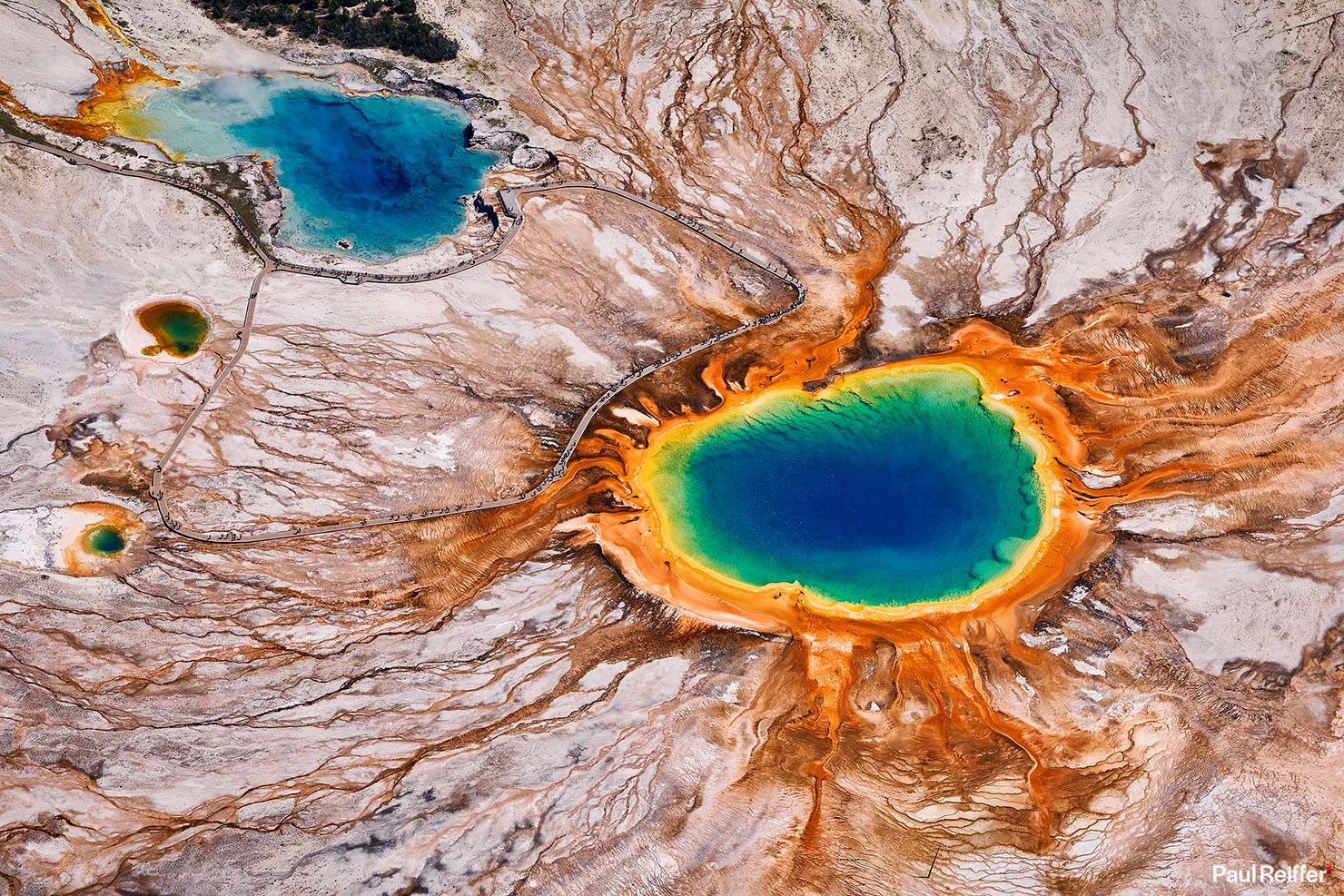 But it was the straight down view of the giant eye-like pool that I was keen to get – Grand Prismatic Spring.
And we'd only have that one pass to capture it, so – time to concentrate on just… one… click…
That One Shot.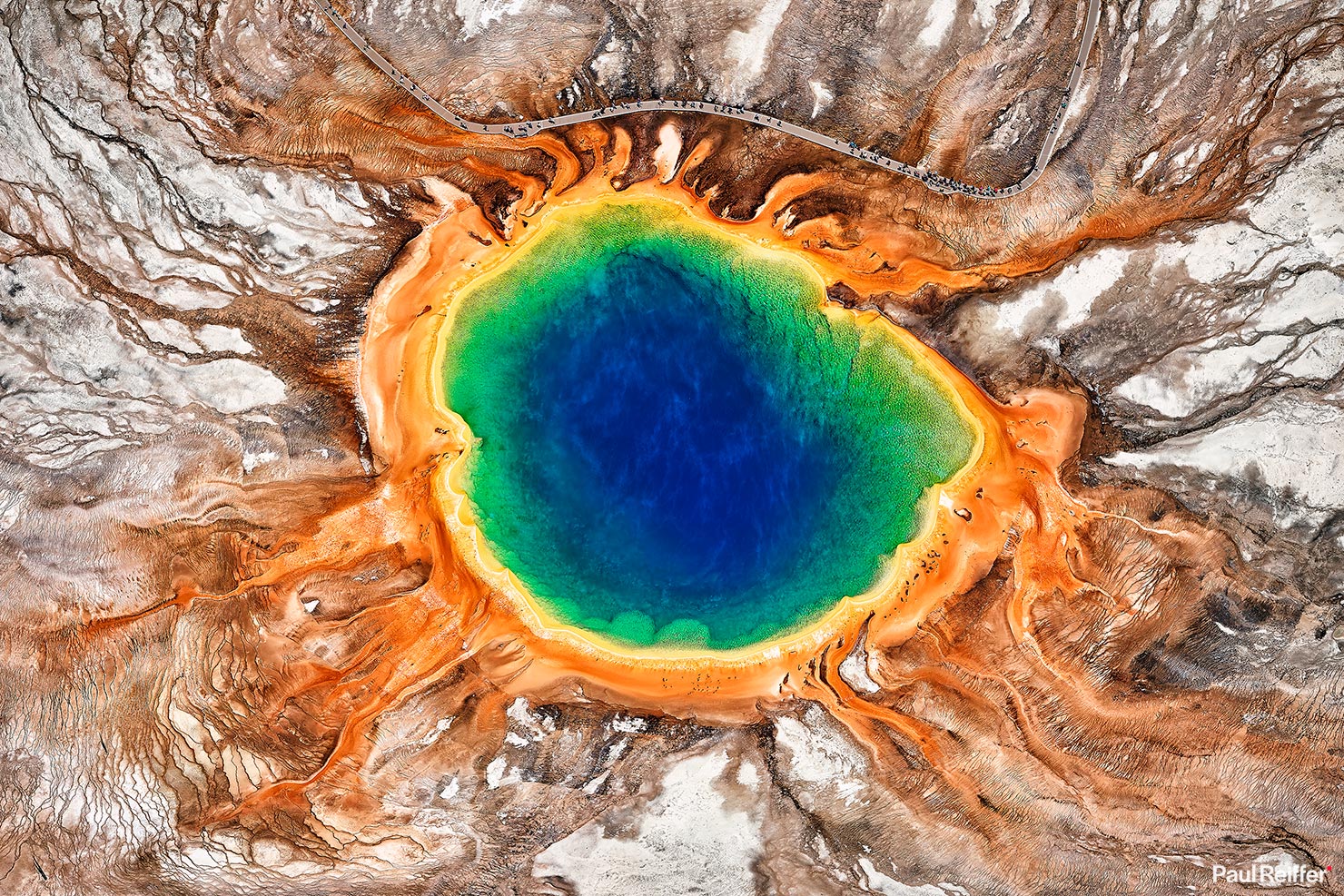 And that was it – my one aerial shot of Grand Prismatic Spring – done.
Well, not quite – as the other angles that followed as we circled to allow Brian to shoot on the return leg were equally stunning. Plus, it gave us a little bit of time to just look with our eyes, not just through our cameras.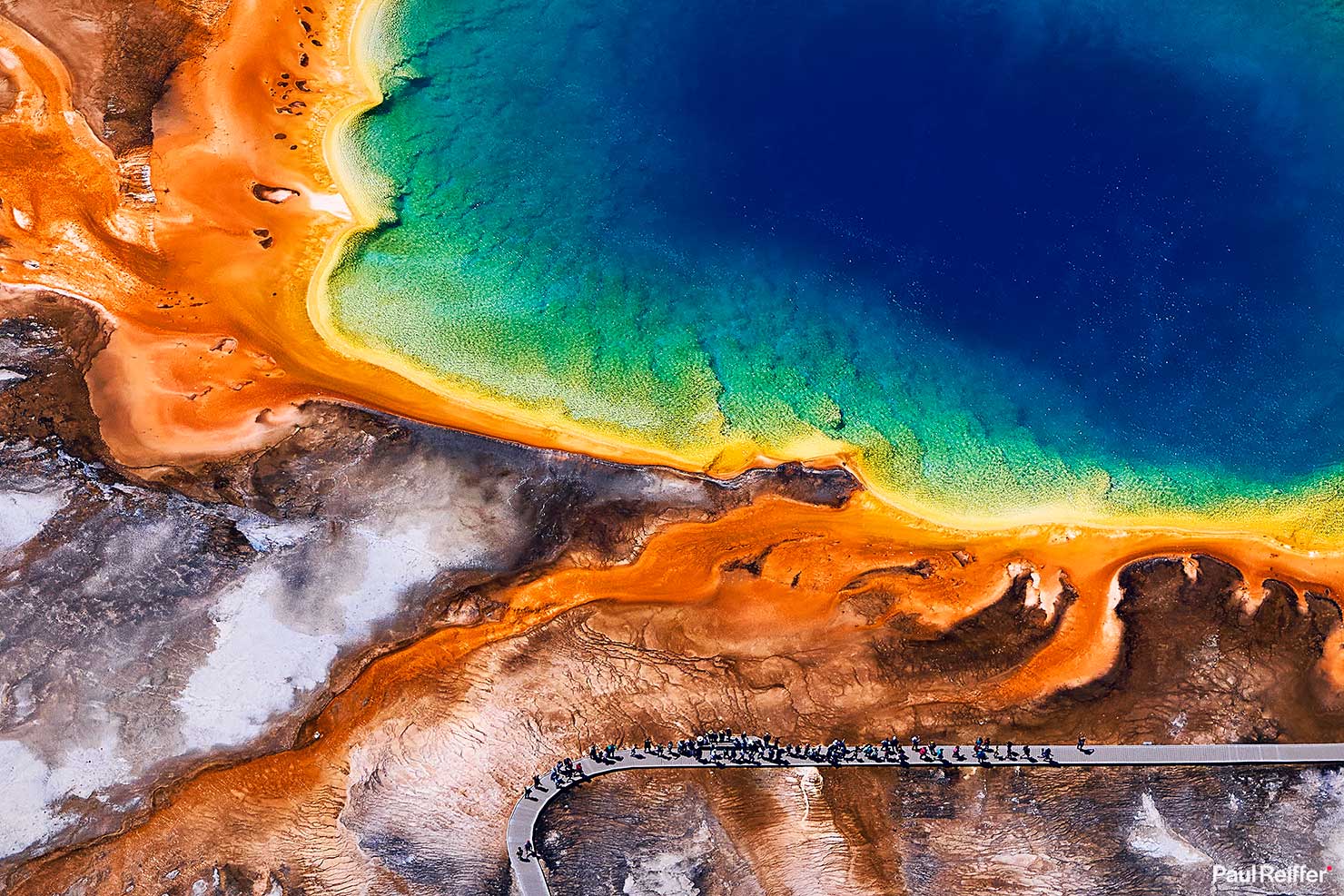 I can tell you, using a touch-screen shutter on a long lens while also remembering to turn a polariser was a challenge. (Remember, the polarisation changes with the angle of the helicopter to the sun – so be careful!)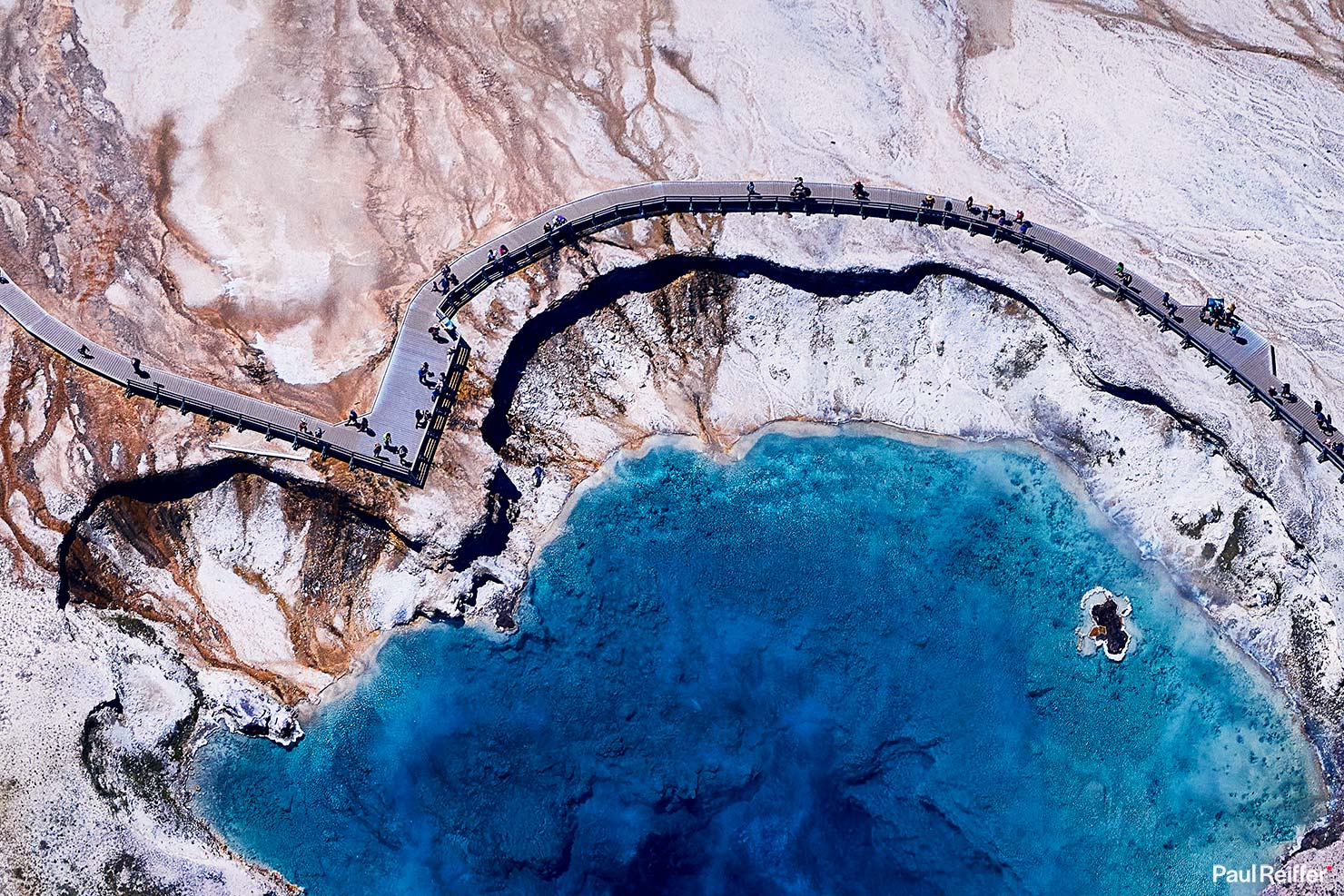 The XT, combined with the 151MP IQ4 back and 138mm Rodenstock lens is quite the heavy partner when strapped to you onboard – and I must admit to being slightly jealous of the lighter setups the other two had.
But given the image quality I managed to get out of those shots – I think I'd have kicked myself if I'd not gone for it and taken my Phase One gear up.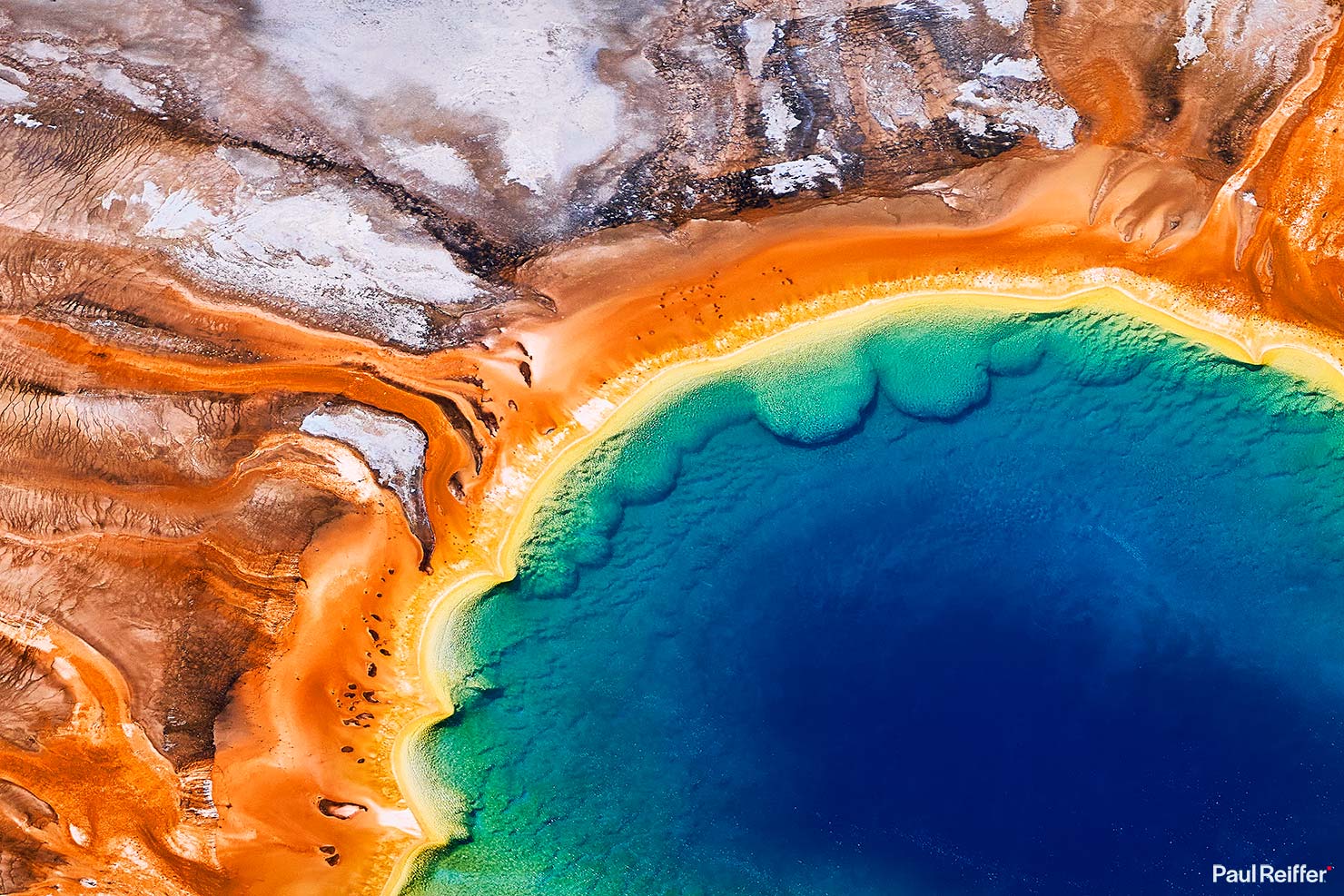 Would XF, with all its buttons and my 40-80mm lens have been a better option? Maybe – I'm not sure.
But as we left the basin behind, with all its crowds below, I had a feeling this wouldn't be the only time I head up over that spring, and next time may well be with another setup entirely.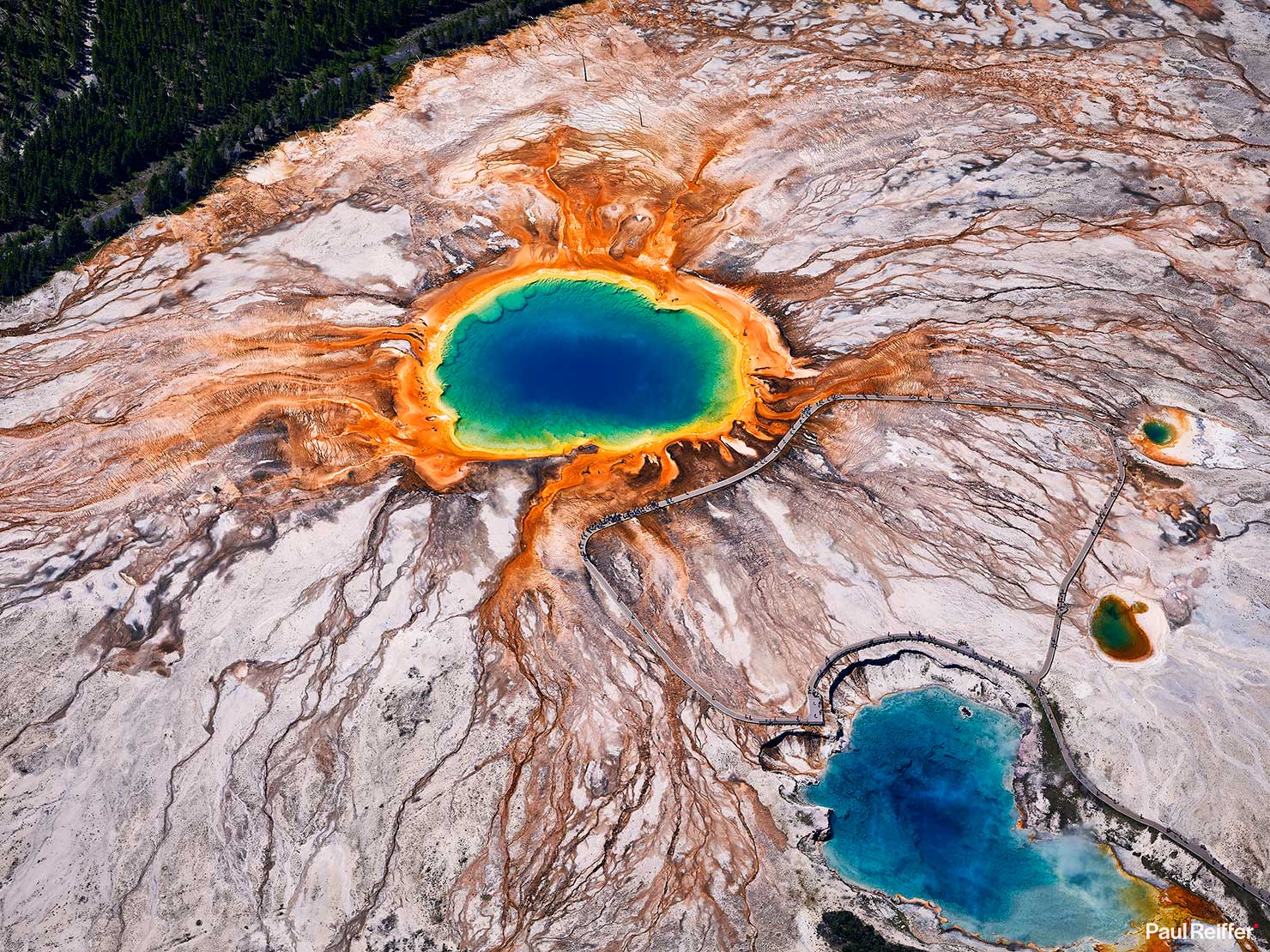 After a long drive back to Jackson, and a proper meal for all(!), it was time to get on a slightly different mode of transport to begin the trek home.
Different form of lift, but equally stunning views.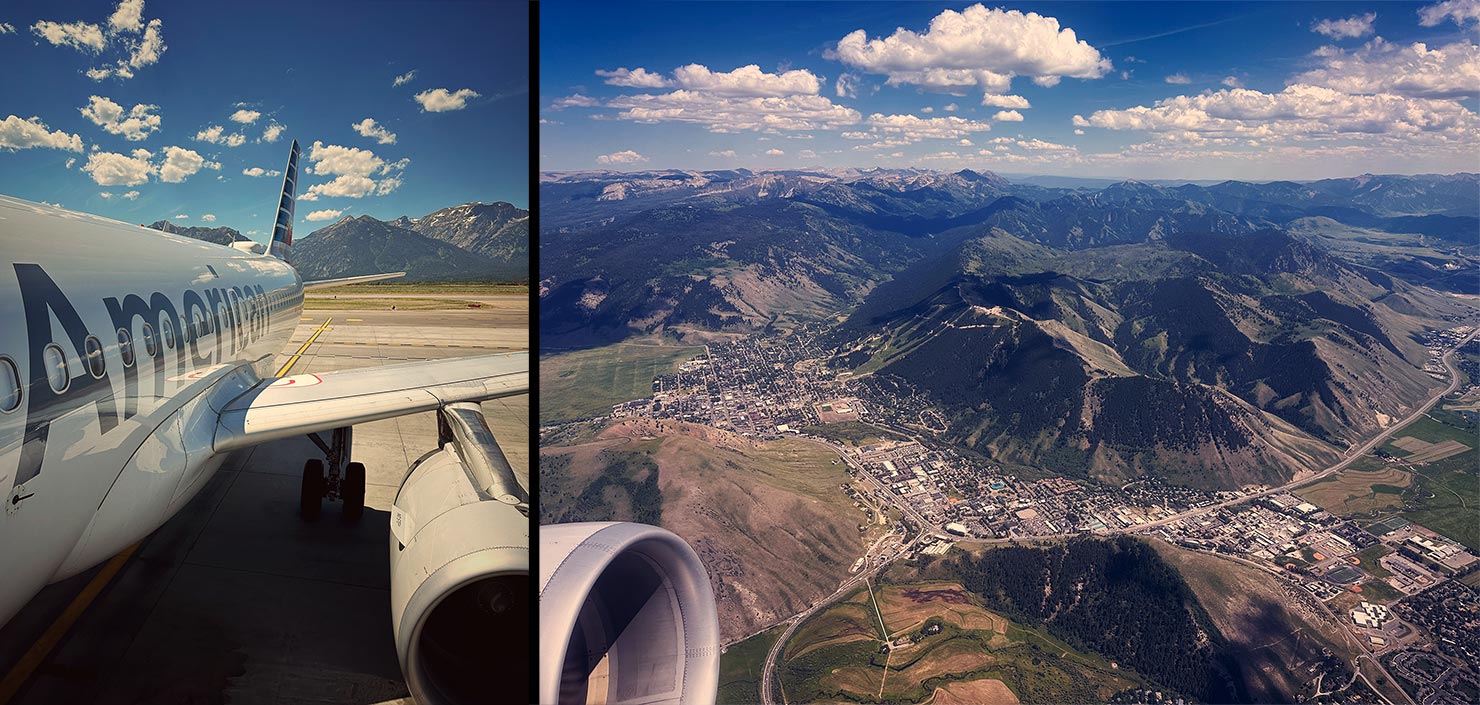 And, of course, finally a little wise word from Reiffer:
When your passion becomes your day-job, you might need to hunt out new hobbies and skills to learn.
Just be sure to think through the repercussions of any equipment purchases prior to listening to the sales guys, but enjoy whatever it is you decided to take up as a new sport…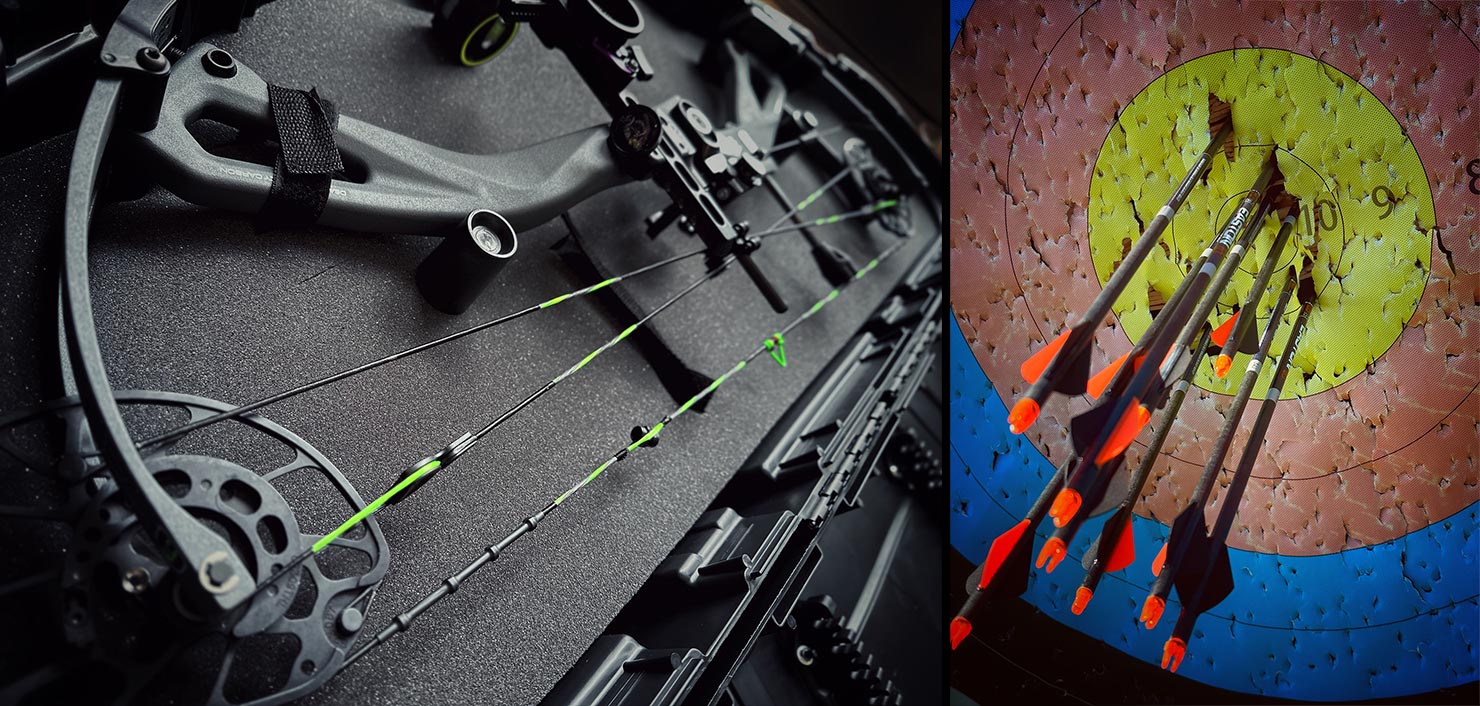 Oh, and don't dry fire a brand new 70lb rated compound bow – it'll hurt you, your bow and your wallet.