Having successfully avoided the infinite crowds that descended upon Japan for this year's cherry blossom season, the idea of spending time at one of the country's most popular shrines and torii on Miyajima Island (one of the "Three Views of Japan") wasn't originally that high up on my list.
While many (including me) would visit in the hope of capturing the sunset view over Itsukushima Shrine's "floating gate", the relatively small area can easily be flooded with tourists – and if you catch the tide wrong (or right?) you'll likely find a sea of people heading out towards the grandeur of this revered gate like a scene from the movie "I, Robot".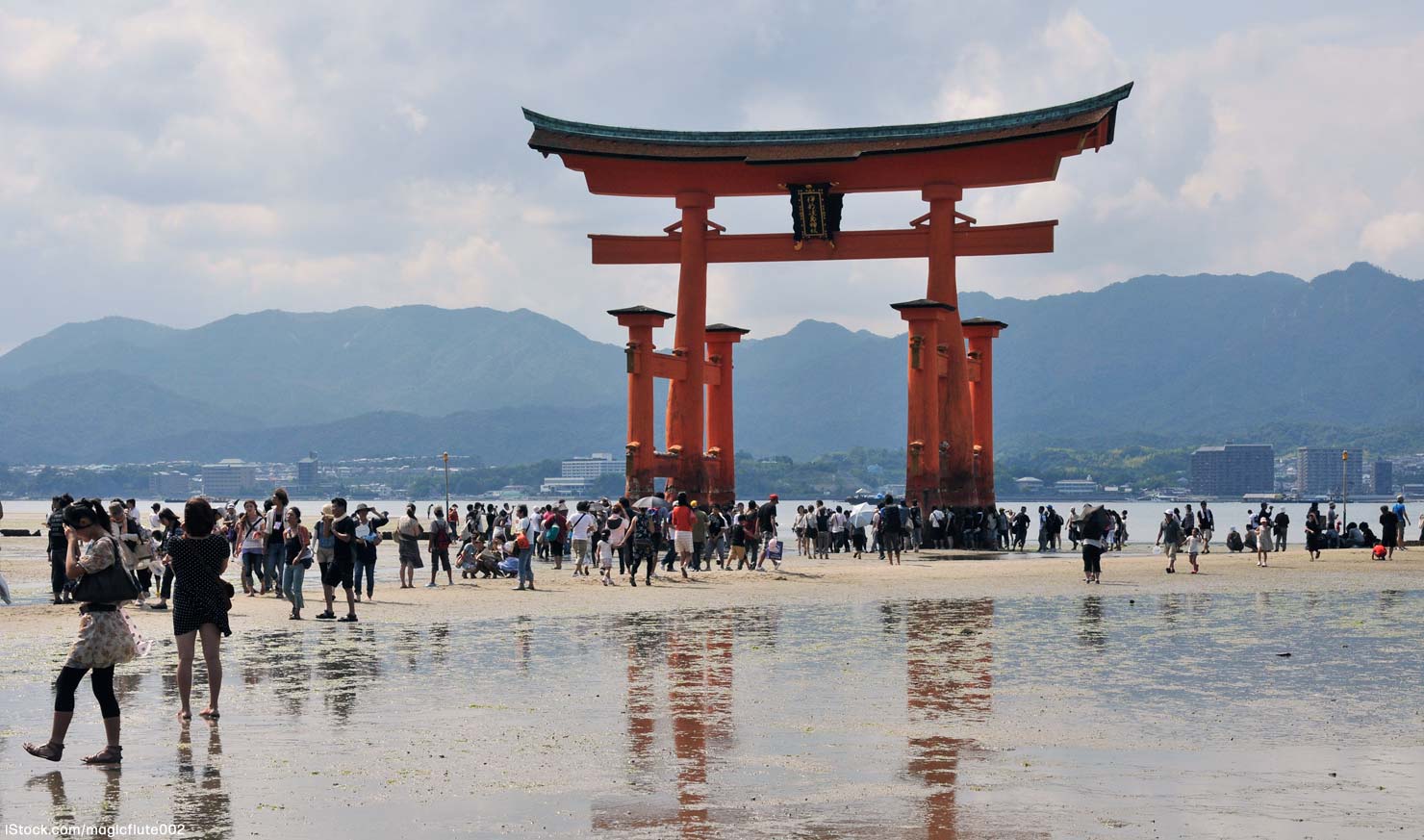 Only, I don't remember the robots taking quite so many selfies when walking in formation…
Anyway – "when in Japan" etc – and it was a good excuse to spend some time relaxing on the Shinkansen bullet-train for the 800km trip at up to 300km/h. Boys + Fast Vehicles = Happy, etc.
Passing sights in seconds, I almost missed the view of Mt Fuji as we rocketed past between the two cities.

Seeing the mountain in the distance, it was a reminder of how short the climbing season is – with snow still covering all but the 5th station base of the trek; I realised how lucky I've been to make it to the top twice in warm weather before.
As it happens, Hiroshima wasn't keen on being kind to us in terms of its own weather patterns today. Being able to see Miyajima Island from the top floor view didn't exactly fill me with hope.
While "partly cloudy skies" can be a photographer's dream for sunset – rain, mist, thick low cloud and cold temperatures aren't exactly high up on the wish-list, especially when you have a version of what you'd like to capture already in mind…

But – having spent considerable travelling time to get here, not making the effort for the final few steps wasn't really an option.
I say "final few steps", it seems that may have been a slight miscalculation as well: Traipsing through the city streets with all of my kit in the rain, to get a metro, then JR train for what felt like ages out into the suburbs, and then finally a ferry boat across to the island.
I'm sure there's a sequel film title in there somewhere.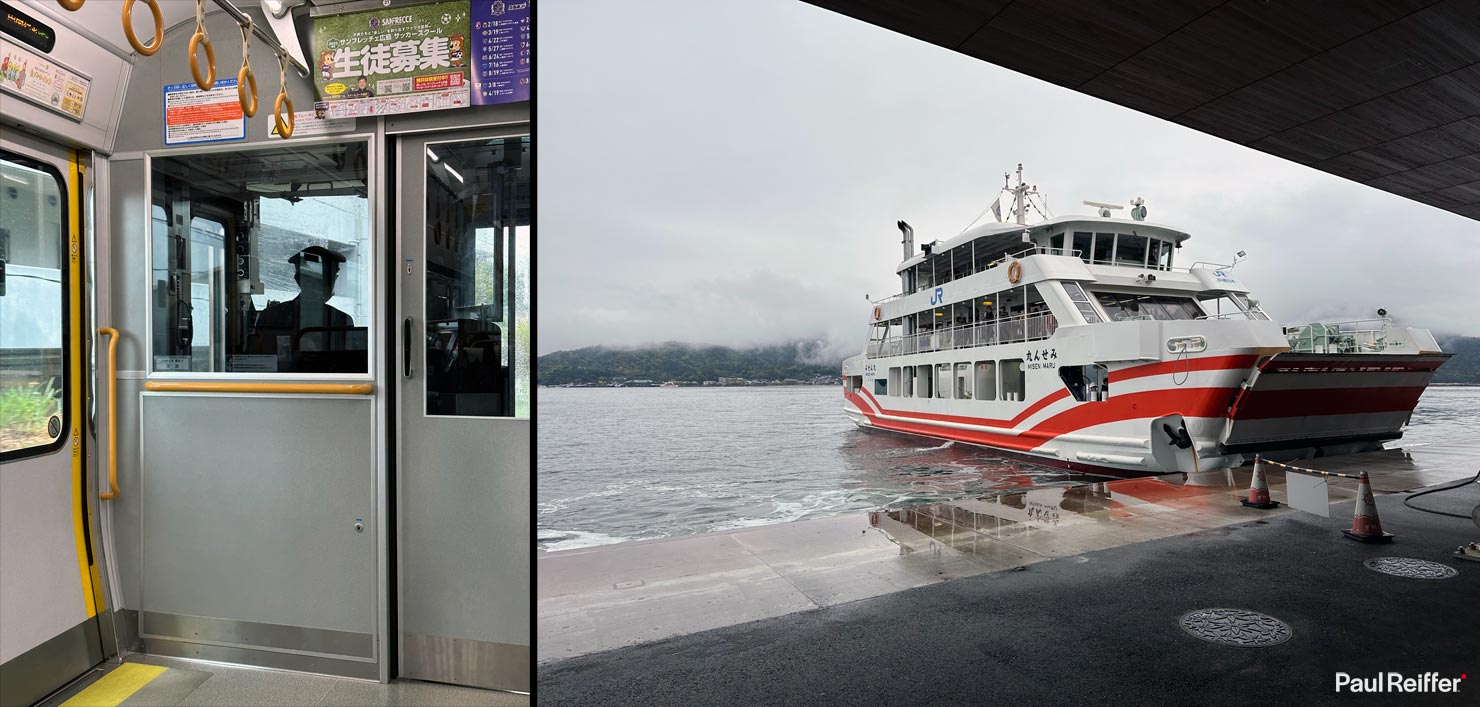 Approaching Miyajima, things weren't getting much better.
While the gate looked no less impressive in the cold weather (indeed, the rolling mist on the hills made for a stunning background), being on a boat meant this wasn't an angle from which I could capture the image in any type of extended exposure.
To shoot the gate from the shore, the other side of this, would mean all I had to work with was some rough weather in the bay and a murky skyline of the city beyond.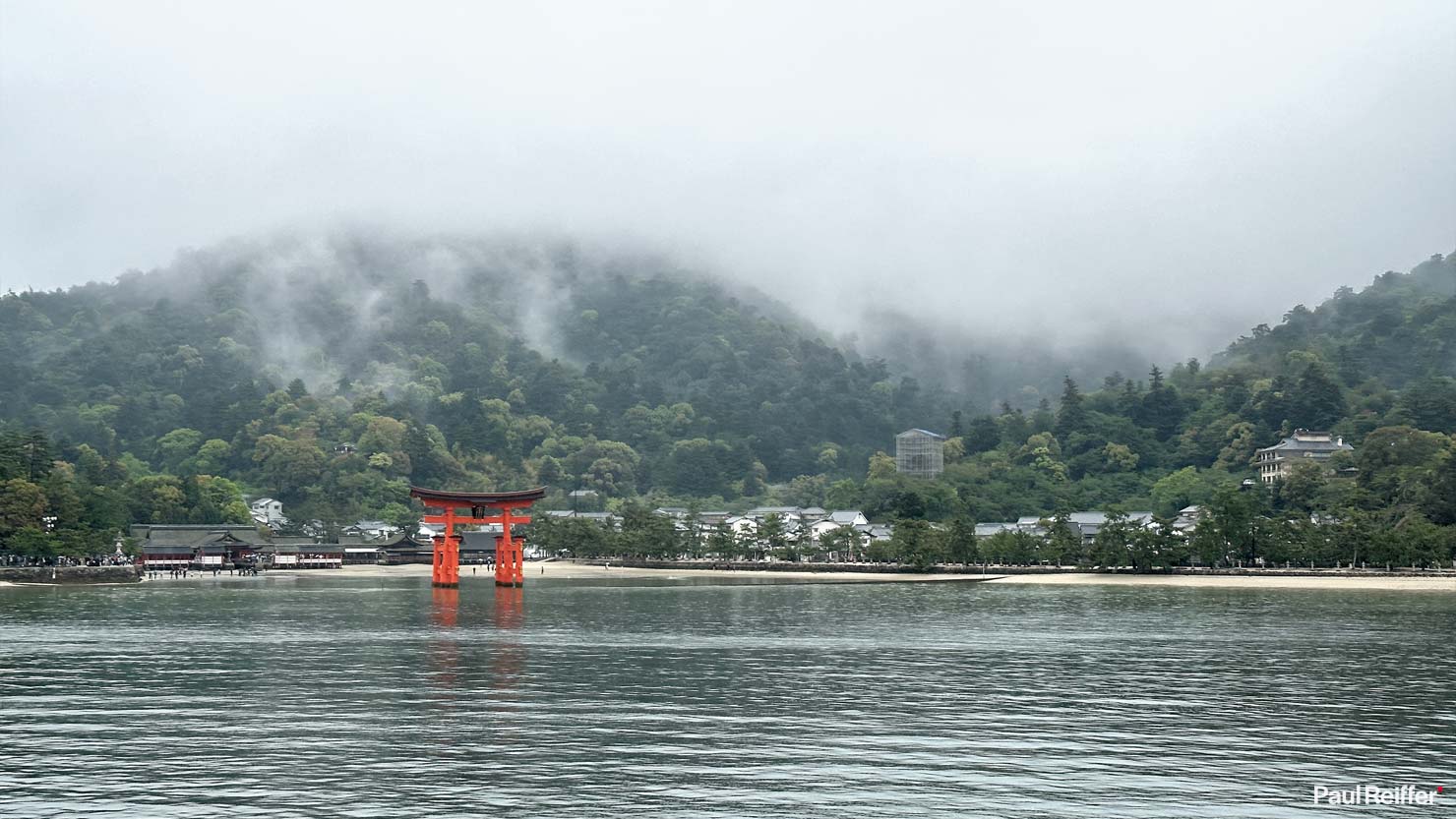 On arrival onto the island itself, you're hit with one thing the second you take your first steps: Deer.
Hundreds (thousands?) of deer, as far as you can see – wandering around like humans between the shops, facilities, sights – just "chilling at home".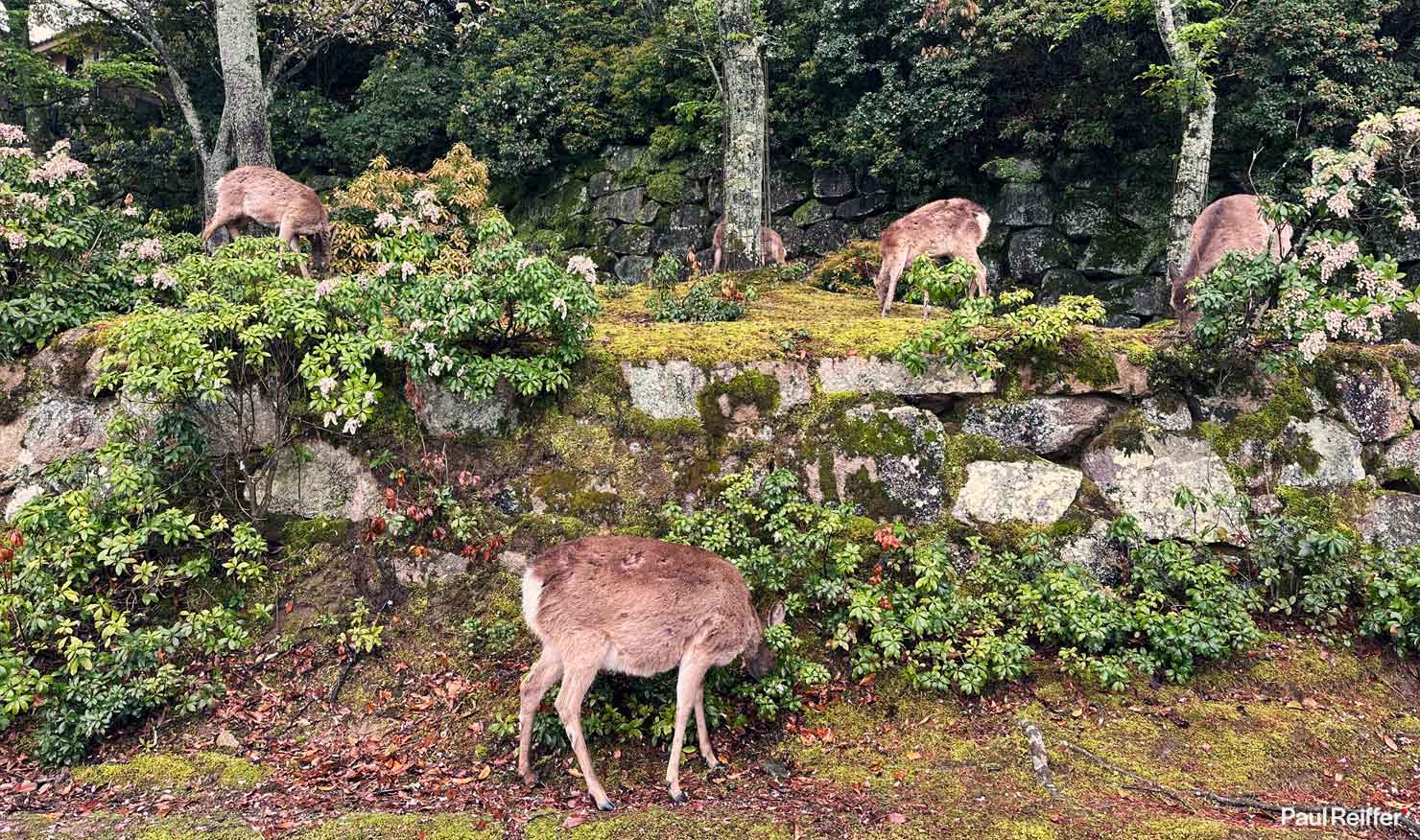 I mean, it's more their home than ours, so why not? But when you live in a place back in England where deer are (rightly) scared of humans, seeing them so tame and so relaxed around us was quite the contradiction.
But I'm not a wildlife photographer – I was here to capture the famous floating torii, rain or no rain – and the weather was closing in.
So, some positives thanks to the sky's decision to get in the way…
We'd hit the island at high tide = no walking tourists. (Although there was a rogue kayaker).
The cloud deck had dropped completely, wiping out the horizon for a minimalist look.
Most people had decided to take cover from the non-stop rain.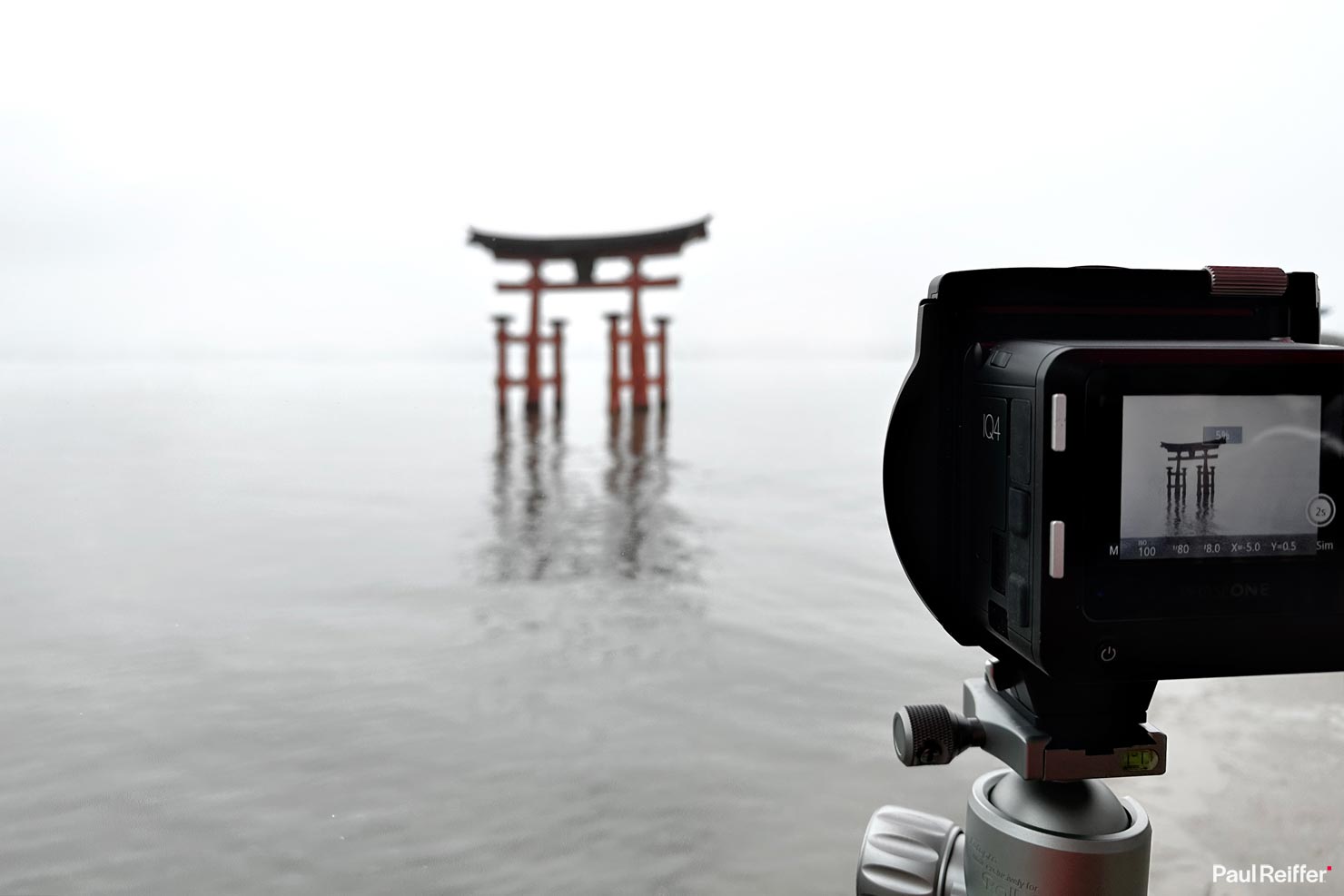 And some negatives…
That rain people were hiding from? Yeah, it got worse – a lot worse.
When it's mist as well as rain, no amount of lens-wiping will keep glass 100% clear.
I was in a t-shirt.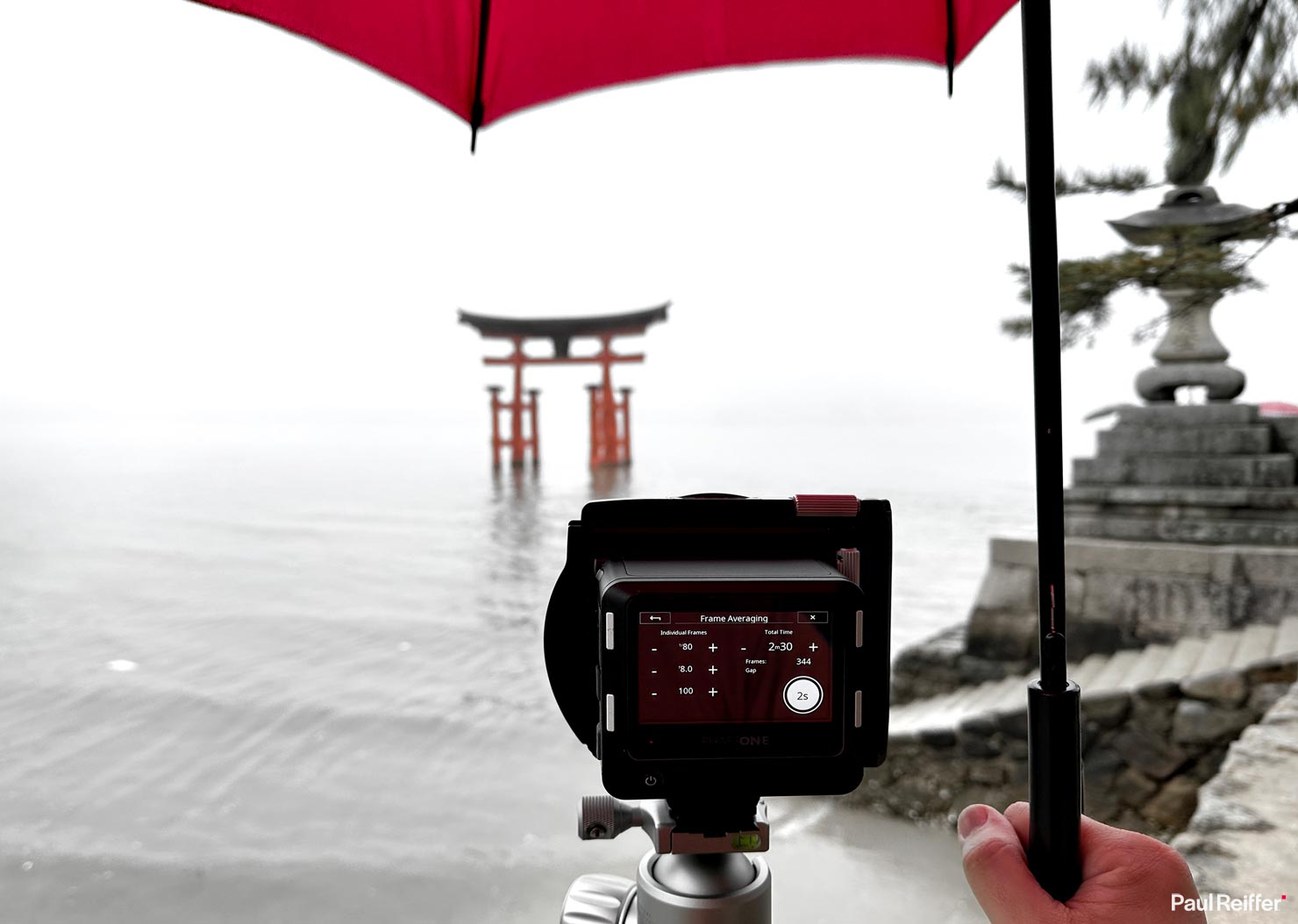 "It's not the photograph I wanted, but it is the one I deserved…"
I guess, as a punishment, for lack of sartorial planning!
While the head-on angle (taken from the Itsukushima shrine itself) makes for that classic sunset shot – with the sheer number of people lining up for that one (selfie?) spot at the end of the walkway, I chose to steer clear and shoot things differently.
With the lack of detail on the horizon, coupled with the relatively empty space either side of the bright vermilion gate itself – the smoothed out water of a long exposure would make for some great contrast in an otherwise completely minimalist shot.
And by "minimalist", I don't mean lacking in detail – the 150 seconds of frame averaging brought out clean, vibrant, details throughout the exposure – while reducing the impact of the rain falling between my camera and the gate.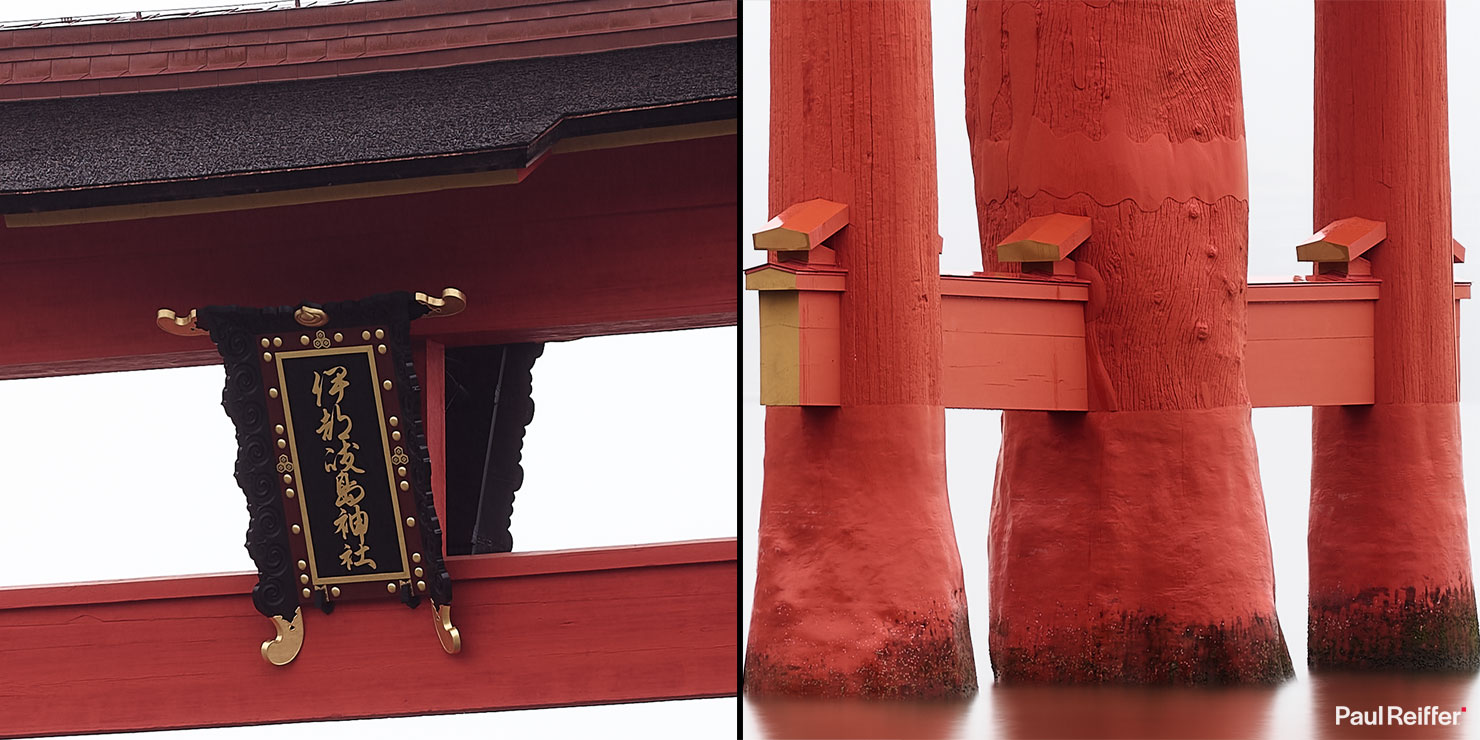 Of course, there are other ways to get a similar effect in-camera: I could have attempted a traditional long exposure (with additive light, using a filter), but that would likely have washed out the gate as more and more bright white flecks from rain entered the scene. (Not to mention attempting to keep an un-hooded square filter moisture-free!)
While the advantages of frame averaging have been known for quite some time, what's not so widely publicised is the fact there have been phone apps out there that have also done this for years.
One such app being Spectre – it's one I've used for 3 or 4 years now. (Others are available)
A simple interface, stability monitor, choice of 3, 5 or 9 second recordings and a light trails funciton – it's got all the basics for handheld frame averaging right there in your pocket (albeit without quite the level of detail I can get out of my IQ4/150 digital back).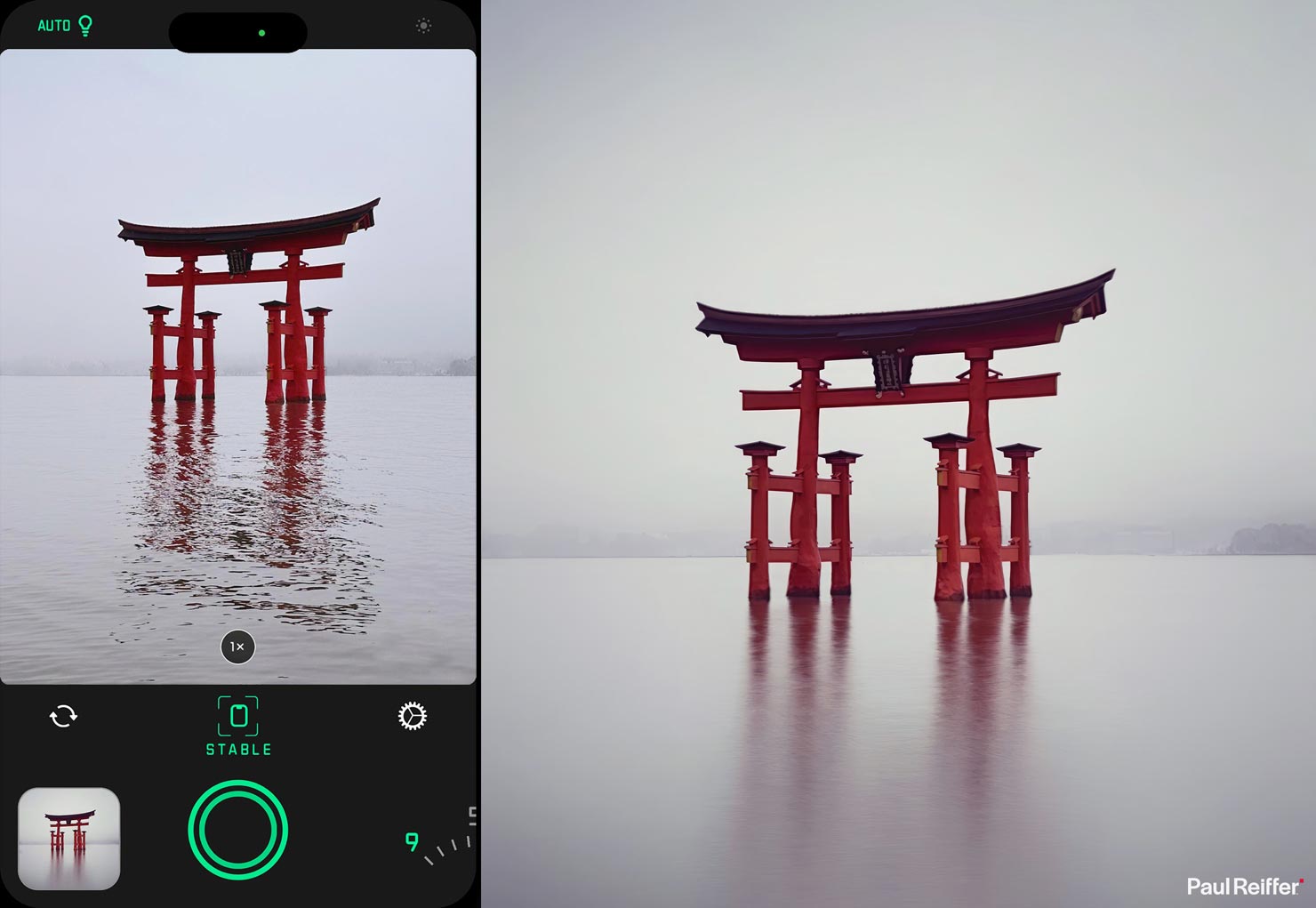 (Yes, for those of you on instagram, this was the shot I posted at the time – after the clouds started lifting and I'd finished with my "proper camera" in order to record the place on my iPhone too.)
And with those clouds lifting, came the "messy horizon" I was originally worried about – so it was time to pack up and explore a bit more of Miyajima as a place.
From its Five Storied Pagoda…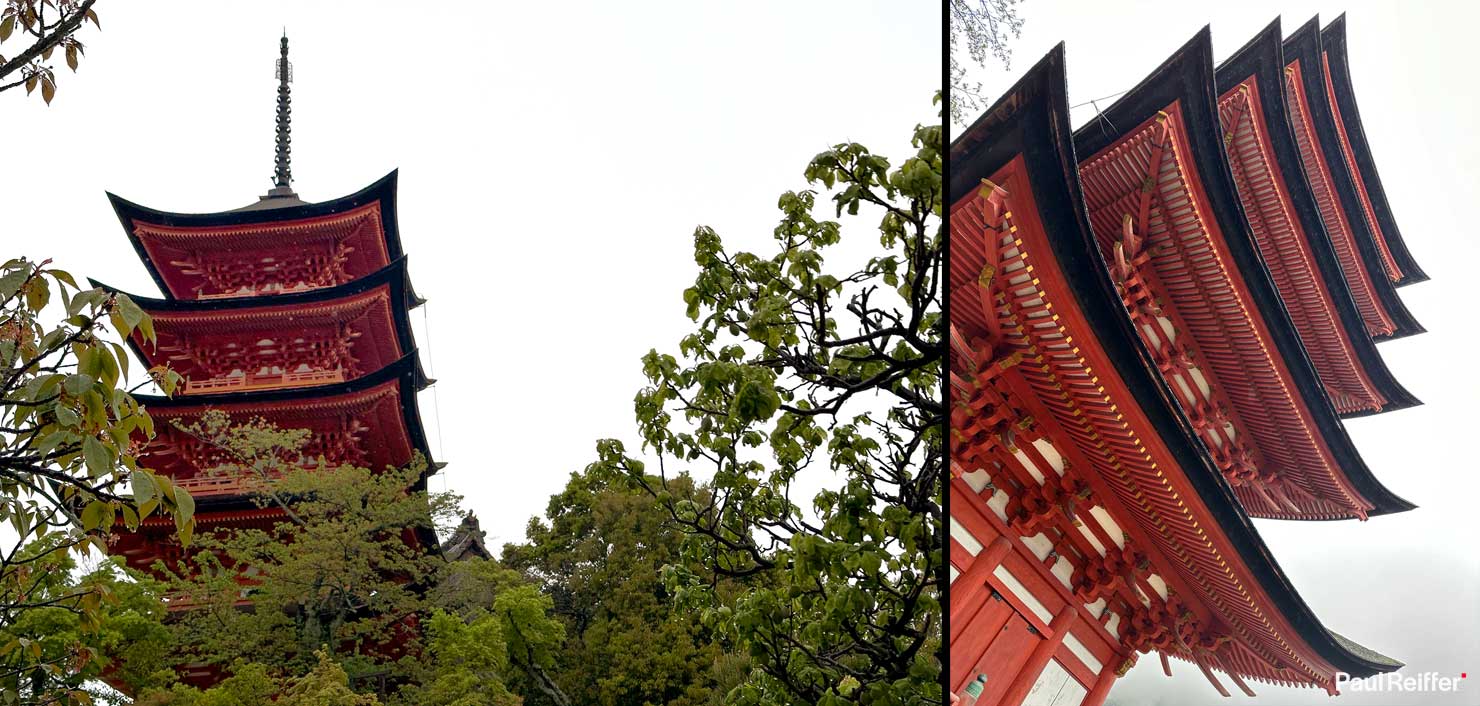 …to the shinto shrine itself with parts of it dating back thousands of years, to the gardens and buildings that make the island feel like stepping back in time – a million miles away from the metropolis that surrounds its shores across the water.

We'd (intentionally) missed the tourist craziness of cherry blossom "season" – although not the endless marketing attempts at sakura flavoured desserts, drinks and random food – but the blossom itself was still just about lasting through.
It's just a shame it doesn't quite have the same feel when shot against an angry sky (although, maybe AI can fix that for those who'd rather fake it…?)

What was a nice discovery, however, was that little shop on the right.
Momiji manjū are a local speciality on the island – a sweet buckwheat and rice cake shaped like a japanese maple leaf. The only problem is, they're typically filled with red bean paste which makes them an (ahem) "acquired taste".

But not in that Miyajima shop – as despite selling the traditional style cakes, they also had syrup sponge versions. What a win.
So, memory card full of minimalist shots, deers appreciated and stomach full of sweet treats, it was time to head back to the mainland – Sayōnara, Itsukushima.
Again, that mist over the island's mountains hung in there perfectly – but shooting from a fast moving ferry was never going to work.
Instead, we'd celebrate the day in one of Horishima's many little soba restaurants (which was epic, of course)…

…and spend some time working out which room to decorate in a japanese style to match that incredible view over one of this fascinating country's most famous sights.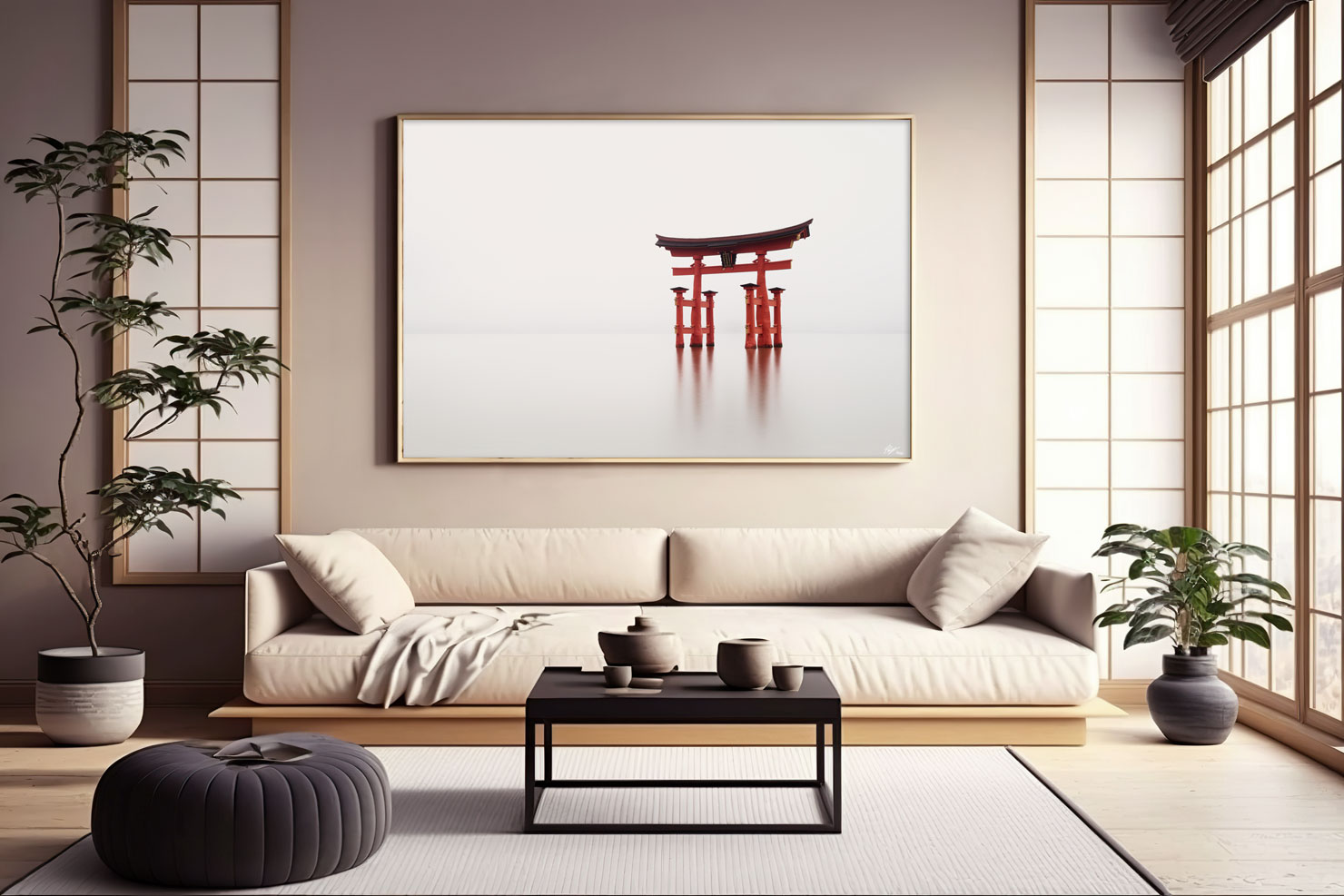 They call it a floating gate because it sits out on the waters of Miyajima Island.
I can't help thinking of the torii more as a gateway – between the calm of the skies above and the chaos of our world below.
And of course, a couple of new insightful gems from this trip…
A Samurai Mac is pretty awful, but nowhere near as bad as a Mc Cheese Teritama.
I much prefer hand-forged blue steel japanese knives over any other type.
Shopping for epic new knives can get very expensive, very quickly.
David Grover (Capture One) gets easily jealous of new knives.

Ooops I did it again.