Nestled high up in the scenic Rif Mountains, Morocco's "Blue City" of Chefchaouen (or "Chauen") is one of those places that's become instantly recognisable in pictures – not from its sweeping scenic views across the hillside, nor from its rich history, but instead from its all-encompassing colour palette that seems to cover every inch of certain areas within its 15th century medina.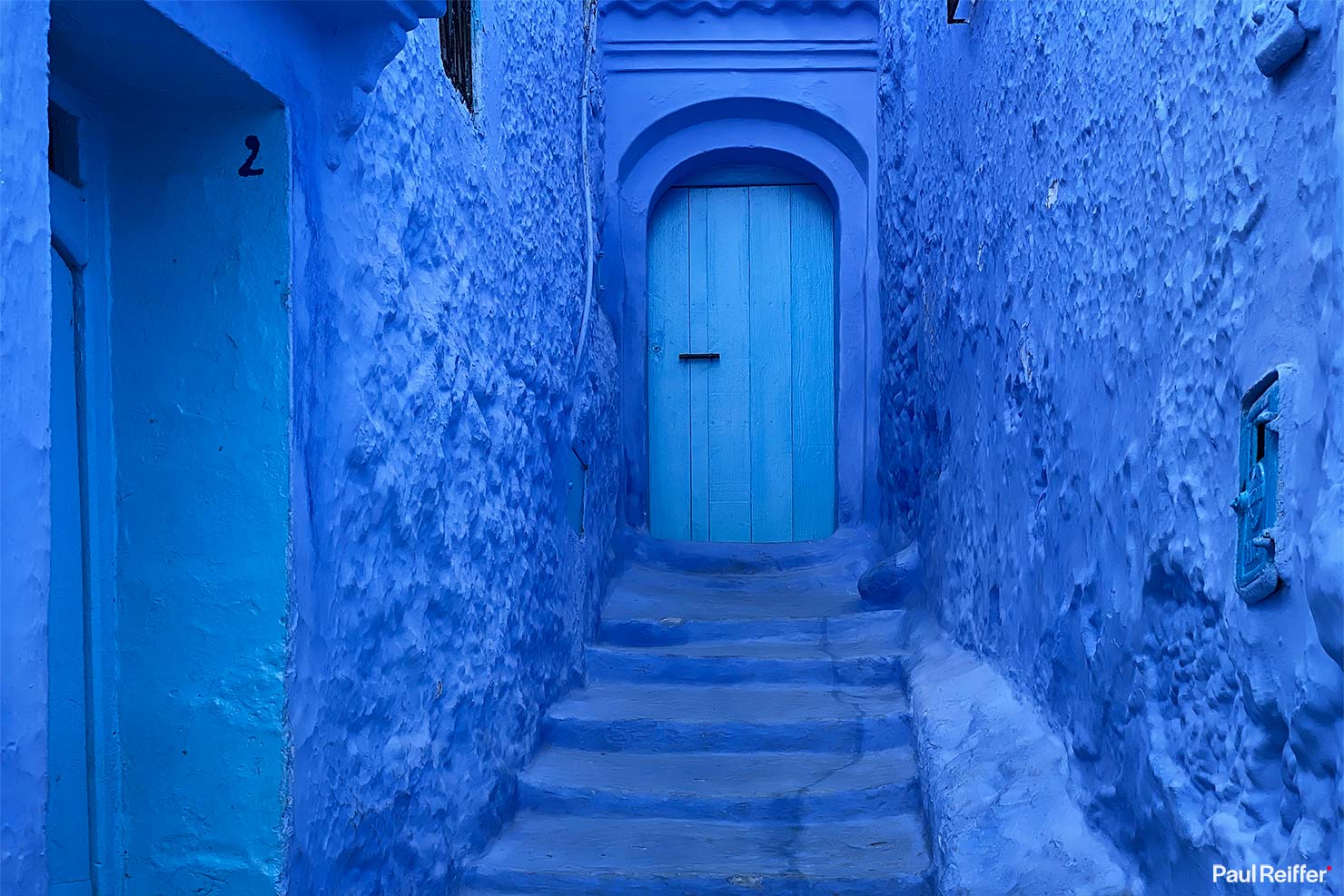 Whether that status remains a good thing for the town, I'm not so sure – as you'll discover in this post – but to say it's an interesting place to explore would be an understatement, if somewhat challenging when you had some serious back pain going on during our trip before the COVID pandemic hit the world.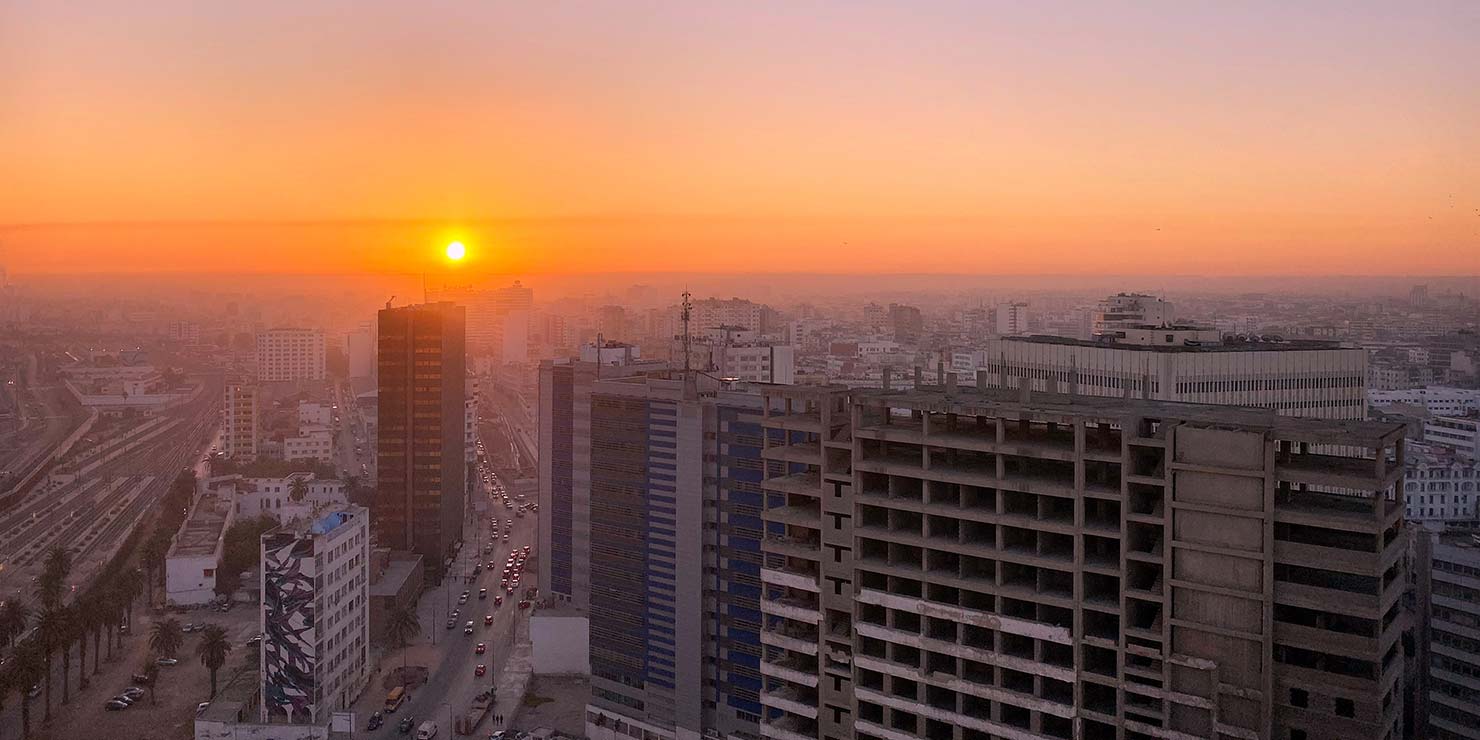 Arriving into Casablanca the night before meant some rest after (what I would consider to be) one of the single worst airline experiences in the world – on "Royal" Air Maroc. Granted, this isn't an airline review, but when even the business class seats have more spikes digging in than a medieval torture chamber, with the entire crew acting like they were actually operating one, it left a lot to be desired by the time we landed into the (rather shambolic) terminal at the other end too.
But then, there were bigger things to worry about – like the 6-7 hour drive north to Chefchaouen, the delectable "roadside dining" on the way (which seemed to have missed the memo about keeping meat and flies separated where possible), and ultimately the crazy number of steps needed to climb up, down, up, down, across, up and down again with all luggage to get to our resting place for the night.

While the view from up above the medina was stunning (especially when arriving at sunset), and the riad we were staying in was great – the sheer number of steps, along with the lack of ability to drive inside the town with anything wider than half a milk-cart, meant a fun few hours of pain for someone who was trying to mend their back!

And hence, this would be an almost exclusively iPhone trip.
Initially, I looked at that as a bad thing – a compromise – but in a way it became more "freeing" (not least as it meant I could lean on my angry-stick when in pain from too many steps each day!) and it meant I'd soak up the atmosphere without the stress of aiming to get "the shot" with my regular, heavier, equipment while here.

So off we set on that first morning, before the crowds (and I mean crowds) arrived with their stick-waving tour guides to explore the streets of blue.
Having been populated and owned by such a wide variety of countries and religions over the years, there are many theories as to why the city became quite so blue, and even the locals aren't entirely sure which it really is (or was):
Could it be to represent the colours of the Mediterranean Sea or the source of the city's drinking water at Ras el-Maa waterfall?
Perhaps it's simply a way of keeping the buildings cool – arguably white would be more effective, but I guess the light blue doesn't need quite so much attention to keep it looking clean.
Part of Jewish custom/culture as they migrated to the city in the 1930's – with parts of the city steeped in the same tradition of other Jewish settlements, where blue is used to remind people of heaven & god from the colour of the sky, in turn spreading throughout the city.
Could it be a form of mosquito repellent – it seems some noticed the blue areas (apparently) had less mosquitos than other parts of the medina. Personally, I'm yet to be convinced on that one.
Or maybe, sadly, horrendously, could it be that what started out as a tradition has since been converted to an ongoing practice as people became aware that the "blue city" was a draw for tourists and (cough) "instagrammers" worldwide?
I sincerely hope not – but fear the more recent painting of these streets may have at least some online influence over anything based on tradition. That said, the fact that nobody could actually give us a definitive answer actually added to the attraction of the place in some respects.

Not that such considerations would even briefly pop into the thought process of the selfie-driven gaggle of potential "influencer" groups we could hear beginning to make their way through the streets.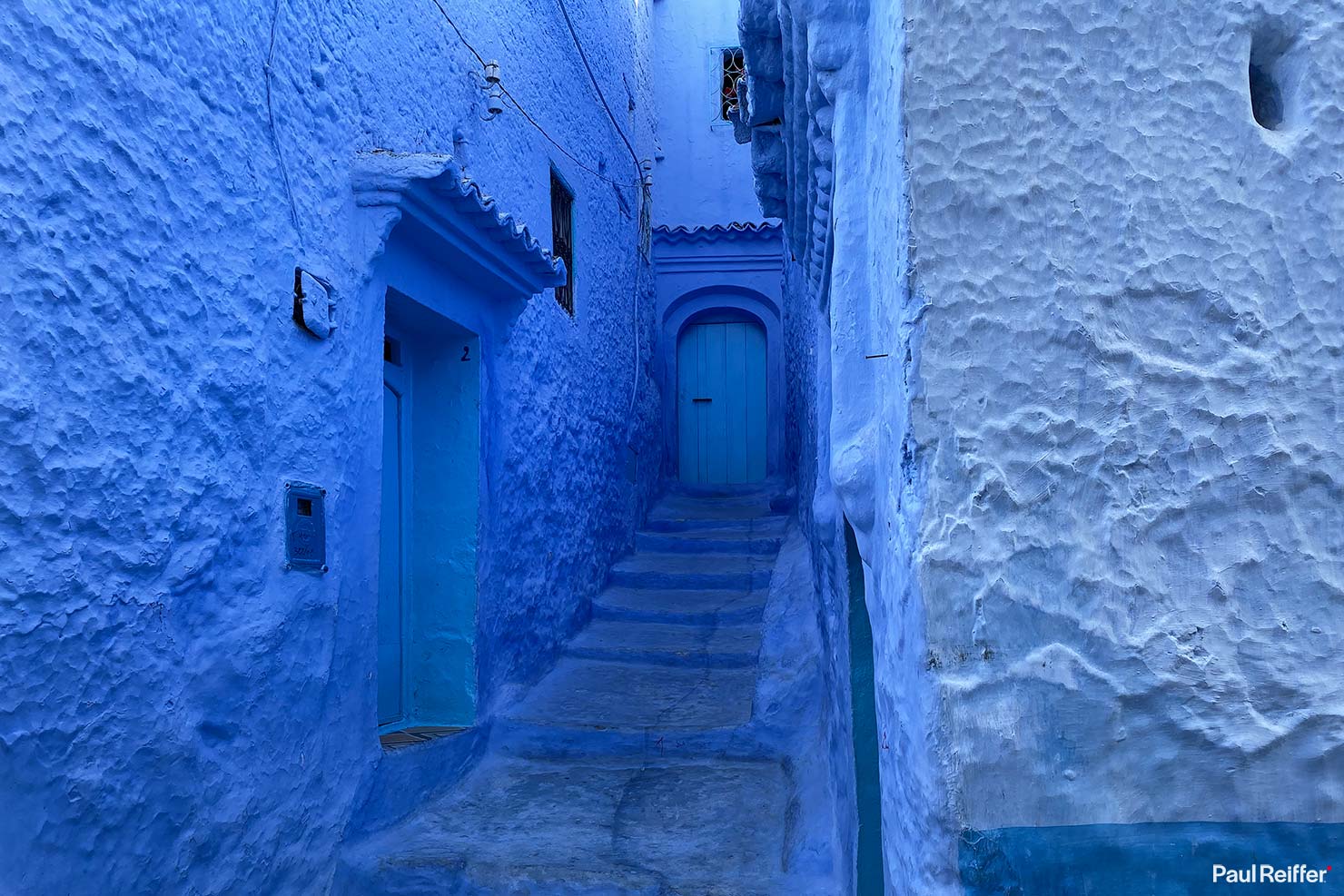 In the quiet, early morning flat light, the streets were calm, soothing, cool.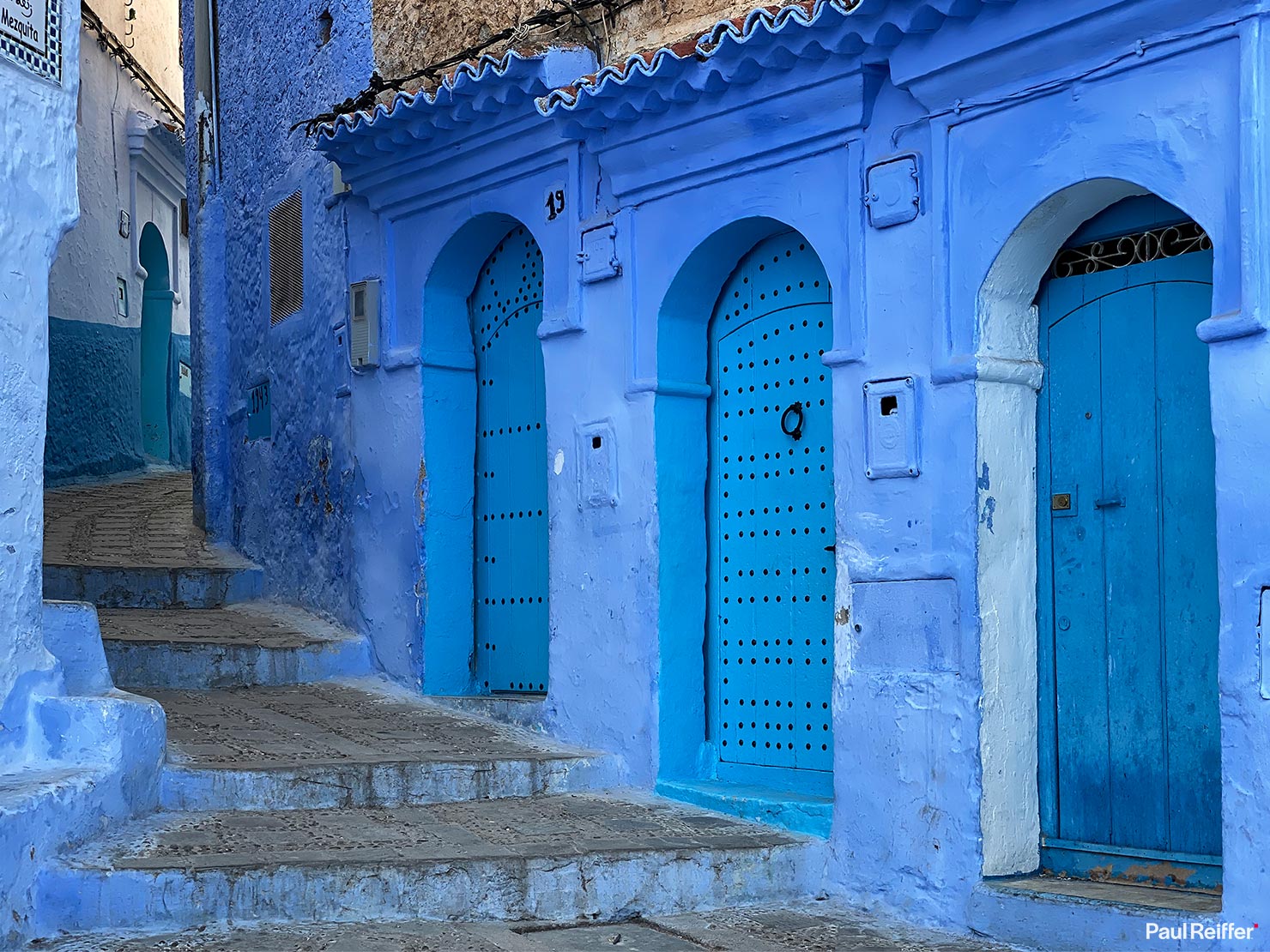 Every now and then, a local would hurry through the alleyways, up and down the steps, with shopping bags or even a couple of kids in-tow to start their day, but in its natural state, this felt like a wonderful place to find rest and calm.

Even "THE" flowerpot steps (yes, the ones you see on every single advert for Chefchaouen) were deserted – remembering that these doorways are real homes, for local people, not a movie set built for tourists.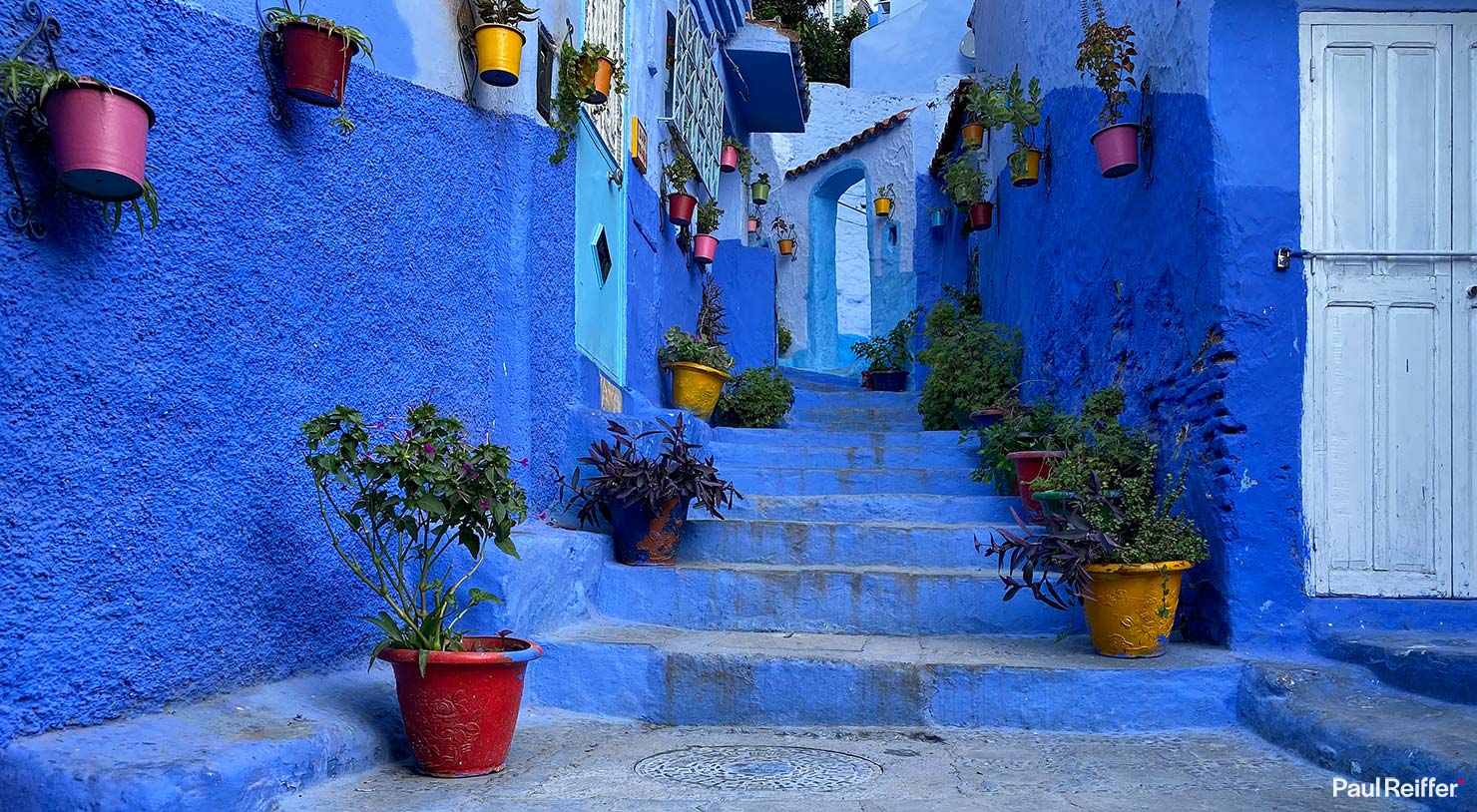 Which, moments later, began to be forgotten. The crowds began to arrive – at first, slowly, lining up to get their special shot; a memory of that perfect scene they'll remember in reality as the time a queue of people stood "tutting" at them to hurry up and get on with it – "NEXT!".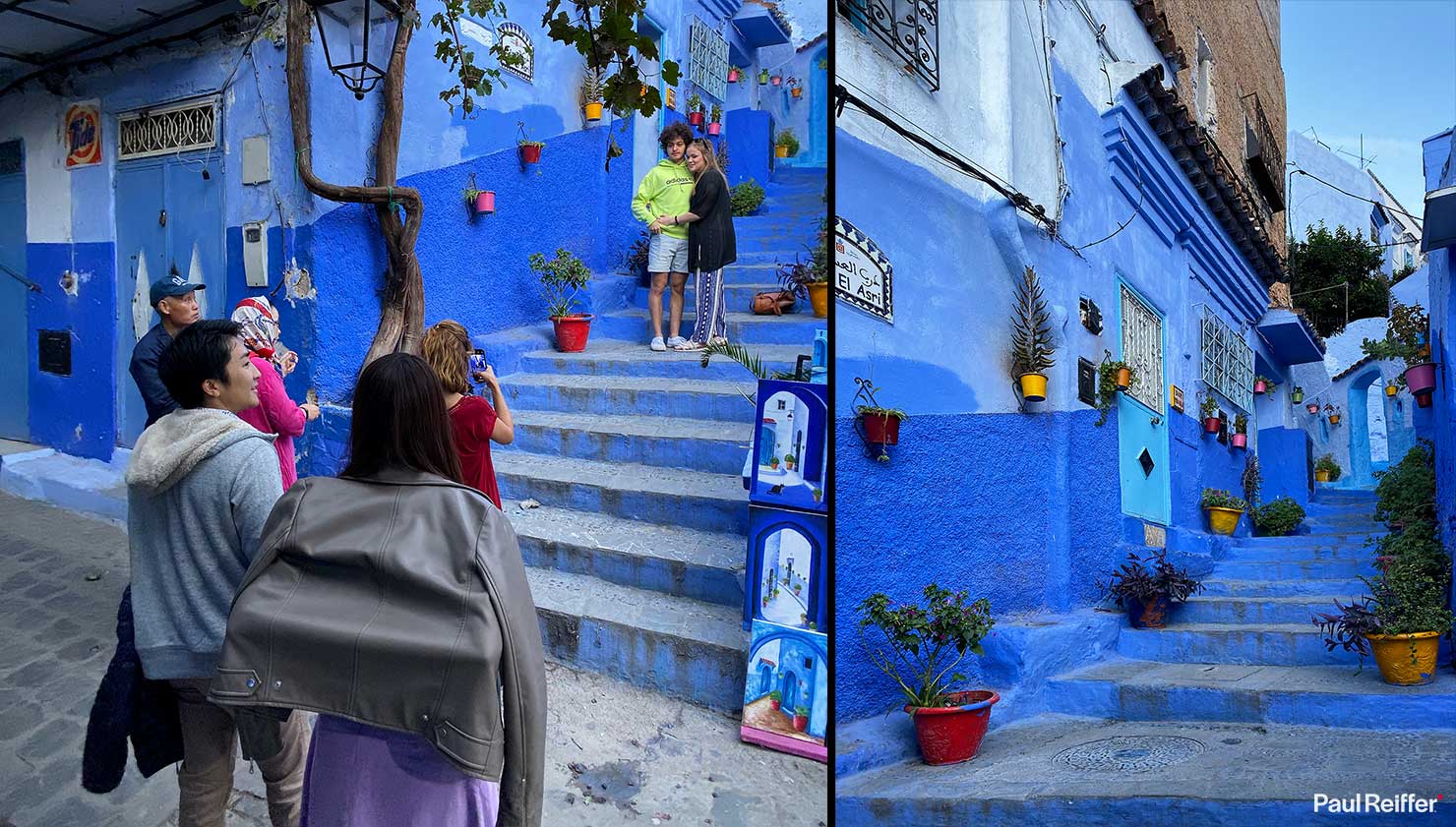 We left before it became 10 people-deep in this tiny little passageway – noisy, aggressive at times, but never peaceful from that moment. A peace that proved broken also for the residents who lived on this stairway, from the constant "shoo-ing" away as each door opened like a sad round of "whack-a-mole".
While I'm sure tourism has brought a lot to this city economically, I'm not entirely convinced the long-term residents would see it as a wholly positive imposition.
Venturing further out from the "hotspot", while still obviously catering for the tourist trade, it was great to see more locals, more shops, more "normality" away from the raucous throngs of visitors all looking for their experience at the flowerpots.

And then, walking through one street (well, hobbling by this point!) – it struck me.
On the one hand, I had every sympathy for the locals – being descended upon in this tiny medina by way too many people each and every day. People who, seemingly, were disinterested in the city itself, just wanting to get their picture as part of their wider "tick-list" of life achievements for their social media presence.
But on the other – how much of this was self-inflicted, accommodated, or at least, encouraged, at this point?
Take this rather standard stock shot of Chefchaouen: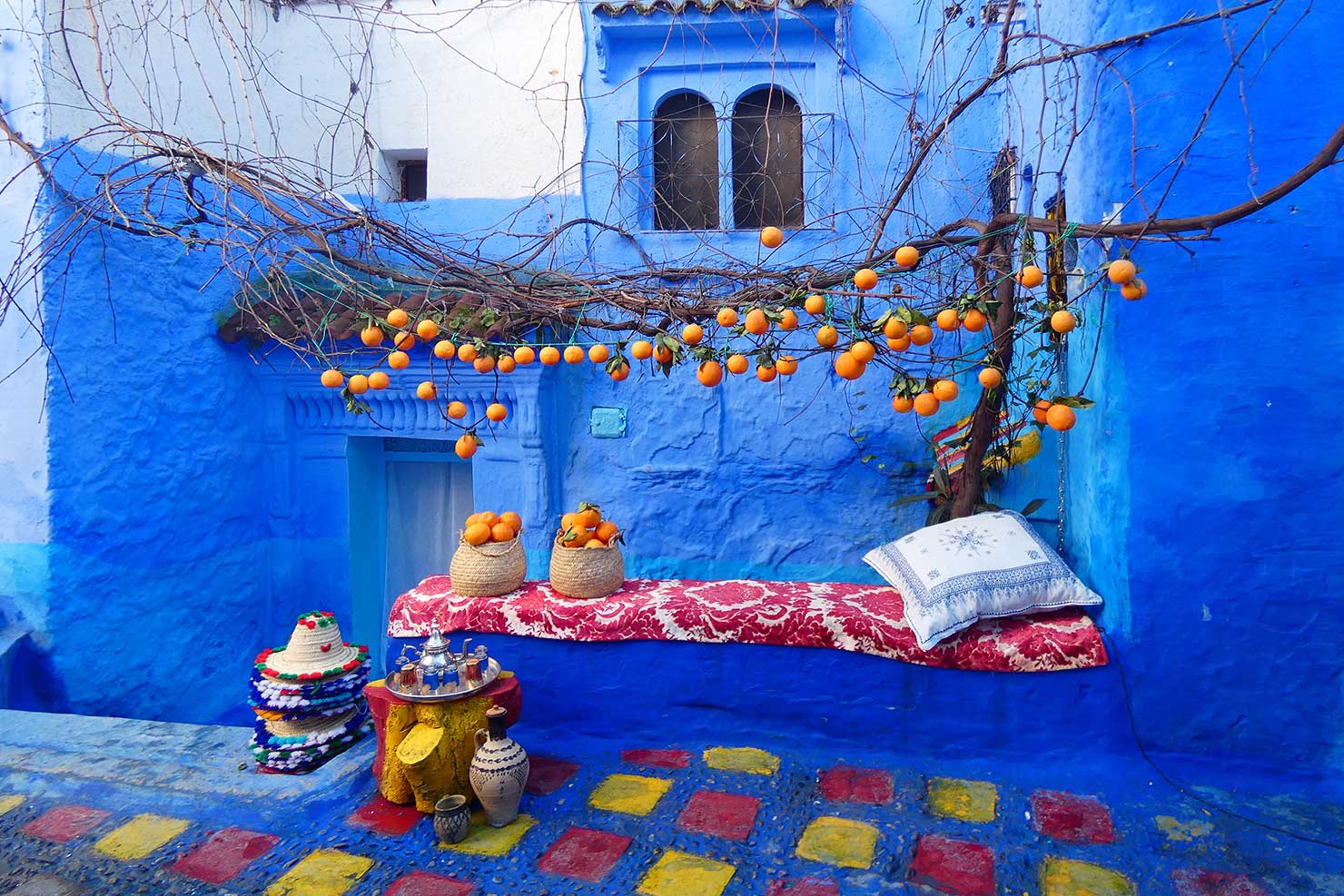 What a lovely little quaint scene – right?
A little street-side fruit shop, where you can sit and have a tea and an orange with a local seller who you happened to stumbled upon during your exploration of this city?
No.

A staged, fabricated, photographic enterprise where the owner would put on traditional dress and fake the scene for the cameras – whether you wanted to feature in it, or if you just wanted to capture that "special moment". Either way, I'm sure they had model releases waiting with a variable fee schedule for the camera groups who seemed fascinated by such "chance encounters".
To me, that's when I run in the opposite direction.
In such an incredible place – architecturally, culturally, historically, there really is no excuse for any element of "faking it" – which is what I'd seen happening on many a street corner by now.
Time to go and enjoy the blue hour scenery while looking out over the city from our Riad again, I guess.

Determined to see more of Chefchaouen without the crowds, the next morning we set off just before sunrise to head away from the main drag and into the areas that seemed to remain deserted for longer the day before.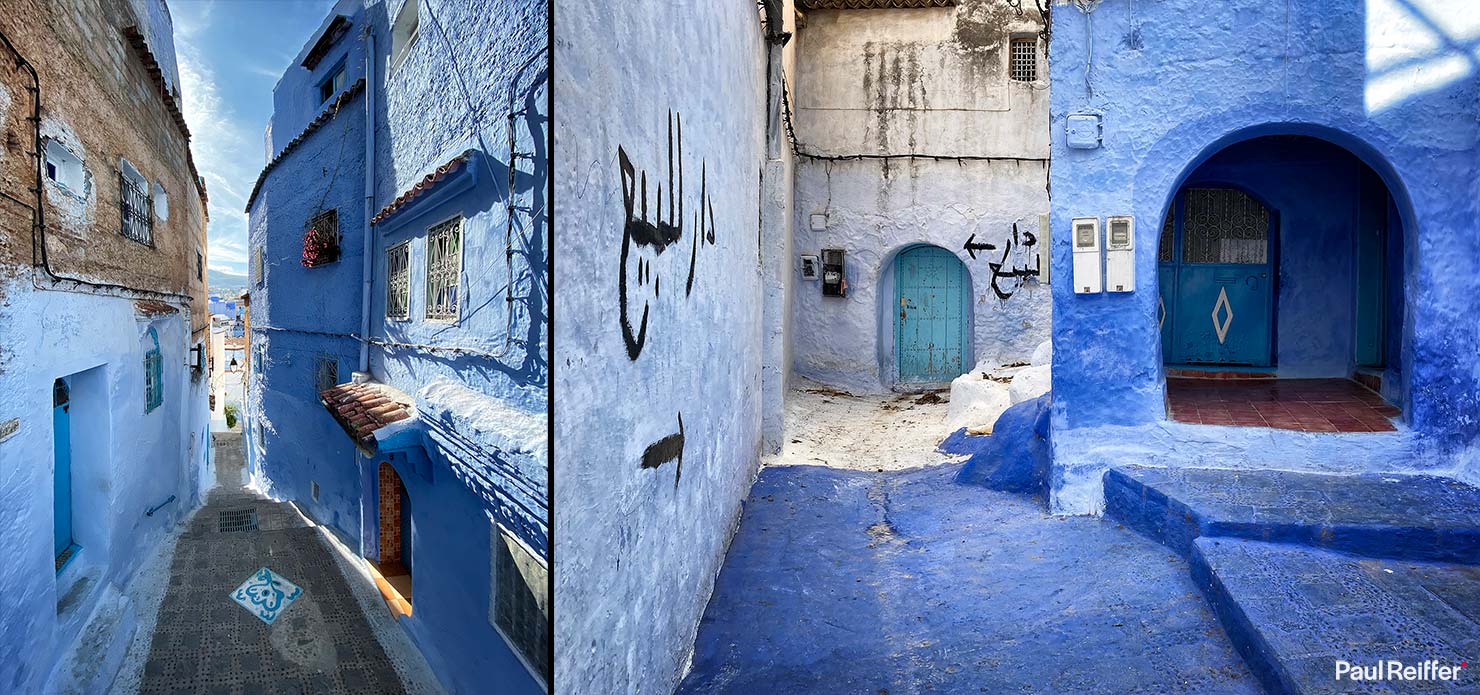 While the entire city appears to be a uniform blue when you look at it from a distance, it's actually made up of a myriad of different shades, textures, patterns – from almost white to turquoise and green – giving a real depth to some of the alleyways.

Cats.
There are a lot of cats in Chaouen – who all seem to love sitting in doorways. That's one thing I'll definitely remember as when the pain in my back hit that level of "a bit too much for one day", I'd often have to play the territory game with one of the local felines to stake my claim on a doorstep for 2 minutes.

Despite the regularity of tone in the city, there were still the odd one or two surprises.
Random one-off animals would appear (granted, with blue feathers I suppose?)
They did have other chalk paint colours available for buildings – I guess for inside…
The local crafts, clothing, decorations ranged from surprising, to "cute" to disturbing in terms of quality – but if you wanted something Moroccan, it was easy to grab something to take home.
And every now and then, you'd see a flash of inspired thinking in order to make things last – like adding a wooden splint to a brittle old plastic chair. (No, I wasn't going to try that one out.)

Between wandering around the markets, seeking out the little corners of the medina to escape from the "top ten insta-worthy" bulls**t and watching the locals go about their daily routines (despite the tourists – and I include myself in that definition, don't worry!) it was nice to get to know the place a little more – but on the way in to the city we'd spotted an amazing viewpoint that could give us a sunset view of the entire place.
I wanted to see if we could get a clear shot. Turns out, yes – we could…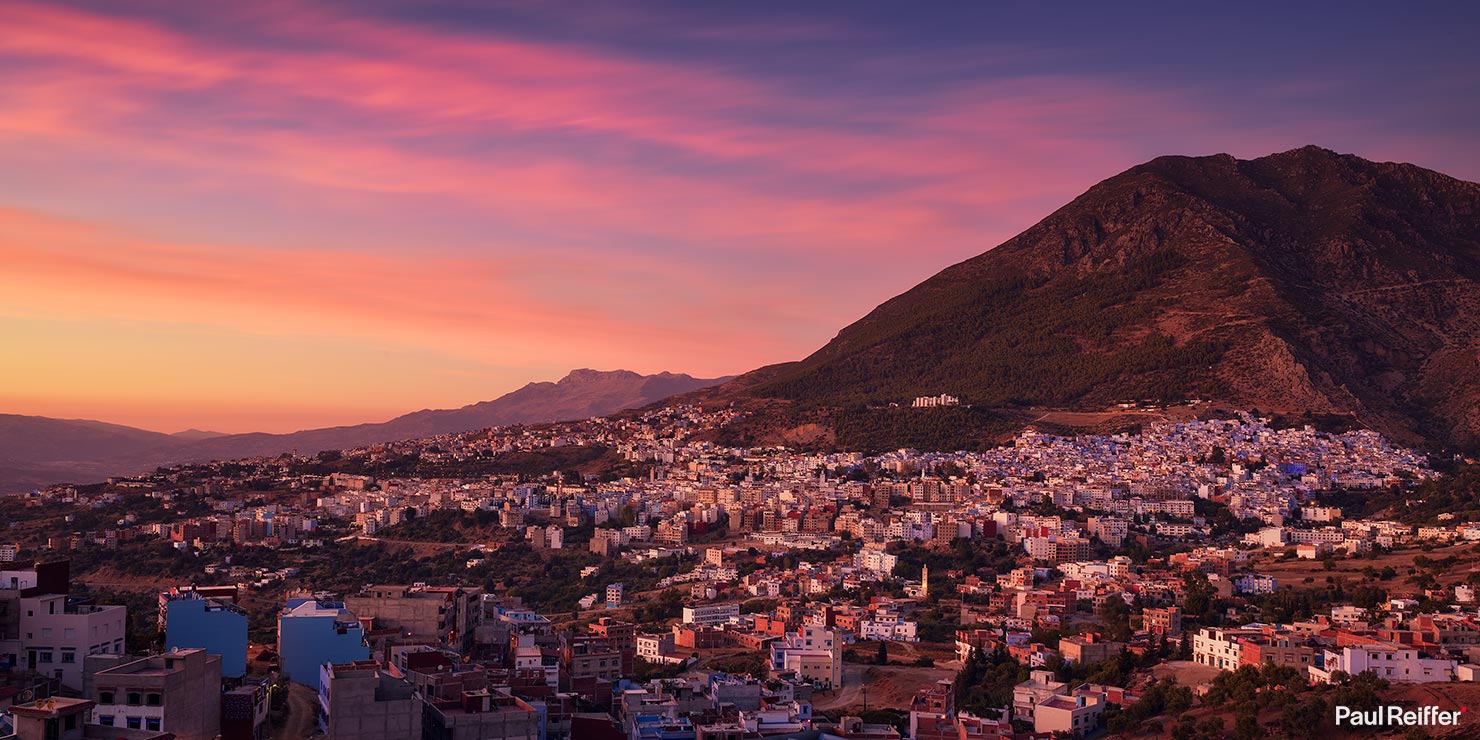 Sunset had been stunning for several nights in a row, and this evening was no different. While you never got to see the sun hit the horizon (as you're surrounded by mountains) the colours in the sky were consistently phenomenal if you looked up in the evening.
But those warm tones almost masked the "blue-ness" of Chefchaouen – perhaps blue hour itself would bring more luck: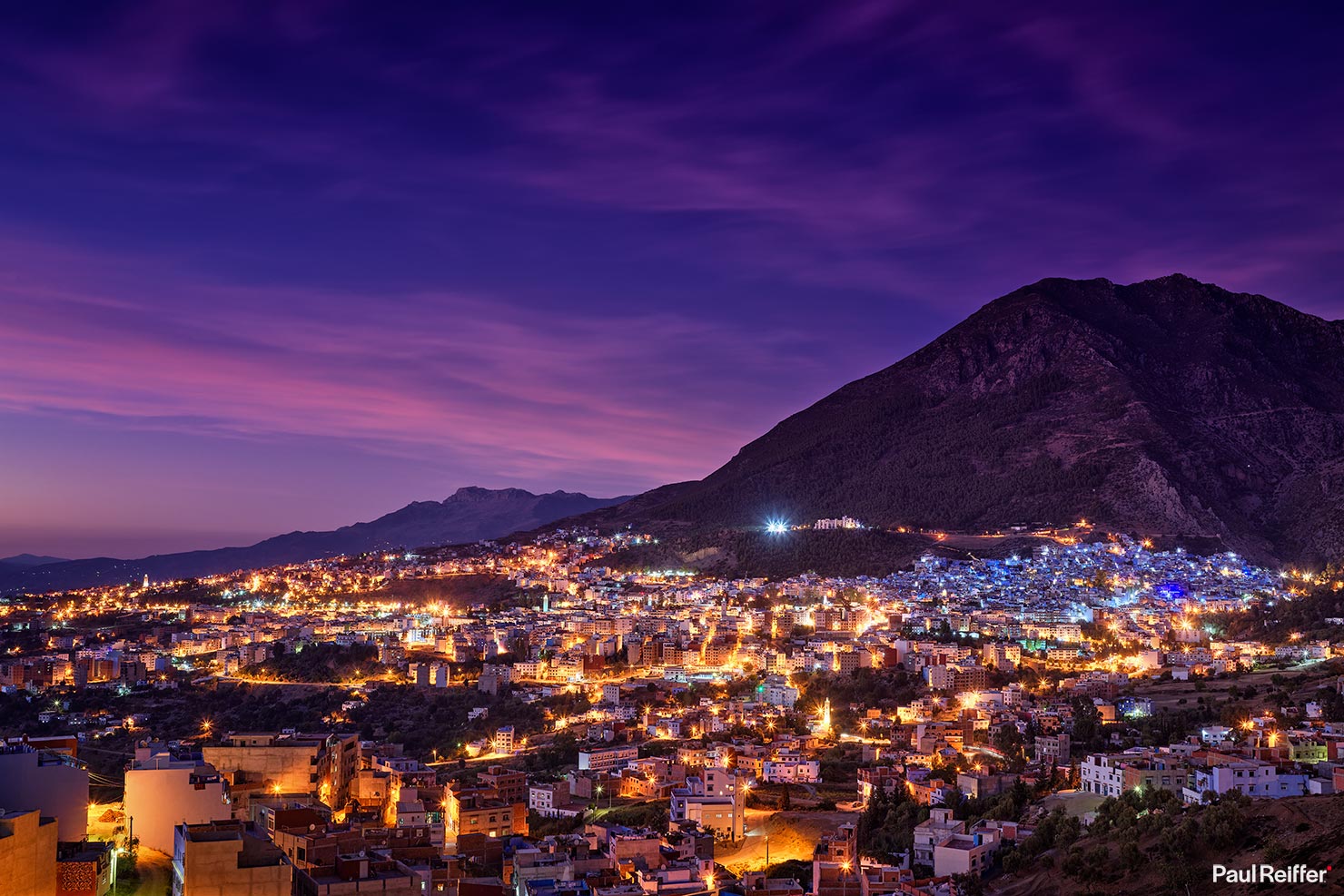 I'd say it did, anyway.
Where the orange glow of the wider parts of the city dazzled in the remaining light of dusk, it was the hub of blue buildings that really stood out on the hillside.
Perhaps by coincidence (but I very much doubt it), the streetlights had a much cooler tone to them in this section too – ultimately delivering even more blue in one area – but the effect, and scale, of how colourful Chefchaouen is on the landscape was impossible to miss.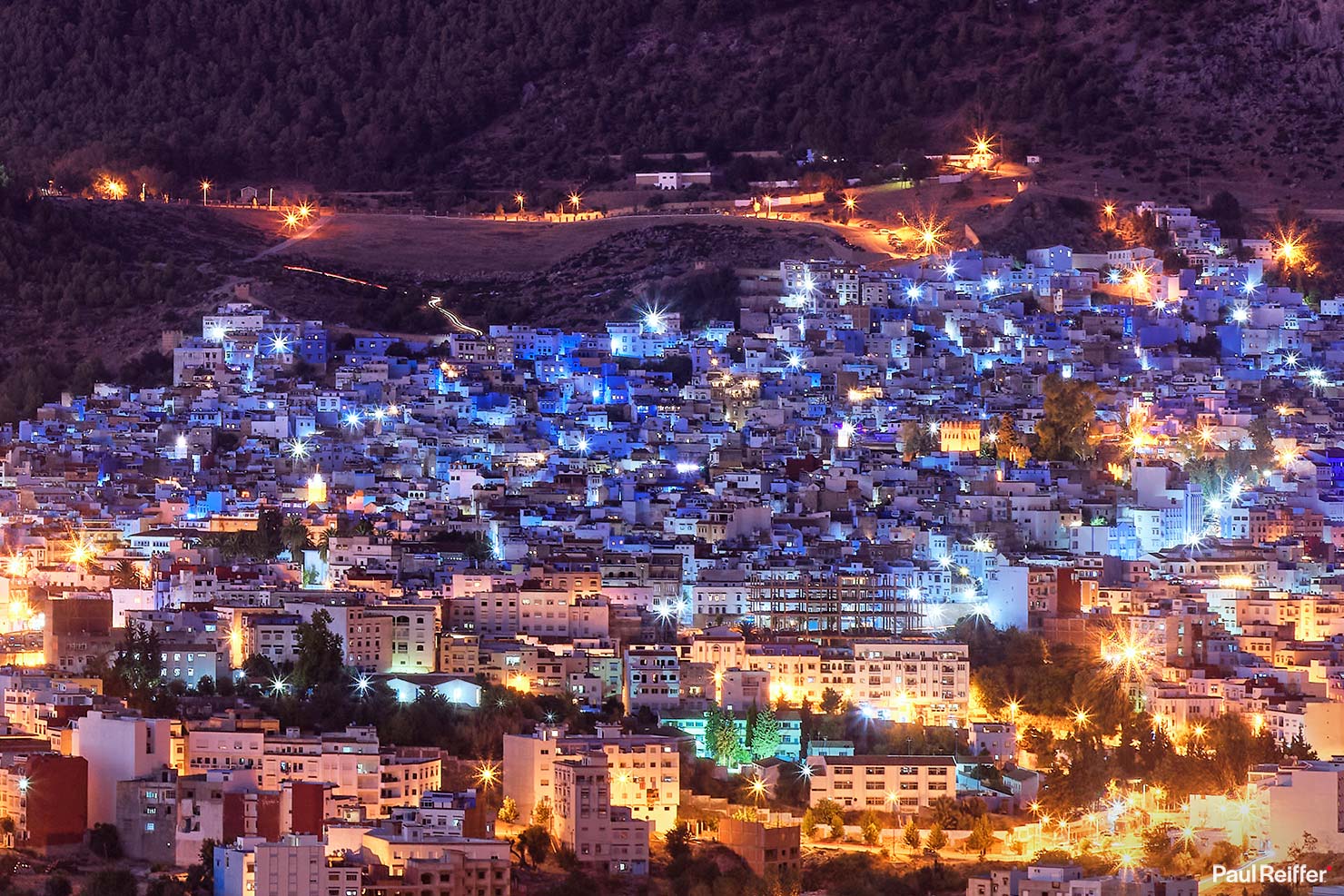 For every part of me that found frustration, yet again, in over tourism – an equal part of me found intrigue, wondering which came first, the tourists or the paint?
I'm pretty sure it was, at least originally, the paint – but I can't see them washing the walls with any other colour while that overseas train of income keeps hitting the streets, no matter how "frustrating" some of the residents find that to be.
Of course, before leaving Chaouen to head to Fes, our next destination – a few culinary tips…
Brains taste better than Sinew (I mean, who writes that in a sentence?)
"Pringy"s are NOT Pringles and taste, look, sound or smell NOTHING like them.
No matter how sweet it was of them to try, soft boiled eggs simply don't work when your egg-cup is actually a bowl for nuts.
Anyway, onwards and upwards, it was time for the "quick trip down the road" to Fes (or Fez, to some).
If the streets of the Blue City hadn't reminded me how painful a back can get, I can assure you another 4-5 hours on some of the Moroccan roads can most definitely deliver that service.
But wow, what a difference a couple hundred kilometres makes.
Our riad (Moroccan for a house built around a courtyard) was stunning – both in its design, as well as its quirky layout and views over the Medina itself.

Gone were the rough-painted stone walls of the blue city, replaced by ornate architecture that's been cared for, rebuilt and restored during the thousand plus years of history that Fes has to offer
Walking (now on flat terrain!) down towards one of the souks, the contrast was stark – yes, there were still tourists, but this was absolutely a working city – seemingly reliant more on crafts and trades than souvenir shops, and that was fantastic to see.

As you entered Place Seffarine, with its iconic old tree in the Square, the activities of all the shop owners filled the air. From Hamid hand-shaping his copper pots that could be used to roast the whole of me(!) in the street (with a rhythm that could be heard throughout the entire medina) to shops that held a supermarket's worth of stock in less than 10ft of space, Fes really was an example of traditional Morocco meeting modern-day demand.
While fresh food markets sprawled along the sides of the streets for miles into the distance, Fes is more widely known for its metalwork and copper pots, as well as its leather and tanneries dotted around the region.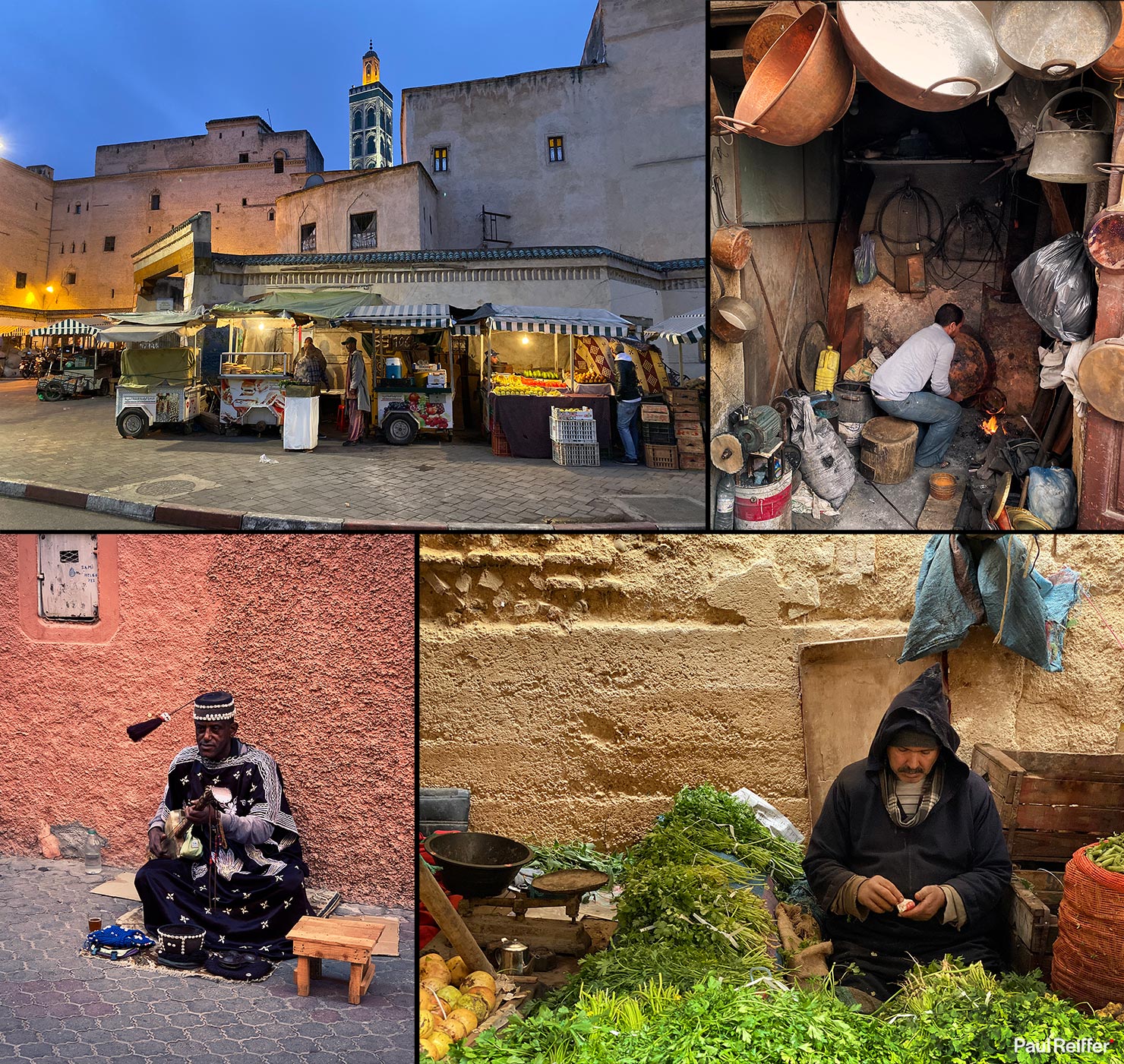 One such tannery being quite impossible to miss on a warm day with little wind – the "fragrance" of the Chouara Tannery in the middle of the city was calling.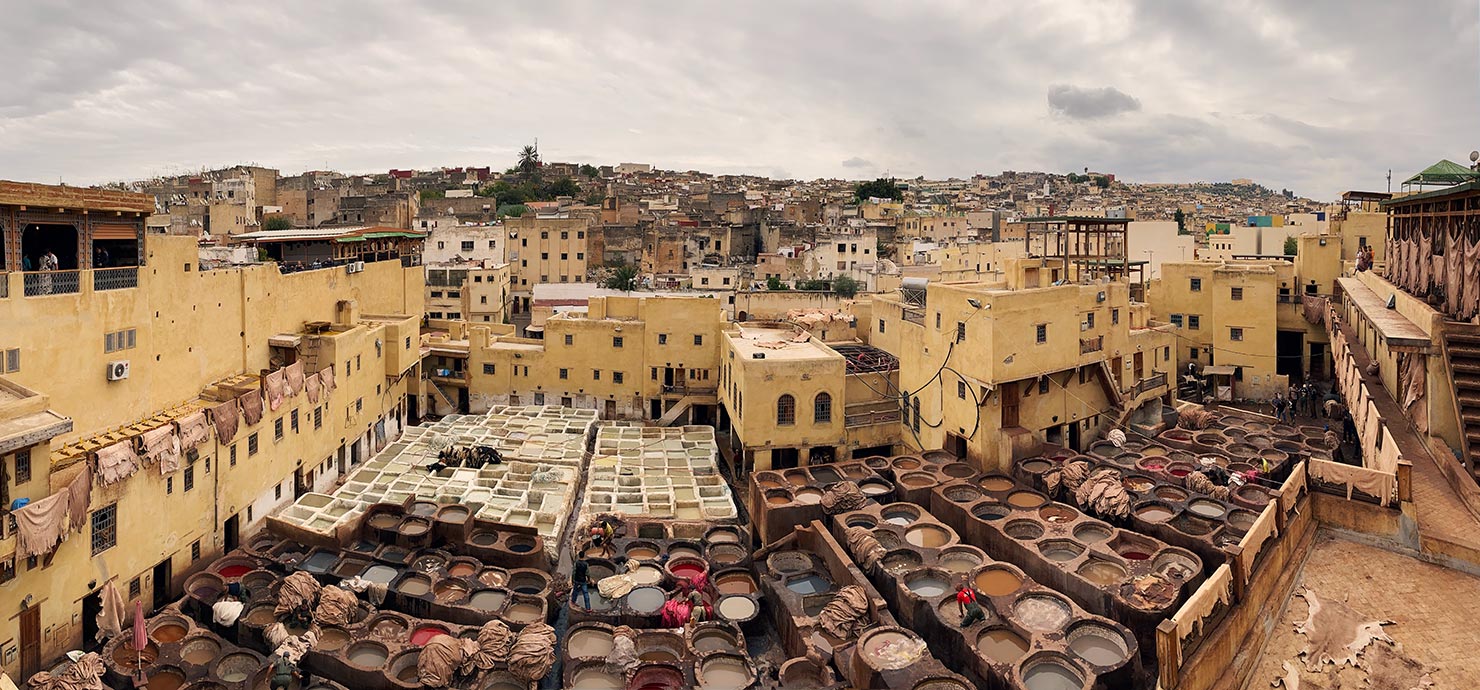 As impressive as it is stinky, this vast complex of tanning vats is actually well hidden behind the storefronts of the medina itself.
Clearly designed to capitalise on the inbound tourist trade, the setup is predictably contrived as you pass through one of several "exclusive access" shops as the owners attempt to convince you that the 4 cows-worth of leather goods they've loaded onto your body look "very nice!" – nice enough to pay over the odds for, at least, anyway.
But it's the workers that are the most incredible part of the scene for me. Relentless in their activity, constantly scrubbing, dying, bathing, wringing these gigantic hides from section to section before hanging them out to dry – ready to purchase. Cows, sheep, goats, and camels are all "processed" here, and once inside it's easy to understand why the smell is so bad.

It turns out, I learned on this trip that traditional leather is actually cleaned, softened and processed using an interesting mix of cow urine, pigeon feces, quicklime, salt and water – and then left in those solutions for days on end.
Stood looking out over the entire complex with my piece of mint (which I'm sure has some effect on protecting your delicate sense of smell, but not one that I noticed…) it did get me thinking:
Does leather smell of leather, or have we all just been taught to like the "fragrance" of pigeon sh!t on our shoes and clothes?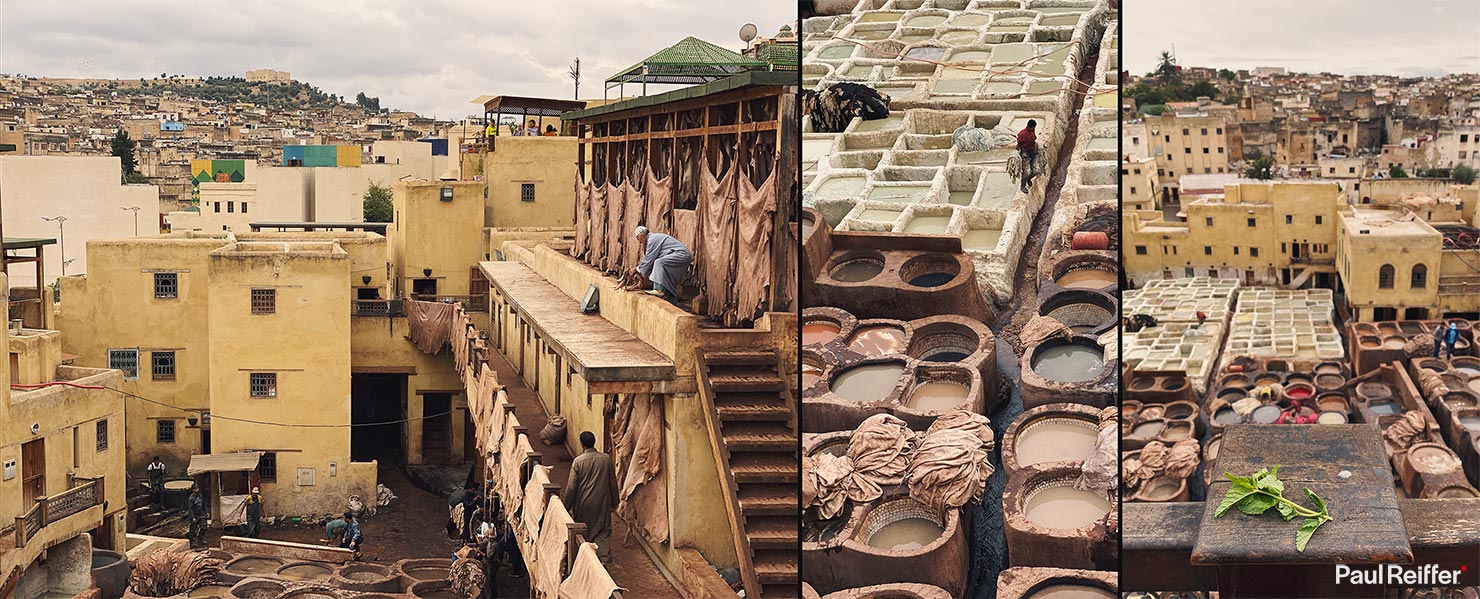 It didn't matter – after 10 minutes in there, you get used to the smell, but there was no way we were going to enjoy a beer on one of the neighbouring roof-terrace bars that overlooked the same pits.
It was time to buy half a cow and head back to the riad for the evening and check out that view from the rooftop once again…

…before setting off into the storm-clouds the next morning as we drove to Casablanca for our next little adventure.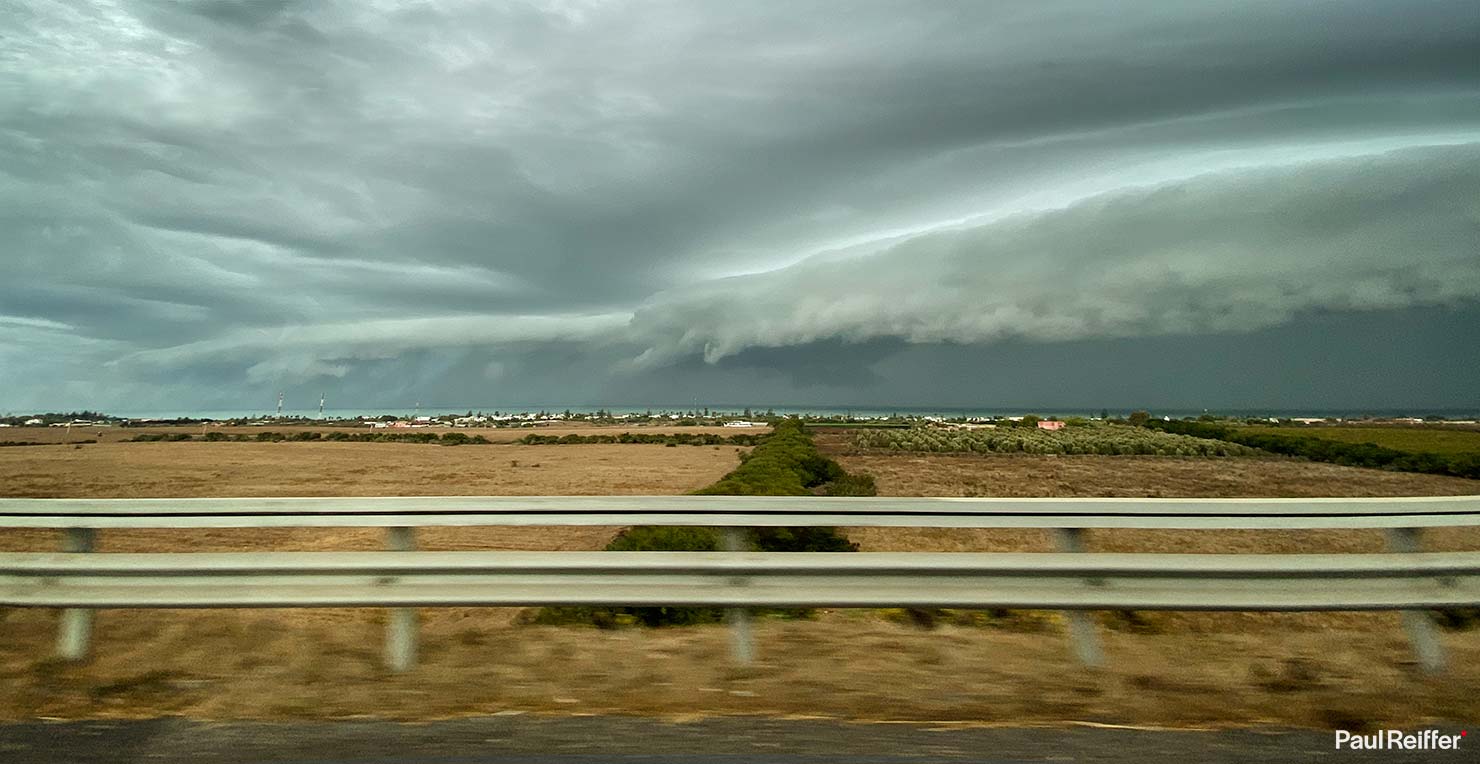 Stay tuned for part 2 – Casablanca and Marrakech.