There's something inherently mysterious and special about visiting arctic circle locations such as Greenland.
Whether it's the months of nightless days or dayless nights, the extreme temperatures in which people still manage to survive, the stunning scenery by itself, or the first-hand view you get of what is happening to our world's climate – there was enough attraction to convince me, along with Thomas from Rollei, to head north and explore.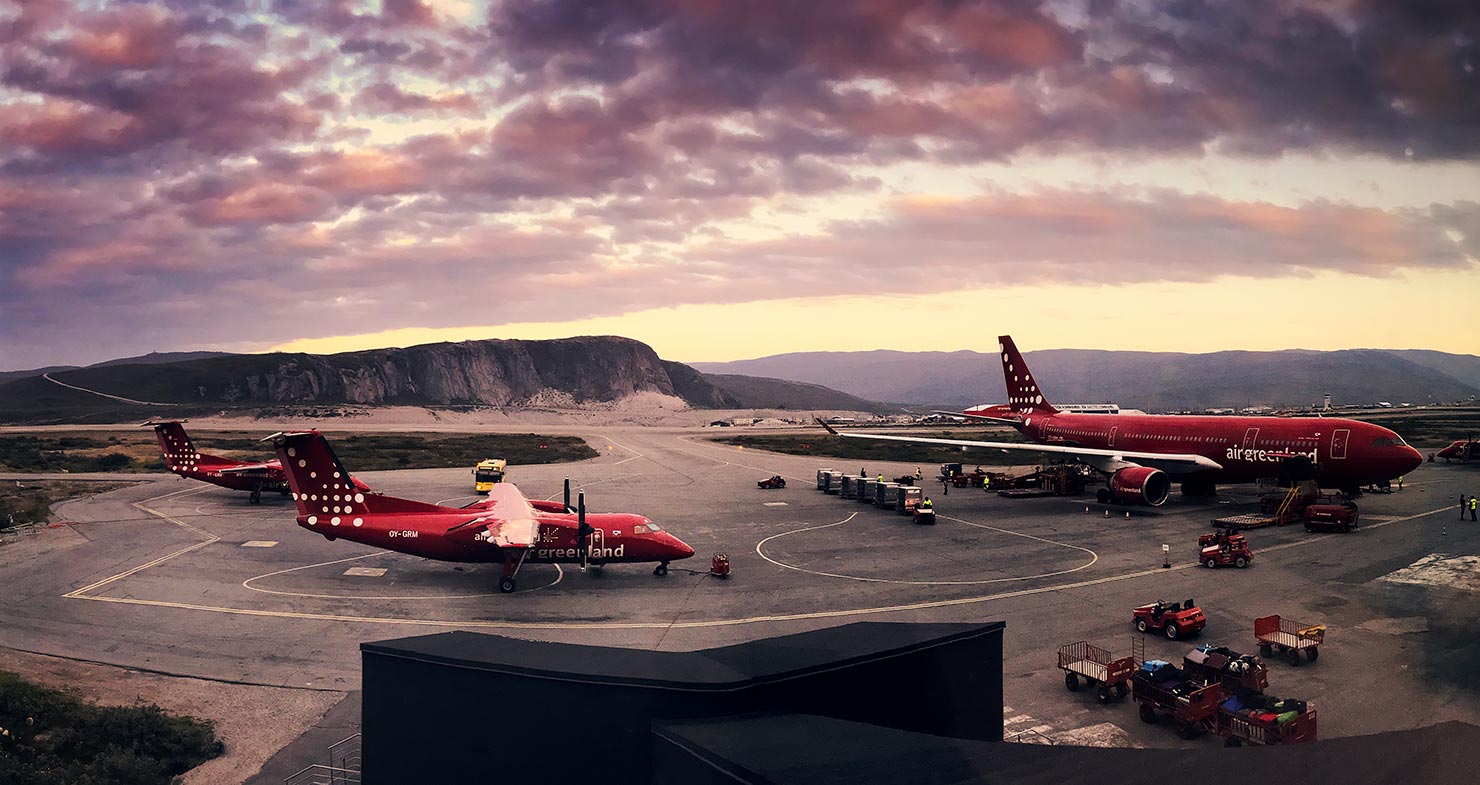 Having decided to head to the glaciers of Disko Bay just outside the town of Ilulissat in the west of the country, the logistics became rather simple and obvious: One airline, with one A330 plane, could take us from one departure point (Copenhagen) and then on from Nuuk to Ilulissat in a shuttle.
Bear in mind, if that one A330 that Air Greenland operate "goes tech", you don't have many other choices when it comes to alternative transportation – but we got there just fine…

Once in the shuttle plane, the landscape beneath instantly changed – from the distant peaks of the snow-covered landscape of the wider country to the glow of the midnight sun over the ice fjords and Disko Bay below.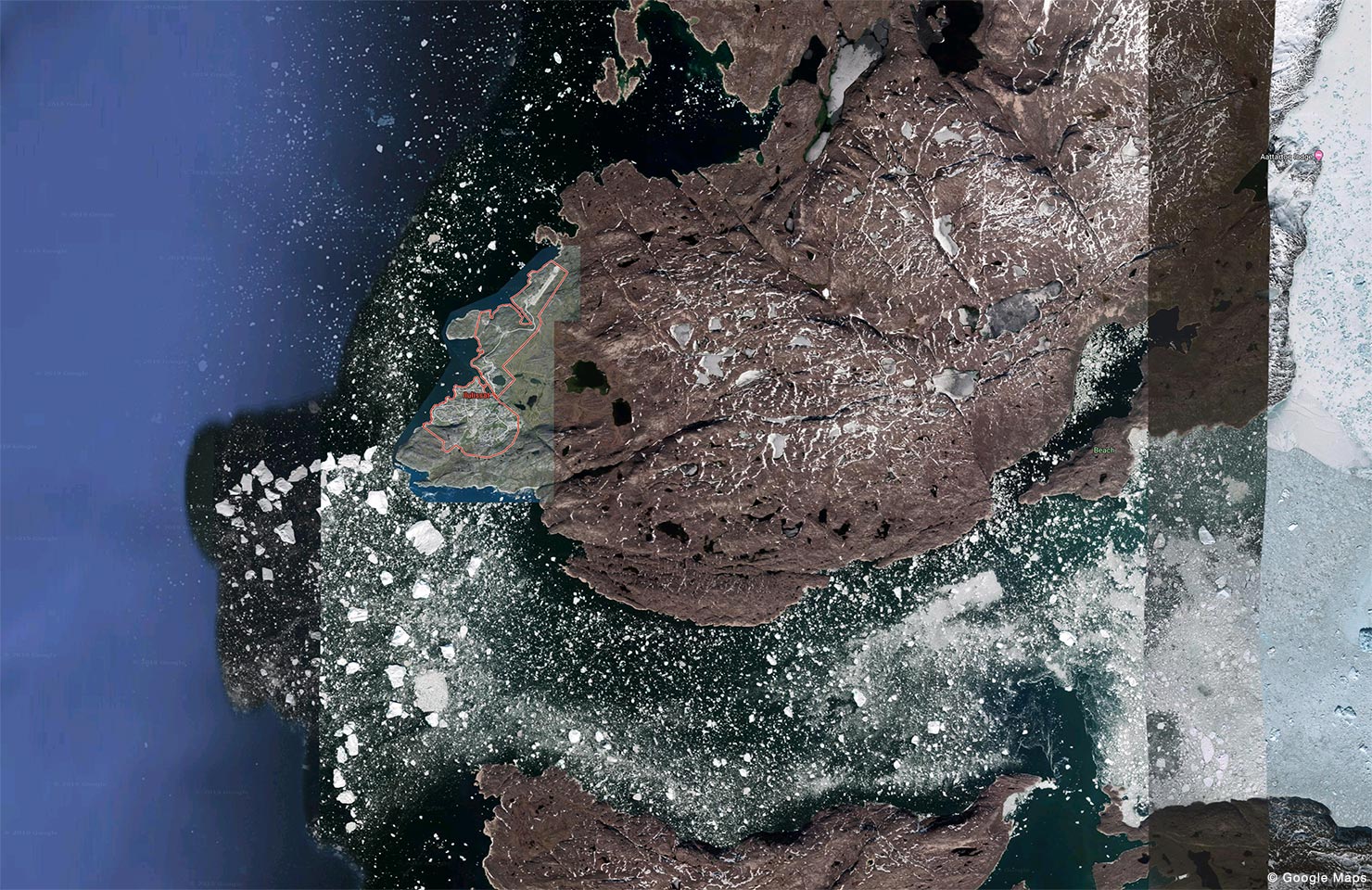 With less than 5,000 residents, Ilulissat was everything I expected it to be – a quaint little town, isolated from anywhere else (no roads lead here!), used as a stop-off for tankers, fishing vessels, exploration ships and (of course) a few tourists.
What I hadn't expected was the sheer scale and close proximity of these giant floating blocks, at what felt like touching distance from this little cliff-top town.
With the midnight sun in place for the next month, despite the amazing views on arrival, it was time to get some rest, ready to explore the next day as it would be the evenings that were "photo time", catching a sunset that lasted for hours.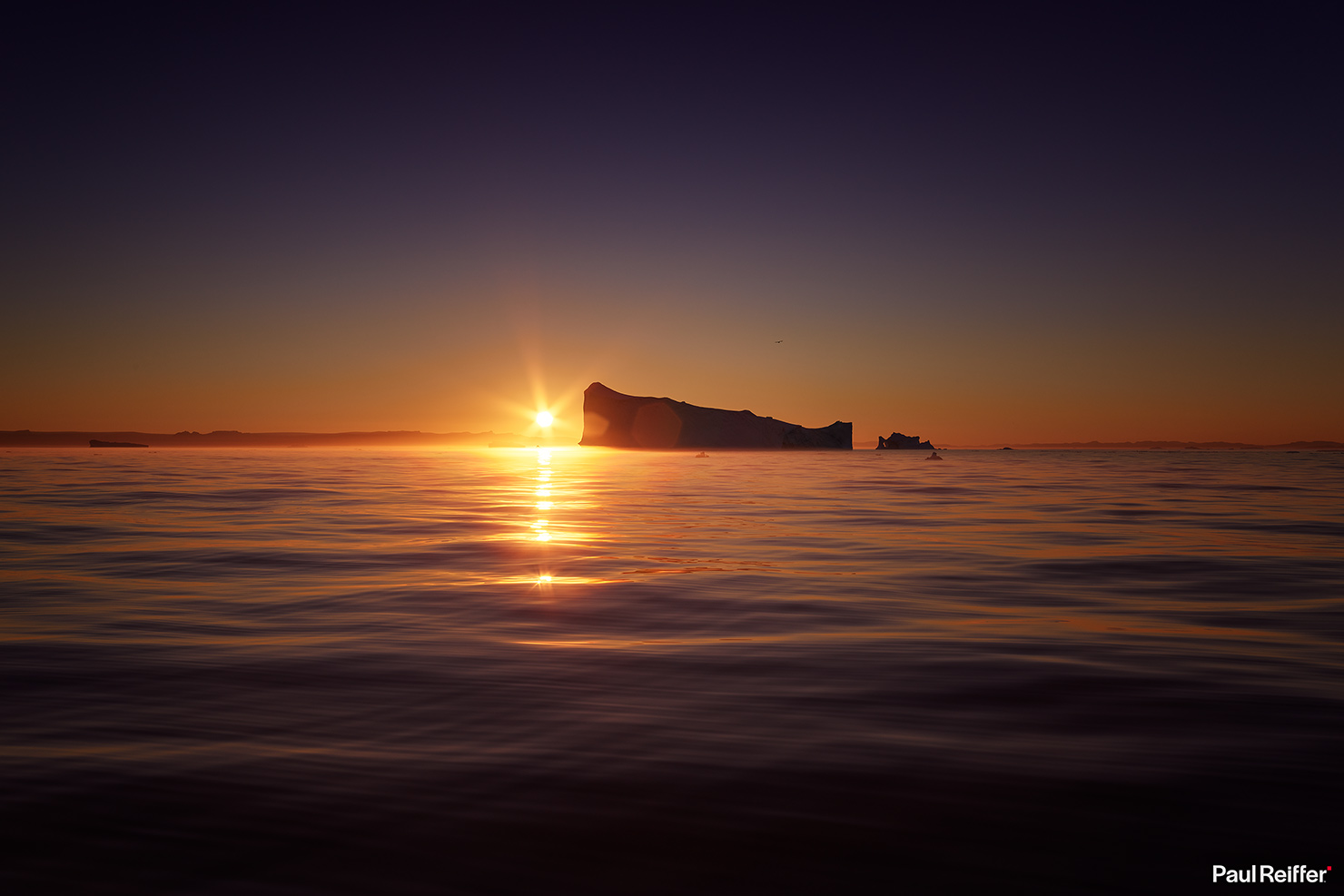 Incredible, to my mind, was that night's (lack of) sleep. Throughout the evening, you could hear the constant moans, cracks and scrapes of these giant icebergs adjusting and moving around the bay. From one hour to the next, the "icescape" out there would change quite dramatically, bearing in mind how huge these things are.
After a bit more rest and exploration the next day, we caught our boat for the first evening's shoot. Our captain, Kai, took us out to the areas in the bay which were surrounded by stunning ice formations yet still relatively safe. Heading up into the actual ice fjord itself wasn't a good idea – it can be way too dangerous, but for me, the scenes out in the bay were everything I'd hoped for.

Being on a smaller boat had its advantages – we were quick, nimble, able to react quickly and get from place to place with haste to not miss an opportunity with light.
On the downside, however, when shooting medium format handheld (what's the point of a tripod perched on top of an unstable boat?!) with limited high ISO options in very low light presented some challenges. Not only is the boat moving, but so are the icebergs themselves. While it may appear "slowly" from a distance, when you factor in their size, they can move around to a noticeable extent on any form of longer exposure.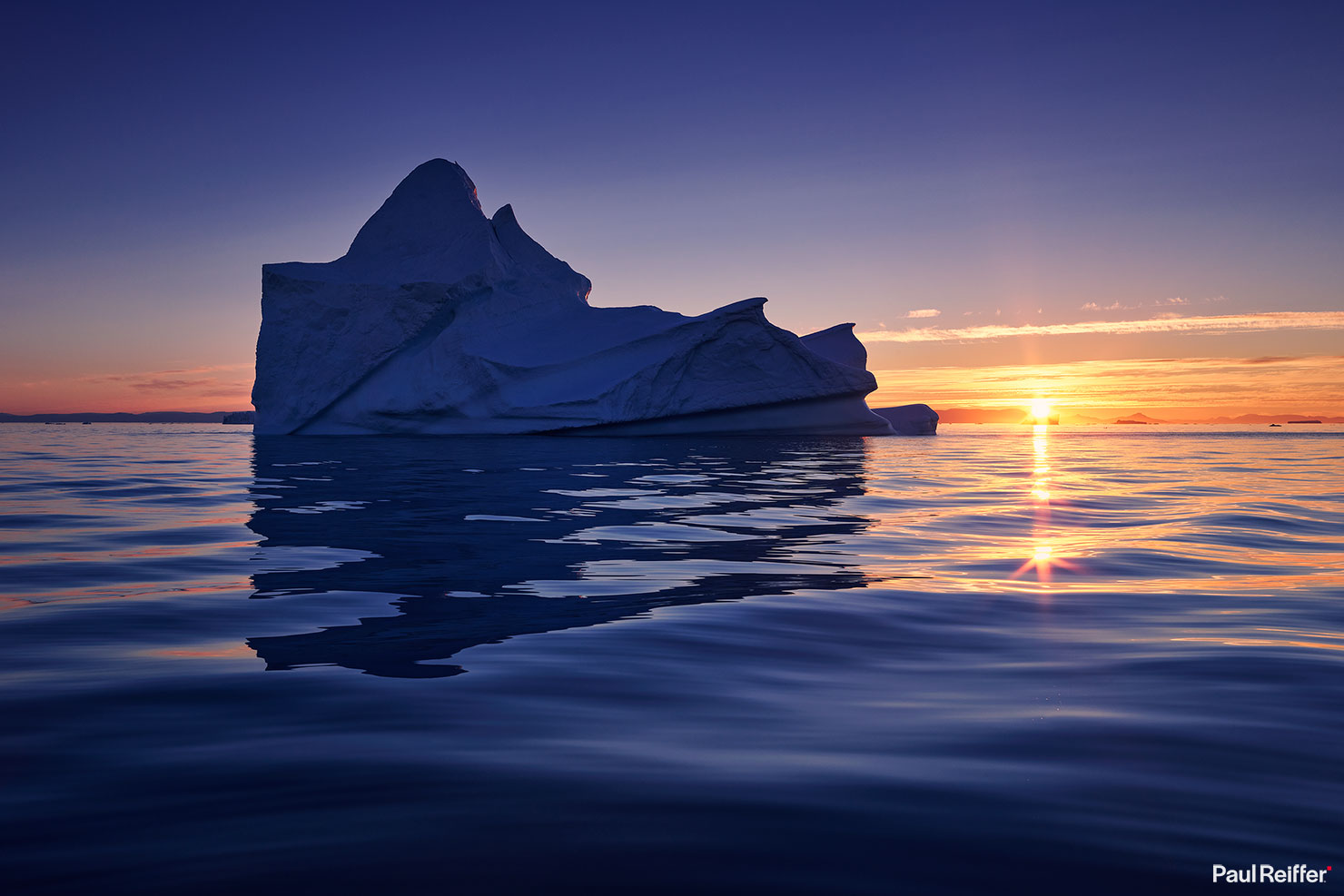 But that challenge was worth it.
The sun flares kept coming – again and again, with every iceberg subject that we headed towards a new and unique light would appear. Some were even kind enough to provide a little hole in the upper structure just big enough for the sun to pop through,
And that light – that light which lasted for hours like an endless sunset glow, was just perfect against the huge cold towers of ice before us.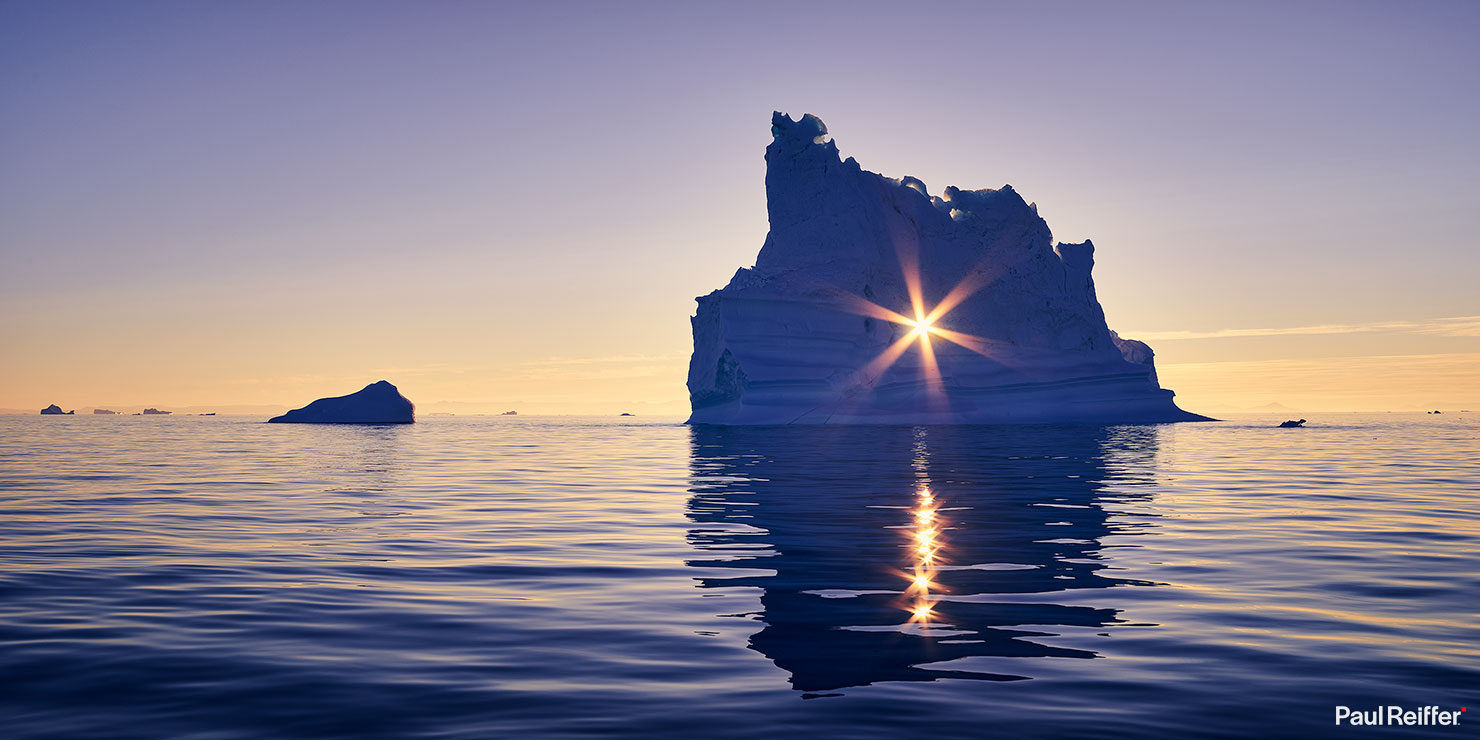 It's not just humans who pass by Disko Bay either – if ever there was a moment of "good luck", it was the point where a pod of whales came swimming by our (granted, rather small in comparison) boat.
Of course there was that quick moment of panic when one of them looked like they were going to head under our boat, but wow – what a sight, even if I did only manage to capture it on my iPhone!

The next evening would bring a very different feel to our adventure – back out on the water, but this time surrounded by moisture in the sky, resulting in pink glows in all directions until the clouds finally took over.

Knowing we had a lot of time to capture the glow, there was the added "bonus" of the moon just rising in the distance off the edge of one of my favourite iceberg structures in the bay.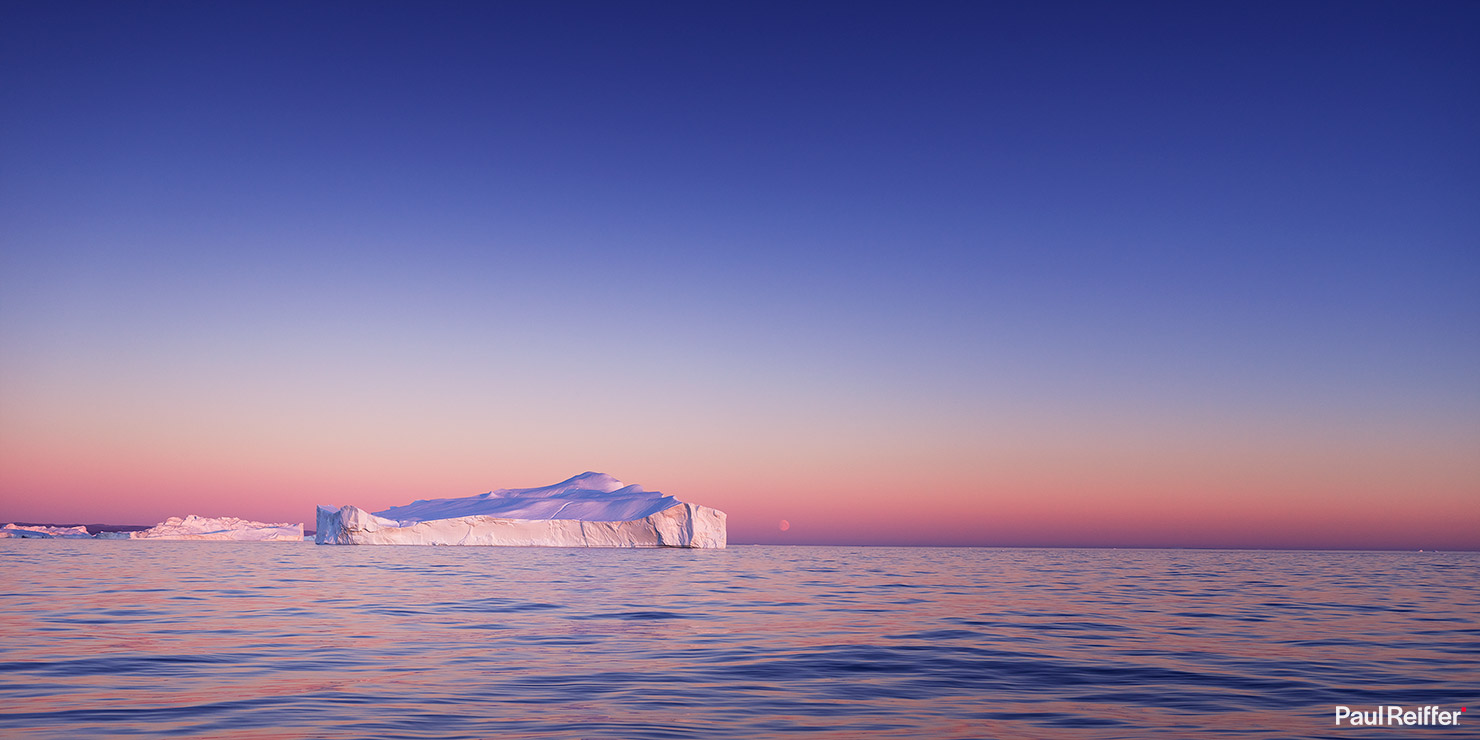 In each case, given the movement of both me and my subject, I was trying to keep the shutter speed above 1/200s at f/5.6 or so, but I have to admit to losing some shots due to not wanting to push the ISO above 160/200 to keep a clean image.
Arguably, the soft GND filter I placed on the top of the frame might not have helped, but it wasn't affecting or changing my exposure for the bottom half of the shot and (in my view) resulted in a more balanced tone throughout the entire image.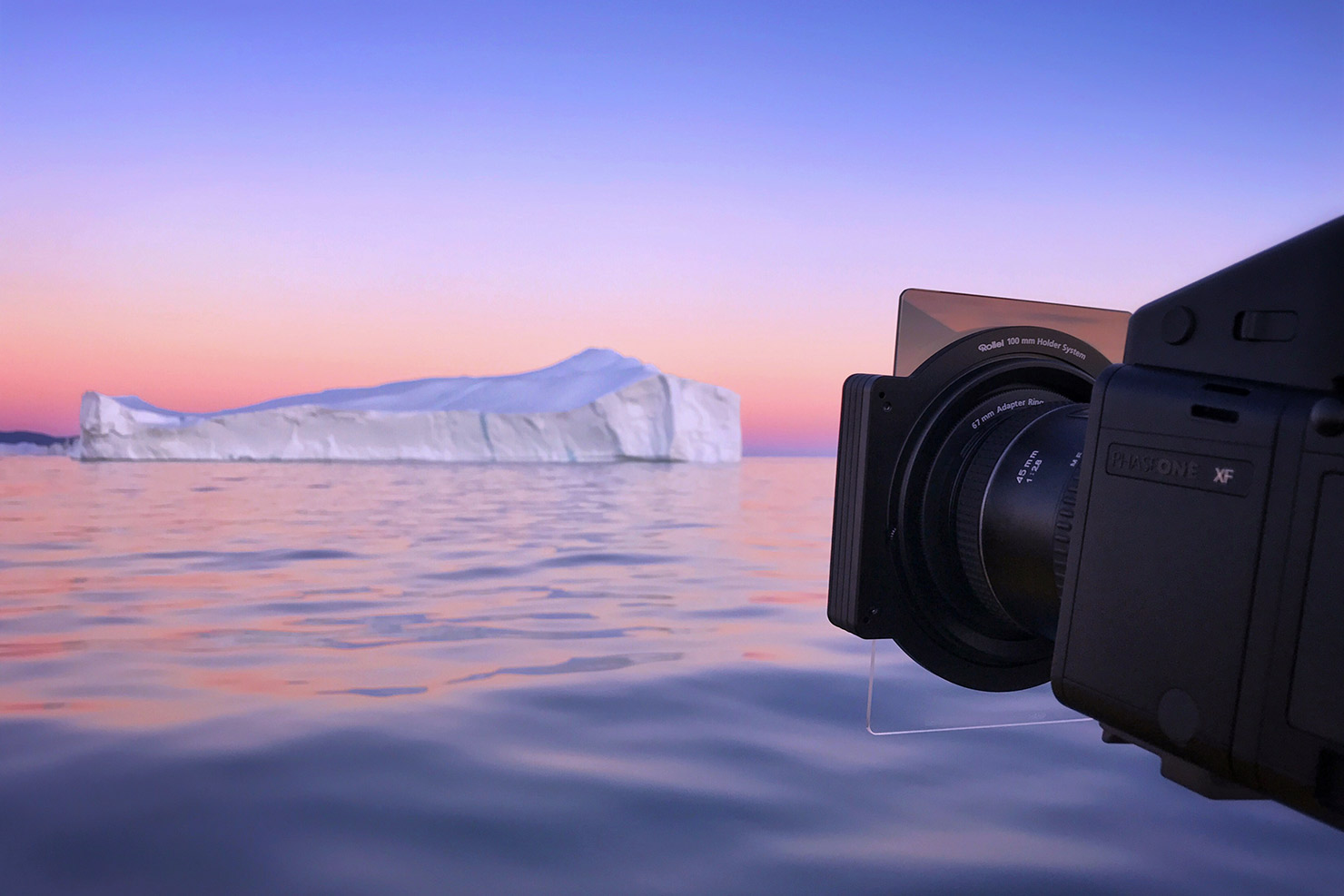 Incredibly, even with such low light, these giant pieces of ancient glacier still managed to bounce off a huge amount of white reflection back towards the camera. Adding a polariser really emphasised this, but it also slowed down the shutter speed and with a wide lens gave that horrible "bump" effect in the middle of the frame so I carried on without.
We weren't the only ones in the bay that evening – a red sailboat, under engine power, was exploring some of the more safe and stable blocks in the distance as we captured them for scale.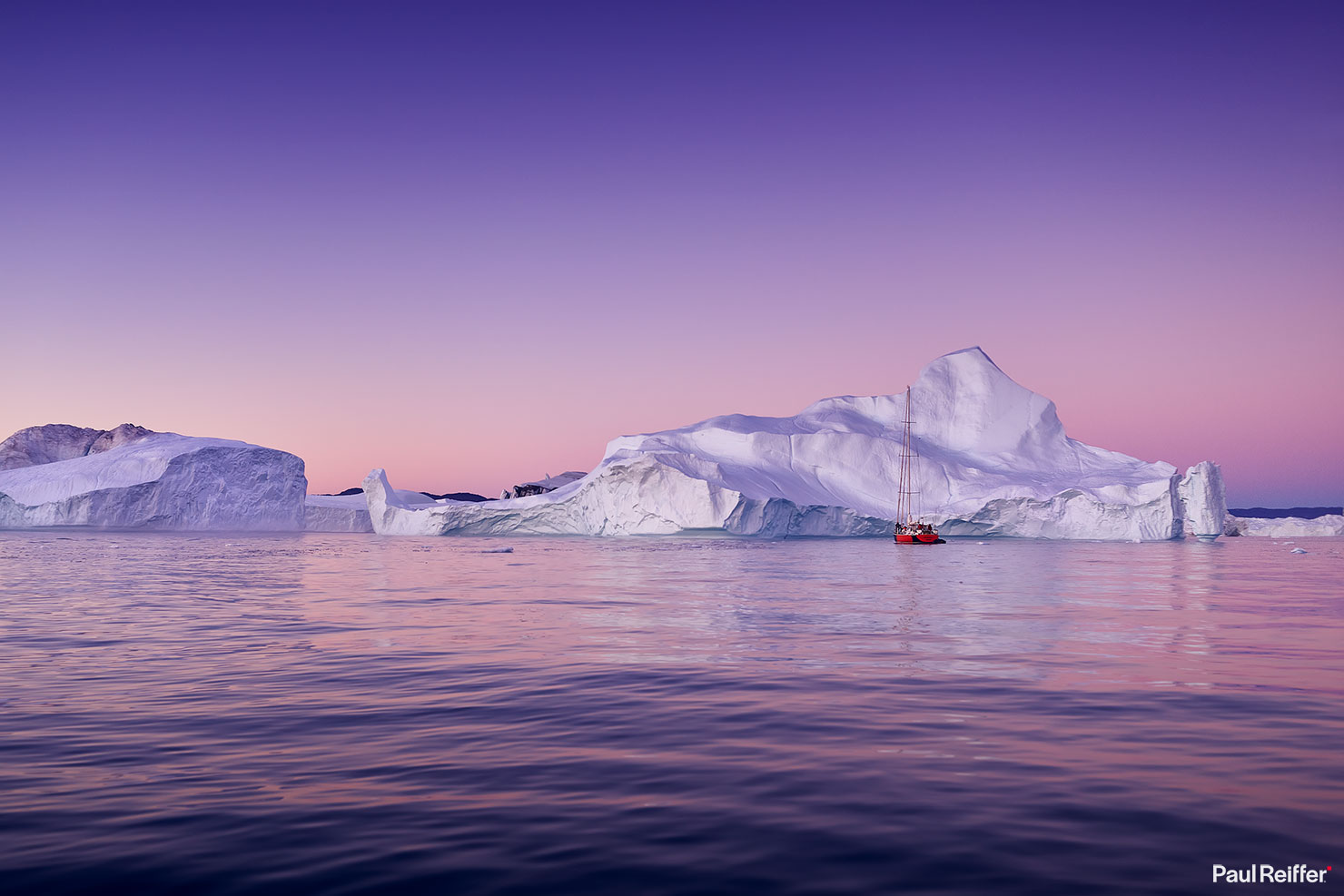 And then, just as the warm light faded from the evening glow, we found my favourite chunk of ice!
The second it came into view, I decided this one would be called "Kryptonice" – its formation, an instant reminder of Superman's ice castle from the films. With such amazingly intricate structures within this giant floating block of frozen water, there was no way I was going to risk losing this shot.
We stayed here for quite a while, trying different settings, different GNDs, just to get it right, sharp and in the best possible frame. Using a boat to manoeuvre has its own challenges with still, reflective, water – as each movement disturbs the area around you for 10-15 minutes – but we got there in the end.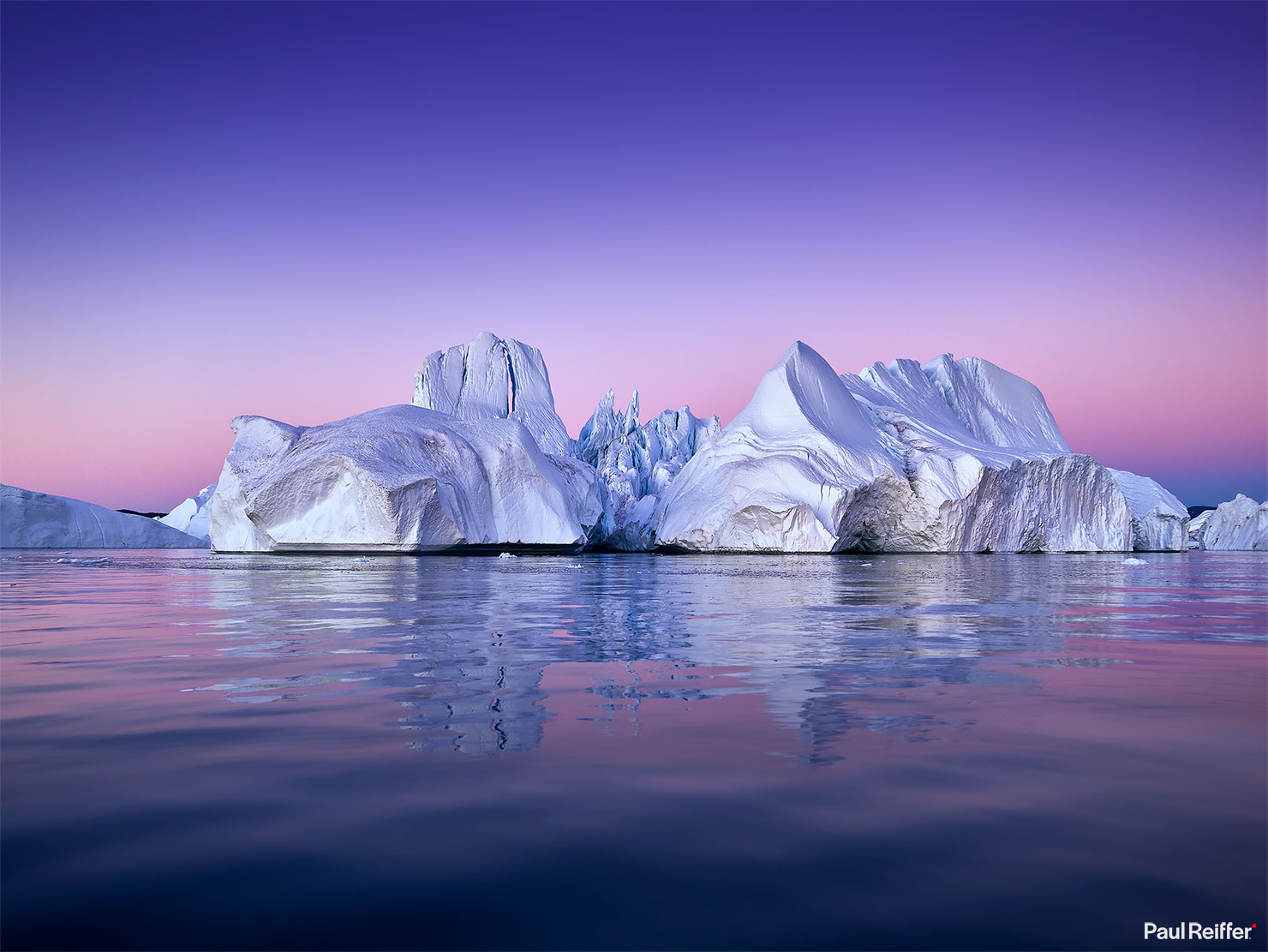 Not much could beat that shot – I knew it at the time. But we were here for another 3 nights, so it was time to go exploring a little bit more.

Heading through the town's trails, there are countless iceberg viewpoints in every direction you look. With rock formations that allow you to get up high, it was possible to try some tripod long-exposures, but the (obvious, when I thought about it!) movement of the blocks themselves just meant nothing was sharp if the shutter was slower than half a second.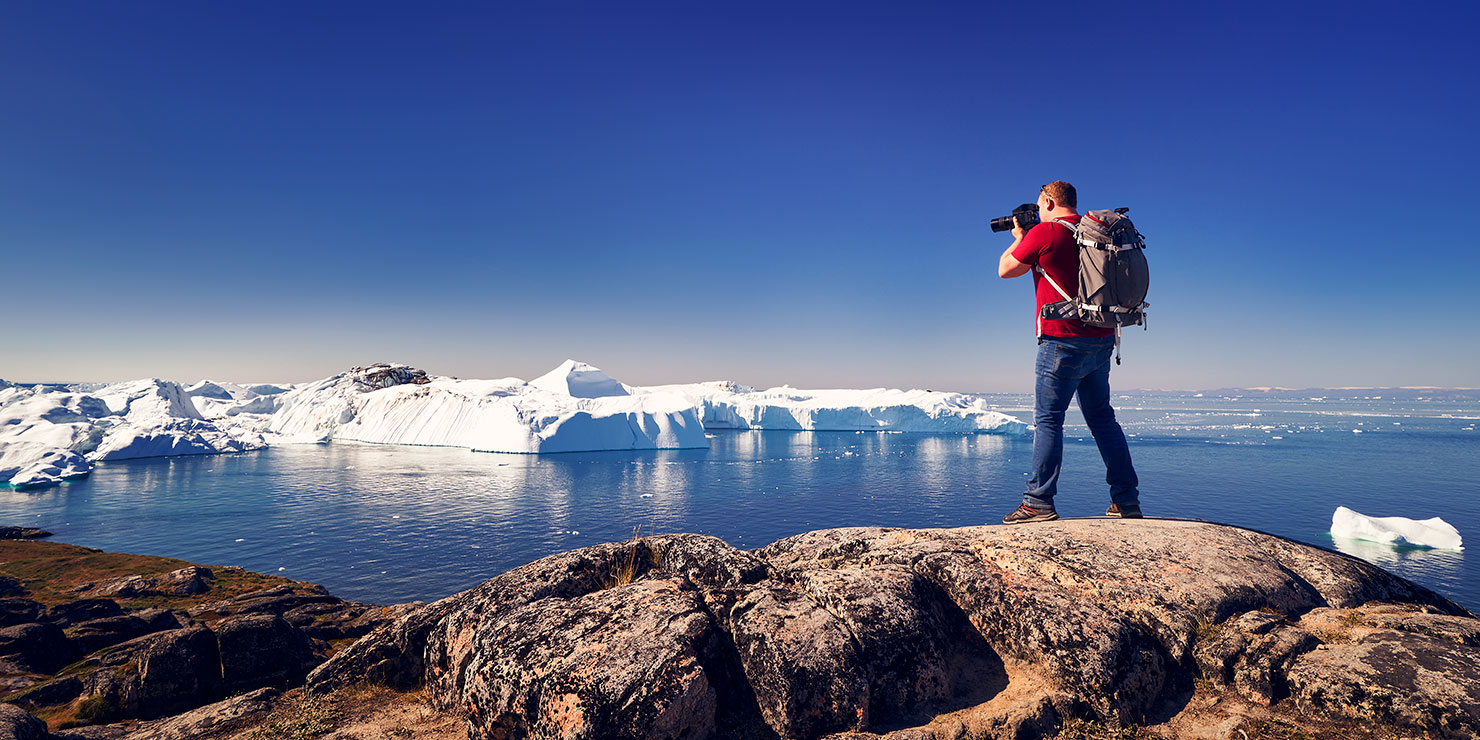 One added bonus to shooting these rich, fertile, foliage-covered fields and rocky outcrops was the free lunch that we were offered in the form of 1,000 flies and midges per minute.
Epic fashion accessory required (which, strangely, the small shops in the town seem to have a lot of them to sell)…

There's a trail to the south of the town, which starts as a track but rapidly disappears into a muddy, worn, natural path – which presents you with a view of the sheer scale of the Ice-fjord and the break-up of its upstream glacier: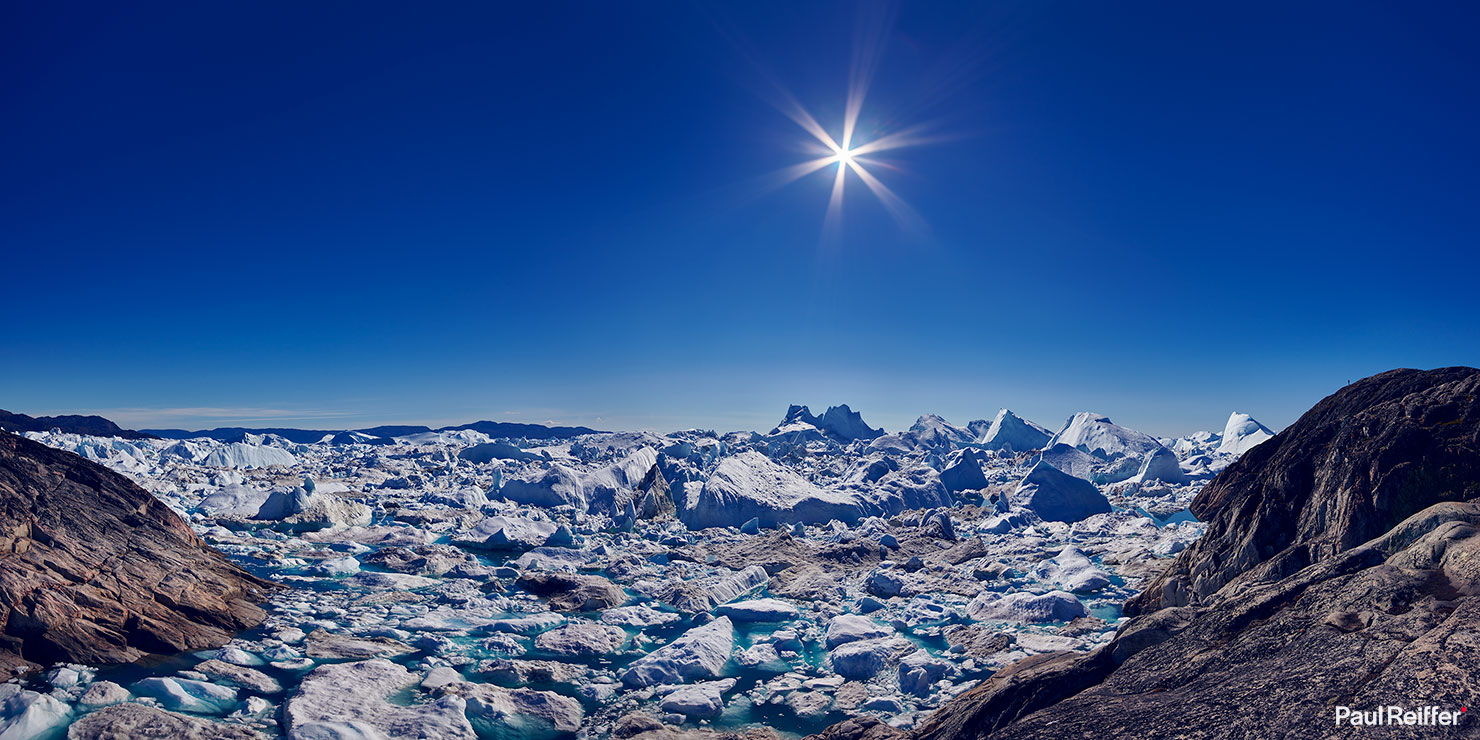 For anyone who's stuggling with the scale of this (as it does look a little small when shot as a panoramic), look to the top right of the rock. No, that's not a dust spot – that's a person, in the foreground: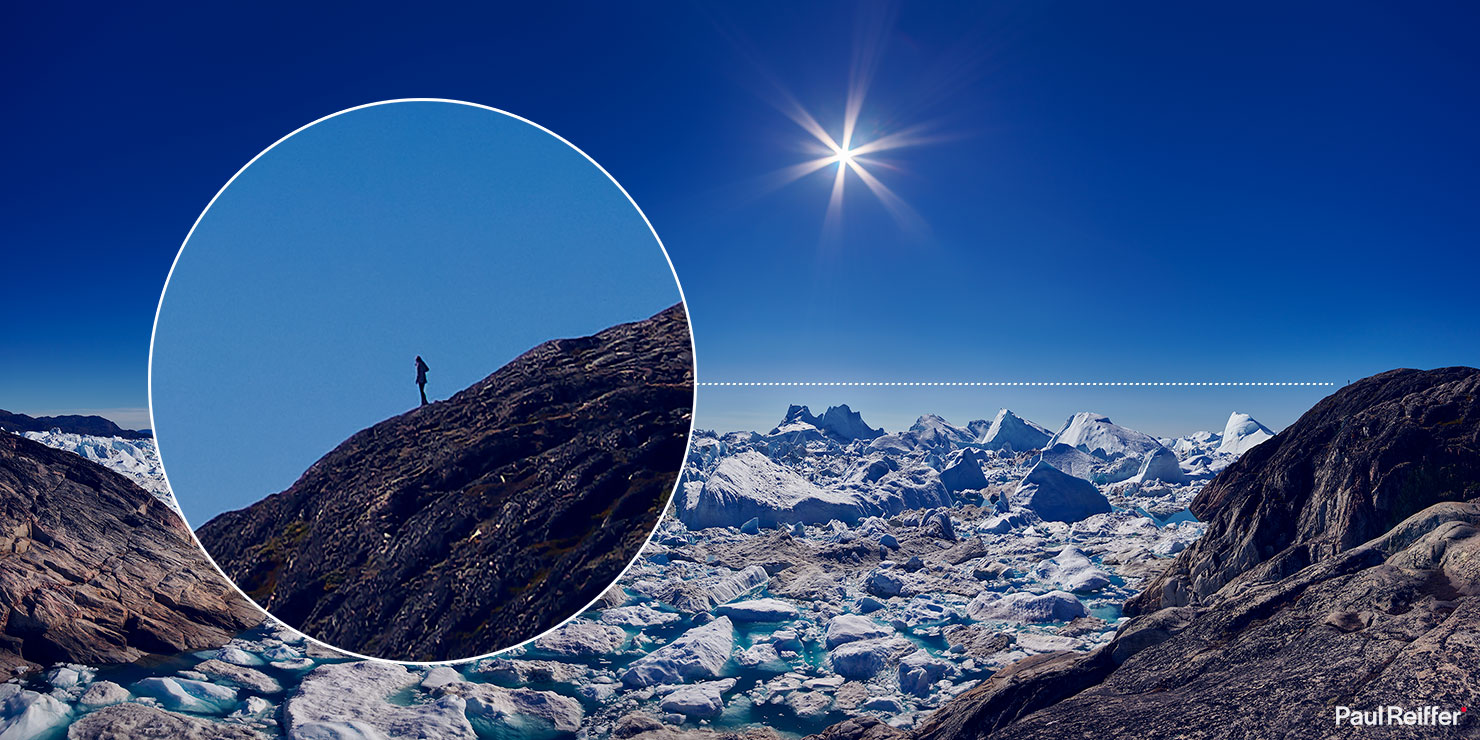 And then let's remember that the tiny part of the fjord we're looking at here reaches 6km away into the distance. That one single view needed a 540 megapixel panoramic stitch to get it all in – and the detail is phenomenal.
Here's a 33% crop (at 100% we can't show enough on your screen to make sense!)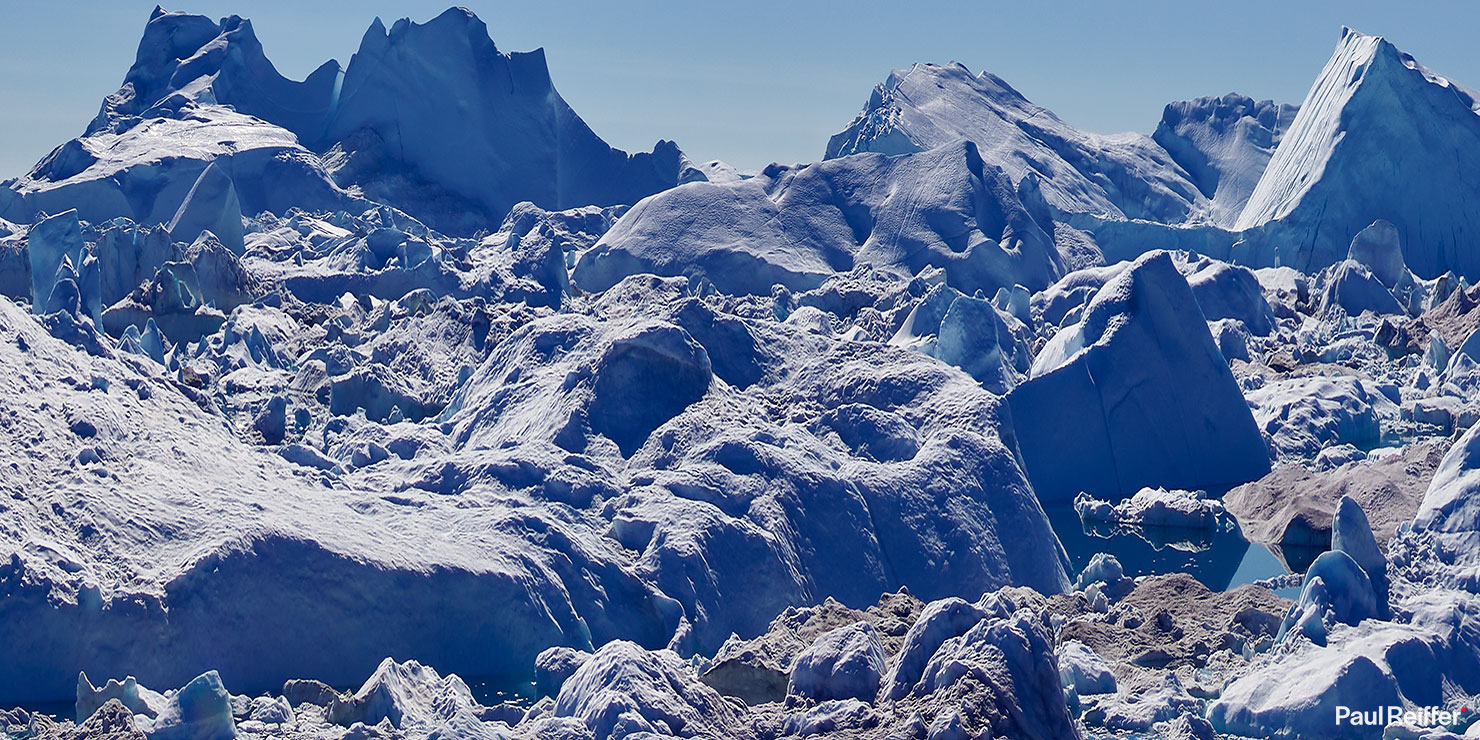 Everywhere you look, there are more and more stunning scenes – whether captured by my Phase One camera, my iPhone or simply enjoyed by my eyes, this was just a feast of visuals which never ended (and one which was ever-changing, at that).

Heading back into town before our final boat trip that evening, it was also time to get a feel for the place itself. The local community is really strong, resilient, and while open to tourism – still seem to be happy to carry on without that distraction, with a thriving cafe/restaurant scene and quiet residential areas dotted around town.

Our final night on the water would be more challenging, photographically. With thick clouds rolling in, shooting was becoming more difficult in the low light and we were missing the evening glow which had spoiled us on the previous nights' trips out into the bay.
In the end, there was one shot which made the evening for me – dramatic, yet calm, this was one of the more distant icebergs in Disko Bay, and also one of the largest.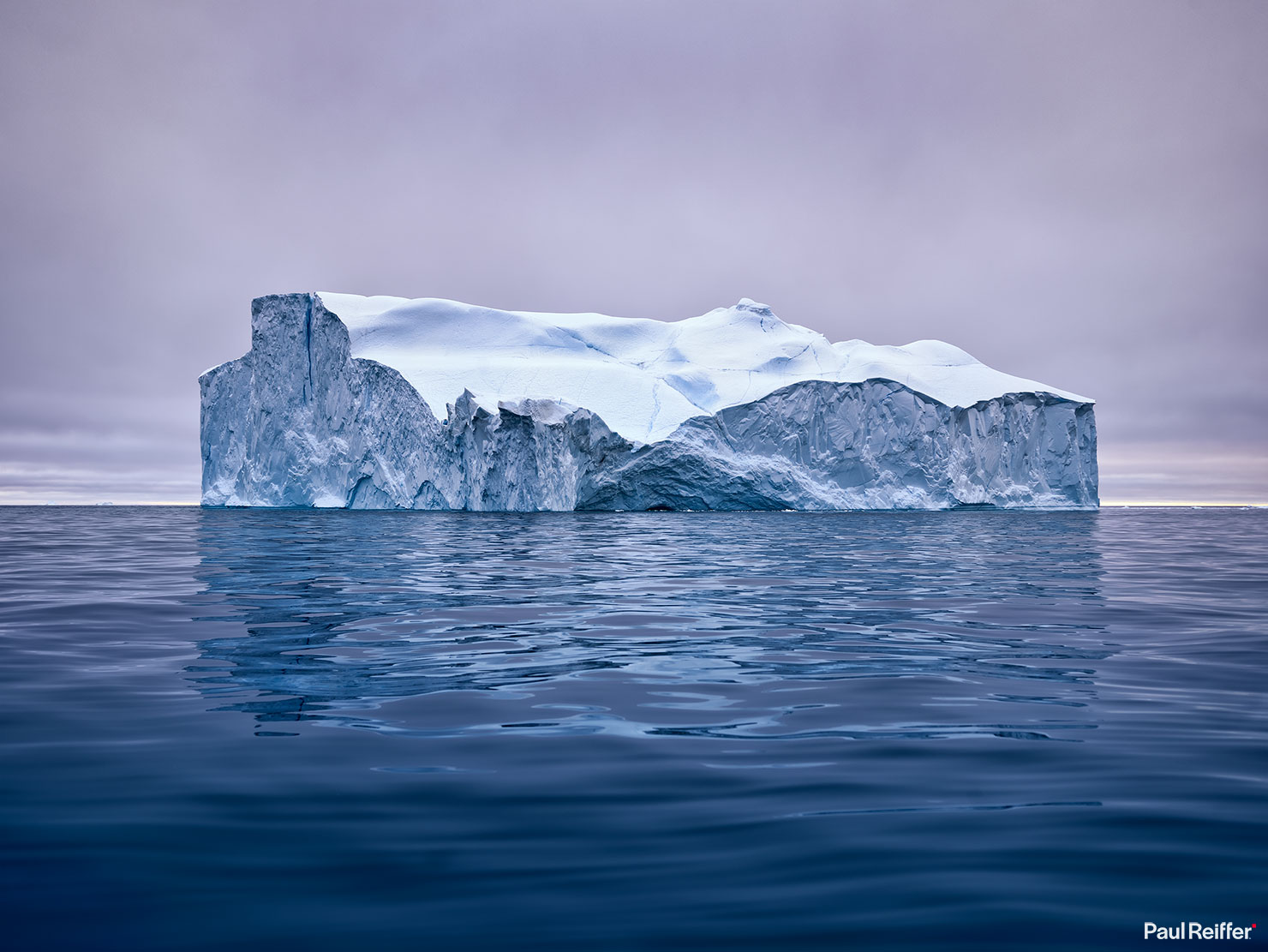 Having the Phase One Achromatic digital back with me meant I could capture more of the tones from this evening in black and white, but I was happy with this as the result from a few hours hunting on the water, and tomorrow "morning" (in a couple of hours) had a new plan waiting for us…

Accommodation can be expensive in Ilulissat – with limited supply and a growing tourist base, hotels get full, very quickly, at any price they choose to charge. Still, arriving to the airport in sub-zero temperatures to find a small group of tourists who'd camped out there overnight to save money was quite a surprise to say the least!
They were alive – we checked – but for us, it was time to get up in the air in our own private flight.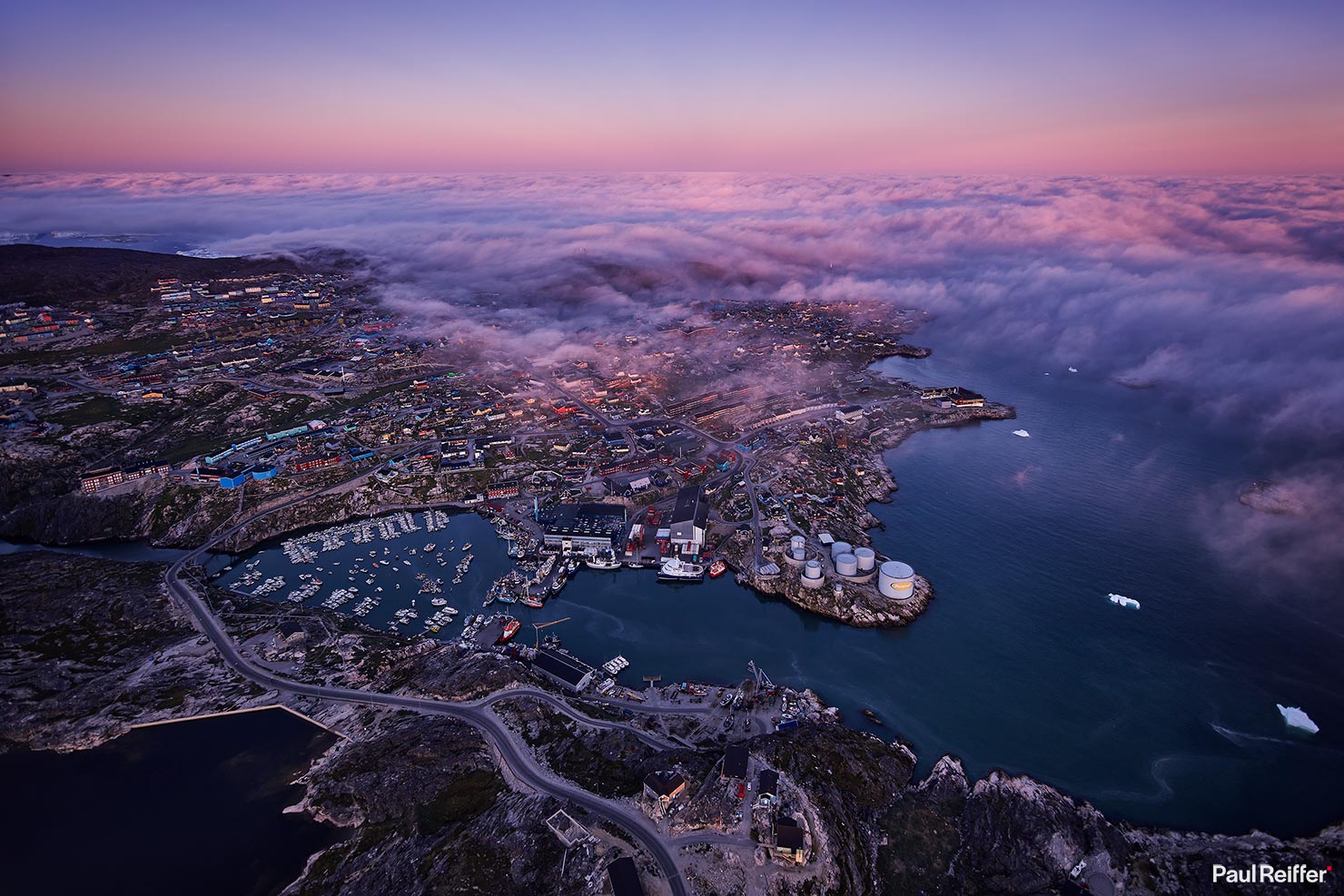 While it's never truly dark in the summer up here, there is still a "dawn" feeling about the place once you clear through the fog that sweeps in from below.
Once above the town, you get a real sense of the scale of this tiny community in comparison to the size of the glacial melt and calved icebergs which float on by.

On the one hand, the mist had been a disappointment.
In the beginning, we weren't even sure we'd be able to take off. Luckily for us, a hole had cleared around the airport and we managed to get up.
It then became apparent that the fog would actually deliver one of the most amazing scenes I've witnessed with my own eyes…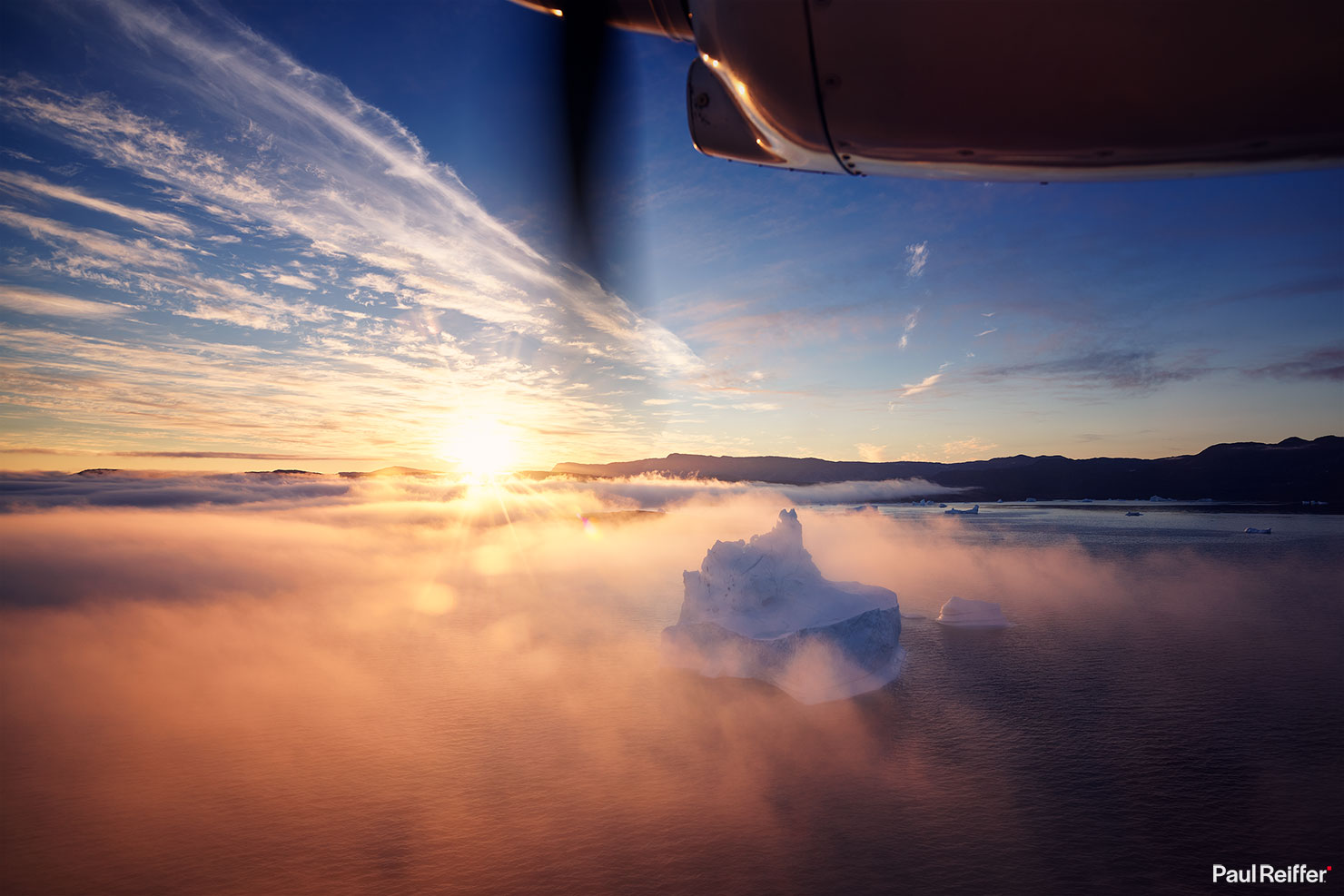 Given their obvious low temperature, the icebergs themselves create their own fog pattern around them before the sun rises too far into the sky. With the window open (yes, it's cold), we could get some clear shots of these giants as they woke up to the sunrise hitting them from behind.
Switching seats front-to-back, mid-flight, when you're my size isn't an easy task – but I knew it would be worth it for that one shot alone.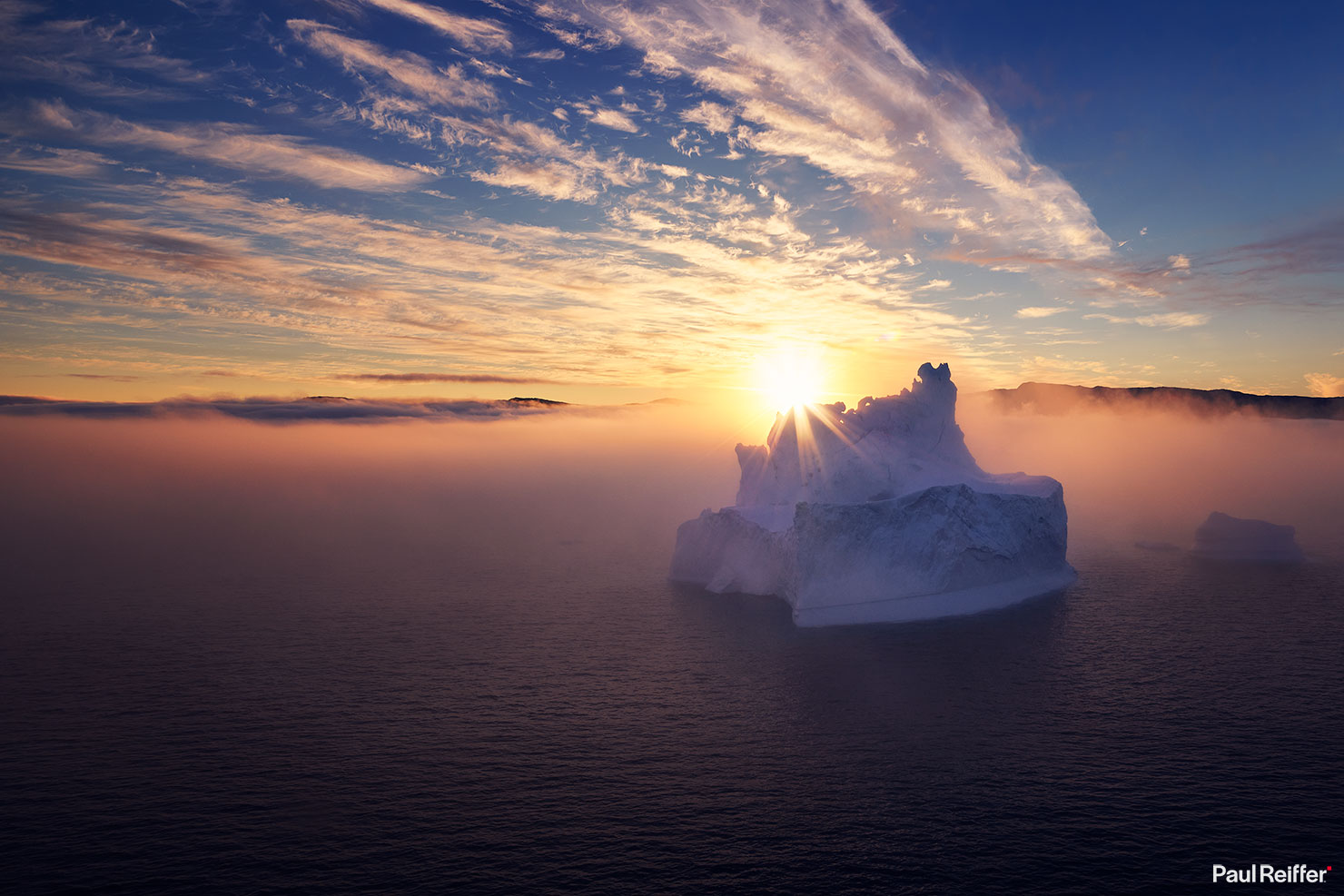 Sweeping up to these amazing structures at 100mph, the sense of scale is quite simply amazing when you see it with your own eyes. The images I captured hopefully convey their size, but nothing will ever beat that feeling I had when seeing them first appear from below, out of the morning mist.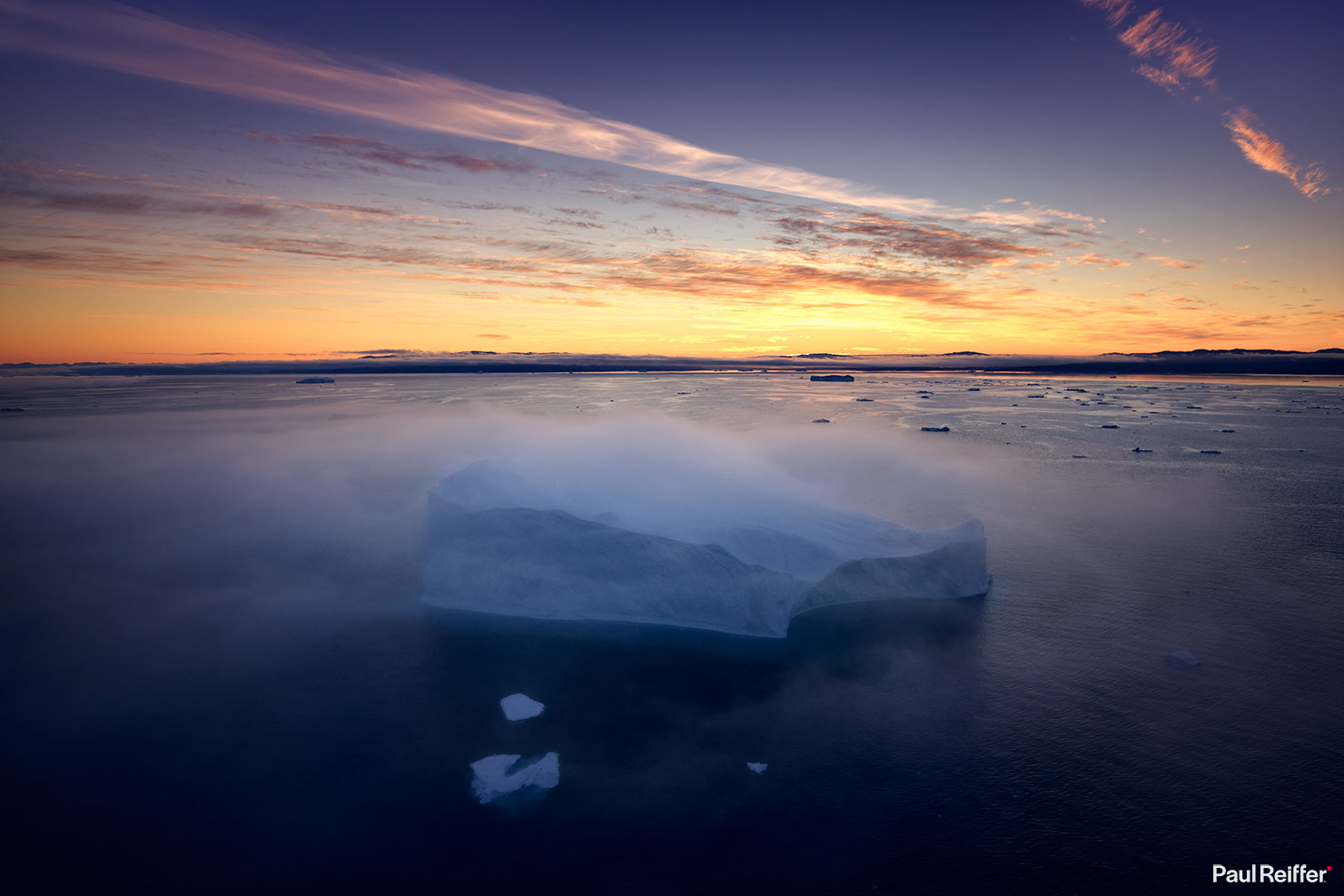 Turning back from the sun, we spotted one of my "monster blocks" from earlier in the week – but it had since cracked in the middle and started to rise on the one side. With the sunlight hitting its northern face, it was great to see the scale of this majestic iceberg as it stood solo surrounded by a sky full of colour all around.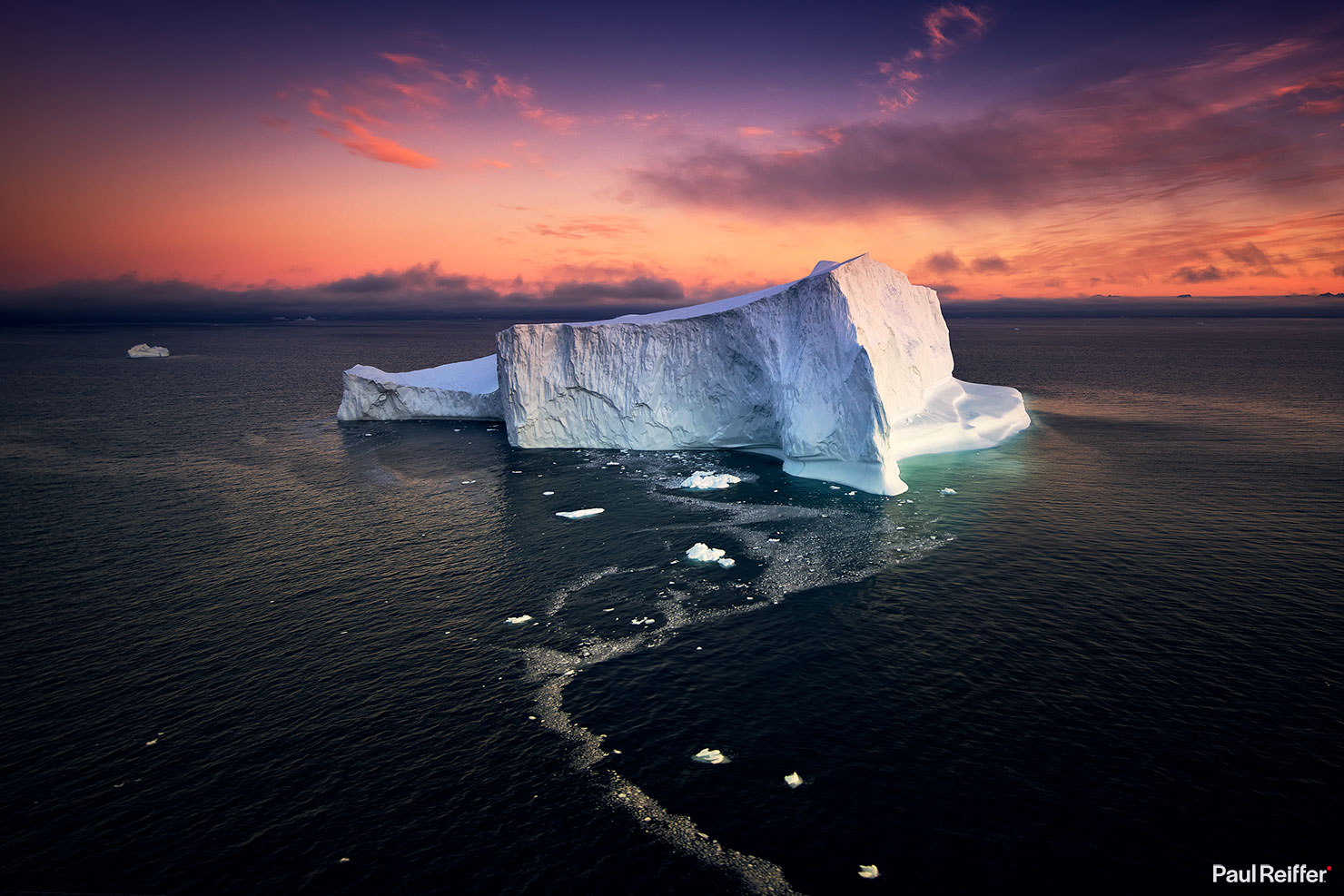 And that was it – memory cards full, days ran out, the weather closing in – it was time to go.
It's sad to think back to my time here in one way. As the locals were telling us, when they grew up these (already giant) icebergs would be 2-3x taller than they are now.
For anyone who doesn't believe our planet is warming up, check out the old satellite imagery from this area and compare it to now – or witness the flow of the ice melt itself as the glacier shrinks before your eyes.
It's great to have been lucky enough to have experienced this place for myself, but wow – how sad, the damage we're doing to our planet at the same time.
Of course, Greenland wouldn't let us leave without at least some form of worry, as some freak weather meant our connection down to Nuuk looked unlikely – meaning the chances of us making the one flight on their one big plane were rather slim.

But, as ever, while some flights north were cancelled, the locals just took it in their stride – no panic, no worries, "it'll be OK" – and we were off…