Why would anyone go to the hottest recorded place on the planet to photograph locations 282ft below sea level?

The answer is simple : Because Death Valley's landscapes are absolutely mind-blowing.
Step out of your air conditioned car and you're instantly hit with the wall of arid heat that awaits all visitors to this seemingly barren land. With red STOP signs in every direction, warning of the dangers of walking after 10am (and the importance of carrying lots of water), you'd be forgiven for thinking it's impossible for anyone to survive for more than 10 minutes in the National Park – but in some months, you'd be very wrong.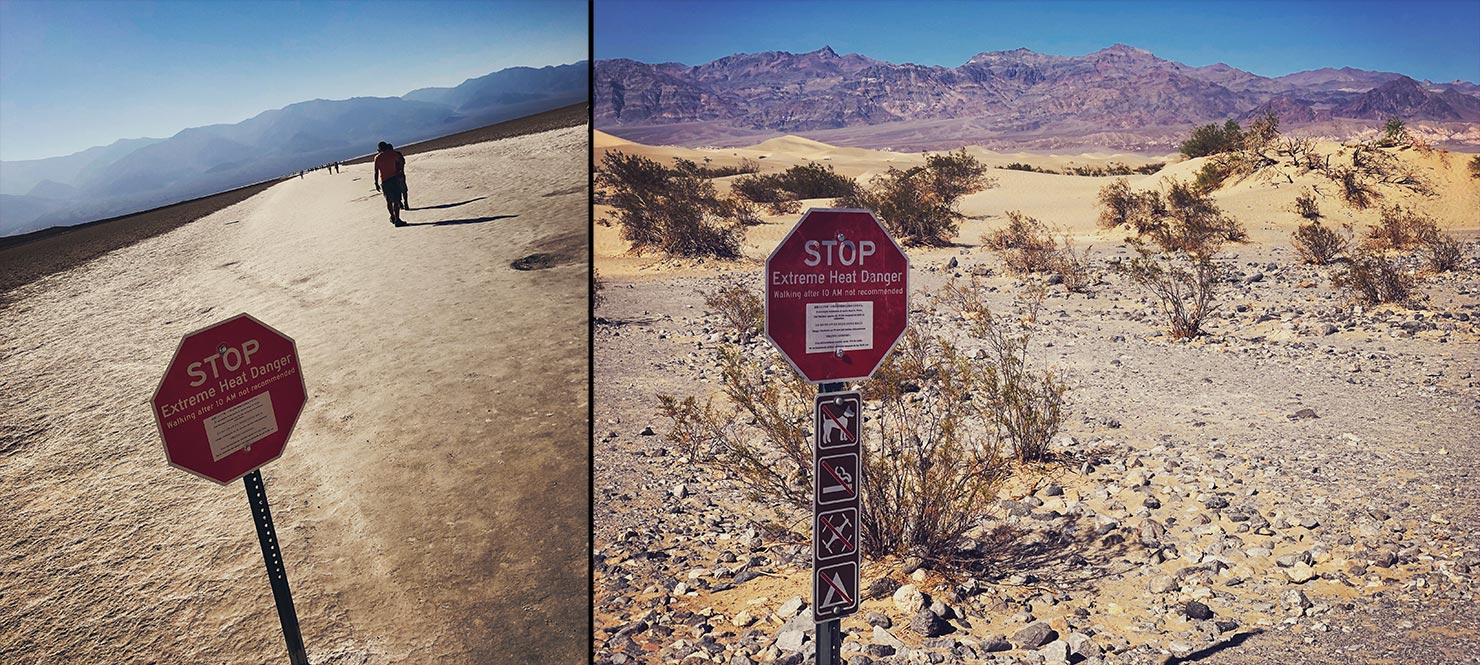 During some parts of the year, of course, these warnings are absolutely necessary. Visiting from late May through to early September can be a big mistake – both in terms of access to remote areas in the extreme heat, as well as the position of the sun for those classic "golden hour" shots. However, during spring and early autumn, you can often find pleasant temperatures in the day, cool breezes at night, and photographic opportunities all around.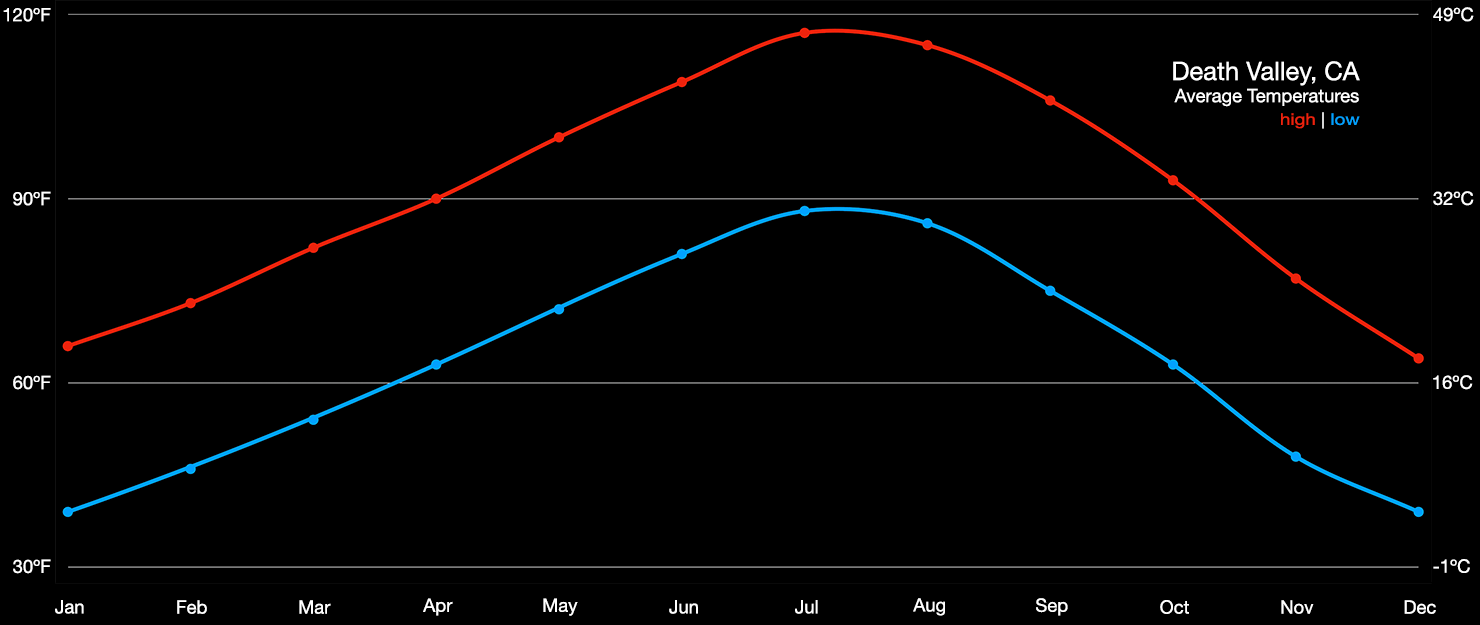 Boasting an average of only 4 days of rain each year, many people are attracted to one particular feature of Death Valley's sprawling desert floor – the Salt Flat Hexagons.
Badwater Basin
With an evaporation rate capable of emptying a 12ft deep lake in a single year, it's the rare "floods" across the salt pan of Badwater Basin that help to form these giant hexagonal shapes – created as the saline ground expands and contracts in response to huge temperature changes.
Unfortunately, if you pick the wrong time of year, or a year with a non-standard weather pattern, you'll be surrounded by lumps of mud and salt crystals (often soft enough for your feet to sink into).

Watching hundreds of tourists heading out across the salt flats to find nothing more than a muddy mess and sand deposits can be depressing – but look a little closer, and the signs of what will happen after the next rain cycle are at least there.

Step onto the plain at the right time of the year, however, and that scene quickly changes into something that delivers solitude, peace, quiet and a huge grin – especially when I'm out teaching with a small group.

Shadows really are your friend at Badwater Basin, especially when the salt hexagons are out in full force. Getting up-close and low down to the salt deposits gives you an amazing insight into how these incredible structures are formed.

Sunrise and sunset are obviously the target shoot times – just be aware that walking out for miles across the salt flats in the relative cool air before sunrise will mean walking back in the blistering sunshine once you're finished (and it's a lot further than you first think!)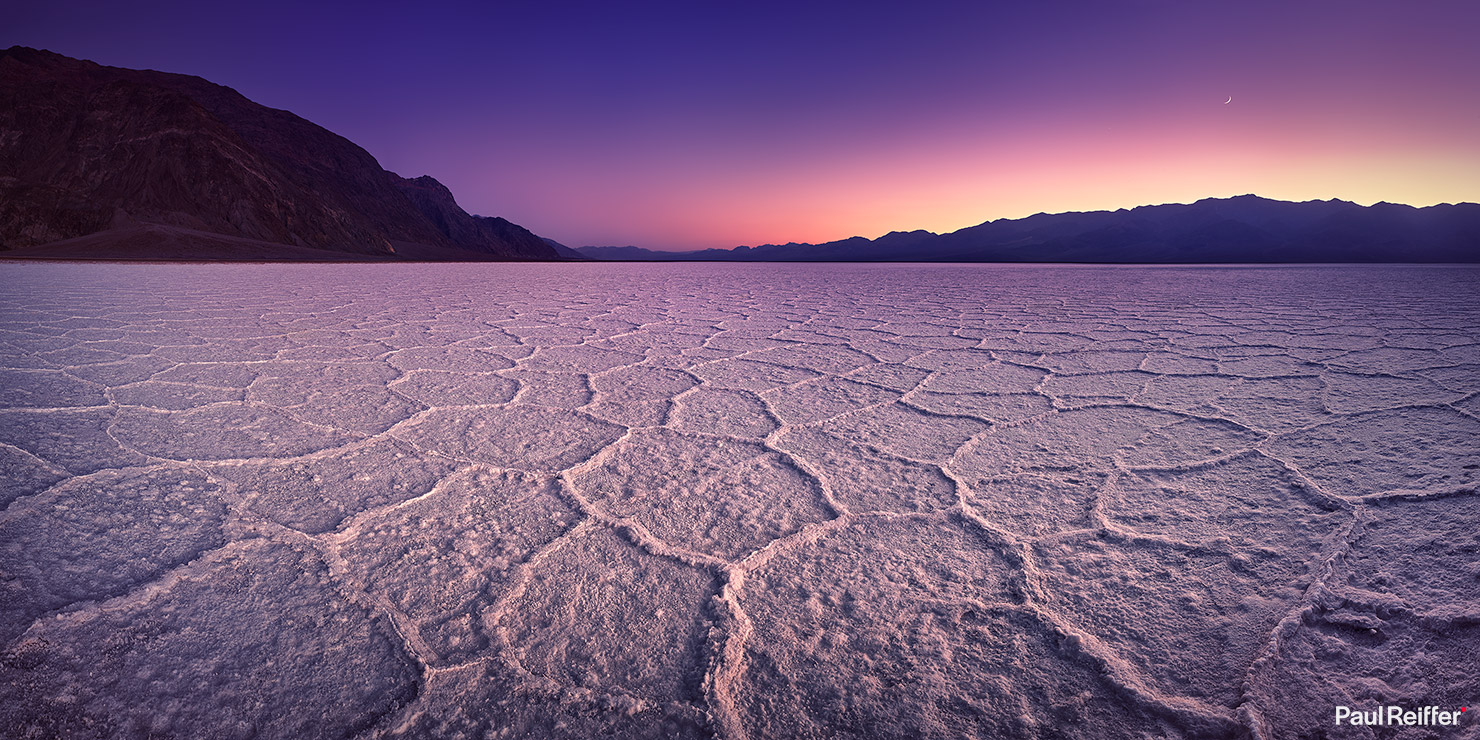 But when you click the button on "that shot", it's a fantastic feeling right there. The texture, colours, detail – and the fact that you've managed to find a small piece of nature that's still relatively untouched, is rewarding beyond belief.
Sadly, having visited Death Valley for well over 15 years now, I've also seen the increase in both the number of vehicles entering the park and the size of those things – large tour groups are rapidly taking over the park, and those moments of solitude are becoming more rare with each passing year.
Devil's Golf Course
Only a few miles from Badwater, across a short dirt track, the Devils Golf Course area is an often overlooked panoramic gem. While definitely not as "pretty" as the salt flat formations further south, its sodium-based architecture is no less impressive, with structures that spread for miles around.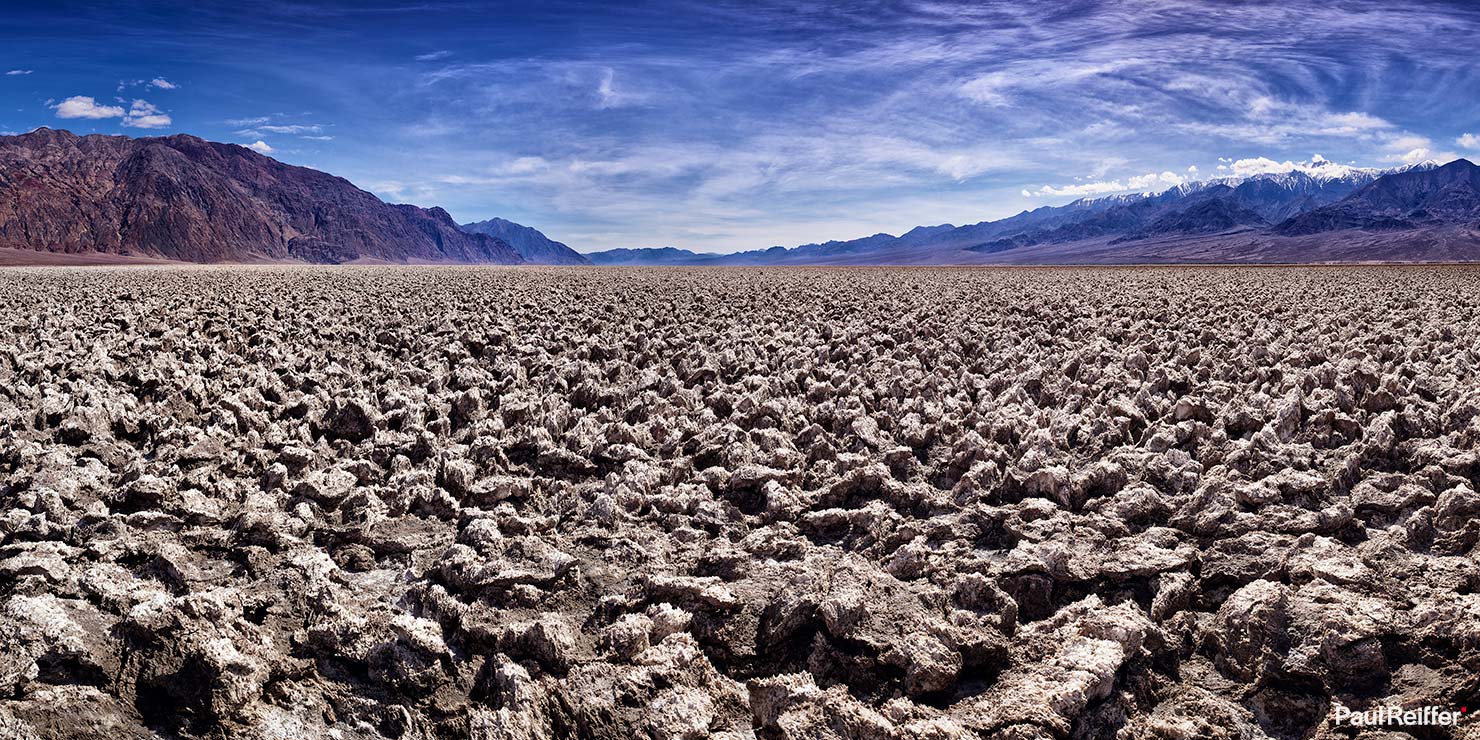 It's a tough environment (and no picture really does the scale of this expanse any justice) – the name is instantly accurate once you've visited, and these sharp salt-crusted rocks are brutal on your shoes. With all that said – wow, what a sight to behold.
Of course, on my latest trip, I was fortunate enough to be able to capture this scenery with the new Phase One IQ4 150MP digital back. A marvel of camera technology in its own right, but a true champion for keeping going (with only 1 battery change per day) throughout the blistering heat in the park. As a result, the levels of detail I could capture are simply wonderful – with unbelievable sharpness from beneath my feet all the way out to the mountains beyond, using the latest wide angle lenses.
As an example, here are two 50% crops (due to retina screens) of the salt flats and Devil's Golf Course up-close: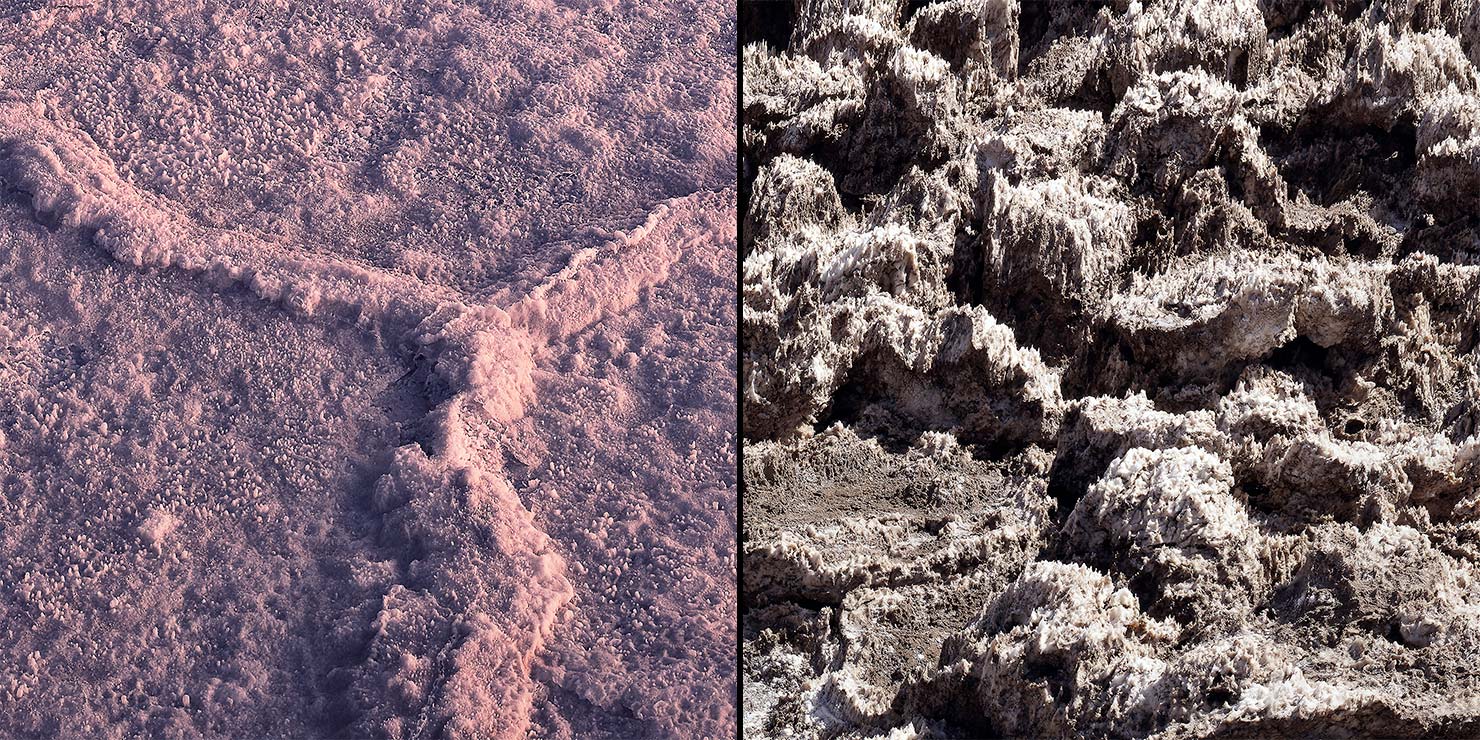 Mesquite Sand Dunes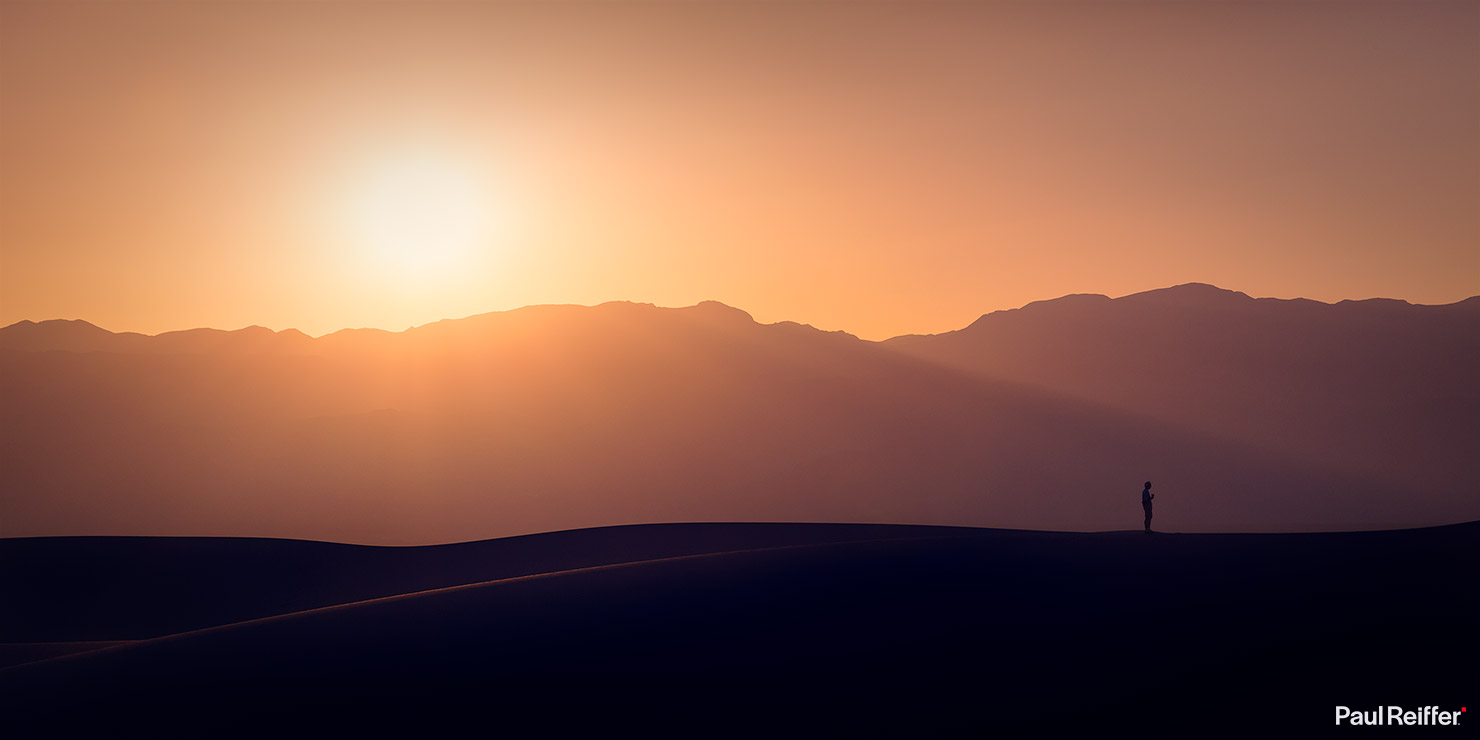 One of my favourite, early-on, images from my visits to Death Valley National Park was always this shot – "Time for Coffee". I got lucky, with a long lens, at the right time, stood in the right place, just as this stranger stopped to contemplate life with a coffee cup on top of a sand dune.
What the picture does demonstrate, however, is the incredible impact a single line of light can have on the shapes and structure of any shot you take while surrounded by the monster sand dunes at Mesquite Flat.

This is another furnace of a location – walking up and down these giant hills with no grip underfoot can be exhausting, so take LOTS of water if you're planning to explore deep into the area.
Light is 98% of the shot here. Finding a clean dune (without a million footprints) is 1% and the remaining 1% is down to composition – get the wrong light, or if the sky is flat, or the sand dunes haven't been visited by their "reset winds" to smooth out the footprints, and you'll end up with a dull image.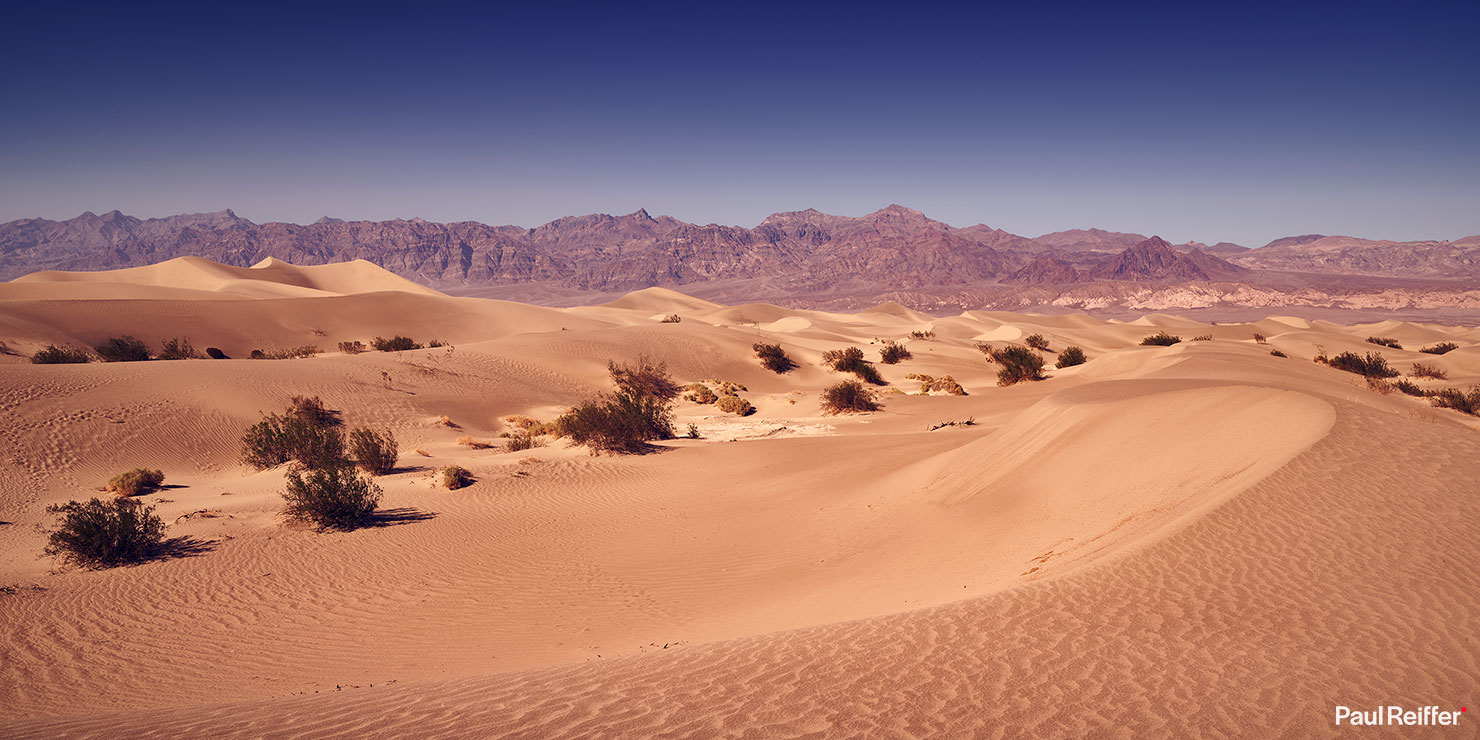 Still stunning, as a reflection of nature – but it's not "the shot".
Get the right light, at the right time, and facing the right direction – however – and you're on to a winner.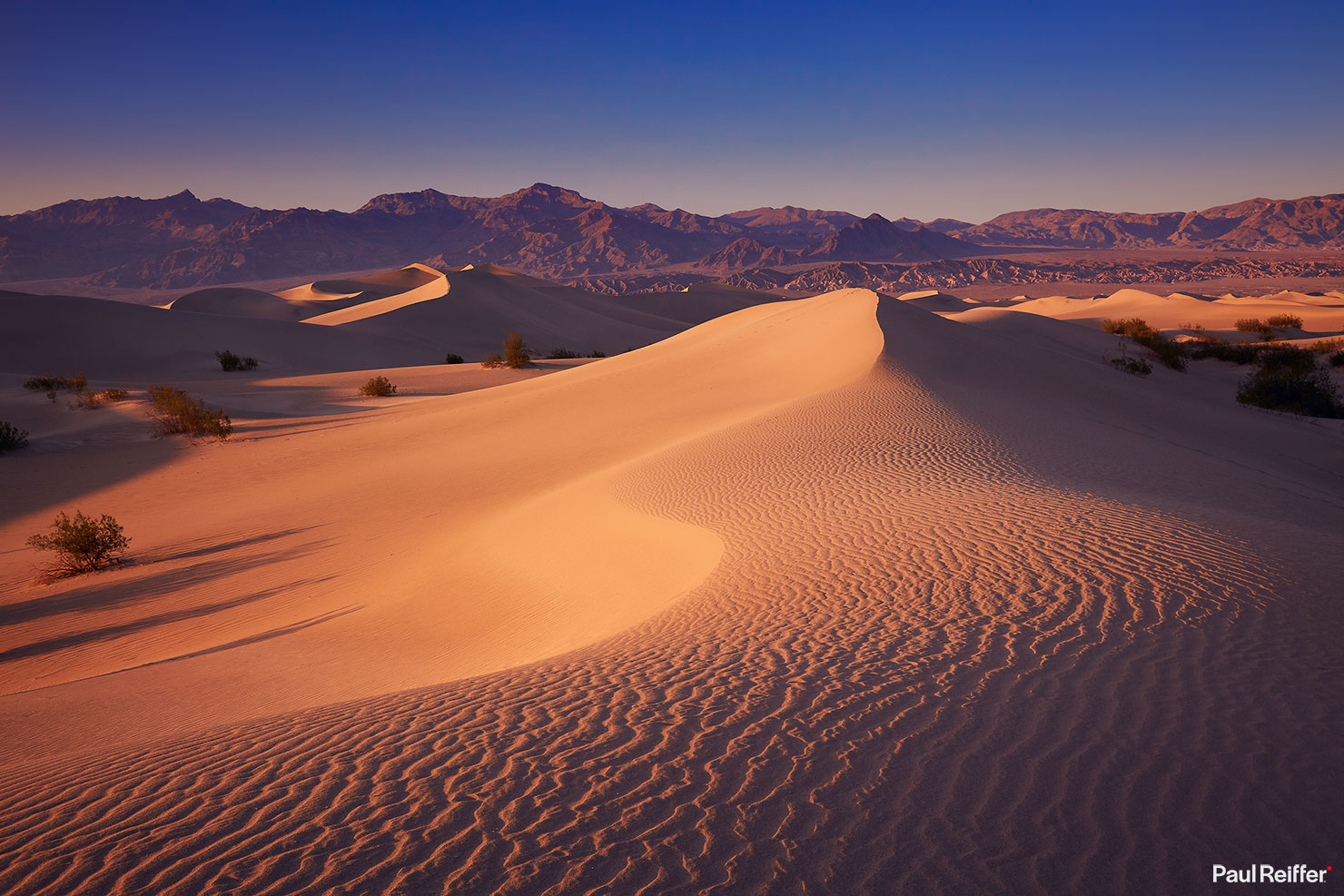 Those soft, golden tones, pushing the texture of the dunes to the foreground as they're carved by ongoing winds across the valley floor, leading off to the mountains that surround Death Valley on all sides – that's what we're looking for here.
Zabriskie Point
A firm favourite among many for sunrise – this relatively small hill is actually the start/end of a trailhead which leads all the way through to Golden Canyon and beyond. But that's not why all these people are here before sunrise each morning…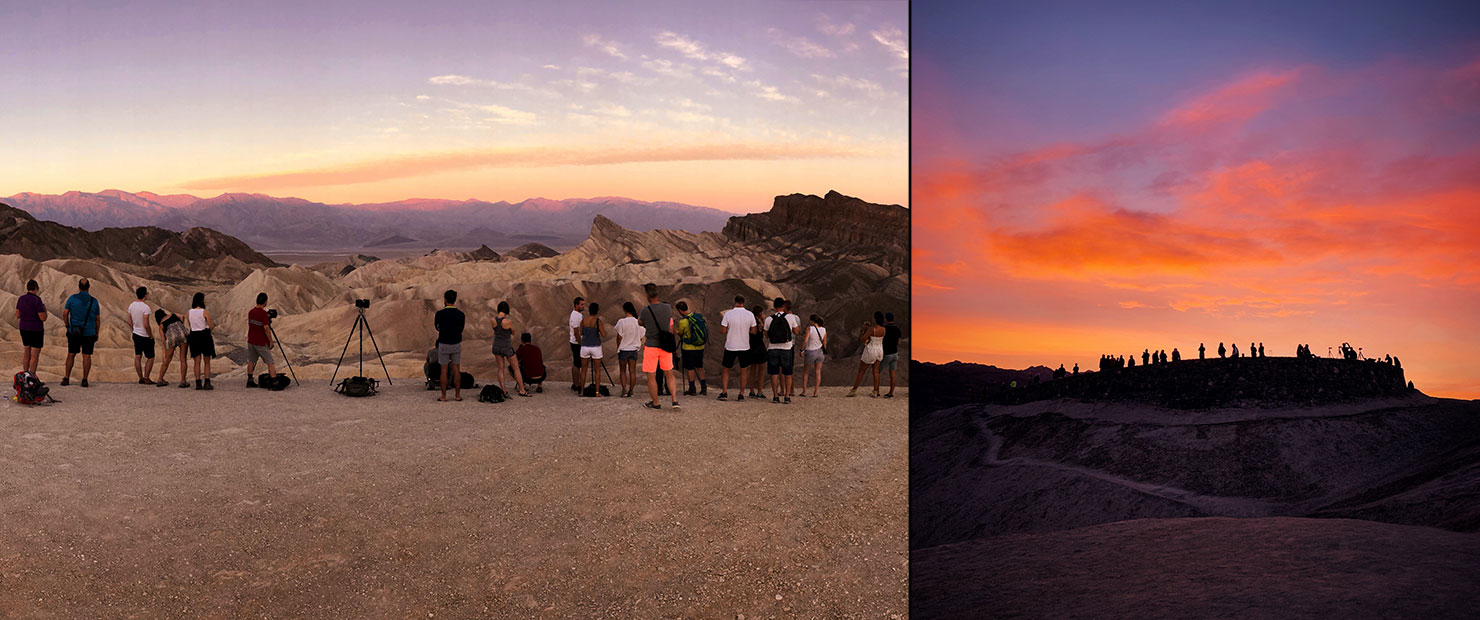 (And yes, this is normal)
Stood within these awesome rock formations, it's like the earth has opened up in front of you to show you the years of history inside. With the basin of Death Valley itself in the distance, you can often find unique colours filling the sky and lighting up the rocks in the foreground for up to an hour before the sun finally hits the ridges of the mountaintops beyond.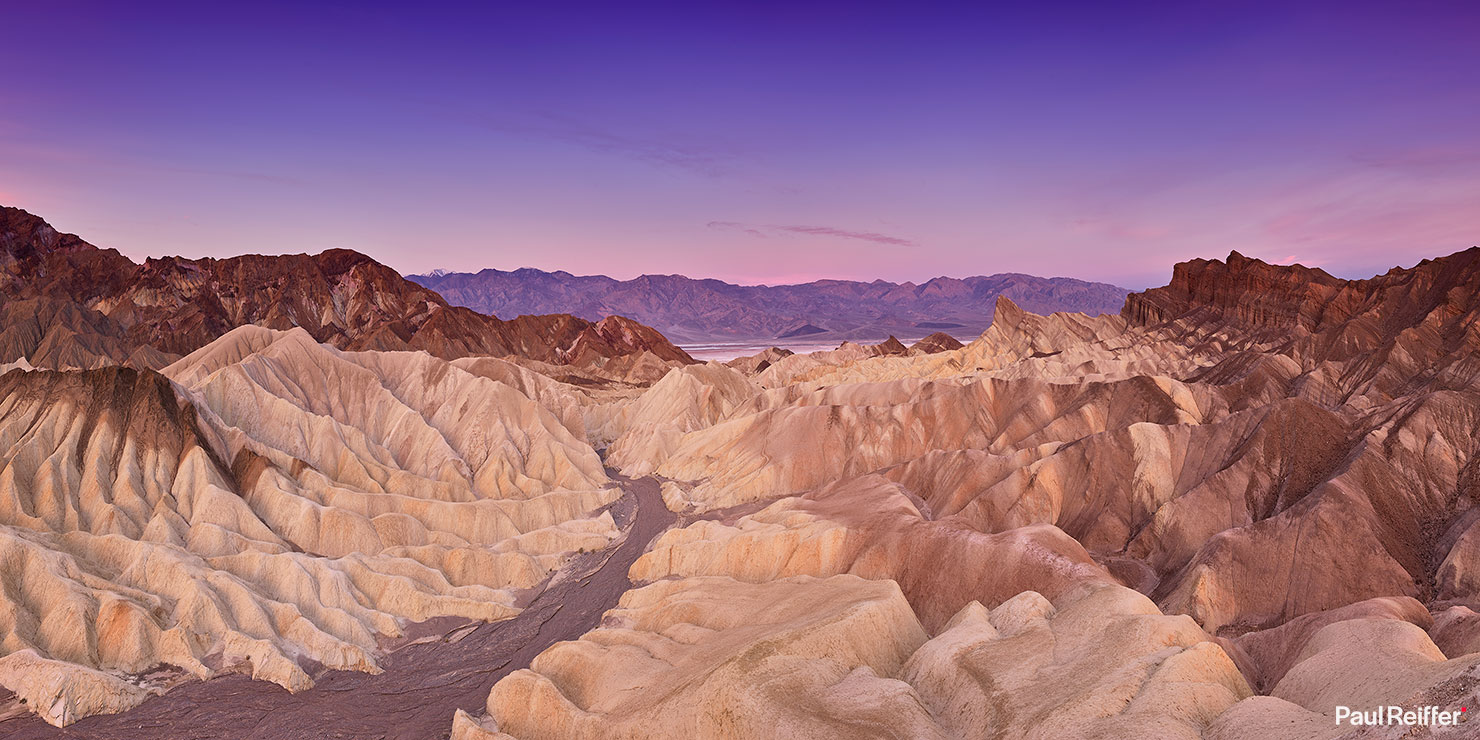 But while everyone looks into the valley, hoping for light to appear and bounce off a cloudless sky – just turn back towards the west if you can, just for a moment…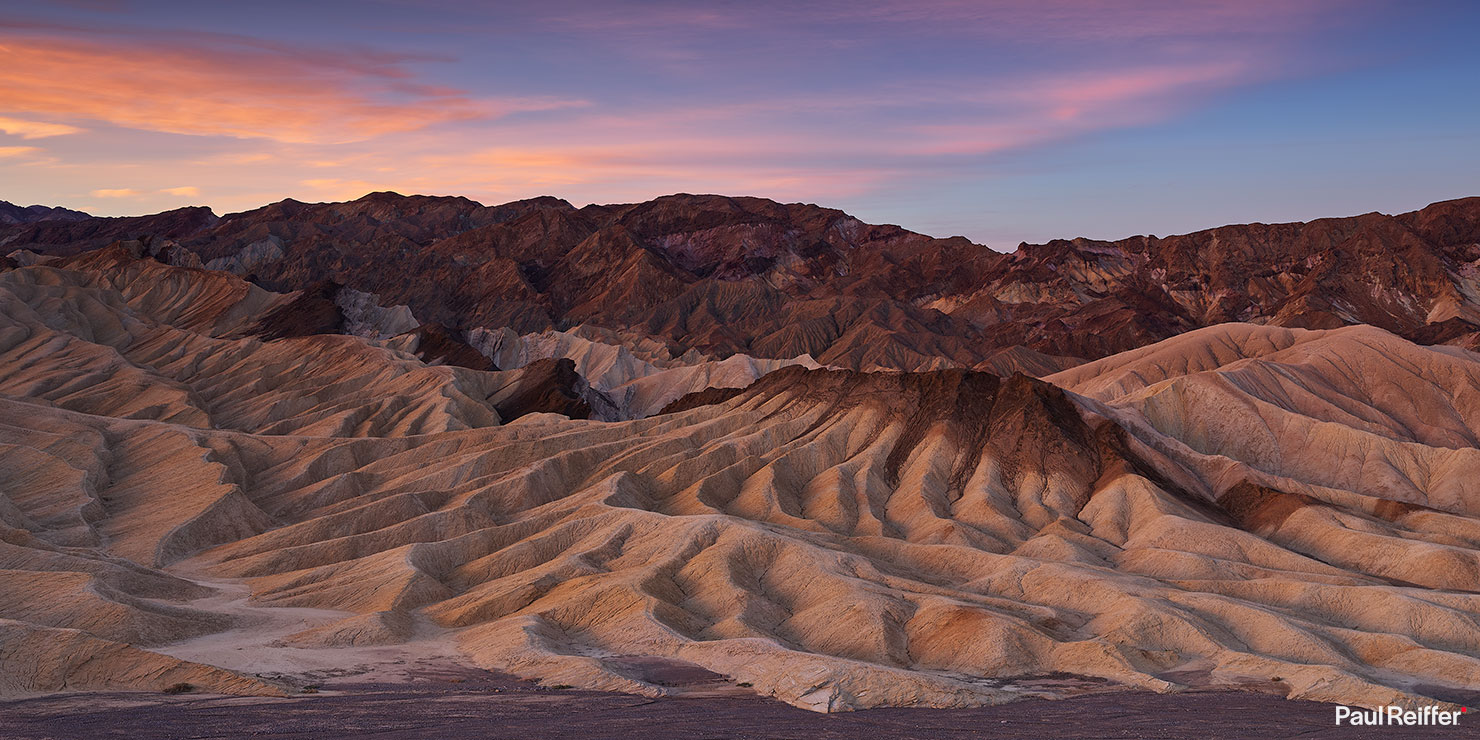 To me, this is Death Valley. The "badlands" – these giant structures formed around what would, to all intents and purposes be a shoreline to this huge lake bed, in what is now known as the hottest place on earth – sat underneath a pastel rainbow of colour in the sky.
Dantes View
And what about sunset? Well, if we're finished shooting salt flats, natural hexagons, rock formations and sand dunes in the evening sun, a relatively short drive up the winding hills towards Dantes View can give you that classic "valley view" as the salt beds and rock formations are laid out way below.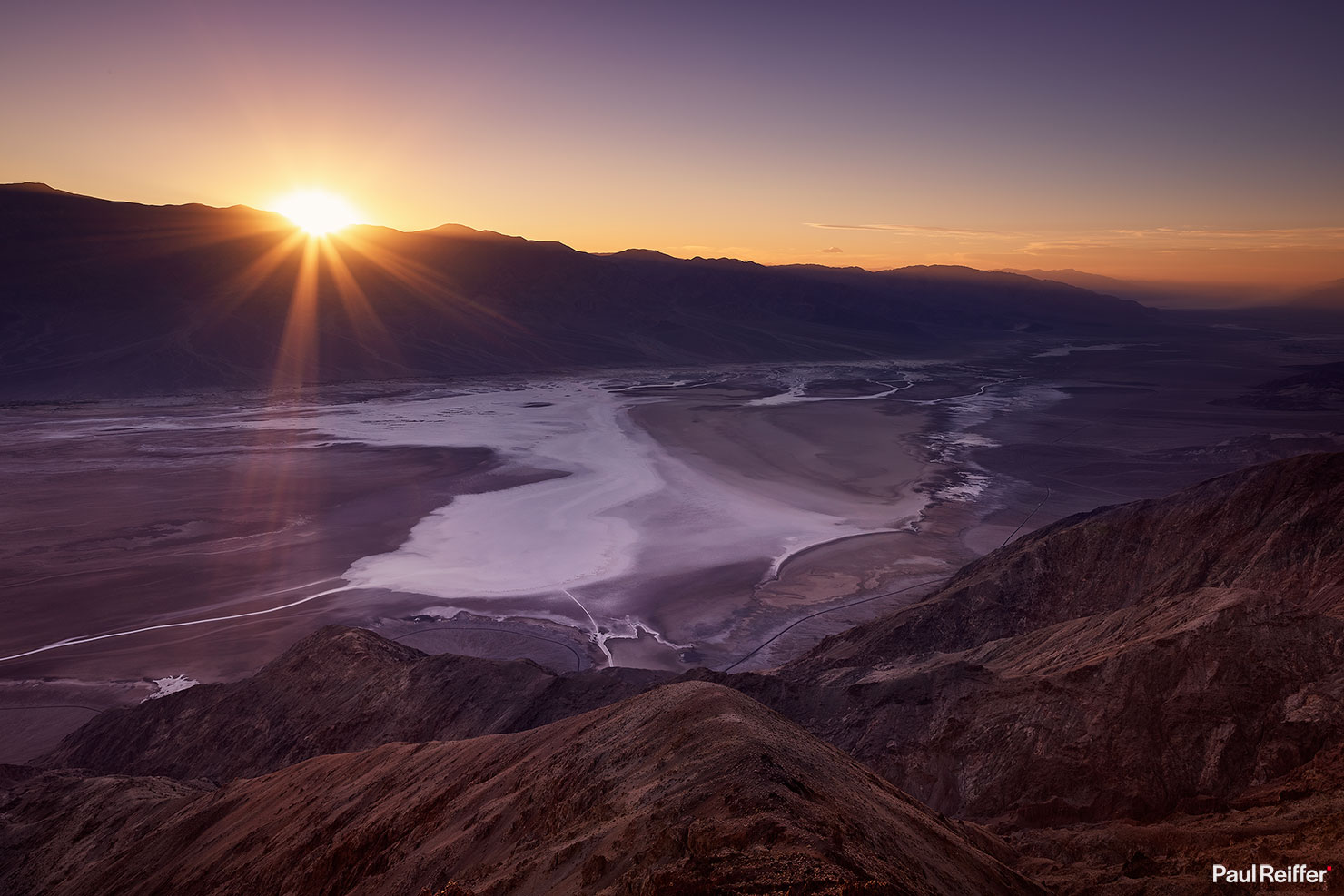 It's a classic view – but watch those winds the second the sun disappears behind the mountains of the Panamint Range. It catches a few people by surprise, but the temperature change leads to quite a breeze flowing through the valley floor and up across these hills.
As someone who's fascinated by the Badlands in the park, a quick turn to the east can open your eyes to some stunning layers and textures that just keep going for miles into the distance.
Astrophotography
So far, we've focused on those key golden hours of the iconic landmarks within the National Park – but I'm often asked if Death Valley is a good location to shoot at night. The answer? Yes, and no…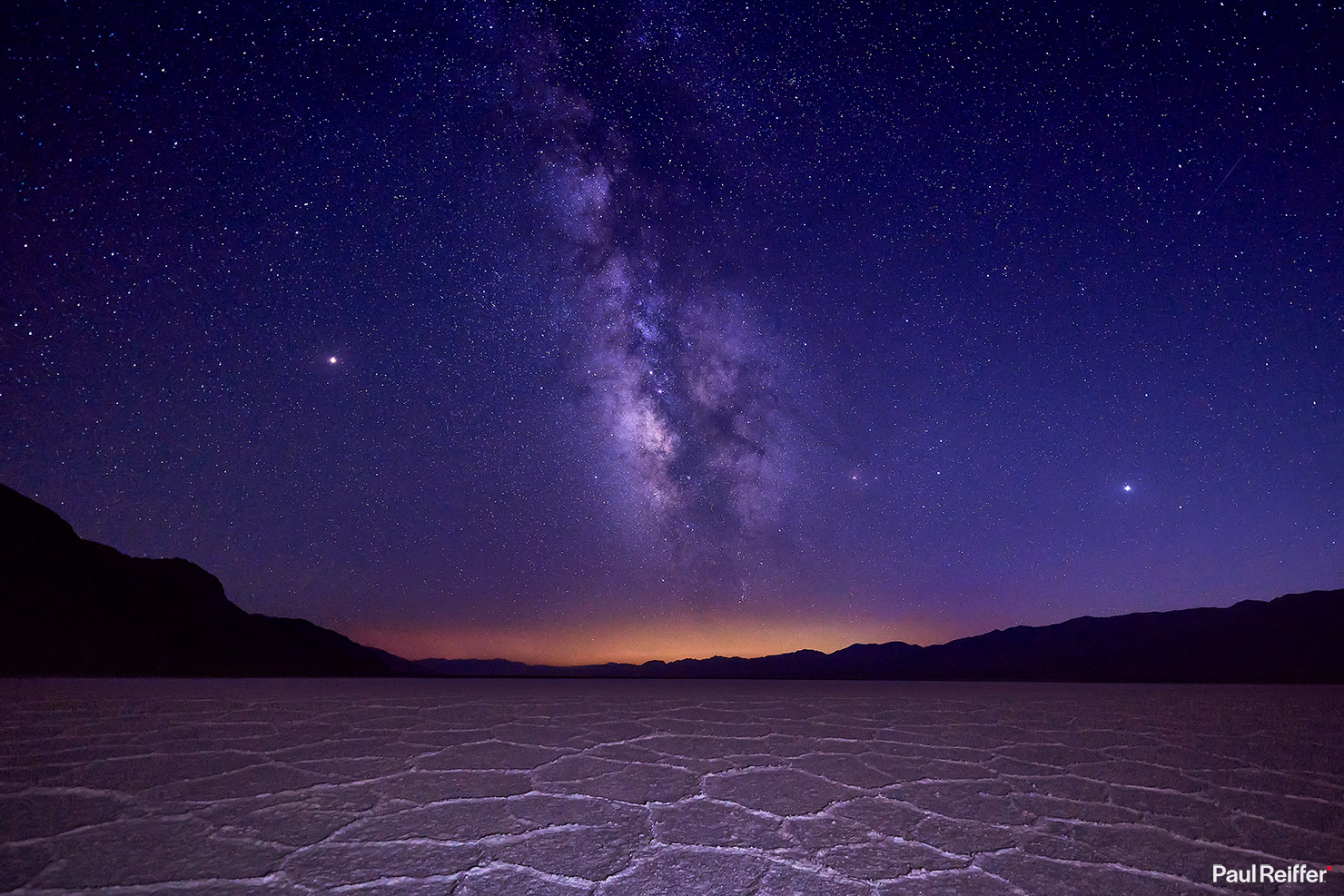 Yes!
Because, WOW – with so little light for miles around, I've rarely seen so many stars so clearly on a cool evening.
Because, with the right foreground (such as the hexagons of the Badwater Salt Flats) and a little bit of iPhone light, you can capture some truly dramatic scenes with the milky way in the sky above.
No…
Because if you get here at the wrong time (when it's too hot), the heat haze can distort and (in the worst case) make some of the night sky disappear.
Because if you don't have a good foreground, or the ability to add light to something near, you're shooting into a black landscape with no structure.
Because, venturing out into the furthest parts of the park alone at night can be a risk that many might not want to take.
That said, I've spent some incredible nights in Death Valley – looking up at the milky way, allowing my eyes to adjust and see more stars than I ever thought possible. I've laid down on the ground with friends for ages, just staring into the sky in silence. I've enjoyed a beer beneath a cluster of shooting stars above my head. I've sat in wonder, just thinking about how small we really are in the grand scheme of things.
And what did all of those events have in common?
I didn't have my camera with me.
You see, to me, sometimes the incredible moments in life occur when we're not shooting – when we're not concentrating on exposure, ISO, aperture, foregrounds and composition. They happen when we put everything down and experience the world around us.
So is Death Valley a great place to shoot stars in the sky at night? Yes, it can be – but it's an even better place to NOT shoot, and just enjoy the view.
The Racetrack Playa
Many years ago, I was keen to explore what is now referred to as "The Racetrack" – a playa on the northern end of Death Valley, and the home of many iconic photographs of the mysterious moving rocks. Getting there requires hours of a brain-shattering drive across miles of washboard and off-road terrain, only to have to return the exact same way you came in once finished.

You'll want a Jeep, or a very good 4×4 at least – no, your cheapo Ford Fiesta rental car isn't going to cut it down here (or if it does, it might not on the way back!), so be prepared.
While the mystery of the moving stones has recently been solved (it's related to freezing ice sheets and wind), the disappointment at the size of them when most people make it to "The Grandstand" to see the phenomenon has not. Wide angle lenses do a lot to distort proportions, and while interesting to explore, it's a long way to come to see a few pebbles with a motion trail…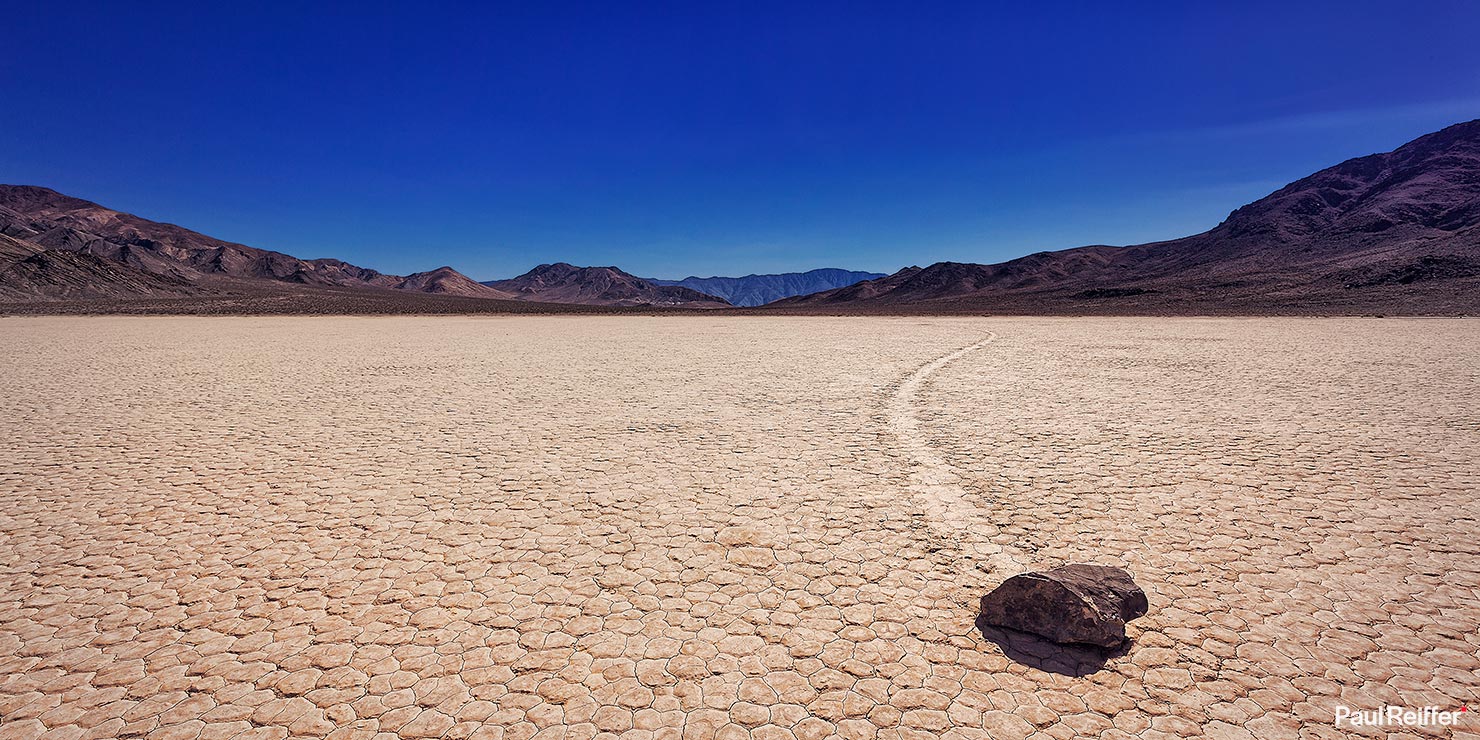 While I love natural mysteries, and I'm very happy to have visited the playa myself, I can't say it's one of the most exciting locations I've been asked to shoot – Death Valley, in my view, offers so much more in other places.
Artist's Palette & Other Locations
We haven't even touched on the history of the Borax Works in the park, or Mustard Canyon, or historic Stovepipe Wells (where there's a great deli store too, and gas that's half the price of in Furnace Creek!).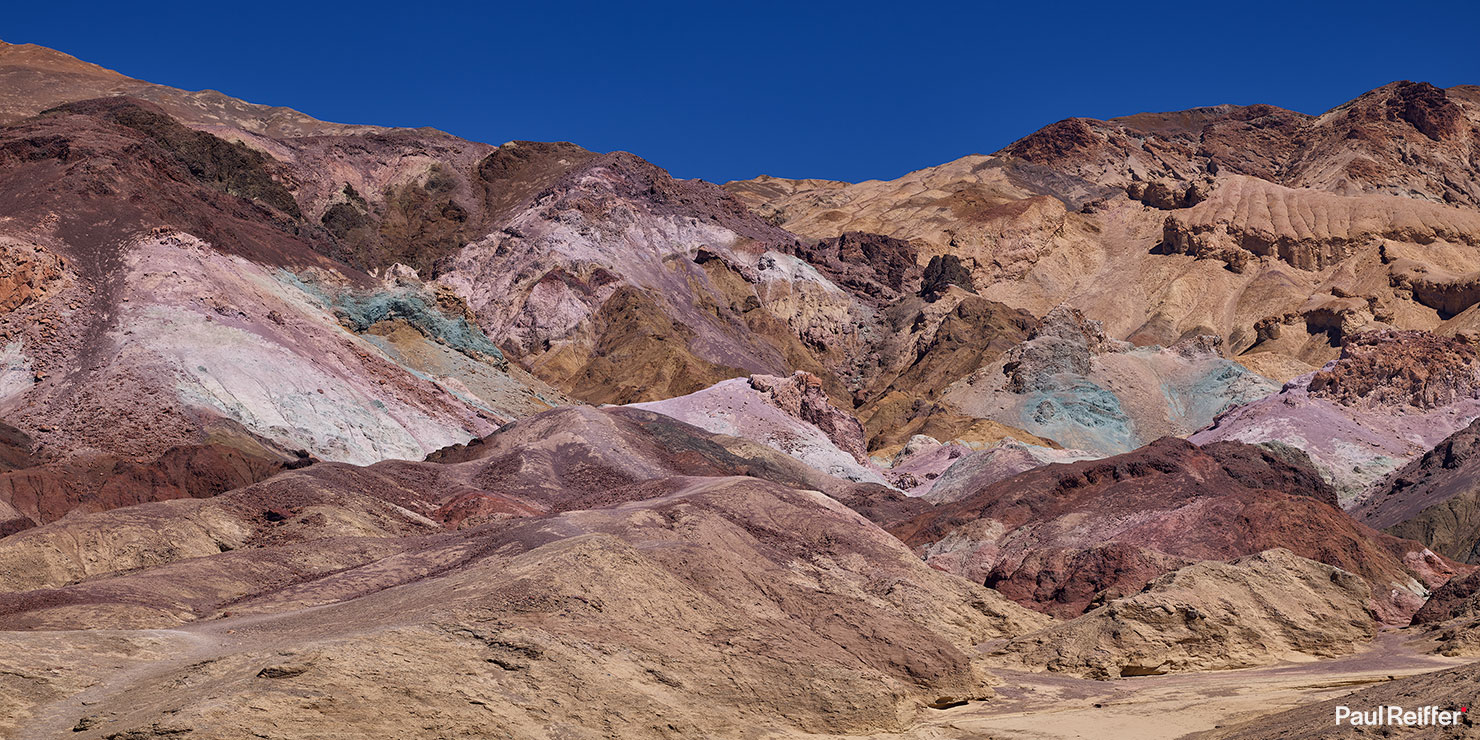 Death Valley is a park that I just can't ever get enough of exploring. Whether that's hiking through the canyons and natural bridges, exploring the amazing natural colours in the rocks of Artist's Palette (pictured above), or finding running water in Salt Creek in comparison to the absolute barren-ness of Ubehebe Crater to the north – there is so much going on in the park, it feels unfair to have the name it's been given!
When to Visit?
Well, in theory, there's never a bad time to visit the park, but photographically, let's look at a slightly different question:
When NOT to visit…
Personally, while I find the park's record temperature of 134ºF / 57ºC quite incredible to think about, car air conditioning isn't generally designed to overcome those levels of heat, and standing in it with a camera for an hour is brutal.
There are photographic considerations, too – it's not just our human bodies that get hot!
Camera sensors produce a lot of noise when they heat up. Controls can become unresponsive (most cameras are only designed up to 40ºC for operation). Batteries last for minutes instead of hours. Lens elements heat up and plastic parts start melting (I've seen it happen!)

Yes, it's cool to get the shot of the high temperature while sat in a comfortable car – or even on your classic rocking chair on your own veranda if staying at the Ranch/Oasis at Furnace Creek . But to be out, exploring, while taking photographs I would never recommend visiting the park from the end of May through to the start of September.
Besides, who wants to be up and about at 3:30am to catch sunrise at 5:30am, when a few months earlier/later gives you an extra hour or two to rest…?
Also think of the position of the Milky Way for night shooting, along with the impact of heat haze in the summer months.
In essence, plan a visit when you're going to be able to enjoy your time there the most. Typically, that's March through to mid-May and mid-September through to November.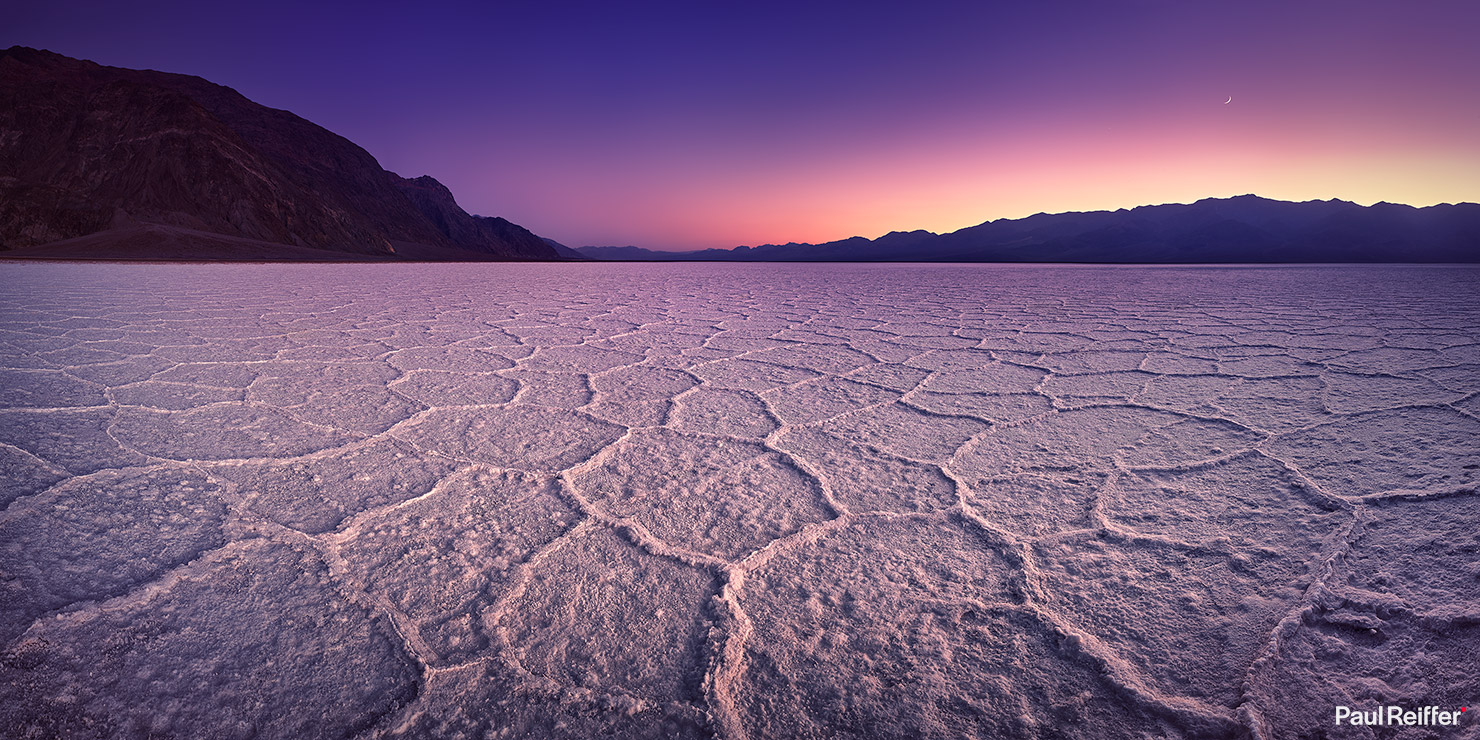 Death Valley Workshops
I can't count how many times I've visited this amazing National Park, but it will always be one of my favourite places on earth to guide people around in small, private workshops, capturing images of a landscape that feels like that of an entirely different planet.
Sadly, the park is getting more and more popular with each passing year – often with large group workshops that have the ability to ruin a view by blocking it for other visitors. Just be aware of your surroundings, speak to the park rangers to get an insight into the best places to go for the time of year you're visiting and ensure you've chosen a photographic guide with lots of experience during different seasons in the park. Get the timing and locations right and you'll have a fantastic time exploring this stunning corner of the world.