While many now focus purely on drones and helicopters to get some spectacular shots of our cities from above, I'm yet to find a long exposure image (in either scenario) that can be enlarged to a size much bigger than a phone screen.
It's obviously not a problem for social media posts, but how about when we want to print or display a cityscape at night in high resolution? For that, our trusty man-made balconies, platforms and rooftops still win…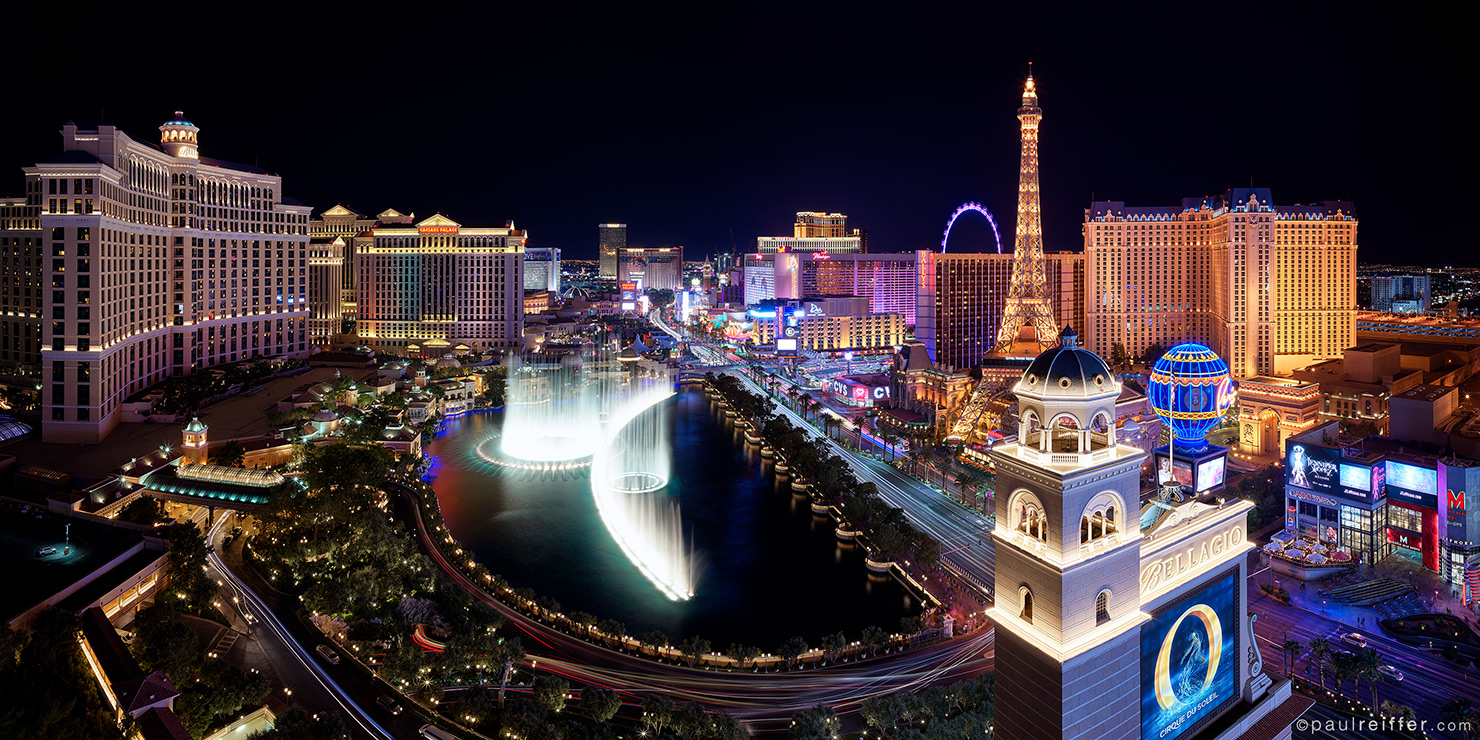 Sitting above, but within, a city is still my favourite angle to from which capture the spectacular scenes below. Sure, the rooftops and towers are great, but sometimes being a little closer to the structures around you can really help the viewer feel like they're part of the action too.
So, what a pleasant surprise to be greeted with on arrival into Las Vegas, just before our California workshop began – an awesome view from a private balcony.

A few years back, I took a small group to the stunning House of Blues Foundation Room, sat high above the Las Vegas Strip at the top of the Mandalay Bay Hotel. Photographing from there has always delivered breathtaking views, and the fact they have a bar made our time there even more enjoyable…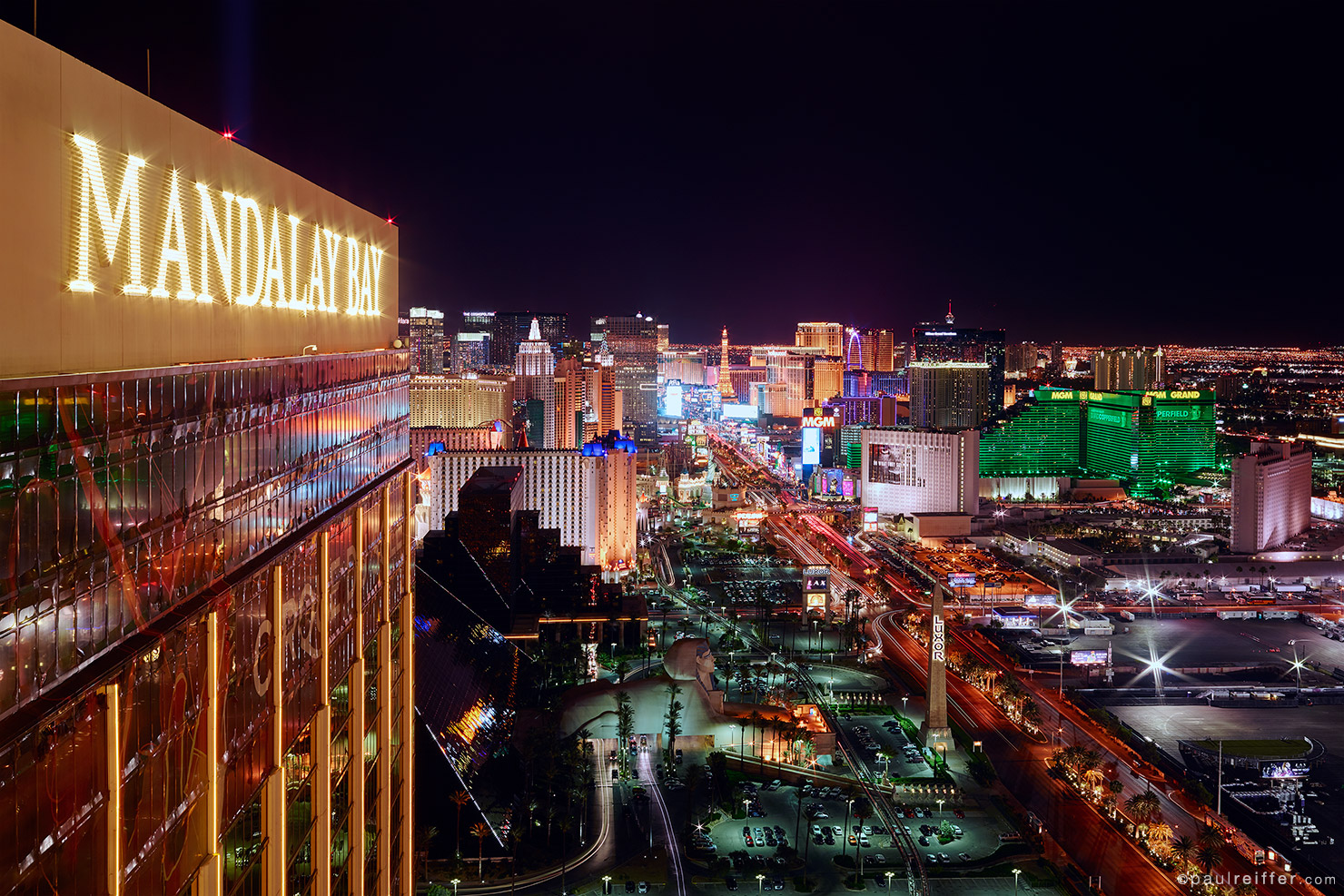 …but it still felt "distant" – at the very south end of The Strip, while you can see virtually all of Las Vegas in the distance, it didn't feel like I was integrated in the city that surrounded us. At 100 million pixels, the image above has already been used by clients in its high resolution format, but I really wanted to take this opportunity to get a 150MP+ image from the heart of the action.

Sat in the summer heat as the sunlight slowly faded, few things can beat the few hours I enjoyed – watching the Fountains of Bellagio, wine in hand, getting ready for the lights below to unfold into the night.
A little bit of graduated ND was actually needed on the bottom right of the shot, to avoid the lights from the Bellagio entrance tower from over-exposing. Questions often pop up when people see me using ND filters at night, but if we think about it – regardless of the time of day – if a scene has an unbalanced exposure, a filter can provide an instant fix while still allowing me the 25 seconds I needed to capture the movement in the water fountains to the left.
So what about the level of detail I was aiming for?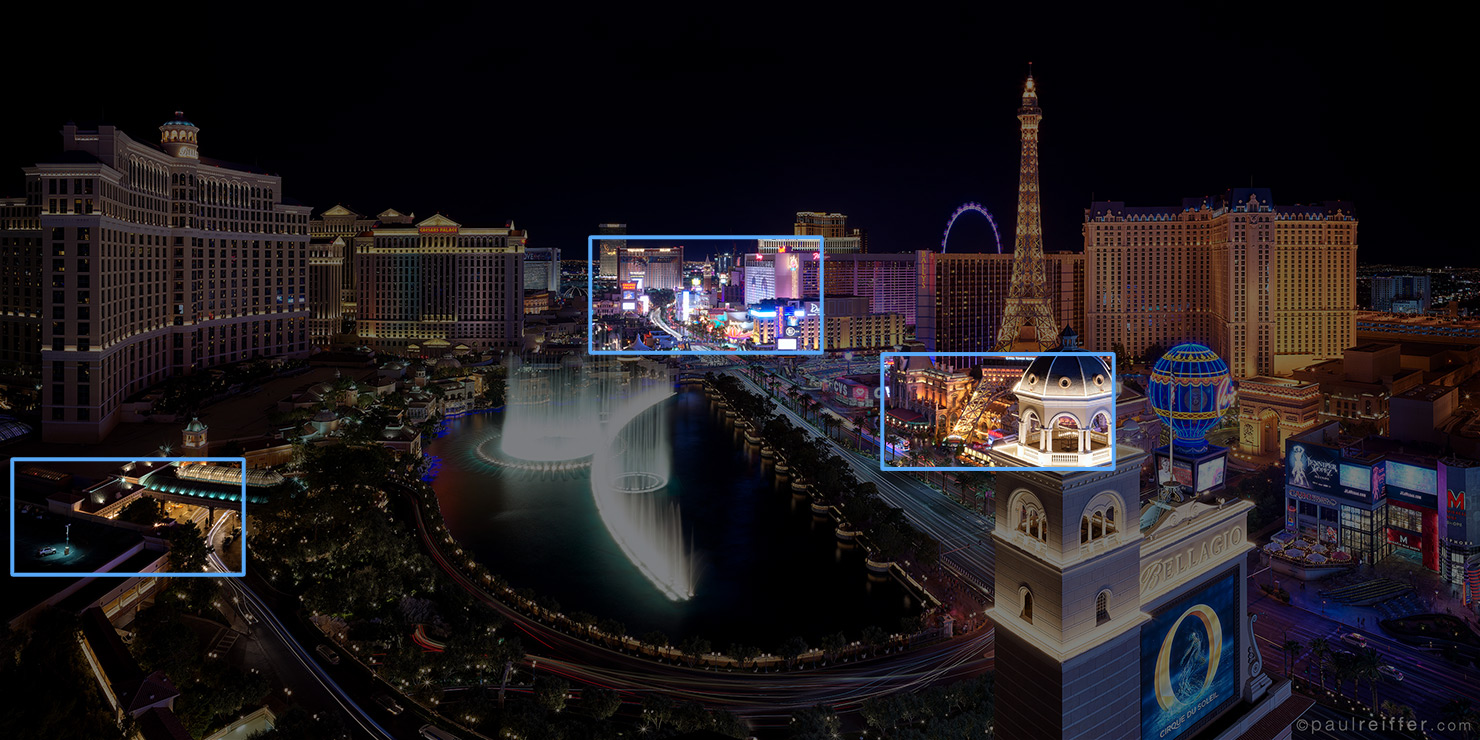 Here, below, are three 50% crops of the full resolution image. On a retina screen, these will appear a lot sharper (and are closer to a 100% crop), but I just love the level of detail my Phase One IQ digital backs consistently deliver.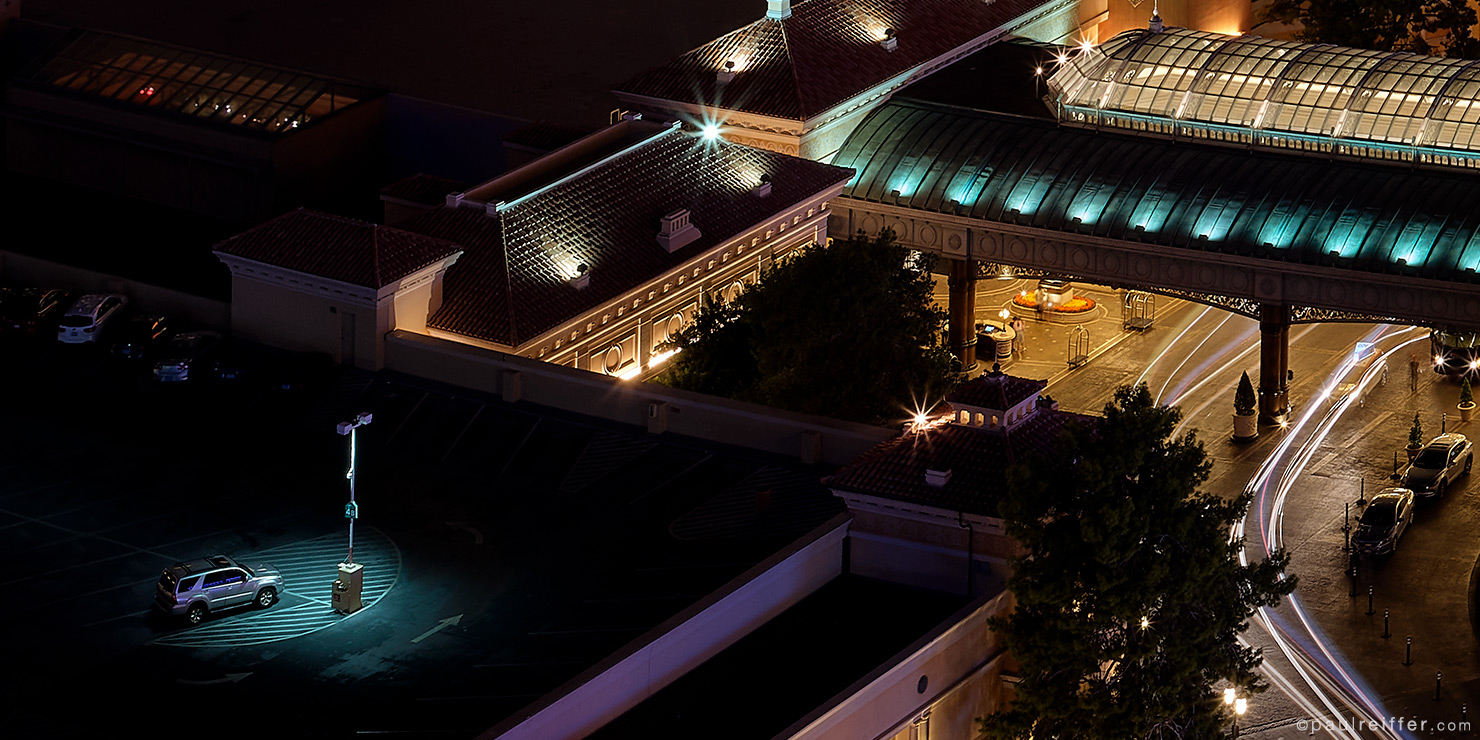 First off, the lone car on the rooftop – perfectly illuminated in position, as if it's watching over the streets and people below.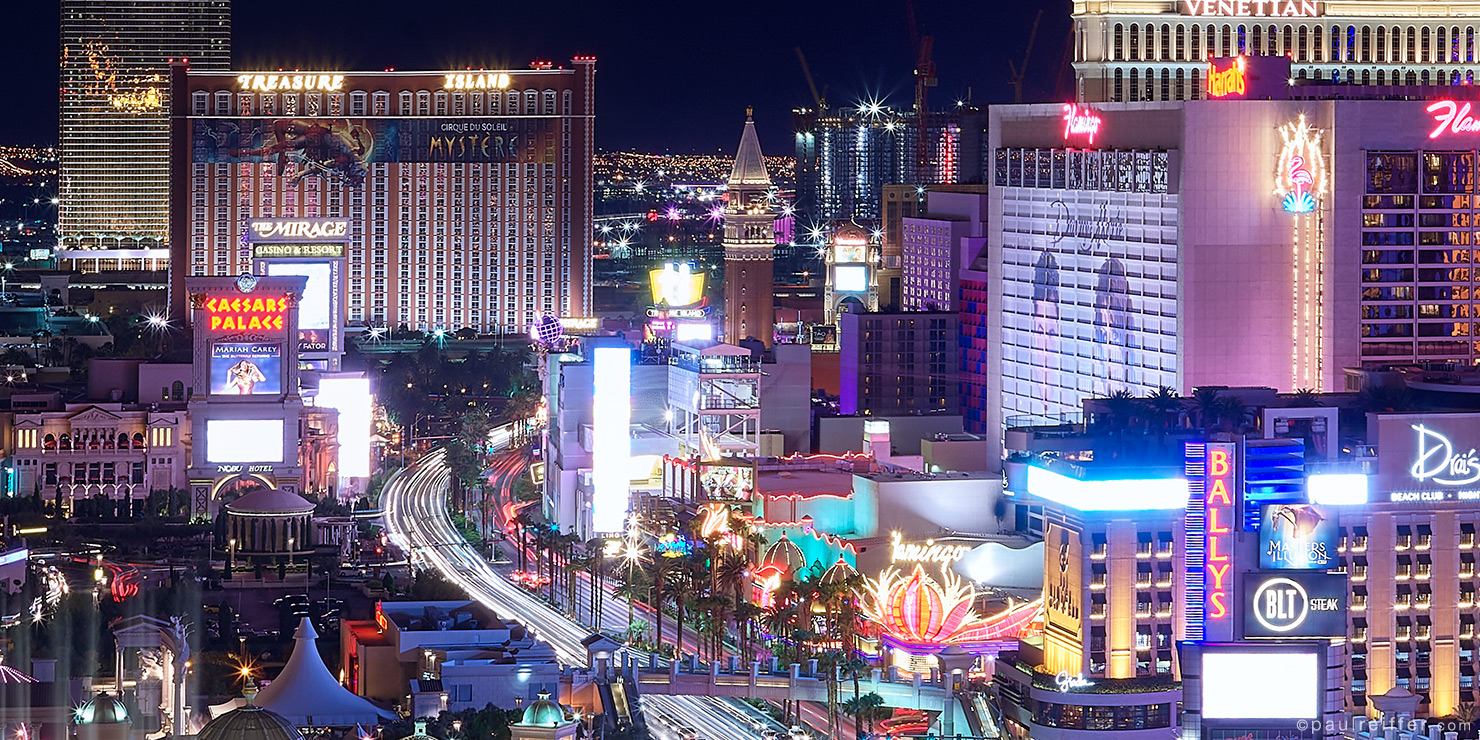 Then the scene out in the distance – remember, this is a panoramic shot, on an wide-angle lens, and yet still we're able to pick out individual cars and signs over a mile away from where I was stood.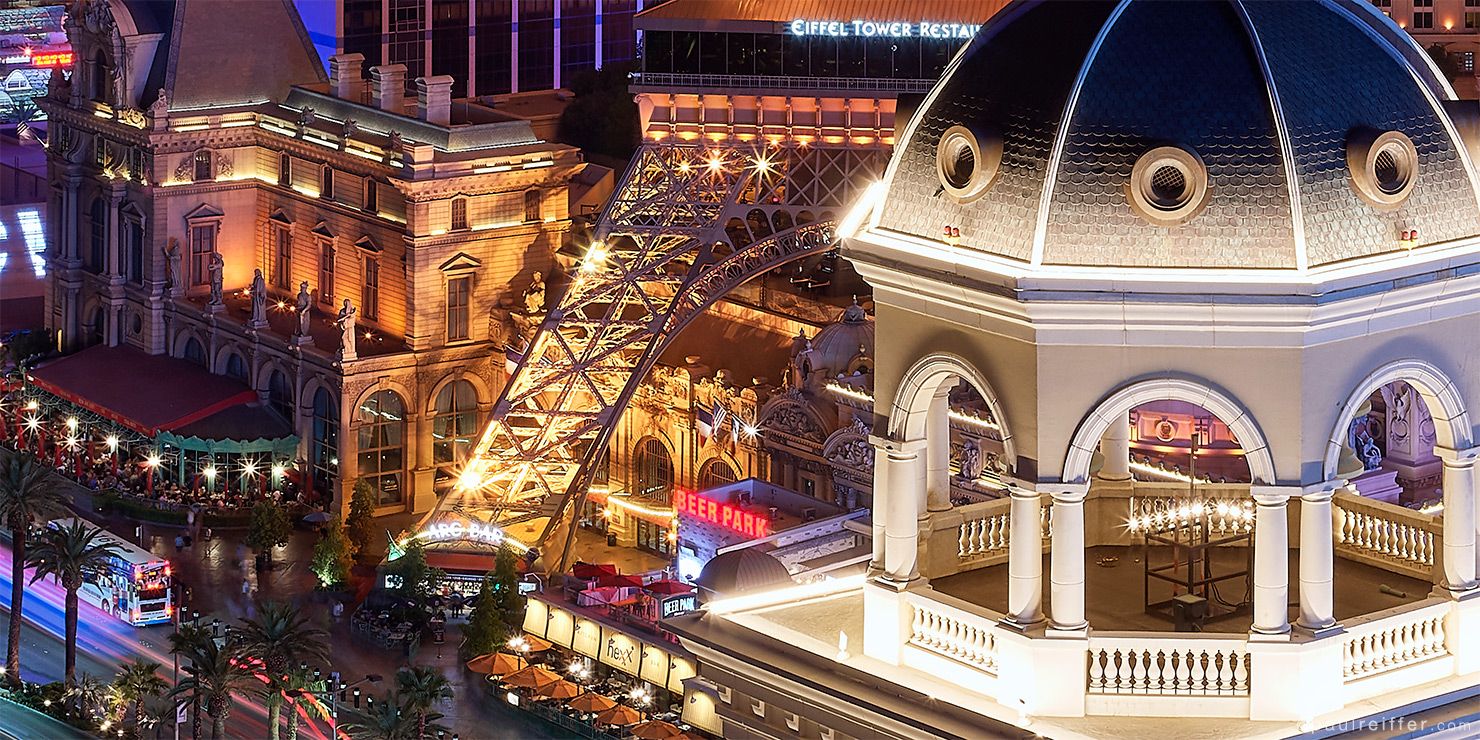 And what about up-close? While shooting at f/16 can introduce a tiny amount of diffraction, the benefit of using such a massive depth of field is (literally) quite clear.
So, Las Vegas – such an amazing place to enjoy, but also to sit and just watch from above.
It delivers fun, excitement, a feast for the eyes; sometimes along with sadness and the darker side of human behaviour and emotion – but that's all part of it's appeal. The city itself is one big gamble, regardless of the games contained within.
And just like the Vegas shows, there's always one last trick from the past – an encore, if you will.
While many others have started to play with the technique since I began creating Tiny Planet cityscapes quite a few years ago, there's something special that a 150 megapixel image can do which most cameras can't: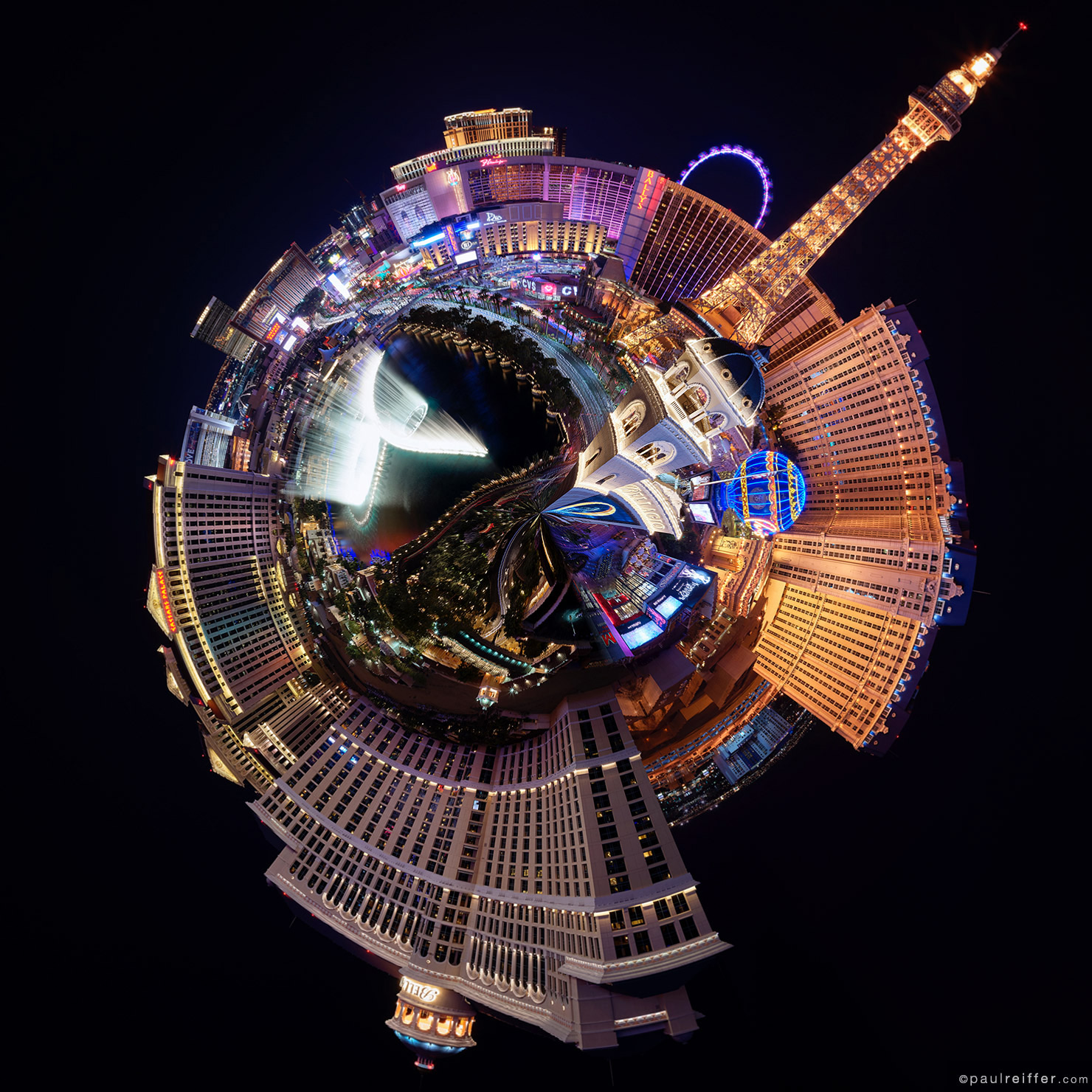 And that's wrapping an entire town around a miniature world in true 4k resolution.
Stay the city full of sins, Las Vegas!