Chicago. "The Windy City" – home to some of the finest architecture, food and (now!) baseball teams in the USA.
Stood on the rooftop of the Carbide and Carbon Building, now the home of Chicago's Hard Rock Hotel, it's easy to see why people are so fascinated with this city – looking out across the skyscrapers, neighbourhoods and river as it weaves its way through the juxtaposition of historic stone buildings and sleek modern towers.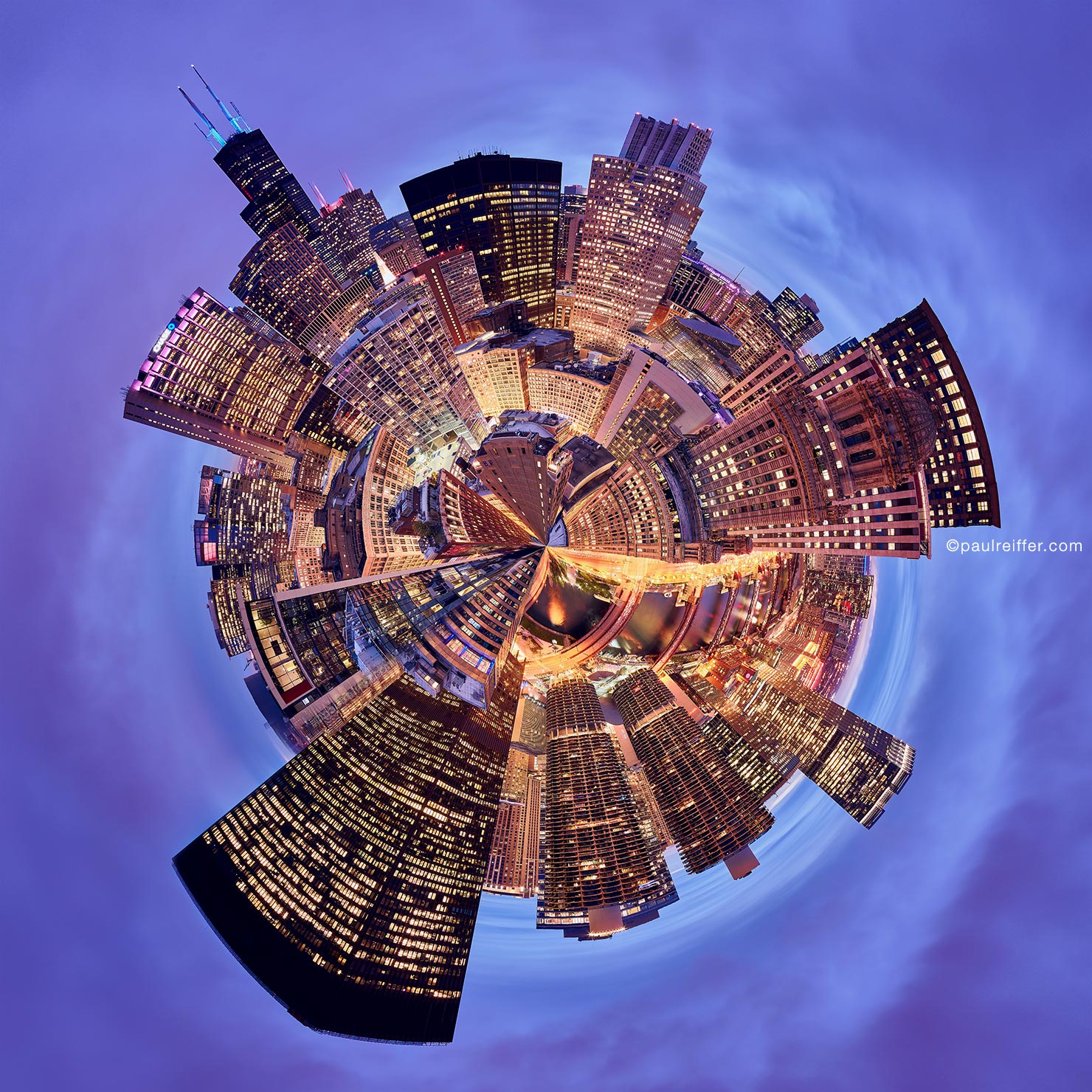 And what a city it is. Visiting late in the year was always going to be a little risky in terms of weather, but having experienced Chicago's crazy cold winters and blisteringly hot summers over the years, I thought I was prepared. To my surprise, however, on this occasion I'd managed to land during freak autumn heatwave which managed to hang over the city for the entire time I was there.
While pleased with the prospect of capturing the cityscape during some unexpectedly good weather, I really wanted to get up high and photograph the city from above. For that, it was the great guys at the Hard Rock Hotel, based in one of the most well-known downtown buildings, who came to my rescue.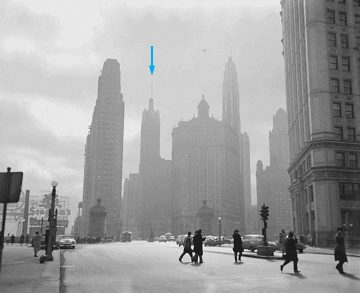 Built in 1929, the Carbide and Carbon Building's distinctive "champagne bottle" appearance with green sides and golden top has been a key feature of Michigan Avenue for nearly a century now, resulting in its designation as an official landmark in 1996.
In fact, it's so important to Chicago's heritage that in 2007 the city formally recognised the building's contribution to the rich architectural legacy of the skyline by making it one of only a handful of buildings that are permanently illuminated throughout the night.
Its golden tower is now visible from all corners of downtown, 24 hours a day, reminding city residents, hotel guests, and passers-by of architecture's ability to create an evolving and enduring sense of time and place.

On first arrival, the weather wasn't what I'd been hoping for. Granted, it wasn't raining (my worst-case scenario), but the previous few days of "simpsons clouds" at sunset had given way to an overcast sky – and this was my only opportunity to get to the rooftop on this trip.

There was, however, one big saving grace in Chicago that I'd briefly forgotten – the wind.
Yes, it was an overcast sky. No, we wouldn't get that lovely warm glow where the sun hit the horizon as it set. But yes, those clouds were moving nicely across the sky towards me, and fast.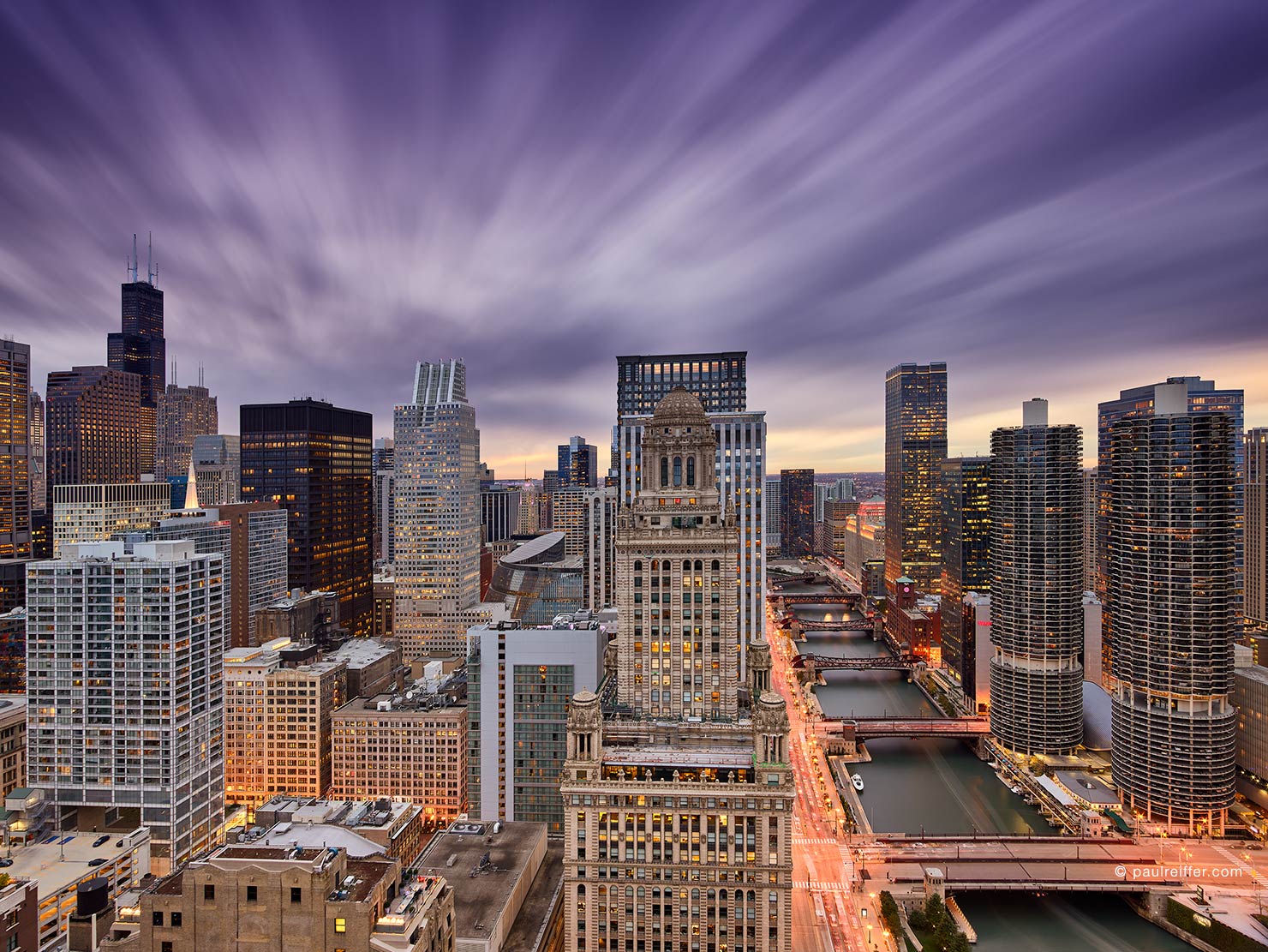 As the lights of the buildings and streets below switched on one-by-one, the scene began to dramatically change before my eyes.
Moving to different points around the west side of the building (and big thanks to the HRH guys for the platform to stand on!), I was able to capture not only the key parts of the city in intimate detail, but also the wide sweeping vistas of downtown Chicago.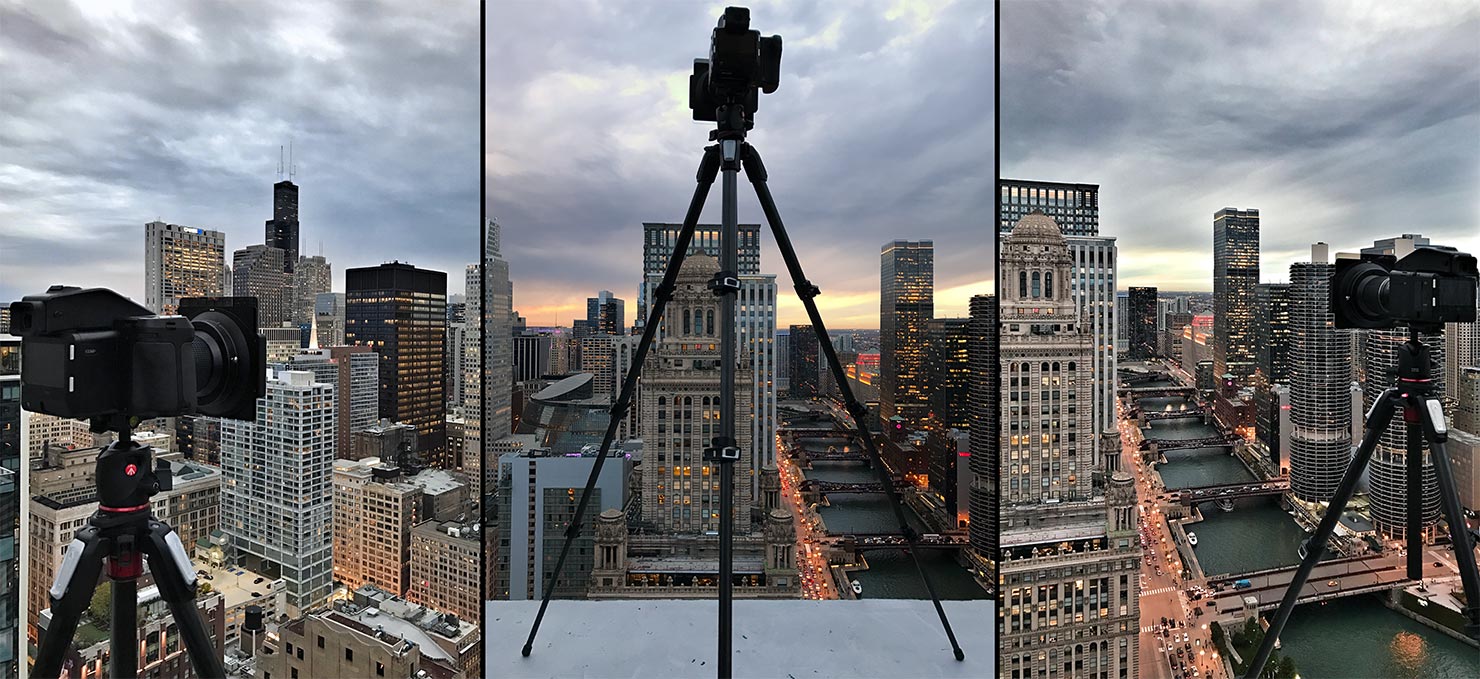 Darkness fell, and the city came to life beneath my feet. Sightseeing cruise boats began to appear along the river again, after their quick break at dusk, and tower blocks started to light up one-by-one. It was almost like a huge sweep of night-time acceptance was rushing across the city as the remaining sunlight faded to the west.

True to form, the building's famous "champagne top" lit up in bright gold – ready to be seen from far and wide across the city – and after a brief pause to take in the view I got busy clicking once more.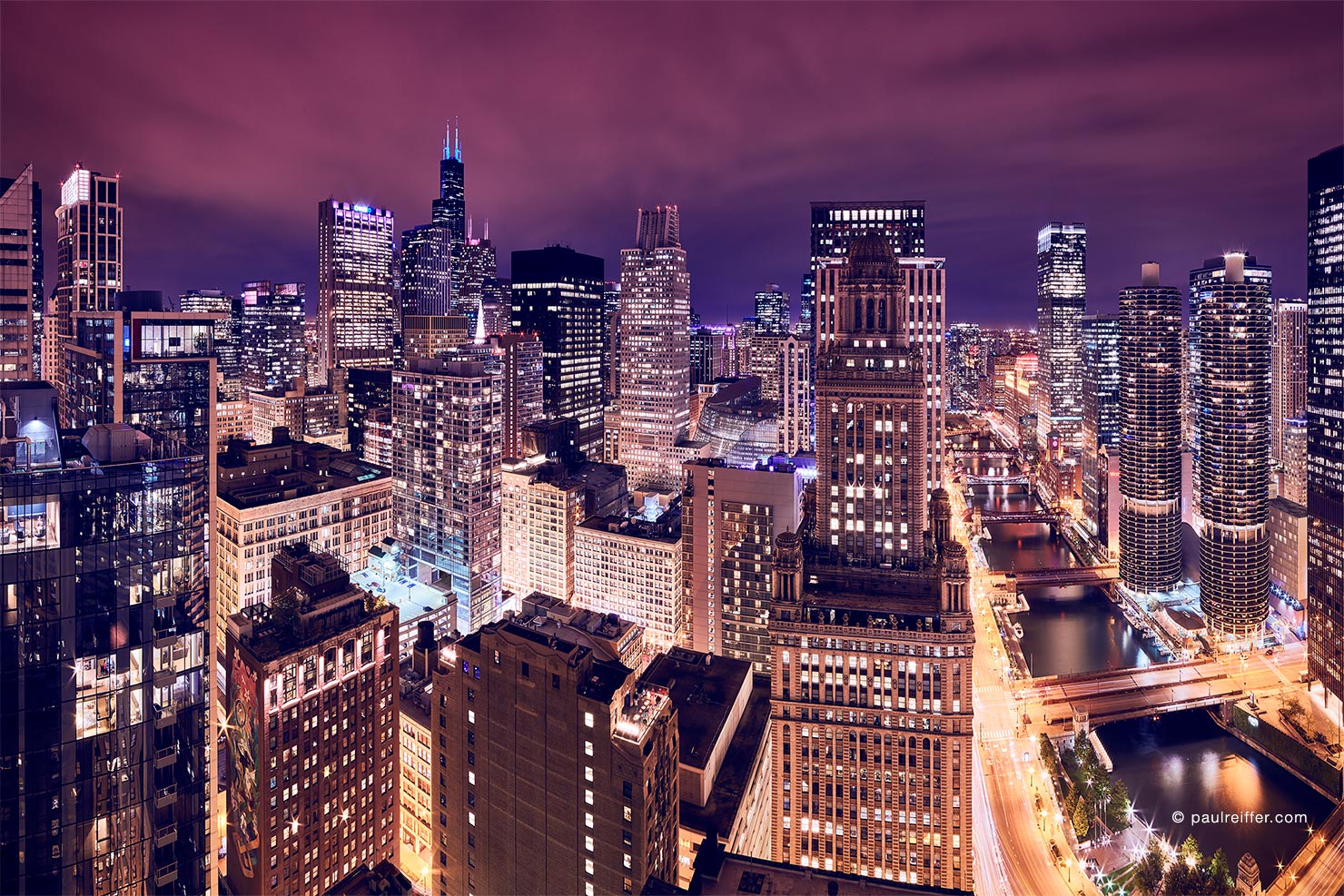 What an amazing view it was from up there – stunning sights before my eyes, on all corners of the building. Oh, and the rooms are pretty cool too! (We did a bit of staff profile shooting in their amazing Penthouse Rock Suite – which is absolutely stunning.)
Of course, no series of Chicago rooftop shots could now be ever be complete without featuring "Trump Tower" – the (genuinely) sympathetically designed multi-level steel and glass skyscraper on the north shore of the river, with each level matching the height of one of the city's other landmark buildings. While it dominates the skyline, I'm actually posting the picture below for an altogether different reason…
I've included (but this will only really work if you're on a high-dpi / "retina" screen) a crop that's as close as I can guarantee across all the screen variants out there to show you the level of detail these images capture. This is from my Phase One XF 100MP iQ3 digital back.
Sure, these photographs work when they're printed as large vistas, but I sometimes forget to really show the level of zoomed-in detail on an image when I put the previews up on here. I'm capturing images which are nearly 12,000 pixels wide by 9,000 pixels high – and the tiny features they include, even in wide landscape shots, is simply mind blowing.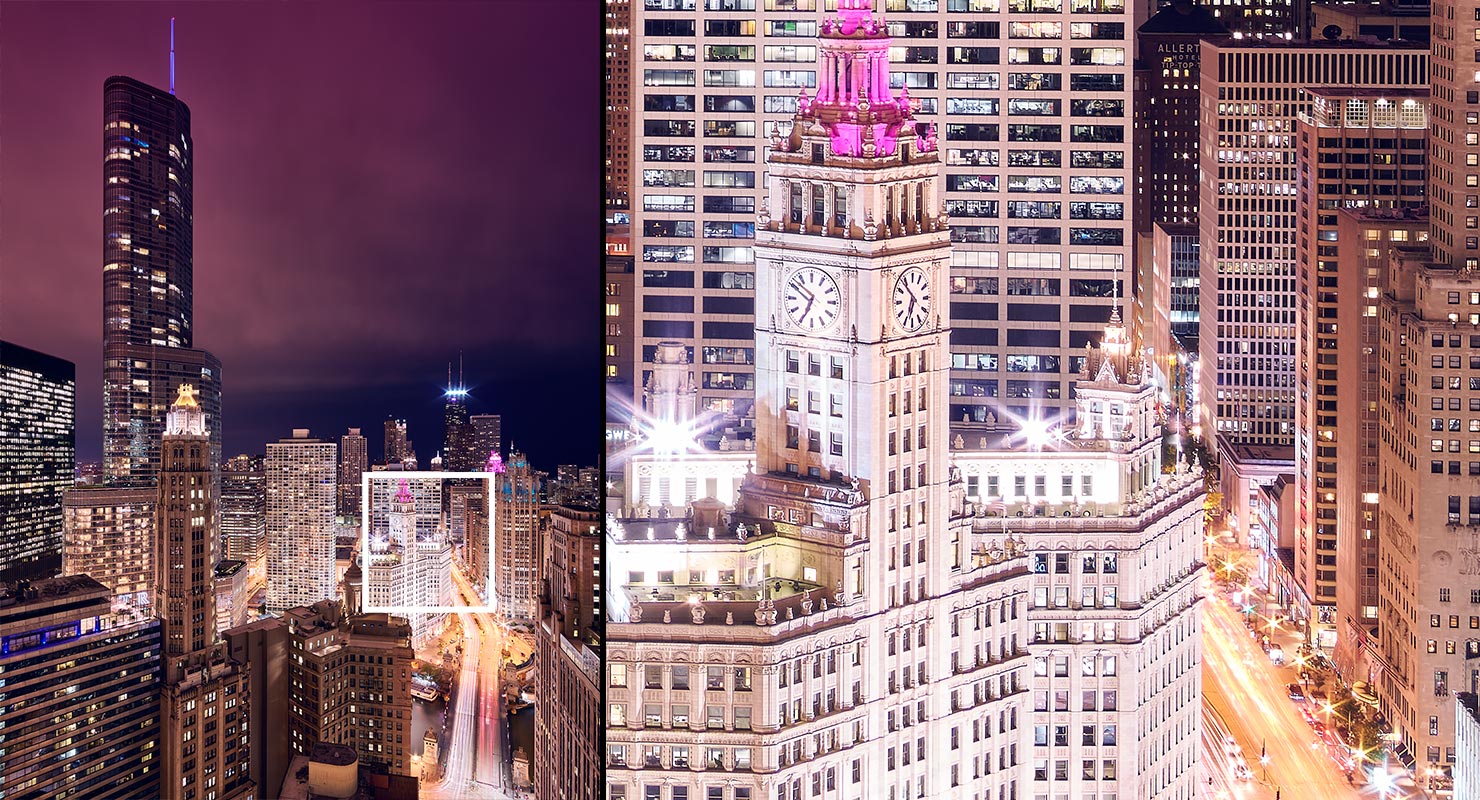 Bear in mind the section I've expanded is around half a mile from where we're stood, and the image is shot on an ultra-wide 28mm medium format lens (the 35mm equivalent would be a 17mm lens). So yes, that's a lot of detail and sharpness right there, from a windy rooftop in Chicago.
It's for that reason I always say these images look even better when printed BIG!