The sudden realisation that you've been back in the UK for over 6 months now, and are yet to capture any shots of London hit me a few weeks ago.
An easy fix, for sure, but it also dawned on me that I was missing some standard "stock shots" of the city at night. It was time to put that right…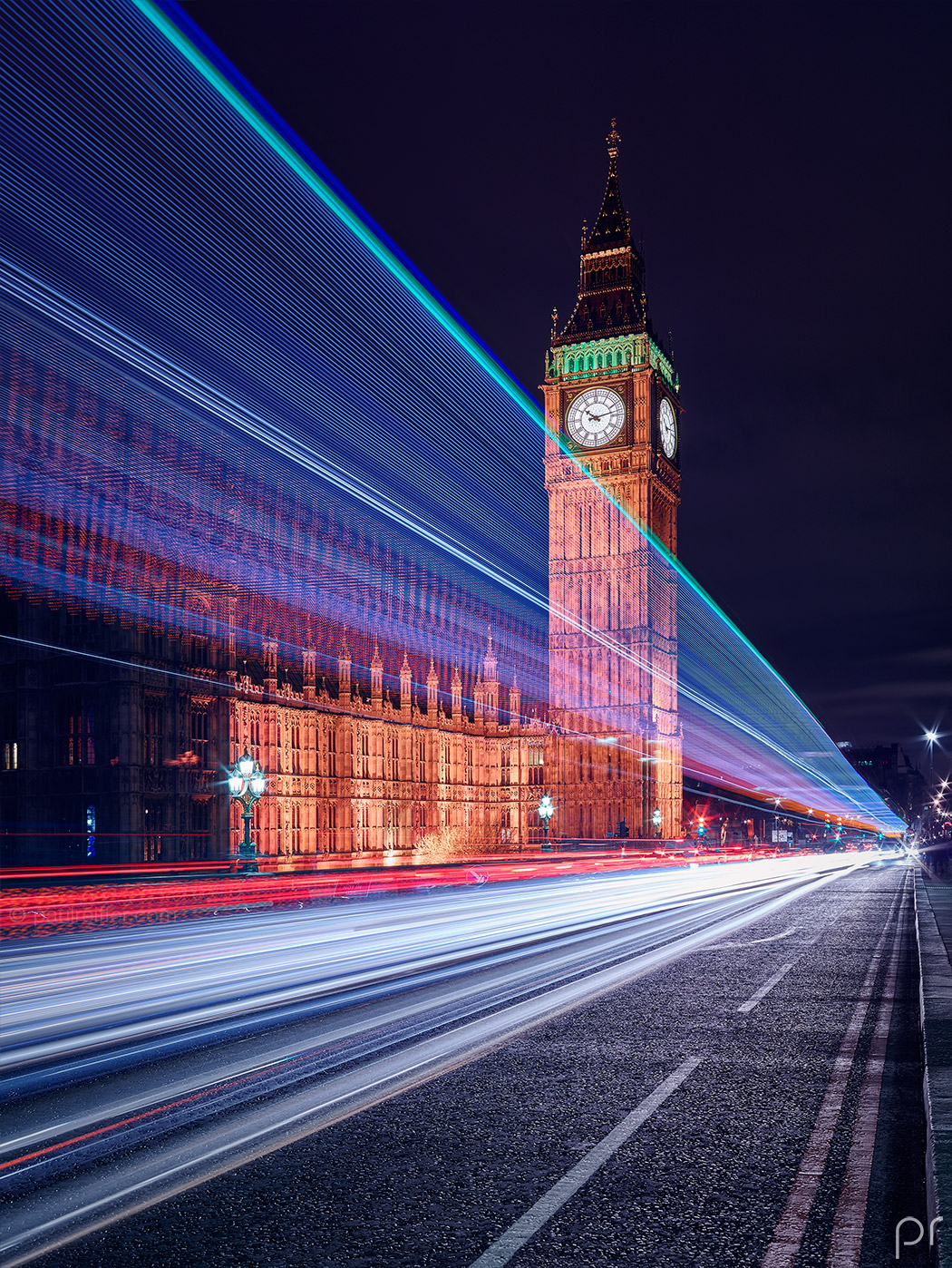 London, to me, will always have with it a certain air of excitement.
As a kid, I remember travelling up to "the big city" as part of a school trip – a 4 hour journey from my hometown – and being instantly blown away by the sounds and sights of this amazing place. A true mix of cultures, architecture, economies and history, there's a place in London for everyone.
And now it was my turn to play "tourist" again.

Standing in the known spots, simply appreciating what the city still offers to this day. It doesn't have the megawatts of skyscraper light shows that places such as Shanghai or Hong Kong hold dear to them, but it does have that fascinating mix of old and new – as LED-lit energy efficient coaches roar past the historic Houses of Parliament on the north bank of the River Thames.
Seemingly now forever in scaffolding, the Palace of Westminster still draws tourists from far and wide to photograph this landmark building – and here I was joining them, on the roadside, just waiting for "the right set of cars" to stream past.
Walking back across Westminster Bridge, towards the South Bank, there was time to capture County Hall with a rather unusual sight : The London Eye, lit, but not moving. While most long exposure shots along the river will show this famous wheel in motion, for some reason (and I couldn't decide if it was lucky or unlucky!) we got to see it stationary for the entire evening.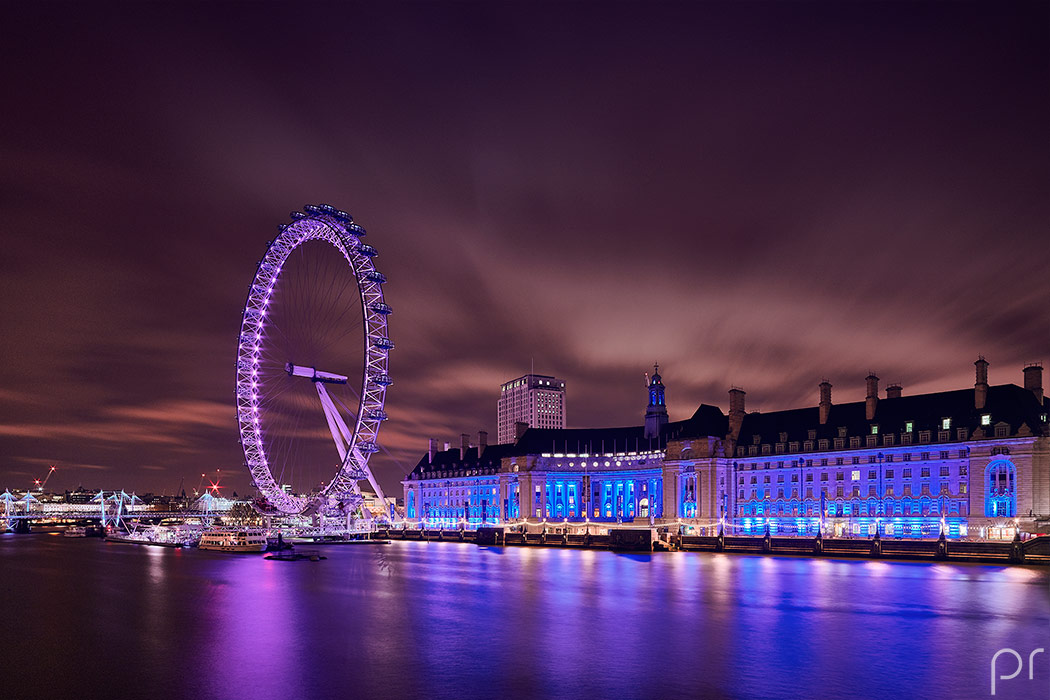 So, a static London Eye – the icon for the UK's Millennium celebrations – there could be only one other location I'd need to capture this evening to complete my set of three: The tree-lined approach.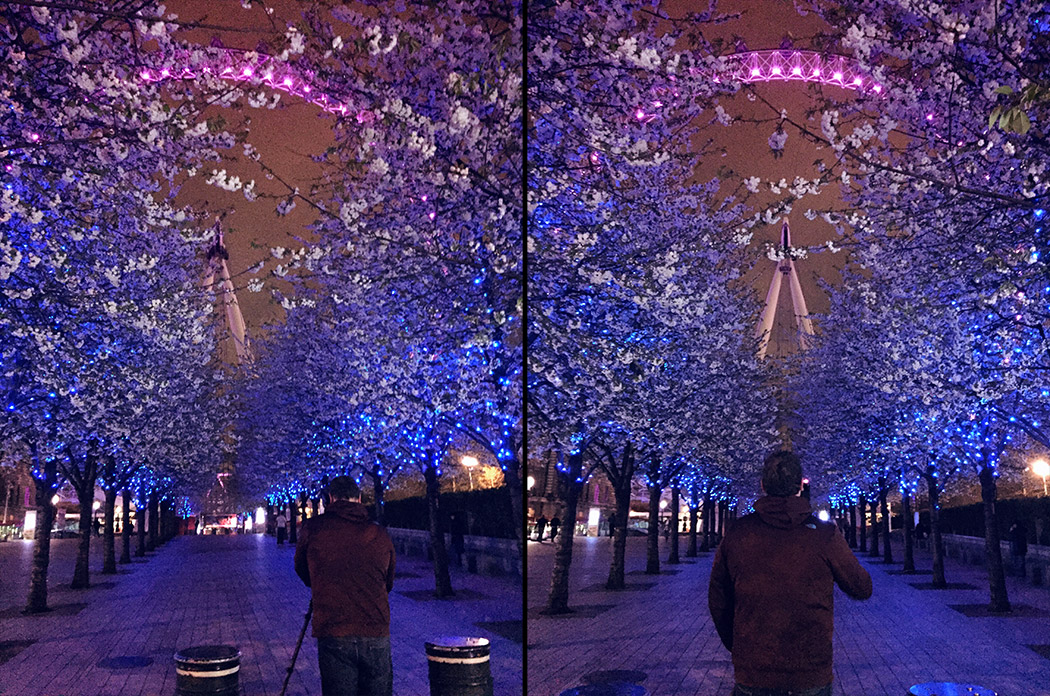 At this point, I realised things had fallen very much on the side of lucky. Not only was the Eye itself still stationary by the time we got to the famous pedestrian walkway, but the lines of trees along both sides just happened to be in their last few days of blossom.
The mix of cool blue accent lighting, illuminated cloudy sky and pure white buds hanging in front of the magenta spotlights across the wheel, somehow came together perfectly for my final shot of the evening.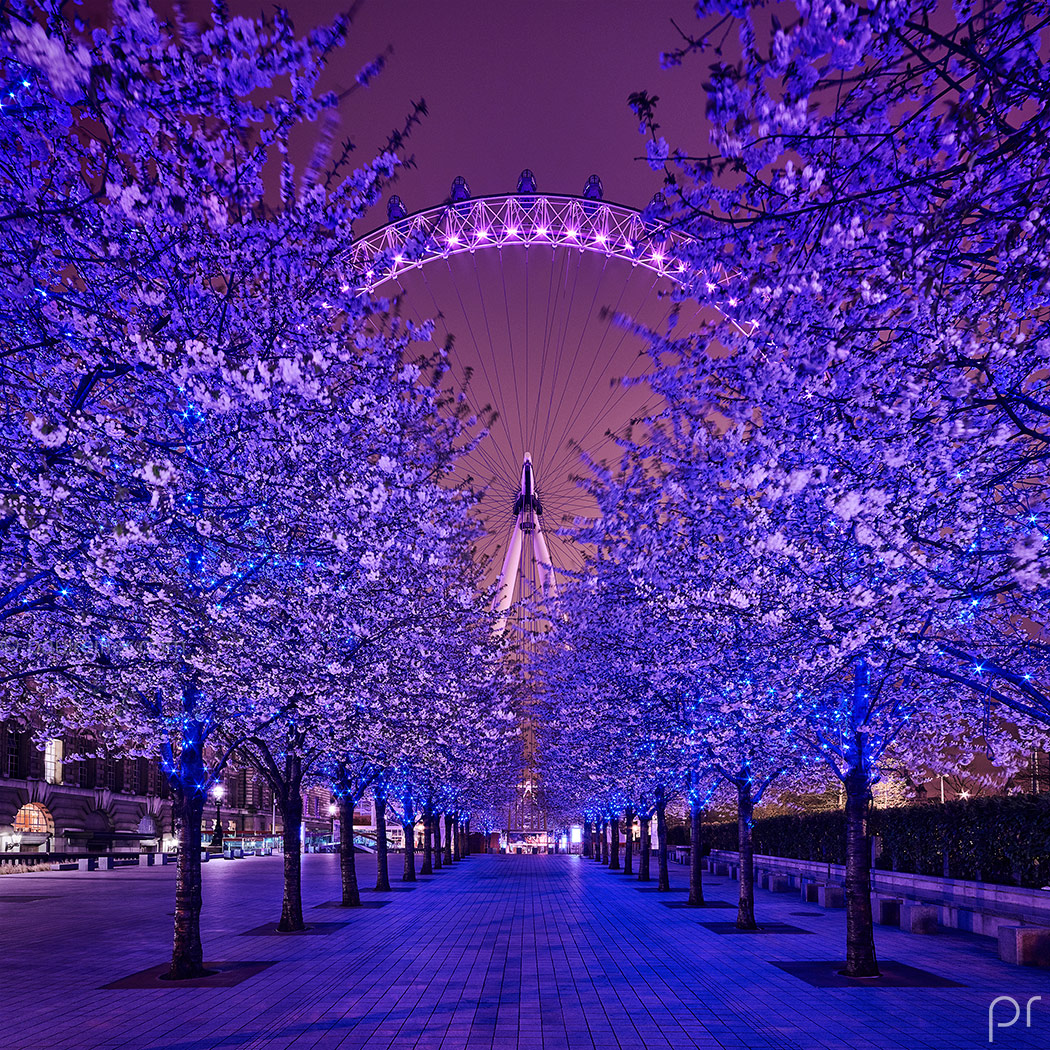 It was only when I got back that I realised the entire collection of shots had a mysterious (and accidental) tone that was consistent throughout.
With a bit of luck along the way, I'd just managed to shoot London, in blue.