Iceland – a country of stunning beauty, dramatic views and amazing natural resources.
In some ways, photographs of the huge vistas that presented themselves before us can never really show the true nature of the vast spaces and rugged landscape – but in others, they also capture a stillness that is easy to miss when you're stood in huge, freezing, gusts of arctic wind…

With glaciers all around, the sheer scale is something that must be seen to be believed. In the winter, what appears as "just over there" can often be a 3-4 hour hike in treacherous conditions – this is not a place go experimenting too far away from safety without a good source of local knowledge, but when you do make it out into the wilderness, you really are rewarded.
Our visit this year was focused on ensuring we could offer the best workshop possible next year, and with that in mind we set out to cover as much ground as possible over the 5 days. On landing into Reykjavik, things didn't look too hopeful – dull cloudy skies and a dusting of snow all around. The wind was picking up, and one of our group vividly remembered the impact that can have on driving around the southern roads. On a positive for Iceland's extremely changeable weather, however, is that it is exactly that: extremely changeable. From one day to the next, you can experience temperature swings of 10-20 degrees and winds that go from hurricane force to a slight breeze in a matter of hours.

While it didn't last (we hit a blizzard on day 4!), luck was on our side for day 2, bringing with it clearing skies and calm wind, perfect to head to the Jokulsarlon Glacial Ice Lagoon. This is one of the key locations for many photographers visiting Iceland – and it's easy to see why once you step out of the car. With two options – a black sand beach where icebergs are washed up as they make their way from the main glacier out to sea, and the lagoon itself where chunks of ice float serenely across the surface, forming temporary platforms for the native seals.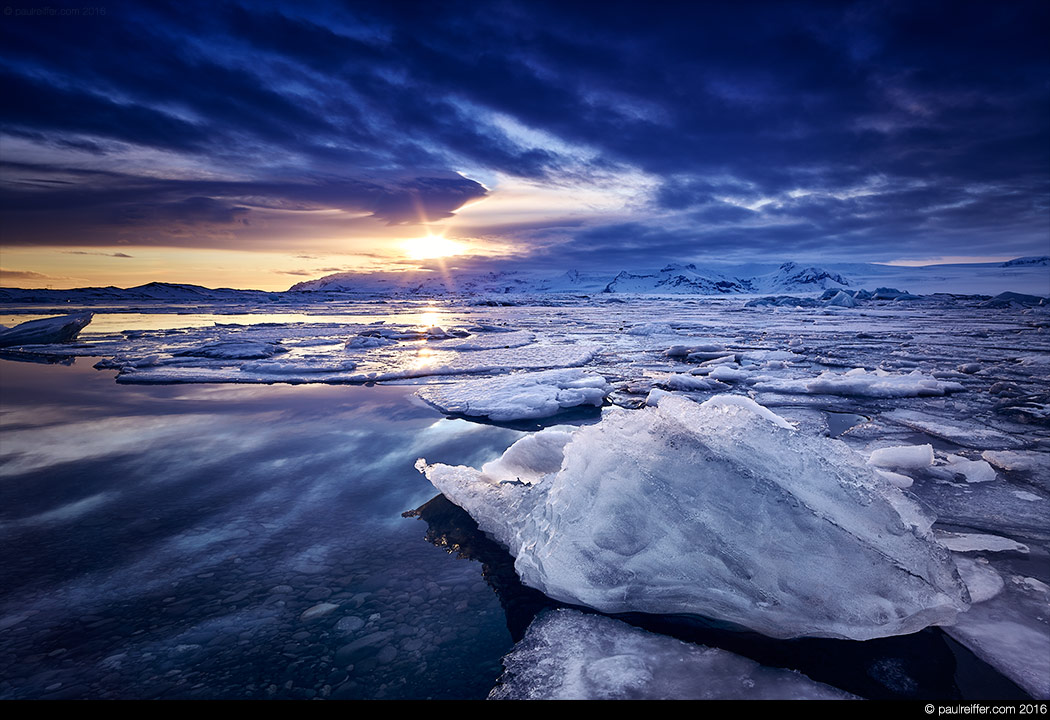 Taking the time to capture this ice block at sunset in the lagoon, we may have pushed our luck a little too far by also trying to photograph the ice on the beach a short drive away just afterwards – while not perfect, it gave us a taster of what should be there for the next day's sunrise. So, alarm clocks set, with this shot in the bag, it would be the next day's sunrise shoot that would be the focus for capturing the colours and formations of ice that washed up on the beach overnight.
Arriving well before sunrise, the proof of the popularity of this location was already waiting for us – rows and rows of photographers all focused around a few of the larger chunks of ice, all set up for the moment the sun rose through the clear block.

Was it worth the early start? It's safe to say that would be a very much confirmed "yes", from all parties! Pre-sunrise, we were treated to some amazing pastel colours and deep hues across the sky – with just enough cloud to bounce the sunlight back down across the ice.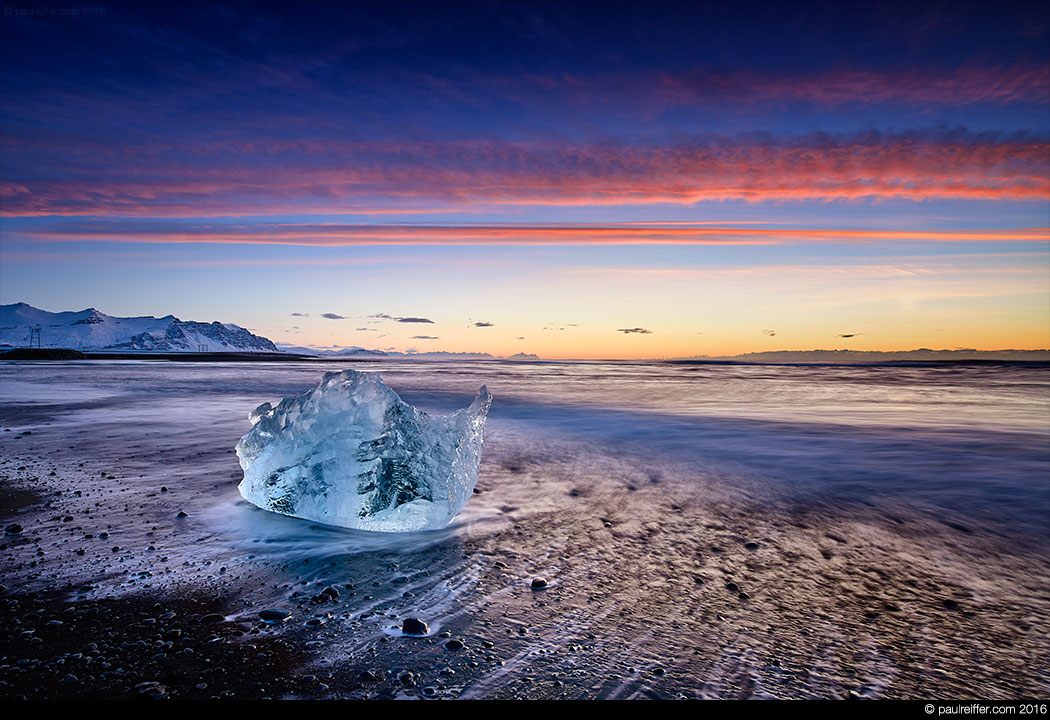 At the point the sun rose above the horizon, things just kept getting better, with the reflections through the crystal-clear glacial ice spreading the light in all directions. It was at this point I learned my waterproof socks were only useful as long as the water level was below the top of them, but even with freezing cold seawater inside, it was impossible to stop shooting with the scene changing so dramatically from one moment to the next.

For a brief moment, we were also reminded of how fragile these seemingly indestructible floating blocks of ice really are. At one point, a few people were contemplating standing on the largest block that was pushed out to sea – seconds later, the huge chunk of ice had split in two, purely from the force the crashing waves all around.

In a way, it ruined the shot I was hoping for but the fact I managed to capture it was a great reminder for the future : Do NOT climb on the ice! (A great piece of advice that seems to be constantly, and dangerously, ignored by many…)
As the sun rose into the sky, despite the fact that at this time of year it barely reaches 20 degrees from the horizon, the light began to cool from the warm glow of sunrise into the daylight tones of blue and white – but still, the ice continued to perform, internally reflecting each ray of light that hit it. I continued shooting (we'd been there for 3 hours by the time I stopped) with more and more formations captured on camera.

Back on the road, it was time to capture more of the southern route with stops in the west at Vesturhorn and Hofn before turning back towards Vik the next day. One advantage of our "check-trips" is that because we have no real shot list, we can explore locations that would be great to take future workshop photographers and get a detailed feel for each of them in different weather conditions – and this trip would be no exception.

While planning to stop at the DC-3 wreckage near Vik, we hadn't banked on the weather changing quite so dramatically as it did in a matter of miles. So dramatically that the off-road path down to the site had been almost obliterated and many other visitors had ended up with their cars entrenched in the snow banks and deep gravel. Iceland's emergency services are great with this sort of stuff, but there's nothing more frustrating than seeing so many people "stranded in waiting" as a result of not knowing the area. After checking they were all OK, it was time to head down in our own 4×4 to the site itself.

One positive of such a dramatic change in weather was the lack of people actually making it to the crash site. While I was disappointed by the ambient weather and flat cloud cover, the lack of the usual groups of people jumping and dancing all over this historic wreck was a welcome change from what we'd expected. Wind stopped us spending any length of time at the plane, but we'd captured enough. Checking that help was on its way for those stranded on the way back, we headed north-west again to Reykjavik and ultimately to explore the "Golden Circle" of Geysir, Thingvellir and Gullfoss the next day. As a vivid reminder of what you're standing on when visiting Iceland, Geysir is worth a visit for anyone in the area – with its regular eruptions high into the sky, the constant steam plumes spanning the entire area give a hint to how active the ground is beneath your feet.

So much so, in fact, that Iceland is entirely reliant on geothermal energy – a fantastic position to be in, if it weren't for the slightly off-smell of sulphur heated water in the shower each morning!
Of course, no trip to Iceland would be complete without at least attempting to catch the Northern Lights at some point. Having spent time learning about the Aurora Borealis on previous trips to Norway, my expectations weren't too high for this trip with the cloud cover that was forecast, but that's always part of the fun with the Northern Lights – hunting them!
Sitting in a restaurant for dinner after a sunset shoot at Gullfoss, it was becoming increasingly obvious that returning back there that night might be a good idea – the aurora levels were high and we knew there was little cloud over that area having left only an hour before. With apps in hand, it was time to head back out to the cold and hope we got to see them.

We made it to the car park, and didn't even get in the car – the display was going on overhead already. More vivid than I've ever seen before, the trails dancing across the sky so brightly that even my iPhone could just about pick them up (the right hand image above) – something I didn't think would ever be possible!
Passing all the tour buses who had taken the safe option of Thingvellir (which still had relatively thick cloud), we arrived back at Gullfoss an hour later to find another 4 groups with the same idea, but a stunning display above our heads.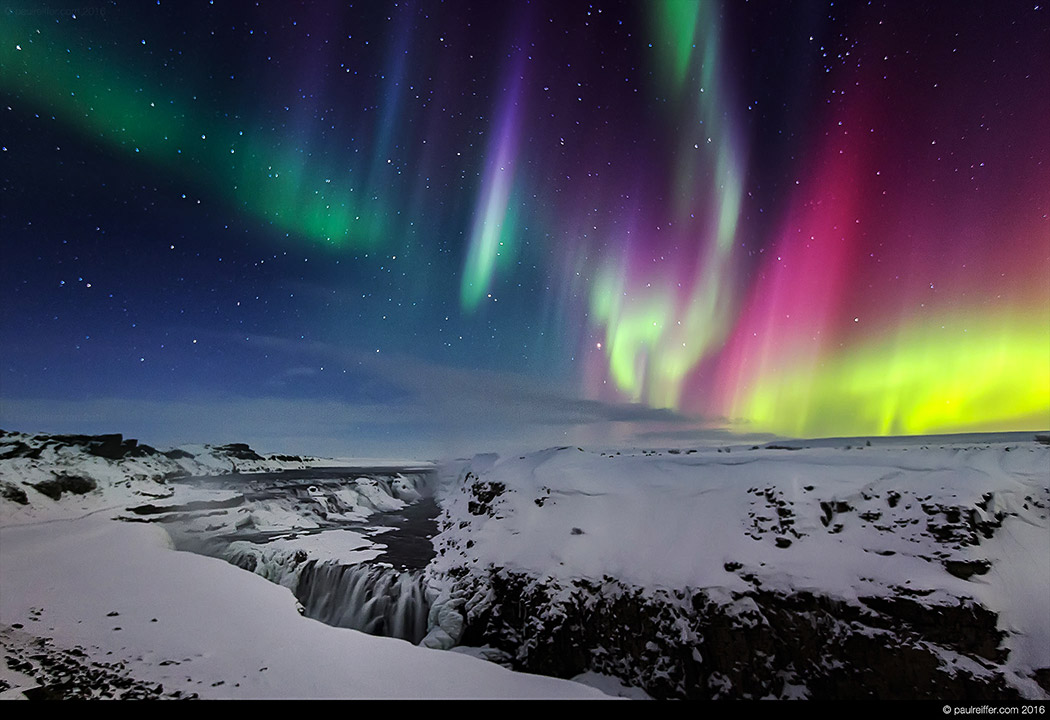 The lights never stopped. Each time I thought I'd "got it", they moved a bit more, or delivered even more colour across the sky. The waterfall (which is impressive in its own right!) provided a fantastic foreground to the light show above. Even the car park's snow-covered barriers became the subject of many of our images, with the stunning backdrop of aurora dancing behind.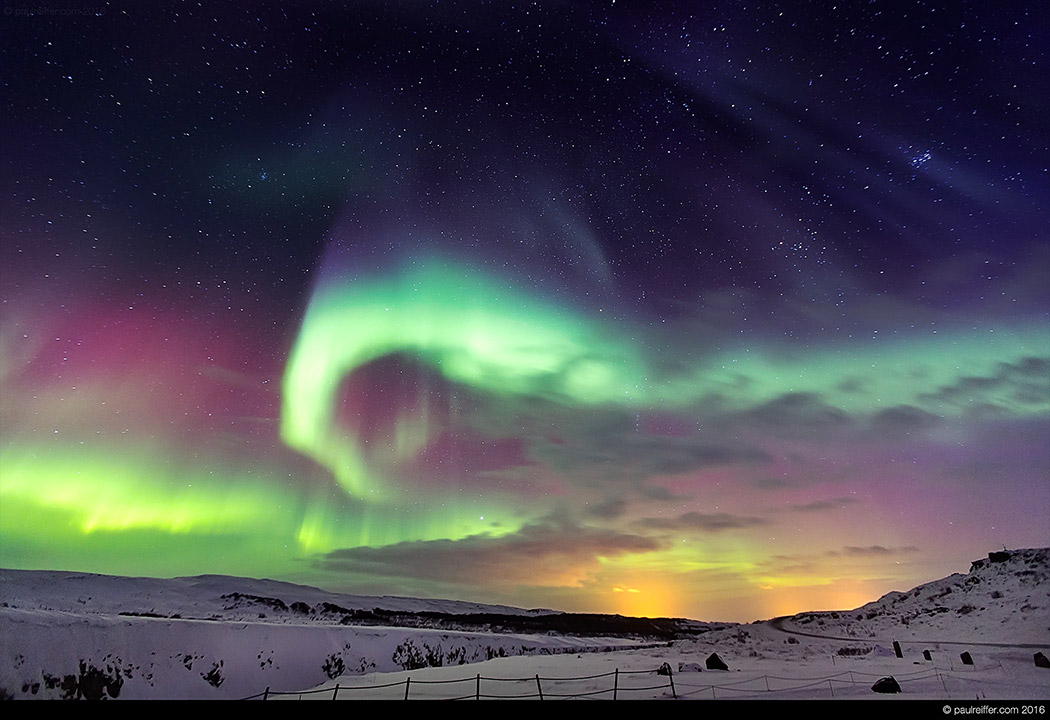 As some of you will know from my shots in New Zealand's winter, there is a certain limit to how long a metal and glass camera can last outside in -10ºC temperatures. That was even further compounded by the mist from Gullfoss itself, permanently icing over our lenses. While we could have stayed and watched for hours, the hand warmers were struggling to keep us (and the kit) warm enough to function, so it was back to Reykjavik for the night, happy with the frames we'd captured already.
With some downtime, it was great to also spend some time exploring the city a little bit as well, without the pressure of shooting more on this trip. Ironically, one of my favourite shots from Iceland this year isn't the Northern Lights, or the ice blocks of Jokulsarlon – it's this rather abstract image taken from a hilltop facing away from sunset. The textures, the symmetry, the colours just pushed me to shoot in the opposite direction to everyone else. Maybe I saw something in it that others didn't – maybe I just had a moment of madness, but for me, this image was the perfect summary for the wilderness we called home for 5 days in this amazing country.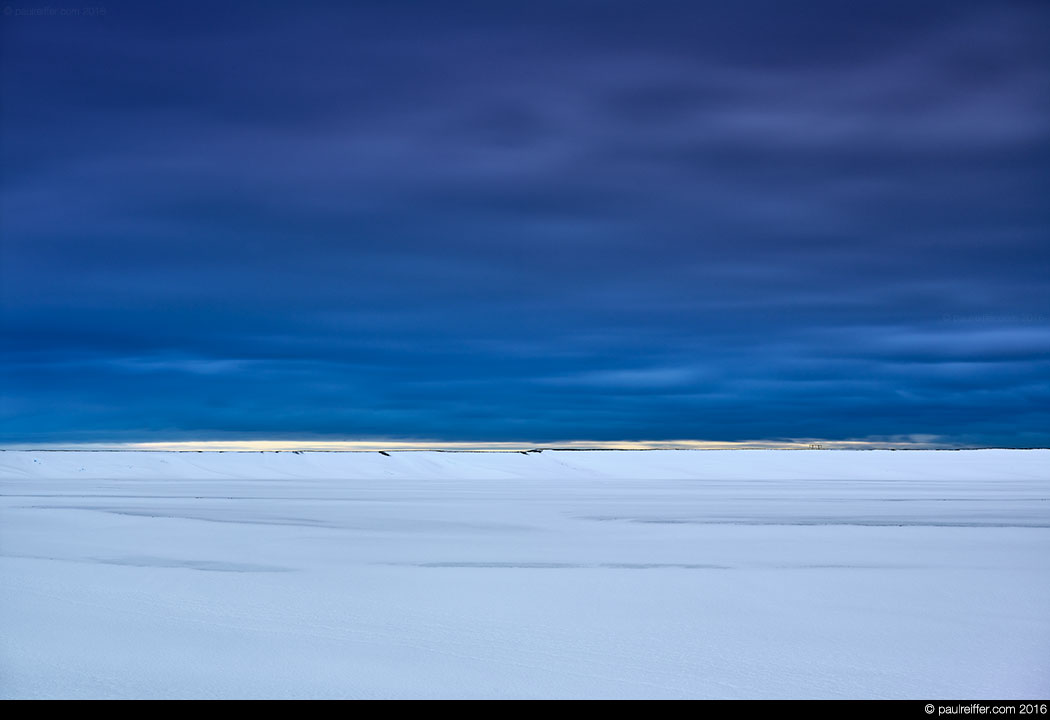 As always, we'll come to Reiffer's final thought, and this time it's on Icelandic food.

In summary: Be warned when it comes to ordering food out here!
In Iceland, the hotdogs are great, with crispy onions and special sauce; the Chocolate however is often liquorice in disguise, and therefore a horrid surprise when biting into a bar; bags of chocolate and crisps lie to you – what's on the front is most definitely not what you get inside; whale meat (even when smoked) is not a favourite of mine, in any way and finally, it is perfectly acceptable to have beef, béarnaise sauce, mustard, salad and french fries inside a subway sandwich.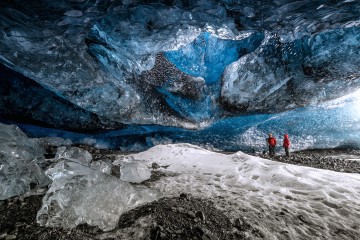 And one key note on safety:
Please be careful out there – Iceland is a fantastic place to visit, but local knowledge is a must.
Want to join us next time?
Take a look at our fantastic new Iceland workshop for March 2017, including exclusive access to the ice caves for shooting inside Europe's largest ice cap with local experts and all food, drink, transportation and tuition covered in one set price.