"That tree" – said with admiration, love, or detest – it doesn't matter, it's what pretty much everyone living in or visiting Lake Wanaka will say at some point once a day! To be fair, this was the second time I've visited "that tree" in 12 months, and while unassuming and unimpressive in itself, the scene surrounding this lone willow tree out in the freshwater lake is nothing short of stunning.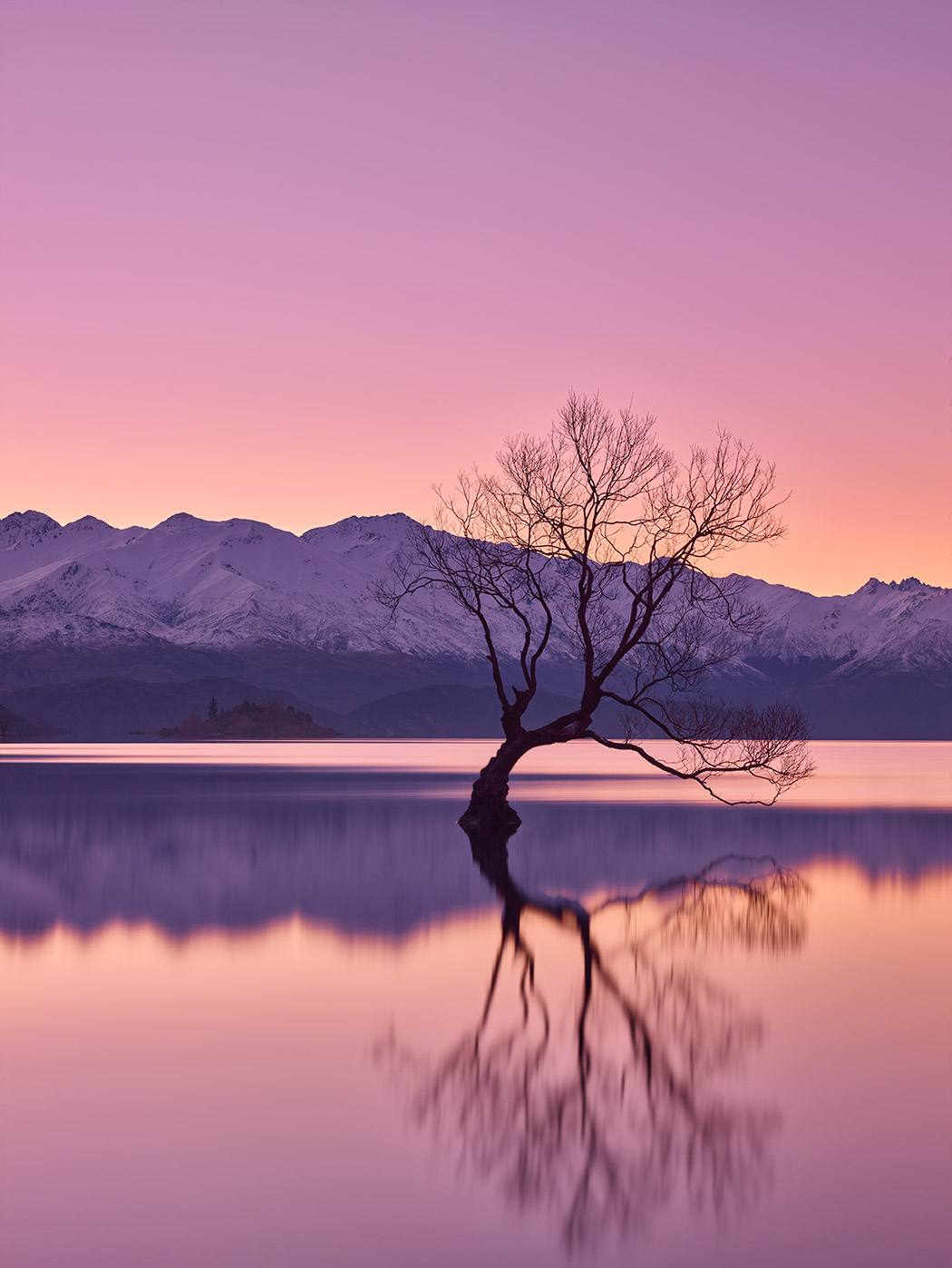 No wonder it's helped bring tourists to this tiny town about 2 hours north of Queenstown on New Zealand's South Island. The trick, is how to capture it and do the scene justice in a way that was different to the last time…
My capture above, "still" (to go with my existing print "alone", so "still alone", get it?! 😉 ) aims to do just that. It's a completely different feel from my previous shot – in part due to the conditions, but also a different take in shooting it vertically. I just love the colours in the background, those rich pinks and oranges that only hang in the sky for a few moments after the sun disappears behind the mountains.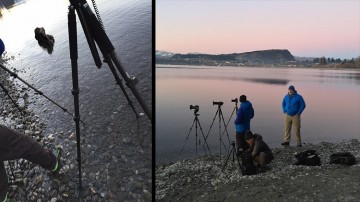 Arriving at the tree, you're presented with a few challenges. First, the water level varies dramatically based on the season. With no snow-melt, at the end of summer, the tree is actually on a mud bank and you can even walk to it. Too much melt and the lower branches are submerged.
This winter, the lake was at a perfect level for us. Granted, it still involved getting tripods and feet pretty wet in order to miss the other photographers all stood to the left, but there's a reason carbon fibre tripods were invented, right? 😉
It was also a good time to try out my new NiSi ND1000 filter for a long exposure with this perfect water level. The guys there gave me a custom filter holder for my favourite Phase One lens to try during this trip, and unlike other filters I've used, it kept all light leaks out and delivered absolutely zero colour cast for this shot – 10/10 guys!
Second, is the fact that the sky colours (and in turn, lake) change dramatically in a very short period of time. My iPhone shots below give some sort of example of this, shot over the two evenings we were there, but being there is an even more colourful experience.

The reflections from snow, mountain air and high sunset all play with the light around this area each evening – with stunning results. Beyond that, the rush to capture the sun at this time of year as it hits the perfect angle to disappear into the trees with a fantastic flare means every photographer heads to the same spot to get "that shot" at the same time…!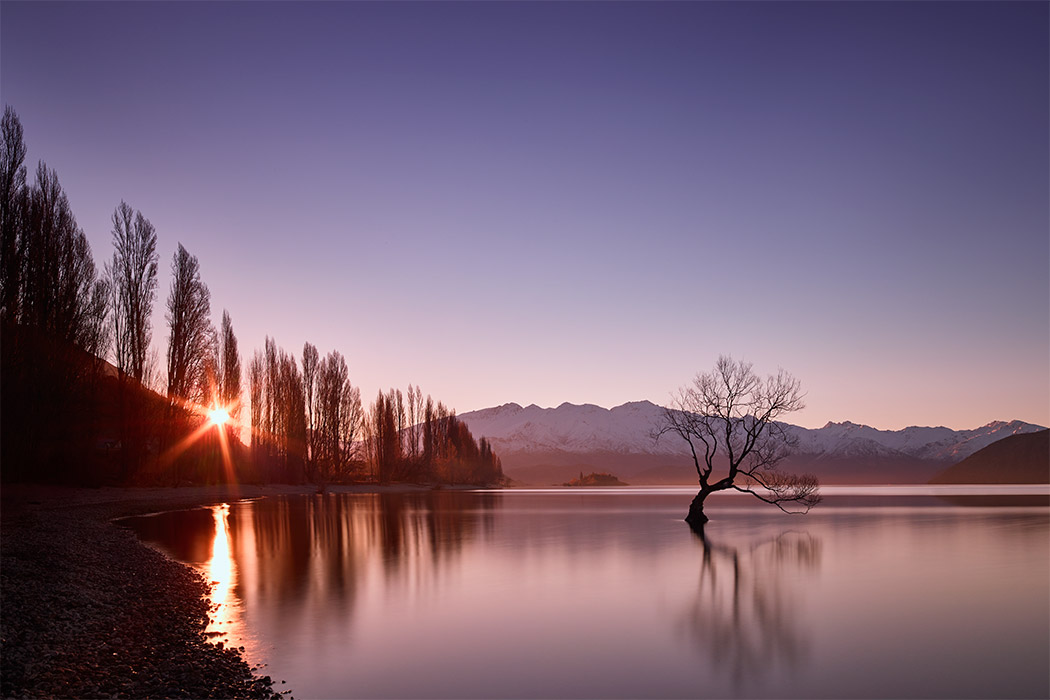 Just for fun, let's compare that shot with the exact same scene (granted, a little wider) from the evening before, below. While many people have shot "that tree" in Lake Wanaka, I'd say it's impossible for any two shots to be the same in this crazy background of a location…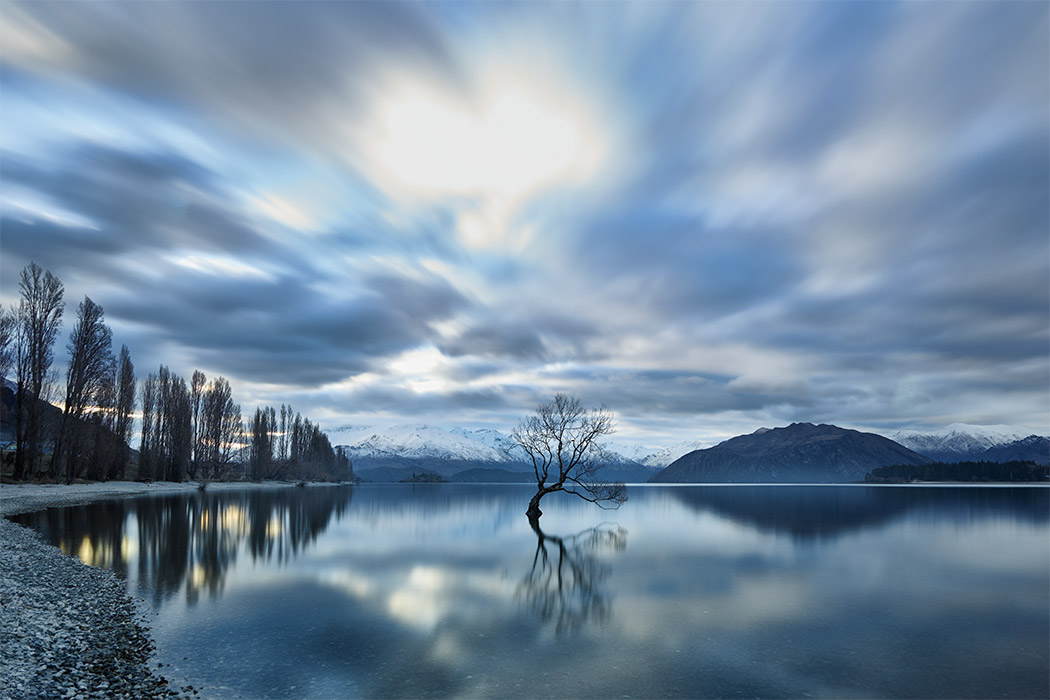 We had two sunsets in Lake Wanaka, so the pressure was a little off – but our final issue then hit: the same problem I had last time – "the birds".
Come sunset, the local birds have (correctly) come to the conclusion that the lone willow tree in the lake is a particularly nice place to hang out – and who can blame them. The challenge is, birds don't sit still or in one place for more than 2 seconds!
Unlike my visit last year, however, I had two secret weapons : The Mark and The Wayne. In the interests of public decency, I won't upload the video of them "emptying" the tree of birds, but let's just say it was as effective as it was humorous to watch…
The result? My top shot – "still", now available to buy as a limited edition print. 🙂
I guess I owed them a beer. So, with the Jucy camper running low, who better for Wayne to ask for local beer and food directions than the police? It's just a shame this particular police officer clearly wasn't impressed with the question – directing us to a home-brew place which delivered a pint of something which was stronger than a horse tranquilliser.

And then I woke up. 😉