Some people think they're flexible (and I'm not one of them), but having now had the privilege to shoot Tara Stiles during her Strala Yoga Retreat at W Maldives, I'd say my definition of flexibility has definitely changed…!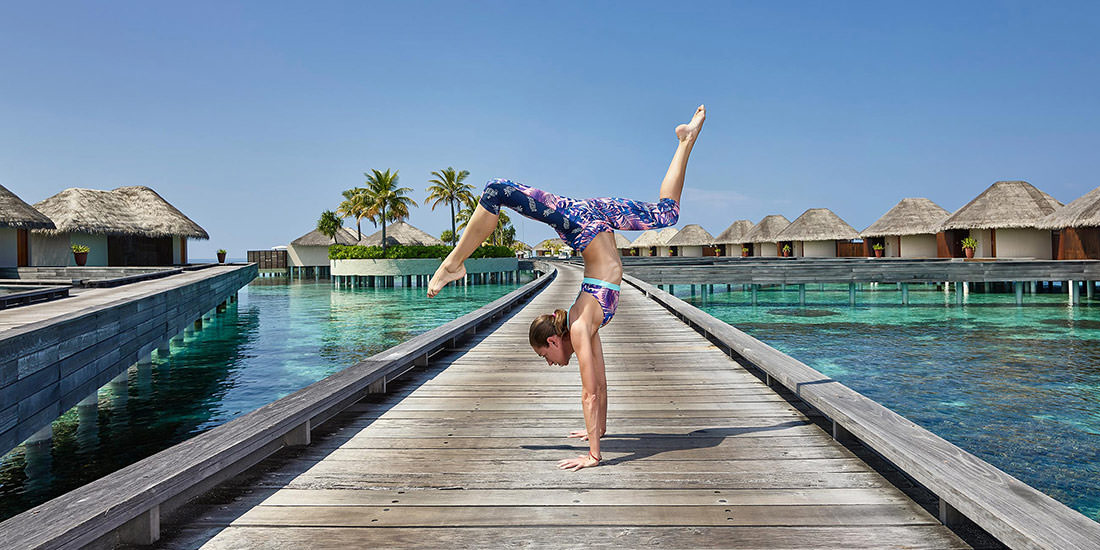 Now, first things first – while it may sound like a dream shoot, shooting in the Maldives can sometimes be tough (and this was no exception). Landing late at night, you're then working 16 hour days in 30-40 degree heat (which digital backs don't appreciate), bombing around in hot seaplanes, blasting across the sea in speedboats to chase shots, sweating as you go. Although you're staying in "paradise" (and it really is!), the fact is that you actually get to see the inside of your dark editing room for most of the trip!

All that said, what a place to call an office for a few days! (Yes, the footsie shot above does prove that for at least 12 minutes I managed to make it into my ocean-view pool while we were there 😉 ). These Lagoon and Ocean Oasis rooms are a lot different to the beach bungalow I had last time I visited Fesdu Island to shoot, and it's easy to see why many people head to the Maldives as their choice for a dream vacation. The W Retreat is absolutely stunning, and one that images and video really can't do justice – you have to see it with your own eyes to experience how incredible the place is.

Along with 9 journalists, we spent the week shooting Tara while she held private classes at sunrise and sunset each day. With a stunning location and absolutely perfect sunshine for 4 days in a row we got lucky with these setups, getting to see those amazing golden colours each morning and night.
As an ex-model, Tara established her Strala Yoga venture as a way of getting more people to see the benefits of yoga and a healthy lifestyle. By definition, however, Tara isn't one to stick with the traditional Yoga rules – the whole point of her FIT collaboration with W Hotels Worldwide is to encourage people to try yoga in any and all situations. The result – their combined "PoseWhenever" tagline and Tara's label as the world's "yoga rebel". In many of the city locations, it's about what you can do in your surroundings – so when planning the Maldives shot list, of course it had to involve water and a bit of "wow".

What does that mean? Well, over the 4 days of shooting she was up on seaplanes, jetskis, underwater – the whole time in yoga poses. While a lot is obviously for publicity shots, to see someone pull off amazing yoga poses while balancing on the roof of a fast-moving yacht was pretty impressive – this woman is flexible beyond belief! 🙂

So there's me on the roof of Escape – W's luxury yacht in my blue t-shirt. Opposite, the 10 people who managed to stay upright the whole time during a 1-hour sunrise yoga session as we made our way south to swim with whale sharks. You have to remember that these guys were a mixed level when it came to yoga experience, so to be doing this on the roof with Tara helping them all into positions they didn't think possible was pretty damn cool.

Of course, not all of the sunrise sessions were on a moving platform (that would just be a little too extravagant 😉 ) so the whole island was brought into the show during the course of the shoot. Photographing from the spa jetty one morning, we managed to capture this great alignment of the sun against a position that Tara held for a lot longer than I thought possible. (And yes, a position which would require me to break a few bones to get into myself…!)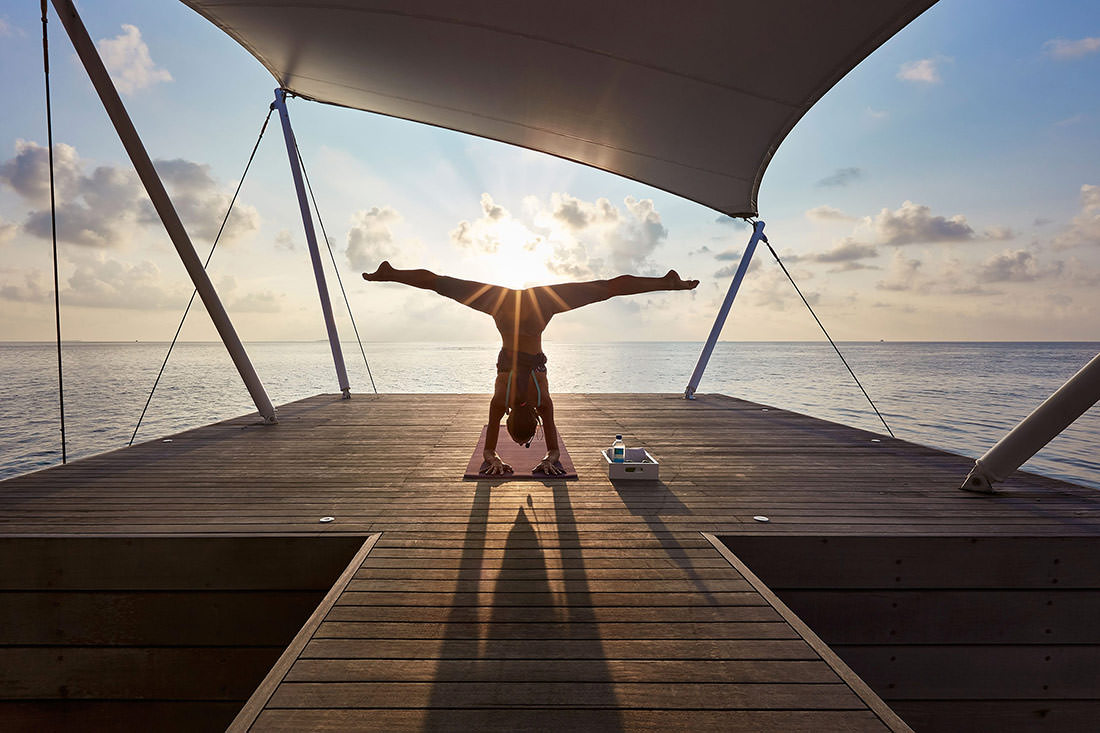 One more location: The "Extreme Wow Ocean Haven" pool and deck. This infinity pool has incredible ocean views and a pool to die for – the temptation to shoot a series on the special stage they'd made was too much, so we spent quite some time playing with shapes and light to show off some of the amazing shapes she can hold.
I wanted to give you a sample of the type of shots we were grabbing – and this post only really just does that. The range of what we actually captured is huge, and you're sure to see a few more in magazines over the next few months. The reality of shooting this type of event, however, is that while the location sounds incredible, it's most definitely time for me to now book a proper vacation in order to recover! Shooting from 5am until 9pm every day, then editing in between, is a pretty heavy schedule to say the least, but there are few places in the world more amazing to be doing it. We packed a heck of a lot in, and I'm really happy with the shots, but wow that was exhausting – and I'm not the one doing all the yoga!
Sadly, my plan to photograph Scarlett Etienne (in the middle shot below) got shelved simply down to time. As the resident DJ at W Maldives, she's hot property on the music scene and absolutely stunning in real life – maybe next time we'll manage to squeeze that shoot in.
In the meantime, she provided some amazing mixes for the guys in each of the sessions – a real star on a tropical island 🙂